What you're about to see is very likely the first 100-percent scripted and acted narrative short film in truck camper history.  And one seriously badass Alaskan Camper set-up.  Now sit back, relax and enjoy Finding Dixie…
Above: Click the image above and watch Finding Dixie.  If it does not play, watch it on YouTube.
The Story Behind Finding Dixie
We first met Bob Ragain at Overland Expo East in 2014.  He had a stunning red Unimog U-1300L and Alaskan Camper we profiled in "Mercedes Unimog Takes Alaskan Anywhere".  As remarkable as his story and photography was, it paled in comparison to meeting the man, and his machine.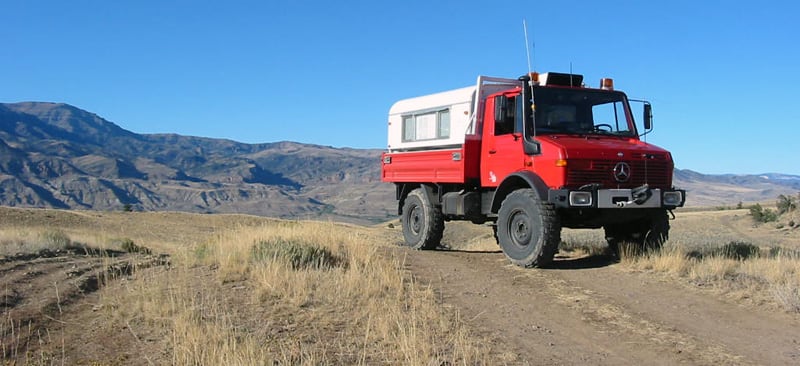 Above: Bob's Mercedes Unimog U-1300L and cabover-less Alaskan Camper
Along the way, Bob invited us to visit him and experience driving a Unimog or two for ourselves.  While the idea slightly terrified me, Angela isn't one to turn down invitations to new adventures.  Bob's coordinates were added to our Google Map.
Fast forward six years.  We were in something of a holding pattern in the southeast and trying to stay defrosted as we waited to visit family in Pennsylvania and Maryland for Thanksgiving.  Then we would bee-line to Florida for the winter.
Looking at the Google Map, Angela said, "Let's visit Bob Ragain and drive those crazy Unimogs!"  She wasn't asking for my approval.  If Bob was home and invited us over, we were going.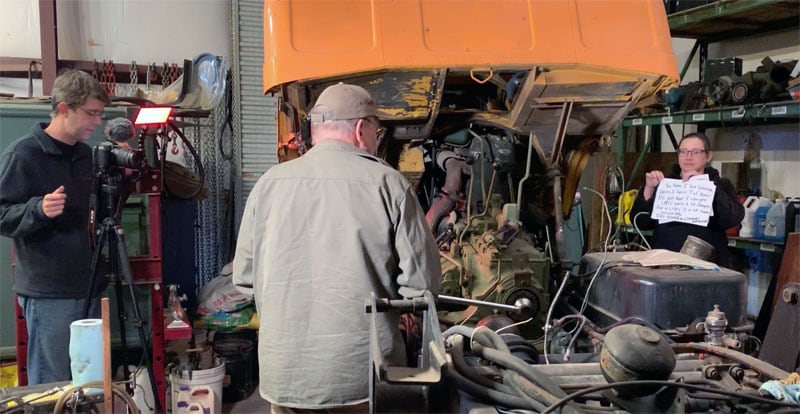 Left to right: Gordon, Bob and Colleen on the set of Finding Dixie
Two weeks later, we were driving into Bob's property.  During the first 24-hours of our visit, Bob introduced us to his wife, Kitty, daughter, Colleen, and showed us his seven Unimogs and four Stewart and Stevenson M1078 LMTVs (Light-Medium Tactical Vehicles).  Holy cow!
When we asked why he had four LMTVs Bob answered, "Where else can I get a truck like that for less than $7,000?"  It turns out that the United States government sells these incredible beasts – complete with CAT diesels, Allison transmissions, Goodyear Super Singles, air ride cabs, and next to no miles on the odometer – for pennies on the tax dollar.  I didn't quite believe it myself until I checked out GovPlanet.com.
We also learned about Bob and Colleen's passion for ham radio and how they had lost cats to coyotes.  The amazing vehicles, hobbies and coyote stories soon got my creative gears spinning into overdrive.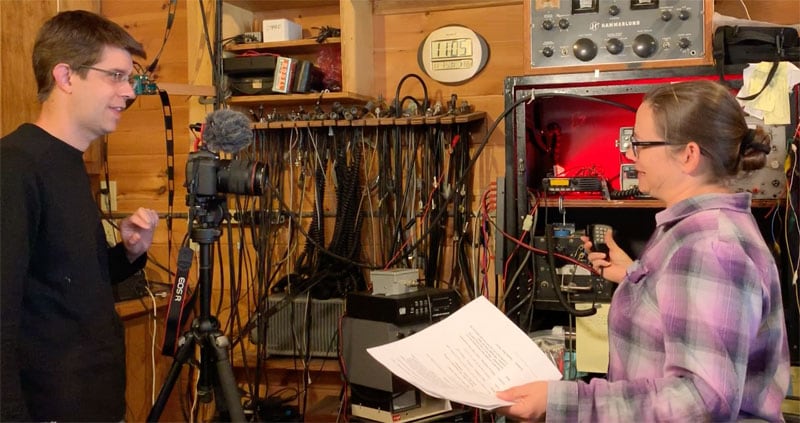 Above: Gordon and Colleen on set discussing her ham radio scene in Finding Dixie
Fresh from producing, "Truck Camper Dreaming" with Gary and Bonnie Schiffner, I started working on a script that wove Bob's vehicles, hobbies and cabover-less Alaskan Camper into a short film script.  Finding Dixie is their story, with a twist.
In just three days we wrote the script, scouted locations, created a shot list, lit the sets and filmed Finding Dixie.  Bob and Colleen, acted their scenes – take after take – with yours truly directing.  Neither Bob or Colleen are actors.  They're just fellow truck campers, like us, who happen to have one the most unique truck, camper (and camper) combinations we've ever seen.
I want to thank Bob and Colleen for accepting my movie pitch, and for putting up with my directing.  Making this short film with you was an absolute thrill.  Thank you!
Expect the Unexpected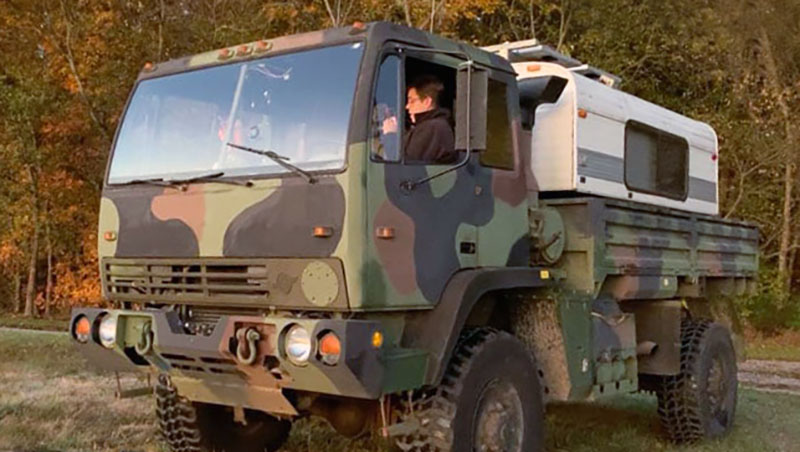 Above: Gordon in the LMTV drivers seat filming Colleen for Finding Dixie
I fully realize this film is something of a turn for Truck Camper Magazine.  First, it's 100-percent scripted acting.  Second, Light Medium Tactical Vehicles and cabover-less Alaskan Campers are not exactly mainstream.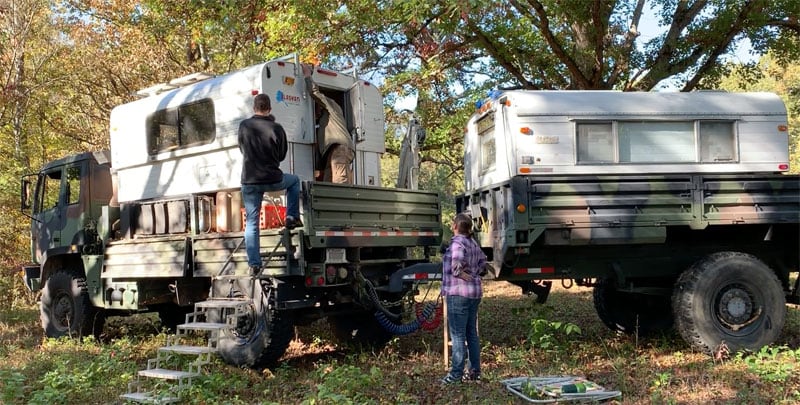 Above: Bob and Colleen's extremely unusual dual camper rig during filming
So where are we going with this?  We are learning the techniques of video and film production to produce a level of content that has never been attempted in the truck camper marketplace before.  After writing articles for 13-years, I need a creative challenge.
All I can say is Truck Camper Magazine is heading in some some very new and exciting directions.
Expect the unexpected.  It's coming.