We had 25 intensely creative and inspiring truck camper floor plans enter our second Truck Camper Floor Plan Contest.  From those entries, a winner and four stunning finalists were painstakingly selected.  And the winner is…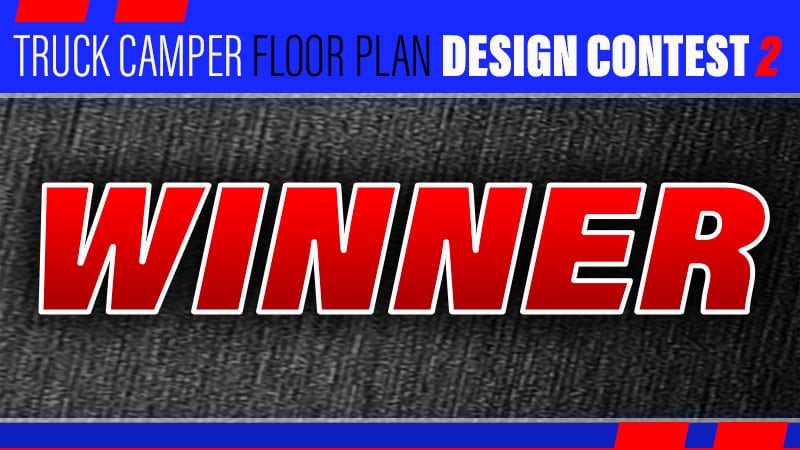 We had so much fun with everybody's floor plan entries.  There are so many great ideas rendered with such passion and purpose.  We sincerely hope the truck camper industry takes notice and notes.
Judging this contest was no easy task.  After looking at everything that was submitted, we started with a macro-level decision.  The winning floor plan should be truly unique and – preferably – realistically possible to build.
That ruled out floor plans that were variations on an existing floor plan.  Ironically, these submissions are likely the most viable and helpful to the manufacturers, but they can't compete with a completely fresh design for a floor plan contest.  Two variations were so good they made our honorable mentions.
That left about a half-dozen floor plans that were clearly ground-up creations.  After much deliberation and arm wrestling, one floor plan stood out above the rest for its sheer originality and real-world potential.
And The Winner Is…
Sparky 10.5 – By Jim Hicke of Ramona, California
Congratulations to Jim Hicke of Ramona, California for your truly outstanding Sparky 10.5 truck camper floor plan!  Jim has won the $100 Amazon gift card prize and the enviable life-long bragging rights of, "Yeah, I totally won TCM's floor plan contest."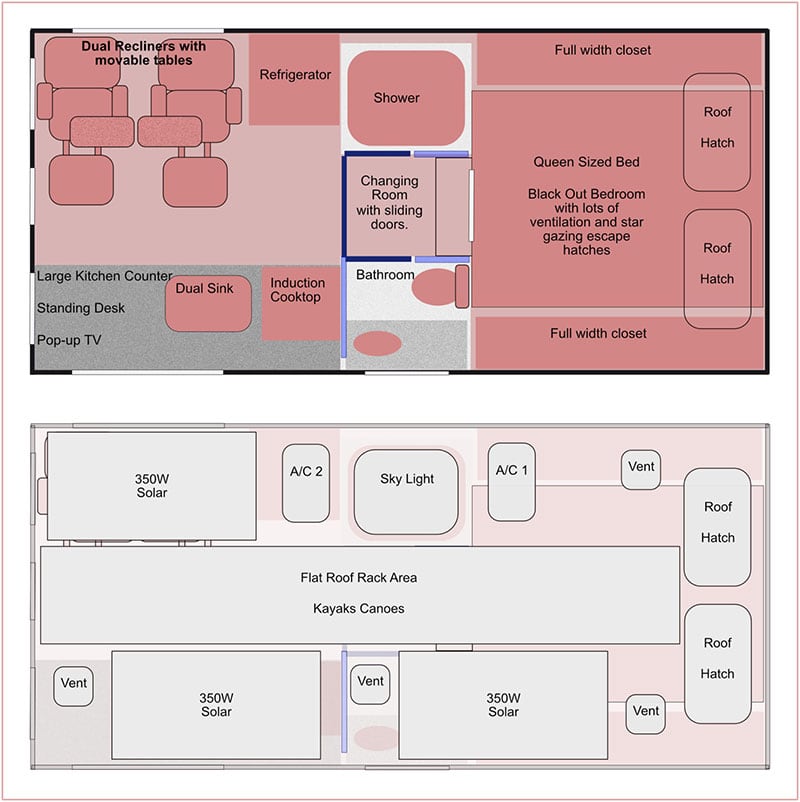 During our floor plan deliberations, we kept coming back to Jim's remarkable design and all-electric truck camper concept.  Based on what's happening in the automotive industry, all-electric is likely the future of truck campers.  Jim's design showcases that vision beautifully.
It's also on target for where the truck camper market is heading.  Non-slide hard-side models are growing in popularity.  And dual-recliners, 180-degree rear view, and a dry-bath (split mid-ship) are all in-line with emerging consumer trends.  We would love to see this camper happen.  More importantly, we believe it could be a commercial success.
Congratulations, Jim!  Well done.
Honorable Mentions: Original Designs
Transformer – by Youxuan Jin of Seattle, Washington
What put Youxuan's entry into the finalists category is the fact that he's actually building it in his garage.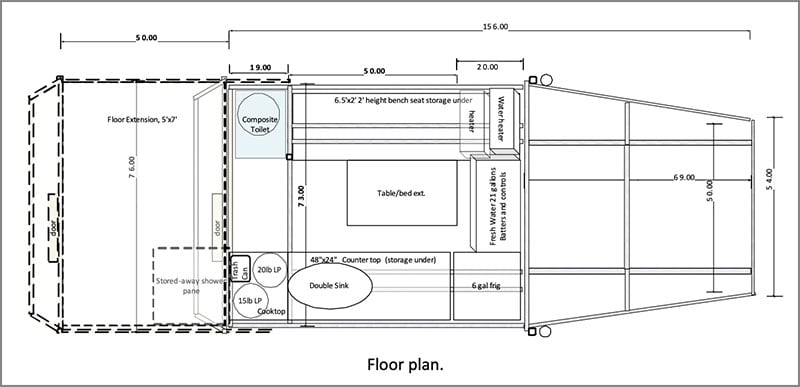 Not only did he design a completely out-of-the-box vision for just about every facet of modern truck camper design, but he has the courage and talent to built it himself.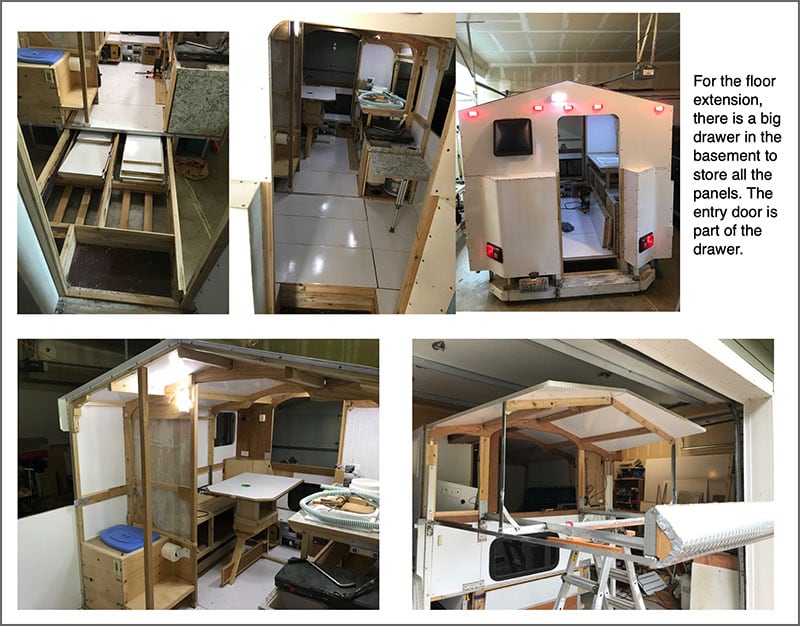 We will be contacting Youxuan for a follow-up article once his amazing truck camper is completed.  It's an extremely fresh design and we can't wait to see it loaded on a camper and ready to go.  Amazing work, Youxuan!
Ruffin-It – by William Ruffin, Evansville, Indiana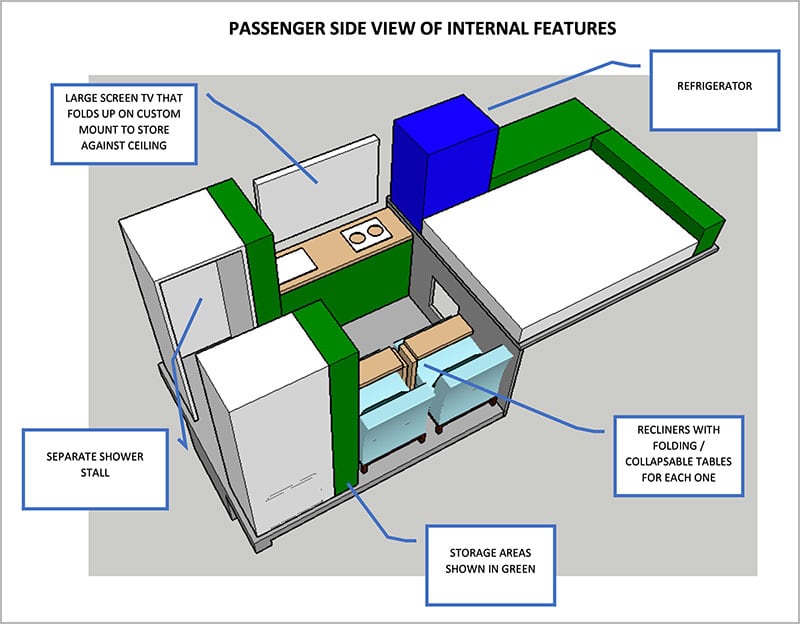 William Ruffin's Ruffin-It packs a ton of big-camper features and utility into a fairly compact design.  There are echos of previous designs in this floor plan, but somehow the synthesis creates something we really haven't seen before.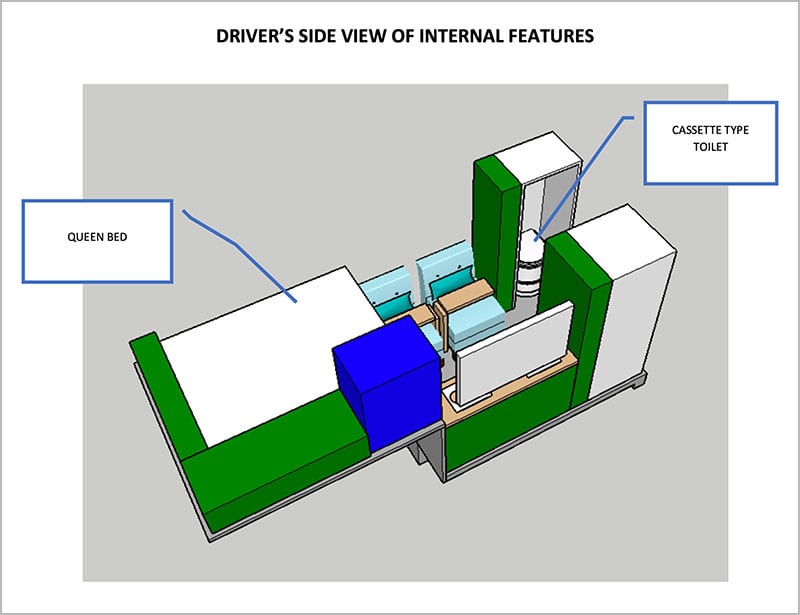 Again we see the dual recliners in a relatively small unit.  It's funny how often people ask for this feature versus how rare they are in actual production models.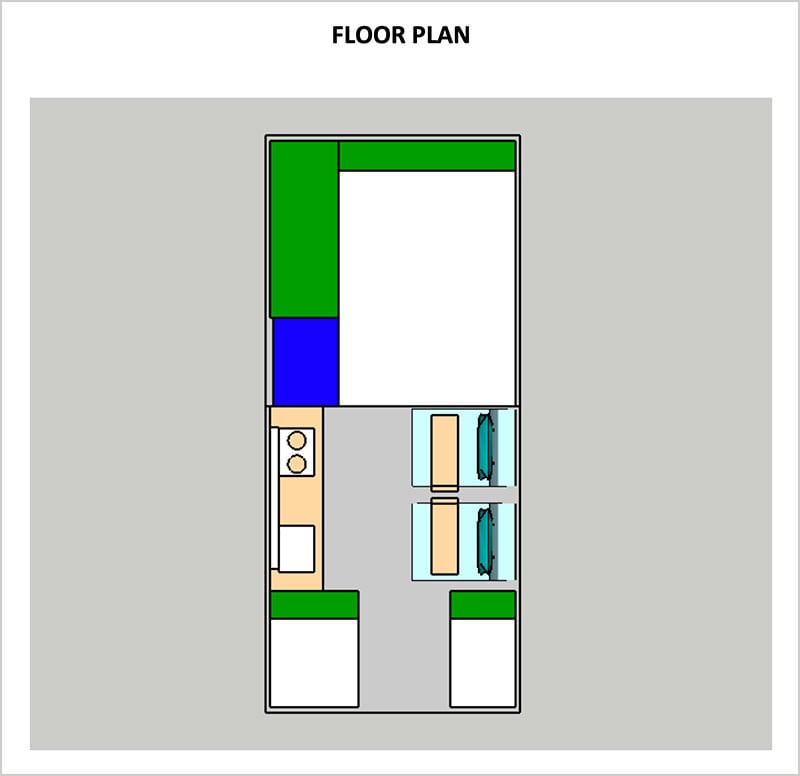 William also incorporated a split dry-bath, just like the Sparky 10.5.  Split baths have been done in campers before, but maybe they need another serious look.  Excellent design, William!
Honorable Mention: Based On Existing Floor Plans
Mount Borah – by TJ Kretschmar, Boise, Idaho
TJ Kretschmar stunned us with his professional Mount Borah CAD floor plan and 3D renderings.  The clever layout decisions and level of detail put his floor plan in the running.  Just incredible.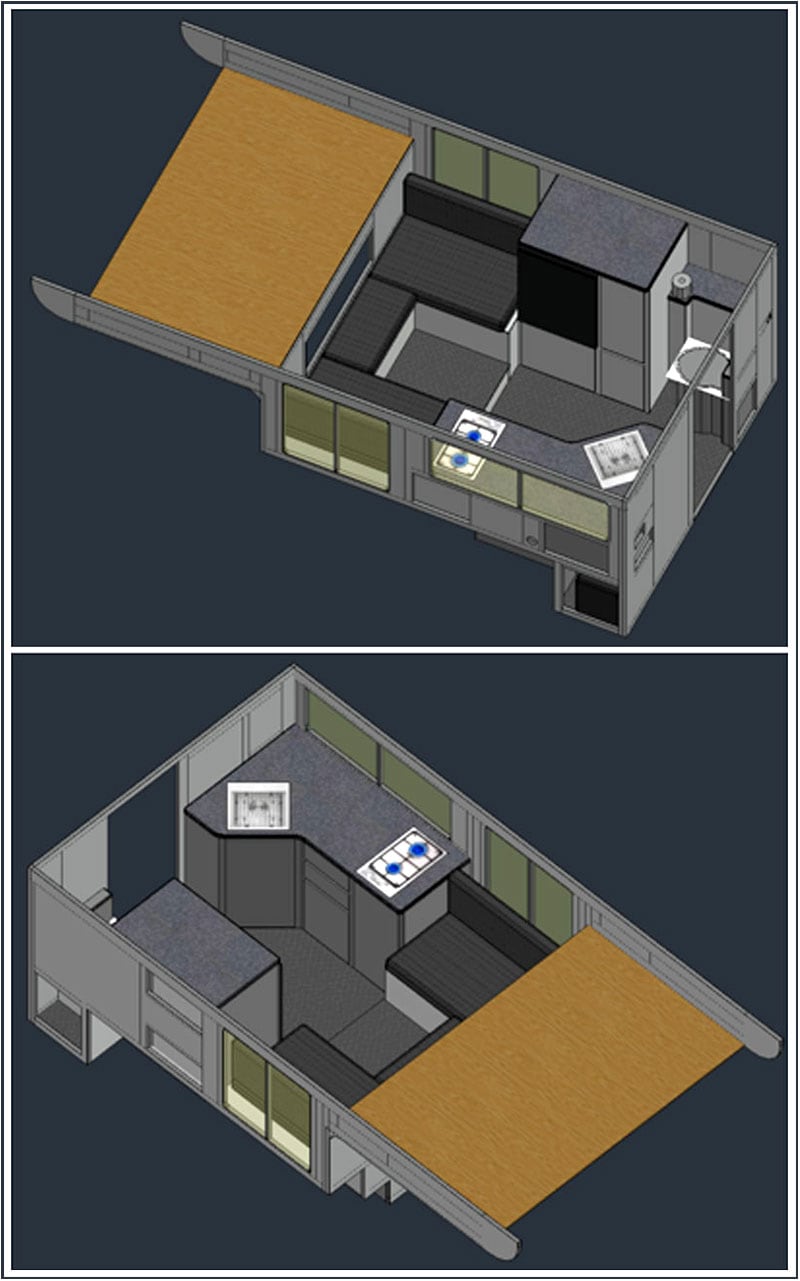 The face-to-face mid-dinette, the angled rear counter and sink, and the thorough considerations for nearly every aspect of the interior appear ready to implement.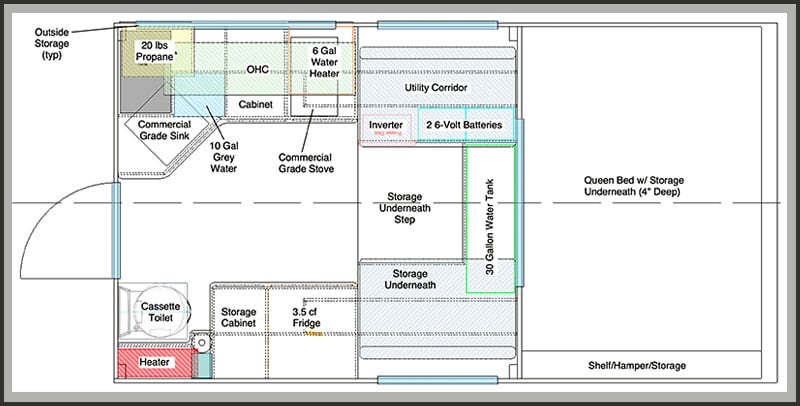 He even gives consideration for the center of gravity and weight distribution.  That's the type of thinking usually reserved for the pros in the design chairs.  Stunning work, TJ.  And one sweet camper design.
117Flex – by Sally Stomberg, Twisp, Washington
Sally Stomberg's 117Flex takes her favorite elements of Lance's 1191 and 1172 models and adds two important layers of, well, flexibility.  Sally actually sent us three versions of this floor plan to showcase how her concept adapts for different use scenarios.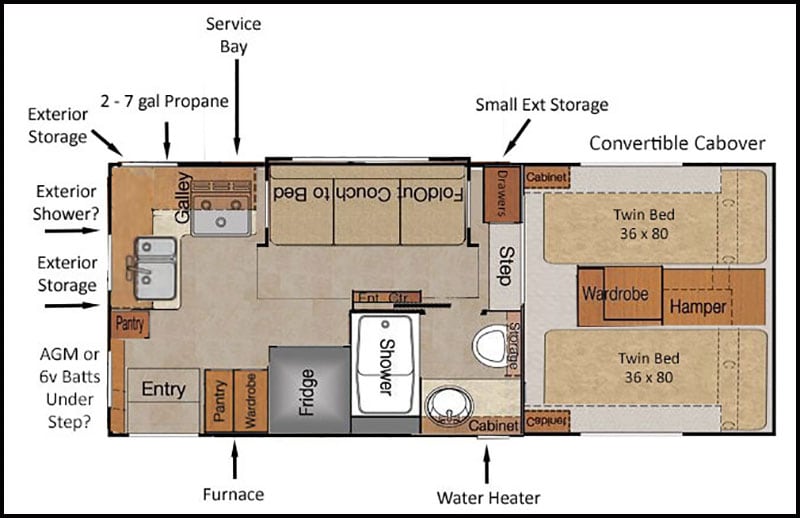 First, with the single slide-out in, the camper is 100-percent accessible as a non-slide.  Bathroom access?  Check!  Cabover access?  Check!  Stop, make a sandwich for lunch, eat it, use the potty, and hit the road?  Check!  That non-slide or slide flexibility is getting hard to find in the truck camper marketplace.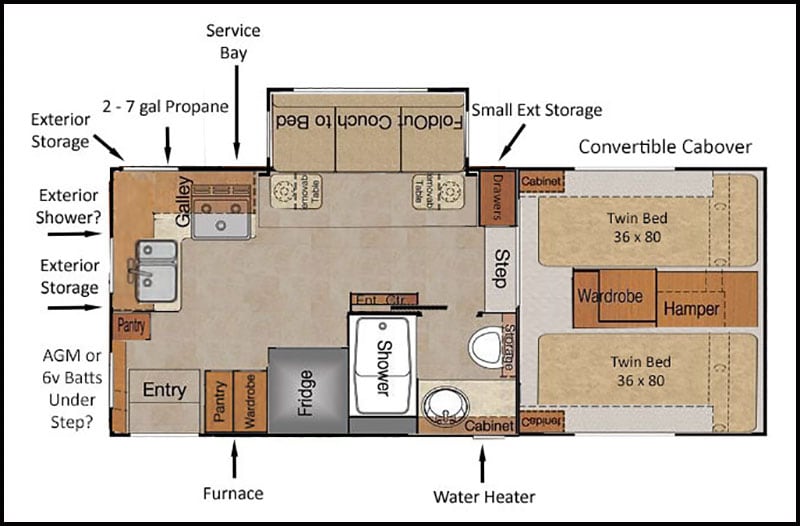 Second, the cabover can be configured with a single king-size bed or two twins with a central wardrobe-hamper divider.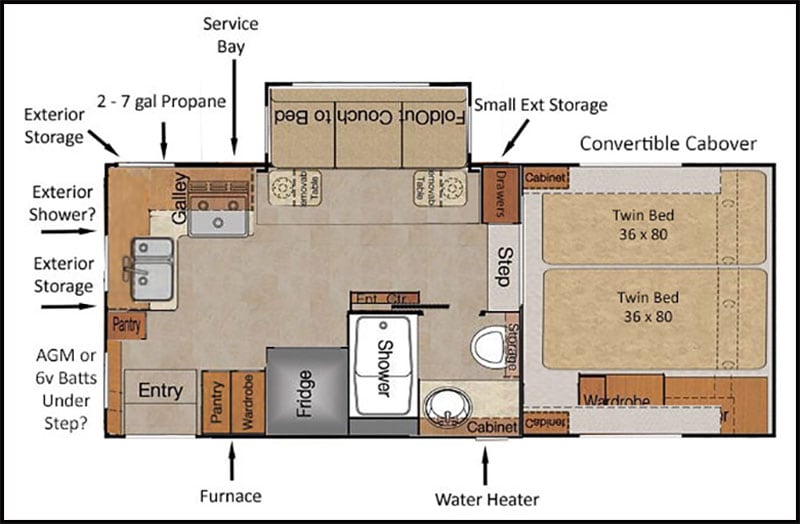 This means couples can camp together on the kind bed one weekend, and then dad and son can split the cabover for fishing or hunting the next.  Thanks for sharing your brilliant idea, Sally!
What Happens Next
Wouldn't it be fun to see some of these concepts interwoven into upcoming truck camper designs?  If nothing else, these illustrations should get the, "Hey, what if we…" discussions flowing at truck camper manufacturers everywhere.
We want to thank everyone who participated with the Truck Camper Floor Plan Contest 2.  Who knows, maybe we'll do this again in five years.  That would be 2025.  Oh my…