Get ready for 13 more creative truck camper floor plans sent in by passionate readers.  Heads up truck camper manufacturers!  There are some truly inspiring – and a few over-the-top – truck camper concepts to consider.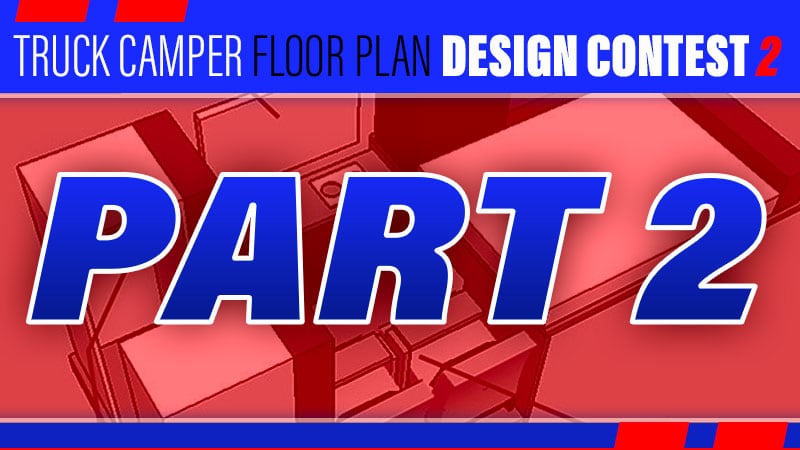 It's been an absolute blast to experience the remarkable variety of submitted truck camper floor plans as they digitally arrived at Truck Camper Magazine HQ.
Ping!  "What the?  Is that a pop-up made into a hard side?"
Ping!  "Holy smokes!  That dude has some serious CAD skills.  And look…"
Pink!  "Wow!  It's a clamshell fiberglass camper – with a slide!"
Some floor plans are tweaks to a favorite existing camper while others are completely fresh – white-paper-and-pen – designs.  Either approach offers valuable insights into changing customer needs while challenging the very notion that truck camper design has reached its proverbial peak.
Perhaps what we have enjoyed the most is the detail many presented in their designs.  Exactly where every facet of these floor plans should be is delineated.  Who knew we were so particular?
Phoenix Campers: Make It Happen
Not everyone can build their custom camper themselves.  I had a lot of fun rendering my dream floor plan in Photoshop, but there's no way I'm building the actual camper myself.  That's not my skill set.
For those who want a truly 100-percent custom truck camper professionally built, Phoenix Campers is the go-to custom truck camper builder.  Co-Owner, Robby Rowe, and his team have been building custom truck campers for decades and he is well known for his fearless execution of 100-percent custom camper projects.
Over the years we have showcased numerous custom Phoenix Camper builds that prove they can build just about anything you can imagine – pop-up, hard-side, slide-outs, you name it.  Check out numerous examples in Phoenix's pressroom or contact Phoenix to make a request.
Floor Plan Contest 2: Part 2
We received 25 floor plan submissions in total and divided the entries into two installments.  If you missed it, click here for Part 1 of the Floor Plan Contest.
Hunts Mesa
by Sam Russell, New Hamburg, Ontario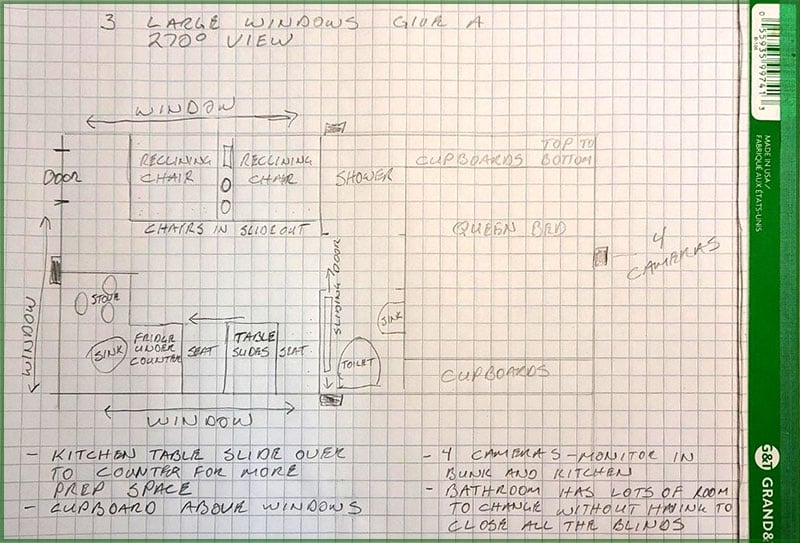 The Hunts Mesa camper is named for the best view in the world.
In my camper, there would be three large windows in the living space for a 270-degree view. There would be a large bathroom area when the door is closed so that there are no blinds to close when getting dressed.
The refrigerator would be under-the-counter for an unobstructed view. The kitchen table slides to the counter for more prep space. There would be a small kitchen table and seats for two. The seats would be reclining chairs with cup holders.
As options, the camper would also feature four security cameras and a large crawl through window. This is all based on an 8-foot long hard-side truck camper that has solar and standard size tanks.
Ruffin-It
by William Ruffin, Evansville, Indiana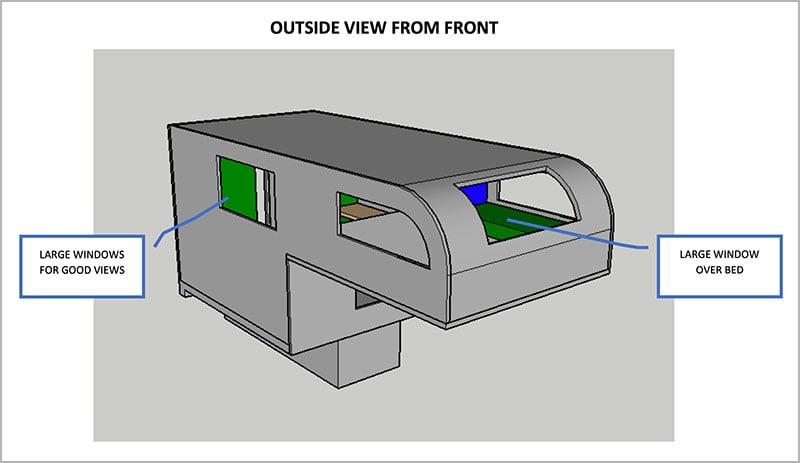 My concept for a truck camper is to have a place to relax while traveling. My wife and I like to see different parts of the country and have thought that a camper would be a good option for us.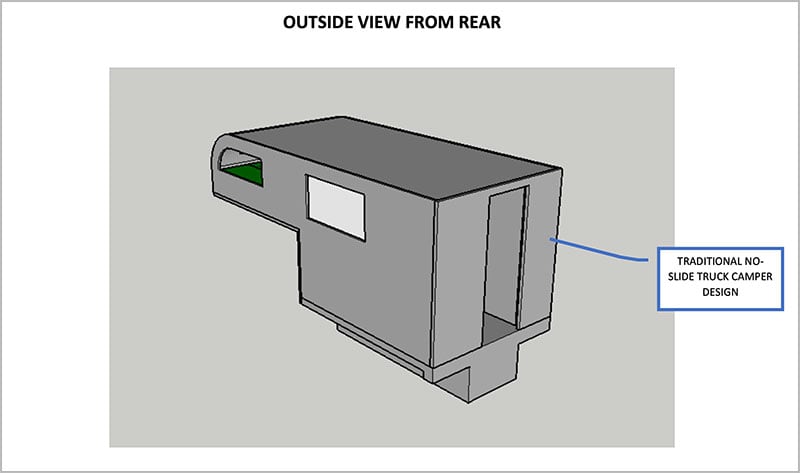 We don't plan to stay at traditional campgrounds or boondock. Our goal is to have a retreat to spend time in while on the road and to sometimes sleep in it. Most nights we'll stay at hotels and eat the majority of our meals at restaurants.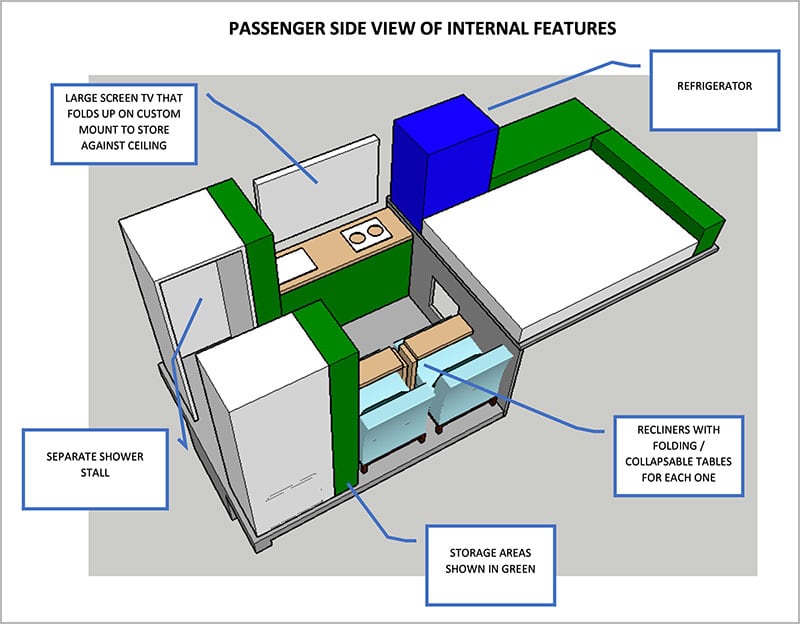 The truck camper seems like an obvious choice because of the ease of parking and maneuverability. We've looked at lots of models, but the big thing missing in them is a comfortable seating area with a large TV to watch movies.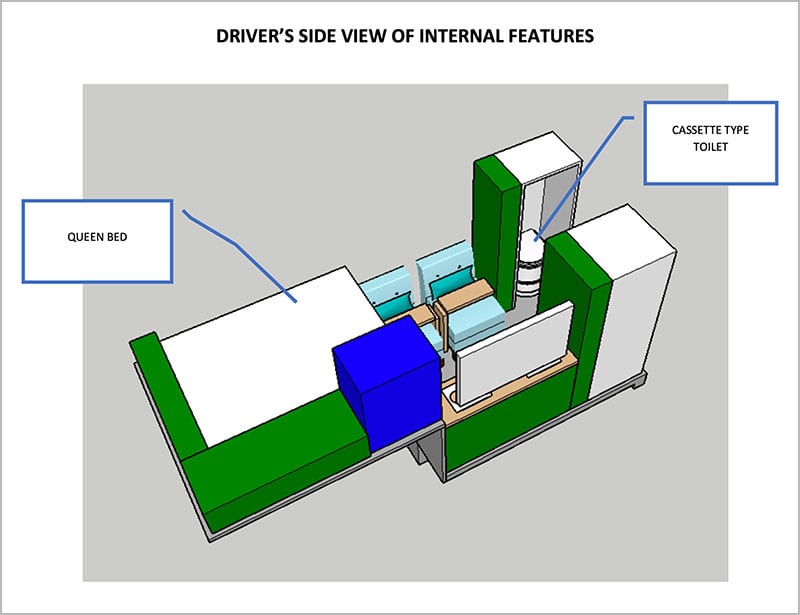 We don't need a lot of cooking or storage space because we don't plan to spend long periods of time traveling in the camper. We also don't plan on having a model with slides due to the complexity and weight. Our goal is no more than an 8.5-foot camper that payload matches nothing bigger than a Ford F-250.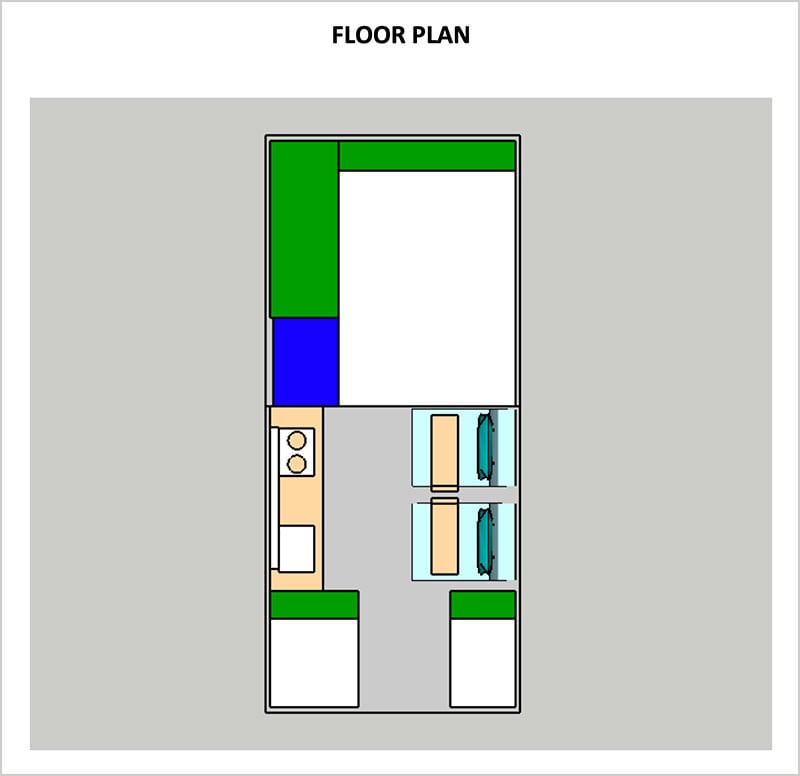 The main requirements are simplicity, ease of use, and comfort. A nice seating area with a large screen TV is important. We would like a shower and toilet for use when overnighting in the camper. This floor plan describes what we think would be the ultimate touring truck camper.
The Coop
by Kristina Freeman, El Paso, Texas
We love the 2018 Lance 975 that we bought in June 2020 but, since you're asking about our ideal floor plan, here it is. Please follow the numbers on the above floor plan to understand each numbered description below.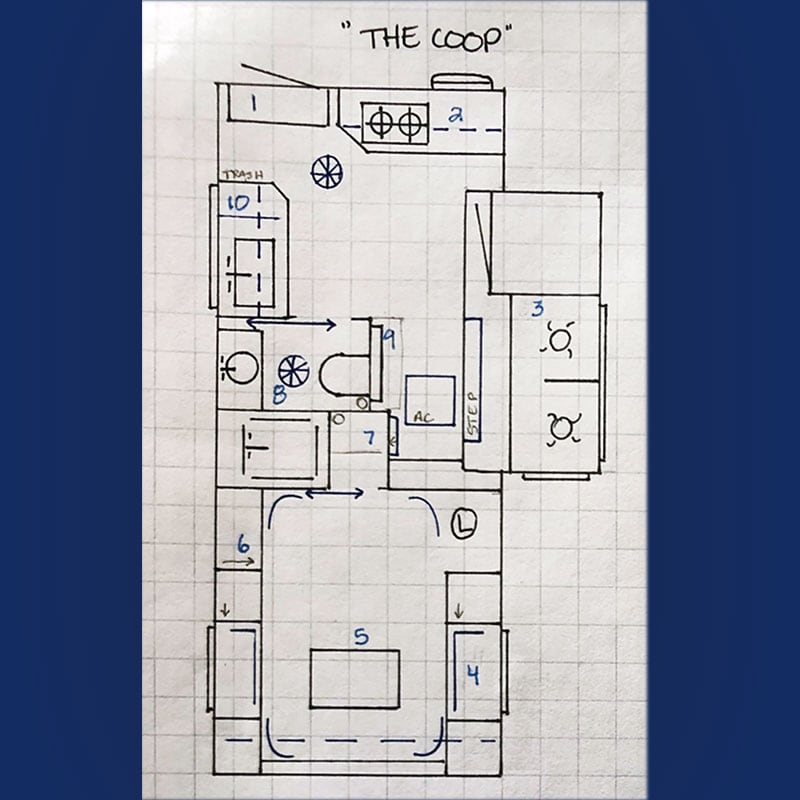 1. Offset the entrance and add a longer grab bar with fold-out steps. My husband's other woman, the Skeeter Bass Boat, usually gets between me and our center door.
2. The kitchen will have overhead cabinets, below the stove drawers, and a two-burner stove.
3. This is the refrigerator, loveseat recliner, and flip/inset step.
4. An open shelf to the ceiling, a shoe cubby, and a bedside table with flip top.
5. The bedroom has a queen mattress, skylight/hatch, overhead shelf with no-slip surfaces, outlets, and netting. It also has a landing area with a coat rack.
6. There is a power station that is open with outlets in each shelf area and front nets. It's 2020 and our chargers, phones, tablets, printers, cables, boosters, antennas, cameras deserve a dedicated space.
7. There would be a closet on top with a slider door that fits actual adult-size hangers. The closet has a false bottom for an XL Ion Battery Box with an additional (vented) access panel on the floor.
8. It would have a dry bath with a slider door. I have faith the industry can develop the "M1 Abrams" of gliders!
9. A TV mount and a small flip-up table/shelf are located here.
10. Single basin sink, overhead convection microwave, and a tall trash can area in the side of the lower cabinet. The upper cabinet side is for a switch and gauge center.
Plus, there would be only two skylights for more solar panel surface. Oh, and maybe, a small wine cellar in the floor with hatch-type access. Just sayin'.
All of this would be a comparable Lance 975 size with, while the slide is in, access to the refrigerator, sink, and potty… dreamy!
SR906
by Tim OSullivan, Seattle, Washington
My camper has a dry bath in this spacious layout that's all in a 9'6″ floor length with a single slide.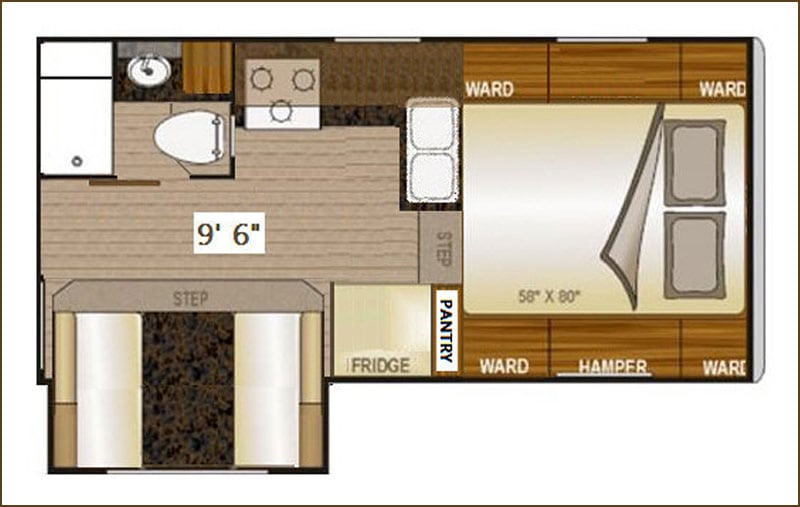 The bathroom has a toilet perched on a pedestal, a countertop-to-ceiling linen closet (four shelves), a full medicine cabinet above a full-sized bathroom sink, separate shower stall with seat, and an accordion shower door. The bathroom vanity has a deep drawer and under sink cupboard.
There is a queen-size bed with ample wardrobe/storage closets. A TV mount is located on the overhead cabinet over the kitchen sink that swings to face the TV towards the dinette or bed.
The dinette slide slides out. The step up to dinette has a flip lid to a long storage area. The dinette bench seats are standard length and the table drops down to make the dinette into a large sleeping area.
The kitchen has overhead cabinets. Above the stove is a microwave. Under the three-burner stove with the oven is a deep drawer. Two deep drawers and one cupboard are under the counter. A large two-shelf cupboard is under the sink. There is a deep and wide drawer under the refrigerator. A slide-out pantry is next to the refrigerator.
This 9'6″ camper would be designed to fit a long bed pickup truck. The tank sizes would be 36 gallons fresh, 15 gallons grey, and 10 gallons black.
The bumper, stairs, and the awning on the back are not shown on the floor plan. There would be access to an 11-inch high basement from the bumper.
Grace 9.5
by Grace OSullivan, Grand Coulee, Washington
There is a full dry bath in this 9'6″ camper. It fits on a long bed truck.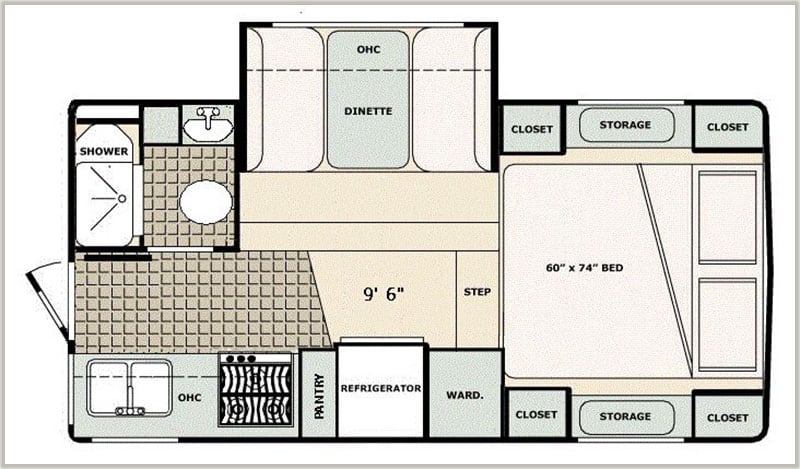 It's a dinette slide with standard bench seats and under bench storage. The dinette converts into a sleeping area with the table dropped down. The step up to the dinette is hinged to access a long storage area.
A TV mount is on the side of the wardrobe that swings to face the dinette or the bedroom.
The bathroom has a full-size sink with overhead medicine cabinet and a tall linen closet. A sun-roofed shower has a seat and the shower door is a retractable clear vinyl.
The kitchen has an overhead cabinet and a microwave above the stove. There are several deep drawers under the kitchen counter and one wide and deep one below the oven.
My camper would have a solar system, two propane tanks, 36 gallons of fresh water, 15 gallons of grey, and 10 gallons of black.
This camper is constructed in fiberglass and is lightweight. Not shown is the bumper and steps in the back. Access to a 10-inch high basement is from the back.
Sportsman Model
by John Littrell, San Diego, California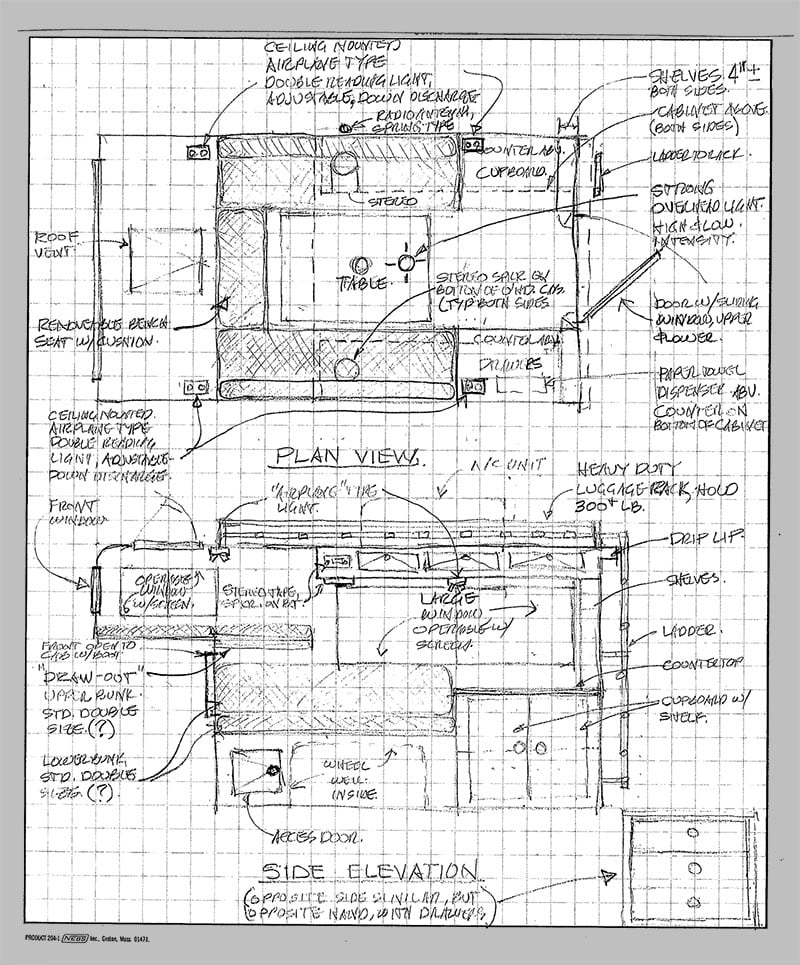 This is a simple lightweight floor plan without a built-in kitchen or bath. I actually had it custom built by Callen Campers in San Diego circa 1998. It worked great for 20-years.
The camper originally fit a 1995 Ford F-250 long bed. I now have a 2017 Ford F-350 short bed and would love to find something similar to my old camper. It would be scaled down a bit for my short bed truck.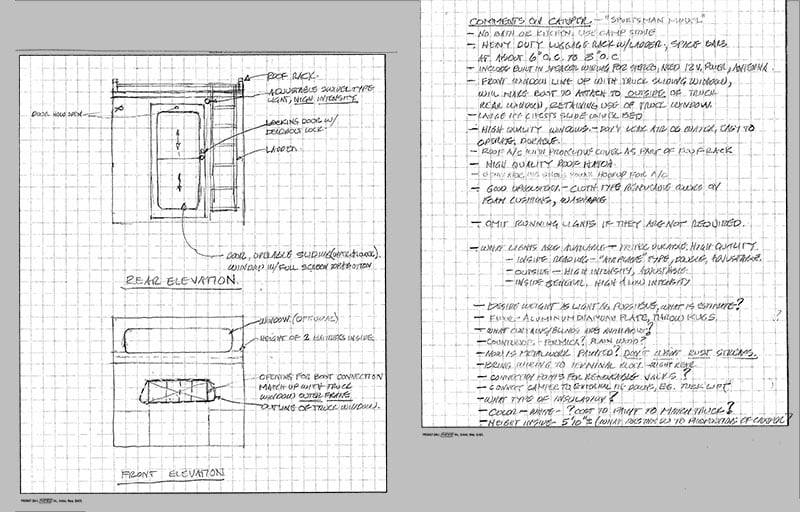 The camper is a hard side, non-slide with no kitchen, bath, or built-in tanks. It uses water jugs and a camp stove. It has good insulation and a roof air conditioner unit.
There is room under the lower bed for sliding in large ice chests (hunting, fishing, food, drinks). By design, this camper would be very sturdy and require minimal maintenance.
Transformer
by Youxuan Jin, Seattle, Washington
I conceived this idea two years ago and work on it in my spare time. I plan to finish it by the end of 2020.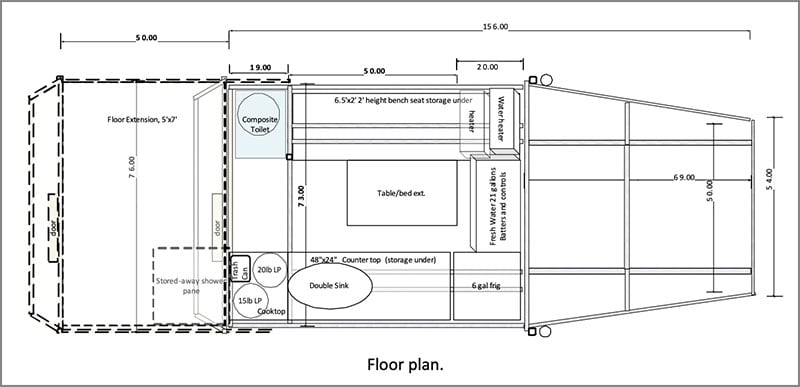 Parts and appliances are being removed from a 2000 Arctic Fox 900 to save money and time. The older components are heavier than what's possible from newer parts and appliances. Otherwise, I believe my camper could be under 1,800 pounds.
The floor plan is simple. A feature is a slide-out of the back of the truck up to 5-feet to add 35 square feet of interior/patio floor. The extension will have a convertible roof. The process of extending is manual, not push-button electric.
Other features of my camper are a tapered cabover for aerodynamics. It has a bucket composite toilet. There is a high countertop and seat with storage underneath. There is no overhead storage to lower the center of gravity. The wings sit on the bed railing for added stability and no tie-down stress.
I made everything serviceable. Every component and connection can be accessed and removed without tearing up a wall.
I built the camper at home inside my 8-foot tall garage door. To make sure it could roll out, I had to lower the total height. Otherwise, I would make it 4-inches higher.
It is a hard body camper for a 6.5-foot truck bed. I targeted a Ford F-150's payload, but I exceeded it mostly because of using older parts and components parts. So, I am getting an F-250 to be safe.
The camper has an aluminum base with a wood frame and 1-inch FRB walls and floor. The total length is 16-feet and will extend to 21-feet. The floor length is 8-feet and extends to 13-feet. The cabover is 80-inches.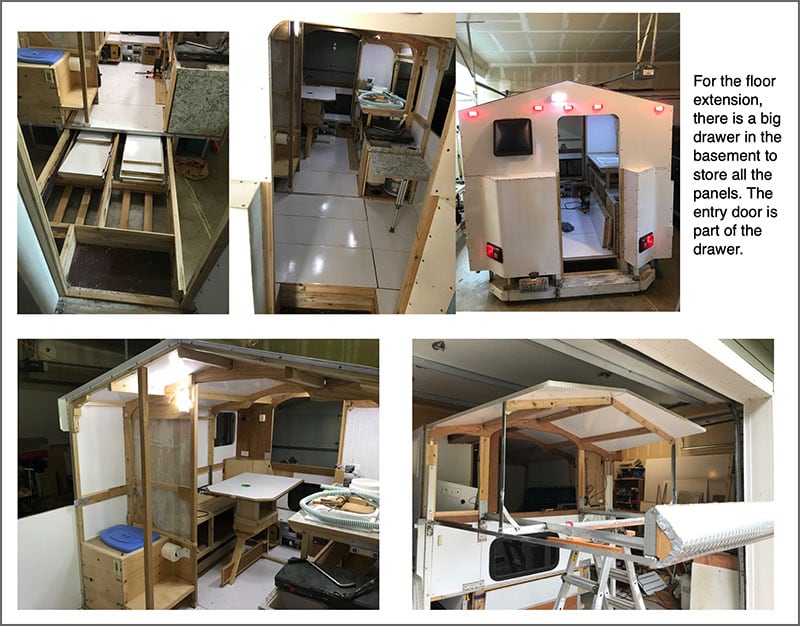 I am utilizing the 6-cubic foot three-way Dometic refrigerator, 6-gallon water heater, propane furnace, double sink, two propane tanks, and dual batteries from the Arctic Fox.
The camper will have a 21-gallon fresh water tank. Grey water will be contained in a 3-gallon portable water container. There's no black tank as the camper uses a compost toilet.
Other features include a 4-foot long kitchen counter, two-burner portable cooktop, inside store-away shower enclosure, solar-ready for up to two 100-watt panels, and a dinette table that lowers for a 6'5" by 40-inch bed.
Osprey 10
by David Casterson, Aptos, California
The Osprey 10 is a hard side, wet bath truck camper designed for accessibility.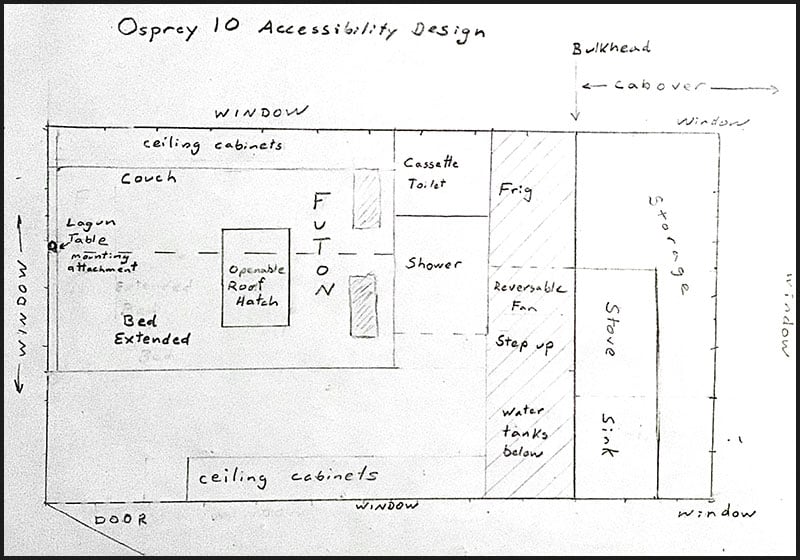 Its bed is located in the rear of the camper so there is no climbing up or down to the cabover. The custom futon bed is the height of a living room couch. It has over four-feet of headroom so you can sit upright and have a great view out the large rear window.
The futon bed folds into itself with the sheets and a light blanket still tucked under the mattress. The futon bed can be used as a couch or eating area using the Lagun swiveling table during the day.
The stove and sink are located in the cabover with a reversible roof fan between the stove and shower and a Tern Overland 500x700mm roof hatch located above the bed and dining area.
A full-height side entry door with fold-in steps frees the rear of the camper to haul bikes, boats, and other items as needed.
The Osprey 10 is designed for a long bed three-quarter or one-ton truck.  Its floor length is 10-feet. The width is 7-feet. The height is 6-feet, 3-inches. The dry weight target is approximately 2,000 pounds. The fresh tank capacity is 35-gallons and the grey tank capacity is 20-gallons. There is capacity for one or two propane tanks.
A Froli bed system is placed beneath the queen mattress to allow sleepers to adjust firmness to their own preferences. Below the rear window is a swinging Lagun table attachment for mounting a removable Lagun tabletop.
The camper has one or two solar panels, a boat rack, a couple of AGM or lithium batteries, and a compressor refrigerator that can be removed or serviced from the outside.
The Osprey 10 also features Dometic double-glazed windows with integral pleated shades, a Truma Combi to provide programmable warm air and hot water, an outside port for attaching a portable suitcase-type solar panel, and 2-gauge wiring from the camper batteries to the truck's seven-pin connector to maximize battery charging while traveling.
117Flex
by Sally Stomberg, Twisp, Washington
George and I are getting ready to replace our 2006 Lance 1191. While there are things I like about our current floor plan, there are things I don't like. For example, there's not enough galley counter space. I have not found another truck camper layout that I like.
I have a few requirements; only one slide, side entry door, and the ability to easily stealth camp with an accessible bath, refrigerator and bed when the slide-out is in. Also, the TV has to be across from the main sitting area to prevent neck pain.
Our Lance 1191 has most of these features. Too bad Lance doesn't offer the 1191 layout anymore.  Most of the side entries are multi-slide and I am not looking for that.
To create my dream truck camper, I started with a Lance 1172 floor plan and Photoshopped the heck out of it. I am calling it the 117Flex for Flexible Cabover.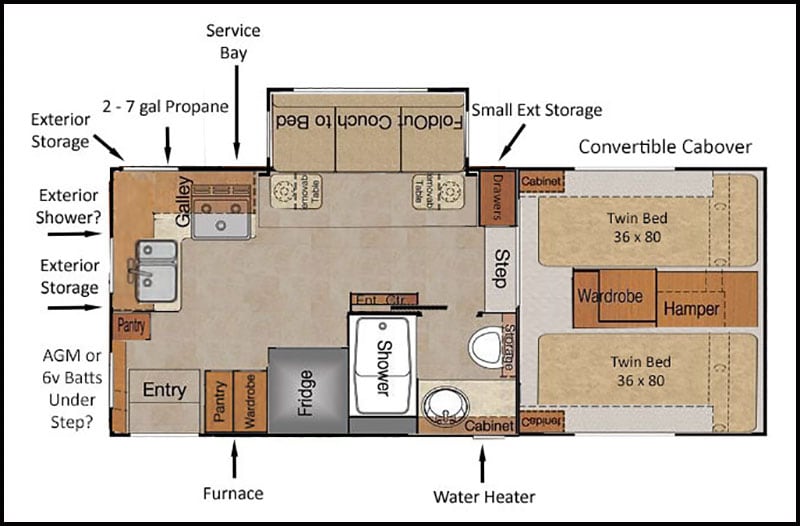 My cabover has a convertible configuration using twin beds and a sliding wardrobe cabinet. While I haven't fully fleshed out the details, I think it might work.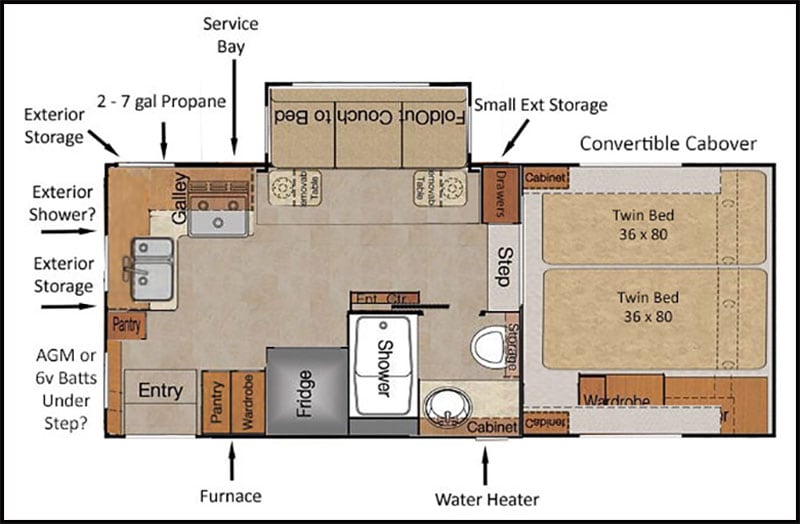 A few years back TCM wrote about a CampLite that was an inspiration, although I did not like their hamper design. My idea for the sliding wardrobe is to give each person a little more privacy. Maybe you and a buddy want to go hunting but don't want to share the cabover bed.
The dinettes are never big enough for that second person. Maybe your partner snores and you need a little more quiet space (not that I would know anything about that!). Maybe your partner is on a completely different sleep schedule. Maybe the kids need their own "rooms".  Or maybe you want the RV King size bed!
While I set this camper up as more for couples, it could work for a small family. It gives you the flexibility to use it depending on circumstances.
It also has a rear galley with a pull-out sofa bed in the single slide. Tables mounted on Lagun-style legs provide eating and workspace on the sofa instead of a traditional dinette. It has a full dry bath as well.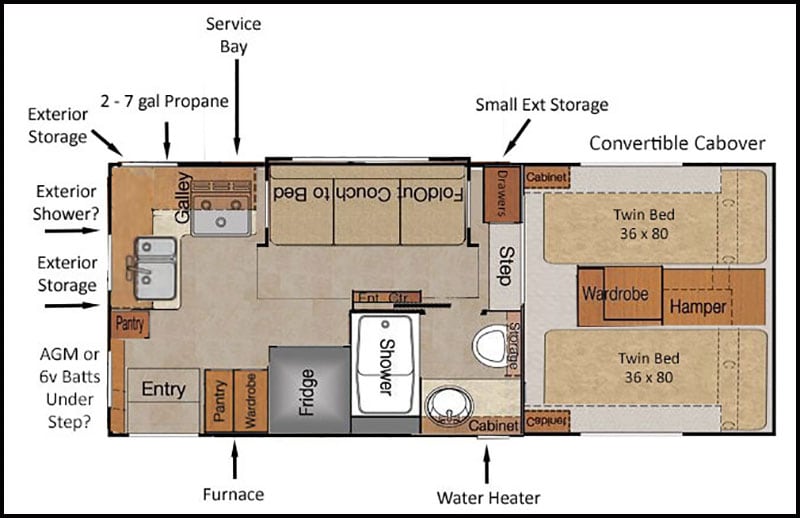 It was fun designing this camper. Rugged Mountain Custom RV in Idaho has reviewed our ideas and we are moving into the pricing phase along with developing holding tank layouts. We plan on having our camper built next summer. It's so exciting!
When I saw your floor plan contest, I hesitated about sharing our design, but what the heck. I like it and someone else might like it, too!
Minimal8
by Sarah Pickering, Graham, Washington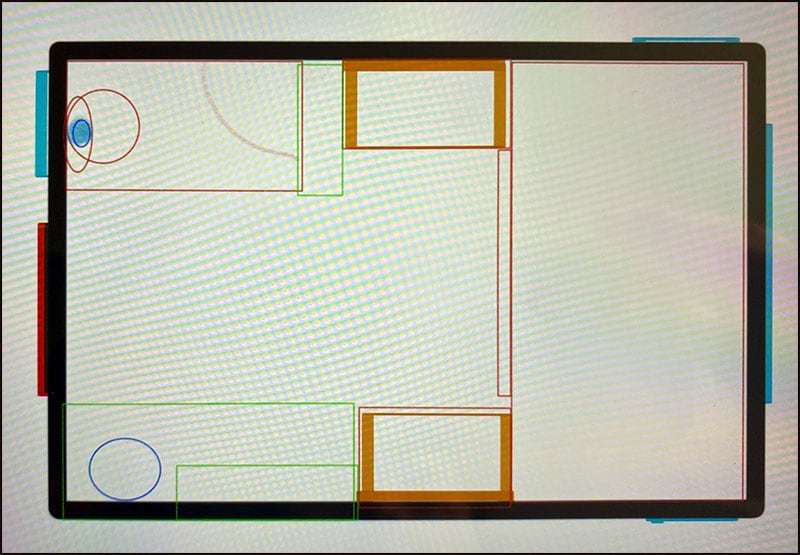 In my floor plan, I placed blue for the window placements, thick red for the door opening, a blue circle for sink, and a blue circle over the toilet.
I would have the Japanese sink over the toilet feature, which allows using grey water for flushing and fresh water for washing.
The thin pink circle on my floor plan shows a shower feature. The green thin box is for an upright pantry or closet. The thin red rectangle by the bed space is for the pull-out table.
The orange area is for seating and cushions to sit on. Underneath is a place to store tanks and/or battery supplies for the solar or drawers. The kitchen area is also a thin green line.
The upper cabinet has venting for an induction plate and the lower cabinets would have drawers. The kitchen has a minimalist design because I want the ability to utilize space.
Bikes could be placed inside for safety or coolers after hunting or fishing. There would be a few lights placed around in standard spots. A few USB outlets with a standard plug area would be located near the kitchen and another outside for a placement of a portable oven.
I'm thinking it would be a pop-up design or a lightweight hard side on an 8-foot bed with a quad cabover bed space. The fresh water tank could be 15-gallons with a 20-gallon black tank.
All grey water could be diverted to the toilet becoming black. Four solar panels on the roof should be enough for anything. There would be no microwaves, TVs or propane tanks. A wet bath or dry bath could work well. I don't have a preference. I want it nice and simple.
New York City Apartment in a Truck Bed
by Ken Honeycutt, Asheville, North Carolina
My floor plan is called New York City Apartment in a Truck Bed. We all agree that getting out in nature is good for the soul. However, who says it has to be uncomfortable?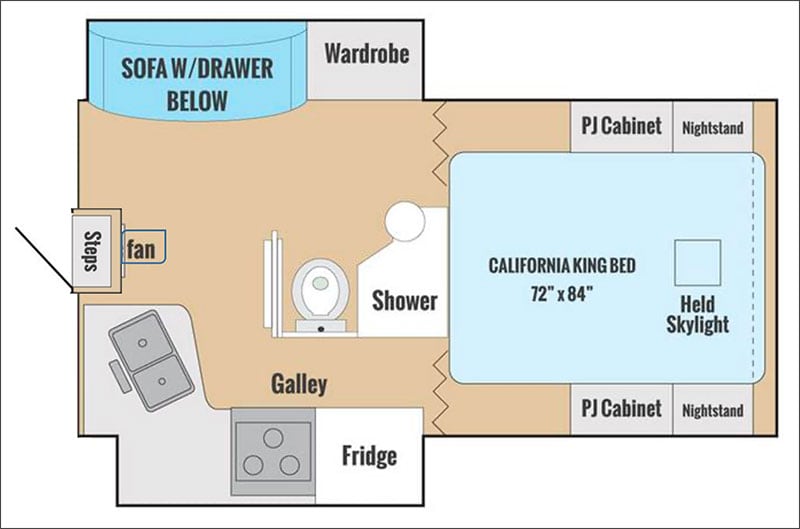 With this design, it allows us to stretch out on those days when the weather may not be perfect or we just don't feel like getting outside. With a full kitchen, a king size bed and a dry bath, this plan provides all the conveniences of home.
The sofa with the drawer below could be replaced with two reclining theater seats for ultimate comfort. The goal would be to fit the camper in a 6.5-foot short bed truck.
TravelVista 11.5
by Craig and Chris Dukes, Seaford, Delaware
We love the design of our current 1989 Travel Vista. It's a hard side non-slide truck camper with approximately 7.5-feet of floor space. My floor plan entry is based on this camper.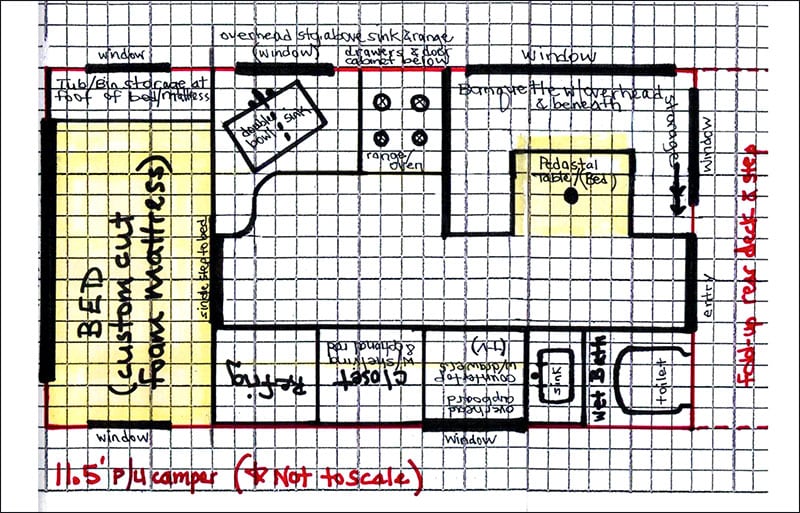 It has a spacious interior with lots of storage and plenty of floor space in the kitchen area. The kitchen is away from those seated while eating, playing a game, watching TV, or using the bathroom.
Granted, the wet bath is a bit tight, but it's workable. There are lots of windows that provide excellent interior lighting. We've never considered buying a newer model because we can't find a floor plan or layout that we like as much as this one.
The TravelVista 11.5 has a 20-gallon fresh water tank, a 20-gallon black water tank, and a 25-gallon grey water tank. We operate on two 20-pound propane tanks and one RV battery, plus a small solar cell on the roof.
It is equipped with a Fantastic Fan, an aluminum deck, and a side awning (all of which we installed ourselves). We load it on a full-size 8-foot bed.
One unique feature is our Stable-Lift, which is a patented electric jack system with three motors. It enables us to load and off-load the camper with just the press of a button. It is great for leaving the camper at our site and driving away!
Trail Head 1-2
by Ron Ross, Lake Worth, Florida
My design is based on our Northern Lite floor plan. I would like to focus this floor plan on the bathroom area specifically.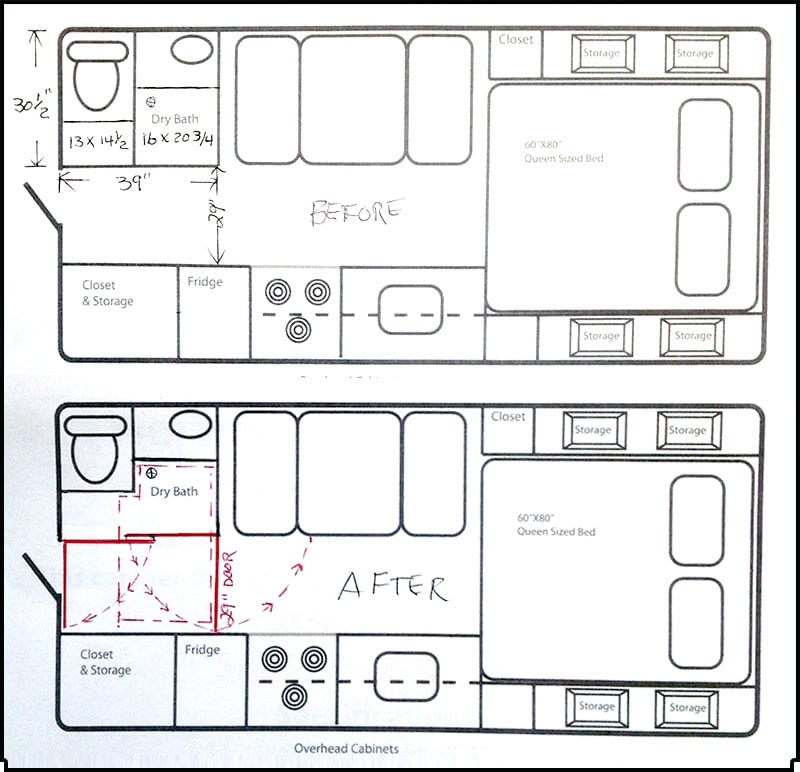 To keep perspective, the measurements shown in the BEFORE plan are taken directly from our camper and are accurate to within an inch or so.
Our bath has a sliding door on the left that moves to the right. You step over a 7-inch threshold to enter the toilet area and then another threshold to the shower area.
Remove the door, thresholds, and front wall.  Replace that with two full-length doors approximately 29-inches wide that would overlap one another. One door swings left and provides privacy to the camper's entry door and would have lots of shelves. The door on the right opens 90/180 degrees and is where a lightweight and removable shower pan is stored.
A 360-degree shower curtain is overhead. Remove the shower pan and place it on the shower's floor. It will drain into the existing shower drain. The shower area is increased to 20×45 approximately, and could be made wider. See the after plan's dotted lines in the AFTER plan above. There is easy access to the toilet as well. The overall bath size is 39×59-inches.
Our camper is 8'2" wide, 16'3″ long, and has two propane tanks, two solar panels, and two batteries. It's a hard side with a dry bath. The tank sizes are 33-gallons of fresh, 24-gallons of grey, and 12-gallons of black. Our camper fits a single rear wheel Ram 3500 diesel. Our camper is beautifully built and there isn't much I would change about it.