From pen and paper sketches to three-dimensional CAD renderings, Truck Camper Magazine readers reveal 12 incredible dream truck camper floor plans.  There are some wild and brilliant ideas here.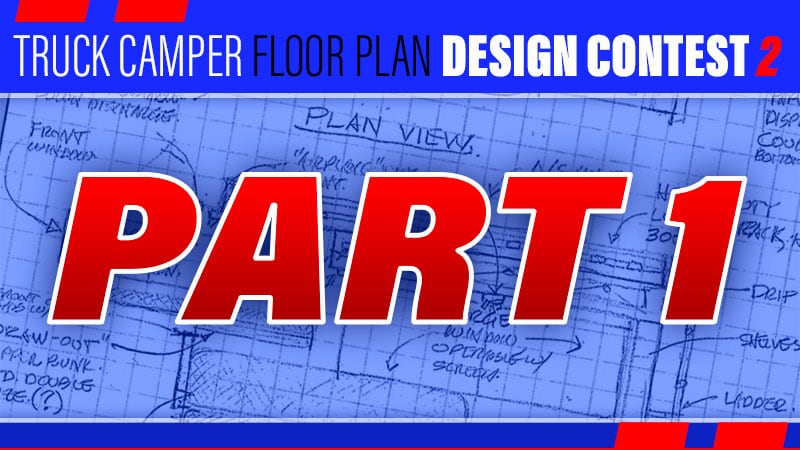 "Why don't just move this there, put that over here, and make the window bigger?"  Sound familiar?
Nearly everyone involved with truck campers eventually asks questions about the design choices the manufacturers make, including us.  In fact, we have had the fortunate opportunity to ask in person, at the factories, directly to the head designers and decision-makers themselves.
"Why, Mr. Head Design Dude, did you put that here and not there?"
The answers are not what you might expect.  First, they almost universally agree with our desire for more functionality, better reliability, improved serviceability, additional storage or enhanced aesthetics.  They get it.
Often times they thought about the very issues in question and originally designed the camper accordingly.  Then reality sets in.
Safety codes would not allow the window – and the associated window blinds – to be located within so many inches of the cooktop.
That particular cooktop is more efficient and reliable, but availability from the manufacturer or supplier is unreliable.
Manufacturing with that material or process is lighter and stronger, but the material itself adds too much cost to the final build, or slows down the production line too much.
The consequences of these design gauntlets is that camper manufacturers begin to blunt creative experimentation and design strictly to what has worked – survived the design process and sold – in the past.  Innovation can still happen within those boundaries, but truly breakout products are difficult to achieve.
Floor Plan Contest II was developed to spark more creative experimentation – first among our incredible readers, and then by the chosen few who sit in the Head Design Dude (or Dudette) chairs at camper manufacturers everywhere.  It already has us considering new design possibilities.
Floor Plan Contest 2: Part 1
We received way more floor plans than could fit into a single article, so we are publishing the submissions in two installments.  For fairness, the floor plan entries are shown roughly in the order they were received.  The contest winner will be announced this week.  As you're about to see, it's going to be a very tough call.
Mount Borah: A Modified Hallmark Ute Limited
by TJ Kretschmar, Boise, Idaho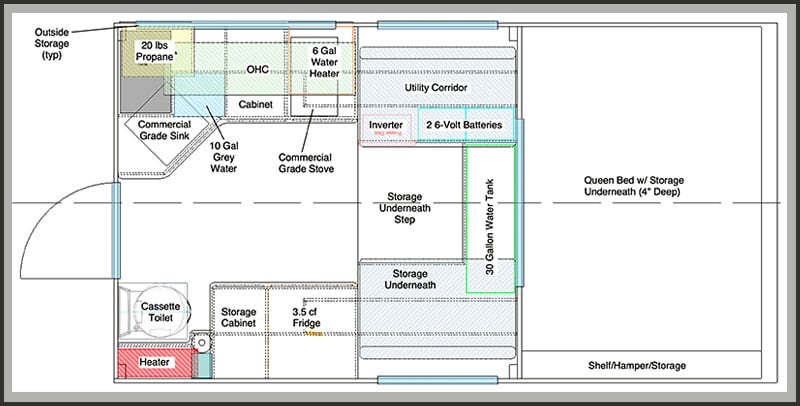 I have an older Hallmark Ute Limited pop-up truck camper and designed a new layout that utilizes most of the hard parts inside the unit.
The new floor plan includes a front roll-over dinette, rear corner sink, simpler bathroom (no indoor shower), and a re-balanced weight.
The increased width and corner sink will allow people to pass when someone is in the galley area. The refrigerator was relocated to the passenger's side over the rear axle.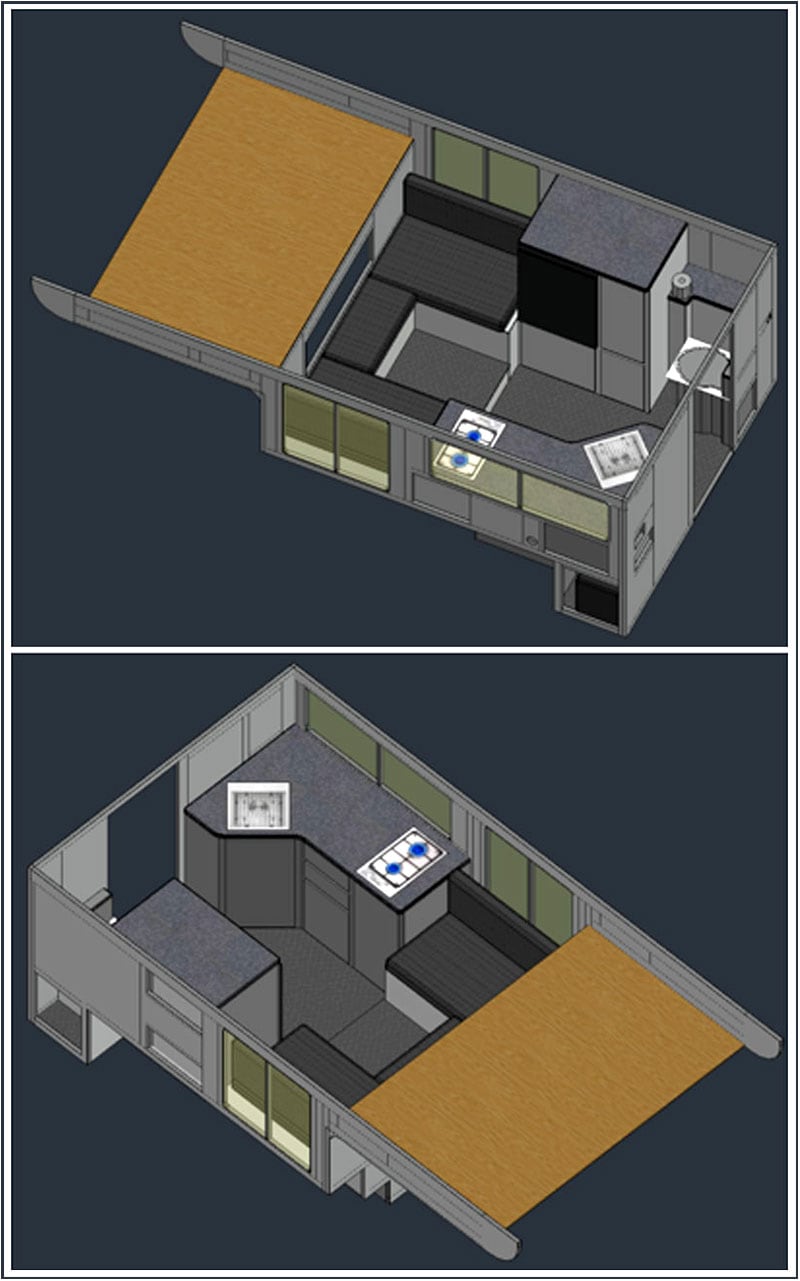 The floor length is 8.5-feet and the width has been increased to 7.5-feet. Capacities include 30-gallons of fresh water, 10-gallons of grey water, 20-pounds of propane (horizontally mounted), two six-volt batteries, and a six-gallon hot water tank.
The Smoky Mountain
by Tarin Feinstein, Queen Creek, Arizona
The Smoky Mountain is like no other truck camper in production.
What sets it apart is a full-size, fold-down patio that doubles as the rear of the truck camper.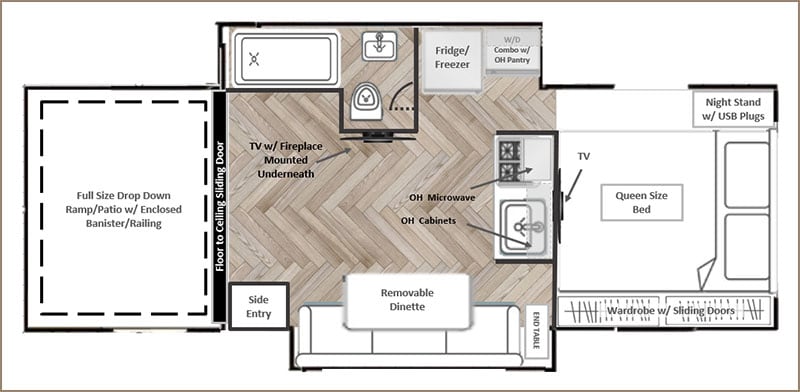 This is similar to a toy hauler's door with suspension cables on either side and stabilizer jacks underneath for support.
The patio also has a banister/railing enclosure. This creates a closed-off patio with stairs and a door so you can exit the camper via the patio.
When the patio is extended down, there's a floor-to-ceiling, wall-to-wall sliding-door for panoramic views and easy access to and from the patio. When the rear ramp is closed, a side-entry door on the passenger-side allows entry.
The camper features two slides; one on either side. The full length slide features a full-size dry bathroom with shower, toilet, and vanity. There is also a washer/dryer combination with overhead storage next to a refrigerator/freezer combo.
The kitchen is on the front side of the bedroom and features a gas range with an overhead microwave, a deep, single-basin sink, and overhead cabinets for storage.
The other slide features a large comfy three-seater couch with heated massagers, a table, and a removable dinette. You will also have access to an end table with USB and plug outlets for your convenience.
Across from the couch, this design opens up into an open floor plan with a flat-screen TV that sits just above a built-in fireplace. The TV is mounted on the backside of the bathroom wall.
Over the cab, there is a spacious bedroom that features another mounted TV, queen-size bed, large windows, a nightstand with USB and plug access, and a full-size wardrobe with hat and shoe storage.
There will be an array of on-trend finishes and touches including light gray or emerald green cabinets, white marble-look countertops, black or brass handles, and a tile-look backsplash. Waterproof vinyl planking is laid in a herringbone pattern for a timeless feel.
It will accommodate at least 65-gallons of fresh water, 50-gallons for grey water, and 30-gallons of black water. The LPG capacity will be 15-gallons and the furnace will be 25,000-BTU. The water heater will be 6-gallons.
The truck camper will be equipped for solar and will provide two on-board batteries and an on-board Cummins ONAN generator.
Sparky 10.5
by Jim Hicke, Ramona, California
This is a long-bed hard-side all-electric truck camper with a diesel heater. It features an open living area with panoramic windows and two recliners with movable tables.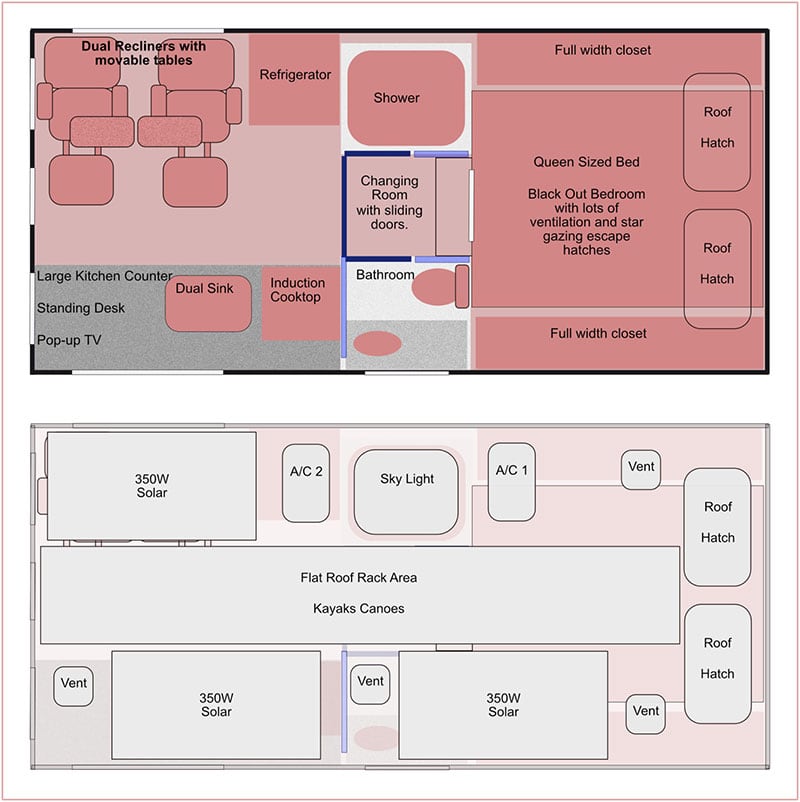 The bathroom is an opposing dry bath with a convertible changing area in the hallway between the toilet and shower. There are two small air conditioners to create two cool zones which optimize battery usage.
The bedroom has massive amounts of storage and forgoes windows to create a complete black-out environment for sleeping during those Alaska summers. The two roof hatches are positioned for perfect stargazing and double as the escape hatches.
The kitchen has a large counter for preparing meals, but it also doubles as a stand-up desk and contains the pop-up TV for when the work is done.
The roof is arranged so that you can walk up the center for maintenance and features a rack designed for kayaks or a canoe.
This camper will appeal this those who like the all-electric camper vans. All-electric is the future of RVing.
Since there is no propane and no generator, there's lots of insulated space for batteries. The diesel heater has a dedicated, externally-fillable diesel tank and heats the camper interior and water.
There will be options like lithium-ion batteries with 400 to 800-amp hours and a pure 3000-watt sine-wave inverter. Another option will be 350-watts to 1050-watts of solar generation.
Finally, there will be a high-efficiency 12-volt compressor refrigerator. The tank sizes are 40-gallons fresh, 30-gallons grey, and 25-gallons black.
Home Built Camper for a Compact Pickup
by Bruce Gordon, Marstons Mills, Massachusetts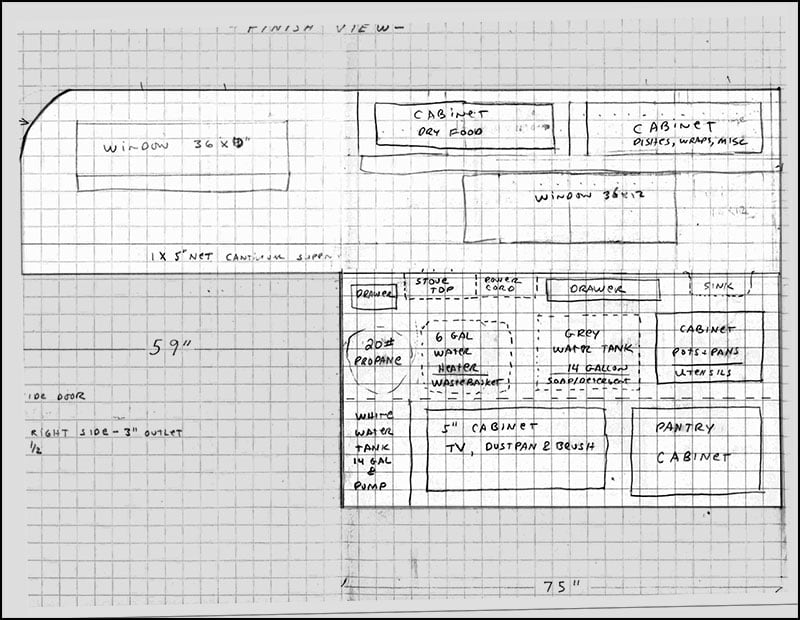 This is the original floor plan and kitchen-side floor plan from which we built our own truck camper in 2010. The camper was designed for our 2004 GMC Canyon. It would also fit other mid-size trucks including the Toyota Tacoma.
The floor plan drawing is only the part that sits in the pickup bed. The kitchen-side plan shows the locations for most of the components mentioned below.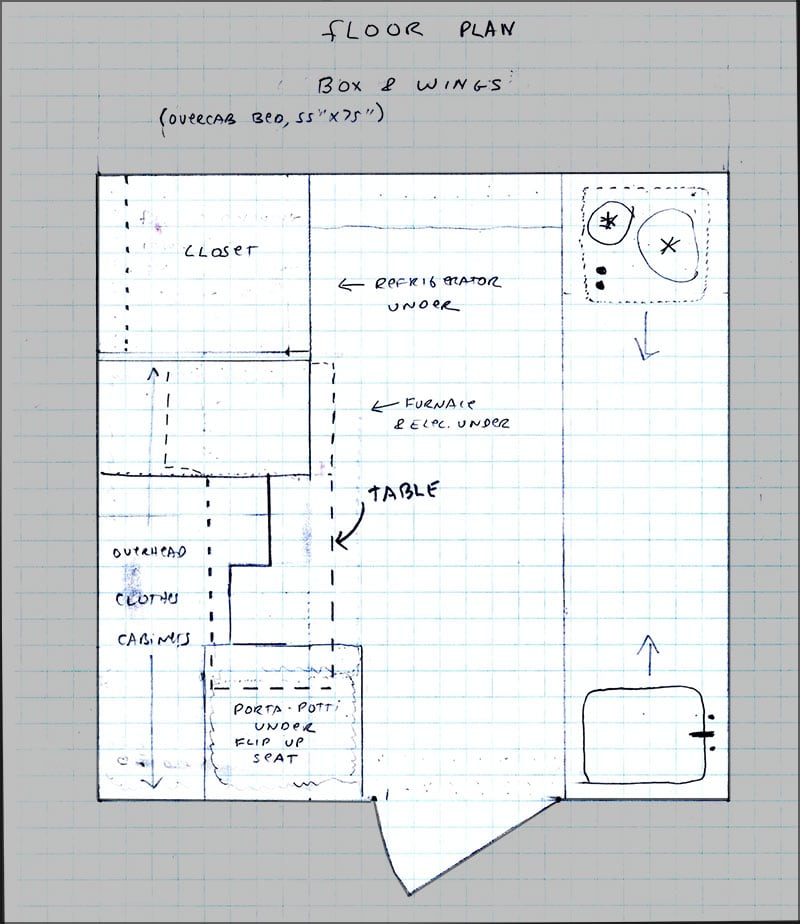 Here's what we like about this design:
1. Unlike commercially produced small campers, this unit only sleeps two. That's the key to this design and all that I think most small truck campers need. The wasted space for the typical dinette/sleeper combination was drastically reduced by using a corner dinette. As a result, this floor plan is much more open and livable.
2. The saved space allowed us to put in a full 6-foot kitchen counter. We usually eat in when traveling, so having plenty of counter space is really important for meal prep, cleanup, and not getting in each other's way. A two-burner stovetop and bar sink are offset from the edge.
3. We saved space for the battery by placing it in the truck's bed between the cab and wheel well. This approach improves storage inside the camper. The battery connects to the camper using a marine plug/socket set.
4. We have all the features necessary to be fully self-contained; a 12-volt dedicated battery, refrigerator, furnace, 14-gallons of fresh water, 14-gallons of grey water, a water heater, and porta-potty.
5. The camper's box expands out behind the wheel wells. That, plus a 21-inch door, was the only way to fit the porta-potty and a reasonably deep countertop at the back wall.
6. The overhead bed fits a full-size mattress.
7. We have plenty of storage including two food cabinets, three clothes cabinets, a hanging clothes closet, and one cabinet for dishes and miscellaneous items. We also have one cabinet for pots and pans, two 5-inch deep cabinets for the TV and miscellaneous supplies, and two drawers for silverware, towels, etc.
Mounted inside of the kitchen cabinet doors are a wastebasket, a tray for laundry detergent, sponges, and the kitchen utensil rack. In addition, there's a net over the foot of the bed for bathrobes, empty trash bags, and other lightweight stuff.
8. Reconfiguring the camper is easy. See A through D below.
A. The plywood dinette tabletop slides into brackets above the furnace for use. When traveling, we slide it out and lay it on the bed. Overnight, we place the tabletop against the dinette wall and open the dinette seat so that the porta-potty is ready to use. Table movement is the only reconfiguration that is required on a daily basis.
B. The porta-potty doesn't need to be pulled out for use. The dinette seat is hinged and opens against the wall to reveal the porta-potty.
C. It's not on the floor plan per se, but we stretch out in two very comfortable chairs which we place at the door and in front of the dinette to watch TV or read. The chairs are stored in 4-inch by 4-inch by 12-inch bags which are stored, along with shoes, in an overhead cabinet. Here's a similar foldable chair design on Amazon.
D. Our 12-volt flat-screen TV lifts out from a cabinet and is placed on the cover/step above the fresh water tank.
We know that camper manufacturers like to maximize sleeping capacity but, in this size unit, there are a lot of features that can be included using a different approach.
911 Wash & Dry
by JW Boyd, Mineola, Texas
I'm a newbie to truck campers. I'm hoping to buy a used camper soon, but I've had several RVs. This plan is based upon what I learned from the RVs I've owned. This is the layout I would like if I were able to buy new.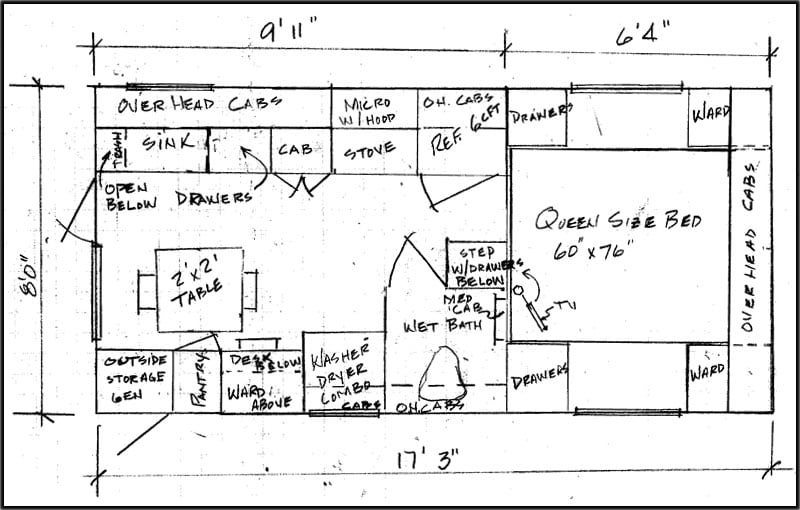 The must-haves for my camper are:
1. Adequate kitchen area to prepare meals. Countertop space is premium.
2. A queen-size bed.
3. Storage for changes of clothes, winter items, and heavy jackets.
4. Since I'm only planning to camp out of this unit, all I need is a wet bath without a shower stall or sink. I'll use the outside shower in summer.
5. A washer/dryer combination makes it so I don't have to bring extra clothes. I will just need a larger than normal water supply.
6. Not having a fixed dinette frees up lots of space for a computer desk, full-size pantry, washer/dryer, and outside storage.
7. No slides mean less weight for my four-wheel drive 2000 Ford F-250 Lariat Super Cab. The target would be under 3,000-pounds dry.
It will need large fresh and grey tanks for the washer. For batteries and propane, there are several places for outside storage compartments to be located.
Rear Lounge Reimagined
by Sharon Forte, Knoxville, Tennessee
I thought I'd add a new twist by redesigning the Lance 1172 to feature a true rear living room.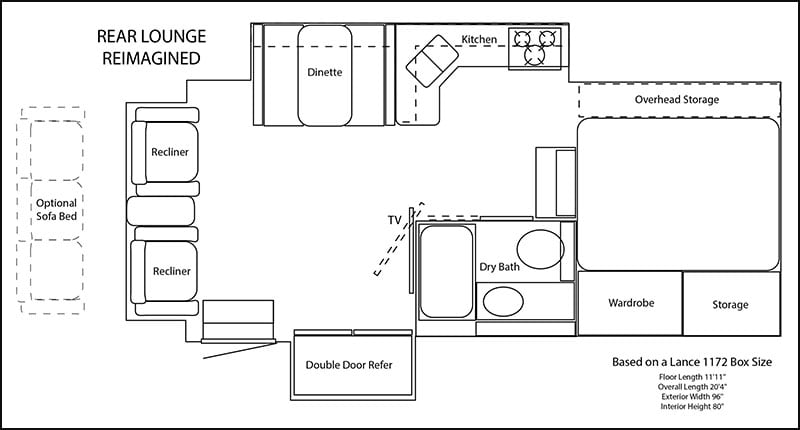 First, I eliminated the rear vertical storage cabinet to make room for two large recliners in the rear slide-out; something rarely seen in a truck camper.
Then I added a small slide-out on the passenger-side for a large, residential-style, double-door refrigerator. Putting the refrigerator in this location will really open up the living room area.
The large flat-screen TV can be viewed from either the recliners or the dinette. I made the kitchen larger by moving it to the rear-facing bathroom wall. This provides a more open and roomy feel, as well as more storage space. I kept the dry bathroom and bedroom areas just as they are because those are excellent and I would not change them.
I do not know how my design changes would affect the current Lance 1172 specifications. That stated, I estimate the exterior width would be 96-inches while the interior height would adjust to 80-inches.
The approximate tank capacities would be 42-gallons fresh, 35-gallons grey and 35 gallons black. The propane would be two 7-gallon, 30-pound tanks. As such, this camper is designed for one-ton, long-bed dually truck and has a floor length 11'11" and an overall length 20'4".
Get Away
by Scott Mote, Westport, Indiana
We've always wanted a camper with a large L-shaped sofa in a slide, a dry bath, and large holding tanks. Also, being able to access the bed, bathroom, and refrigerator with the slide in is very important.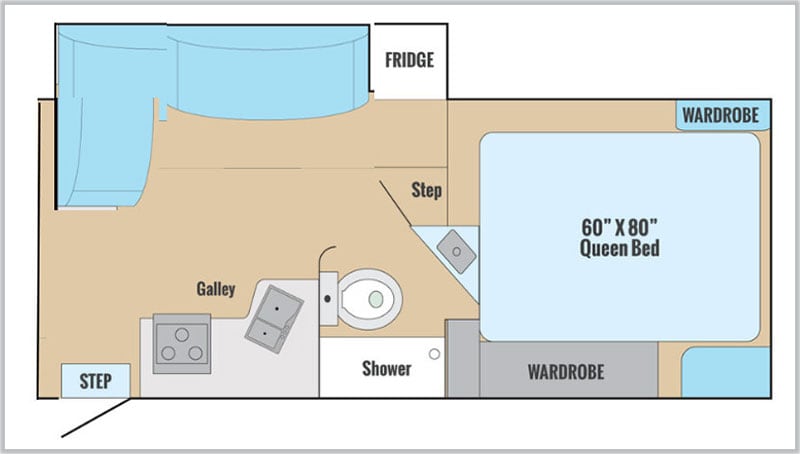 This floor plan is similar to the Eagle Cap 1160 with the rear slide removed and the dinette replaced with a longer L-shaped sofa. I would use a removable table that would be on the long side of the couch.
This camper would have a large TV. A great sound system would be a bonus.
I would like large tanks; 60-gallons fresh, 40-gallons grey and 30-gallons of black. The floor length would be 11′ 6". Additionally, I would like to have 200-watts of solar and two Group 31 AGM batteries. The air conditioner would run off of a small portable Honda EU2200i (2,000-watt size) generator.
975 2.0
by Gerald Peddy, Tyler, Texas
My camper is essentially a Lance 975 with its slide-out replaced with the rear slide of a Lance 1172.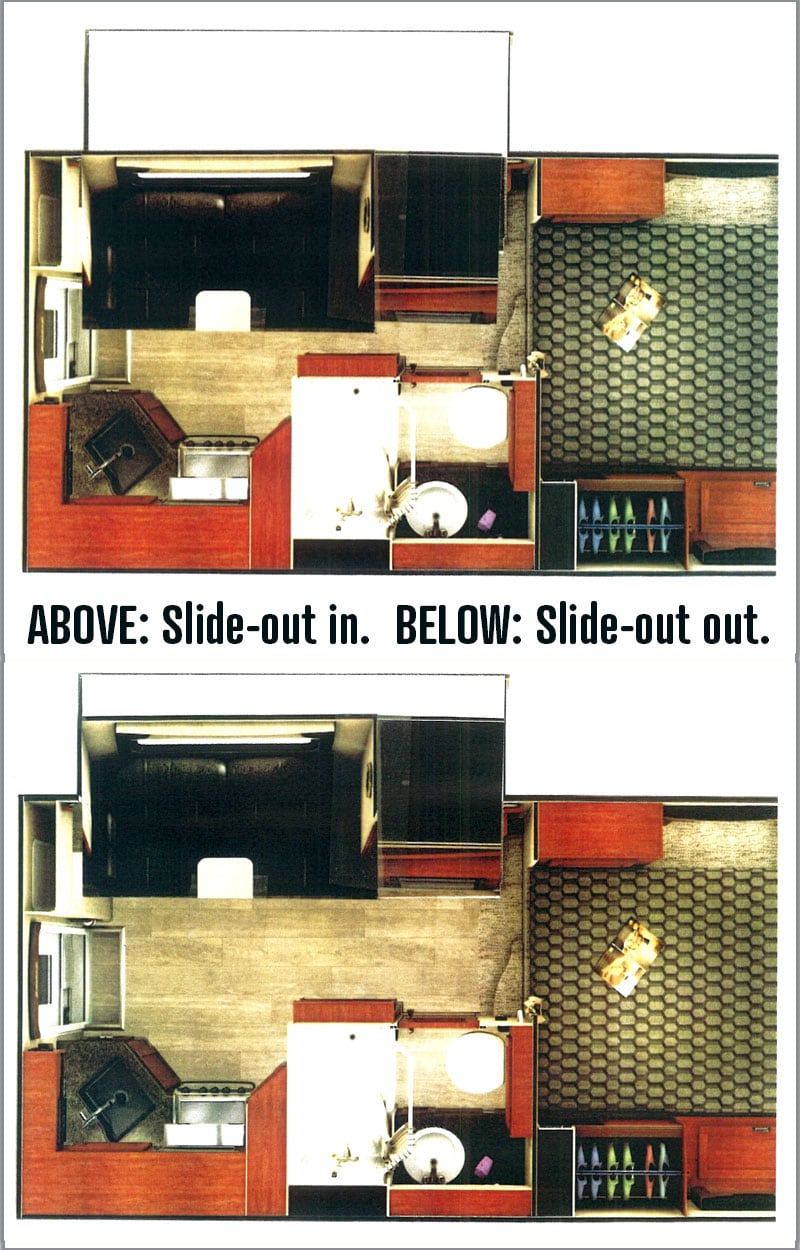 To make this work, the rear 1172 slide would need to be widened to accommodate a refrigerator. The resulting slide room would be shallower and allow the camper to be used with the slide retracted.
I would like to have a single-slide camper, but not being able to use the camper with the slide retracted is a deal killer. Using the 1172 rear slide design on the 975 addresses my requirement.
In my floor plan, the bathroom door will not clear the cabover step to fully open. However, it may be possible to modify the door so that it would clear the step.  The white area of my floor plan illustration is the outline of the original slide that comes on the 975.
The Gordon Dinette Omit
by Brian Horner, central California
My ideal plan is a variation on Gordon's floor plan (see below). It would be designed for a short bed truck with side-entry steps on the passenger's side rear overhang.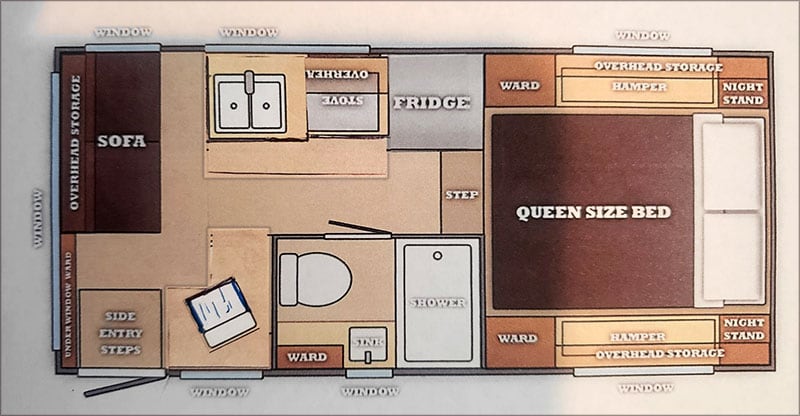 I find dinettes to generally be very uncomfortable, so eliminated it. I would prefer a Euro-lounger, or similar concept. That would be placed in the area just forward of the entry door, next to the dry bath. The sink, stove/oven combination would be on the street-side behind the refrigerator.
There could be a two-position fold-down leaf off the end of the sink/stove cabinet that would serve as a countertop extension when preparing food or as a table for the rear couch.
The couch would be a jack-knife sofa type for the occasional guest. There would be a fold-down extension so the couch could be used in the furthest back portion of the sofa (or just when left in the couch mode) for the legs of a taller person. A cushion that would be at the end of the couch against the street sidewall could be placed on this extension.
The largest tanks sizes that would fit in a short bed camper would be desired. It would also have enough space between the camper's floor and the truck bed to fit a 4-inch sewer line with a step-up to the dry bath. The black tank would be under the bath.
The grey tank would be under the refrigerator, stove, and kitchen sink, with a thin fresh tank under the main floor between the kitchen and bath. The tank placement, along with batteries and a single propane tank, would be placed for optimal weight distribution.
WP-1030.2
by William Palleschi, Brentwood, New Hampshire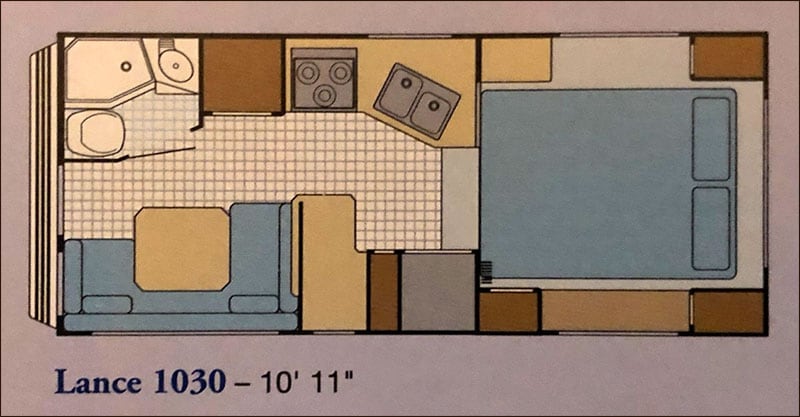 My WP-1030.2 is a remake of the old Lance 1030, which was their best camper. If Ford can bring back the Bronco, then Lance can make a new 1030.
My WP-1030.2 is 10 feet 11-inches long. Just like the original 1030, there would be no slides and a dry bath.
My camper would have 33-gallons of fresh water with 15-gallons grey and 15-gallons black. There would be two 30-pound propane tanks, two Group 31 batteries, and 160-watts of solar. It will fit on any one-ton truck with an 8-foot bed.
Palomino 1430
by Howard Giang, West Sacramento, California
My truck camper floor plan is based on the Palomino B1200 pop-up. I re-designed it as a light hard-side so that it has more storage. I call it the Palomino 1430.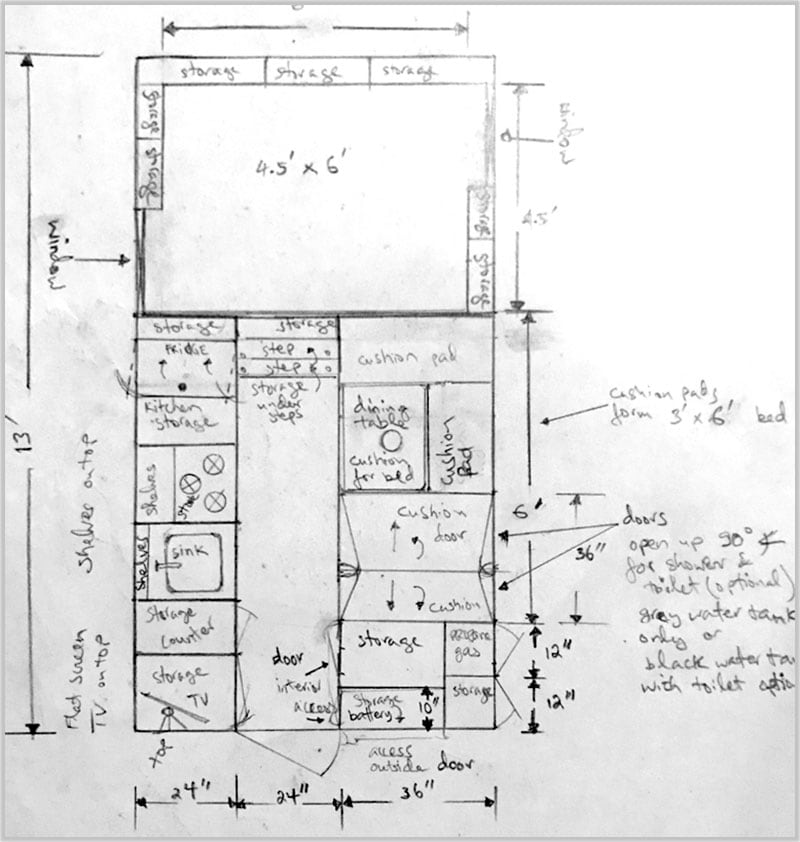 The hard-side 1430 would fit an 8-foot truck bed and should be light enough for most half-ton pickups. My target dry weight for the 1430 would be 1,430 pounds.
I like the concept of dual-usage designs like folding up and sliding drawers. I found the following concept from a van build.
The bathroom would have two cushion doors that open at 90-degrees with a curtain to keep water in the pan. When not used, the two cushion doors fold to form a bed. The doors are actually plastic and, when opened up, form a water-sealed wet bath stall.
Standard, the 1430 would come with a wet bath that only has a shower. There is a grey water tank that connects to the shower and the kitchen sink. A toilet with a black tank would be optional.
Also, I would use a horizontal Dometic compressor refrigerator that can be used as a cooler (with ice) if power is not available. These refrigerators also store more food and beverages than a typical upright refrigerators can.
I also like to have the option to access three storage compartments from the outside as well as one storage compartment that can be accessed from the inside.
The roof would have one vent for a wet bath and one above the stove. There would also be an escape hatch roof vent above the upper bed.
E.G.A.D.
by David Menefee, Grand Prairie, Texas
I love the floor plan design that Gordon drew up illustrating a non-slide, two-seat rear sofa, side-entry with a two-person dinette. This is exactly what I decided that I want long before I saw this. Please tell me that a manufacturer has the sense to build a unit like this.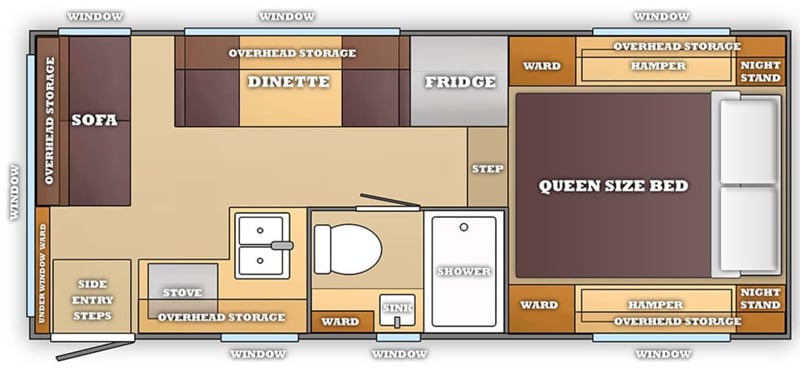 The name E.G.A.D. stands for Equally Gordon Angela (and) David. By definition, e·gad /ēˈɡad/ exclamation 1. expressing surprise.
For my dream cabover that I can't draw, we can look at Gordon's floor plan design above for reference.  Below are ideas that I would add to the above floor plan:
1. On campers in general, move away from the old-fashioned gaudy racing-stripe exterior. It should be easy to offer a custom color choice in solid paint shades that blend into surroundings, especially when stealth camping.
2. There's wasted and unused space everywhere that could add at least 10 square feet of additional storage.
3. Please offer convection ovens, giant microwaves, and enormous refrigerators as optional. Not everyone plans to bake a Christmas turkey, nuke a big-dish casserole, or store food for six in a cramped RV where more drawers/cabinets in those spaces would be beneficial.
4. Raise the big mattress a few inches and hinge it to reveal a bed-size space that's 5-inches tall for critical additional storage.
5. Awnings are great, but please provide an optional three-sided canvas and velcro attachment that would create a livable additional exterior tent room when parked.
6. My design would be a wet bath.
7. Recess enough small racks in the bet bath walls to hold at least 12 bottles with heights equal to a large mouthwash bottle. Also, there should be room for a nearly full-length mirror on one wall, or inside the bathroom door.
8. Instead of a lone USB charging outlet here and there, create and recess one space providing many outlets for securing and charging multiple devices.
9. Please put all the electronic controls in one place, facing out at eye level (such as above the door). No squatting, stooping, or neck craning to see those things!
10. Recess at least two caddy spaces for rechargeable flashlights and put electric outlets in those recesses.
11. Install a bolted-in steel fire safe under one of the dinette seats.
12. Switch to a 12-inch-deep kitchen utility sink that wet boots or a big iron skillet can soak in. So you lose one drawer. You will need a deep sink!
13. Find a way to install somewhere a five-gallon bottled water dispenser. It could be two-feet over the dinette in space that is actually unused.
14. At least make available an optional built-in surge protector. RV parks have often bad electricity!
15. Install in a recessed area an easily interchangeable canister vacuum with a hose that will reach from the dashboard to the rear.
16. Recess in the main cabin several built-in, vented wall sconces for holding candles when off-grid.
17. Provide an optional chimney hole over the range where a small wood-burning stove can be set on top of the permanent grill/burners for interior off-grid heating. It can also be detached and moved outside for off-grid cooking.
18. That's a lot of real estate used for a TV that won't be touched most of the day. How about mounting the TV on hinges inside a storage cabinet?
19. Using space on a side wall, provide a wall-mounted Doggie Breeze door that opens. It reveals a tough screen with bars that ventilate fresh air inside. It would be good for pets that are kept inside while the owners are briefly away (and gives them a visual to see who/what is outside). It also provides a good breeze for everyone on a warm night off-grid. It takes up zero space and adds a big functional feature.
I think the most important thing is that it must be built with strong and light materials.
Click here to see the remaining 13 floor plan entries in Part 2.