When you're in an RV on the road, you don't always want to pay $30, $40, or even $50 for a campsite in a campground.  You want a free camping spot, especially when you are just going from Point A to Point B and you have an eight hour layover.
So, where are these free camping spots across America?
Lucky for you, Truck Camper Magazine readers have some great ideas on free places to stay the night in their RVs.
Once you find these precious free camping spots, you can mark them on your personal Google Map.  We have one and it's quite helpful.  That way when we return to an area we don't forget those great places to camp.
"Since I was in first grade, in 1960, I have been hooked on chocolate milk. This was because of the opportunity to get that for our morning milk during class. Since then, I have become a connoisseur of the different chocolate milks, found around the country. I essentially have my own "Top Ten" Dairies.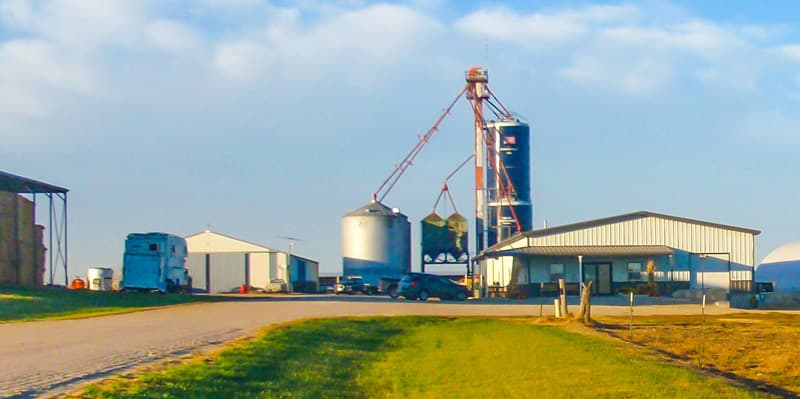 One of these is Hildebrand Dairy found in Junction City, Kansas. This is a very small dairy and even smaller distribution area.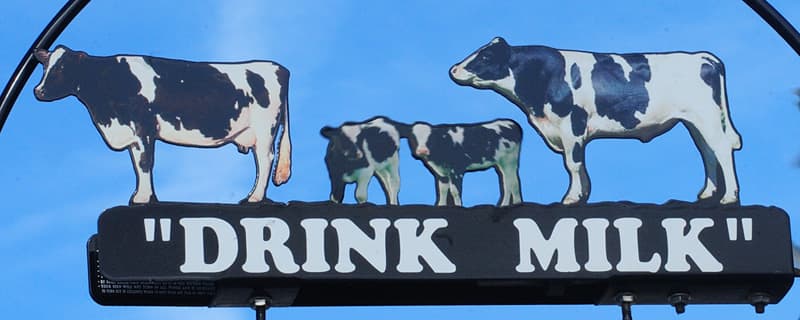 One of the pluses is the fact that they still produce their dairy products; milk, butter, cream and many other products, in glass bottles. Over the years I have made a practice to stop in and visit their dairy store. One year I even had the chance to stay next to their dairy barn for an overnight stay. They said that they had never had a request like mine and were more than happy to have me lay over and listen to the sounds of the dairy operation." – Bryan Appleby, 2008 Ford F550, 2008 Lance 1191
"We have three grand kids playing hockey in Minnesota on weekends. We will travel from one arena to another, staying overnight in one of the arena's parking lots." – Rob Abear, 2015 Ford F350, 2015 Arctic Fox 990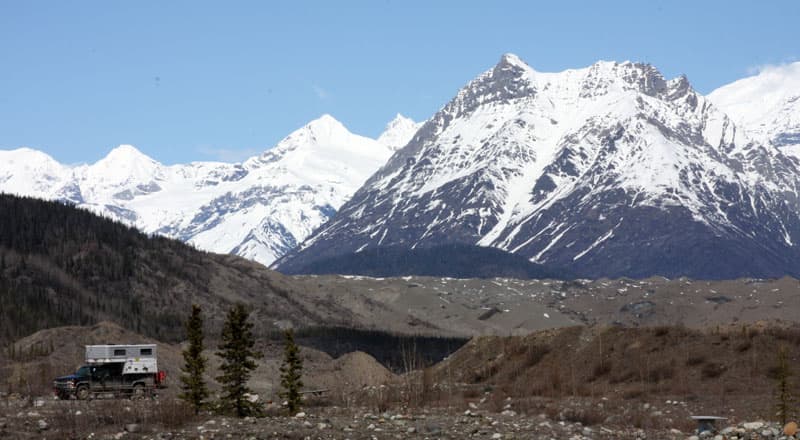 "Like many, I have done several Walmarts in both Canada and the United States.  I have also camped on the side of the Dempster Highway, Canada (halfway to Inuvit), Haul Road Alaska (Halfway to Prudhoe Bay) and on the Richardson Highway in Alaska.  Check my "Top 10 Alaska" article for more tips." – Mark Turnbull, 2013 Chevy 3500 HD, 2011 Four Wheel Camper Hawk
"We stay at movie theaters with movies we want to see. Our routine is to find a movie theatre, check if there's anything we want to see and what time it's playing, park the rig, fix dinner, go to the movie, and walk back to the rig for a quiet night of sleep in the movie theater parking lot.
The next fairly unconventional place is a chain store which has recently gone out of business. Several years ago, as I recall, we stayed in four or five Pamida store parking lots in the western United States just after Pamida had closed all of their stores." – Firman Schiebout, 2004 Ford F350, 2012 Northstar Igloo U
"Last year was our first year in a truck camper. On our return home trip from Yellowstone, we camped in a parking lot behind a church preschool and another business (can't remember what it was). We were across the street from a McDonalds. We walked across the street after arrival for dessert (cooked dinner in the camper) then came back, fired up the generator, and watched a movie for going to bed for the night." – Pam Conner, 2015 Ford F350, 2015 Arctic Fox 1150
"We'll stay at Planet Fitness. It is open 24 hours a day and we are members. Casinos always open and usually have good food and entertainment. Fire roads in national forests are quiet and a good choice as long as you don't block the road. Movie theater parking lots are more entertainment." – Eric Anderson, 2001 Dodge 3500, 2013 Arctic Fox 990
"Our unconventional place was at the mother-in-laws in Las Vegas off of Mojave and Tropicana. The good news is that my mother-in-law brought great Italian cooking to our camper door. The bad news is the Vegas prostitutes keep knocking on the camper door all night wanting to borrow the camper. We did not sleep well, but our tummies were full of homemade lasagna." – Winston Gotte, 2003 GMC Sierra 1500HD, 2015 Four Wheel Camper Hawk
"I make a point of knowing where the historic markers are located. A lot of them have a great deal of space for off the road parking. One can get a night's sleep then be on their way. Scenic overlooks are good too." – Phil Cohen, 2015 Ram 3500, 2016 Northstar 950SC
Click here to see the top 10 unconventional free overnight parking recommendations.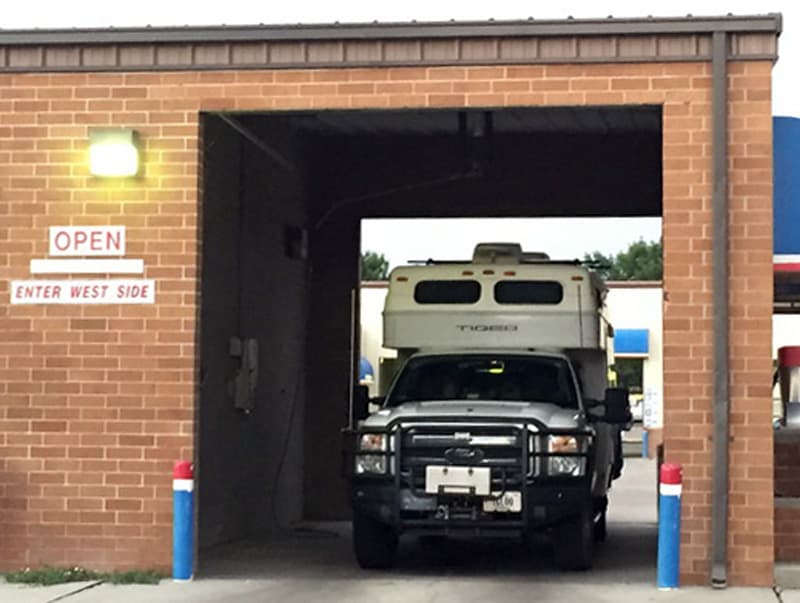 "I dry camped in a car wash during a hail storm in Nebraska.  I parked there overnight and left before the car wash would have opened for business.