When you're in an RV on the road, you don't always want to pay $30, $40, or even $50 for a campsite in a campground.  You want a free camping spot, especially when you are just going from Point A to Point B and you have an eight hour layover.
So, where are these free camping spots across America?
Lucky for you, Truck Camper Magazine readers have some great ideas on free places to stay the night in their RVs.
Once you find these precious free camping spots, you can mark them on your personal Google Map.  We have one and it's quite helpful.  That way when we return to an area we don't forget those great places to camp.
"Since I was in first grade, in 1960, I have been hooked on chocolate milk. This was because of the opportunity to get that for our morning milk during class. Since then, I have become a connoisseur of the different chocolate milks, found around the country. I essentially have my own "Top Ten" Dairies.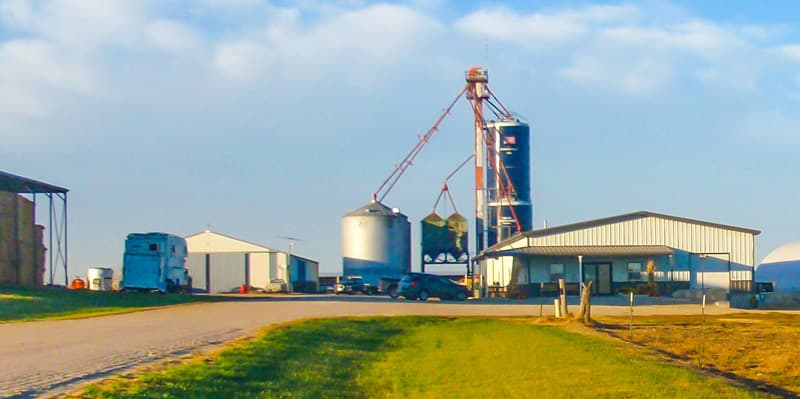 One of these is Hildebrand Dairy found in Junction City, Kansas. This is a very small dairy and even smaller distribution area.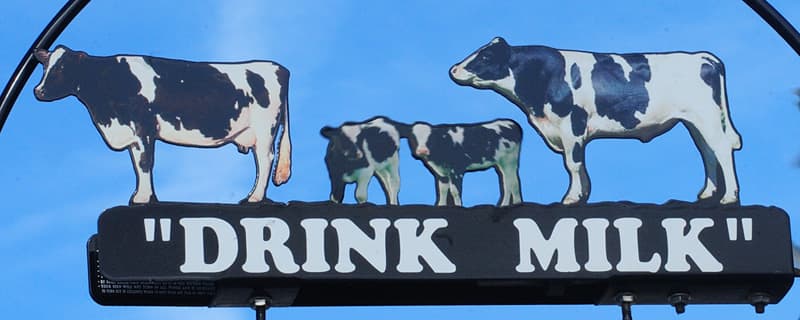 One of the pluses is the fact that they still produce their dairy products; milk, butter, cream and many other products, in glass bottles. Over the years I have made a practice to stop in and visit their dairy store. One year I even had the chance to stay next to their dairy barn for an overnight stay. They said that they had never had a request like mine and were more than happy to have me lay over and listen to the sounds of the dairy operation." – Bryan Appleby, 2008 Ford F550, 2008 Lance 1191
"We have three grand kids playing hockey in Minnesota on weekends. We will travel from one arena to another, staying overnight in one of the arena's parking lots." – Rob Abear, 2015 Ford F350, 2015 Arctic Fox 990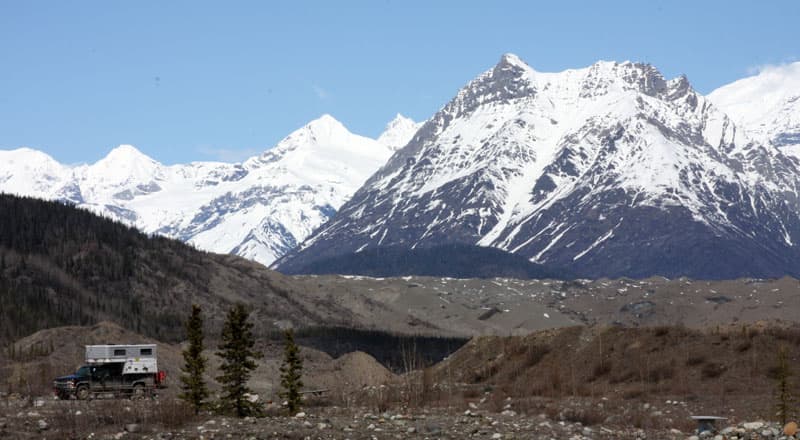 "Like many, I have done several Walmarts in both Canada and the United States.  I have also camped on the side of the Dempster Highway, Canada (halfway to Inuvit), Haul Road Alaska (Halfway to Prudhoe Bay) and on the Richardson Highway in Alaska.  Check my "Top 10 Alaska" article for more tips." – Mark Turnbull, 2013 Chevy 3500 HD, 2011 Four Wheel Camper Hawk
"We stay at movie theaters with movies we want to see. Our routine is to find a movie theatre, check if there's anything we want to see and what time it's playing, park the rig, fix dinner, go to the movie, and walk back to the rig for a quiet night of sleep in the movie theater parking lot.
The next fairly unconventional place is a chain store which has recently gone out of business. Several years ago, as I recall, we stayed in four or five Pamida store parking lots in the western United States just after Pamida had closed all of their stores." – Firman Schiebout, 2004 Ford F350, 2012 Northstar Igloo U
"Last year was our first year in a truck camper. On our return home trip from Yellowstone, we camped in a parking lot behind a church preschool and another business (can't remember what it was). We were across the street from a McDonalds. We walked across the street after arrival for dessert (cooked dinner in the camper) then came back, fired up the generator, and watched a movie for going to bed for the night." – Pam Conner, 2015 Ford F350, 2015 Arctic Fox 1150
"We'll stay at Planet Fitness. It is open 24 hours a day and we are members. Casinos always open and usually have good food and entertainment. Fire roads in national forests are quiet and a good choice as long as you don't block the road. Movie theater parking lots are more entertainment." – Eric Anderson, 2001 Dodge 3500, 2013 Arctic Fox 990
"Our unconventional place was at the mother-in-laws in Las Vegas off of Mojave and Tropicana. The good news is that my mother-in-law brought great Italian cooking to our camper door. The bad news is the Vegas prostitutes keep knocking on the camper door all night wanting to borrow the camper. We did not sleep well, but our tummies were full of homemade lasagna." – Winston Gotte, 2003 GMC Sierra 1500HD, 2015 Four Wheel Camper Hawk
"I make a point of knowing where the historic markers are located. A lot of them have a great deal of space for off the road parking. One can get a night's sleep then be on their way. Scenic overlooks are good too." – Phil Cohen, 2015 Ram 3500, 2016 Northstar 950SC
Click here to see the top 10 unconventional free overnight parking recommendations.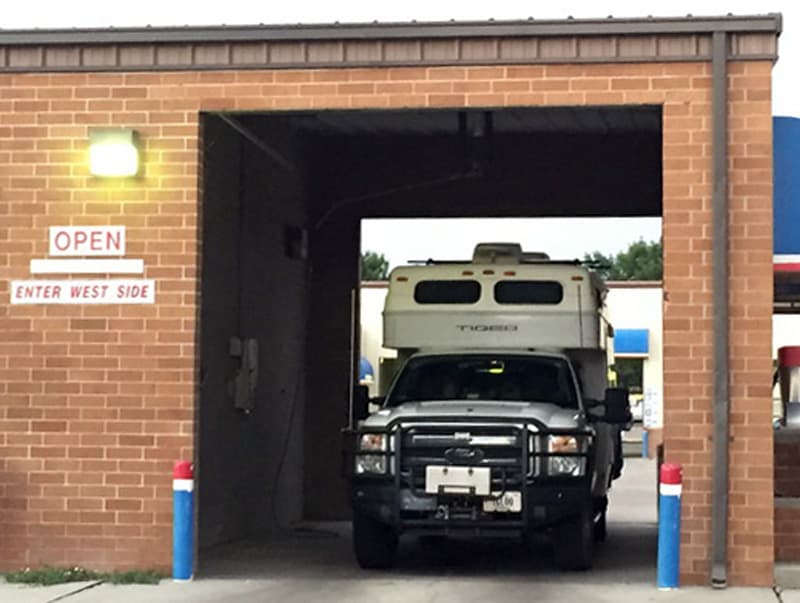 "I dry camped in a car wash during a hail storm in Nebraska.  I parked there overnight and left before the car wash would have opened for business.
I had already sustained substantial damage to my truck with numerous dents in my trucks hood, so I had to find a place that could protect us. Because of my size, I was able to park there and still get into the camper as we can go from the driver's area straight back to the sleeping area.
We were gone for three months mostly viewing The West for 2015. We seemed to always be one step ahead of the problems encountered with each state for that year such as fires and rain storms. This was not a good camping idea except for the storm protection needed." – Dave Fox, 2008 Ford F350, 2008 Tiger Motorhome
"We park overnight at churches. I post my Methodist symbol in the window. I've also never been turned away from a Denny's restaurant, and they are open 24 hours a day. There's your coffee and breakfast a few steps away and it's great if you want to get a super early start.
Everyone knows about Walmarts. Cabelas Sporting Goods and Bass Pro Shops welcome RVers, as well as Home Depots.
You should obey the boondockers etiquette of asking permission, stay only one night, and don't set out chairs and a grill. You are supposed to be parking, not camping. Don't call attention to yourself." – Janet Carter, 2006 Silverado, 2001 SunLite 6-foot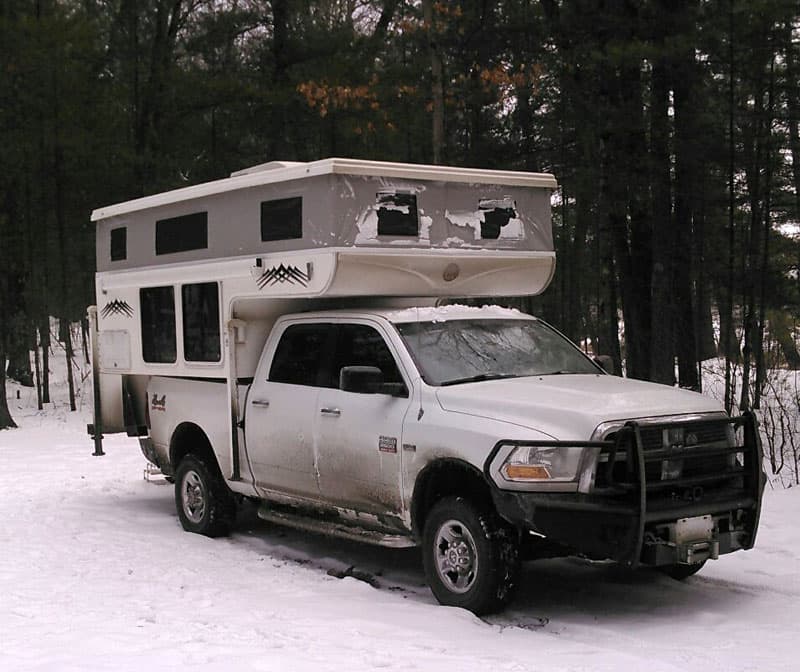 "Yes, we have parked many times in unconventional places. We just returned from a great winter camping ice fishing trip to Northern Michigan. On the trip up from Georgia, we stayed in the parking lot of a Sheriffs Department, a Pilot truck stop, a casino, and a marina parking lot on Lake Michigan.
We mostly dry camp while in route and at our destination. We stayed in the Manistee National Forest where we fished at Twinwood campground and were the only ones there!" – Rick Guffey, 2012 Ram 2500, 2013 Hallmark Everest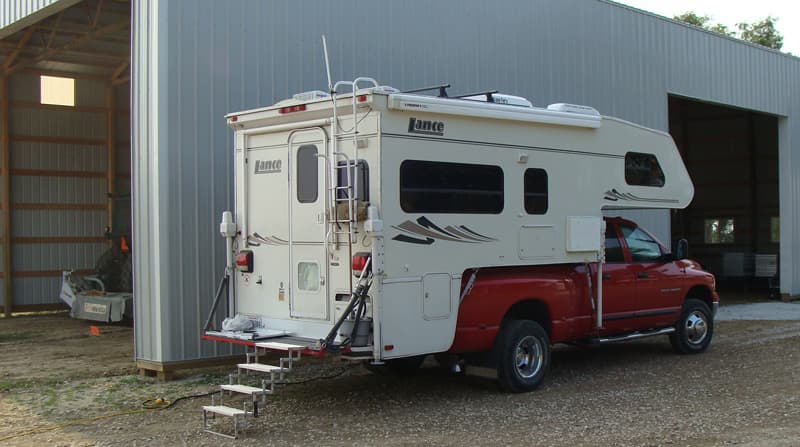 Above: Truck camping friends, Doug and JoAnn, at the Baughman farm
"We've stayed at Walmarts all over the country and a church parking lot in Lindsborg, Kansas while attending church convention.

Above: John and Elaine's rig at the Baughman farm
We've stayed at a farmyard in Kirkland, Iowa (the Midwest truck camper organizers, Doug and Tammie, and a friend's farmyard in Cavour, South Dakota.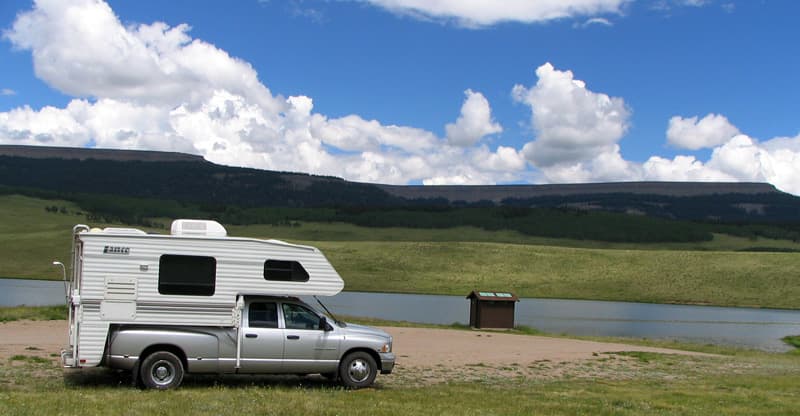 Above: Pull-off near Continental Reservoir, Creede, Colorado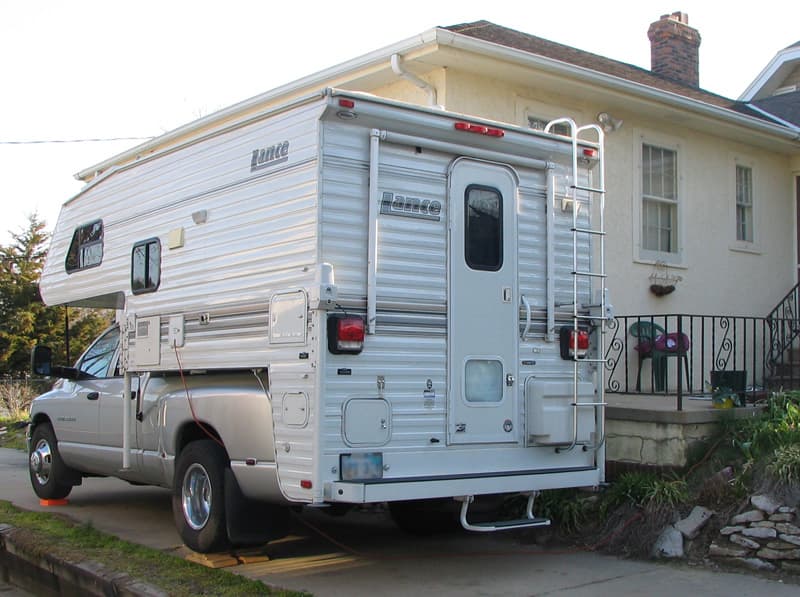 Above: John's brother's house in Omaha, Nebraska
We've also stayed across the street from the Highway Patrol office in Guymon, Oklahoma, on the street in front of relatives house in Fort Collins, Colorado, my brother's driveway in Omaha, my sister's driveway in rural Nebraska, a hospital parking lot at Immanuel Hospital in Omaha, a strip mall near 78th and Dodge Street in Omaha, and a city park in Meade, Kansas.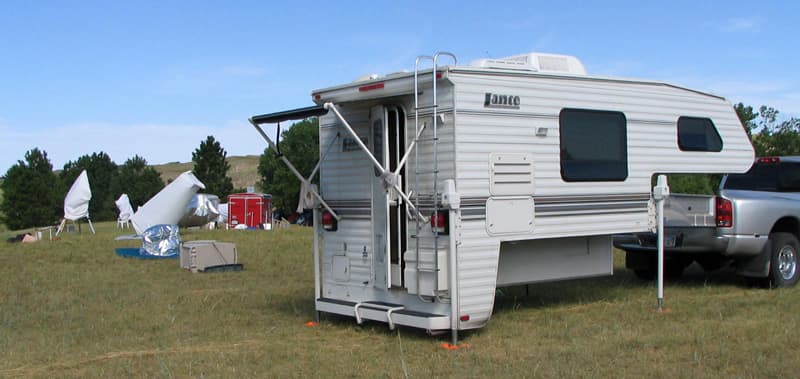 Above: Astronomy Star Party, Valentine, Nebraska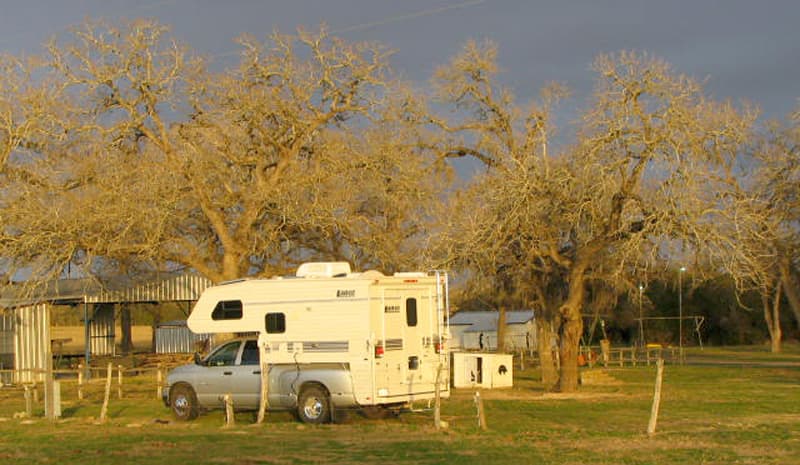 Above: At a cattle ranch near Cat Springs, Texas, there was a 110 volt plug on the fence post.
We've stayed in the alley behind friends' houses in Minnesota and Florida, a beach near Corpus Christi, casino parking lot on I-25 north of I-40 in Albuquerque, New Mexico, Indian casino parking lot near Flandreau, South Dakota, and an Indian casino near Scottsdale, Arizona on the east side of Loop 101 and Talking Stick." – John Bull, 2004 Dodge 3500, 2015 Arctic Fox 990
"We parked behind Cracker Barrel off Interstate 55 in southern Illinois. We were in a space labeled RV. After they closed around 10pm it was really quiet, and much better than a loud campground. It was the best night's sleep we had in a long time.
We have also parked in our son's driveway in Oregon for a month. Once a week we drove to Camping World to dump for free.
We have also parked at the end of the road at my brother's house.  He is the last house in his subdivision in Illinois. We ran a long extension cord for power.  In Florida we parked in the neighbor's empty lot next to our friends home for a week, again with a long extension cord.
We joined Harvest Hosts this year and are looking forward to more unconventional camping places." – Janet and Jim Manis, 2014 Dodge 2500HD, 2016 Travel Lite 960R Illusion
"We were in Durango, Colorado to ride the narrow gauge train during the winter. After the ride and dinner, we were planning on spending the night in the Walmart parking lot. We were welcomed with signs saying, "No Overnight Camping". So we left town and decided to stop at the next opportune location. We ended up in a snow storm at 8:30pm. We found a good place to spend the night in the Emergency Room parking lot at the Durango Hospital. We decided that we had an emergency. The lot is patrolled so we felt safe." – Rag, 2003 Chevrolet Silverado, 1980 Sportsman SD
"Years ago, another photographer and I decided to shoot pictures at Pyramid Lake in Nevada. It's the remnant of a huge lake that once covered much of northern Nevada.
Its surface color changes with the sky tones. We decided to shoot a sunrise from the west above the lake. That night we stumbled on a narrow wagon track in the dark maybe 8' to 9′ wide over rocky hills a few 100 feet higher than the lake. Flo couldn't get out the right side of the door because of a steep drop off on his side, and the driver's door could just be partially opened because of the hill.
We woke up in time to shoot a nothing sunrise, meaning that sunrise in desert or mountain areas can be spectacular especially if there is a build up of cumulus clouds. Dust hanging in the air can create different color bands across the sky.  That morning it was just a clear blue sky with nothing particularly unusual to warrant more than a couple of shots.
We spent the day trying to work the lake, which had a greenish tint, but there were no trees or structures nearby to add interest to the shot. It is one of those places that could produce interesting colors with the right combination of light, clouds and waves.  But this day it produced nothing." – Joe Sesto, 2015 Silverado 3500, 2015 Bigfoot 2500 10.6
"I've parked in multiple Cracker Barrel restaurants up and down the East Coast. The restaurant chain even has a map, at the front counter, of all their restaurants that allow overnight RV parking. It's very safe, level, and well lit, and you can have a nice inexpensive dinner before calling it a night, or a huge breakfast in the morning. And the overnight parking is free!
Last spring I camped in the driveway of a woman (through Boondockers Welcome) in Maryland while I attended the Maryland Sheep and Wool Festival. She offered me both electric and water hookups and a cup of coffee. This is a great way to camp for free and meet new people." – Cheryl Lane, 2006 Born Free (used to own Outfitter truck camper on a Toyota Tundra)
"Cooper Mountain ski resort Alpine parking lot." – Eric Smith, 2015 Ford F350, 2016 Lance 1052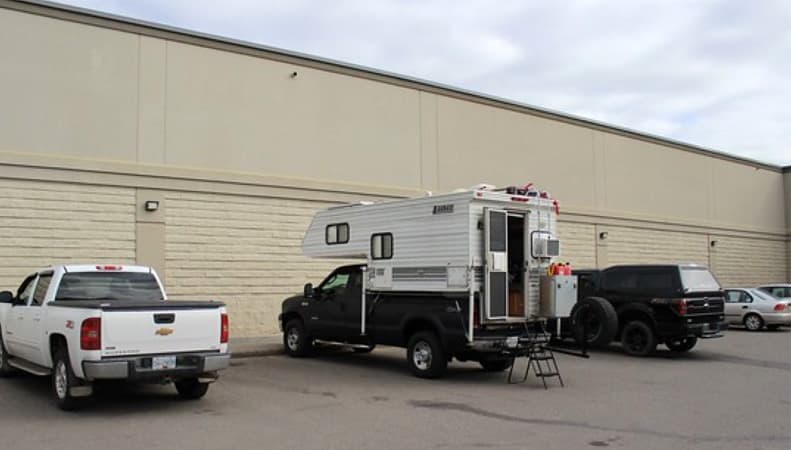 "During our 2015 summer journey, we stayed overnight at the Safeway market in Smithers, British Columbia, Canada (pictured above).  We also stayed at Telegraph Creek, British Columbia, Canada next to the Slikine River Song Lodge (pictured below)." – Alex Blasingame, 2007 Ford F250, 2002 Lance 815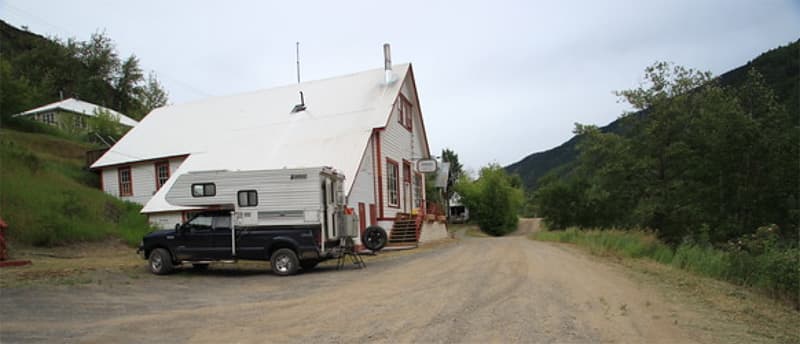 "We have parked overnight at the Elks Club in St. George, Utah, an Indian casino in Yuma, Arizona, and a hospital in Fort Collins, Colorado. I've stayed in Sams Clubs and Walmarts all across the country except Lake Havasu, Arizona and Yuma, Arizona. They are not RV friendly (the towns, not the stores)." – Bill Hansen, 2013 Ram 3500, 2007 Arctic Fox
"We belong to BoondockersWelcome.com and have stayed a week for free with hookups in someone's beautiful yard in Wisconsin. We also reciprocate and have at least four or five campers stay on our property at different times. We offer water and electricity and WIFI. We live in Lowell, Massachusetts, and never thought anyone would stay, but it is a nice place to stop on your way somewhere. This site is great and you can offer a site or not.
Boondockers Welcome charges a small fee to belong, but if you get three good reviews, they waive the yearly cost. You get to decide what you will offer campers and it can be just a safe place for the night. You get a chance to read people's profiles and also arrange to speak to them prior to your visit. It is a great idea and we have met great people!" – Denise Snyder, 2007 Dodge Ram 3500, 1997 Bigfoot
"We do most of our camping in RV parks but on occasion it feels good to stay for free and not have to pay the rising rates of various parks through out the western states.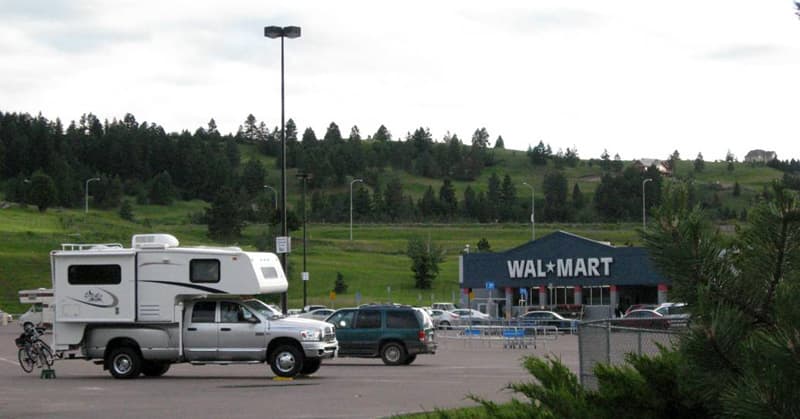 The Walmart parking lot in Polson, Montana was not bad.  The view from our dinette was a large open grassy field and you could actually see Flathead Lake and the ridge of mountains was an added plus.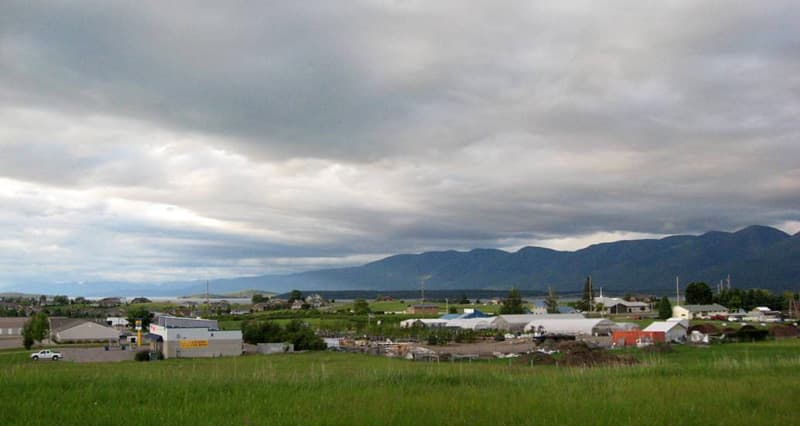 Above: View from the Walmart in Polson, Montana
I had cleared it with management, so we parked under a parking lot lamp.  Upon waking in the morning there were six cars grouped around our camper.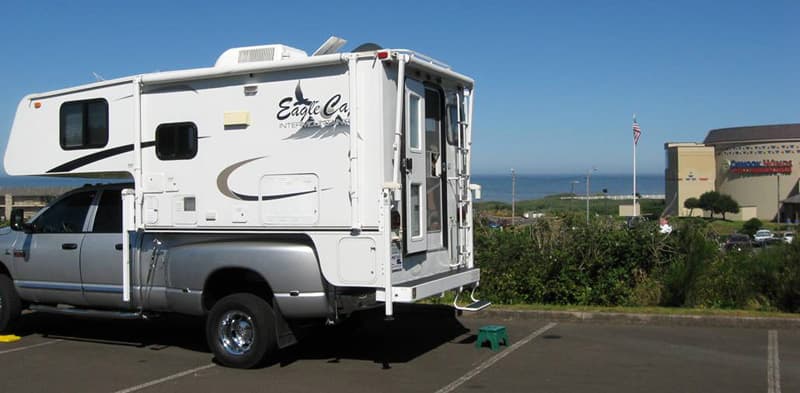 Above: Chinook Winds Casino parking lot in Lincoln City, Oregon
We also enjoy camping at casinos.  Chinook Winds on the Oregon coast at Lincoln City is a popular destination.  About the third weekend in June, they have their anniversary celebration and huge firework display.  Lots of RVers come over for the festivities.  In the past, it has always been free parking. Now the new policy is to sign in and receive a three day maximum stay as long as you have 40 credits from the casino.  Spend 40 bucks and you get three nights for free.  That's not hard to do in a short period of time.
Another popular casino is Wildhorse Inn just east of Pendleton, Oregon off of Highway 84.  They have a really nice RV park, but on any given night you'll find at least two dozen RVs in the west side parking lot (our favorite place). Good restaurants, 6-plex cinema, and the shuttle bus will pick you up.  During Pendleton Round-up week in September, they open a large grassy section next to the parking lot and it fills up fast.  Hey, it's all free overnight camping, but they make it up inside.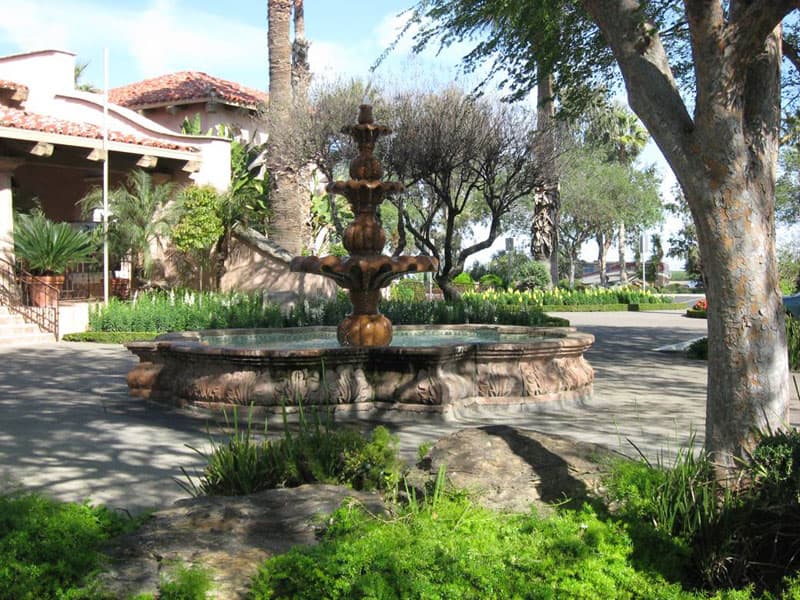 Above: Harris Ranch Courtyard, California central valley, I-5 at Coalinga exit
One more place we can't resist an overnight stay.  Harris Ranch in central California off I-5 at the Coalinga exit.  The parking lot has lots of shade, the restaurant is beautiful and the Harris-fed beef are the best steaks in the world!" – Roger and Elaine Odahl, 2008 Dodge Ram 3500, 2004 Eagle Cap 950
"We have a friend who is the minister of a church in the White Mountains of New Hampshire. He allowed us to park in the church lot for a few nights last fall. However, that's not the first time we've stopped at a church for a night.
Our most unconventional overnight stop was a funeral home. It was winter in Massachusetts and there were no open campgrounds nearby for us to stay at, so the funeral director said we could park in the back corner of the lot. They even ran an extension cord out from the garage so we had some shore power." – C&J Ramsey, 2012 Chevy Silverado 3500, 2014 Adventurer 116DS
"Most recently we stayed overnight at Red Hawk Indian casino. It's right off of Highway 50 just west of Placerville, California. As soon as we pulled up a security guard came by, got our information and driver's license, and told us to have a good night. I thought it was great that they make sure they know who is spending the night. And it was free." – Elquin Daza, 2000 Ford F350, 2000 Lance 820
"One of our favorite places to overnight is church parking lots. Just make sure you check when services are so you don't interfere with worshippers. School parking lots work well also." – Jenn Burton, 2012 GMC 3500, 2012 Arctic Fox 992
"We also find small airports good opportunities and light industrial areas are often as good.  One thing we look for that wasn't mentioned is fairgrounds.  In smaller towns, the local fairgrounds are often free or cheap and many also have at least electricity and/or water available." – Laura and Jim Cornwell, 2011 Chevy 3500, 2014 Lance 1191