Mark Turnbull took his Four Wheel Camper Hawk on a 14,052 mile trip including two months in Alaska and the Yukon Territories.  Here are his top ten Alaska destinations.

Trying to pick my top ten Alaska places to visit is like trying to explain to my wife why I love her so much.  There are so many number one reasons.  To pick them in any sequence does none of them the justice they deserve.
That said, here is my top ten Alaska and Yukon Territories adventure list, plus a few extras.  My truck camping trip to Alaska was from April 26 to June 23, 2012.  I traveled 14,052 miles on my trip and went through twenty five states and provinces in the process.
1. McCarthy Road / Kennecott Mines
The McCarthy Road is sixty miles of dirt road starting with a single lane through a rock.  The scenery going in was unbelievable.  I went to McCarthy in mid-May when there was still snow on the mountains and the runoff had already started.  As a result, the road had mini-streams and rivers running across it.  I went with the idea of staying one night and coming right back the following day.  I stayed for three days.
While in McCarthy, I rode my mountain bike up to Kennecott Mines, which is a National Historic Landmark.  It is five miles up a five percent grade, which seemed more like twenty-five percent when you near the top.  The view is amazing and the mine site is spectacular.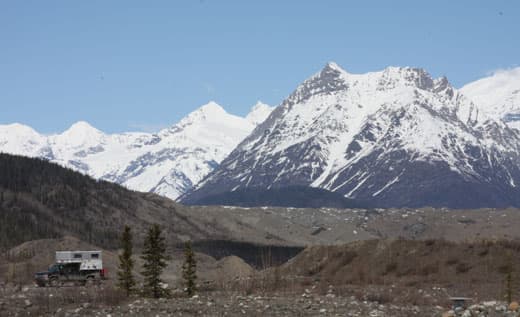 TIP: McCarthy is a pretty cool place to visit as well and James, who was running the campground at the end of the McCarthy Road, is well worth the trip, if you get a chance to visit with him.
2. Dalton Highway (aka the Haul Road / Ice Road Trucker Highway) and Atigun Pass
For me, the whole trip was about driving the Haul Road.  I was fortunate that I got several days of absolutely wonderful weather.  What you see in the pictures is what you get.
The Haul Road, officially known as Dalton Highway, is a road that will test your driving skills at times, and take your breath away all of the time.  The road has a number of paved sections, but the gravel is smoother than some of the paved parts.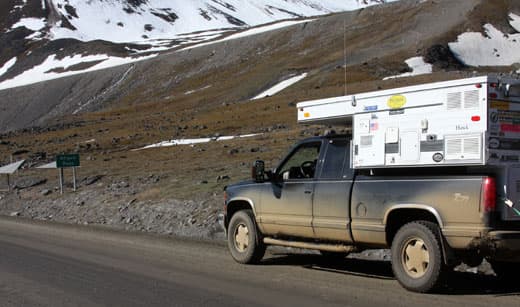 Above: Dalton Highway to Atigun Pass
TIP: I recommend taking a CB radio tuned to channel 19 when you go on the Haul Road.  When you meet the big rigs in opposing traffic, slow down, pull over, and stop.  Tell them over the CB that the road is theirs.  When you do that, they will slow down and appreciate what you are doing.  If one is catching up behind you, do the same thing.  Tell them you will be slowing down and pulling over when you can and then let them by.
Remember, you are sightseeing and they are making a living driving this road.  Let it not be said that those of us who have truck campers don't know how to drive the Haul Road.
3. Top of the World Highway / Clinton Creek Road / Fortymile River Bridge
The Top of the World Highway is only open from approximately May 1st, weather permitting, to the first snow.  The Top of the World Highway can be picked up just east of Tok, Alaska, and takes you to Chicken, Alaska.  Prior to the Canadian border you come to the turnoff to Eagle, Alaska.  The next road after the border is the Clinton Road.  From there it's a long drive to Dawson City and the Yukon Territories.
TIP: The Top of the World Highway can be a very dusty road if it is dry, so do not follow other vehicles too close.  Afterwards, make sure to clean your air filter.  If the road is wet, it can be quite slippery.  Four wheel drive is a good thing to have.
About eight miles into Canada is the road to Clinton Creek, Yukon.  This is a spectacular road with amazing views.  The road is about twenty-three miles prior to hitting the Fortymile River bridge which is basically a very bad bridge in need of repair, but it was still fun to cross.