The Four Wheel Camper Hawk is available in four different floor plans (see all but the Shell Model below); Roll Over Couch, Side Dinette Seating, Front Dinette Seating, and a Shell Model (no interior).
One commonality between all Four Wheel Camper Hawk floor plans is how wide open and spacious they are inside.  Standing in the unit with your back to the entry door, the Four Wheel Camper Hawk has tons of headroom.  It may seem odd to state that a short bed pop-up truck camper feels open and spacious, but the Hawk really does.
The Hawk under review is the Front Dinette Seating floor plan.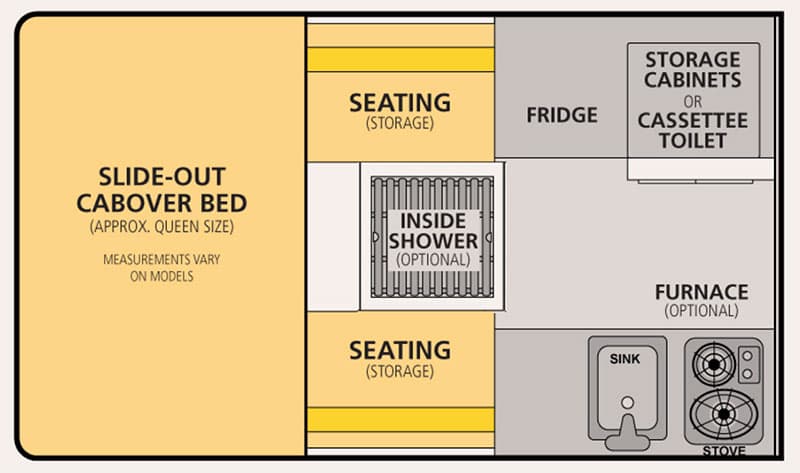 Robust Entry Door Locks
If there's a truck camper manufacturer with more formidable entry door locks than Four Wheel Campers, we haven't seen it.  In addition to the standard RV door lock (the red toggle below), Four Wheel Campers installs a residential deadbolt.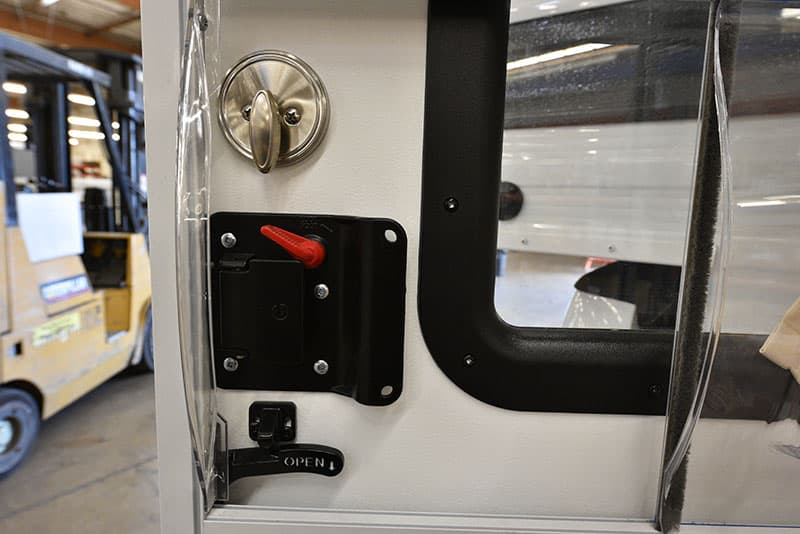 That's right, a pop-up truck camper with a deadbolt lock.  Look at that stainless steel beast!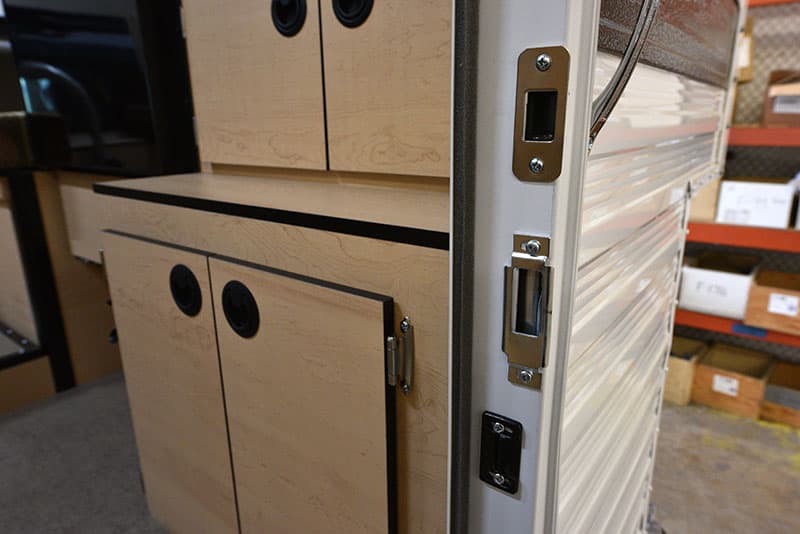 The top strike plate shows the impressive girth of the deadbolt.  If someone wants to break into a Four Wheel Camper, it's probably not through the entry door.
While we have not once heard of an occupied truck camper break in (pop-up or otherwise), we would welcome the residential deadbolt when the top is down and the camper is stored and unattended.
Just Inside the Door Switches
Just inside the entry door on the driver's side is a row of switches and a combination propane and carbon monoxide detector.  What's puzzling here is what appears to be three missing switches.  The "Interior Floor" switch is in place, but the "Exterior Down", "Flood Lights" and "Refer Fan" are all inserted with what appear to be blanks.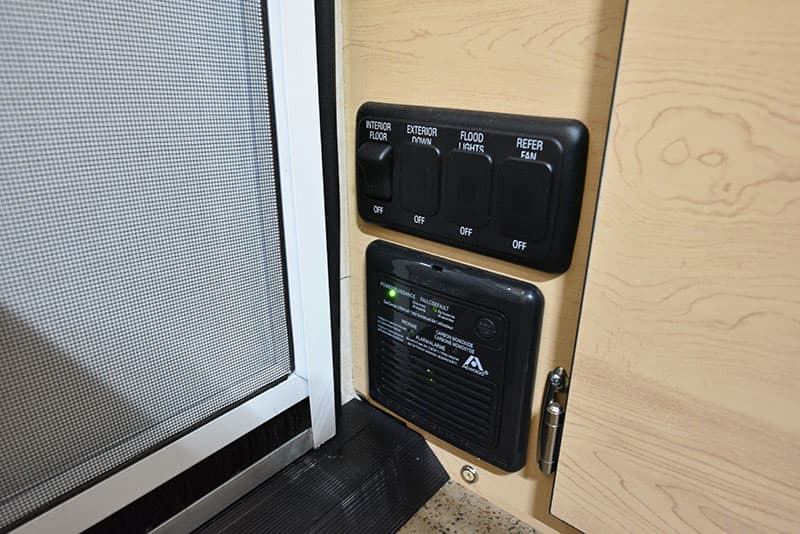 My assumption is that these are options not installed on this particular camper.  For example, not every Four Wheel Camper customer would want or need "Exterior Down" lights, "Flood Lights", or a "Refer Fan".  Ideally, the blanks would also cover the names of the options the customer did not order.
Roomy Feel In A Pop-Up Camper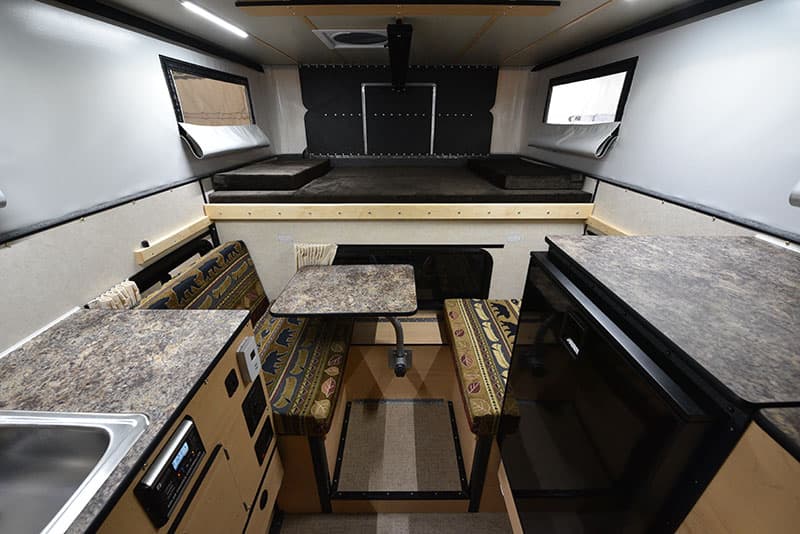 On the driver's side of the Front Dinette Seating floor plan is the kitchen and half of the front dinette.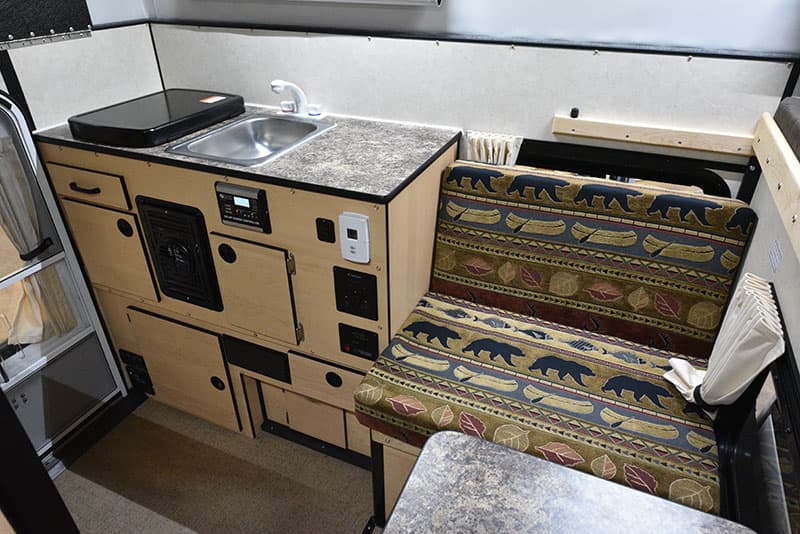 Four Wheel Camper Hawk Kitchen
The kitchen area contains the majority of monitors and controls for the camper.  Having these features located all in one area makes sense.
The formica kitchen counter contains a standard two-burner propane cooktop with cover, stainless steel sink, and a Whale Marine faucet.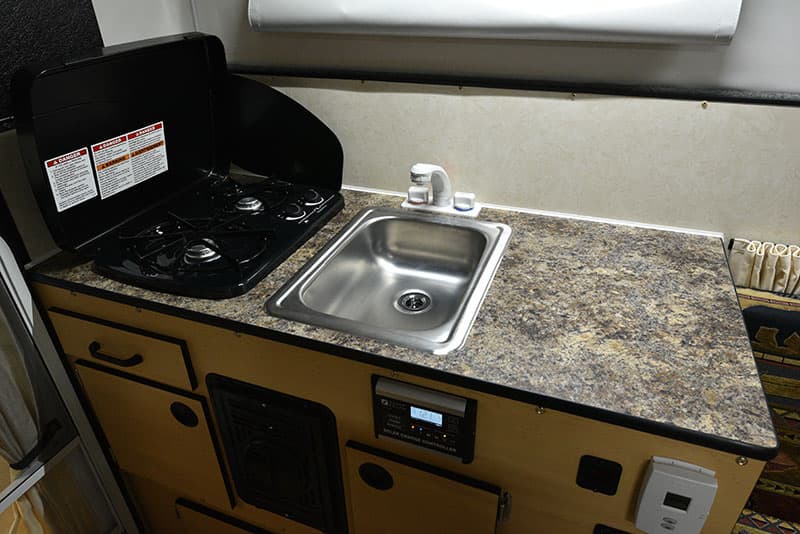 Wherever possible, Four Wheel Campers avoids traditional RV parts and materials in favor of high-end marine grade products.  In fact, many of the marine-grade appliances in a Four Wheel Camper are not seen in any other RV – including the Whale Marine faucet shown above.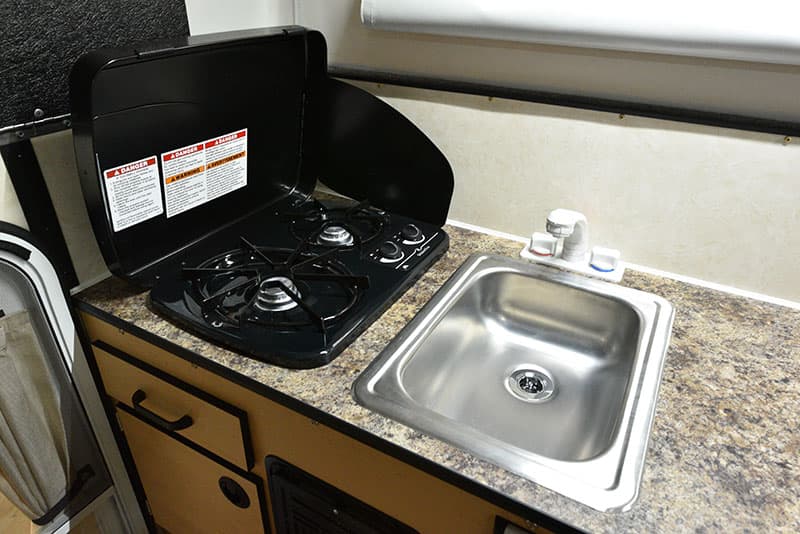 Four Wheel Campers should be applauded for using a high-end marine-grade product where they could have easily installed a standard RV faucet.  As you will see, the theme of using high-quality materials and appliances repeats itself throughout the Four Wheel Camper product.  Well done.
Look! There's Even A Silverware Drawer!
Immediately under the two-burner cooktop is a drawer Four Wheel Campers has designated for silverware.  They even include a silverware tray if you don't get the hint.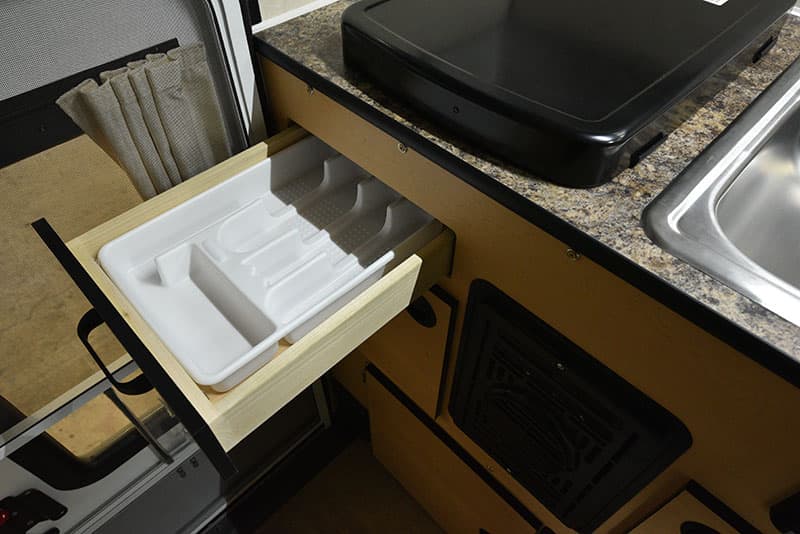 Right now I'm camped next to a hard side, long-bed, multi-slide truck camper from a major brand that doesn't have a proper silverware drawer in the kitchen.  In hilarious contrast, here's a perfectly located silverware drawer in a short-bed pop-up camper.  The right storage opportunity in the right place makes a huge difference in day-to-day truck camping life.  Love it.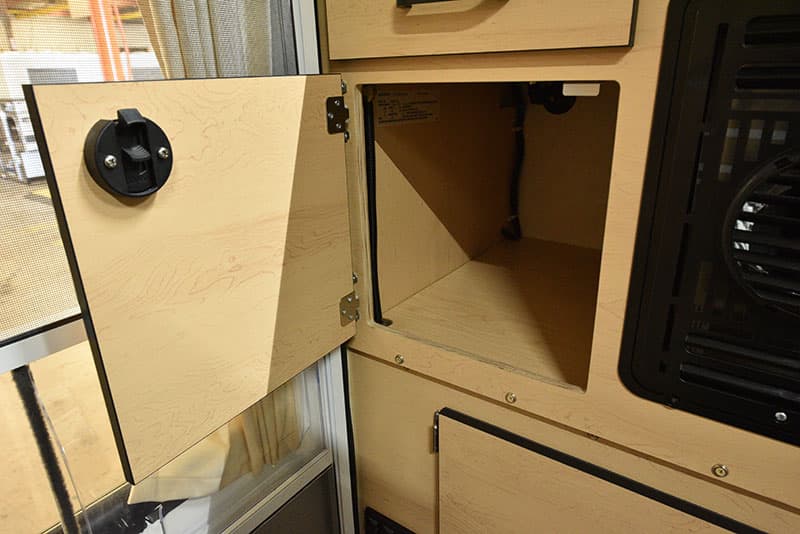 Under the silverware drawer is a cabinet with a less defined purpose.  We would probably use this for dishes and/or dry foods.  Others might keep items they need access to near the entry door; flashlights, dog leashes, compact umbrellas, etc.
PREVIOUS – Hawk Introduction  |  VERDICT – Pros and Cons  |  NEXT – Hawk Systems