Next we turn toward the front of the camper to the dinette and cabover bedroom area.
Seating For Four In The Hawk
The dinette in the Front Dinette Seating floor plan is along the front wall of the Hawk.  This floor plan allows for the largest dinette possible in the Hawk design envelope.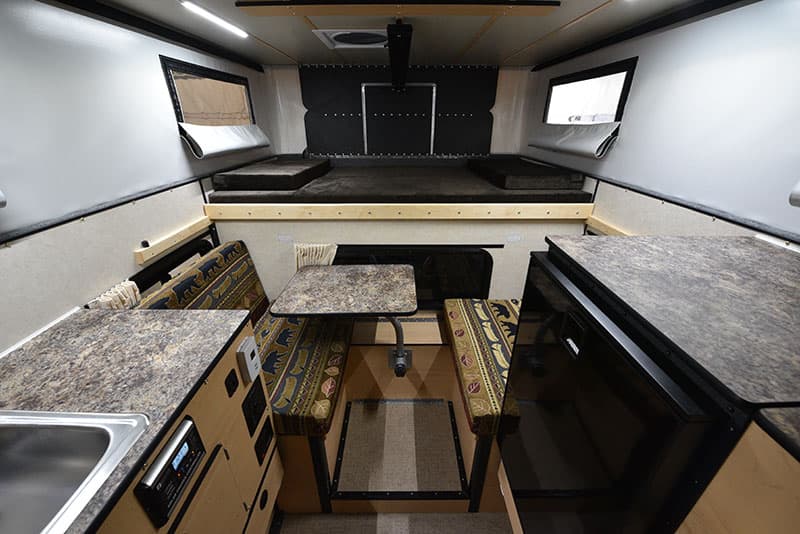 Essentially, this is a full-booth dinette with room for up to four adults to sit.  Four might be a bit cozy, but it's more than possible.  For two adults, this dinette is nothing less than roomy!
Dinette Table That Swings
The dinette table leg is designed to be quickly loosened, moved, and tightened back down.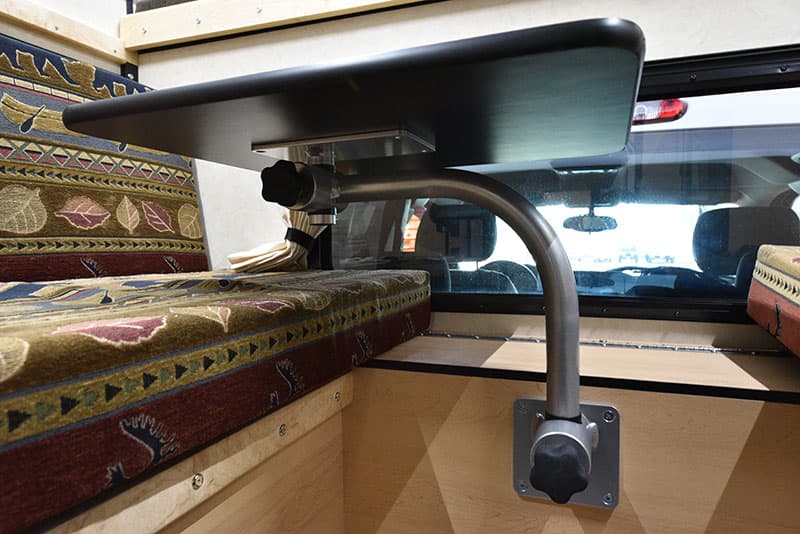 It's a more simple design than the Lagun table leg system other manufacturers are employing, but doesn't quite offer the same range of adjustability.
Within about a minute I was able to loosen, move, and tighten the table into several useful positions.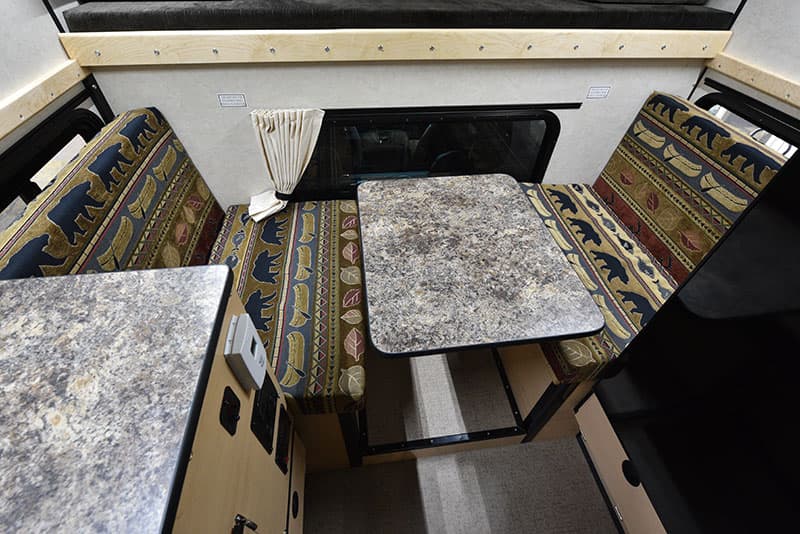 Personally I always want a bigger and more stable table than these versatile small table systems provide,  but this table and leg system are likely all most people will need in the Hawk.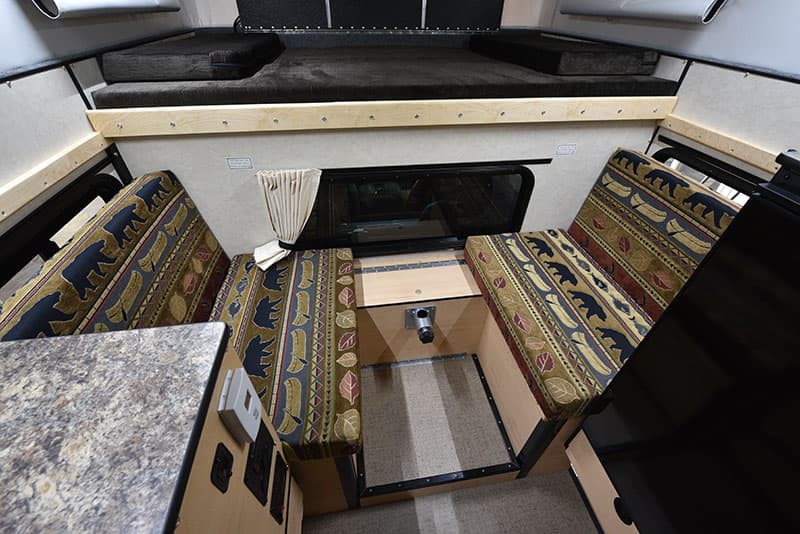 The table was also easy to remove.  If you don't need a table in your camper, leave it at home and open up the camper that much more.
What's Under The Dinette Seats?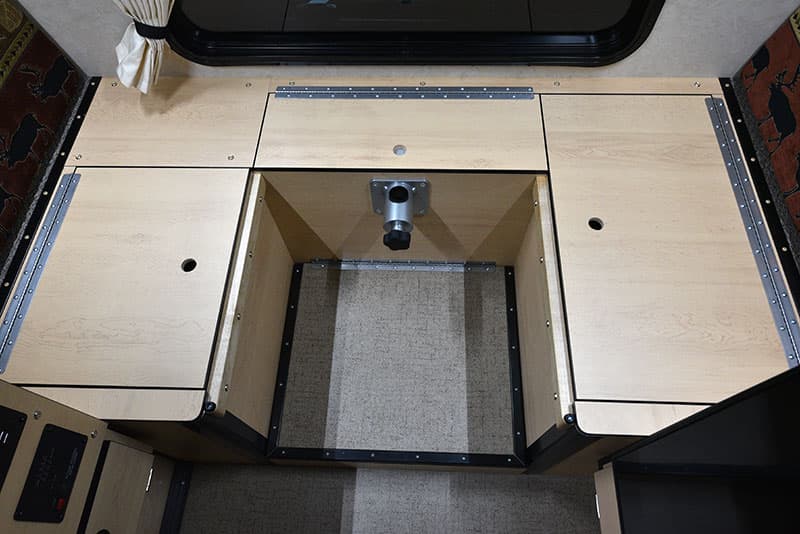 With the dinette cushions removed, we discovered four additional storage compartments.  We also admired the piano hinges, finger hole lifts, and the overall quality the cabinetry team brings to the product.  This is excellent cabinetry work in an area some customers might not see or notice until after the sale.  Very impressive.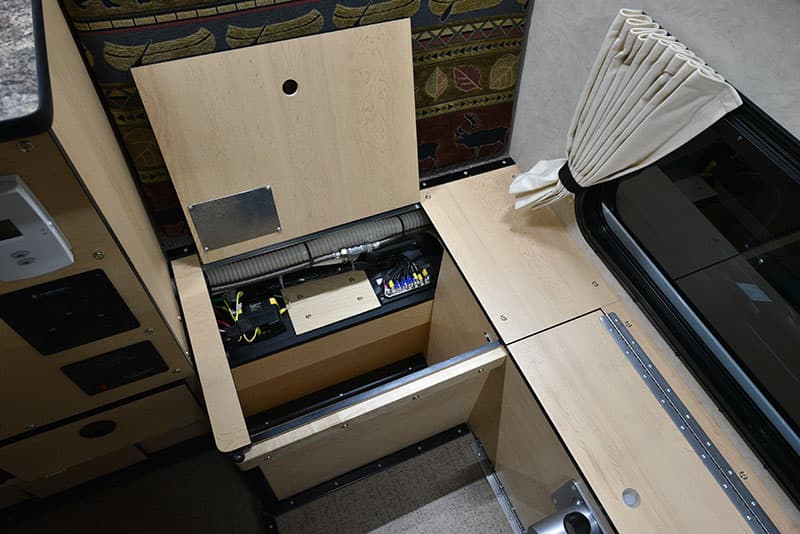 Under the dinette seats I discovered more storage and additional features.  Here we see what's under the driver's side dinette seat including electrical, plumbing, and storage.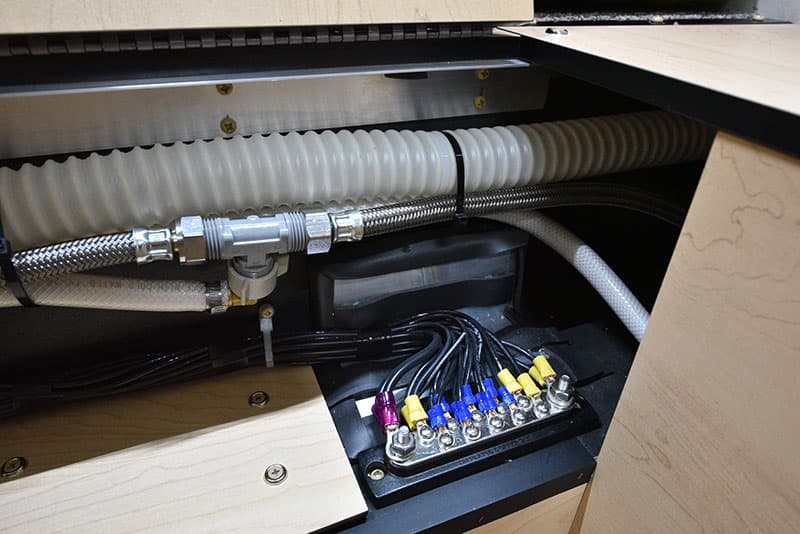 Taking a closer look under the driver's side dinette seat we found a Blue Sea Systems automatic charging relay and neatly tied and secured plumbing and wiring.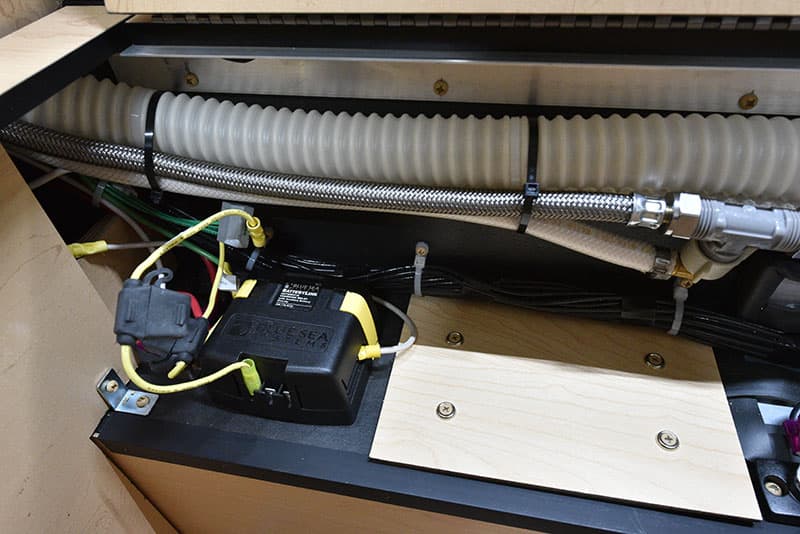 The electrical and plumbing installations are impressive, but the wiring is more exposed than I'd like see in a storage area.  Perhaps Four Wheel Campers can find a way to better seal and protect these electrical connections.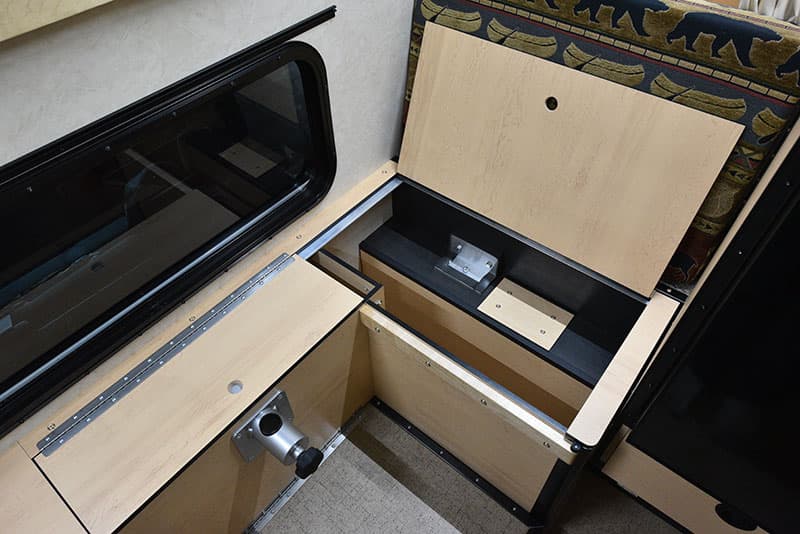 Under the passenger's dinette seat is nothing but lots of glorious storage.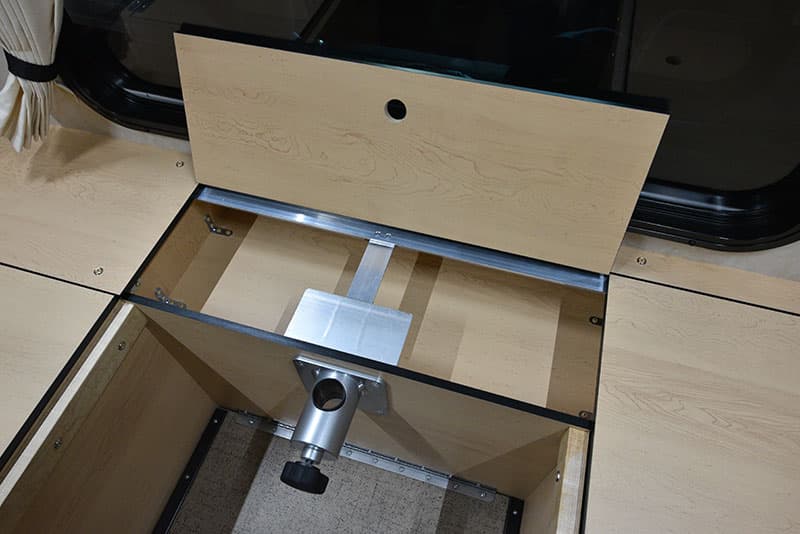 Between the two seats is another storage area.  The metal plate behind the table leg receiver is something of a mystery.  Our best guess is that it's there to help strengthen and stabilize the table leg system.  Four Wheel Campers is bound to have a better answer than that, and they're welcome to share.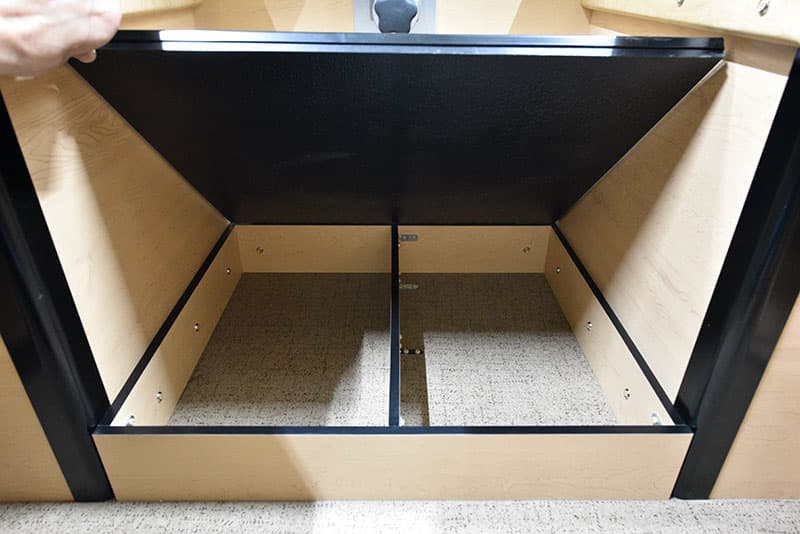 I almost missed this storage spot during my review photography.  It's located under the dinette where your feet go.  This is not a storage spot we typically find on other truck campers.
Making The Hawk's Dinette Into A Bed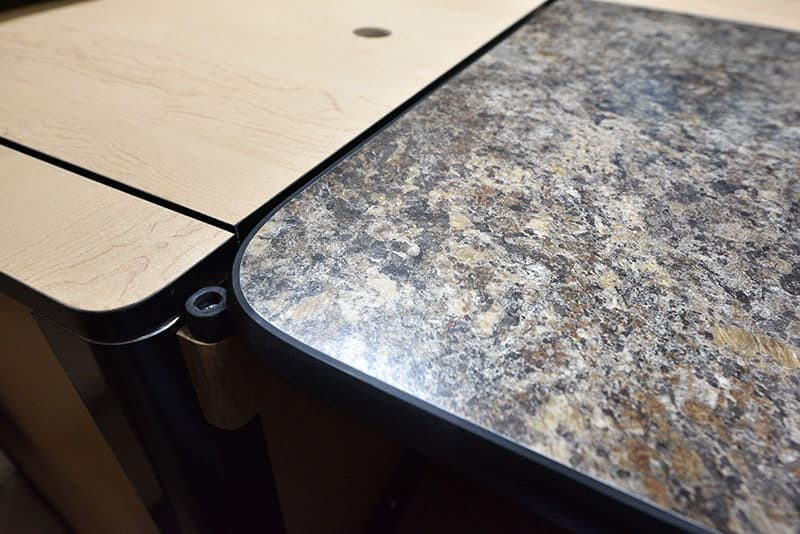 The dinette table fits between the passenger and driver's side to make a bed platform.  Note the rubber stopper that keeps the table top firmly in place.  I love the details in this camper.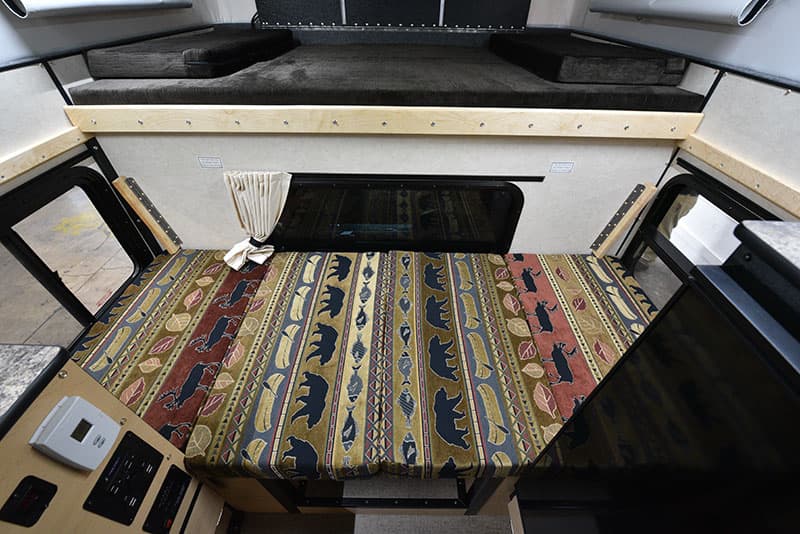 The dinette seat cushions perfectly fit to make a 30-inch by 76-inch bed.  All too often dinette cushions either don't quite fit to make a bed, or have to be wrestled into position.  Not here.
If you look again at the photo above you'll see two beds ready to sleep up to four adults.  That's an impressive amount of sleeping capacity for a short bed pop-up truck camper.  And that's before we pull the cabover bed out.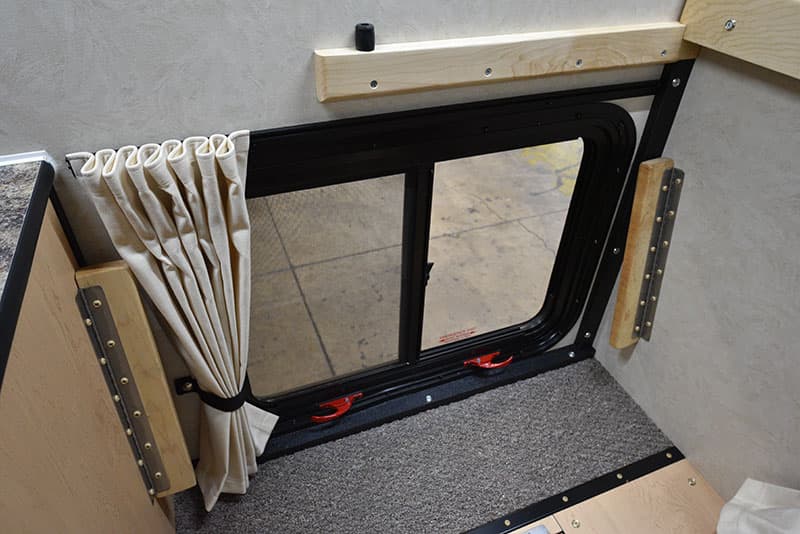 There are small windows on the driver and passenger's side of the dinette.  When made into a dinette, these windows are behind the seats.  When made into a bed, these windows would be at your head and feet.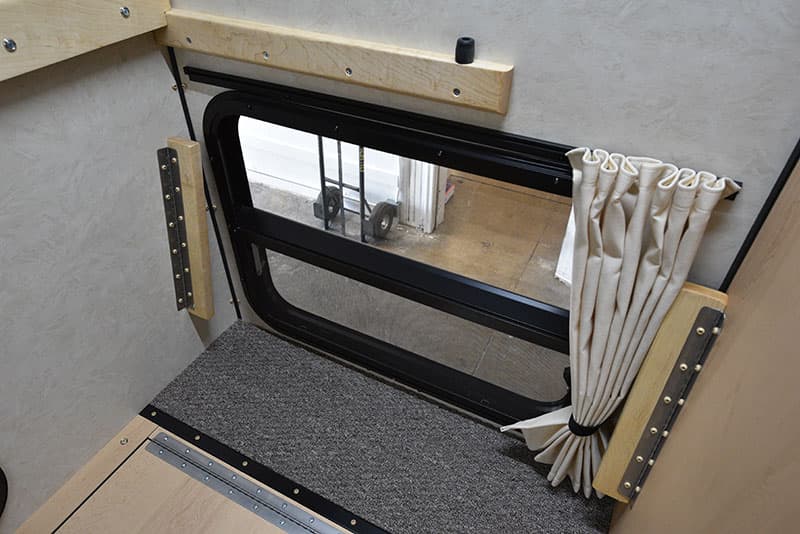 What puzzles me is the usefulness of these windows.  Yes, they bring daylight and airflow into the unit, but how much light and airflow is possible if they're tucked behind the dinette seats most of the time?
I am curious what the Four Wheel Campers team thinks about this.  Is this a design element that needs to be challenged, or are these windows much more beneficial in real life camping situations than I am aware?
PREVIOUS – Hawk Systems | VERDICT – Pros and Cons  | NEXT – Hawk Bedroom