Over 190 Truck Camper Magazine readers expose their bare assessments on outside showers.  As we reveal, some swear by outside showers, while others swear at them.
For those who stick by their outside showers, the primary purposes range from washing dirty dogs, to washing dishes, to rinsing off salt water, sand, and dirt.  Maybe after reading this article the outside shower will be viewed as a more versatile tool.  Then again, it might be off with the outside shower heads!
"I don't use it often, but like having it for washing dirty shoes, kids, and dogs, especially when dry camping.  I use it like my garden hose." – Ron Williams, 1997 Ford F250, 2003 Lance 1010
"I have only used the outside shower one time.  This was just before going to bed and I needed to put the fire out.  I was too lazy to get the big pot from inside the camper, so I stretched the hose from the shower to spray on the fire.  It worked great for that but,  except for a mud run or to wash my Jeep, I can not see us using it to get clean." – Ron Tennyson, 2013 Dodge Ram 3500, 2014 Arctic Fox 865
"I use the outside shower because it beats going in an ice cold lake.  I have had one on my fifth wheel for years and use it all the time.  It's nice to rinse off before going to the inside shower." – Ron Perkins, 2015 GMC 2500 HD, 2010 Travel Lite 800SBX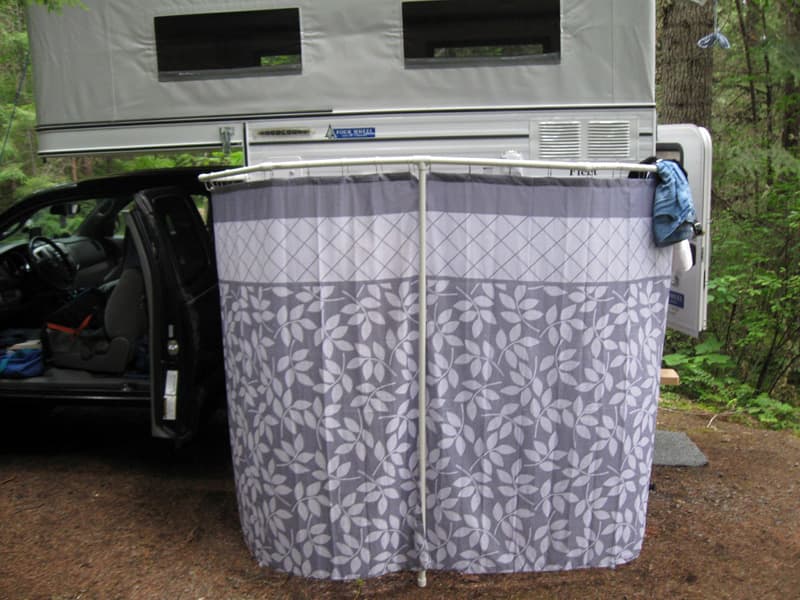 "Yes!  We use our outside shower often.  We use it almost every day we are camping or whenever we need a shower.  We don't have an inside shower in our small pop-up camper.  We love having a small camper, and trying to fit a shower inside seems excessive.  But it sure is nice to get clean at the end of the day.
We built a privacy surround made of a light shower curtain and PVC pipe that hangs on the side of the camper to use, if needed, but most of the time we are in the boonies and it doesn't matter.  We have a little washable mud mat that makes the floor.
My wife had to talk me into getting this feature but, as usual, she was right.  And I use it at least as much as she does.  I highly recommend outside showers." – Alan Dickman, 2006 Tacoma, 2015 Four Wheel Fleet
"We have never used the outside shower on this camper or any previous one.  They have all had outside showers that never got used.  In my opinion, they are just a problem with another penetration of the camper's skin to allow heat or cold inside.  They are a vulnerable point for water lines to freeze in the winter.  I would rather it not be there." – Randall Rice, 2012 GMC Sierra 3500HD, 2015 Bigfoot 2500 10.4
"Yes I use it some.  Mostly it's to aid in draining my fresh water tank quicker.  I would be fine without it.  It's another easy place to freeze up, but it was not an option I could delete.  That being said, I never used the outside shower in our Northern Lite as it was just so-so.  I really like the set up on the Arctic Fox much better and find it useful.  It has a quick connect and a coiled detachable water hose with a spay nozzle on the end that actually puts out some water pressure." – Matt Arnold, 2013 Ram 3500, 2016 Arctic Fox 990
"It's ironic I that just de-winterized my camper and the only leak was the outside shower handle cracked.  I have never used it and would forgo it in the future." – Joe O'Brien, 2001 Dodge 2500, 2003 Northstar Laredo
"I never used the outside shower, and probably never will.  If they would offer it as something else, we would choose the something else." – Scott Vallie, 2015 Dodge 3500, camperless, sold it pending a new Host Everest
"It's a must.  I don't have to run inside to wash my hands, and sometimes my feet.  The interior of the bathroom stay cleaner.   I also use it to wash fruits and vegetables while cooking outside." – Richard C Raymond, 2005 Silverado 3500, 2007 Winter Creek 11.5RS
"Yes.  We do a lot of off-road backcountry camping.  No campground means no showers, so it is essential.  It's also perfect for a wash off after a day on the sand." – Bruce Seaton, 2008 Ford F350, Four Wheel Eagle
"We have never used our outside shower, would never get it again, and would gladly entertain removing it!" – Charlie Coushaine, 2001 Ford F350, 2012 Chalet DS116RB
"I just used it this weekend when my good dog, Pepper, found something dead to roll in. The outside shower was the fix!" – Becky Tedrow, 2004 Ford 250, Lance 825
"We've been from Texas to Alaska and back among other long runs.  I took the time to get a nylon pop-up enclosure and built a little duck-board for the shower.  We've used it less than a dozen times, but each time it has been much appreciated.
We use a lot of national forest and state parks that lack showers.  We often spend weeks in the southwest desert.  We used a sun-shower bag before the Palomino, so we think it's pretty fancy!  Why do they mount them so low?  It would be much more useful if it were at head height." – Don Henschel, 2003 Ram 2500, 2007 Palomino
"Our outside shower is used specifically to give our dog, Toby, a bath.  My wife and I have never used the shower and have no intention of doing so.  If we were to purchase a new truck camper, that option would not be under consideration." – Warne Todd, 2000 Ford F250, 2005 Lance 981