Twenty-one fellow truck campers showcase their Ram 5500 rigs complete with adaptations, custom bed decisions, and their thinking behind choosing a Class 5 truck. We had more readers respond with Class 5 Ram trucks than any other brand. Could this all be Charles Phy's fault?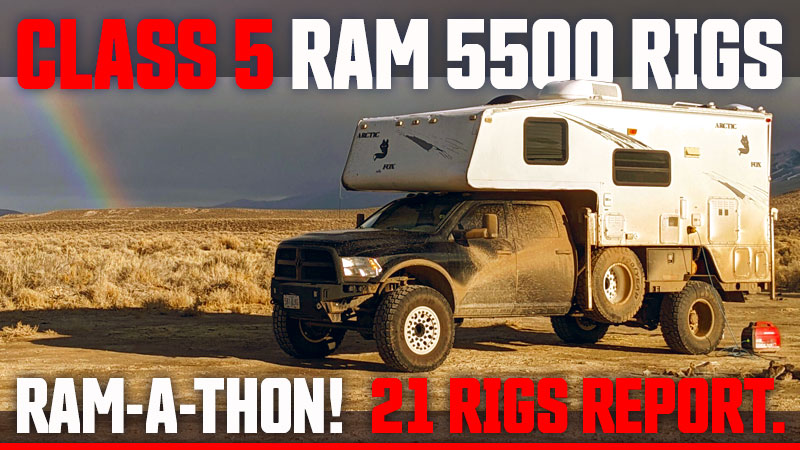 In the fall of 2019, we produced an in-depth video with Charles Phy on his Ram 5500, custom storage bed, and Eagle Cap 1160 double slide. This was our first up close and personal experience with a Ram 5500 and we were extremely impressed.
There was nothing about Charles' beast of a pickup that wasn't built for extreme payload and hauling capacity. Then he opened all the exterior storage compartments and sent our exterior storage dreams soaring.
Above: Charles Phy quite possibly started a Ram 5500 phenomenon with this video
A little over three years later, Charles' video has been watched over 49,000 times. Could that be why there were more Ram 5500s submitted in response to our Class 5 query? Could Charles Phy have single-handedly started a Ram uprising in our ranks? Is he the patron of Ram 5500 rigs? The Ram Master? The Big Horn Founder? Father 5500? We may never know for sure, but there's no doubt he deserves some of the blame credit.
Ram 5500 Truck Camper Rigs
The majority of the following Ram 5500 rigs are hauling single, double, and triple-slide campers, but many are hauling non-slides and even pop-ups. It seems Ram 5500s aren't just for slide-out kind, but also for those who value the over-the-top build and capacities of Class 5 trucks.
It must also be nice to know there's essentially no way you're going to be overloaded. As Charles says, "I decided to get the Ram 5500 so could have a camper made of cast iron if I wanted to." That might be pushing things a bit, but there's little doubt these trucks are a safe match with every production long bed camper on Earth. Load it and go.
Vincent Bruno
2022 Ram 5500 / 2018 Cirrus 920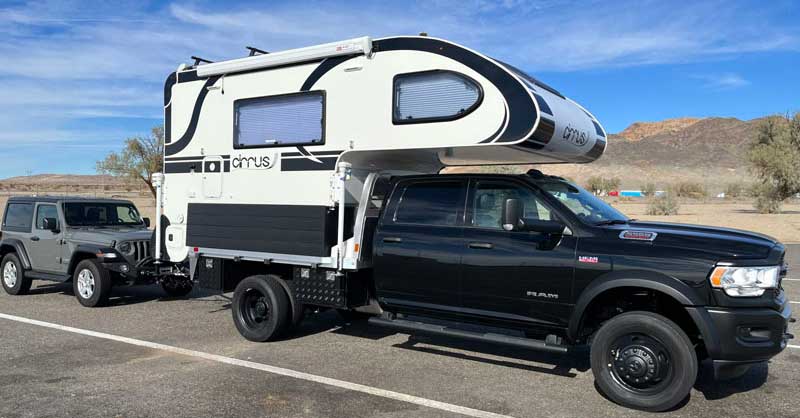 Above: Somewhere in California
"I have a 2022 Ram 5500 6.4L HEMI gasser. It has four wheel drive with Aisin transmission and a 4.44 gear ratio. I did not get the enhanced suspension or 4.88 gears. So my total GVWR is 18,500 pounds.
I ordered a CM AL RD flatbed. Basically, it's a plain bare aluminum flatbed. I fitted it with lower aluminum boxes. Both sides are covered with stake rack side walls that can be removed and turned into tables; high-top tables or lower, and completely adjustable legs. My upper storage on each side differs. One side is a six-foot storage box and spare propane tank. The other side is a custom four-foot box and open space for oddball larger things like a grill, chairs, and fire pit.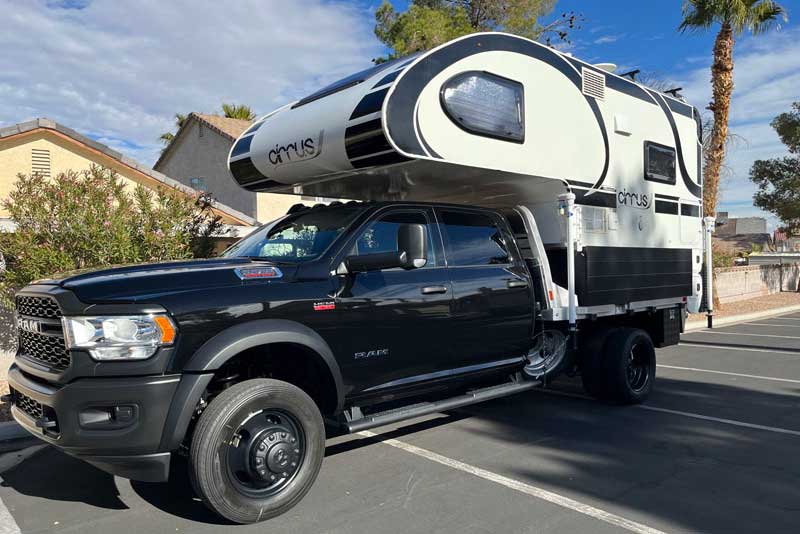 The Ram 5500 has complete stock suspension and it's great. My camper is an eight foot camper with no slides and weighs around 4,100 pounds. I'm completely happy and satisfied knowing my family is safer and with more room. I went from having 500 pounds of spare weight to now having 5,000 pounds of spare weight.
My only suggestion would be the insurance topic. Many states differ. Finding insurance for a Class 5 and personal use combo is tough. I got quotes from $5,000 a year to $25,000 a year. Definitely do some homework and research about insurance before making the jump."
Jesse Butterfield
2014 Ram 5500 / 2003 Arctic Fox 1050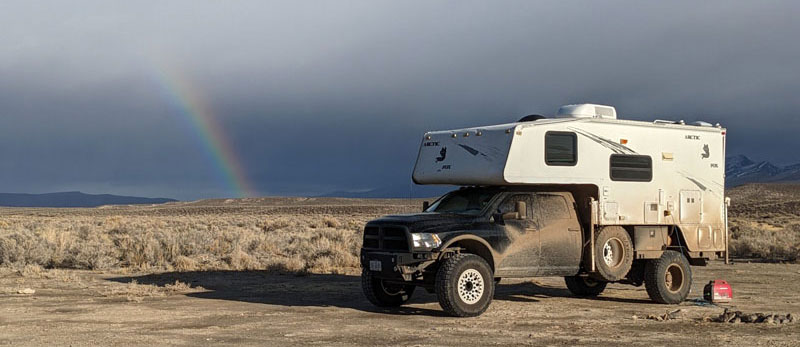 Above: Bog Hot Springs
"I have a 2014 Ram 5500. I bought it so I had a legal way to tow my boat with an 11-foot camper and not need any hitch extensions that limit the towing capacity. Also, super singles are pretty cool.
I bought my truck used and it came with a steel flatbed. It was a lot of mock-ups and holes drilled each time I dismounted the camper. I made modifications to it between trips to get it to sit as low and as far forward as possible. Currently, the rear of the camper is mounted directly to the frame through the bed and the front of the camper is mounted to the bed. The long-term plan is to build an aluminum bed for it at some point. Until then I'll get all the bugs worked out on the steel bed.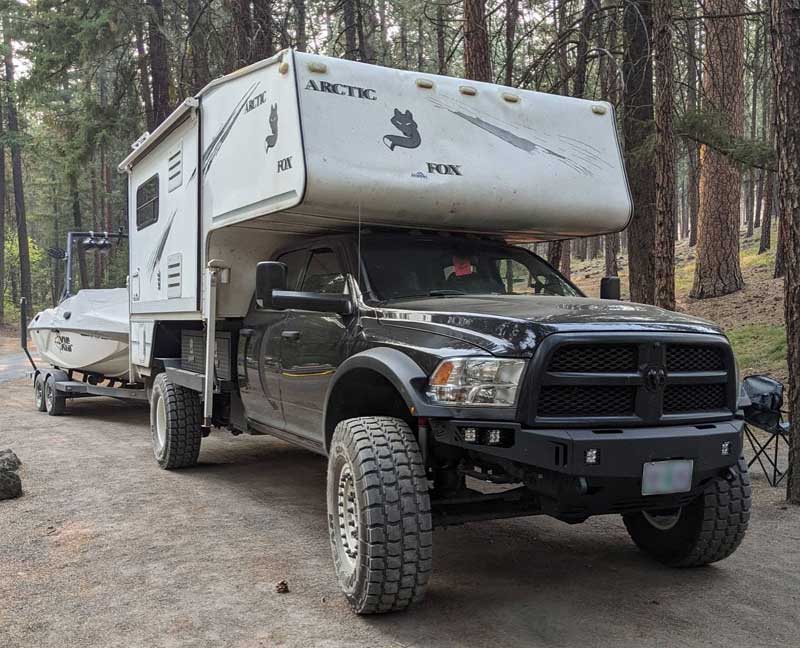 Above: Lake Billy Chinook
The Ram 5500 has done everything I've asked it to do. My family really enjoys camping trips. I knew the ride would be very rough. The Kelderman air suspension was one of the first upgrades plus it makes leveling the truck at any campsite a breeze.
The camper is an older Arctic Fox and it has been one of the best purchases I've made. Some of the seams are coming apart and the skin is a little warped in some places, but everything works and we always have a great time in it wherever we end up. We will probably be purchasing a newer one sooner than later to keep the adventures going.
My advice would be to have plans to fix the suspension right away. Also, insurance and registration can be a process and expensive depending on where you live. Actually, a lot of things like parts and service with these trucks seems to be more expensive than your typical truck."
Michael Berger
2021 Ram 5500 / 2021 Northern Lite 8-11 EXLE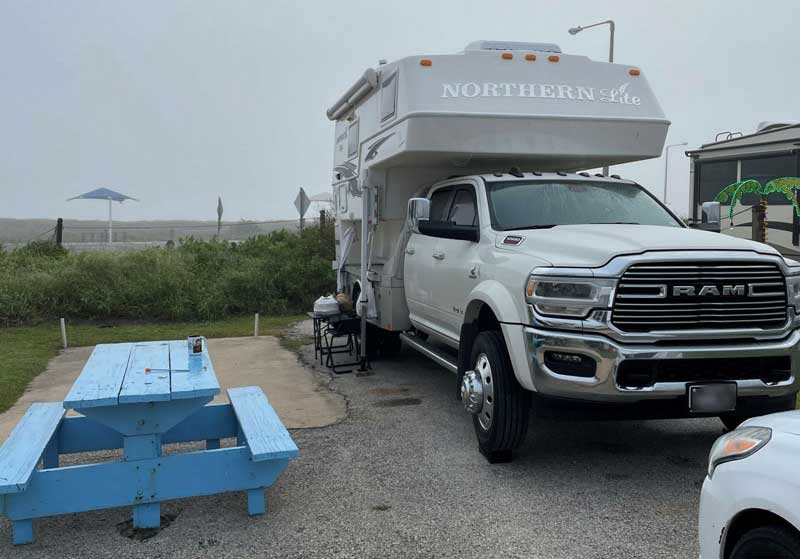 Above: South Padre Island, Texas
"My wife and I own a 2021 Ram 5500 Laramie four wheel drive with 6.7 liter Cummins diesel engine. We previously owned a Dodge 2500, and even with spring and airbag upgrades, it was not fun or safe to drive. I wanted my wife to feel safe in both the passenger's seat as well as the driver's seat.
We added a CM aluminum skirted flatbed to the truck. We also used products from Stable Camper (Jared and Candice are great to work with) like bump stops and mounting brackets for the stake pockets on the flatbed. I have since added toolboxes down both sides for more storage.
Everything is much better with the Ram 5500. The ride is smooth, there's much less rocking, better braking, we're not overloaded, and so far no suspension upgrades have been required.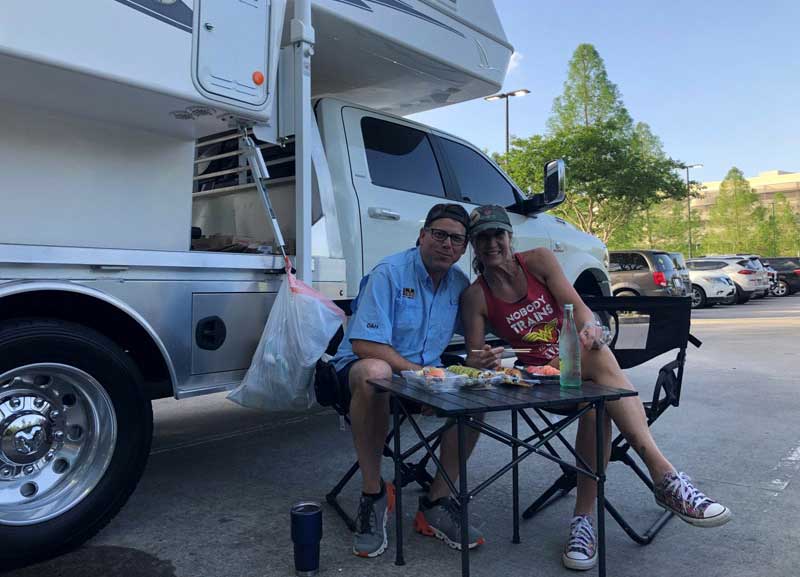 Above: Somewhere in Texas
I would definitely recommend the upgrade to a Class 5 for any hard side slide or non-slide truck camper because you are just so much more stable and relaxed.
The downside would be the 19.5" wheel and tire situation. They are expensive, and not every chain tire company (like Discount Tire) can or will work with them.
The rear-end gearing is great (mine is 4.44), but you will sacrifice fuel economy a bit. I average 15 miles per gallon unloaded, and about 12 miles per gallon with the camper on. Financing and insurance are also more complicated, so do your research ahead of time."
Kevin Hasch
2013 Ram 5500 / 2013 Lance 1172


Above: Calico, California
"I have a 2013 Ram 5500, crew cab, four wheel drive diesel truck. Before this, I had a Ford F-450 and wanted a new truck, so I went bigger. The Ford was close to max GVWR. The 5500 has a 19,500-pound GVWR. Packed and ready to go, my rig weighs about 18,000 pounds.
I had a service body on the F-450. I cleaned it up and painted it to match the Ram 5500 and then put it on the 5500.
The Ram 5500 and Lance 1172 are the most stable riding and handling truck camper rig I have owned. This is my fourth truck camper rig and this one provides the best power and performance.
The bigger the truck, the better it handles (less sway). And the bigger the brakes, the better it stops. Bigger is better. You can't make up for GVWR with aftermarket add-ons."
Brian Phillips
2015 Ram 5500 / Hallmark UTE XL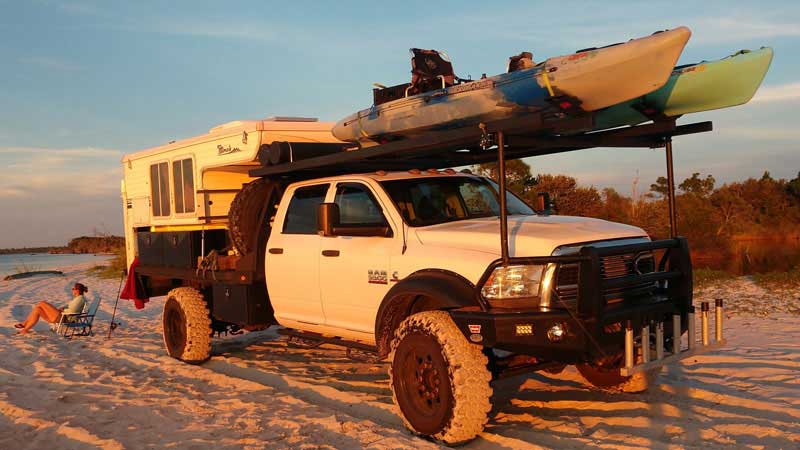 Above: Fort Morgan, Alabama
"We have a 2015 Ram 5500 crew cab with the 84-inch cab-to-axle chassis. Our camper is a Hallmark UTE XL. We had started with a Lance hard side unit, but prefer the lower overall height of the Hallmark.
I have always had trucks, including many 3500 variants, and was never satisfied with the stability or weight-carrying capabilities. We wanted to be able to carry a slide-in or, in the future, a purpose-built camper, other tools, and equipment for our hobbies. We also want to be able to carry two pedal-style fishing kayaks without needing a trailer.
We started with a stock 5500 and added the Buckstop single wheel kit to include single rear wheels/tires and their front winch bumper with a Warn winch. This makes the truck more self-sufficient and off-road capable.
We have an 11-foot steel flatbed with upper and lower storage boxes. We added a heavy gauge charge cable controlled by a relay for charging the camper's batteries when traveling down the road to supplement the solar on the camper. We also built a custom operable kayak rack for over the cab that allows for simple loading and unloading of our heavy kayaks.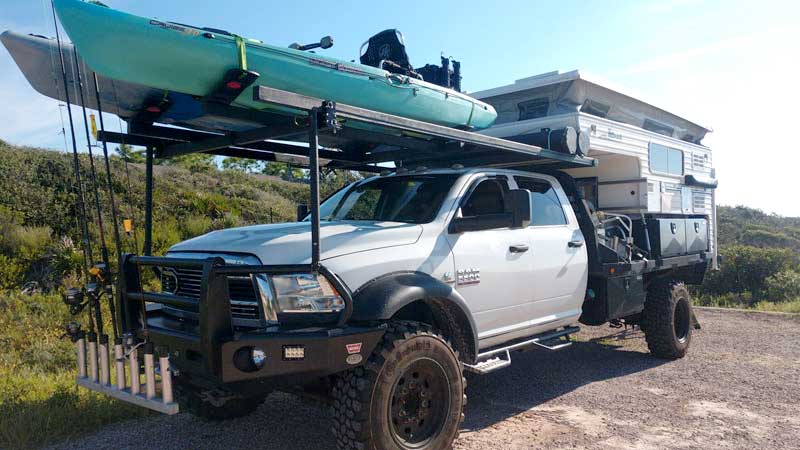 Above: Fort Morgan, Alabama
We love the Ram 5500 and the capabilities it gives us. We have spent many a night on beaches and backwoods spots around the southeast and look forward to exploring further north and west. We have had some issues with the front-end steering components but, at this point, we have those sorted out. The truck had over 130,000 miles on it when we got it. The ride is not as smooth as a car, but it is a truck after all.
If I bought a truck with 130,000 miles on it again, I would start by replacing all of the front-end steering parts. I would also ask myself why we hadn't done this years ago instead of pushing 2500 and 3500 trucks so hard."
John MacPherson
2020 RAM 5500 / 2018 Bigfoot 10.4

Above: St George, Utah
"I own a 2020 Ram 5500 four wheel drive truck which started out as a chassis cab.
My wife and I love truck campers. We have owned a few. I used a 2004 Dodge Ram 2500 5.9 as the platform. It worked great, but it was always overloaded.
Truck campers are limited with storage. I wanted the right truck with a better storage solution and decided on the Ram 5500. I like the Ram brand but the deciding factor was traveling in Mexico. I believe there would be more service options with a Ram Cummins motor.
I was familiar with Douglass Truck Bodies in Bakersfield. They custom-fit a bed and cabinets to fit the truck and camper.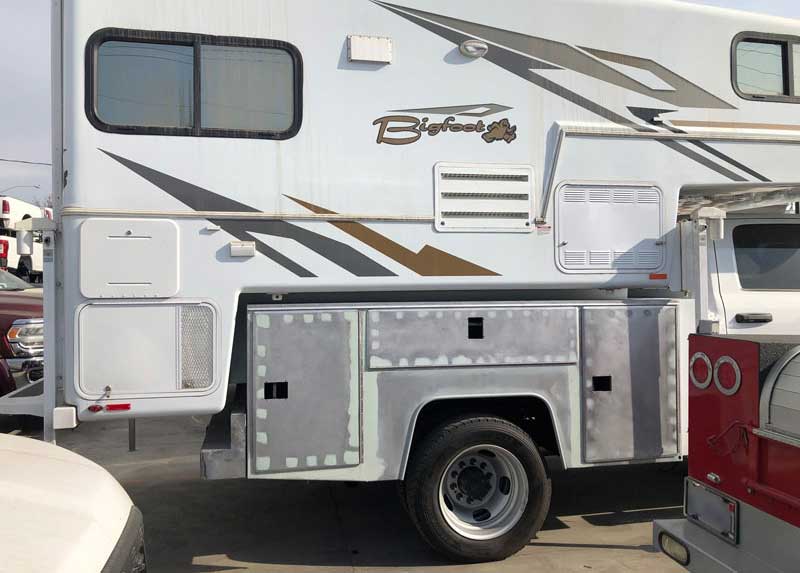 Above: Douglass Truck Bodies, Bakersfield, California
I dropped off the truck and camper. It took about three months to design and build the truck bed.
I love it. The truck handles the weight of the bed and camper with ease. I can put a few thousand pounds of gold bricks in the cabinets if I ever come across some that need to be transported. But for us, the cabinets offer plenty of storage for the trips my wife and I take.
Also, we had Torklift install a SuperHitch on both ends of the truck. I can carry bikes on the front of the truck and I have an 8×16 enclosed trailer that I pull when I want to bring larger toys with me.
I really didn't understand the registration process when I began this. I went to the DOT within ten days of buying the truck and tried to register the vehicle. I was told the truck doesn't get registered until the bed (or whatever) was installed so they could tax and identify it correctly."
Rick Adams
2021 Ram 5500 / 2021 Host Everest


Above: Historic Tumco townsite near Ogilby Road and Glamis, California
"I have a 2021 Ram 5500 84-inch CA with CM skirted bed for my 2021 Host Everest.  I was in weight denial with my GMC 3500 flatbed truck. It was set up nicely.
After about a year of using it to carry my Host, I finally decided to weigh it on a CAT scale. The results were shocking! It was 17,740 pounds on my truck with a GVWR of 13,025 pounds. I was almost 5,000 pounds over the GVWR.
That was the last trip I took with that setup. After a quick two-week search, I found a Ram 5500 truck with low miles used for hotshot work that was within 15 minutes of my house. I bought the Ram that same day because I knew it wouldn't last at the price it was being sold. I also got an amazing offer from the dealer on my GMC that I couldn't refuse in large part due to the diesel truck market at the time; February 2022.
When I bought the truck it had stock wheels and tires, and a 36,000-pound rated fifth-wheel hitch on the frame. I drove from San Diego up to Beaumont, California to pick up the only skirted bed that Big Tex Trailers off the I-10 had in stock. We loaded it on our trailer and my son helped me install it the following weekend.
A few weeks after that, I had sourced all of my topside boxes from Amazon and eBay. I also ditched the 19.5 wheels and tires for a 22-inch wheel / 35-inch tire combo that would improve the ride and off-road ability of the truck. To clear the tires I installed a pretty basic leveling kit up front with 2-inch lift blocks in the rear. I have three topside boxes, two under the camper wings, one against the headache rack, and a full-size spare against the rack. A generator is on the bed as well.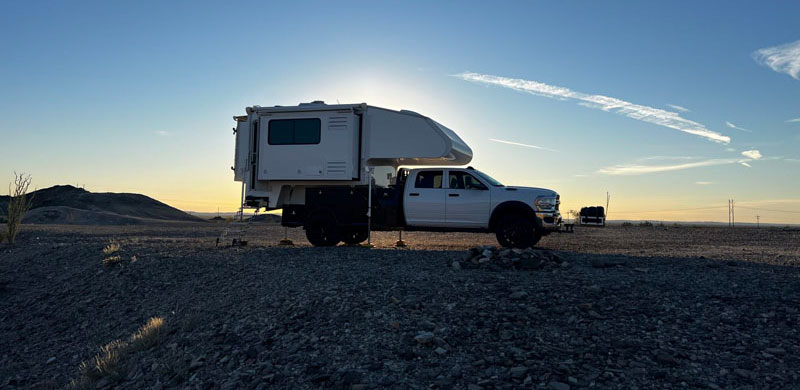 Above: Historic Tumco townsite near Ogilby Road and Glamis, California
This has been a great experience with this truck and camper combination. The tire and wheel combo makes the ride much more enjoyable and the only modification to the suspension on this truck (aside from the lift kit) was Torklift's Upper Stable Loads. The truck didn't necessarily need them but with 6500 pounds of camper on the bed, it helped reduce the squat, even on a 5500.
I think eventually I'll do a Kelderman kit with a single-wheel conversion but that is more of a want and not really a need at this point. In comparison, my 3500 had airbags, SuperSprings, Torklift's Upper Stableloads, and a Hellwig sway bar. My 5500 weighs over 18,000 pounds going down the road but it's well within the ratings of the axles, tires, and the 5500's GVWR of 19,500 pounds. It's a big win overall.
Hindsight is a son of a gun right? First and foremost, go pay the $13 bucks and weigh your rig. It'll be the best $13 you've ever spent! You need to know where you stand when it comes to actual weights versus the ratings of your truck, your tires, and your wheels.
Secondly, do some homework. Don't take the camper dealer's word for face value when they see you pull into the lot with a dually or a well-equipped truck. They will tell you things to make the sale that could put you at risk. "That truck will handle it, no problem". That's what you're gonna hear.
Do your homework. I bet that salesman has no clue in many cases and probably doesn't own a truck camper. Research the camper and get the right truck for it. The information is out there. Make informed decisions, and stop at the scales!"
Pete Clark
2017 Ram 5500 / 2021 Northern Lite 9-6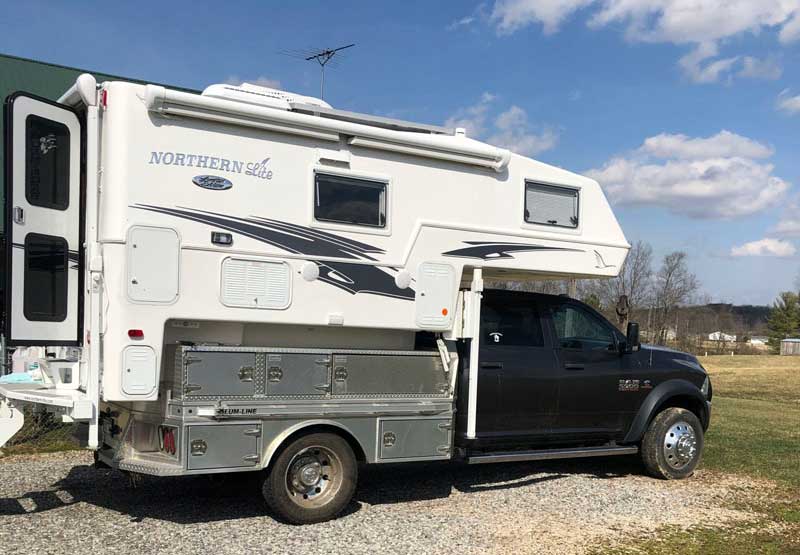 Above: At home in the driveway
"We have a 2017 Ram 5500. We also have been truck camping since the late 1960s when campers were much lighter and a three-quarter ton truck could be used without additional springs, airbags, sway bars, or other suspension changes. As time went on, campers got heavier and trucks didn't advance as quickly. Sometimes, even a one-ton needs extensive modifications to carry roughly the same size camper in the manner I deemed safe and fun to drive.
In 1995, I put an Alum Line flatbed on a one-ton truck to make a handier tool for our farming operation. I found it just as handy in our camping adventures with our gooseneck horse trailers. Then we put a truck camper on it. Holy moly, what an advantage. We had more storage. It was faster and easier to load and unload but the truck still need some modification. It wasn't much fun to drive.
Our flatbed truck had worn out and changed into a stock one-ton 4×4 and the camper had grown to a single slide 10 foot 2-inch model. I modified the truck with about everything needed to haul properly, but I didn't feel it was as good as it should be. That rig turned into the Ram 5500 4×4, 60-inch CA with another Alum Line flatbed with matching boxes. Just wow!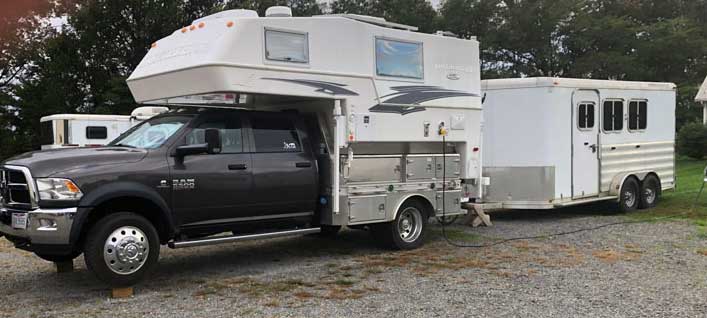 Above: Trail Ride in Hill Country, Ohio
The Ram 5500 has been much better than I ever imagined! There are absolutely no suspension modifications needed. You can go any speed you might feel comfortable with. There's no sway, no roll, and you don't even know the camper is on the truck unless you look in the mirror.
You can buy a one-ton, do all the suspension modifications that are truly needed and you'll have a rig that still is lacking in load-carrying ability and isn't as safe as it could be. Or you can decide to not chase the right parts and spend the money having it all assembled. Just buy a truck that can do the job."
Frank Poole
2016 RAM 5500 / 2016 Arctic Fox 990
"I got a 2016 RAM 5500 cab/chassis dually and put on a 10-foot flatbed for an SxS RZR. I had been weekend tent camping for a long time. The ground got harder and the air mattresses were getting thinner. I moved to a teardrop which was perfect for six years of dive campouts. Then I went to an RV show, looked at options, and liked the campers.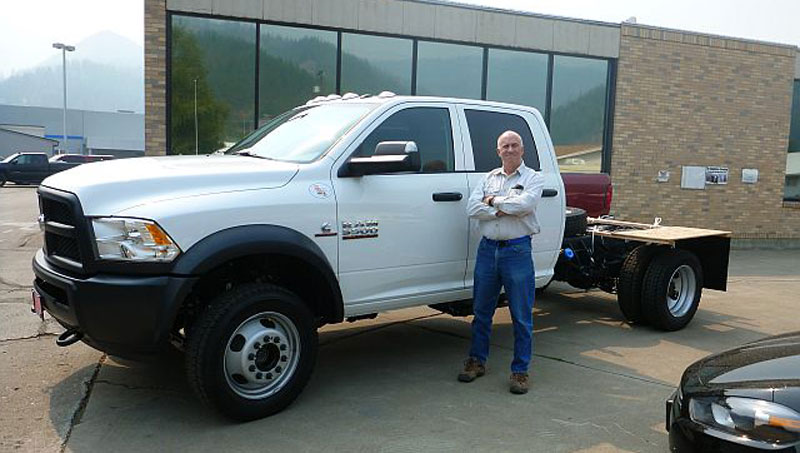 The next step was to find a truck. I started looking at the Ram 1500, and had no idea what to look for. Reading RV forums and with the nurturing tutelage of Bryan Appleby, I quickly dumped that idea. I was starting to ride side-by-sides and needed something to use at staging areas. I started to settle on the 3500s but people started with the, "You should get…." so looked at 4500s. They were not much different in cost so I ended up with a 5500 and it proved worth it.
For the truck itself, nothing had to be added. It had 19.5 wheels and tires, a strong frame, shocks, and towing power. For me, I needed something to carry a side-by-side and was 10 feet. I got an aluminum flatbed from a manufacturer in Idaho and added a 4,500 pound winch for the times the buggy goes ka-putt.
I had to have Torklift weld rings for the tie-downs to reach the frame. My 2016 Arctic Fox 990 fits perfectly with space on the sides for storage boxes all around. Once it was set, that was it. I recently got Timbrens to help a right camper lean after six years. That's it.
The Ram 5500 is perfect and performs well. It'll knock your teeth out on washboard roads but that's easy. Just take'em out. The drive is better with the camper loaded. It doesn't like city traffic too much, but more like the driver's dilemma than trucks.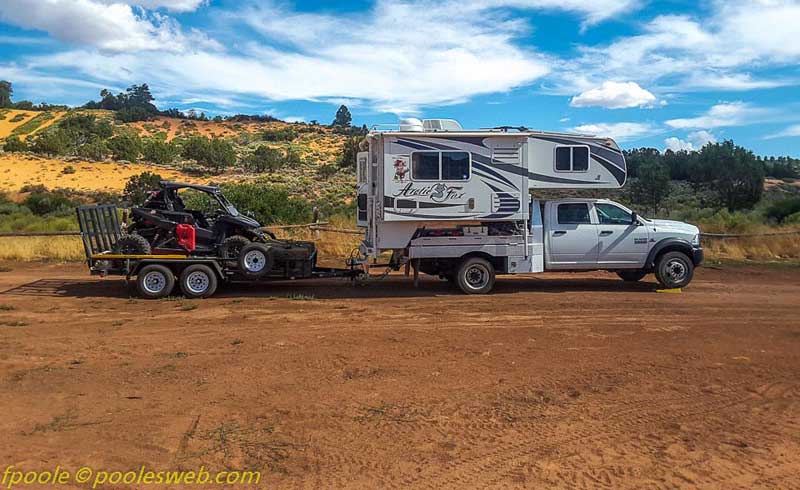 Above: Coral Pink Sand Dunes, Utah
Diesel used to be cheaper when I was growing up, (I still am), but now it's more expensive and I have to add DEF. I carry two Walmart jugs that can be a pain but. other than that, it performs flawlessly with maintenance on the pricey side. For oil changes, the book says 15,000 miles, and the dealer says 5,000 miles (suspected motive) so I plan on 10,000 miles.
The truck has approximately 100,000 miles on it now. Servicing can be a hassle as only a few can handle the 5500s due to lift jacks, low ceilings, etc. So, I have to find a 5500-friendly dealer to handle it. At times it can be a distance.
The Ram will handle anything, no problem. Just be aware of the size and width as you might find forest roads a little tight between the trees. You'll need a little more room.
Take note of diesel prices and servicing costs and plan accordingly. It's a rough ride on rough roads, fine on highways, minus potholes. It took me some 1,000 miles to get used to it and find my freeway hood markers to stay in lanes. You get used to it and just take it slow and easy.
A downside to this size and power is that you won't know you ran over something until you see it. Don't ask me how I know that; redesigning step stools, etc. Yep, just runs right over them. Bent a rim on a rock and blew a tire."
James Langley
2019 Ram 5500 / 2020 Eagle Cap 1165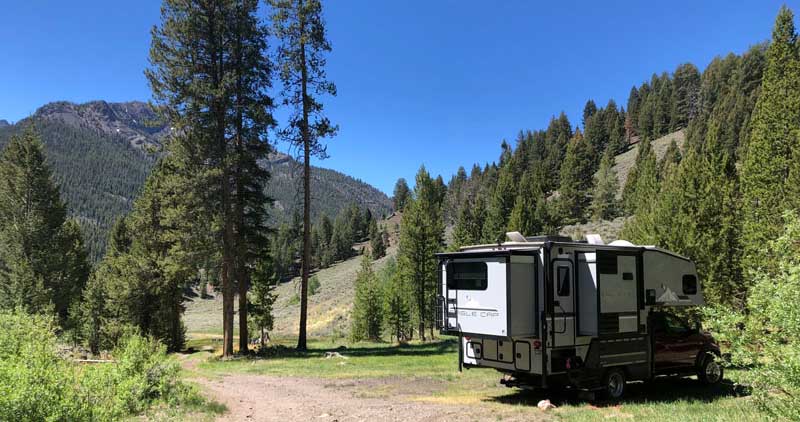 Above: Copper Basin, Idaho
"I have a 2019 Ram 5500 with Kelderman air suspension and an Airlift height controller with ARB onboard air compressor.
My path to this solution was owning small campers 40 years ago mounted on half-ton pickups. Since these rigs were mostly used for hunting in Idaho I then progressed to fifth-wheel horse trailers with living quarters when I acquired horses. After 20 years of packing with horses, I purchased a Lance 1062 double-slide and a diesel four wheel drive Ford F-350 with airbags. I towed a 6,000-pound enclosed trailer hauling a side-by-side with this rig.
The truck was right at the 14,000-pound GVWR limit. When I towed the trailer I went over the limit. This is unacceptable so I moved to my current setup. My truck door sticker says 22,000 pounds GVWR. Fully loaded with an Eagle Cap 1165 I am 18,000 pounds.
I worked with Ryan Goodwin at Sherptek who did all the truck modifications. Since I have been using campers for so long, and am an engineer myself, working with Ryan was a dream. He is an engineer himself and values the same things as me in this kind of rig; safety, reliability, quality, and functionality.
Everything Sherptek did was top-notch. The project was a joy and I am totally pleased with the results. Sherptek built the bed, sides, storage boxes, and installed the Kelderman suspension and support equipment and Torklift Super Magnum hitch. I took a brand new chassis cab Ram to him and an Eagle Cap 1165, and he took it from there. Since Covid hit in the middle of the project, it took longer than originally planned, but was totally worth waiting for.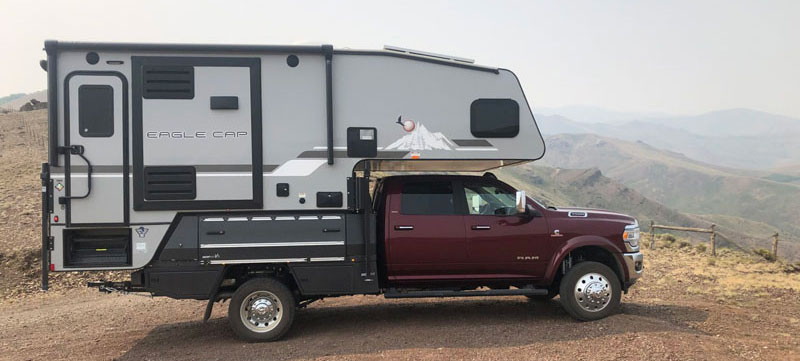 Above: Santa Rosa Mountain, Nevada
I was unsure if the air suspension was worth the cost going into the project. Since I very rarely planned to use the truck as an unloaded flatbed, I thought the factory leaf springs might be just fine under the heavy camper, and they probably would have been. But the air suspension has offered two benefits justifying the cost. In addition to the nice ride, it gives me instant leveling when setting the camper up for the night, and I always have the same perfect hitch height when towing.
My next truck, if there is one, will have air suspension. I was also concerned about all the aftermarket modifications for reliability, service, and repair. The system has been very reliable. I have had two minor problems and Sherptek, Kelderman, AirLyft, King Shocks all worked together and quickly solved the issues.
Being just a four wheel drive, dually, diesel pickup, this rig can go anywhere a pickup can go. However, I do have to watch the 13'2" clearance. I carry a Stihl battery pole saw just in case. Having almost unlimited storage, weight capacity, and towing capacity is a dream. I considered a single oversized rear wheel setup but stuck with the dually since most driving is on roads. I also value quiet road noise and the huge dually market for tires and service.
The Ram 5500 has been a good decision for us. We go into very remote areas, but when the two-track disappears we set up camp and get into the side-by-side."
Lora Joslyn
2020 Ram 5500 / 2018 Host Cascade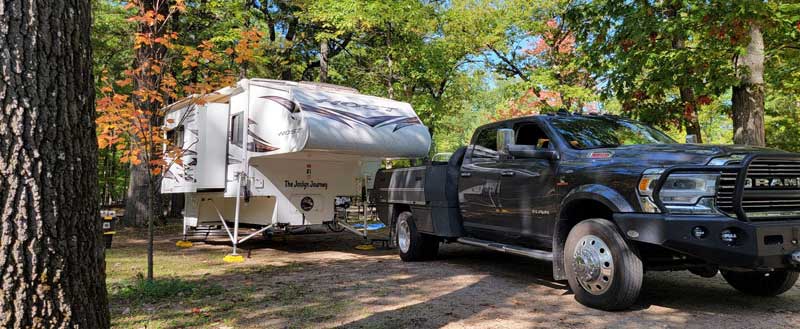 Above: Interlochen State Park, Michigan
"I have a 2020 Ram 5500. We purposely bought this since we were planning on going full-time. The flatbed option allowed us to add additional storage which was essential in carting our stuff everywhere with us. We have a fishing boat that we also regularly haul around during a portion of the year.
We worked with Sherptek to outfit our truck with flank sides which allowed us to carry long or bulkier items, multiple storage boxes for tools, and other spare parts.
We ended up adding a high-amp alternator charging system so we can charge while driving which is immensely helpful on cloudy and rainy days. I would say the biggest update was upgrading to the Hellwig sway bar. It is so much more solid than when we had a Ram 3500 dually with the same camper.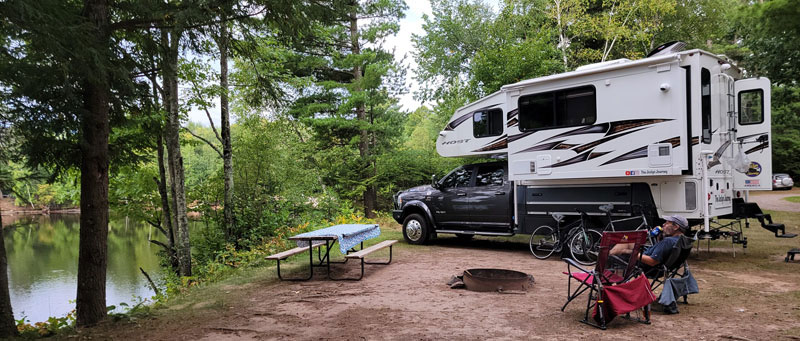 Above: Lake of the Falls County Park, Mercer, Michigan
We knew the ride was going to be rougher than our old Ram 3500, but we're used to it unless we're in town where my kids are located. The roads are atrocious and I need to take Tylenol and wear a sports bra to get through town. Ha!
The truck is a beast so we have to choose parking lots wisely. I would take this rougher ride any day versus our old 3500 where the sway made me nearly panic at every off-ramp. With the wider stance of the truck and the Hellwig sway bar, even I am more comfortable, which says a lot.
We both believe the Ram 3500 dually was sufficient for our large camper. We did have to be careful of weight constantly (bring the kids or bring water, right?). If we weren't full-timing, I'm not sure I could personally justify the added cost and time to get the truck outfitted. But since it's our home, I'm so very grateful we did!"
Robert Foote
2018 Ram 5500 / 2018 Lance 975


Above: Starting out on a road trip in Massachusetts
"I purchased my 2018 Ram 5500 truck mainly for safety reasons. It made a more stable platform for top heavy truck campers and, more importantly, it has big brakes. Since I would be flat towing our Jeep Wrangler during most of our camping excursions, the extra weight capacity made it more of a complete package.
I ordered the truck new and had it shipped directly from the factory to Utility Body Works in Indiana. I worked with these people in designing my ideal aluminum body, providing some of my own CAD drawings. Additional features such as 3/8-inch aluminum deck plate, extra frame supports, and a dedicated spare tire cabinet completed my design.
The truck has served us well. I don't feel pushed around by big rigs passing on interstates, nor does the truck feel unstable on windy days.
If I have one regret, it is not having the bodybuilder install full air suspension on the truck (I had the option). In my mind during the build, I figured the weight of the camper and all the goodies we packed would smooth out the ride. Not so. Loading the camper only compressed the truck springs one inch. I installed an airbag system to cushion the camper a bit. It worked to a point. I still feel all the larger cracks and potholes on our nation's roadways.
I love the truck and would do it again. Before purchasing a commercial vehicle such as a Class 5, research your state's laws concerning registering the truck and obtaining insurance. It could be as easy as registering a car or a complete hassle with the insurance companies demanding you declare what state(s) you'll be doing business in. All I want to do is camp."
Lance Koncher
2022 Ram 5500 / 2022 Eagle Cap 1200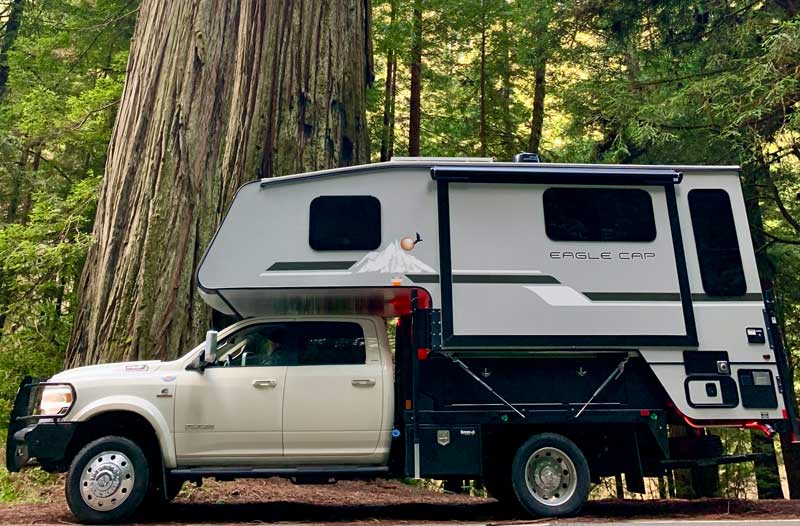 Above: Redwood National Forest, California
"We chose the Ram 5500 Laramie. We purchased it new in 2022. We ordered it as a cab and chassis; 60-inch cab to axle fitted with a C&M steel flatbed. We needed a truck to accommodate an Eagle Cap 1200 triple-slide camper that weighs in at 5,200 pounds dry while also towing our Jeep on a tandem axel trailer, our 22-foot boat, or an 18-foot enclosed ATV trailer.
We wanted the truck to do all that without modifications. The Ram has a large fuel capacity of 74 gallons and suspension to handle the GVW of the loaded camper and the trailers. It came with 14 ply tires that can be inflated to 145 psi.
We added 8-foot boxes to best utilize the space where the sides of a pickup truck would normally be, stake pocket brackets for use with fasteners (Torklift FastGuns), and a backstop to prevent the camper from sliding forward. All these items were ordered from StableCamper (Jared was a huge help and we utilized his vast knowledge for many of our decisions.)
Our dealer was able to upfit the flatbed on-site. We have a rubber mat lining the flatbed and it has ridden 8,000 miles so far without shifting. Additionally, we added a 7-way plug so we can conveniently plug in the camper.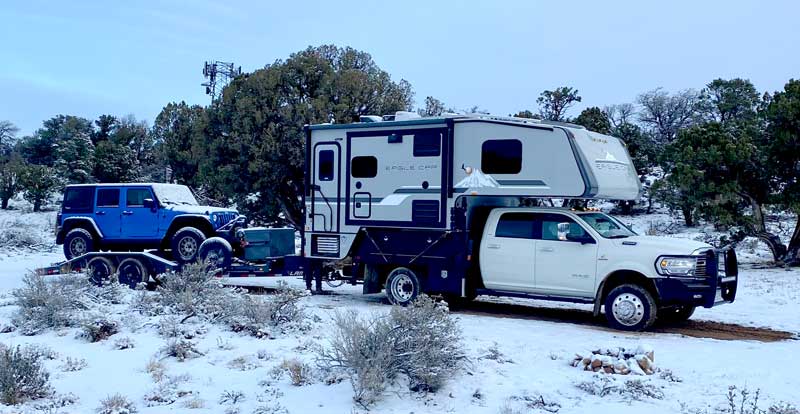 Above: Near Grand Canyon National Park, Arizona
The Ram 5500 performs beautifully; better than expected. It has no noticeable sway. It handles the weight and feels very stable even in windy conditions. We had the truck and Jeep trailer scaled so we know the individual axle weights so that we can inflate the tires appropriately.
The ride can be a little rough due to the poor quality of our roads. On smooth roads, the ride is great. For our needs, we are more than happy with our setup. After having several different truck campers, motorhomes, and pull-behind campers, this is by far the best for our current needs. We almost exclusively boondock so we need to be confident getting off-road, but we still like our creature comforts.
My advice is to evaluate your needs now and anticipate future needs. Choose a truck that can handle the weight without expensive modifications like extra springs. Watch the discussions on Facebook for the trucks and campers you are considering. You will find so much information there. And reach out to knowledgeable people whether they are friends, dealers, truck up fitters, mechanics or suspension companies to gain as much information as you can before pulling the trigger.
Also, check with your insurance company since a Class 5 is considered a commercial vehicle and it is different than just insuring your F150. Besides the weights already mentioned, the gearing of the truck is also important. Lastly, you need a truck with appropriate gearing for interstate travel."
Steve Miller
2022 Ram 5500 / 2018 Lance 1172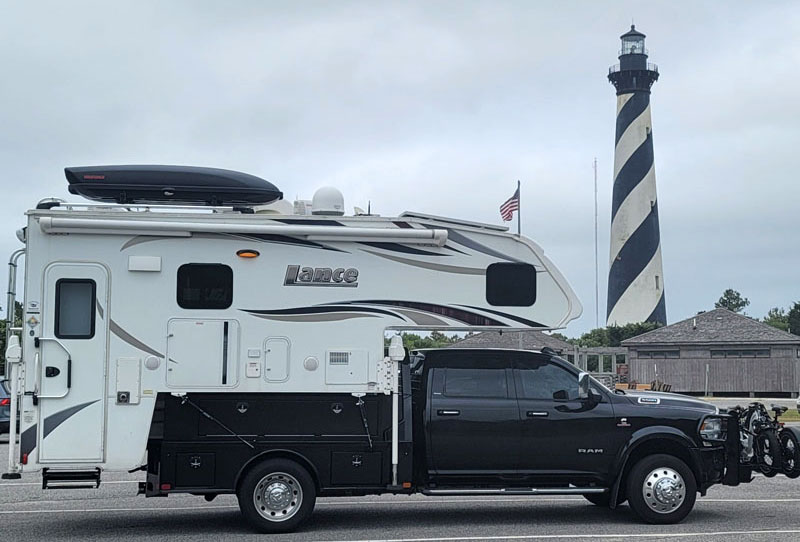 Above: Hatteras Light on Hatteras Island, North Carolina
"I have a 2022 Ram 5500. We purchased the truck for a possible upgrade to an Eagle Cap from our Lance 1172. We were looking for a truck that could be totally customized with storage and stability when it is full of fluids while traveling.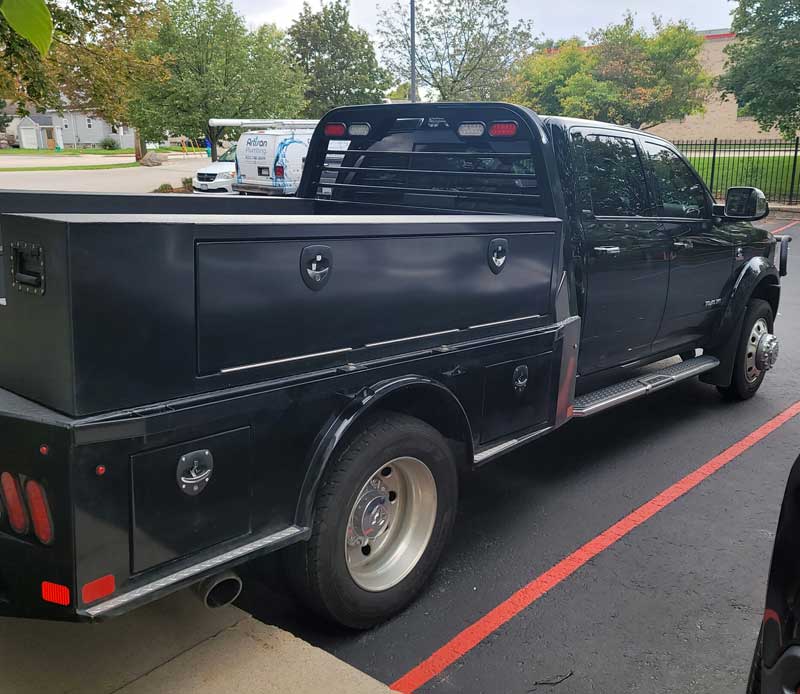 Above: Home
We needed to purchase a flatbed. We picked it up from the local trailer dealer and had them install it. We then talked to Jared at Stable Camper to get storage boxes for the truck to add to the bed.
The truck is perfect in every way and we love it. It handles better than I hoped it would and we feel safe driving it. We can barely tell there is a 5,000-pound camper on the back. If you can afford to do it correctly the first time, get a Class 5 truck. You will not regret it."
Mike Nyholm
2015 Ram 5500 / 2021 Host Mammoth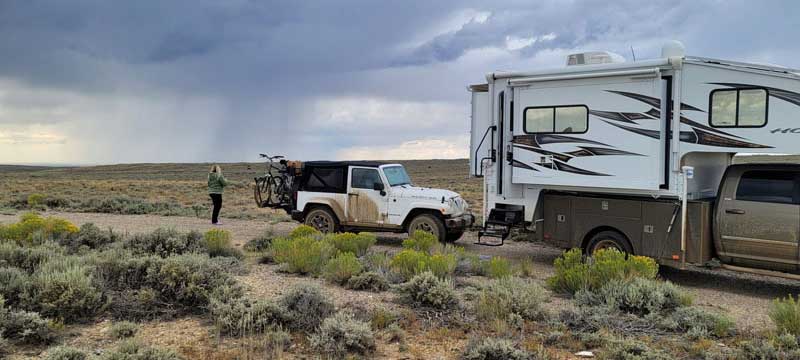 Above: Wild Horse Range BLM, Green River, Wyoming
"After two years of carrying a Host Mammoth on our 2008 GMC dually, we knew that if we wanted to tow a Jeep and have additional means of storage, an upgrade was needed. Not in suspension or performance, but a bigger platform.
In 2016, we found a new 2015 Ram 5500 cab and chassis with a 60-inch cab-to-axle wearing SLT badging. The options listed ticked almost all the boxes and after some calls with questions, including why this unit had sat for a year, we negotiated a great price and had it shipped to California.
It was a nervous time because on paper this truck was just about perfect. The biggest mark against the truck was the color. Prairie Pearl Coat was not a big seller among automotive paints, but how bad could it be? Bad enough that I visited three dealerships and nothing was this color.
My first trade was as a certified welder at a heavy-duty OEM trailer manufacturer, so I had visions of what I wanted but not the shop or tools to do so. A good friend had Douglass Truck Bodies quote out a custom welding bed with a boom, boxes, and bottle storage and was impressed by the build.
I called and they have a utility body division for truck campers and was assigned to Tyler. Throughout the design, he was great. Once we verified everything and approved the costs, they went to work. They had the Ram 5500 for a few weeks to ensure proper fit and clearances and they also went over the points of attachment. I wanted to continue using the Torklift Fastguns and they made the removable extensions for the truck frame.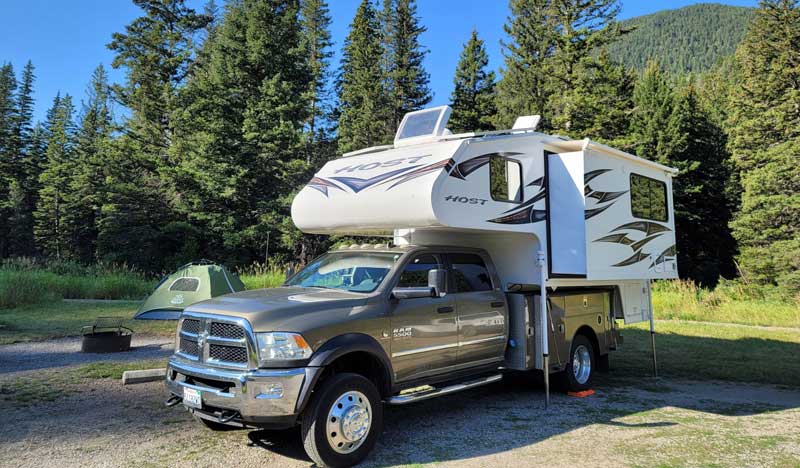 The Ram 5500 has been great! The exhaust brake when towing the Jeep through high passes in Colorado this summer made driving easy. Having bigger brakes, a tighter steering radius, tools, spare parts, DEF and enough storage for even a 19.5 tire and steel wheel inside a cabinet gives us an organized and secure truck and camper.
The ride while loaded is okay and could be better. The driver's seat has electronic adjustments while the passenger's side is manual. I know there are suspension upgrades but I think we'll explore better seats with a leather-type cover versus fabric upholstery first.
With what we know now if we had to replace the truck, the debate of gas versus diesel has a lot more pros than cons. With new motors and 10-speed transmissions, no DEF, and a single type of fuel consumption (towing our Jeep) we would give the gas engine a serious look. Also, we would option any factory auxiliary fuel tank."
Brian Schwary
2022 Ram 5500 / 2023 Northern Lite 10-2 Limited Edition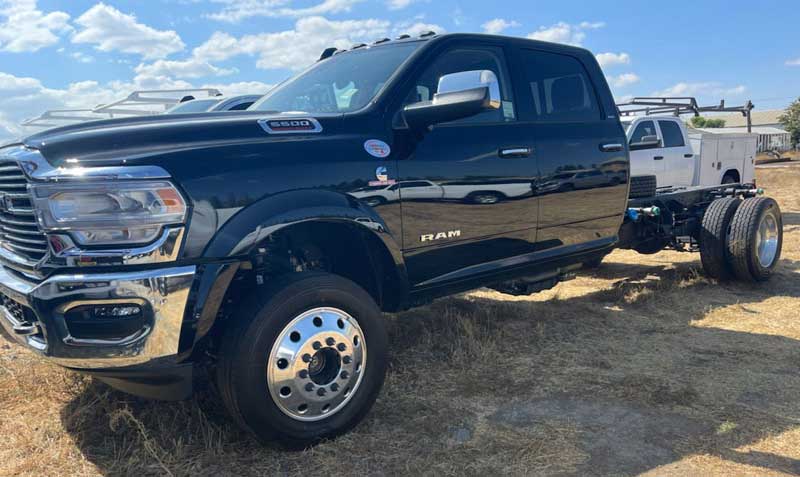 Above: Dealership
"We have a 2022 Ram 5500 Laramie crew cab, four wheel drive, 84-inch CA, diesel truck. In our retirement, my wife and I decided to spend a good portion of our life savings on replacing our aging 1995 Ford E350 Airstream lifted two wheel drive overland camper van and my 2003 Ford F-350 6.0 with EGR ticking time bomb engine pickup with a Ram 5500. We have often appreciated the extra room in a truck camper as compared to our conversion. It wouldn't be the EarthRoamer we really would like but maybe could have the EarthRoamer-type truck and a truck camper in our budget.
As mentioned previously, we wanted an EarthRoamer-type build, but that was not in the budget. We researched everything we thought we would need and maybe could afford. We decided the Ram 5500 would have to have Liquid Springs to be sure of a great ride. Of course, being a car guy, I wanted super singles so it looked like an expedition truck. We went back and forth on this, but in the end, you only live once.
We commissioned Buckstop Truckware in Oregon to do the Liquid Springs and the super single conversion. The truck is there now. The completion date is the end of March. Next, we decided to go with a Bowen Customs truck camper bed. They have a six-month lead time our build slot is in April. When that's all done we'll put the new Northern Lite 10-2 camper on it.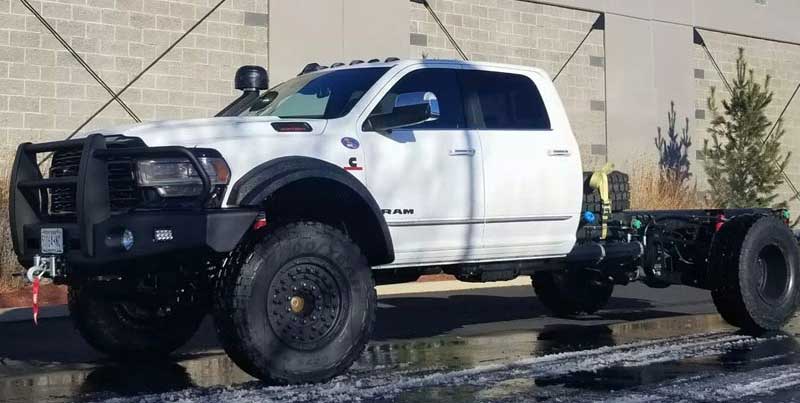 Above: Buckstop Truckware recently completed the 5500 super singles
Words that come to mind are expensive, exhilarating, exhausting, fun, frustrating, and fulfilling. There's a lot more work doing things outside the box, and I have never seen the truck in person.
It takes a lot of money and time to find trucks, camper beds, truck campers, equipment suppliers, and people who modify and build big custom trucks. I just tell myself that if this isn't what we want, we'll just sell it and try something else."
Clifford Wilson
2022 RAM 5500 / 2022 Northern Lite 10-2 EX LE


Above: Pacific Beach, Washington
"I have a 2022 RAM 5500 Limited fully loaded 60-inch CA with a CM AL RD bed.
I owned a fleet of heavy trucks. A truck built for 58K pounds carrying 58K pounds was not fun to drive. Swaying, braking, power; it all led to white-knuckle driving. Trucks built to carry 83K pounds but weighing 64K pounds (bridge law) felt so much safer on curving roads and heavy traffic. Yes, they cost more, but better value in the long run. Brakes and suspension lasted longer, etc. You felt better after 12 hours of driving, and I was better able to retain drivers. The truck was in charge of the load, not the other way around.
Our Ram 5500 carries a 2022 Northern Lite 10-2 EX LE and the Stable Camper flatbed toolboxes. Coming are Stazworks 20-inch wheels, keeping the duals, and Falken A/T3W tires, size LT285/65R20 all around with spare. Also coming are Stable Camper underside toolboxes and Torklift 48-inch Supertruss to carry an eBike or tow a Grand Cherokee. I may add a front bumper and winch.
So many truck campers are grossly overloaded. I will never be overloaded and can carry all my toys and tools. I love helping others fix things.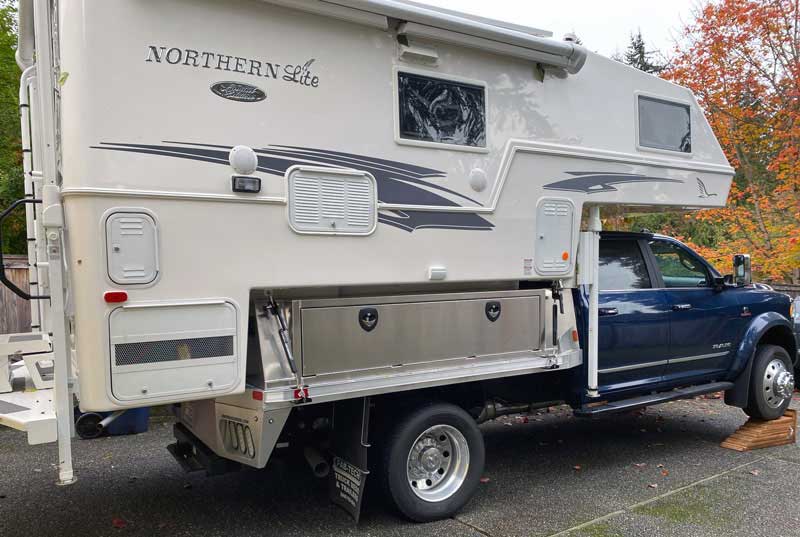 Above: My driveway, Seattle, Washington
The Ram 5500 is quite fun to drive and has plenty of power, but the ride sucks. I am hoping the bigger new tires at 80psi will be better riding than my current 100psi. If Liquid Spring ever develops a four-point leveling system for use at a campsite, I am on it. Hurry up, Liquid Spring!
I am not sure I would do anything different. My wife picked the camper and, with my trucking background, I told her I would pick the truck. She takes off camping with it solo. To me, it's the palpable ease of driving, without any fear that my vehicle won't handle whatever the road throws at us. I intend to take it up forest service and BLM roads, beaches, whatever.
It is not cheap, but safety is not cheap as well. I will always be 2,000 pounds under the driver's door sticker."
Justin Bush
2021 Ram 5500 / 2019 Host Mammoth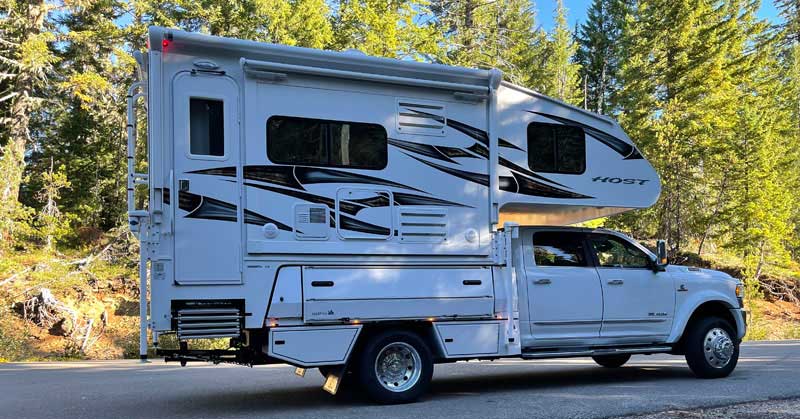 Above: On the road in the Willamette Forest of Oregon
"I have a 2021 Ram 5500 limited 60-inch CA. We owned a GMC 3500 and a 30-foot travel trailer. We wanted to be able to go anywhere without any length restriction. Then we upgraded to a 2019 Host Mammoth. We were at maximum payload with the 3500 and I wanted to be able to tow.
My wife had come across Sherptek out of Oregon. They build custom beds for truck campers. I placed an order with them at the same time I ordered the truck. Once I got the truck, I shipped it and our camper to Oregon from Utah. Our rig was done in a few months.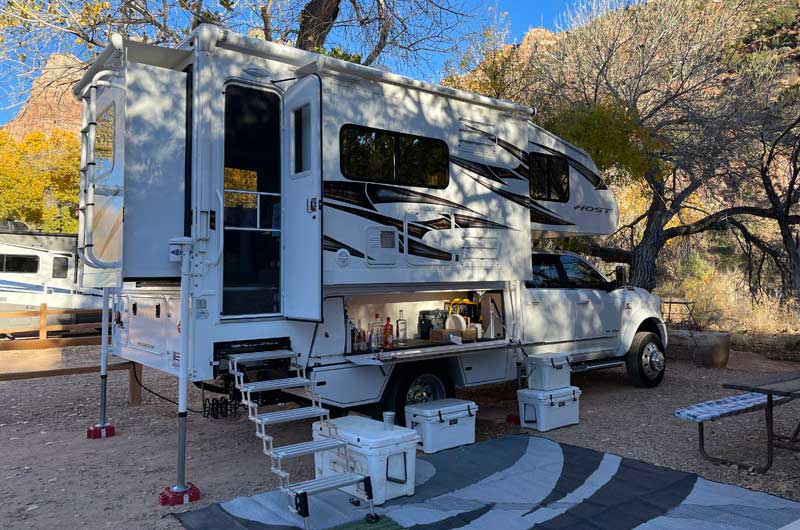 Above: Camping at Zion National Park, Utah
We love our rig! Due to the custom bed, we have so much storage along with onboard and air bags, lighting in all the bins, and under the truck. The ride is really nice when it's fully loaded, but really rough without the weight. It is definitely not a daily driver.
My advice is to plan to spend more than you think. But remember, it's an investment in your happiness. This setup gives us the maximum amount of flexibility. We can tow a boat, we can tow our Bronco, and we can also fit into any campground in any National Park."
Bryan Barlow
2016 Ram 5500 / 2017 Host Mammoth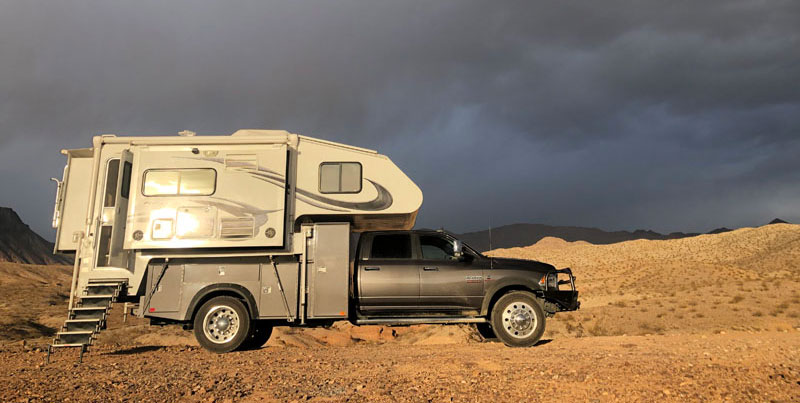 Above: In the desert just east of Hoover Dam
"I have a four wheel drive 2016 RAM 5500. I bought it because of the Cummins 6.7 diesel, the Allison transmission and the ability to support a heavy load.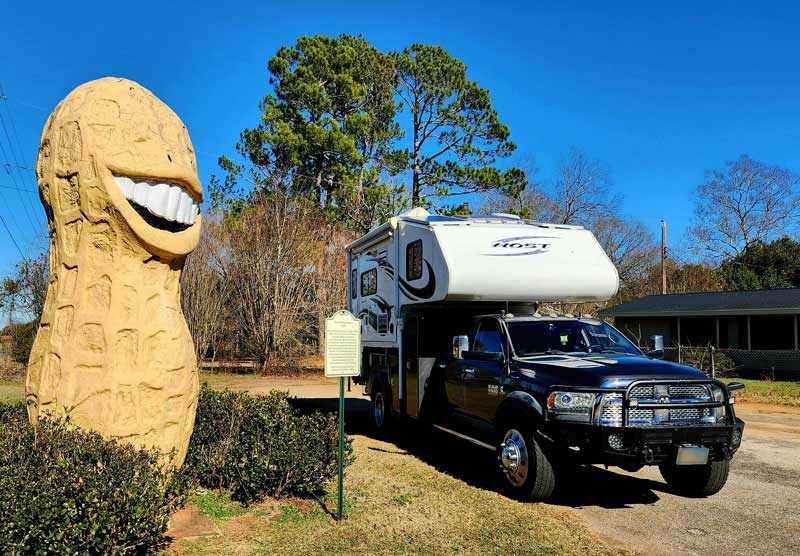 Because of the nearly two-ton Host Mammoth camper and the steel commercial utility bed, air bags were added to the rear suspension. The tires and rims were upgraded twice to semi-truck size tires with a load range of H, which is the same load range used on fire truck tires.
The truck definitely rides like a truck; a little rough at times. I only wish Ram had a larger engine.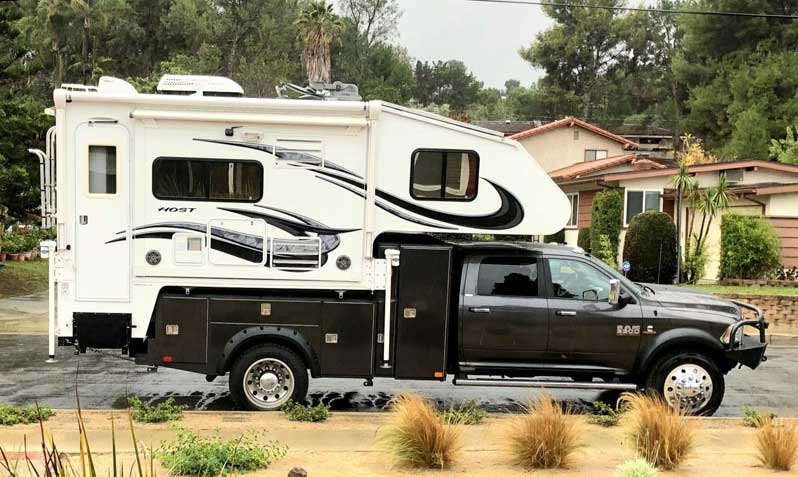 My advice is to definitely upgrade your tires to H load range, or better. But, find smaller in height tires to bring down the total height of the vehicle. Because of my current tires, my rig is 13'6″ high."
John Cox
2017 Ram 5500 Laramie / Total Composites box
Outbound doors, windows and hatches custom built interior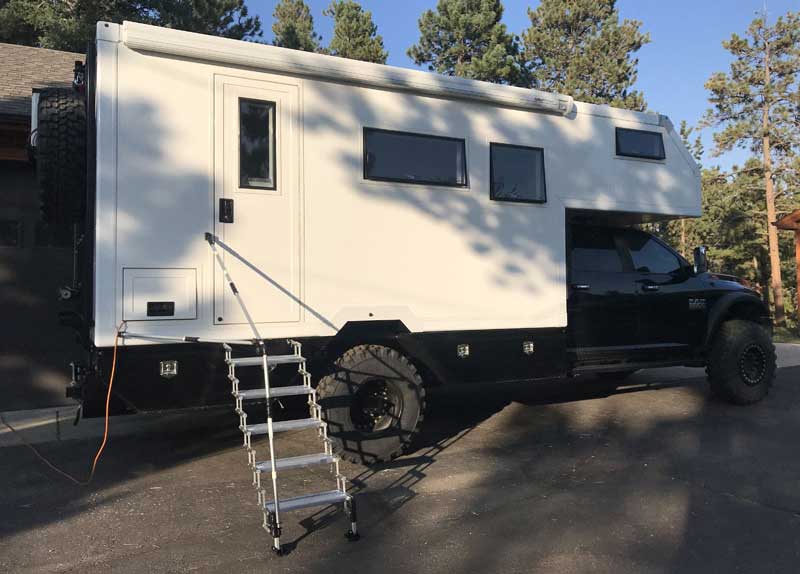 "I purchased a used fully loaded 2017 Ram 5500 Laramie flatbed truck with 4.88 gears and 19K miles. In 2019 I bought it for $50,000. That was cheaper than I could find a comparable 3500.
At that time, I had a Lance 821 on a Ram 2500 SB with air bags. The only camping my wife, German Shepard and I ever do is off-grid, and the 821 was lacking in capacity in aspect to what I needed (water, power, sewer, storage, etc.) for any trip longer than four days.
My only affordable solution to get what I needed was to build a custom camper similar to an EarthRoamer or GXV Adventure-XT truck. I needed a 5500 to safely carry my fully outfitted Total Composites truck camper-style box. This way I could build exactly what I wanted and not be restricted to truck camper manufacturers' offerings.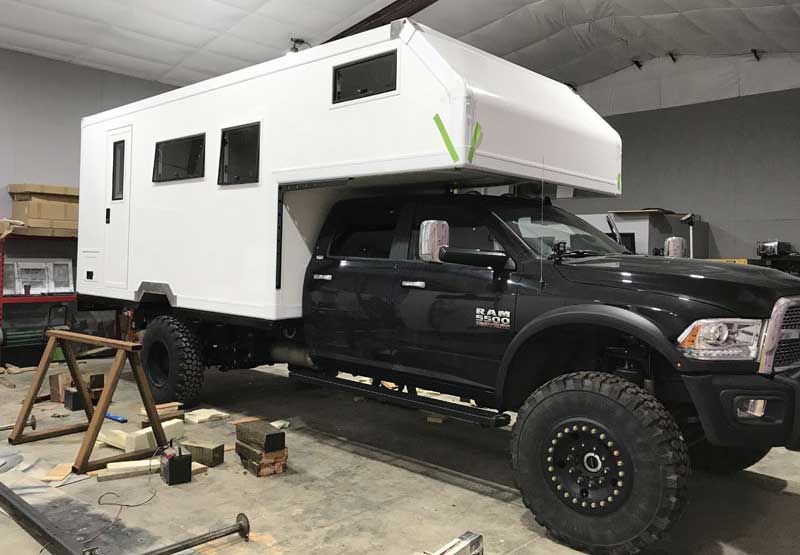 I made extensive mods to the truck including a Kelderman air suspension. which allows me to raise, lower, and lever the truck. There is an AEV front bumper and front fender cutouts so that I can fit the DBL super single 20-inch wheels wrapped in Continental MPT 81 335/80R20 tires with The Ram Man locking front hubs. I have a 16,000-pound Warn winch on the front and a Sherpa Stallion 24V 25,000-pound winch on the back.
The truck frame was extended three feet with a custom three-point floating subframe for the Total Composites box to mount to. Under the subframe, there are four exterior storage boxes. Also mounted to the frame is a PowerTech 3KW Diesel generator. Under the hood, I added a second alternator that outputs 24 volts at 70 amps with a BALMAR Max Charge Digital 24-volt regulator that has a LifePo4 charging profile.
My only complaint is the current price of diesel and the fuel mileage I am getting, which is 9 miles per gallon. I guess the mileage is to be expected. I was getting 16 miles per gallon with the Ram 2500 and Lance camper. My current set-up is quite a bit larger in length but only took a short time to adjust to.
On and off-road, the handling is far superior to my old Lance setup. No more white knuckling on mountain roads and steep grades. Also something I think every truck should have, but at the time only commercial trucks had, is a bank of OEM switches that you can tap into for off-road lights, etc.


Above: Original truck before any mods
Honestly, I am not sure if there is a truck camper made that could not be supported by a 450/4500 class truck. However, if you tow heavy loads (more than just ATVs) you need to consider that in your weight calculations.
Get a truck that exceeds your estimates. Avoid anything that is less than or on the edge. You will see a huge benefit in stability and drivability. As far as the ride goes, there are two factors, wheelbase, and load.
An unloaded Class 5 truck is not going to ride well. I drove mine around for a few months to get used to it. The stiff 19.5 tires and wheels have zero flex. A longer wheelbase will ride better than a short one. The rear springs are the culprit, not the front ones. Also, Class 4 and 5 trucks are considered to be commercial vehicles so financing is different."
Vernon Smith
2015 Ram 5500 / 2020 Host Yukon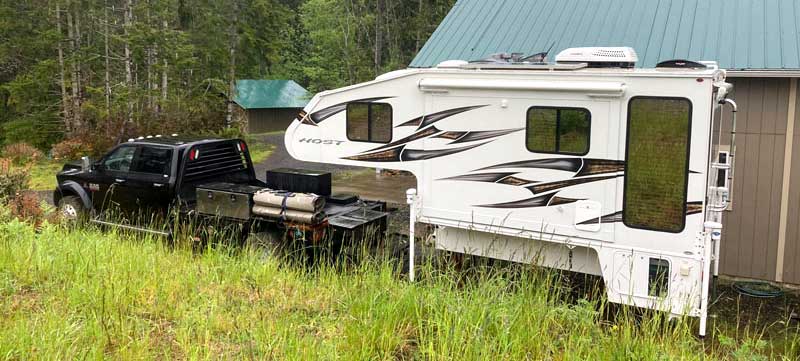 Above: Washington
"I have a 2015 Ram 5500 Laramie 84-inch cab with a metal flatbed that I purchased used. My truck was purchased to match the new camper purchase of a Host Yukon triple-slide camper. A one-ton truck with a flatbed configuration is too close max GVW. If you're in an accident, why risk trouble over an overweight vehicle?
We usually tow a Jeep and had a single-slide camper on a one ton four wheel drive dually truck.  It felt overloaded most of the time. We looked at new cab and chassis trucks. Most do not come in top-of-the-line trim and used medium-duty trucks seemed to be priced reasonably. This truck had 102,000 miles, a 12-foot bed, and top-of-the-line trim. It was a four wheel drive truck and was within driving distance of our home base.
I had put together an aluminum flatbed and fitted it with American Truck boxes just a couple of years earlier so the process was familiar to me. The bed was steel and easier to work with. The weight was not an issue. Steel is less expensive than aluminum.
I cut the bed down to gain four inches by removing the channel iron on the bed. This got the camper down to 12'11". I was able to move the under-bed boxes to the top of the bed and replace the lower box with shorter ones from American Truck box. That worked with my camper jacks.
I cut out the tail of the bed to accommodate the generator and the camper side steps. I was able to hold the camper back from the cab to accommodate my boat motor and box for the boat seats and transom and keep my center of gravity just forward of the rear tires.
We love our truck, however the low gearing really eats into the fuel economy. We get seven miles per gallon, but the rig feels like an empty truck going down the road. Having a camper with rear theater seats is great for those extended trips, especially after a long day of hiking.
We have been to many places that require 4×4 low range to travel and the shorter turning radius of the 5500 chassis is a huge plus. The extra length, 84-inch cab to axle really helps with cornering, towing, the ride, and the space in front of the camper for toys. This truck and camper have really been a pleasure to drive and continue to be a source of adventure in comfort for us without buying an EarthRoamer.
The only change would be the higher-geared model. I wish they made an extra cab and not the crew cab as this would shorten the truck. I need to look at getting the bed completely flush with the frame and getting my height down another 3 inches.
I would never go back to another non-flatbed type configuration truck for my camper again. This is my third attempt at finding the best fit for me. All I can say is those side boxes hold everything I need to make my camper home, and it is secured, clean, dry; two folding kayaks, one porta boat, two mountain bikes, and a Jeep."