Jump back Kodiak! The Chevy 5500 and International CV-Series represent next-generation thinking in design, serviceability, enormous payload, and raw power. How does it work with truck campers? Glad you asked.
At first blush, it may seem odd that we only got three GM 5500 trucks in response to our Class 5 poll. After all, we got sixteen Ford F-550 rigs and a whopping twenty-one Ram 5500s. Where are all the Class 5 GMs?
Well, General Motors took a full decade off from producing medium-duty trucks after canceling the Chevy Kodiak in 2009. During that ten year stretch, Ford and Ram cranked out a lot of Class 5 trucks and gained considerable mind and market share within the truck camper community. That's what happens when you abandon a niche and leave your competitors to fill the vacuum.
In 2018, GM stepped back up to the Class 5 plate with an all-new design developed as a joint venture with Navistar. That spring GM unleashed the Chevy Silverado 5500 (along with the 4500 and 6500). Navistar followed that fall with the International CV-Series based on the same platform. The two trucks are essentially identical; the same 350 horsepower Duramax 6.6L V8 diesel engines, the same Allison automatic transmissions, different grilles, and badging.
To be honest, the International CV-Series was completely off our truck camper radar screen until Craig and Janet Lembke assembled a stunning International CV-Series 5500, flatbed and Lance 1172 double-slide combination. That set-up had some truly clever features that earned it a feature story last June.
Given how successful the following combinations appear to be, there can be little doubt that more GM / Navistar 5500 rigs will follow. When we run this Class 5 truck camper poll again in 2033 (god help me), I bet the numbers will be more even. That is if the Metaverse hasn't taken over by then. OpenTour VRV anyone? See you at Virtual Yellowstone.
Phil Borchelt
International CV 505 / Lance 992

"In October, I bought a big, beautiful 2020 International CV 515 to carry my Lance 992.  Eventually, I will upgrade to a triple-slide camper.
I know that there are no 3500s (or F-350s) that can legally and safely carry a triple-slide.  I see people doing it but, in the event of an accident, if you are overloaded, you may be facing issues.  It is much better to be safe than sorry.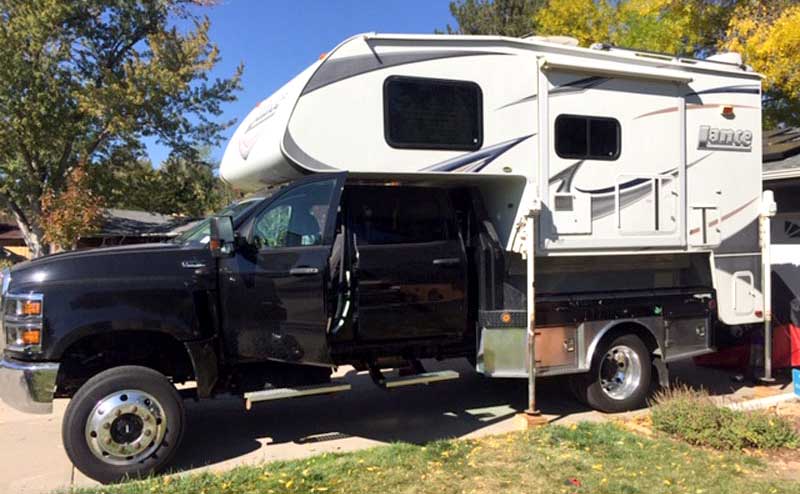 My CV 515 only had 24,000 miles on it when I bought it.  And it had a Hillsboro flatbed already mounted.  I really didn't need to do too much to it to carry the Lance.  I bolted some 2x4s on the bed to center the camper.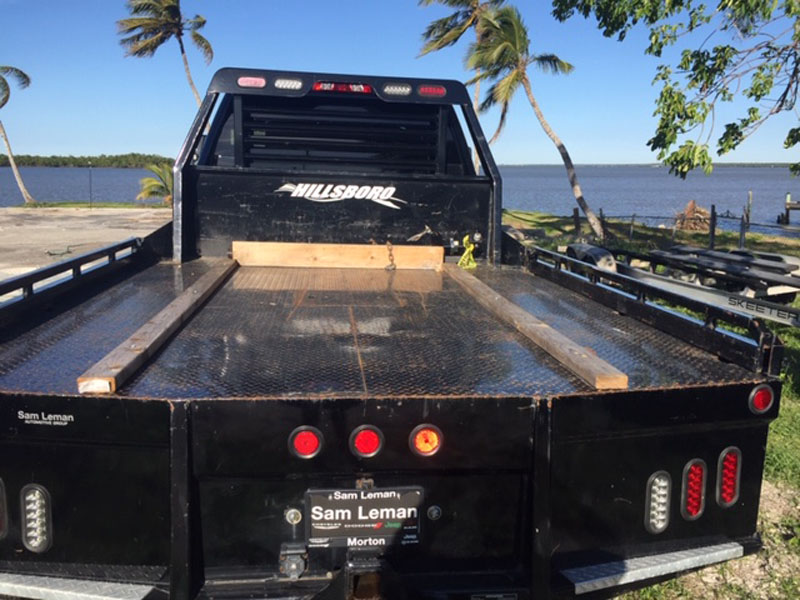 I bolted on a 3'-foot length of angle iron (4-inch by 4-inch) with a 2×6 attached to it to use as a front stop.  This took some careful measuring since I could damage the camper if I backed under it too far.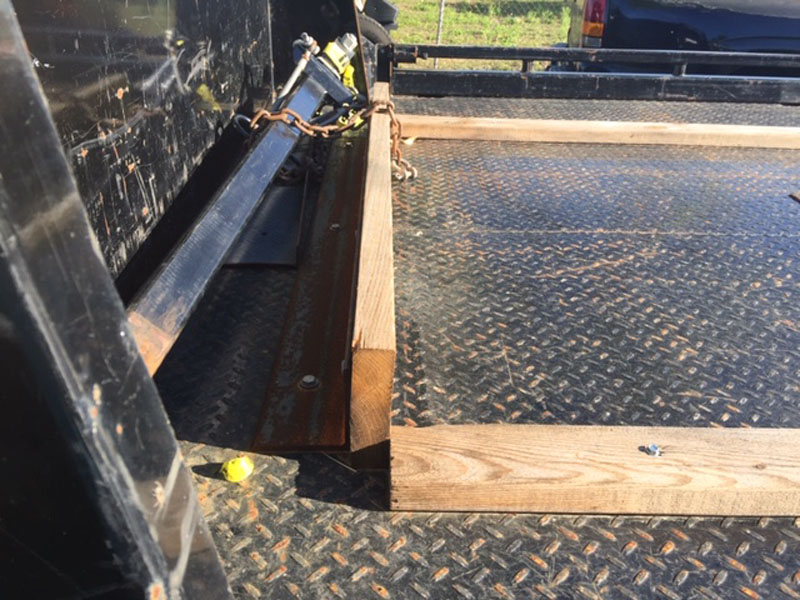 Instead of wiring the truck to plug in the camper, I bought a seven-way, Y-splitter that plugs into the truck's already installed seven-way receptacle in the rear bumper.  The camper plugs into one of the outlets. The trailer I pull during the winter plugs into the other.  Easy peasy.
In the summer, when I don't pull a trailer, the camper will just plug directly into the rear bumper outlet and I'll put the splitter in storage.  Mounting the camper is so much easier than my old Ram 3500.  So much easier.
By a happy coincidence, my camper skirts line up exactly with the bed rails on the flatbed.  I back right under, align the bed rails to the skirts and the camper drops down right between the 2x4s every time.  The mileage is a bit lower than the Ram 3500 since it has a bigger motor (6.7 versus 5.9).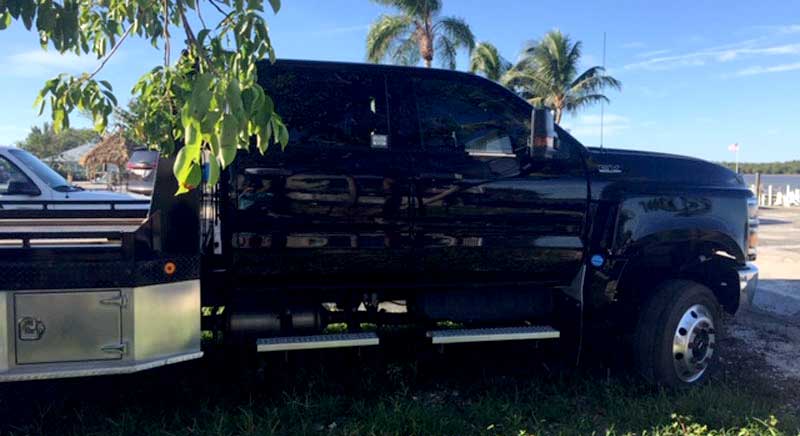 The ride is a bit firmer since the CV 515 is built as a commercial vehicle, but with the camper on it, it's not jarring.  With a 2,000 pound heavier triple-slide camper, I'm sure the ride will be even smoother.  I also need to adjust the tire pressure since I am not even carrying half of what the truck is rated for.
The insurance on the 2020 CV 515 is only $230 per year more than my 2007 Ram 3500.  All told, I am very happy with the truck. It will safely and legally carry any camper on the market with thousands of pounds of capacity to spare.  Plus, it looks intimidating and has started many parking lot conversations with other truck camper enthusiasts!"
John Dubose
2022 Chevy 5500 / 2020 Lance 1172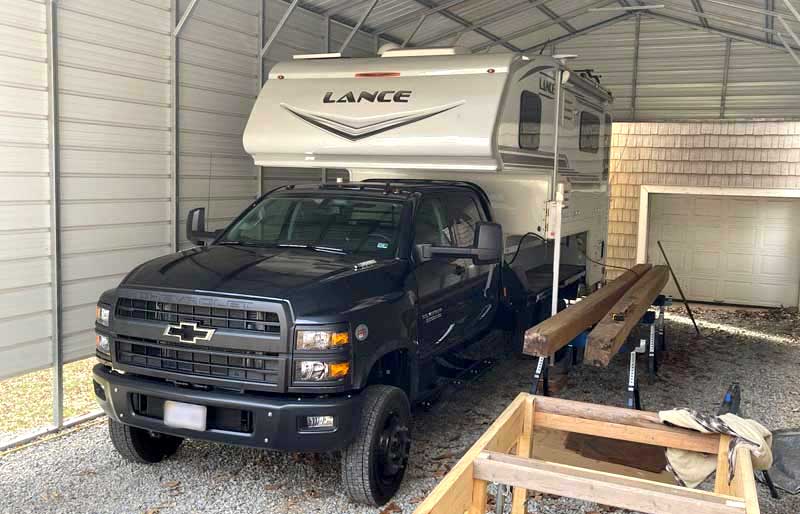 Above: At home in the truck camper build shed
"I have a 2022 Chevy LT 5500 crew cab with four wheel drive. I previously had a 2004 Ford F-350 crew four wheel drive dually. In March of 2020, I purchased a Lance 1172 truck camper that was almost 2,000 pounds over payload for the 2004 Ford F-350.
After researching for about a year, I ordered the Chevy in April of 2021. With Covid and the supply chain challenges, it took until October 2022 to get the truck.
I wanted a crew cab with factory four wheel drive along with an all-geared transfer case, commercial heavy-duty truck frame, and a clamshell front hood so you don't have to remove the body from the frame to do major engine work. Having a diesel engine and the Allison automatic transmission was also a must-have. I wanted a flatbed so I would have extra storage places that you don't get with a pickup bed.
Due to the fact that I didn't get the truck until this past October, I am behind the ball on its build and the timing of this survey. I had planned on doing the flatbed build myself but the long wait prevented this from happening. Instead, I purchased a CM 11'4" RD flatbed.
CM makes a bed exclusively for this truck because of the taller than standard cab. The extra length of the bed will give me a 2-foot by 4-foot by 8-foot space between the front of the camper and the headache rack for storage.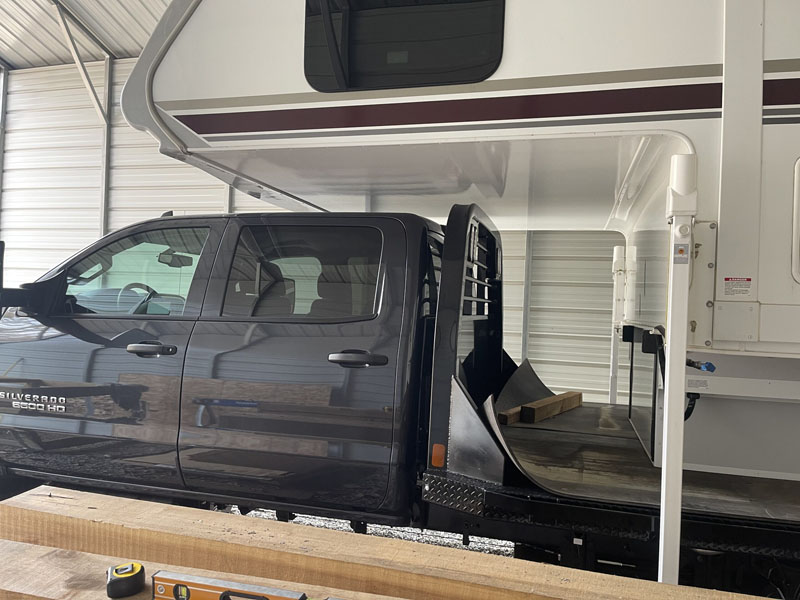 Last week I received eight Buyers brand aluminum boxes in different sizes for storage under the flatbed as well as along the sides of the camper. I got a company that installs rubber conveyor belts in rock quarries to cut me a mat to keep the camper from moving on the flatbed.
I had a CDL and have driven big trucks all my life until I recently retired, so I know they ride a little hard until you add weight to them. Having a truck camper is such a plus because I can remove the camper and use the truck for other things like hauling lumber, logs, and pallets of materials that are so much easier to load on a flatbed.
The EarthRoamer-type trucks are nice but have huge price tags. The high center of gravity plus the height can prevent these expensive rigs from getting under low overpasses. There's also the fact that you can only use that truck for camping. That makes my Class 5 truck a plus for me. If the ride is too rough, then there are aftermarket suspension systems like Kelderman or Liquid Spring that I can always add.
Don't listen to the camper salesman telling you that 5,000 pound camper will be fine on your dually pickup. Also, the insurance can cost more.
Having a 19,500 pound GVWR is a no-brainer with a Lance 1172 truck camper. You don't come close to being overweight like you do with a one-ton pickup. In my opinion, all the big truck campers that are around the 5,000 pounds or heavier, when the wife gets all the camping stuff loaded, you're going to be overweight or very close if you don't have at least a 19,500 GVWR."
Craig Lembke
2021 International CV Series 515 / 2021 Lance 1172

Above: Bullhead City, Arizona
"I purchased a 2021 International CV Series 515 (5500) because I knew my 2011 Chevy 3500 would not legally carry the new Lance 1172 due to factory specs.
Here in New York state, when you buy a new cab and chassis, the dealer will issue a temporary license tag. You need to have a plan of what's going on the back such as a new dump box, dry box or, in my case, a flatbed. Then take the truck to the shop to install, wire, and build the flatbed.
It would help if you make sure the camper is going to slide on and clear the cab. When it's ready to go down the road as a new finished vehicle, they will write a Federal DOT statement for the DMV to register it to you.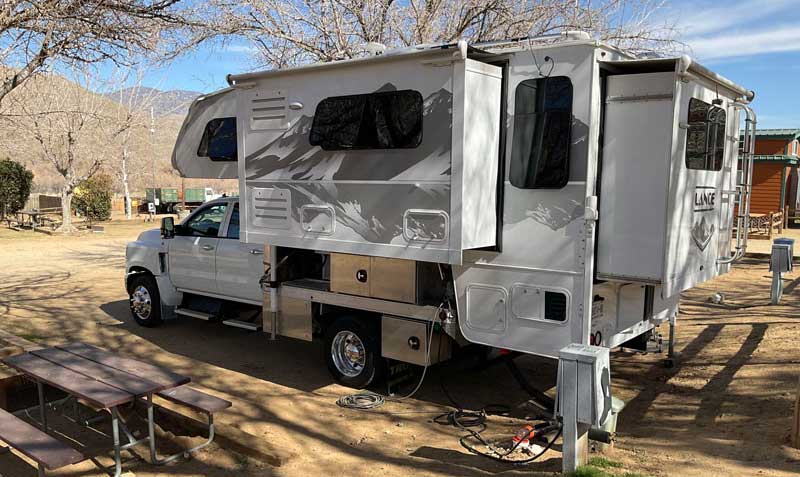 Above: Lake Isabella, California
The stability of the International CV Series 515 is like night and day. The swaying in the wind and constant fighting the steering wheel to correct it is over. The ride with the camper on is good except on the interstates where the old cement slabs end and start. The bumps can get really bad! The state and county roads are so much better we use them most of the time.
My advice to folks (and myself in my next life) is before you buy a double or triple-slide heavy camper that's 6,000 pounds or more when loaded, you really need a 5500 to carry it. All the prep before it's ready is a lot of work, and well worth it.
Would I do it again? Yep, but I'd add air ride. I'm in the process right now."