Craig and Janet Lembke assembled a Lance 1172 double-slide and an International CV-Series 5500 flatbed truck with storage boxes. Here's why they chose an International, how they approached fitment, and the advantages of their design.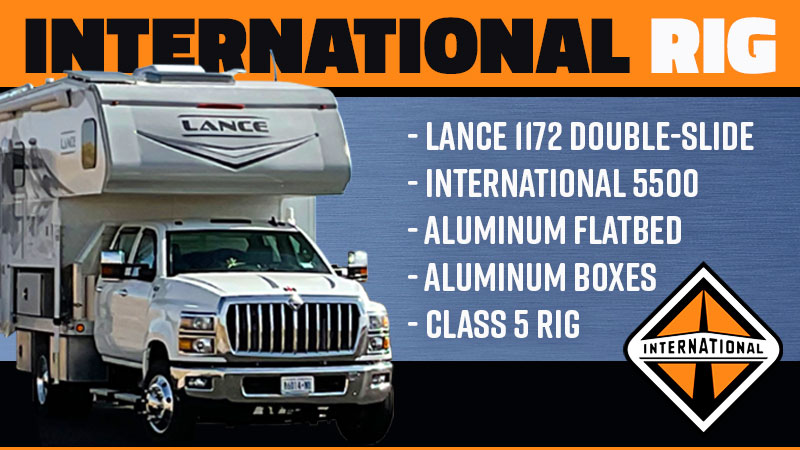 Before multi-slide truck campers first emerged (kudos to Snowriver and Okanagan), owning a one-ton dually truck meant you could load just about any non-slide or dinette-slide truck camper without concern. To this day far too many people believe a one-ton dually is the all-clear to carry whatever camper their heart desires; wet, loaded, and towing a boat. If only it were that simple.
For those who want a multi-slide truck camper and demand to be 100-percent on the right side of payload matching, finding a capable truck can be difficult. Over the years we've heard from dozens of readers who tried to find a one-ton dually that could payload match their multi-slide camper. When they could find one, it was usually a stripped-down work truck. No sale.
The answer is often a Class 5 truck. Specifically, the Ford F-550, Ram 5500, and Chevy 5500 have at least 19,500-pounds of GVWR. That's 5,500-pounds more capacity than the most capable one-ton dallies and more than enough payload for a multi-slide camper even if it's wet, loaded, and optioned with more packages than an Amazon truck on Christmas Eve.
So why doesn't every multi-slide camper owner go with a Class 5 truck? It's complicated. With a Class 5 truck, you start with a bare chassis cab; no pickup bed. When you upfit the chassis with a flatbed, storage bed or pickup bed, that bed needs to fit your camper; not a simple feat. Then you need to figure out tie-downs and turnbuckles. Oh, and there are different state laws about licensing and registration for Class 5 'commercial' trucks. And don't forget to call your insurance company. They might charge more – a lot more – for a Class 5 truck. As I said, it's complicated.
Thankfully, we have fellow truck campers like Craig and Janet Lembke blazing the Class 5 trail and sharing their gained wisdom and knowledge. In the following interview, Craig reveals why he chose a Class 5 truck and the process they went through to ensure it was a good fit for their Lance 1172. The most interesting part might be the Class 5 truck he chose; an International CV-Series 5500. We think he's really on to something with this hidden gem.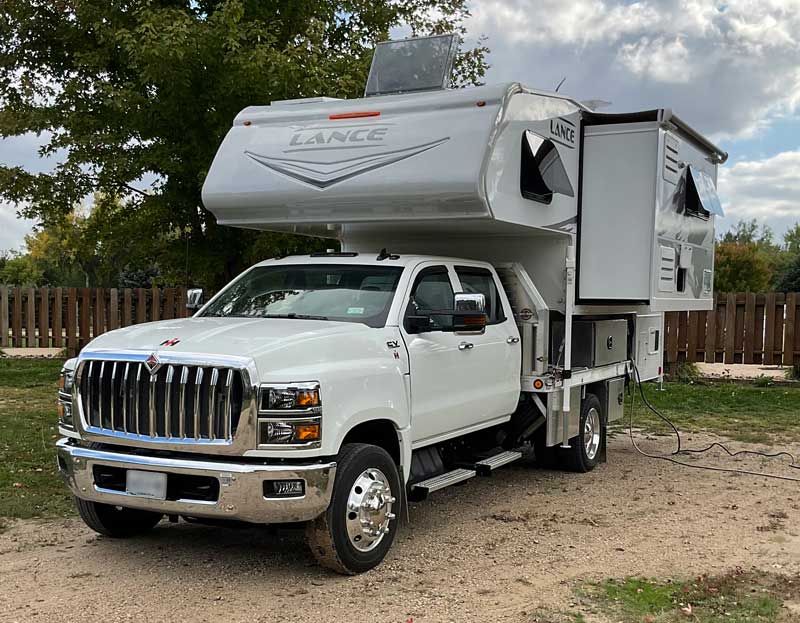 Above: Craig and Janet's International 5500 and Lance 1172
Tell us how you got into truck camping.
Craig: I'm a farmer. While delivering a load of grapes in 1988, I saw a 1981 Coachman truck camper sitting in the high grass near a house. On my way back from the delivery, I stopped in and found out the folks had health problems and could no longer travel. I asked if they would like to sell the camper, and they sold it to me. I already had a Chevy three-quarter ton truck which was a good match for the older camper.
That's what started the whole truck camping experience for our family. We traveled along the East Coast for quite a few years. When our daughter went to college, we sold the Coachman to our next-door neighbor.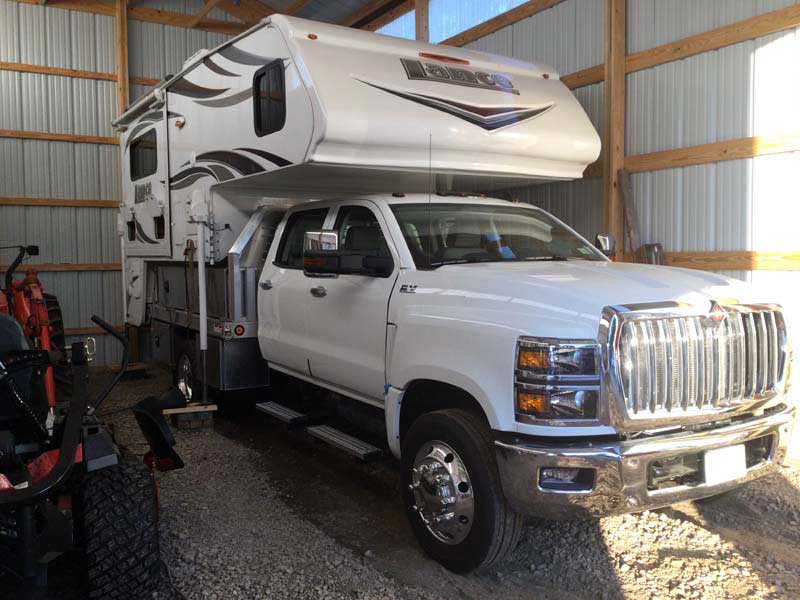 Above: The 1050S on the International before the 1172 arrived
Years later we became interested in truck campers again and went to a 2013 RV show in Columbus, Ohio. At the show we both really liked the Lance truck campers and, in the spring of 2014, ordered a Lance 1050S. We opted for the four-season insulation package because we travel from New York to Seattle, Washington to visit our daughter and her family. We used the 1050S for the next few years and were able to be there in 2017 for the birth of our first grandchild.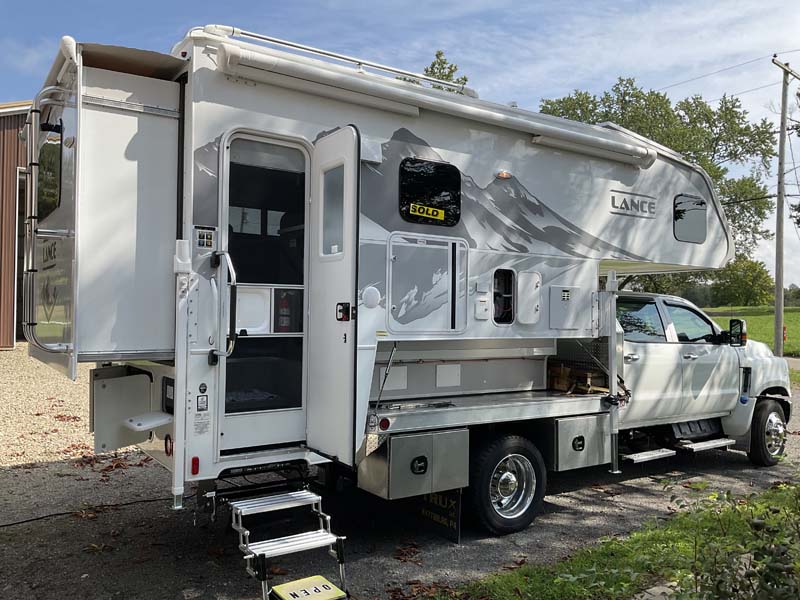 Above: Just after getting the 1172
Our bigger plan was to travel out west for the winter once we retired. In 2020, after 41 years of farming, I decided it was time to quit. I sold our Chevy 3500 dually truck and the Lance 1050S. Wanting more room for our six-month cross-country travels, we ordered a Lance 1172 in January of 2021. The 1172 offers way more room and a rear couch to relax more comfortably. It's great.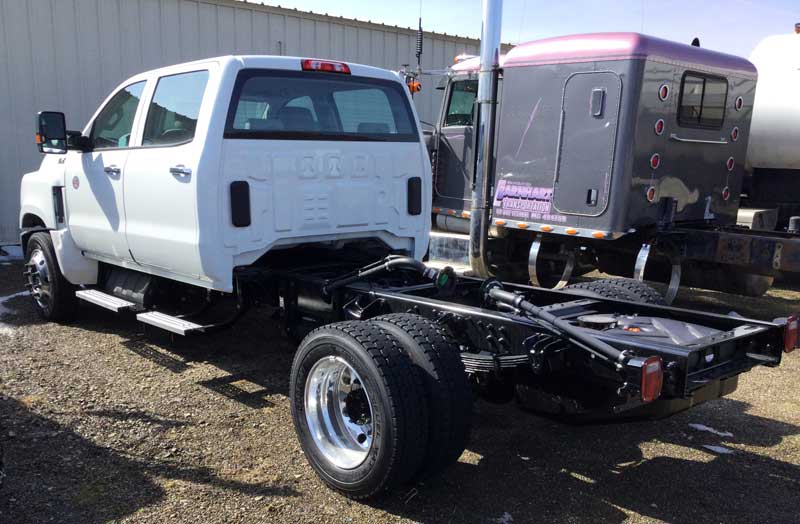 Above: International 5500 Chassis Cab
What gave you the idea to get a 2021 International 5500 chassis cab?
Craig: I think that started when Truck Camper Magazine published an article on a 5500 rig, and then I wrote you an email. We had the Chevy 3500 dually at the time, and the Lance 1050S. We were close to the truck's payload limit with the single-slide 1050S and knew we would be over with the double-slide 1172.
One of the first things I think about is maintenance. I have always done my own. I looked at the Class 5 truck offerings from Ford and Ram but, as soon as I saw the forward-tilt hood and price of the Chevy 5500 based International CV Series, my decision was made.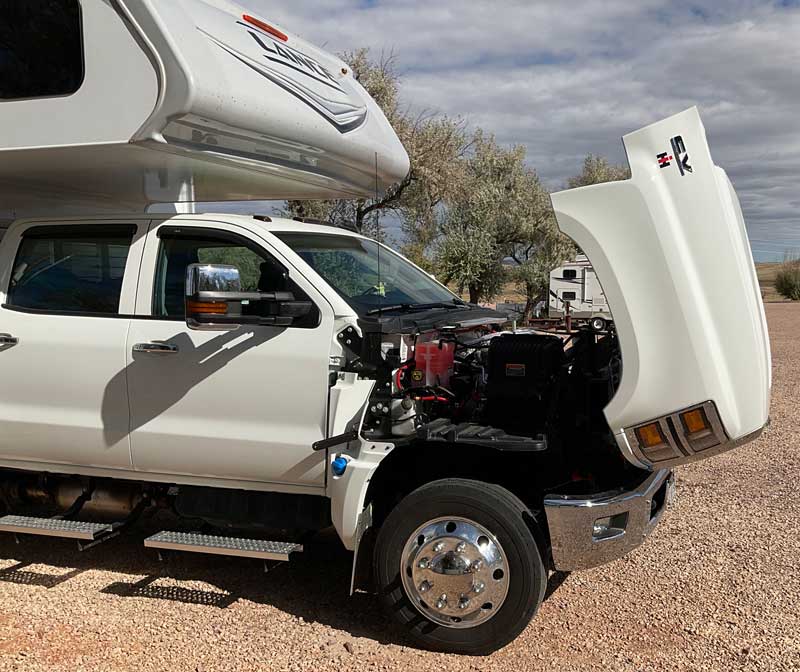 On a Ford F-550 or Ram 5500, you have to pull the cab off to do major engine work and stand on your head for everything else. If you have an engine or a transmission problem, you have to take the cab off the frame.
The tilt-forward feature eliminates those headaches. With the CV Series, you tilt the hood forward and everything comes straight out. I can easily access everything. To check the oil, I put an oil stick in there and I can also easily replace the air filter. I can also touch and look at the belts and see if any are frayed or having trouble. We all know shop hours are extremely expensive. The tilt-forward feature could save you 10 to 15 hours for major repairs. It makes a ton of sense.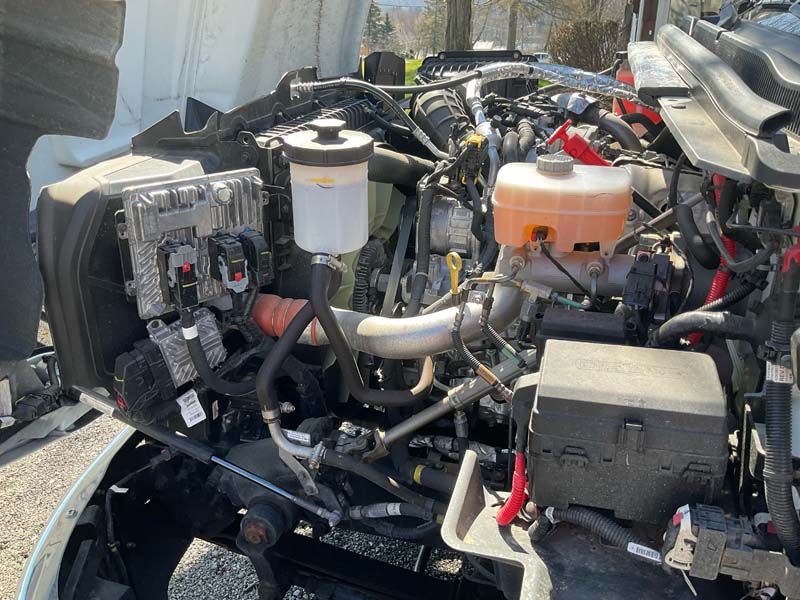 The other reason I went with the International CV Series versus the Chevy 5500 was the cost. The International CV Series offers everything à la carte. There are no bundled options packages, so it costs less to get what you want. For $8,000 less than the comparable Chevy 5500, my truck is loaded with the options I want; fog lights, air cruise, and heated seats.
My International CV Series was $55,000 for the chassis cab, $10,000 for the flatbed and boxes, and $5,000 in tax. For $70,000, I have a 5500 with way more payload than I need and exterior storage boxes.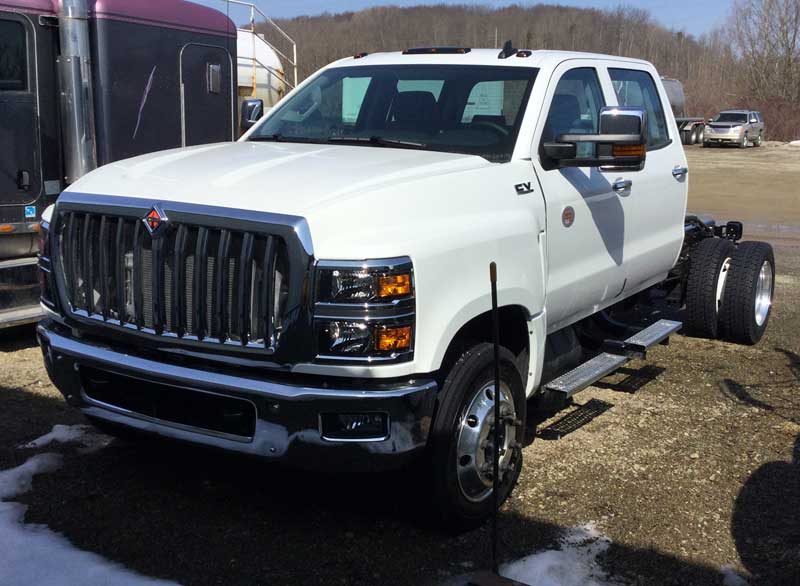 I suspect that the price has gone up, but it still represents an interesting alternative compared to the pricer Class 5 alternatives. Where was your truck made?
Craig: Both the Chevy 5500 and 6500 and International CV 5500 and 6500 Series trucks are built in the same factory in Springfield, Ohio. Basically, the International CV Series has the Duramax diesel engine, Allison transmission, and a crew cab. You get the International steering, frame, and drivetrain with both trucks. The only difference is the grill and the emblems. Both the Chevy 4500/5500/6500 and International CV Series have the tilt-forward hood.
You can only get an International CV Series with the chassis cab configuration. It starts at 60-inches from cab to axle, and then it goes way longer to 120-inches. We have the shortest at 60-inch length resulting in a 9-foot 3-inch flatbed. The camper sits about 12-inches back, but our center of gravity is still far forward of the rear axle.
The International CV Series was made for hauling. You can put any kind of commercial bed you need on the back. That's what it was designed for. And it has oil-fed bearings instead of grease bearings. It's a commercial-grade truck.
Do you need a commercial license to drive it?
Craig: In New York state you don't need a commercial driver's license until you reach 26,000 pounds of GVWR. However, with a GVWR of 19,500 pounds, the truck is registered commercial and requires a commercial inspection.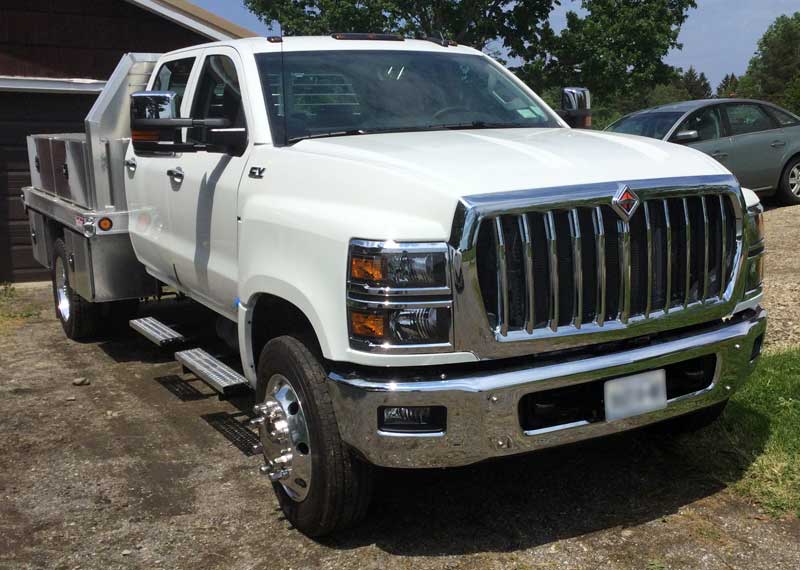 Do the Chevy 5500 and International CV have the same GVWR?
Craig: Yes. In the configuration I ordered, the GVWR of the Chevy 5500 and International CV is 19,500 pounds.
What is the payload capacity?
Craig: We have 9,250 pounds of payload capacity. That's plenty for a wet and loaded Lance 1172.  Our rig has over 2,000 pounds of excess capacity and we haven't had to add any suspension enhancements; no extra airbags, springs, or sway bars are necessary.
Can you get an International CV worked on at a regular Chevy dealer?
Craig: I can't go to a regular Chevy dealer, but there are about 2,000 International dealers throughout the country. Some of the Love's will do warranty work but, for the most part, you're working with dealers who service school buses and semis.
We had a front wheel bearing issue. It did not blow out because I caught it during my regular inspections. The bearing was leaking on the inside of the wheel when I opened the hood. I went to an International dealer to get it serviced.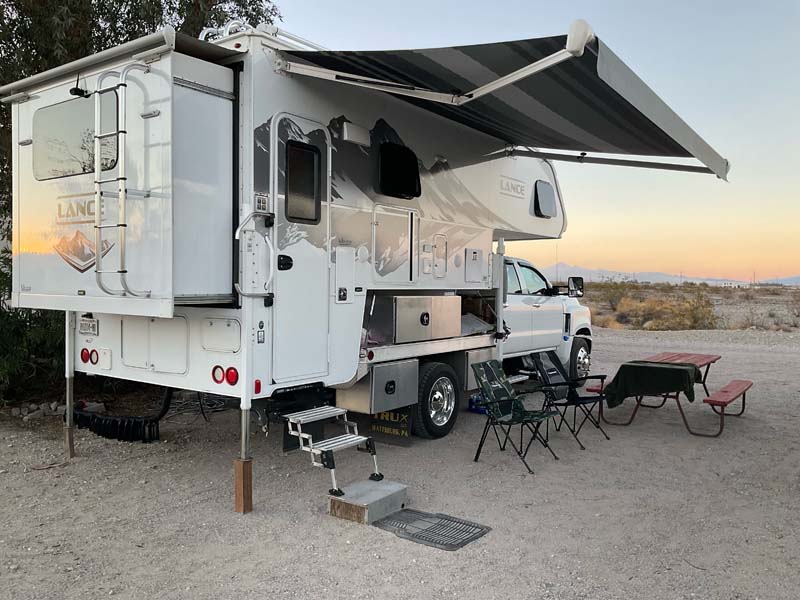 One often significant challenge with alternate truck choices is fitment. How did your truck and camper come together; height, length, cabover clearance, etc.?
Craig: The International CV is 35-inches to the top of the chassis cab frame. Then we added a flatbed that added 7-inches. There's a full-length beam that was added to both sides, and then they bolted the flatbed to that.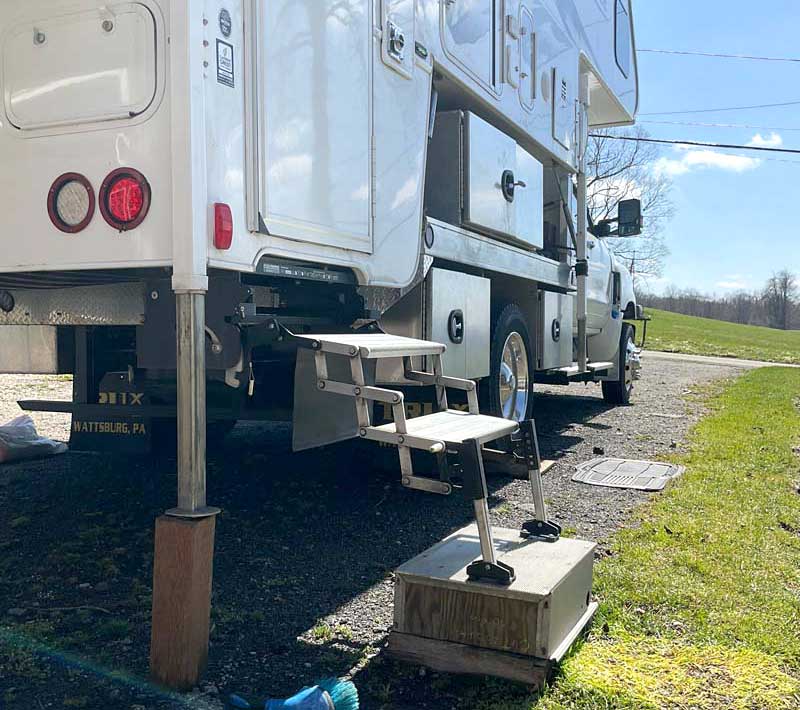 From the ground to the entry door step on the Lance 1172 is 43-inches. The steps on the camper come down 30-inches. We made an aluminum box that's placed on the ground that the camper steps set on for an additional 9-inches.
It's 5-feet 2-inches frame to cab with the 1172. That leaves a 4.5-inch gap between the top of the truck cab and the bottom of the cabover. We could have gone 3-inches shorter, but we were working with general dimensions of truck campers. The total height of the rig is 12-feet 3-inches. I figure 12-feet 5-inches for clearance.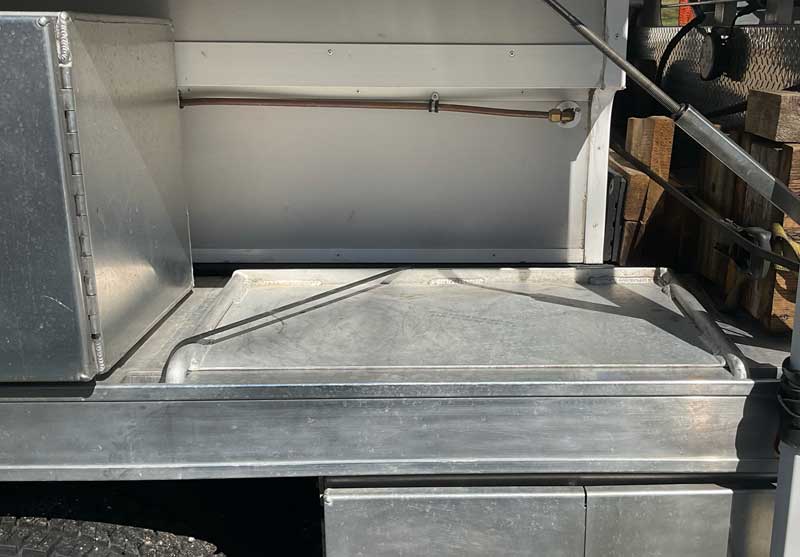 Above: The tray flips down to have a work area.  Also see photo below.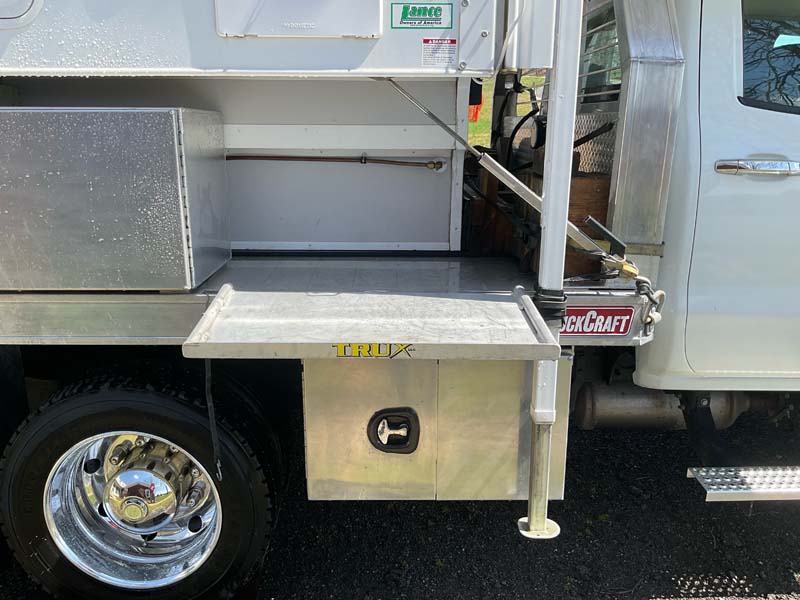 Above: They are able to use Torklift Fastguns.  Also note the removable tray/table that was made to hook into the flatbed.
Did you have any issues with the tie-downs and turnbuckles?
Craig: We are able to use the Torklift Fastguns. There are D-hooks on the flatbed that the Fastguns attach to. We made our measurements with the Lance 1050S. From that, we knew where the camper's tie-down points would be located. We tied down the camper on each corner; essentially in the same locations where they would typically be on a standard pickup. It works great.
Now that the International CV Series and Lance 1172 are together, what do you get for fuel mileage?
Craig: I am getting ten miles per gallon pulling mountains and eleven to twelve on flat roads.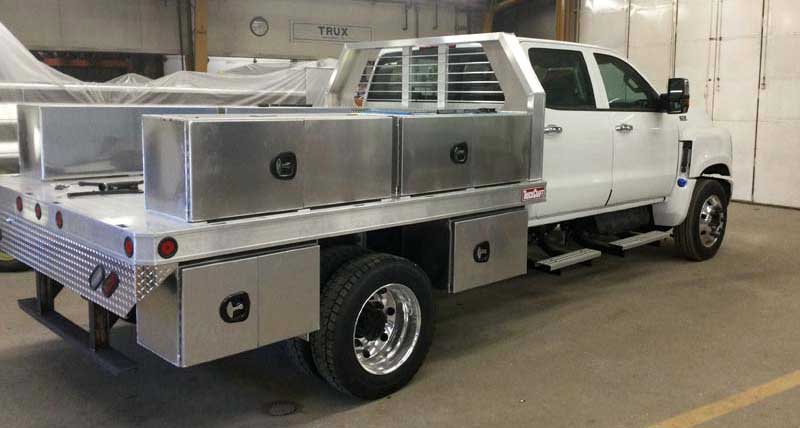 Tell us about your flatbed and storage boxes.
Craig: The aluminum flatbed is from TruckCraft in Chambersburg, Pennsylvania. It's all one piece. The shop also installed the boxes, which are the Buyers brand.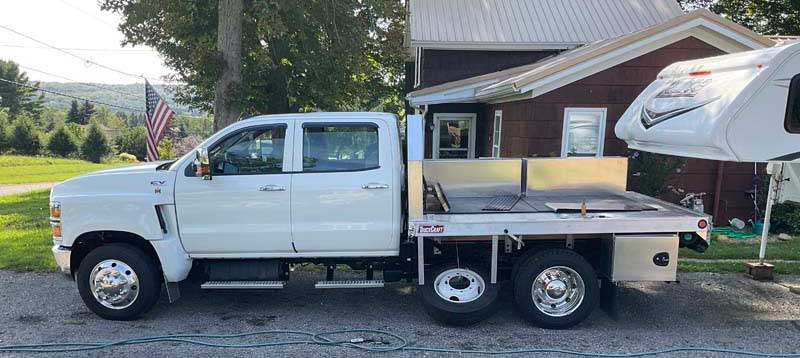 Tell us about your spare tire holder.
Craig: I have seen flatbed set-ups with the spare tires behind the cab, but I don't want to be lifting and moving a 150-pound spare. Researching alternatives, I saw a guy in Arizona who mounted his spare tire on a Ford F-550 underneath on the passenger's side. I wanted to do the same thing except I wanted to put the tire on the edge so I could use a bar to lever it up and hook it into place.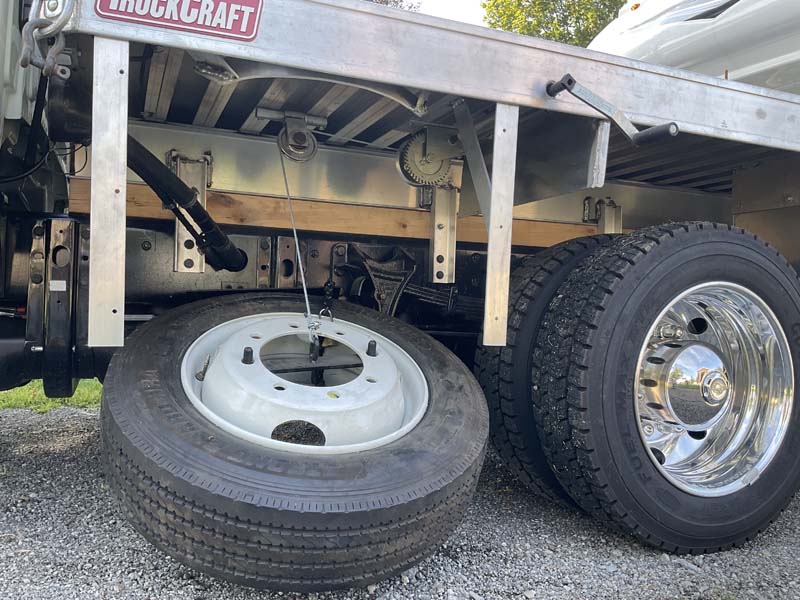 The shop I was working with figured it out by using an old junk boat's winch crank that's used to crank up a boat on a trailer. The spare tire hooks to the boat crank and locks into the side with six bolts.

What's it like to load and unload?
Craig: It's not hard to load the camper, but I drove a tractor-trailer. Use your mirrors and know the point you're looking at. I know that I need to get the truck between the camper wing and the tie-downs. I watch that point. If I'm within an inch, the camper goes between the boxes fine.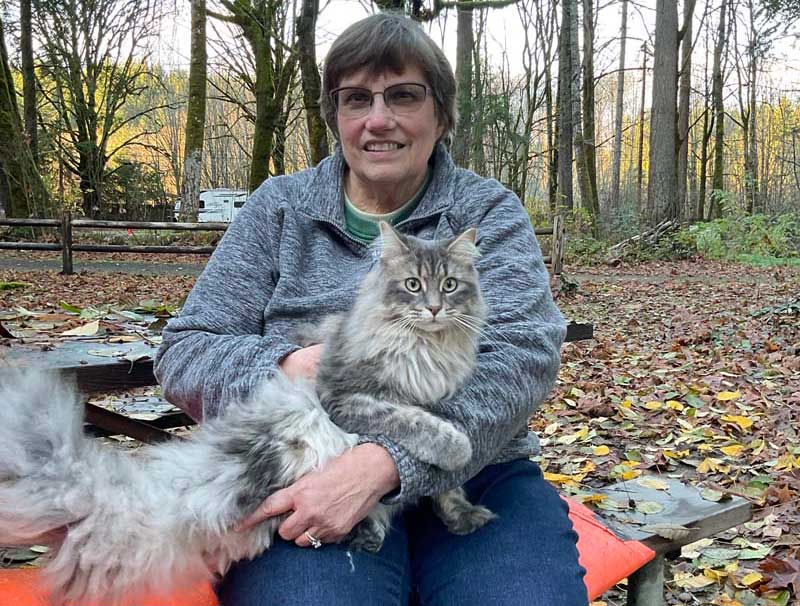 You travel with your cat, Molly. What is it like traveling with a cat?
Janet: The first time out camping she got sick, but after that she was good.
Craig: Molly is a wonderful traveler. She spent over 10,000 miles in the truck and over six months in the 1172.  She rode and slept and couldn't get enough of the outside on her leash. Maine Coons are almost as smart as a dog. She knows commands like, "no" and, "come" and will stop in her tracks when you command her.
She likes the exit step well area inside the camper. When I want to leave the camper, she will often be at the bottom of the stairs and I have to move her.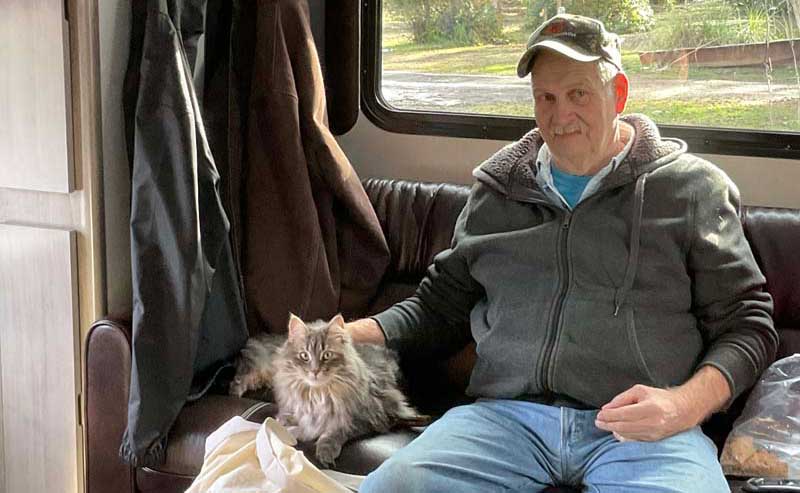 Janet: When we say, "Molly, up", a majority of the time she will come back into the main part of the camper. We also have a plastic squirt bottle and that works.
Craig: Escaping is our worry. She did escape five times and thought it was a fun game. She would get under the truck and make me come after her. With her first harness, she learned how to get out of it. That happened at a KOA when she dashed into some bushes. We about had a heart attack. Fortunately, we found her under a fifth wheel. I approached her slowly and grabbed her by the scruff of her neck.
Janet: We found a travel cat leash that goes through her legs and it has a belt that snaps over the top. It is a lot tougher for her to escape.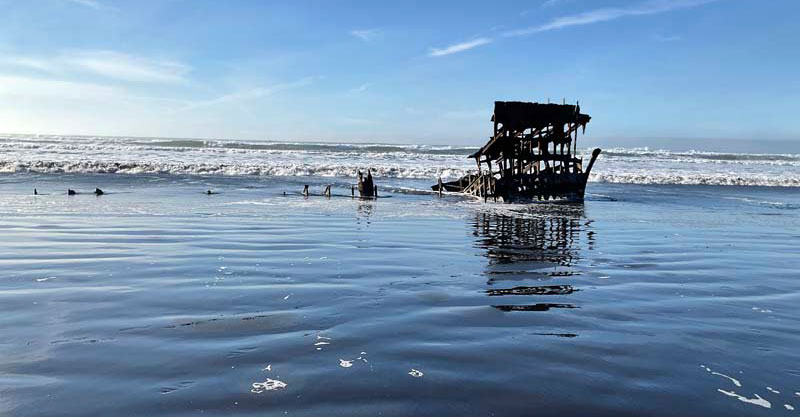 Above: 1906 Shipwreck of the Peter Iredale
It's a terrible feeling when a pet runs off. What were some highlights from your most recent cross-country trip?
Craig: We were in Bay Center Washington when they had their first snowstorm since 1964. We woke up to 10-inches of snow on our picnic table.
Also, we experienced our first tsunami warning. Volcano Tonga erupted on January 15th and a tsunami warning was issued for the west coast. Of course, we didn't know it. We were in Warrenton, Oregon at the time and had taken a ride to see the Peter Iredale shipwreck on the Pacific Ocean. We noticed the waves were big, but never seeing them before in that location, we thought they were normal size. Later that night we saw on the news that a tsunami warning had been posted earlier that day.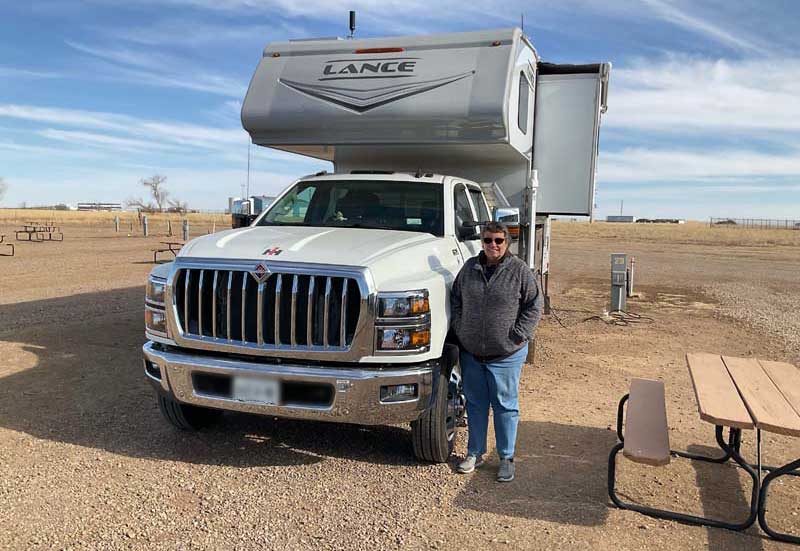 Above: The International 5500 and Lance 1172 in Amarillo, Texas
Thank you for sharing your experience of assembling an International CV Series truck camper rig. It's definitely not something we see often.
Craig: The combination International CV Series and Lance 1172 is working well. The five exterior boxes are fantastic for storage and make traveling a dream. I'm happy to help others who are going through this process.
Craig and Janet Lembke's Rig
Truck: 2021 International CV-Series 5500, diesel, crew cab, 4×2, dually with a 9-foot flatbed and storage boxes
Camper: 2021 Lance 1172
Turnbuckles: Torklift Fastguns
Suspension: No aftermarket products needed