Bruce Ludlum assembled a Class 5 Ram 5500 with an 11-foot cab and chassis, a highly-customized Knapheide 9-foot utility bed, and an Eagle Cap 1165.  The result is their dream retirement machine; three slides, 10,000 pounds of payload, and endless fun and adventure.

In Steven Spielberg's 1975 blockbuster thriller Jaws, there's a jump out of your seat moment when the monster Great White shark suddenly emerges to Chief Brody's chumming.  Stunned and terrified, Brody tells grizzled shark hunter Quint, "You're gonna need a bigger boat."
It's a frightening and hysterical scene that instantly became the most famous and quoted line from the film.  What most people don't know is that Roy Scheider actually ad libbed the line, but that's another story.
Some of us have had a similar experience after loading a new truck camper on an older (and often paid for) truck.  The "great white" in this scenario is often a single, double, or triple-slide truck camper packed to the gills with tantalizing luxury.  After carefully loading the bigger and heavier camper nose to tail, perhaps you found yourself quoting Chief Brody.
"We're going to need a bigger truck."
Bruce and Barbara Ludlum are no doubt relating to this introduction.  When they picked up their 2015 Eagle Cap 1165 and loaded it onto their Chevy 3500, they immediately knew a heavier duty truck was in their near future.
After considerable research, Bruce – who happens to share his namesake with Spielberg's mechanical shark – chose not to upgrade to a heavier duty one-ton dually (aka Class 3 Light Truck), but rather to jump two classes to a Ram 5500 (aka Class 5 Medium Truck).  With 10,000 pounds of payload capacity, the Ram 5500 quickly reeled in the great white.  Take that you Carcharodon carcharias!
To get the whole fish story, we dove deep with Bruce to discover how his 2015 Ram 5500, Knapheide utility bed, and Eagle Cap 1165 triple-slide came together, and why.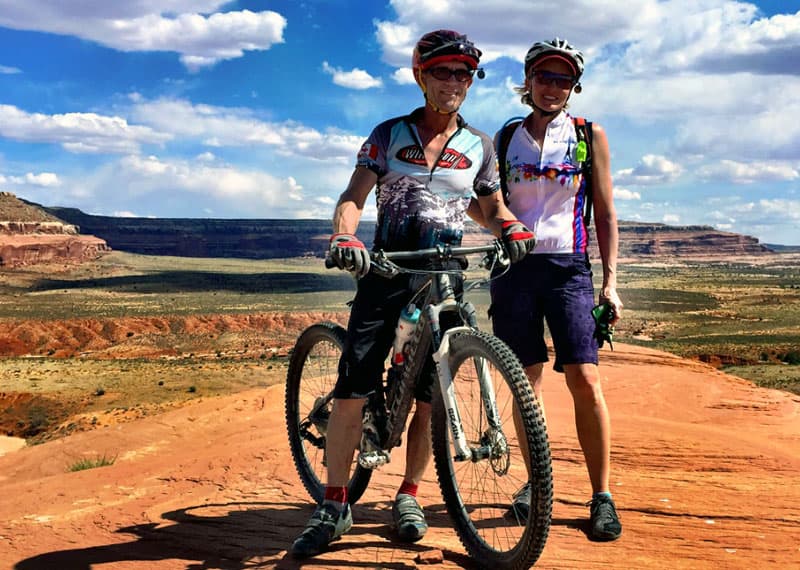 Above: Bruce and Barbara in Arches National Park, Utah
TCM: How did you get into truck camping?
Bruce: I grew up hunting and fishing in the Midwest.  In high school I was introduced to backpacking and mountaineering in Vermont.  After that I had a small pickup truck with topper that I'd camp out of in my twenties.  Out of high school I had a 1968 VW bus with a bed and in college I had a older Westfalia Vanagon for a while.  I had a lot of fun with those.
I moved to Wyoming in 1985.  That winter I tried to car camp and ice fish at -20 degrees.  I could camp out in cold temperatures, but getting much else done was a real challenge.
I saw right away that a truck camper would allow me to get into rough spots and have my camp already made.  I bought a used three-quarter ton truck and an old 1968 cabover.  After discovering the effects of dry rot, I moved on to two Jayco pop-ups.
Barbara and I married in 2004.  In 2009 we bought a 2003 Arctic Fox and put it on a 2006 Chevy 3500.  When we both retired and could take multi-week trips we wanted a bigger camper, so I started researching the larger multi-slide campers.
That resulted in a trip to the Adventurer Manufacturing factory Yakima, Washington to see Eagle Cap truck campers on the production line.  We bought an Eagle Cap 1165 triple-slide in 2014, immediately after taking a factory tour.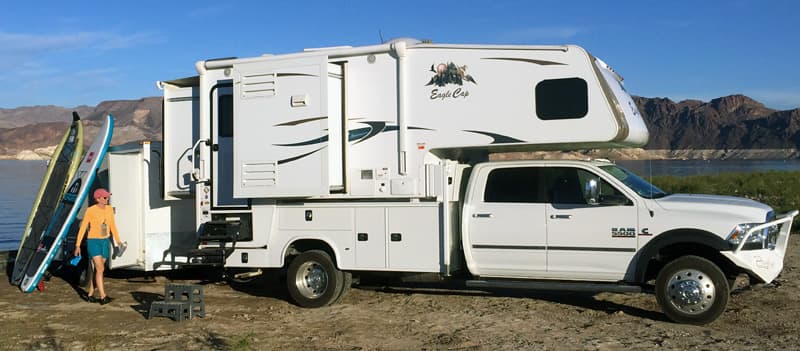 TCM: How did you go about matching an Eagle Cap 1165 to a Ram 5500?
Bruce: The dealer told us that the Eagle Cap would be fine on our Chevy, but it was obvious we needed more truck on the way home.
I looked hard at the Chevy, Ford, and Ram options.  It came down to Ram because I could get the higher transmission and axle ratio.  When it came down to the real weights and costs, we went with the Ram 5500.
The Ram 4500 has a payload of 7,800 pounds.  The Ram 5500 has over 10,000 pounds of payload.  The 5500 was overkill, but it was the way to go.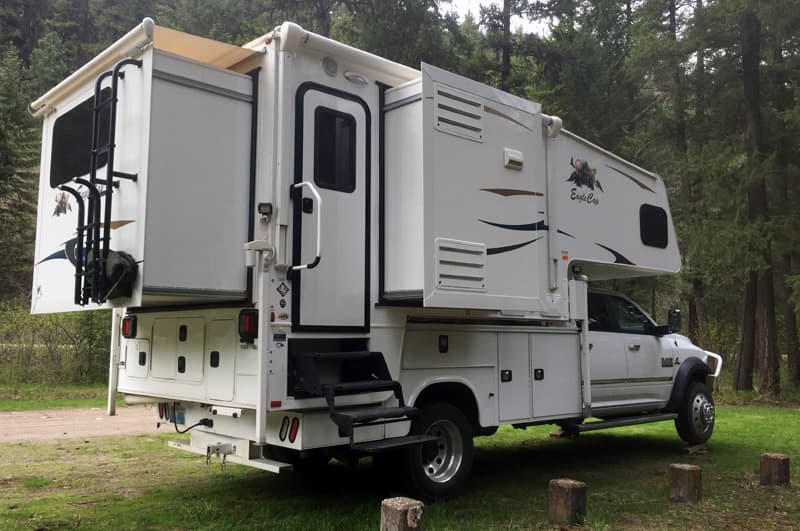 My GVWR is around 19,000 pounds.  When I had my fully loaded and wet truck and camper rig weighed, it was at 18,700 pounds.  That was with full water.  The Eagle Cap 1165 has an 85 gallon fresh water tank – 708.9 pounds of water.
I read about people who don't fill their fresh tanks until they get somewhere, but what's the point of having 85 gallons of water if you don't use it?  Besides, in some areas it's hard to get water.  The fresh water capacity was one of the biggest sellers of the 1165 camper for us.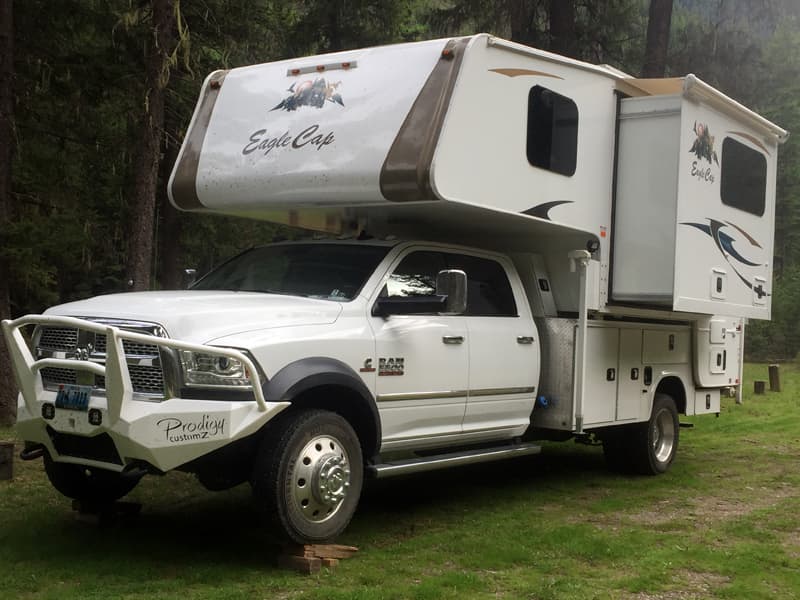 With the Ram 5500, I have 19.5-inch wheels that I keep at 110psi.  I have massive brakes.  The old truck hauled the camper fine, but I felt like I couldn't stop.  Now I can.
We ordered the 11-foot, 84-inch cab-to-axle cab and chassis.  A regular truck is 60-inches, so I have 24-inches more.  The whole point was to get the center of gravity forward of the rear axle.  The longer wheel base got me the center of gravity I wanted.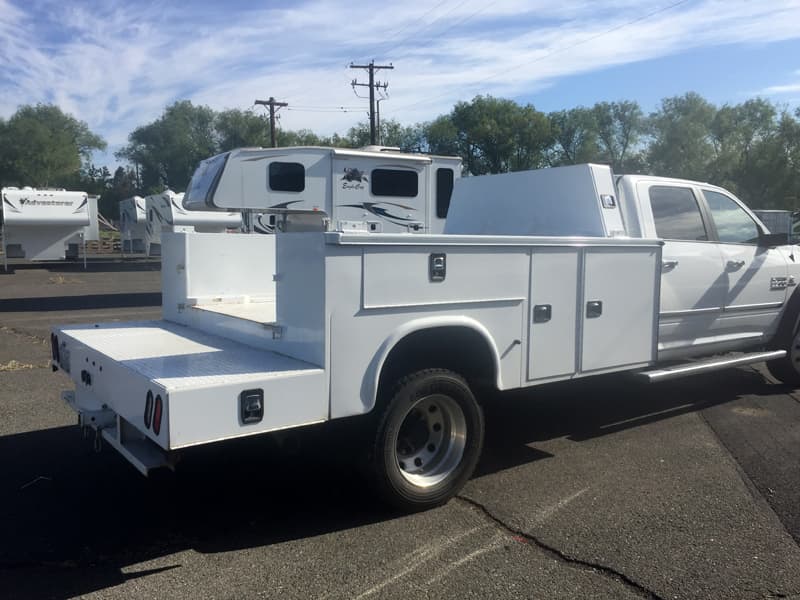 TCM: That's one heck of a truck.  Tell us about your utility bed.
Bruce: I worked in oil fields for 25 years and had a utility bed truck.  I knew I wanted one for my truck camper rig.  With a pickup camper you lose storage, so I always figured it was the way to go.
Before starting the project, I contacted Truck Camper Magazine asking for advice on utility beds.  In your response you had the wonderful suggestion of having a company that knows truck campers do the conversion to avoid fitment issues.  Well, I had a local guy do the conversion and I probably shouldn't have.  We had a number of fitment issues along the way.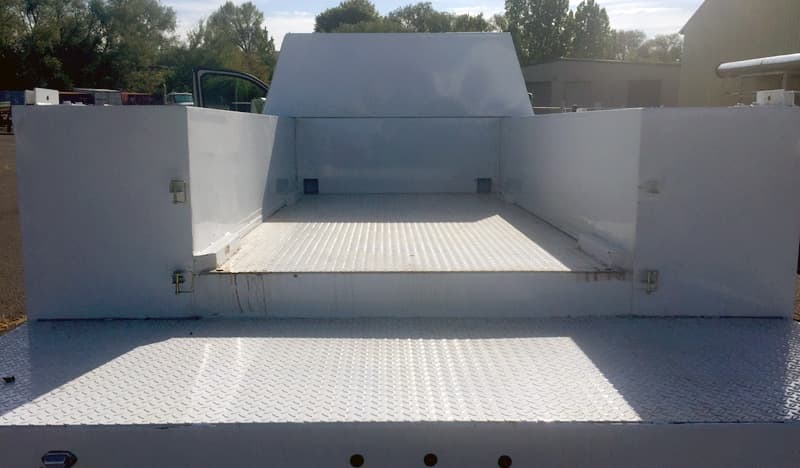 I have a Knapheide 9-foot utility bed on an 11-foot flatbed truck.  I call it a semi-custom bed because they were able to customize the bed at their facility.  It has four boxes on each side.  Two are vertical and two are horizontal.  It normally has three boxes, but we were able to add a box in the rear because of the 11-foot flatbed.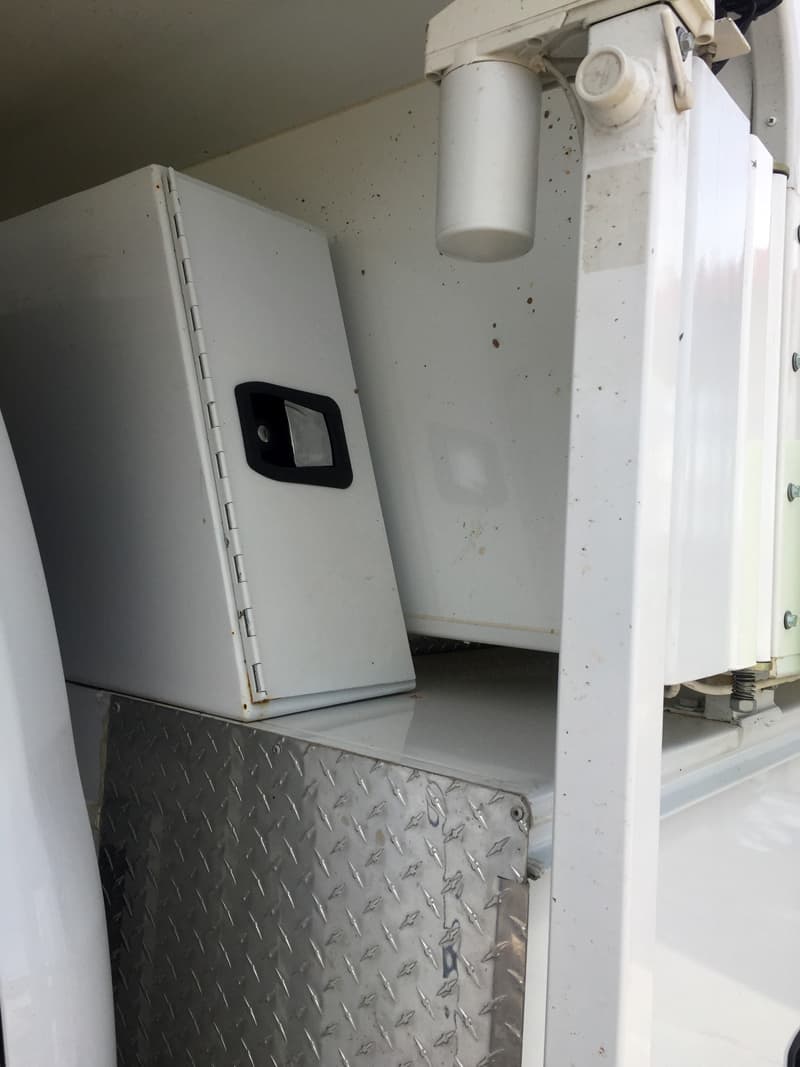 Above: The behind the cab storage compartment
We also have a box behind the cab that goes all the way across.  I keep a set of heavy duty utility sawhorses in there.  The hope was to be able to drop the camper and use the truck.  Now I carry them along as emergency gear.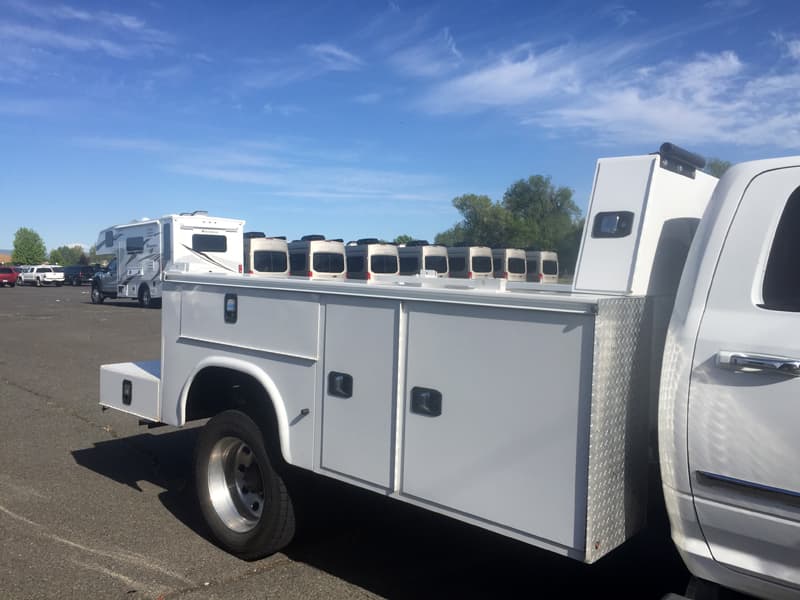 The passenger's side horizontal compartment has a shelf for camping gear.  In the front compartment we have laundry detergent, dirty clothes, and a five gallon bucket with a lid.  We bike and hike a lot, so our clothes are smelly.  Having an external compartment for clothes is a big deal.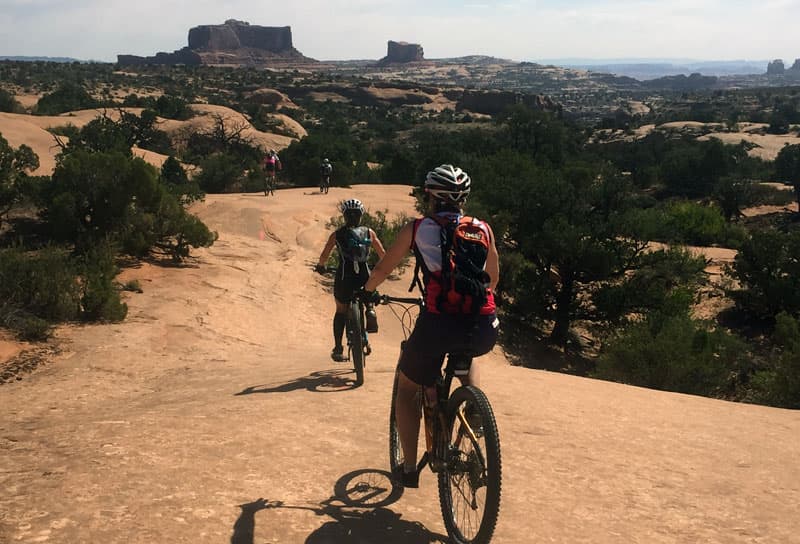 Above: Biking riding in Moab with friends
I also bring extra cooking gear.  We catch crabs when we're out west, so I bring a big pot.  We have a single burner stove in an outside compartment so we can cook outside.  We'll also keep shoes in one of the compartments, depending on the weather.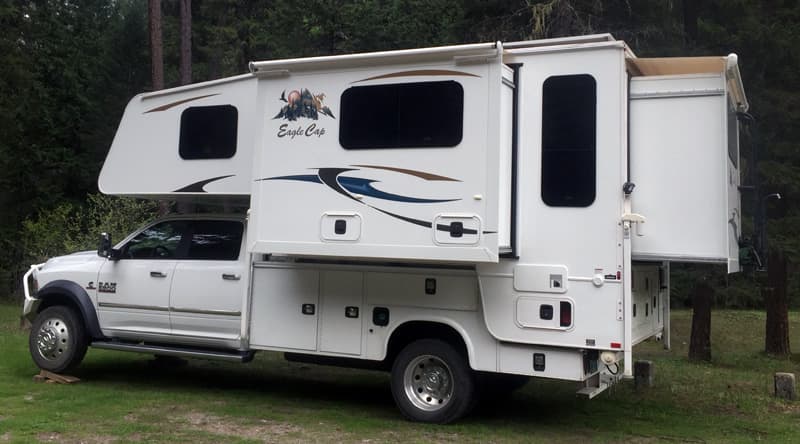 The driver's side has all my tools.  Another compartment has wood and blocks to try to level up on the never ending campsites that are never level.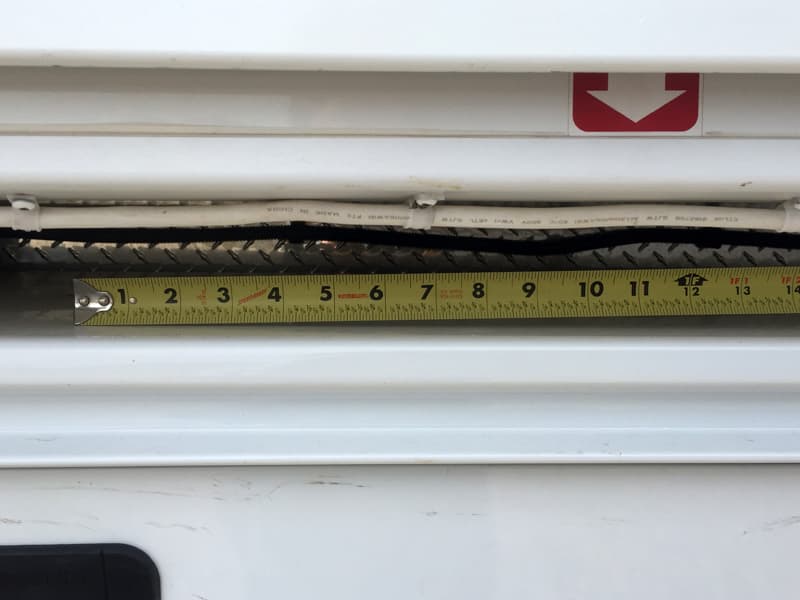 TCM: With the longer truck bed, where did your camper center of gravity end up?
Bruce: 11-inches forward of the rear axle.  Naturally, we wanted to have the center of gravity ahead of the rear axle.  We could only slide the camper forward 16-inches because of the sewer hose area where we dump.  I would have it farther forward if I could.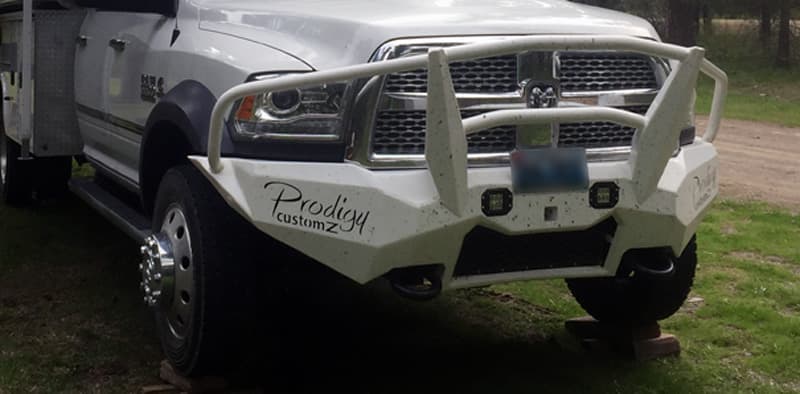 TCM: Beyond the semi-custom truck bed, did you modify the Ram 5500?
Bruce: I have the stock suspension on my 5500, so there are no suspension modifications.
I added a grill guard on the front of the truck.  Once I hit a deer with my Toyota at midnight and it was bad.  My truck was in the body shop for three weeks.  So, I felt a grill guard was necessary on this truck.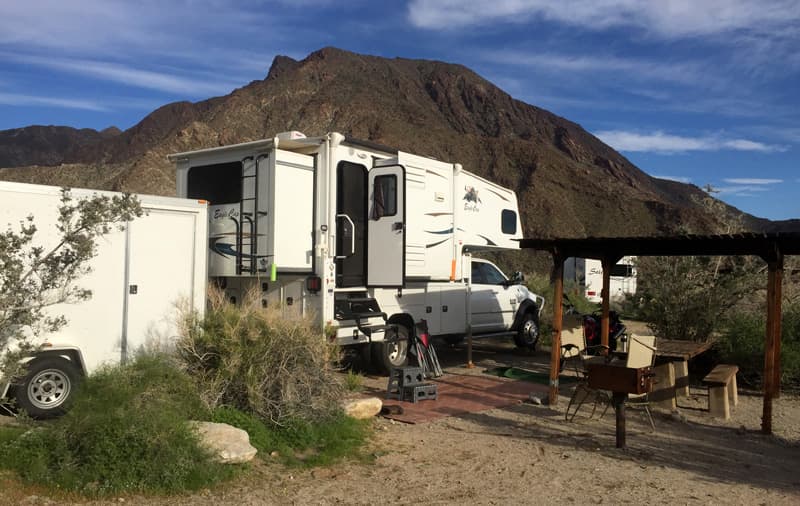 I removed the rear truck seats for increased storage.  Sometimes we put our bikes in the truck.  On big trips we take a 14-foot utility trailer.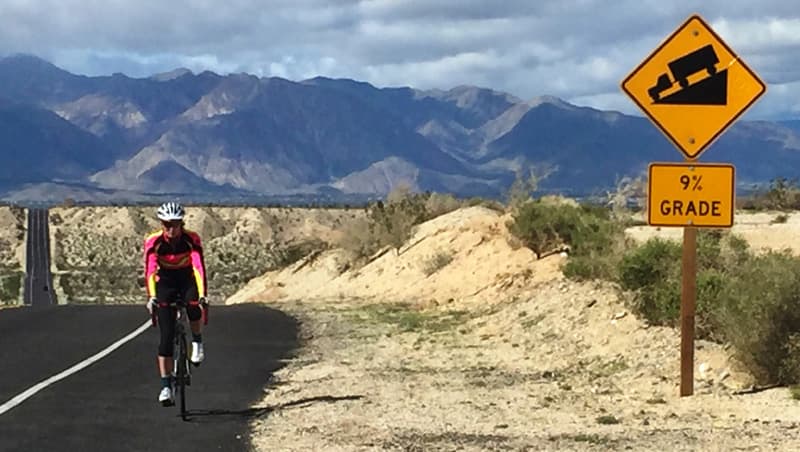 We go mountain biking, climbing,  and skiing, so we take a lot of gear.  We also have two to three stand-up paddle boards in the trailer.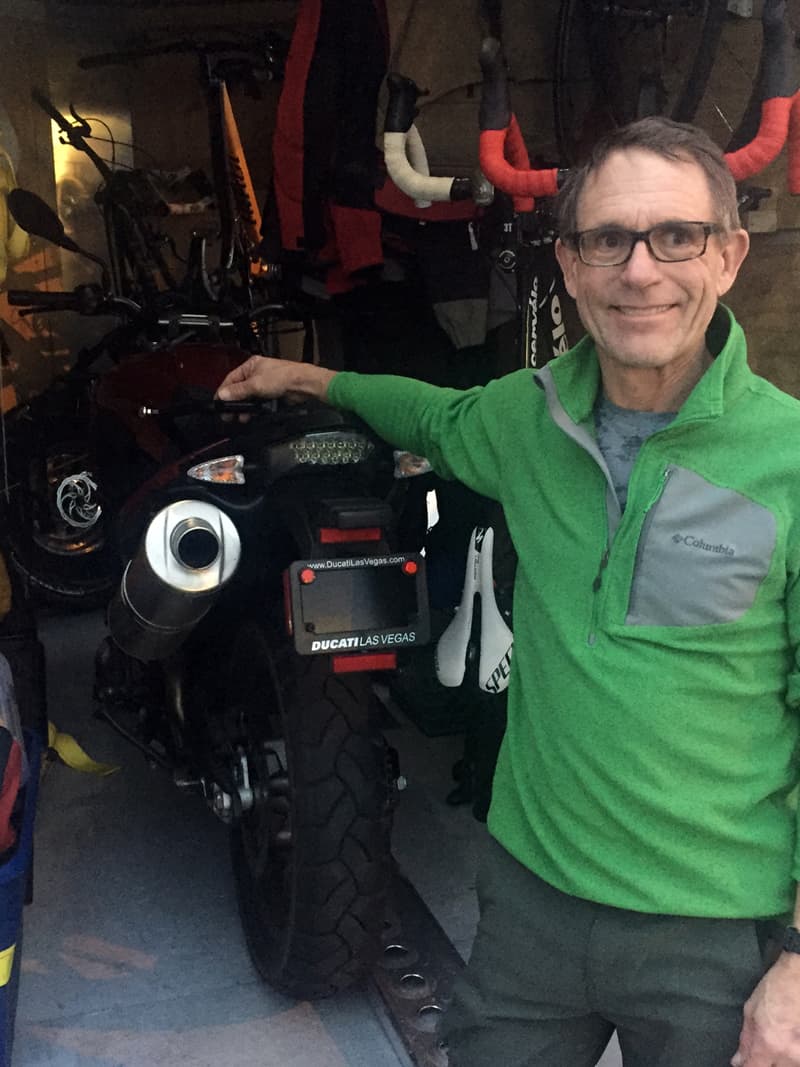 Above: Bruce's 800cc motorcycle is stored in the utility trailer
We sometimes bring along two mountain bikes, two road bikes, one 800cc motorcycle, wet suits, waders, rain gear, and crab pots.  It's our toy trailer and it's been handy.  I also sometimes tow a big fishing boat.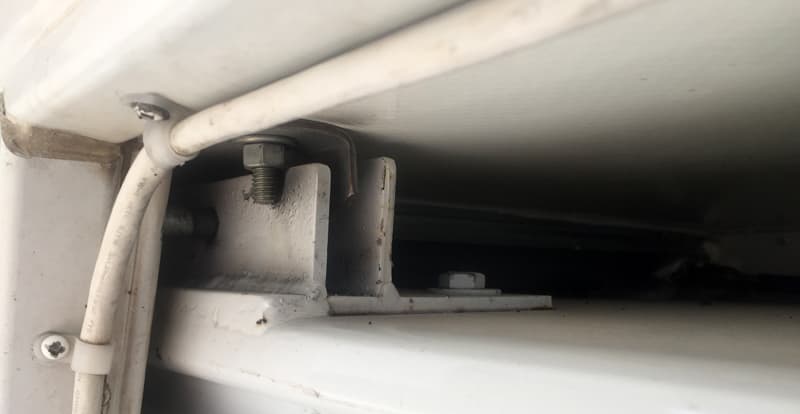 TCM: That is an impressive amount of toys.  Were you able to use traditional tie-downs and turnbuckles for your rig?
Bruce: If you look at the side of the camper, the camper's tie-down tabs won't fit around the box.  To solve this, the utility bed company designed tie-down points.
There is a pin that slides into those tie-down points.  That works fine until I load it and have to get everything so closely lined up.  The camper and truck are a tight fit.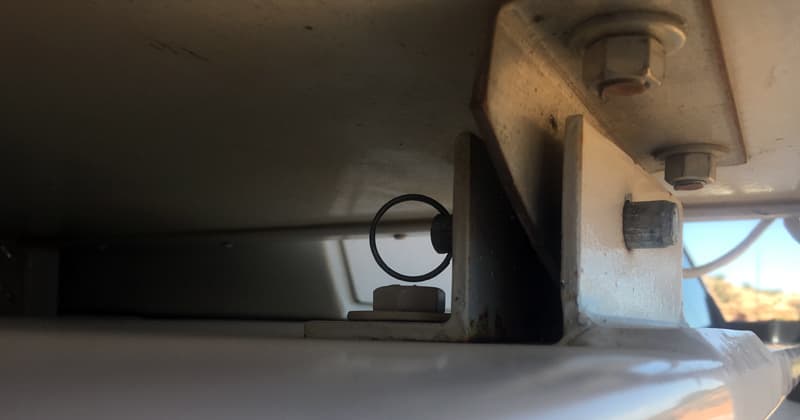 If you put together a utility bed and truck camper, the first thing I'd look at is how you are going to tie the camper down.  You have to think about the ease of taking it off and on.  Getting my camper back on the truck is my biggest issue.
The utility bed is hard to beat, but you've got to think about how you're going to tie your camper down.  We spend five to six weeks on the road and that's what led us to a bigger camper.  It's a wonderful camper when we're in it.  It's like an efficiency apartment.  We love the theater seating.  So, for us, to keep it on the truck most of the time isn't a big deal.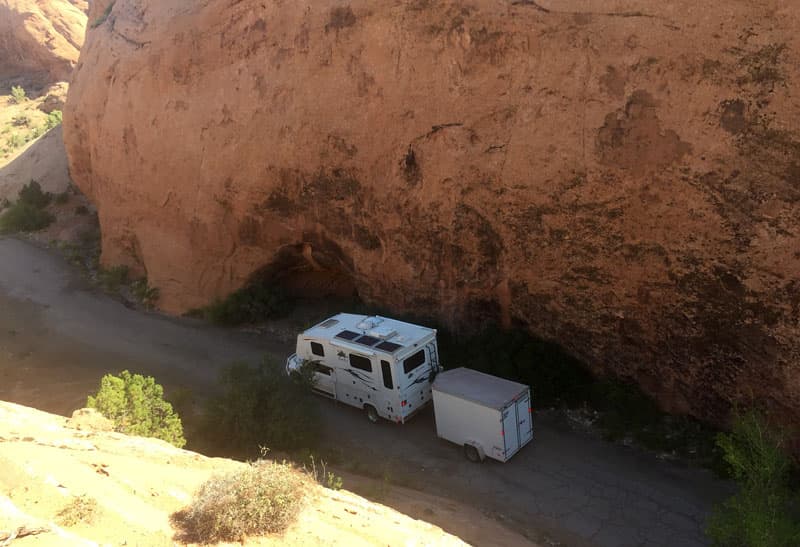 Above: Driving in Fruita, Colorado, note the three 100-watt solar panels on the roof
TCM: How different is it to drive a 5500 than a 3500?
Bruce: The Ram 5500 handles the Eagle Cap 1165 triple-slide well.  Overall, it's a heavy camper, but I think I'm better off than people with big fifth wheels.
The Ram 5500 does make my rig sit higher.  I have a garage door that's 12'11" and I can barely fit.  You may need to think about that if you store your camper in a garage.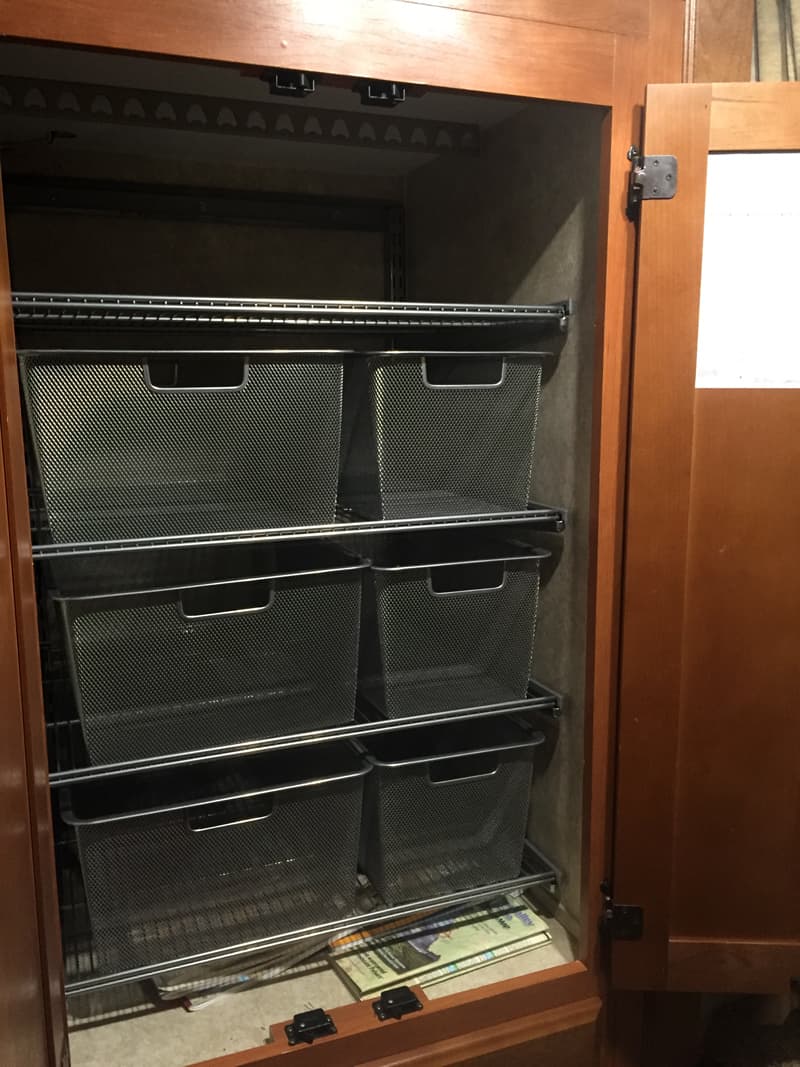 TCM: You sent us photos showing some clever storage ideas in your Eagle Cap.  Where did those come from?
Bruce: My wife went to the Container Store in Chicago and saw the storage units.  When we got home, she went on the Container Store's website and ordered them.  We put one of those systems in our closet and it has made it a more useful space.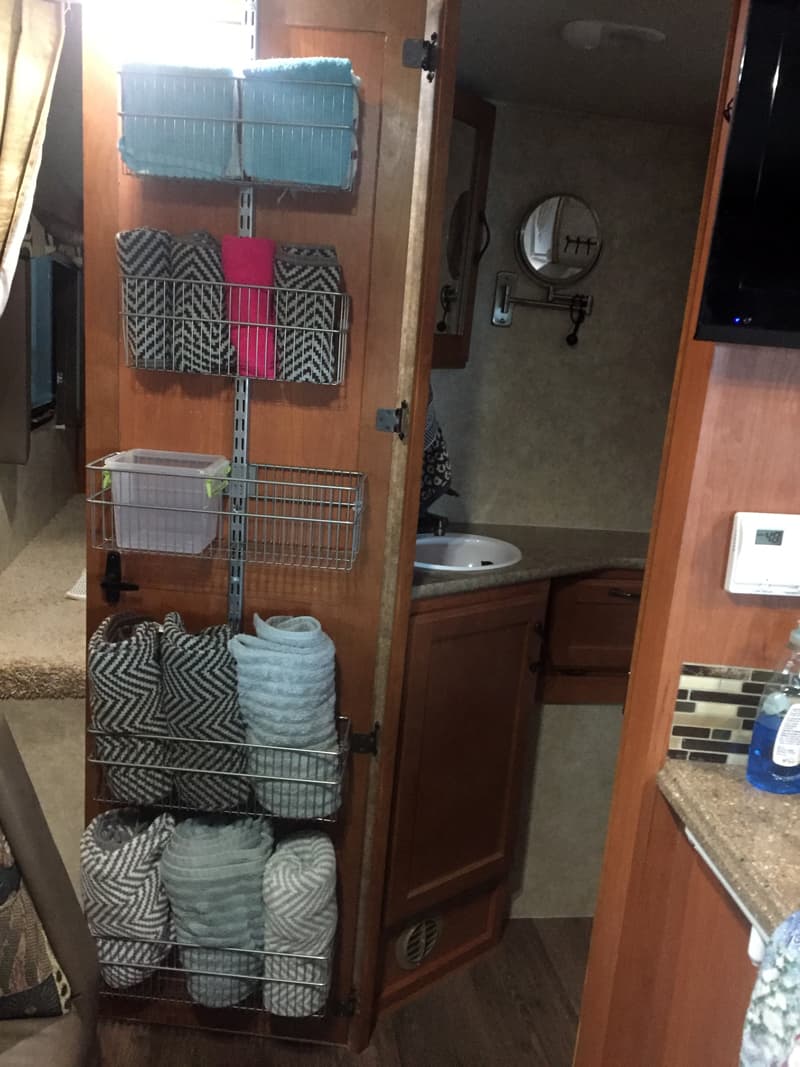 We used the same container system for towel storage on the bathroom door.  On the backside of kitchen island we have added baskets.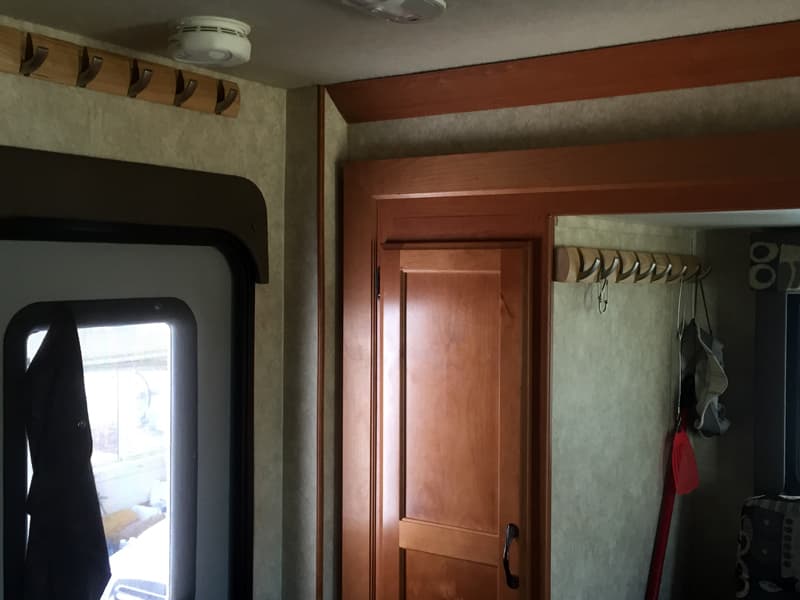 We have put hangers over the door so we can hang rain gear and not track it in the house.  There is another long coat rack system over the chair.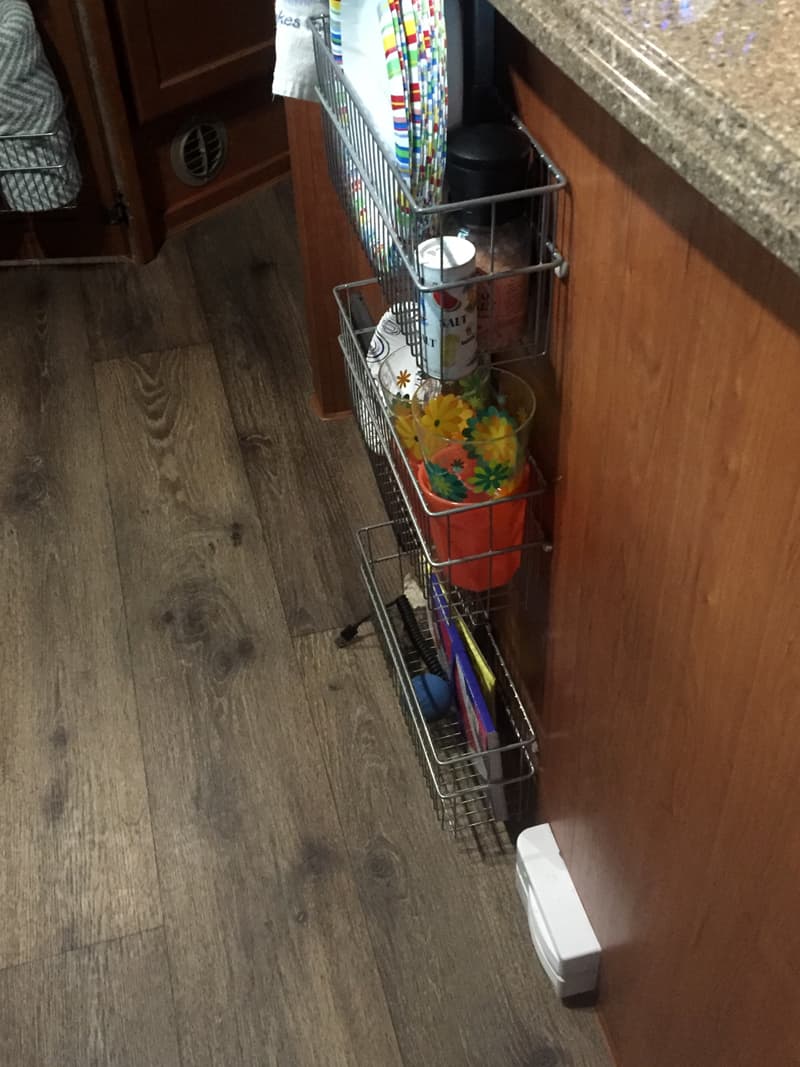 I must say that the Container Store was great about us returning one of the systems that didn't fit quite right.  We sent them back and got new ones that fit better.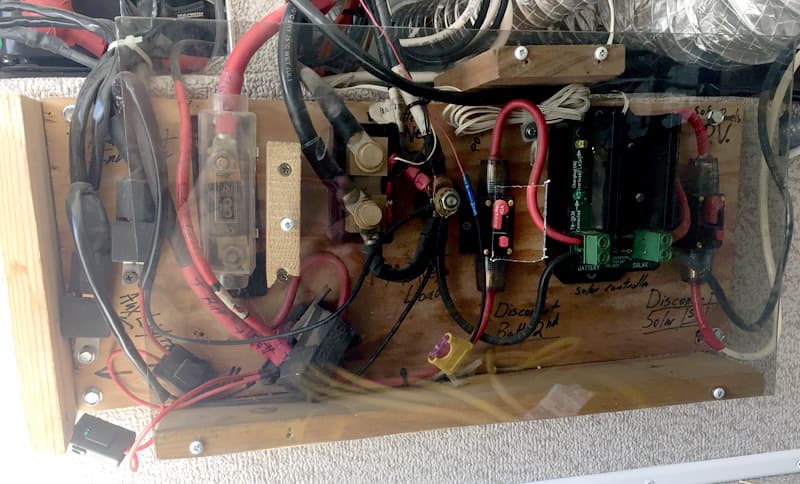 TCM: You also sent photos of your solar panel system.  Tell us about that.
Bruce: I have three 100-watt solar panels on the Eagle Cap 1165.  I also installed a 1500-watt pure sine wave inverter that runs to a couple outlets with a power strip.  I ran the inverter into an 110-volt outlet on the exterior of the camper to charge the boat.  We also have a built-in generator, but I hate running it.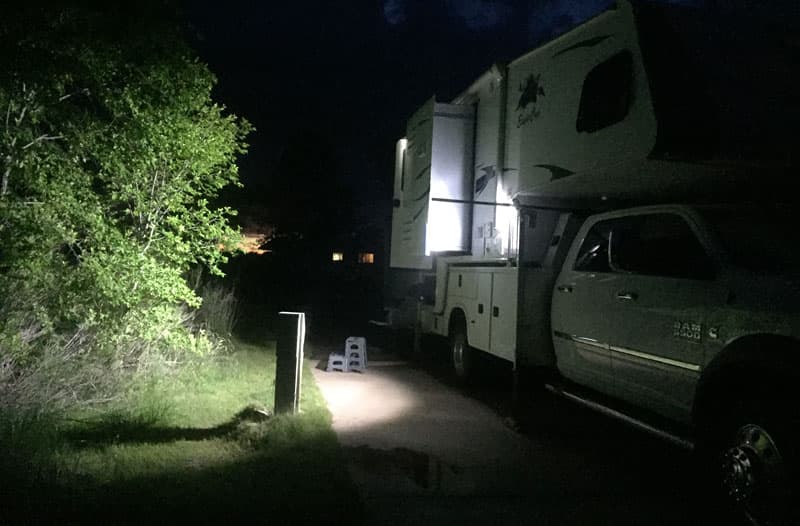 TCM: Built-in generators are very convenient, but they are quite loud and obnoxious to fellow campers.  Why do you have LED spotlights on each jack?
Bruce: Two reasons.  I can turn the lights on from inside and see things outside.  We have been places, and thought, "What is that noise?"  If we are outside and it's dark, we can light up the neighborhood.  Boom!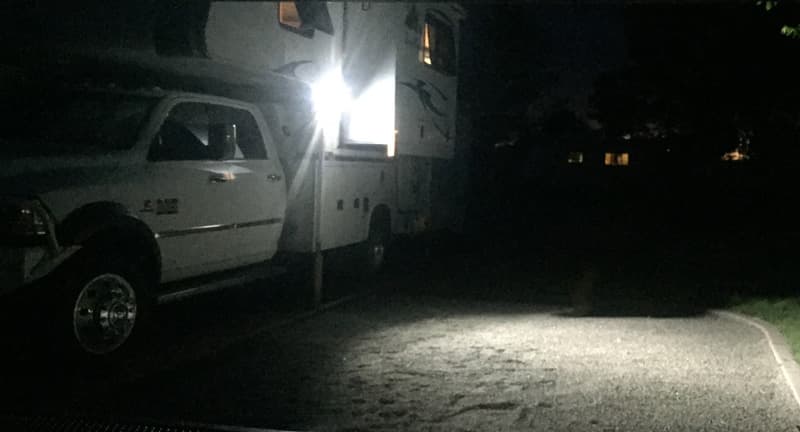 In the winter, when the days are so short, we use those lights for anything from backing into a campsite to doing anything around a campsite.  I am rigging it up now to have one light on at a time.  In a crowded campground, I will no longer spotlight the neighbors.
I really like the lights.  They are Amazon specials.  They are overpowering, but when you need light, you need light.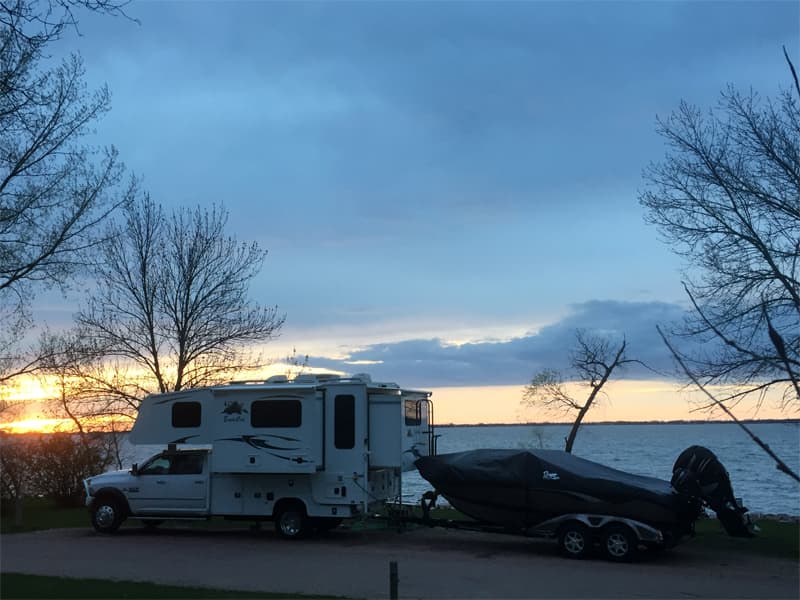 Above: Eastern South Dakota
TCM: Tell me about some of the trips you have taken.
Bruce: I've been retired the last few years.  We take a five to six week trip in the fall.  One year we went to Jasper in the Canadian Rockies.  Last year we went to Lake Superior.  Generally, we're exploring when we're on the road.
In the winter we go to the southwest where we try to get into shape for the summer.  It becomes a training camp.  We eat better on the road and have less distractions.
We like Anza Borrego in California.  There's a big bicycling scene down there.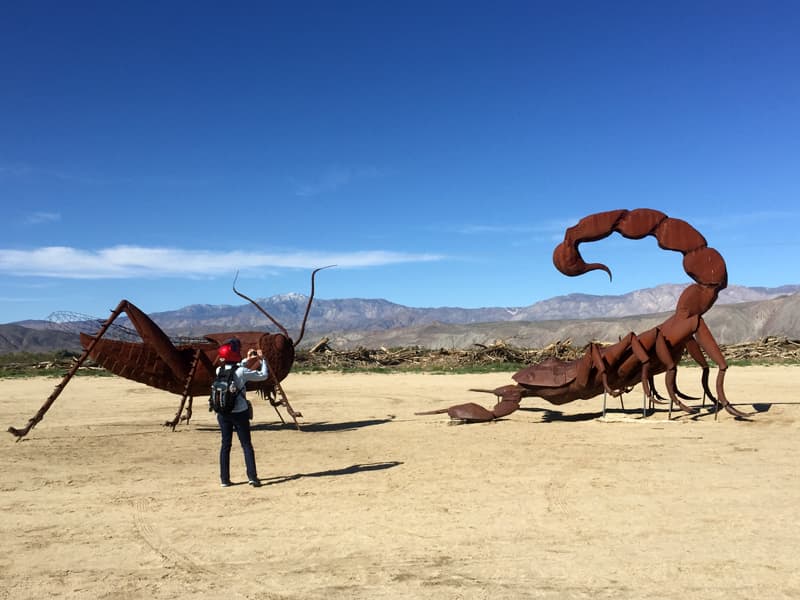 The picture of sculpture was from Anza Borrego.  The guy from Avery paper products inherited a family fortune and bought the land around there so that it wouldn't be developed.  Then he put these sculptures in the desert.
For a state park in California, it's gigantic.  For California, the land of more rules, it's amazing that they allow dry camping there.  It's only 70 miles to San Diego.  On Friday afternoon people rolled in and on Sunday afternoon everyone was gone.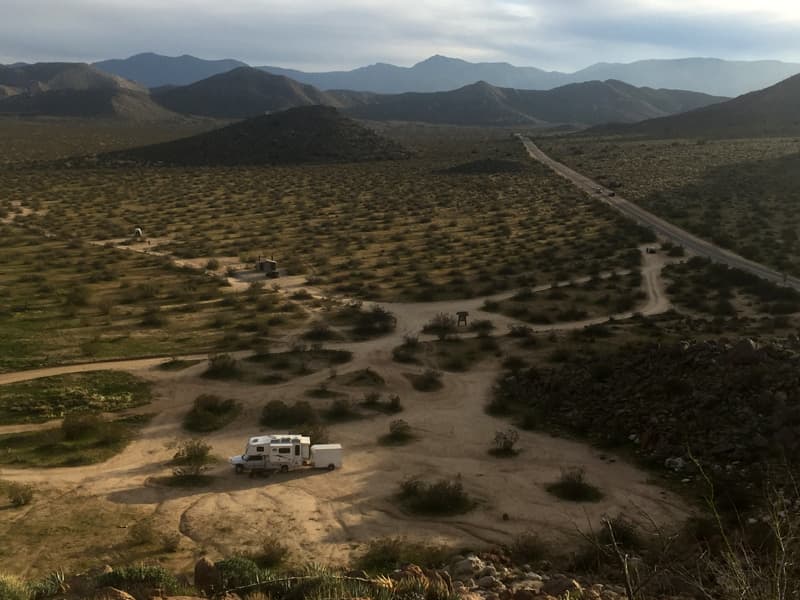 Above: Dry Camping in Anza Borrego State Park, California
The problem with state parks and other parks is that you have to make reservations and we hate making reservations six months out.  The campsites on weekends are booked, so we go out dry camping.  The whole point of our lifestyle on the road is to not to commit to being somewhere on a specific date.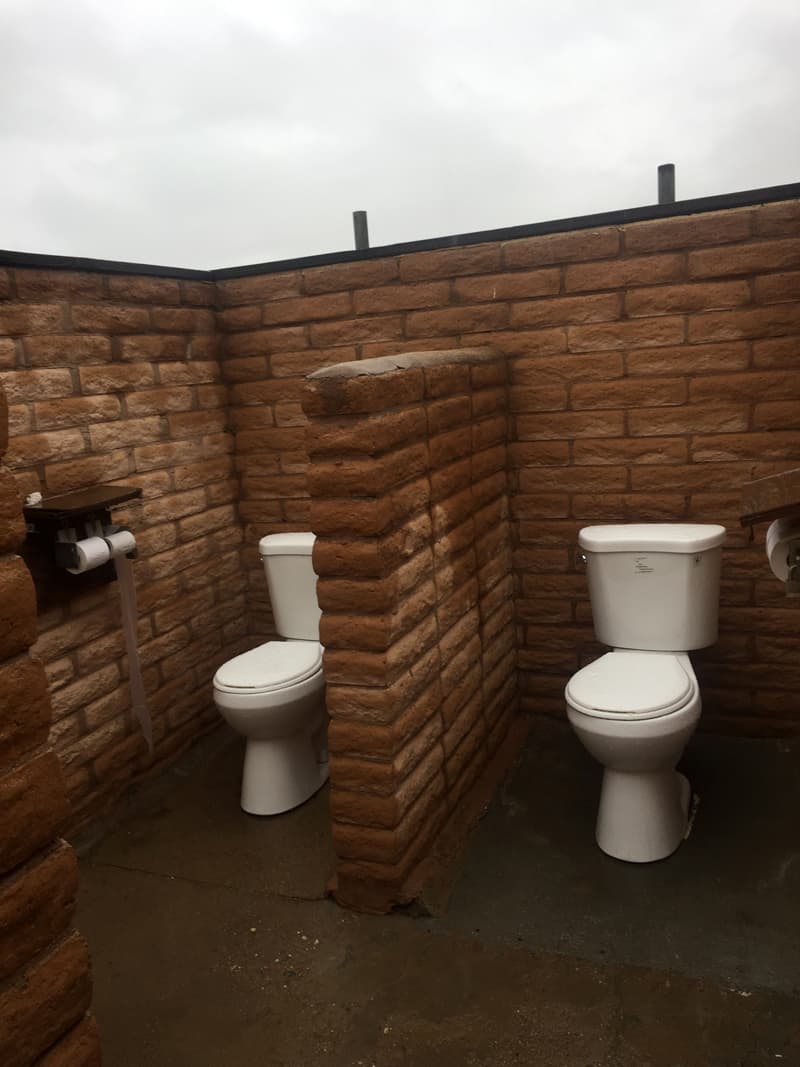 TCM: You've got to tell me about the photo with the toilets.  Where was that taken?
Bruce: This was in Anza Borrego State Park.  I have only seen toilets with no roof in the deep southwest.  You don't see many toilets outside with no roofs.
Bruce and Barbara's Rig
Truck: 2015 Ram 5500, Cab and Chassis 84″ Wheelbase, Crew Cab, 4×4, Diesel, Dual Rear Wheel, Long Bed
Camper: 2015 Eagle Cap 1165
Tie-Downs and Turnbuckles: Special Pin System
Jacks: Happijacs
Suspension: N/A
Gear: Semi custom utility bed, 300-watt solar panel, 1500-watt sine wave inverter, grill guard, LED spotlights on each jack