Bruce Ludlum assembled a Class 5 Ram 5500 with an 11-foot cab and chassis, a highly-customized Knapheide 9-foot utility bed, and an Eagle Cap 1165.  The result is their dream retirement machine; three slides, 10,000 pounds of payload, and endless fun and adventure.

In Steven Spielberg's 1975 blockbuster thriller Jaws, there's a jump out of your seat moment when the monster Great White shark suddenly emerges to Chief Brody's chumming.  Stunned and terrified, Brody tells grizzled shark hunter Quint, "You're gonna need a bigger boat."
It's a frightening and hysterical scene that instantly became the most famous and quoted line from the film.  What most people don't know is that Roy Scheider actually ad libbed the line, but that's another story.
Some of us have had a similar experience after loading a new truck camper on an older (and often paid for) truck.  The "great white" in this scenario is often a single, double, or triple-slide truck camper packed to the gills with tantalizing luxury.  After carefully loading the bigger and heavier camper nose to tail, perhaps you found yourself quoting Chief Brody.
"We're going to need a bigger truck."
Bruce and Barbara Ludlum are no doubt relating to this introduction.  When they picked up their 2015 Eagle Cap 1165 and loaded it onto their Chevy 3500, they immediately knew a heavier duty truck was in their near future.
After considerable research, Bruce – who happens to share his namesake with Spielberg's mechanical shark – chose not to upgrade to a heavier duty one-ton dually (aka Class 3 Light Truck), but rather to jump two classes to a Ram 5500 (aka Class 5 Medium Truck).  With 10,000 pounds of payload capacity, the Ram 5500 quickly reeled in the great white.  Take that you Carcharodon carcharias!
To get the whole fish story, we dove deep with Bruce to discover how his 2015 Ram 5500, Knapheide utility bed, and Eagle Cap 1165 triple-slide came together, and why.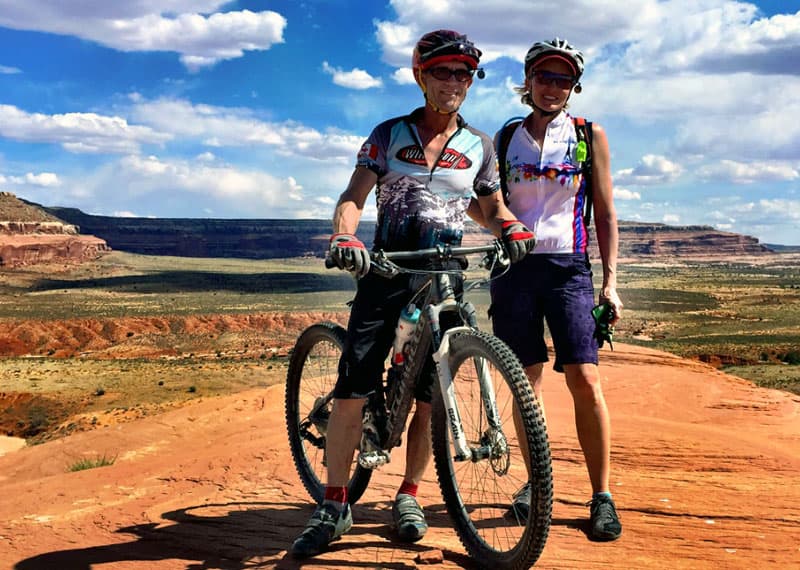 Above: Bruce and Barbara in Arches National Park, Utah
TCM: How did you get into truck camping?
Bruce: I grew up hunting and fishing in the Midwest.  In high school I was introduced to backpacking and mountaineering in Vermont.  After that I had a small pickup truck with topper that I'd camp out of in my twenties.  Out of high school I had a 1968 VW bus with a bed and in college I had a older Westfalia Vanagon for a while.  I had a lot of fun with those.
I moved to Wyoming in 1985.  That winter I tried to car camp and ice fish at -20 degrees.  I could camp out in cold temperatures, but getting much else done was a real challenge.
I saw right away that a truck camper would allow me to get into rough spots and have my camp already made.  I bought a used three-quarter ton truck and an old 1968 cabover.  After discovering the effects of dry rot, I moved on to two Jayco pop-ups.
Barbara and I married in 2004.  In 2009 we bought a 2003 Arctic Fox and put it on a 2006 Chevy 3500.  When we both retired and could take multi-week trips we wanted a bigger camper, so I started researching the larger multi-slide campers.
That resulted in a trip to the Adventurer Manufacturing factory Yakima, Washington to see Eagle Cap truck campers on the production line.  We bought an Eagle Cap 1165 triple-slide in 2014, immediately after taking a factory tour.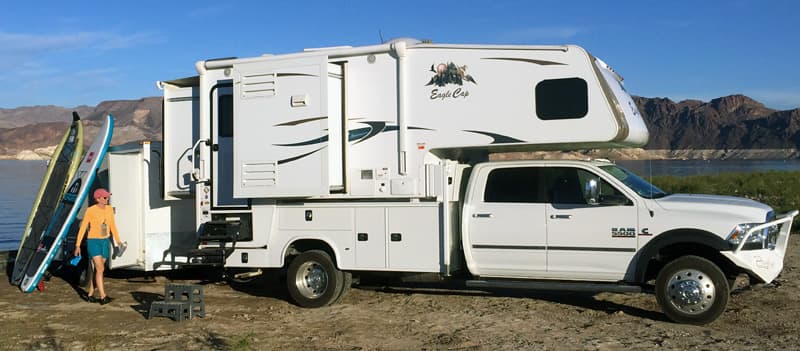 TCM: How did you go about matching an Eagle Cap 1165 to a Ram 5500?