Sixteen fellow truck campers reveal their stunning Ford F-550 rigs including required modifications, custom beds, and reasons why they went with a Class 5. Not one regrets their choice to go big.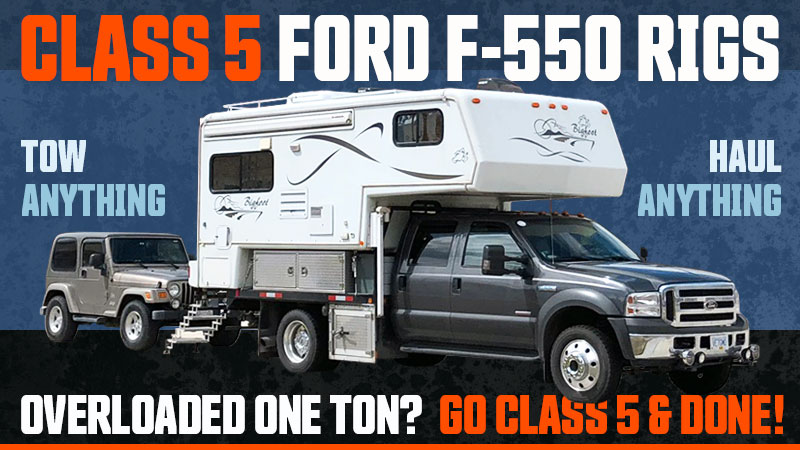 When we took possession of our first one-ton dually in 2005, we thought that truck was huge. There was nothing that our new beast could not tow or haul. Pull a house down? No sweat. Shift the planet's rotational axis? Got it. Alter space-time? No problem. With a spin of those six beefy Load-E, 10-ply mud-terrain tires, we could party in 1999 all over again, if we wanted.
What we really thought was that our truck could handle any camper. And at that time, we were probably right. In 2005, hard side slide-out campers were still in their infancy. Multi-slides were merely a glimmer (and a prototype or two) in Bob Mehrer's Snowriver eye. A year later, and just around the corner from Bob in Penticton, British Columbia, Okanagan would change all that.
With the Okanagan 116ULT, the age of multi-slide truck campers began. Soon after the Okanagan 117DBL tipped the entire luxury truck camper market on its proverbial ear. That camper was so successful that other companies were almost forced to copy it. Okanagan may have fallen prey to the Great Recession of 2008-2009, but the 117DBL floor plan remains in production to this day.
Unfortunately, far too many manufacturers and dealers failed to comprehend the potential consequences of mounting a 4,000 to 5,000 pound dry double or triple-slide truck camper (4,500 to 5,500 pound wet, or more) to a one-ton truck. Never mind that some one-ton trucks barely cracked 3,000 pounds of payload capacity; like our second one-ton; a 1998 Ram 3500 12-valve Cummins diesel dually. That's when we started to hear about some rigs being, "double payload". Thankfully, our industry and community have mostly moved since then.
Not every Class 5 story that follows stems from this past, but many do. Their answer to the way-over-payload problem was to move up from a one-ton to a Ford F-550. And I bet when they first got behind the wheel, they thought, "There's nothing this beast can't tow or haul. ." At least for the moment, they're probably right.
Celina Binns
2022 Ford F-550 / 2014 Arctic Fox 1150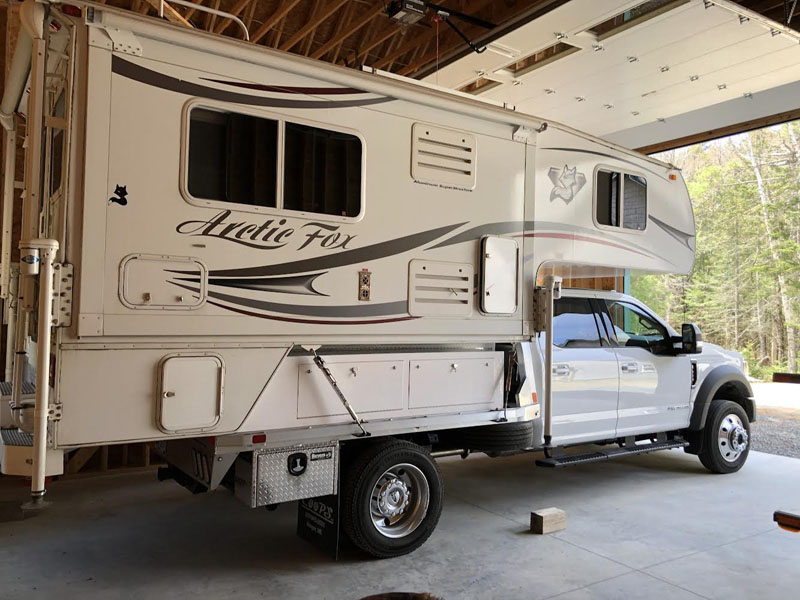 Above: At home, in the TCSF (Truck Camper Storage Facility)
"We have a 2022 Ford F-550 Lariat with 18,000 GVWR. We bought it because we were about 700 pounds over GVWR with our 2014 Ford F-350 dual rear wheel truck.
We had a flatbed, under bed storage boxes, and an under bed spare tire carrier installed. We then built our own storage boxes to fit the stepped sides of our Arctic Fox camper. We did not make any suspension modifications to the truck. We bought stake pocket tie-downs from StableCamper and needed to swap one set of our Fastguns to the shorter version for the front. The longer version worked fine on the rear.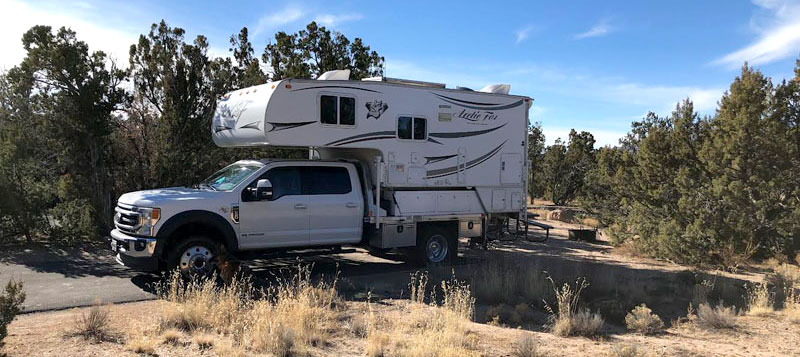 Above: Bandelier National Monument, Los Alamos, New Mexico
We like the F-550 a lot. It is nice to not have to worry about weight anymore. We also find that it rides better, both loaded and unloaded, than our old F-350 did. The turning radius is much tighter. Our overall height increased by about 10-inches and our fuel economy is slightly worse (1 or 2 miles per gallon) which we believe is due to the height increase. The extra storage is awesome.
I would suggest people compare the costs of a 550/5500 series truck with the 350/3500. The difference in cost might not be as much as you think.
Also, if you are having a flatbed installed, make sure the installer understands just how much weight will be put on the bed so they provide enough clearance for the tires once the springs are compressed. We had to have them rework ours after our first trip because there wasn't quite enough clearance on the slide side."
Bryan Appleby
2008 Ford F-550 / 2009 Lance 1191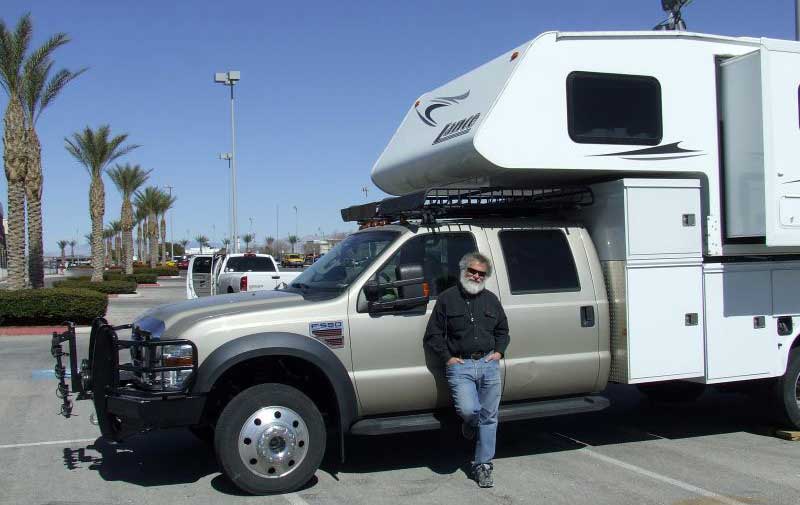 "Growing up, I was around trucks and using them for work. I have owned several trucks from medium-sized trucks up to tractor size. With this knowledge, I knew I needed a specific truck and capacity to start with for my planned project.
My planned project was to full-time (sold the house/left the job) in my truck and camper. I knew I would need more storage room than what a truck camper could provide. This would be for seasonal wear and equipment, repair tools, and my passion toys. This would require a service body.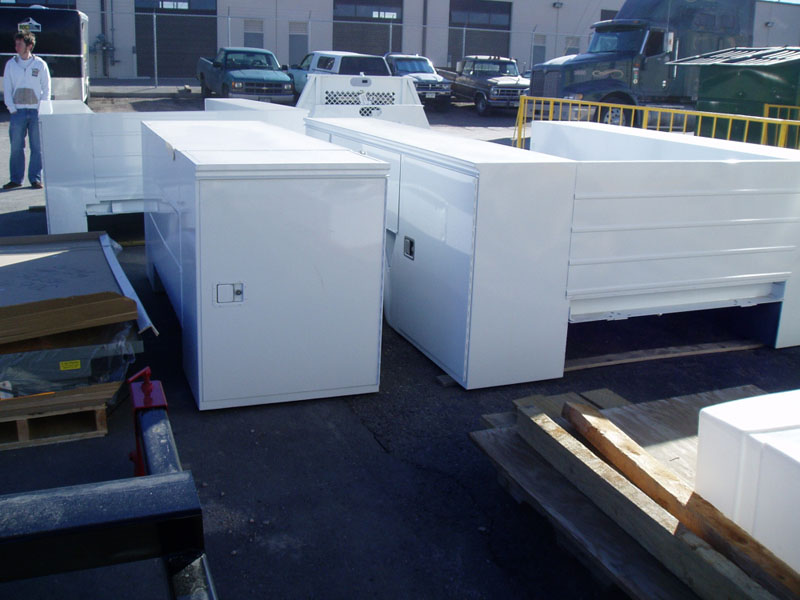 I was able to secure a local commercial service body equipment company to do the work, plus the custom items that I would need. The service body came right out of a catalog. Custom ordering was not necessary saving about 50-percent of the cost. Also, I was able to wrap the service body cost into the purchase of my truck. This allowed me an up-fit rebate from Ford to the amount that I paid for my service body and the custom work.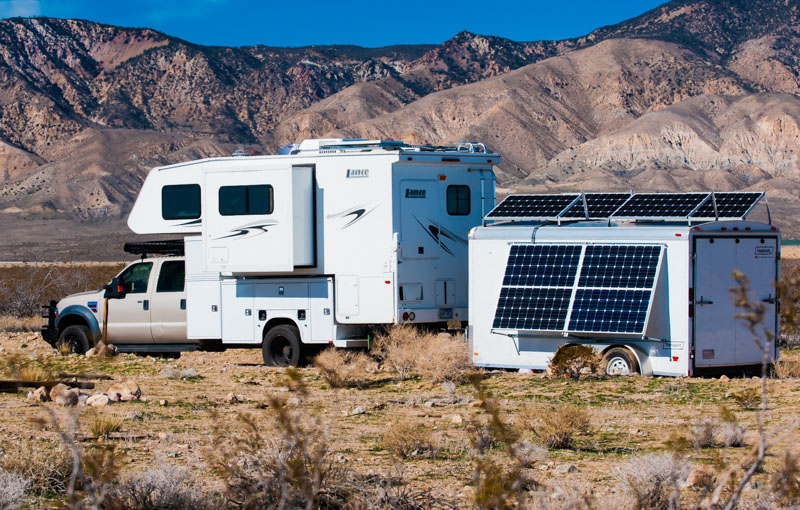 My plan was to build for ultimately boondocking, exclusively. This why I installed a 100g, DOT-certified propane tank (pictured below) in addition to the two 30 pound propane tanks that came with my Lance camper. Then, I added solar and two additional potable water tanks for 30-plus days of provisions. All of this was with the intention of living completely off-grid.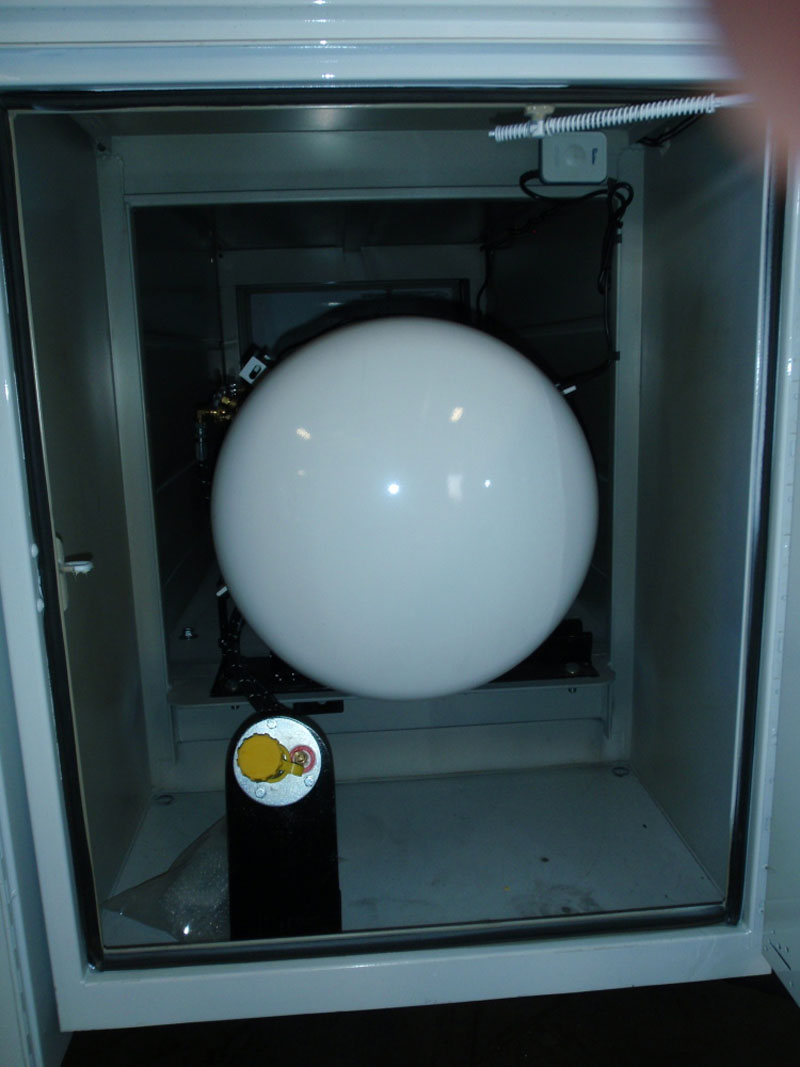 With these specifications, I knew I needed at a minimum an F-550/5500 truck. I bought a 2008 Ford F-550, crew cab, four wheel drive truck. My rig has performed beyond my expectations for more than 14 years.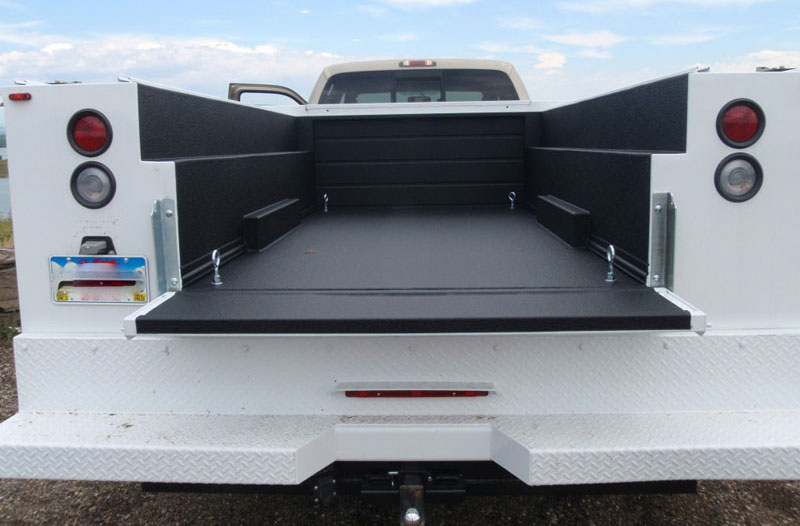 It always amuses me when someone exclaims, "That thing is huge! There is no way you can take that off pavement." Well, I have many pictures showing I have done just that. Plus, I typically can go farther with "what I brought" with me.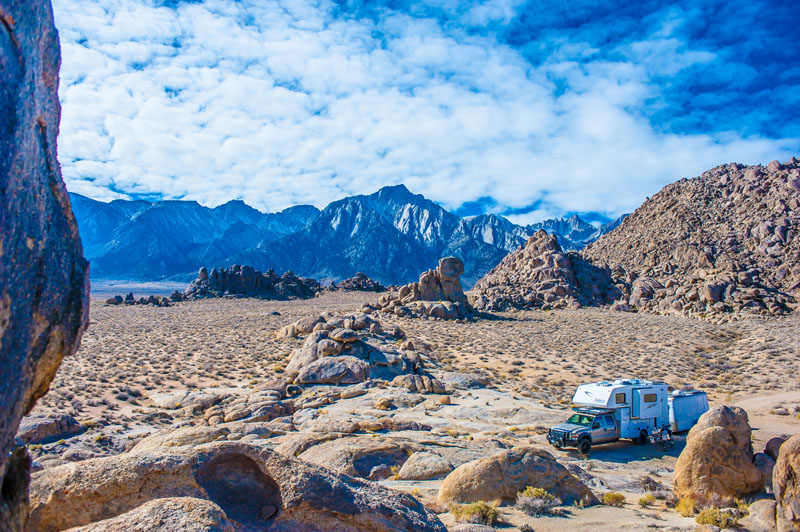 It still rides like a truck. The F-550 will not ride like a luxury car and that is just fine with me. I would not expect a luxury car to go to the places I go on a regular basis.
Be aware that these trucks are geared differently than the pickups you would normally use. For that reason, your fuel mileage is going to be impacted.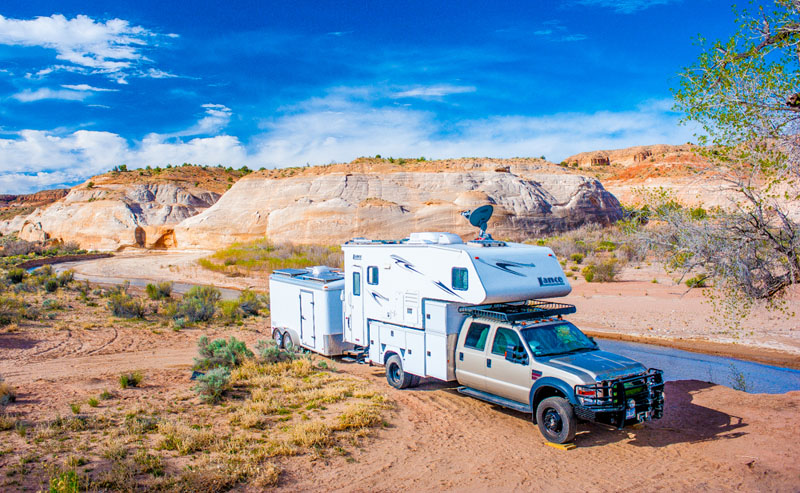 Something I learned as a backpacker and horse packer; the larger the case, pack, or suitcase, the more stuff you will bring. Fight the temptation to bring more. Just take less, and need less.
When I was starting my project, no one was there to mentor me or forums to seek advice. The research was much harder 15 to 20 years ago. Do your research. Go out to the RV Shows. Talk to others that have gone before you. Ask the questions that work for you. This will allow you to save a lot of money and time."
John O'Shaughnessy
2006 Ford F-550 / 2018 Lance 1172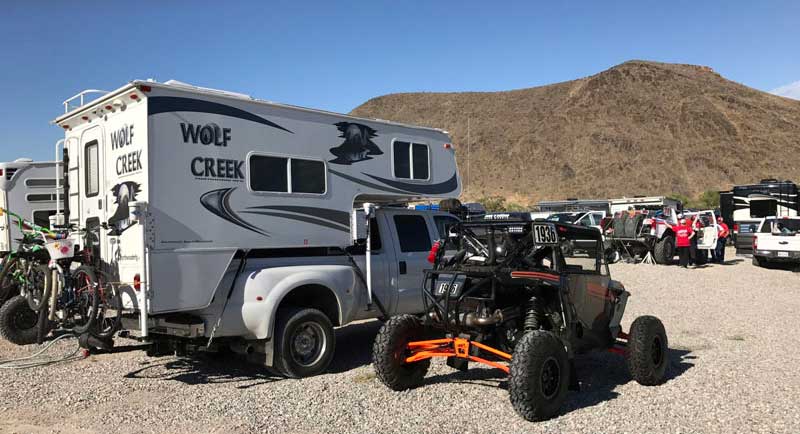 Above: At the Vegas to Reno off-road race with the Wolf Creek 816
"Prior to purchasing our 2006 Ford F-550, we owned a 2015 Ford F-150 Platinum crew cab with a 6.5-foot bed for our 2011 Wolf Creek 816. At the time we did not know much about truck camping or truck and camper matching. We put on air bags, Torklift StableLoads, and changed out the street tires for higher max load all-terrain tires.
It wasn't until a bad white knuckle experience coming down the mountains near Reno, Nevada that we CAT scaled our fully loaded rig. Our truck had a payload of only 1,578 pounds and we were roughly 2,500 pounds over capacity. At that time my wife and I both said that we needed a bigger truck. So my research began. We would never be under trucked again. An F-550 was in our future.
The only modification we made to the truck for the camper was adding the Torklift tie-downs. The suspension is totally stock which is super stable for our truck camper, but the ride can rough over expansion joints and uneven roads. To help with the ride I installed Freightliner air suspension seats for the two front seats.
For the first year, we hauled our 2011 Wolf Creek 816 with a spacer to modify for it being a short bed camper. When we purchased the 2018 Lance 1172 a year later, it fit perfectly with no modifications. Since then, we added the Torklift Super Hitch and Super Truss.


Above: On our way from Texas to Flagstaff with the RZRs in the Lance 1172
With the F-550, we always have more truck than needed. We have traveled 40,000-plus miles in our F-550 and wouldn't want any other vehicle for our rig. On some trips we have a bike rake out back. On others, we have a 20-foot trailer with two RZRs, two dirt bikes, our bicycles, a barbecue, chairs, etc.
Fully loaded with our two kids, three dogs, a bunny rabbit, and all the toys, we are hauling 15,900 pounds and pulling another 6,000 pounds. We love our truck camper set-up and already have a few trips planned out for this year.
The F-550 is so stable right out of the box that we didn't have to do any suspension upgrades. We also love the turning radius of the wide-track front axle. It drives much smaller than you would think. We can pull right into a parking space without having to do a three-point turn. If I went back in time, I would tell myself "Go big and don't look back"."
Dan Taylor
2001 Ford F-550 / 2010 Hallmark Guanella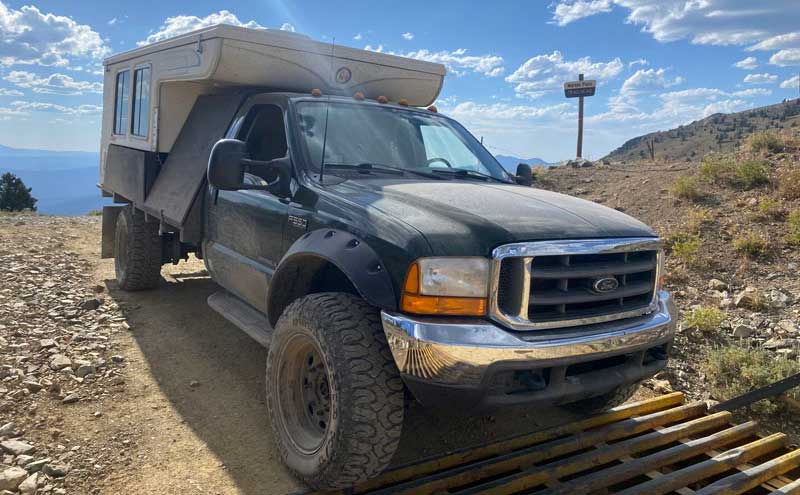 Above: On a mountain pass in nowhere Oregon east of John Day
"I have a 2001 Ford F-550 regular cab flatbed with four wheel drive and a Hallmark pop-up camper. I had a 1999 Ford F-250 with the pop-up camper and didn't like how it handled. I also had storage issues for my sports and gear. Working for a fire department with an F-450 and F-550, we drove them hard and all over the forest and they handled much better than my F-250.
I looked and found a California winery vehicle for sale. I got it at a decent price with low miles. Then I got super singles. I cut the fenders and fabricated a wooden flatbed. Everything else is stock on the Powerstroke engine with a manual transmission, transfer case, and hubs. The truck is a little narrower with the super singles. With the Hallmark pop-up, I'm well under the GVWR.
I have Torklift tie-downs that flex to prevent twisting the camper. I made the bed out of wood so I could fix/adjust things while using it. I had to make wheel wells and move eye bolts on the trail.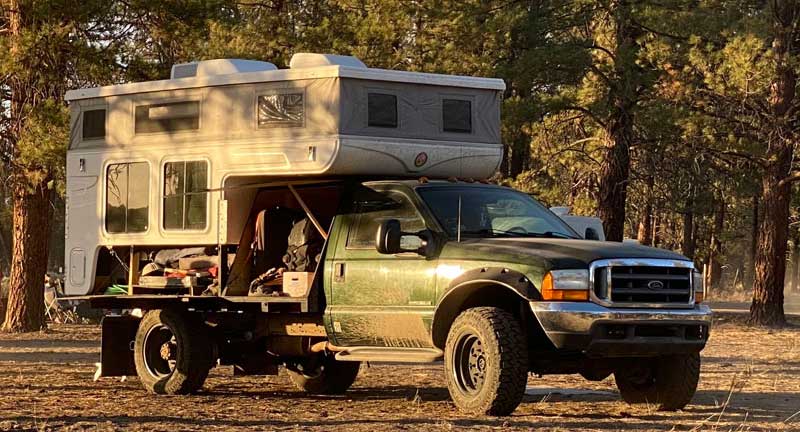 Above: Ford F-550 and Hallmark Guanella
My F-550 and Hallmark RV rig fits most places in the western states. I worry about punctures and fitting on trails. My tire repair kit is substantial with an air compressor, plugs, patches, and spares. I have driven to very remote Oregon, Wyoming, and Nevada. It fits nearly everywhere. I drive on forest service roads for the most part. My turning radius is limited so a multi-point turn is a requirement.
A Class 5 truck increases everything. Every component is larger, tougher, heavier, and costs more. But I like it because it is more stable, reliable, and capable for what I do.
I replaced a wheel bearing in nowhere Idaho at a salvage yard. I learned that I needed a larger breaker bar and larger sockets than my F-250 of the same model series."
Doyle Crews
2012 Ford F-550 / 2014 Eagle Cap 1165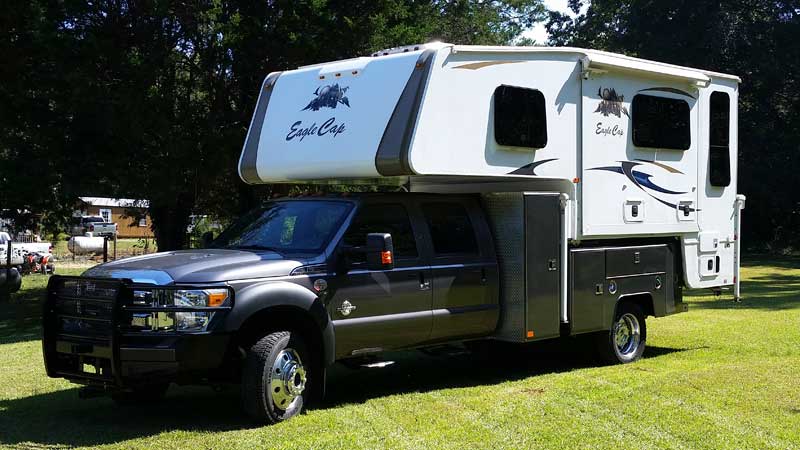 Above: The curbside front of my rig taken in my yard near Sylacauga, Alabama
I have a 2012 Ford F-550 Lariat crew cab with a 200-inch wheelbase and 84-inch cab to (rear) axle. I bought it because I knew it could handle a triple-slide camper and a fair amount of gear with full confidence.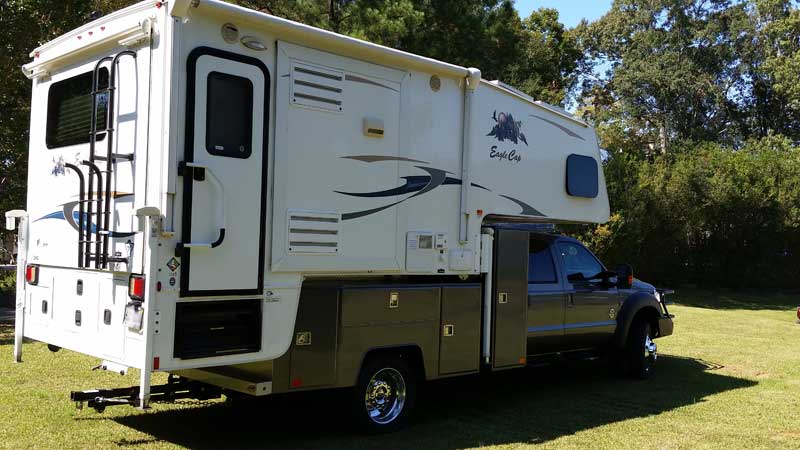 It came as a cab and chassis, so I had a camper-specific service body built for it by Douglas Truck Bodies in Bakersfield, California. Without the camper, it looks pretty much like a plumber's service body.
There is a lot of easy-to-access storage available in the body compartments on the driver's side and curbside. It was also pre-wired for charging the coach batteries from the truck motor and has wiring for a third battery in one of the storage compartments.  There is a custom place for a third propane tank, which I have never used.
I upgraded the rear suspension (on the dually axle) with SuperSprings SSA26 Helper Springs. There is also a 50-gallon supplemental diesel fuel tank which has to be implemented via a valve inside one of the body compartments.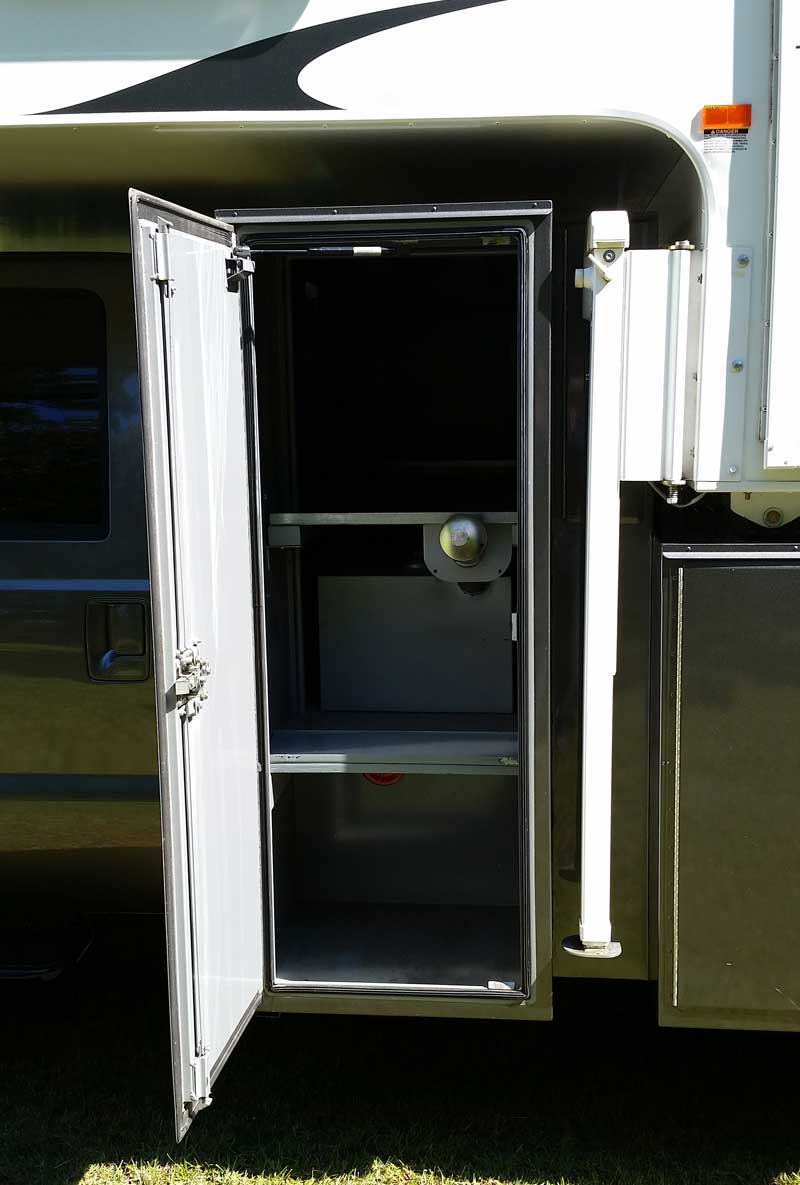 Above: The supplemental fuel tank showing the filler cap and the valve (behind the red access door barely seen towards the bottom). Also taken in my yard.
The ride and handling are everything I could hope for. Acceleration to interstate speeds is almost effortless. It's easy to get up to speeds that will really bite back at the pump.
At no time do I feel that the load on the truck is compromising safety. And I really appreciate the turning radius of the F-550, which is smaller than a one-ton truck and definitely helps out in tight areas.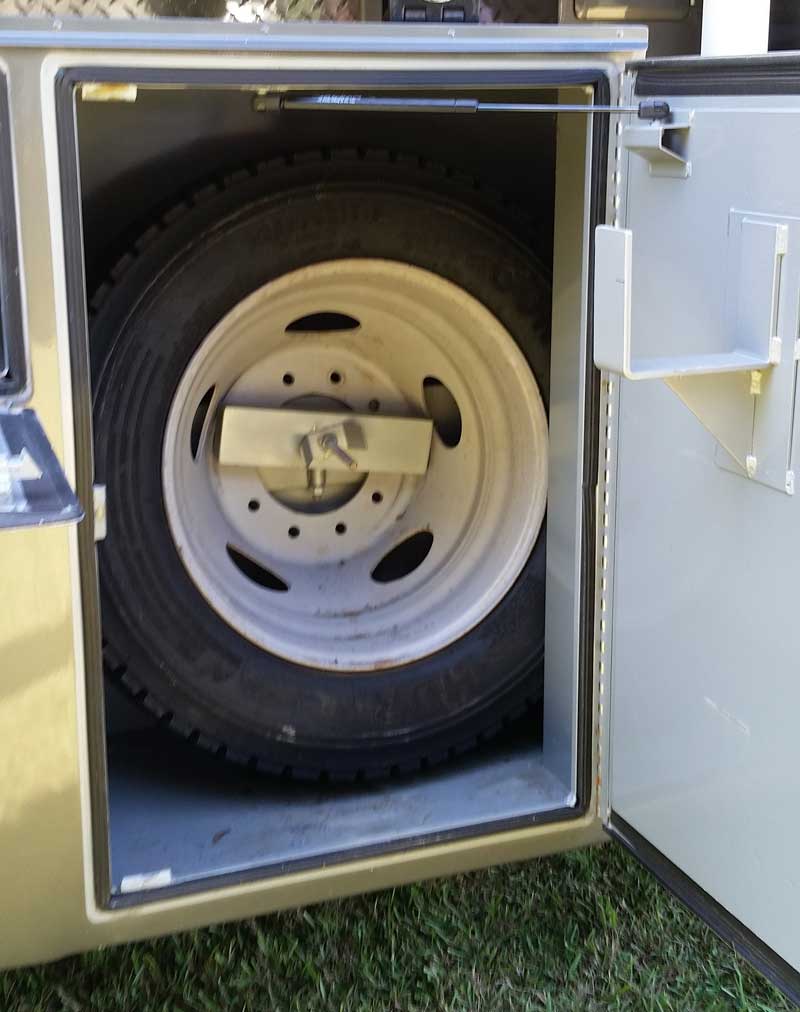 Above: The spare tire in its dedicated compartment. It had to be relocated from the stock position between the rails. Also taken in my yard.
The F-550 is a lot of truck and takes a up lot of space, whether in a parking lot or in a campground. It also comes with a high fuel operating cost. It's not every day that the miles per gallon get into double-digits. I find that speed has more impact than load, so despite the truck's willingness to keep up with SUVs, I try to keep it to 55, maybe 60 on the interstate.
In my state of Alabama, the 18,000-pound rating on the truck nameplate means it is taxed and tagged per commercial truck rates. So, I get to pay many times what a one-ton truck's license plate would cost. At least my rating is at the very bottom rung. It really goes up from there for bigger trucks."
Charles Coushaine
2022 Ford F-550 / 2012 Chalet DS116RB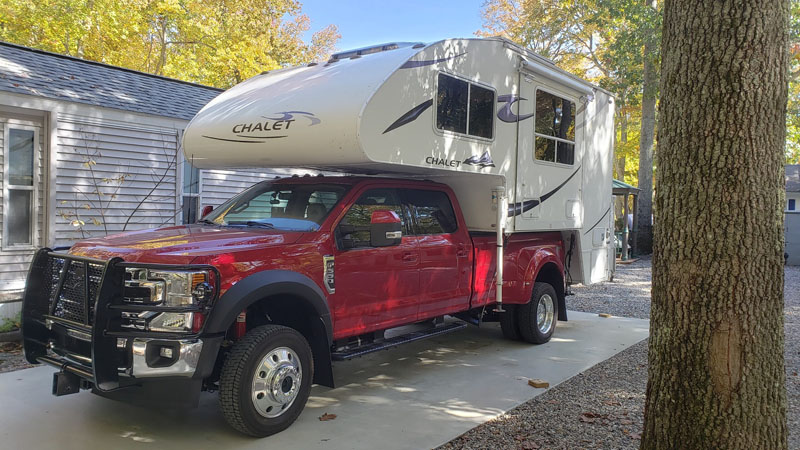 Above: Strawberry Park in Preston, Connecticut
"I upgraded from my 2001 Ford F-350 diesel to a 2022 Ford F550 gas for five main reasons. First, my F-350 was 21 years old with over 200,000 miles. We wanted to camp for at least another ten years, so a new truck was necessary.
Second, I insisted that the new truck be capable of carrying our 6,000 pound Chalet double-slide camper without going anywhere near its payload capacity. My new F-550 has a payload capacity of over 10,300 pounds and a GVWR of 19,500 pounds. We have payload to spare now.
Third, I wanted the new Ford 7.3L Godzilla gas engine for sheer simplicity, durability, and lower fuel prices. Fourth, my new truck has much larger brakes. In fact, they're 50 percent larger making stopping much safer. And fifth, The F-550 has a wider front axle to provide a much smaller turning radius. We can now make U-turns much easier.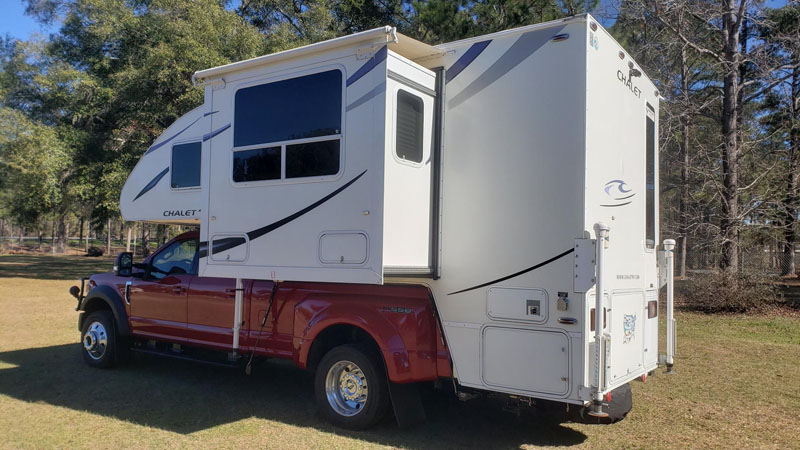 I ordered an F-550 chassis cab from Ford through Elevation Off-Grid in Denver. They in turn constructed a traditional-looking bed. I wanted the traditional truck bed for two reasons. First, it's lower to the ground than a flatbed. Second, my insurance company (State Farm in Florida) stated that, if the truck has a traditional bed, it can be insured as non-commercial and the cargo (my camper) is then covered as payload. This was a huge selling point to me.
Additionally, Elevation Off-Grid installed a Liquid Springs Active Suspension which greatly smooths out our ride and softens damaging bumps getting transmitted to us and our camper. Liquid Springs also is introducing Campsite Leveling sometime in mid-2023, which will be retrofitted to my truck. With a simple push of a button, we will be level; no more blocks are needed.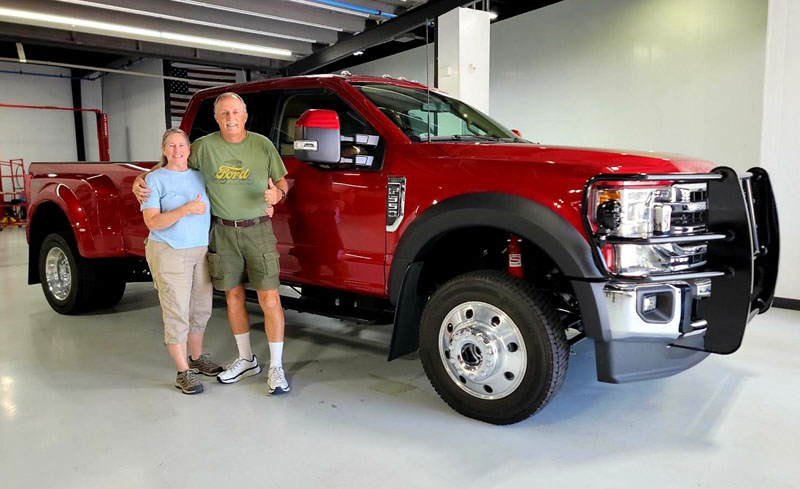 Above: Picking up truck at Elevation Off Grid in Denver
Although my old F-350 with all its upgrades handled my camper okay, this new F-550 takes it to a whole new level of safety. I was always a little nervous that if I had an accident and someone checked my payload sticker I could be in trouble.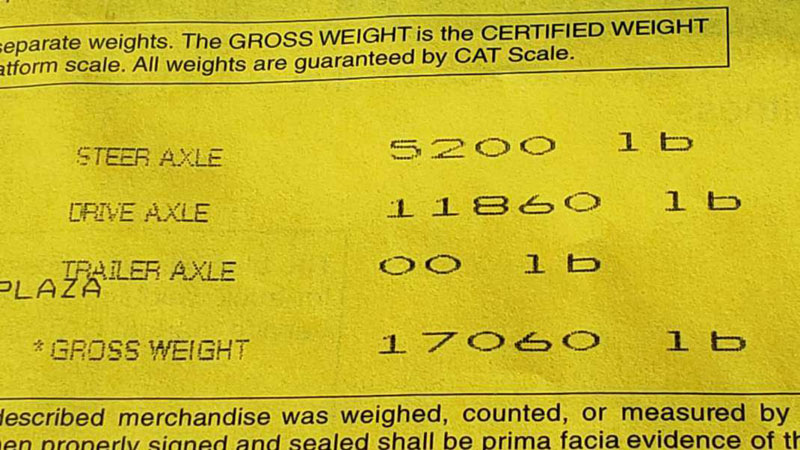 However, with the greatly upgraded F-550's payload of 10,300 pounds, I know I am safe. I also have larger brakes for those dreaded panic stops. The increased turning radius makes U-turns and backing into a campsite that much easier. The Liquid Springs suspension is fantastic, and with its +/- 4-inch ability to raise or lower the truck, it makes getting into the camper that much easier. Also, driving down the road with the truck empty rides ultra smooth, just like an F-150.
If you are always worried about being over payload like we were, upgrading to the F-550 with its greatly increased payload ability has completely eliminated that worry and given us a new peace of mind. Couple that with larger brakes, a new robust gas engine, and an increased turning radius. It has made traveling with our truck camper a much more enjoyable experience."
Rayne Butler
2005 Ford F-550 / 2007 Okanagan 116ULT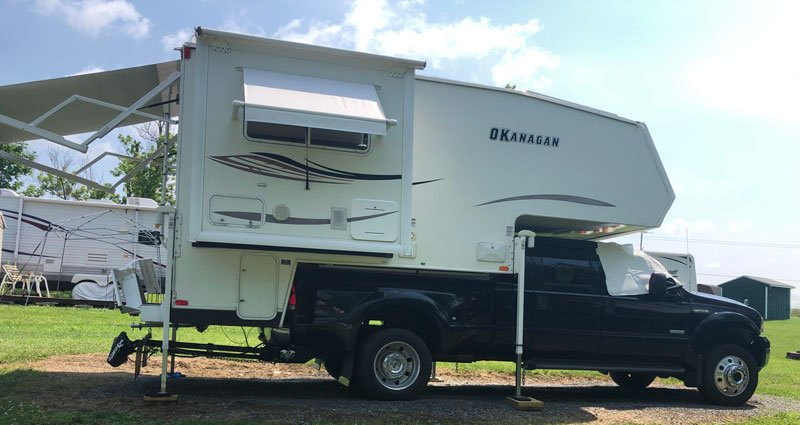 Above: Campground in Marathon, New York
"I have a 2005 Ford F-550, Super Duty Lariat with a crew cab and 8 foot bed. My truck was purchased along with my new-to-me 2007 Okanagan 116ULT truck camper. They were a package deal and for good reason. My camper weighs in at 4,500 pounds dry. It has two slides along with an onboard generator, fireplace and oven, microwave, stove, and large refrigerator with freezer. My camper also has a full bathroom. So, my decision was a no-brainer. They were made for each other. I finally had a truck that could haul anything, and pull anything I put to it.
My F-550 came with a full size 8 foot bed, so nothing had to be done in that regard. I dream of putting it on a utility bed someday. I added a Torklift SuperHitch, a Torklift 48-inch hitch extension, and a Torklift Fox Landing. The Fox Landing was in place of my then-modified drop-down stairs that I used prior to towing with my camper on my truck. I have just recently had air bags installed in the rear to help my springs and reduce sway. Granted, the sway of a camper is greatly reduced already by the dual rear wheels and suspension on an F-550.
Above: Boondockers Welcome host site in Roanoke, Virginia
I love my truck and my camper. They travel together like a dream team. With the truck's four wheel drive, I never have to worry about getting stuck either. I warn anyone who insists I won't sink into where they set me up for the night that this is a whole lot of weight in a very small footprint. Therefore, sinking into any soft ground will happen. I can get out again, but they won't like what happens to the parking spot when I do.
A truck this big costs more to repair. My advice is to check all of your fluids yourself, whether it has sat for a while or you have been using it. Any type of leak with these systems can be a serious issue if not resolved quickly."
Matt Fenichel
2004 Ford F-550 / 2007 Bigfoot 30 C1002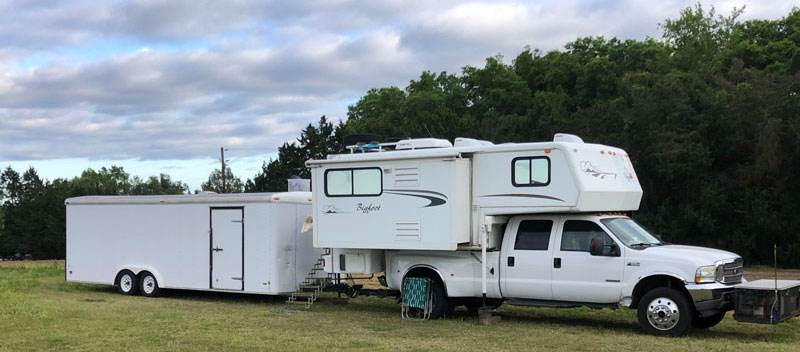 "I'm probably not who you want to hear from as I've built a bunch of HD, Class 5, 6, 7, and even Class 8 units for others and finally for myself. I did it because I know how to spec trucks (it was my job at GM and HERTZ Penske), and how to run off-road (I raced and championed in the 70s and 80s).
My response is based on the rig that I've lived in for the last five years full-time. My current truck is a 2004 Ford F-550 four wheel drive crew cab. I purchased it because it was nearly what I was looking for, and in nearly, "concourse condition". I needed a larger truck for my larger camper. I also knew that I was going to tow a trailer as well as four hot air balloons, exotic bicycles/trikes, and fitness equipment.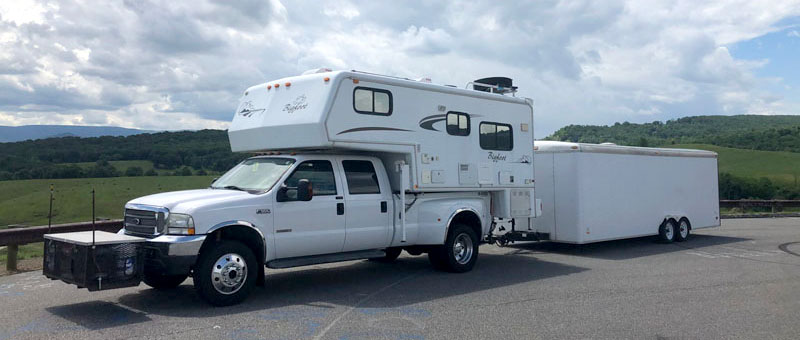 My truck already had a bed conversion from Manning Equipment that made it look like a pickup. I added some driveline modifications including a gear vendors overdrive, which sucked. I got rid of that, and did some other driveline modifications, and added a Torklift SuperHitch. The hitch required some adjustments but worked out.
I'd done other trucks with single rear wheel conversions, and generally, they don't work out, or work well. I resisted that temptation with this truck but, if I had more truck, I'd consider it again or some alternative.
The F-550 is fine, but I would actually like more truck still. Obviously, the 6.0 (which has been relatively trouble-free) has an overall lack of power. It's not drastic, but when it comes to mountains and passing, it's lacking.
I could say a whole lot about this topic. If you want more, you'll contact me. In short, I'd say more truck is better in almost every case, but it there is always give and take."
Kevin Mooney
2022 Ford F-550 / 2016 Eagle Cap 1200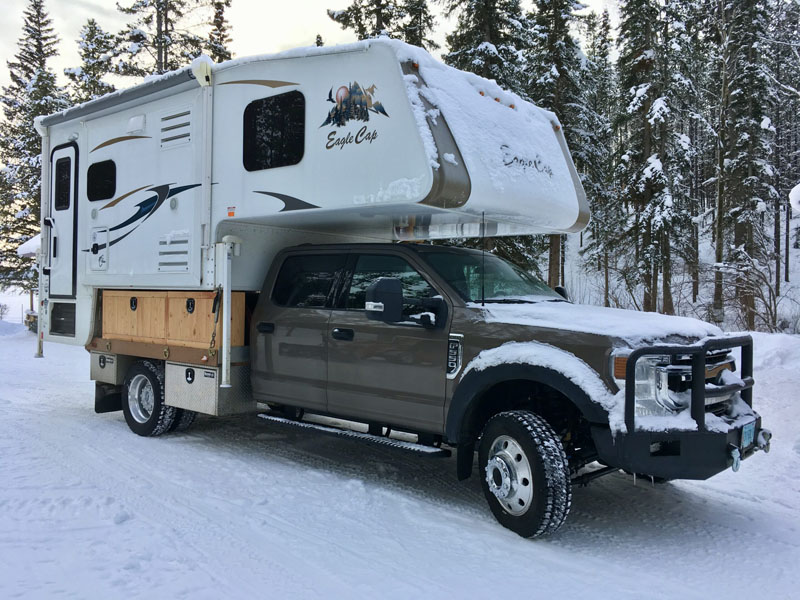 Above: Nimpo Lake, British Columbia
"I have a 2022 Ford F-550 four wheel drive gas truck. My wife and I had looked at an Eagle Cap 1200 back in 2016. We really liked the wood that was used, the decor, and the little dining table. What wasn't to like? The camper is about as nice as it gets, but we couldn't afford to buy it.
Skip forward five years and an opportunity presented itself, so off to Calgary we went. At the time, we had a 2014 Ford F-350 four wheel drive dually gas flat deck with a 10.5-foot Okanagan on board. It's not a light camper by any means at about 4,000 pounds all loaded up. We offloaded the Okanagan and headed east to pick up our new/used camper.
Even though I had Rancho 9000s on all four corners, the Eagle Cap caused more roll and the braking was just not nearly as good. By the time we made it home through the Rockies, we decided it was time to upgrade.
My previous truck had a steel flat deck, two under-deck boxes, and two upper-deck boxes (a previous mod in TCM), and it worked incredibly well.
One can't truly appreciate the extra storage space you have until you actually experience it. I initially wanted to go the custom route and have the deck and boxes all look the same. Then I found out what that was going to cost. That was pretty much the end of that. Even ordering a standard-size deck – whether steel or aluminum – is still not an inexpensive option, but the worst part was having to adjust everything to whatever generic size the manufacturer had decided to make. Most of the more affordable ones are pre-built on mass for efficiency and to be cost-effective. That doesn't mean it is what will fit your camper best. So, I built my own out of fir.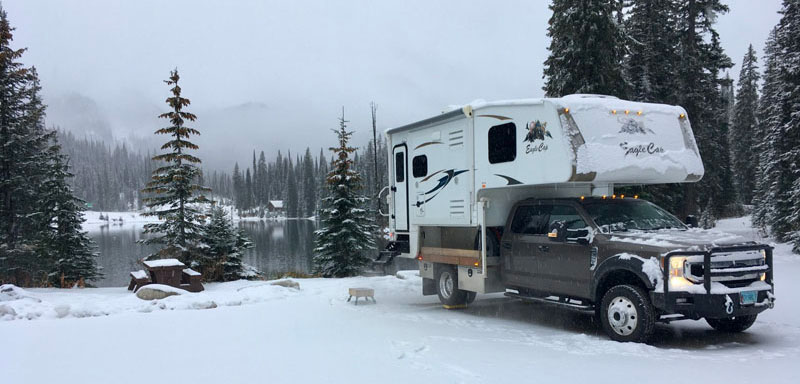 Above: Kootenay Pass, 5800 feet, British Columbia
Knowing what I know now, I wished I had bought my F-550 many years back. My old truck was a super cab. This truck has four full doors, yet has a five foot tighter turning radius. It doesn't sound like much, but it is noticeably more maneuverable even though it has a slightly longer wheel base. These larger trucks have a 6-inch wider front axle which allows a tighter cut and allows them to turn better.
My camper rolls and sways less on the big truck. The ride is as good or better than the one-ton. It has way bigger brakes and it can carry significantly more weight. The new 7.3L gas engine with the 10-speed transmission with the 4.88 gears is a real game changer for hauling and towing. I've had Fords with the 6.2L V8 and the 6.8L V10. There is no comparison. This combination is leaps and bounds ahead.
I was originally told by a few old dogs not to buy an F-550; they suck gas, they ride horribly, etc. Well, not the newer ones. I can find no reason not to just go for the F-550 versus playing around with a one-ton. There are just way too many bonuses of having the extra heavy-duty truck. And they are not much more money.
I rarely use my truck as a daily driver. If I did, maybe I would stick with a one-ton. Even then, any truck that has dual wheels rides like crap! Yes, you can upgrade the suspension or go super singles; whatever rocks your boat. It all depends on how you use it. If you're even considering going to this large of a truck, then you have already reckoned with the fact that it will not have a standard pickup-looking box on the back end. A flat deck is more handy and practical."
Richard Law
2005 Ford F-550 / 2003 Bigfoot 30C 10/11SL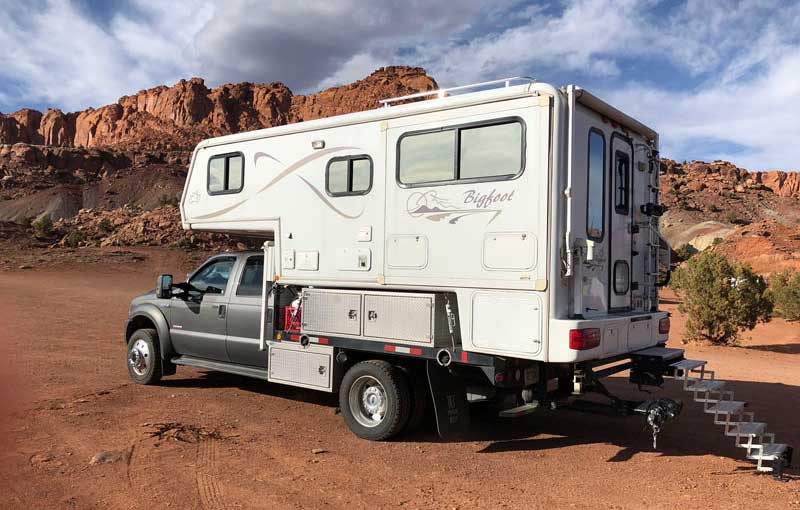 Above: Outside Capital Reef State Park, Utah
"This will be an old story, but with experience. I have a 2005 Ford F-550 crew cab chassis Lariat. The truck was custom ordered in 2004 and delivered in March of 2005.
I was a truck farmer full-time for 30 years up until 2003. I went to a funeral of a friend of mine who was a builder and even built our first home. After the funeral and slide show, my wife said to me, "Life is too short. Go buy that camper rig you're dreaming about".
In my search for the perfect camper, my choices were down to Arctic Fox and Bigfoot. I wanted a Bigfoot, but the Fox was a bit less pricey. On one of my many trips back to the Bigfoot dealer, the sales guy came over and gave me a deal I couldn't refuse.
There was a 2003 Bigfoot 3000 series C10/11SL that had been sitting there for a year. A customer ordered two, one for him and a friend, and only picked one up. I went home, picked up my wife, and she approved the color and we bought the camper. It was delivered to my shop the next week.
Next, I went down to the local Ford dealer and ordered the truck. Afterward, I talked with Intercontinental truck bodies about a flat deck. The head guy came to my shop and measured the camper and the headache rack to ensure clearance for the swing-out brackets.
Instead of a 4-foot plus overhang off the end of an 8-foot standard box, the camper sits on 10-foot wood deck with no stress cracks appearing on the rear section of the camper.
The truck rides and handles nicely. My rig is 1,500 pounds underweight on a typical camping trip. I have left other overweight campers behind doing the speed limits on windy mountain roads.
I never have dropped the jacks down to stabilize the camper while camping. The F-550 gross vehicle rating for that year was 18,000 pounds. The new Class 5 trucks are now rated at 19,500 pounds.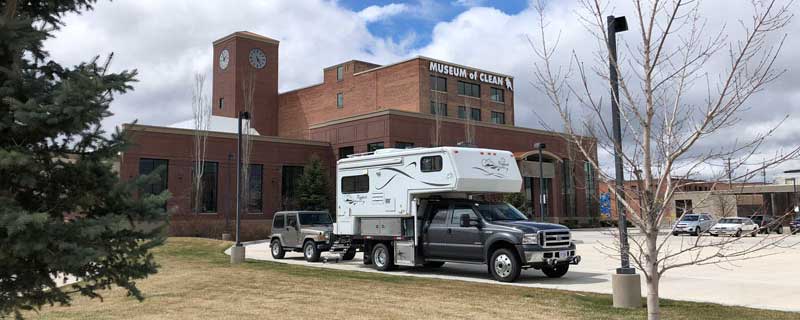 Above: Harvest Hosts location
One of the realities in life is that you should only do what you can afford, and you have to justify your uses. We do more camping than flying to warm destinations.
I have a few regrets. The only thing I would have liked is to have a longer wheelbase. The only two options at the time were 176 or 200-inches. From what I have observed, the new triple-slides should be on the longer wheelbases.
Post farming, I have been a commercial driver for 15 years. We size the truck for the load. The load is only on long enough to deliver, and we don't overhang the load and max out rear axles."
George Hedrick
2016 Ford F-550 / 2016 Arctic Fox 990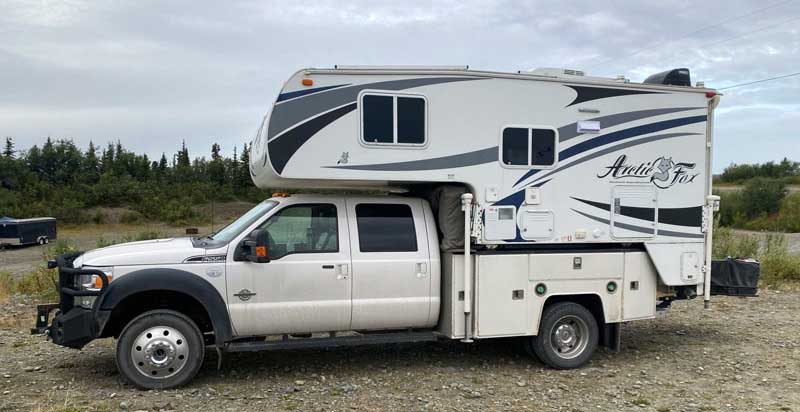 Above: Eureka, Alaska
"I purchased a 2016 Ford F-550 crew cab, dual rear wheel, four wheel drive truck. After careful scrutiny of the F-series line-up, interfaced with our intended usage, my purchase decision was based on two essential factors; payload capacity and heavy-duty suspension system. Based on my engineering background, I targeted a vehicle capable of operating at 60-percent or less of the stated capacity.
Our F-550 cab and chassis were outfitted with a custom Douglas truck utility body specifically designed for an Arctic Fox 990 camper. The camper anchors directly onto embedded mounting plates. The F-550 provides maximum payload and suspension capability so no additional truck modifications were needed.
The Douglas utility bed has given me tremendous organized storage capacity for two mounted spares, extensive tools, and safety equipment. I also have a Torklift Magnum SuperHitch capable of 30,000 GTW. I have 90 gallons of fuel capacity; 40 gallons aft and 50 gallons midship, fully loaded. I have a towing range of 810 miles.
A Fab Four bumper with a custom 3/8-inch steel rock guard was also added along with a Warn winch with 16,500 pounds capacity and a light bar. The light bar is 20-inches long and mounted high on the rock guard for maximum side-of-road visibility and running boards.
With enhanced payload capability, our F-550 rides like a Cadillac. Heavy-duty suspension provides no swaying or rocking during bumps and turns. With heavy payload and towing, the average oil temp is 220 degrees.
The F-550 gives a very secure ground contact feeling. The load range G/10 ply tires provide excellent sidewall protection. Our winter tires are Michelin XDS2 10-ply. These tires are specifically designed with a softer rubber composition for arctic weather and provide a softer winter drive. Other than the across-the-board complaints about running DEF, the balance of payload capability and heavy suspension with our customized Arctic Fox camper-to-bed installation is the dream of the biggest boy toy. The unit is manly and oozes of function and capability.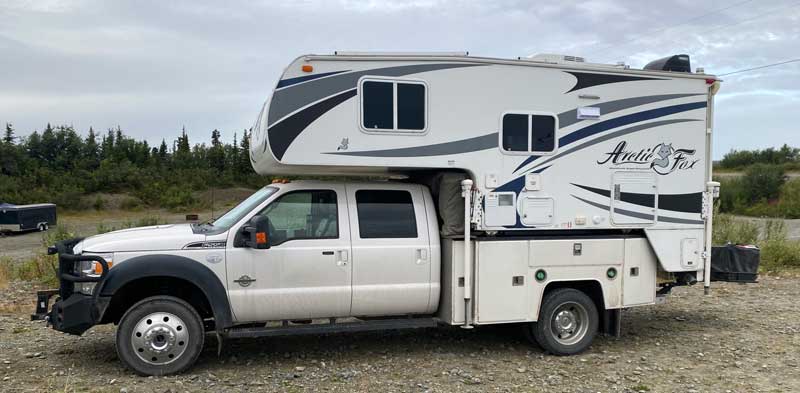 As in any project, prep work is 90-percent of the expenditure. Spending time for evaluation and analysis of truck technical specs along with the careful estimation of fully loaded camper payload is a must. The 60-percent rule was my guiding principle for interfacing a truck and camper selection.
Do not pinch pennies. Pay upfront for the required capabilities in order to avoid costly down-the-road added sway bars, springs, radiator coolers, etc. A correctly technically matched truck camper unit can help to prevent a catastrophic highway or off-road event and provide a secure peace of mind for your camping travels."
Tony Shelton
2017 Ford F-550 / 2016 Eagle Cap 1200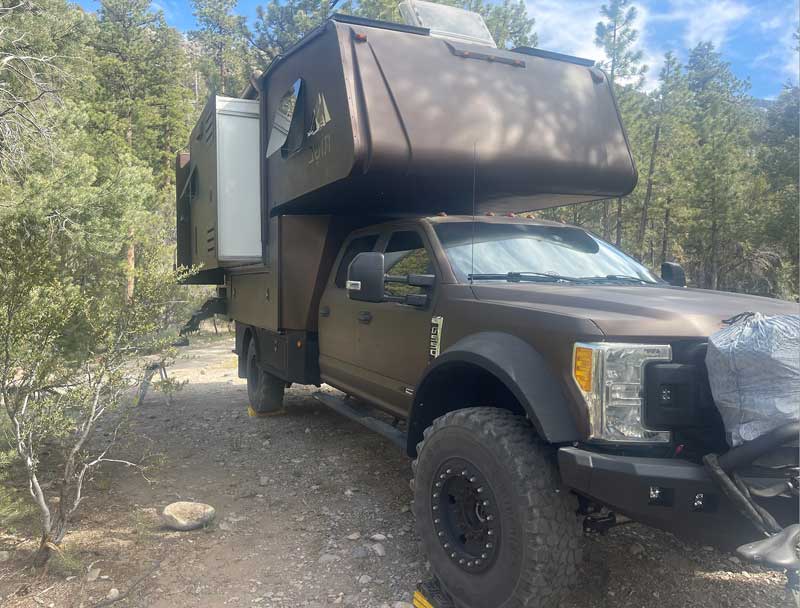 Above: Mt Charleston, Nevada
"We currently have a 2017 Ford F-550. Our first truck camper about 17 years ago was a Lance 980 on an F-450. We've tried F-350s, both dually and single rear wheel, and never regained the stability we had with the original F-450. A few years ago we purchased a triple-slide camper and the F-550 was the only truck that made sense to us after trying the others.
Our first F-550 was a cab and chassis with a Roll-A-Long bed conversion. It looked nice but lacked functionality. Our 2017 F-550 is a cab and chassis with a CM SK flatbed. It has much more functionality and I don't see us ever going back to a bed model. Mods include 3-inch angle irons to hold the camper in place, and a body built around the camper to enclose the entire flatbed.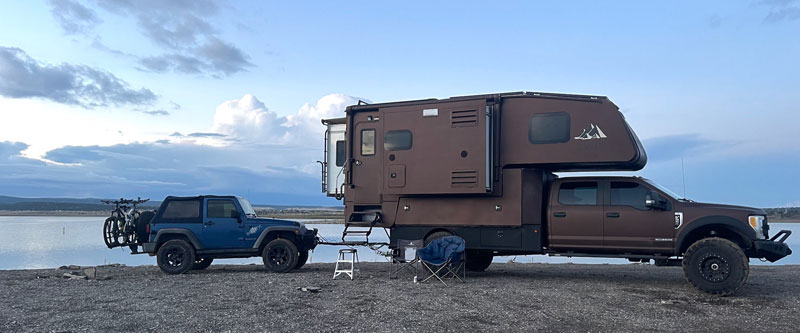 Above: Las Vegas, New Mexico
Our F-550 has been converted to super singles. It also has Sulastic Shackles and Fox 2.5 shocks all around. The ride on the larger tires is phenomenal. There is nothing I would change.
I'd say go flatbed from day one. You'll love the storage. You might want to look for a hybrid steel/aluminum flatbed to save weight."
Eric Beatty
2005 Ford F-550 / 2013 Eagle Cap 1165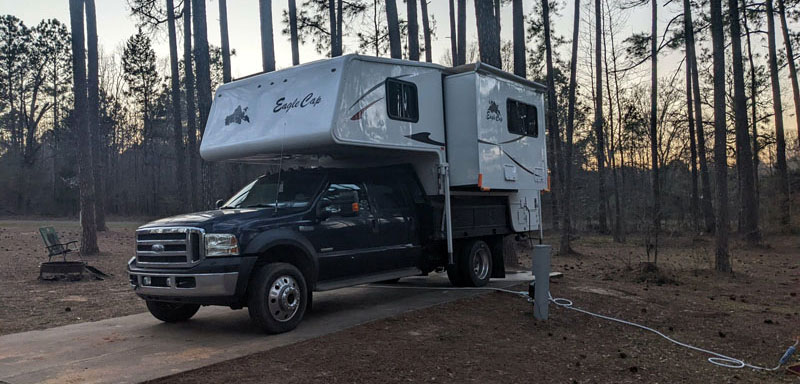 Above: Lake Hawkins RV Park in Texas
"I have a 2005 Ford F-550 diesel four wheel drive truck. I bought it simply because we planned on moving up to an Eagle Cap 1165. At the time we had a Lance 1181 and it was on the heavy side for my Ford F-350.
We wanted to have a monster camper and not have to worry about what we wanted to take with us. I told my wife that if we got the F-550 that she could load it how she wanted to. "If it fits, it ships".
We sold our 1181 and bought the house – I mean the Eagle Cap – and have been very happy. The truck handles the load great and we have loaded it. I have a weight slip for 18,730 pounds. So, no matter what people think, the big triple-slide campers are just too big for the smaller trucks even the F-450 and 4500s.
I bought my truck used and it already had a heavy-duty flatbed with toolboxes. I modified the bed to fit the camper. To my surprise, it didn't take much. The Eagle Cap is a wide body design so it was just wide enough to clear the width of the flatbed. I had to trim off the lumber horns that went up past the top of the headache rack, took out the fixed gooseneck hitch, and laid down some 3/4-inch rubber horse stall mat. That's about all I had to do to make the camper fit.
My experience has been super positive. The truck rides great with the load and is super stable. There is little to no rocking or porpoising even on the roughest roads. This truck with the super heavy monster camper rides and handles better than the Lance on my previous F-350. Neither of my trucks was newer so other people may have a different experience, but for anyone running older trucks, the F-550 is the way to go; even with the larger single-slide campers.
Even if you don't need the extra payload, the F-550 trucks are built stronger to handle commercial abuse; bigger brakes, stiffer frames, and tougher heavy-duty parts everywhere. An overbuilt truck will last longer and perform better than a truck pushed within an inch of its life.
My advice to anyone who is getting into truck camping is to always buy the biggest truck you can afford, even if it is more than you need now. Plans and needs change over time and trucks are super expensive. It's better to spend a few grand extra when you buy a truck and have all the payload or towing capacity you would ever need than to buy a smaller truck and have to replace it a year or two later because you decide to buy a bigger camper or trailer.
For example, a Ford F-350 will always perform better than an F-150 in any towing or hauling situation and these days you don't really give up any comfort by going with the F-350 over an F-150. The same goes for the F-550 over the F-350. Running empty, the F-550 does ride a little stiffer than the F-350, but not nearly as much as you would think."
Ted Werner
2011 Ford F-550 / 2019 Northstar 12STC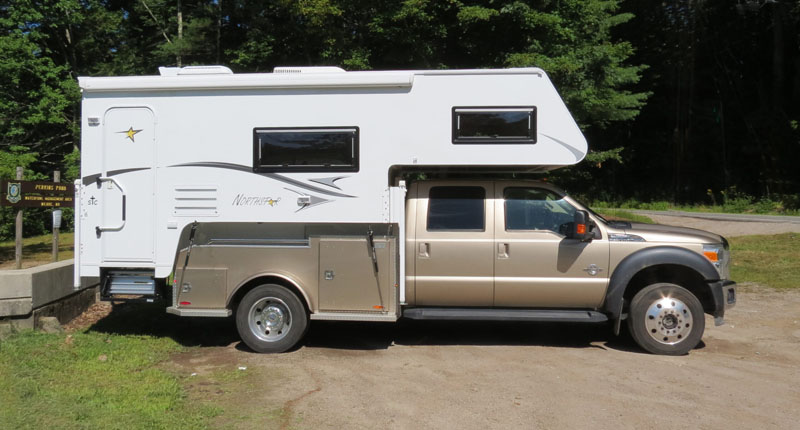 Above: Perkins Pond, Weare, New Hampshire
"We purchased our 2011 Ford F-550 Lariat crew cab, four wheel drive dually truck in July of 2010. When we hooked up our 2006 Ford F-350 to our fifth-wheel trailer and experienced the sag and lack of response, my wife turned to me and said, "We need a bigger truck". I love this woman! An F-450 would have just done the job, but I wanted to have a measure of extra confidence. We went with the F-550.
I originally had the bed constructed with two requirements. First, I needed space to house my stacking tool drawers. Second, I needed space for the spare tire.
Over time my needs changed somewhat. I found I could not comfortably lift the 19.5-inch spare tire. And since a dually has six tires, I could always steal one to use in another position in an emergency. So I sold the spare. When it came time for the move to a truck camper it was a matter of reconfiguring the spare tire cabinet in the front of the bed to make room for a slide-in camper.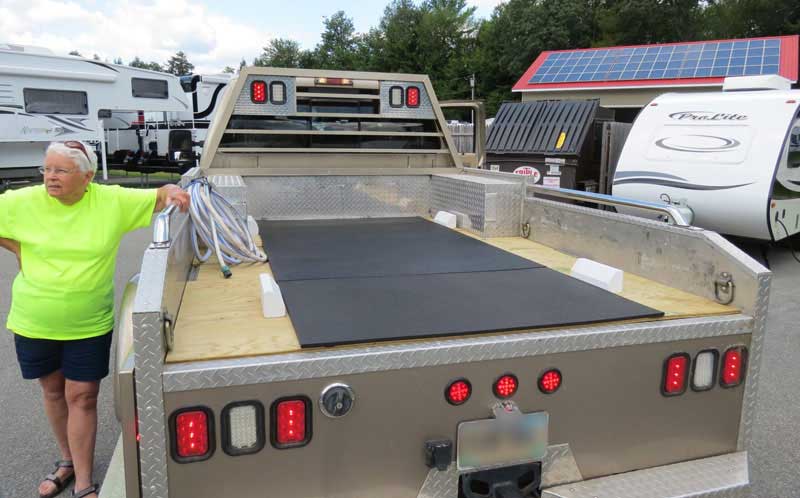 Above: Truck Camper Warehouse, Chesterfield, New Hampshire
We purchased a 2019 Northstar 12 STC camper. Loaded, it weighs about 5,000 pounds. The truck has a full air bag suspension in the rear and is very capable of handling the load. The only issue I have with the suspension is that it rocks a bit more on the air bags than I think it would with a leaf spring suspension. This is really only noticeable at slow speeds in campgrounds.
I love the gearing of the truck and will be keeping it for quite some time, especially given the cost of a new truck. I'm still on the fence as to whether the air bag is the correct suspension. It does cushion the road irregularities, but I don't have a leaf spring suspension to make a comparison."
Bill and Joan Ferguson
2016 Ford F-550 / 2010 Arctic Fox 992

Above: Columbia, Missouri 2017 solar eclipse
"A bit of history first. We purchased a 2010 Arctic Fox 992 and we brought it home on our F-250 truck. That was a bit tricky! That fall, we purchased a new 2011 Ford F-350 gas and had to beef it up with springs, air bags, a heavy-duty torsion bar, etc. We traveled with this vehicle through 2015. We were never really happy with the suspension or the way it handled when descending in the mountains.
During this time, we read the Truck Camper Magazine article, "Building the Perfect Truck Camping Beast" featuring Dan and Kim Rounsley from Juneau, Alaska. We called them twice before making a final decision about a larger truck, an F-550, and a custom body that would be required. We followed their advice and contacted Douglass Truck Bodies and began our journey with them.
We spec'd and bought our 2016 Ford F-550 diesel-powered truck from our local dealer and arranged to have it drop shipped from Kentucky (where it was being built) to Bakersfield, California, home of Douglass Truck Bodies. The process could not have gone smoother or in a more timely manner.
Our equipment bed was similar to the Rounsleys. We added our own options that Douglass offered including shelved compartments, a spray-on bed liner, a trailer hitch, and other options. When all was said and done, we flew to California to pick up the completed truck and bed and hoped our camper would fit when we arrived home in Fond du Lac, Wisconsin. It did.
We love the truck and camper combination. I like to have my tools and accessories handy, so I have installed 110-volt electrical receptacles in all compartments to handle my 110-volt air compressor with a 50-foot retractable hose, two spare deep cycle 12-volt batteries, and a 12-volt charger for my Milwaukee tools. This can all be powered by the camper generator or shore power.
We also added a 20-gallon potable water tank in the area between the camper and the front of the truck bed. We built a narrow storage cabinet mounted on the truck bed between the camper and the rear window. We added a Ranch Hand brush guard with an added light bar and 16.5 Warn winch. We're now all decked out. We're starting our eighth year with this rig and it is still like new. We could not be happier!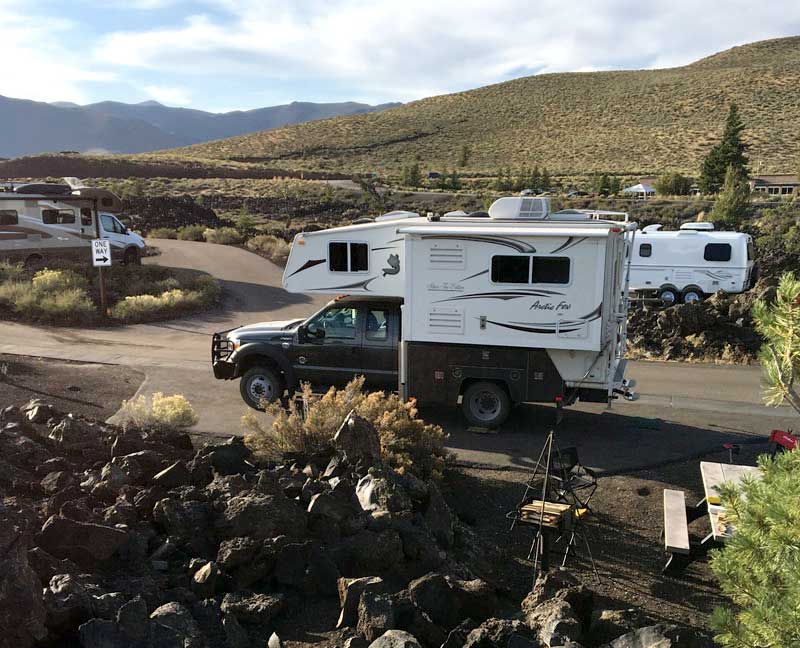 Above: Craters of the Moon National Monument and Preserve
We should have done this sooner! Douglass Truck Bodies is a great company to work with. The paint used exactly matches our truck and has held up well. If you live in an area such as ours where we have salt on the road in winter, be sure to get the undercoating that they now offer.
We did not have to beef up the truck in any way. The F-550 suspension handles our camper perfectly. We average 11-11.5 mpg when traveling. Our longest trip was over two months when we traveled to Alaska and back. You can't beat the extra storage the equipment bed has to offer."
Edward Walker
2022 Ford F-550 / 2017 Eagle Cap 1165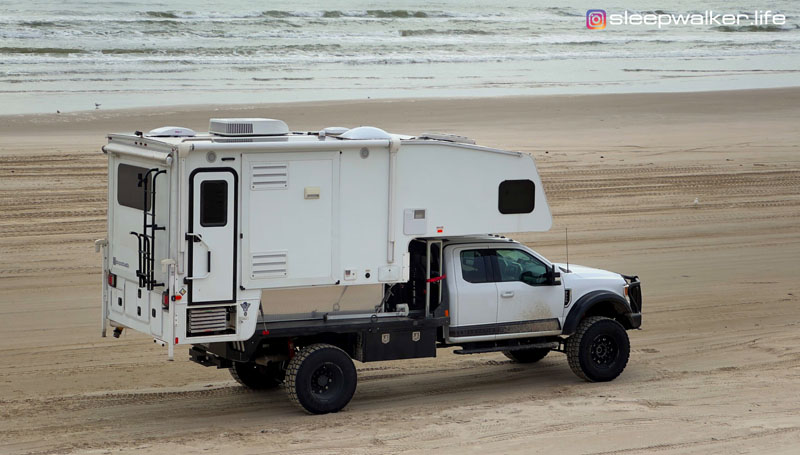 Above: North Padre Island National Seashore, Texas
"We moved from a 2015 Ford F-350 Platinum crew cab with a 6.7 diesel to a 2022 Ford F-550 Lariat Super Cab with the 7.3 Godzilla gas engine. We upgraded from the F-350 to get the extra payload capacity when moving from a Northern Lite to a heaver triple-slide Eagle Cap 1165 camper. We moved from diesel to gas for reduced complexity. We went from an eight-foot pickup bed to an 84-inch CA truck to give us extra 18-inches of bed length. We then went with a super cab instead of a crew cab to get 10-inches of that length back. Our dogs do not mind the loss of leg room in the rear seats. The F-550 only ended up 8-inches longer than our F-350, but due to the wider-track front end, it has a much better turning radius.
The truck came as a cab and chassis. The 700-mile drive home unloaded was a backbreaker. We put an 11-foot flatbed on the truck and we are now in process of building out custom side boxes and a front storage box with a bicycle slide inside. The extra storage space was a big motivating factor to go flatbed. It is also allowing us to move our Eagle Cap's center of gravity forward by moving 110-pounds of propane and the generator out of the Eagle Cap's rear overhang. We are sharing our entire build process on Instagram at sleepwalker.life.
So far the experience has been great. We've put just over 6,000-miles on this setup. Our preferred destinations are in the Colorado, Utah, and Wyoming backcountry so we have built our truck to be able to get to the places that we love with a single-wheel conversion (41-inch G275 tires). The ride in our truck is remarkably good because we had a Liquid Spring suspension system installed. The F-550 rides so well that I have to remind myself we are 18,000 pounds and drive accordingly; it is easy to forget we are huge and heavy.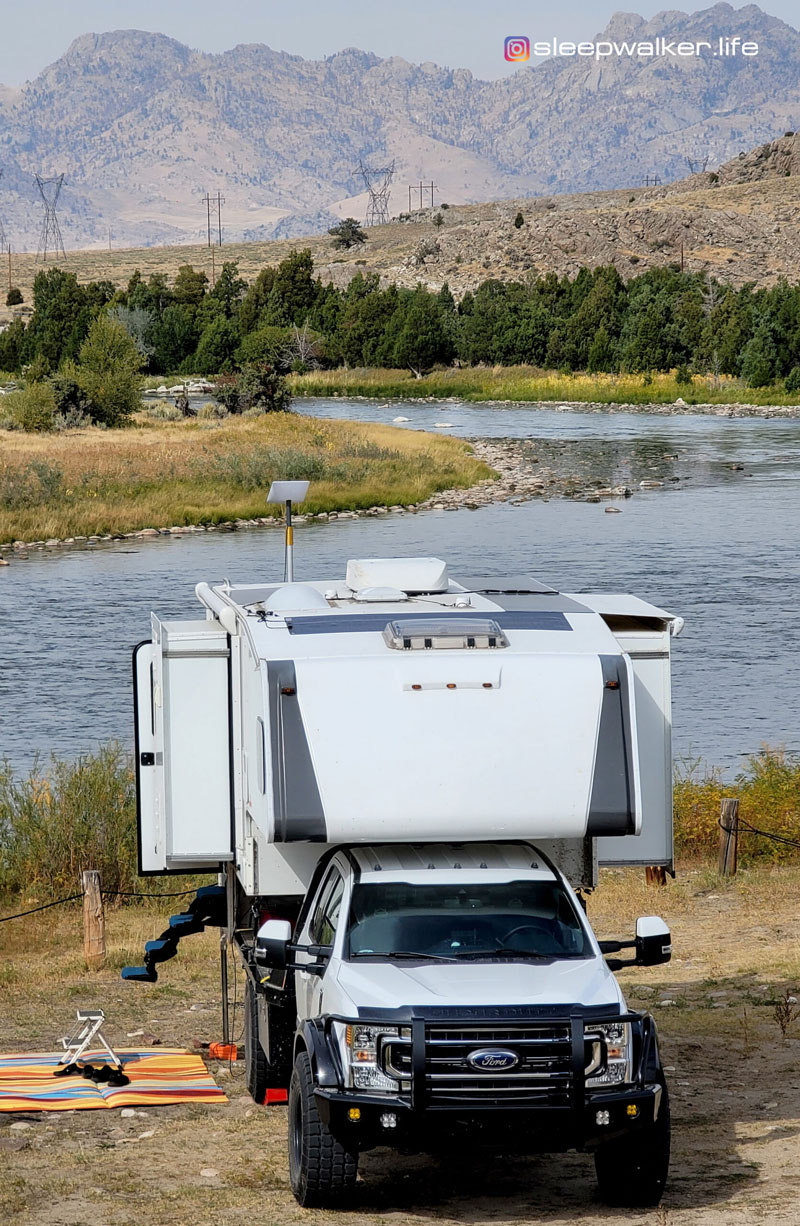 Above: Miracle Mile, Wyoming
Originally I hesitated on an F-550 because of the commercial vehicle insurance requirement. It turns out it is easy to get a commercial vehicle for personal use policy and the costs are in line with our F-350.
My advice to others is to know your weight! Doing so is easy. Download the free "weigh my truck" app on your phone and the next time you are near a truck stop drive up onto the CAT scale. It costs $13 (paid in the app) and the data appears on your phone.
After you have this data you can look at your vehicle's GVWR sticker that is inside the driver's door and decide what is right for you. Our setup varies from 17,500 pounds to 18,500 pounds depending on what we are up to. We were at 18,500 pounds on a recent twelve-day trip with bikes, kayaks, etc."