Welcome to the fourth entry in April's Mega Mod-Ster Contest.  One beguiling Mega Mod will be published in every Email Alert in April.  At the end of the month we'll hold a reader vote to determine April's winner.  For information about the Mod-Ster Contest, including how to enter, click here.
Kevin Mooney, Nimpo Lake, British Columbia
Flatbed Truck Box Storage Containers
2014 Ford F-350
2006 Okanagan 106UDB
My wife and I have owned a few truck campers over the years and have always found them lacking in exterior storage space. A flat deck truck allows you to pack a lot of stuff under the camper wings. Couple that with some under deck aluminum boxes, and the amount of storage is huge!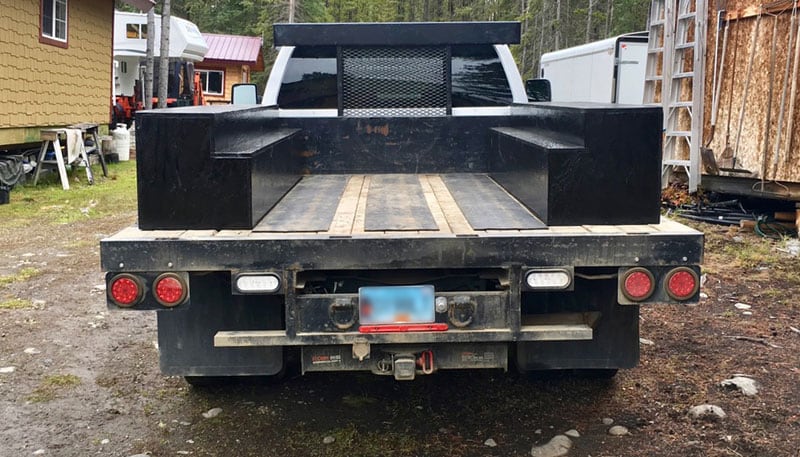 The flat deck has also turned out to be very handy. The deck boxes never have a lot in them. If we need a quick and easy place to put stuff after shopping, we have it. There is also no need to open the slide or climb inside the camper. When you get to where you are going, you can unload or move stuff around accordingly.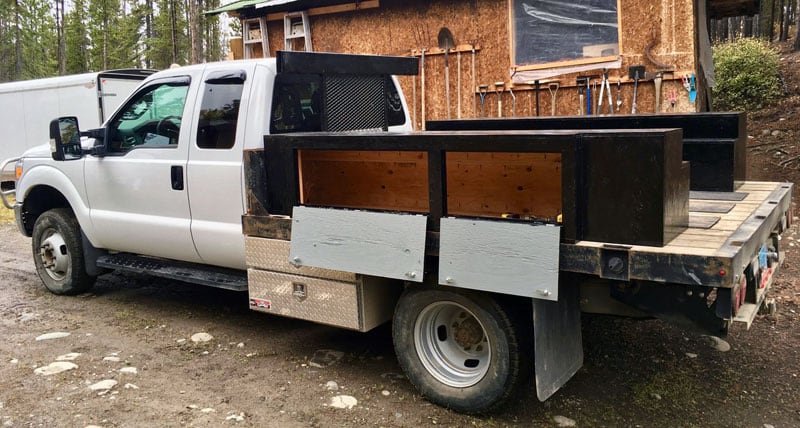 In case you didn't notice, one caveat is that your truck is not going to win any beauty contests compared to a truck with a regular box on it. I believe Red Green coined the phrase, "If women don't find you handsome, they should find you handy". I think that sums up the look perfectly.

I spent hours thinking and measuring this out because I knew there wasn't going to be a lot of room for error. I wanted to maximize as much space as possible inside the boxes. To do this, I fastened all the 3/4-inch plywood together with pocket hole screws. This required a jig and will be an added expense if you do not own one.
I considered using 2-inch by 2-inch wood along all the joining areas. Then I would screw everything together from the outside. I did not go in this direction as I was concerned about all the exposed screw heads and water/rot over time. That said, this approach would have been much easier and quicker to build.
I also thought about just buying aluminum truck boxes. Due to the gull wing design and the way my tie-downs attach, it would have meant a bunch of cutting and welding. I'm better at making sawdust.
There are many angles that were required with these boxes. I made many different drawings so that I could confirm all the dimensions, and I still ended making a couple of mistakes. I'm glad I had an extra sheet of plywood on hand!
Once I was comfortable with how all the pieces fit dry, it was time to break out the glue and clamps, and screw everything together.
When you have construction adhesive on the two joint surfaces, they are slippery. When you put the screw into the pocket hole and tighten, it has a tendency to pull the wood out of position a bit. Since this was just too frustrating to try and manage with one set of hands, I ended up asking my wife, Lori, to help out.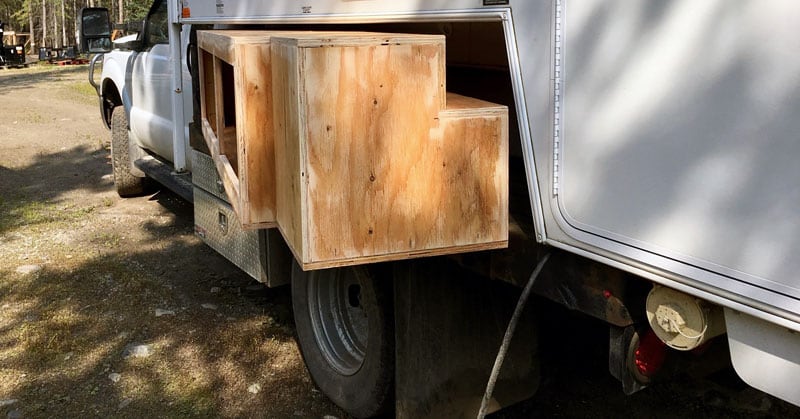 Once everything was glued and screwed, the boxes were very solid. I used stainless steel hinges and thumb turns with locks for the doors. I also used strips of wood inside of where the doors sit to create a weather seal of sorts.
I debated using foam tape as well, but decided to see how it worked first. Because the boxes are above the deck, there has been no water and very little road grime or spray getting in.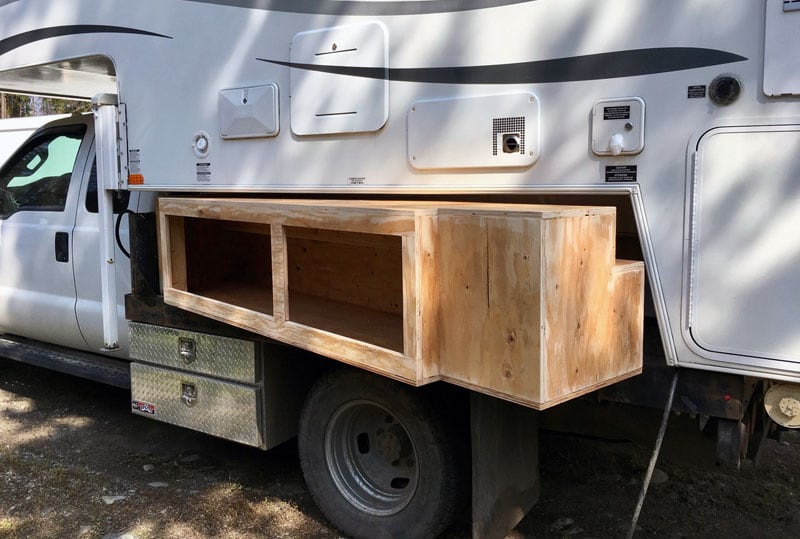 I screwed the boxes to the wooden deck with some pretty heavy screws. Even with the camper being against one box or the other, nothing has moved. Of course the camper still has its tie-downs, but we travel a lot on rough gravel roads and things tend to move a bit in those conditions.
I knew we were going to gain a fair amount of exterior storage space, but it is just simply amazing how much more we have. There is not a time when I am wishing for more.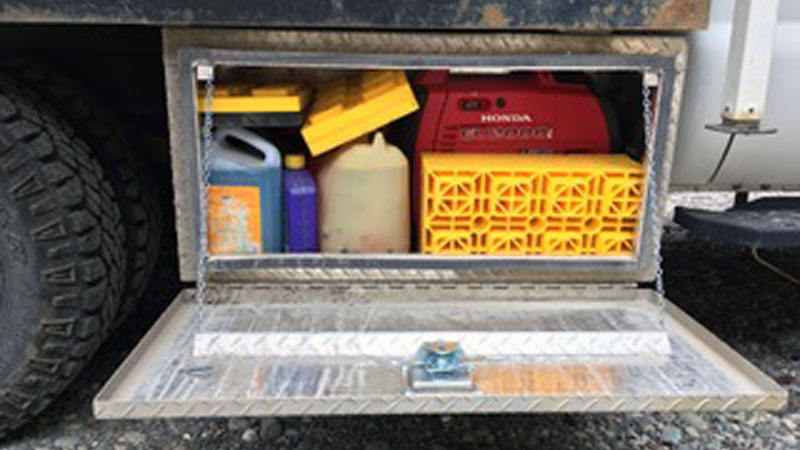 In one of the aluminum under deck boxes I have my Honda generator, spare gas for it, spare oil, and antifreeze.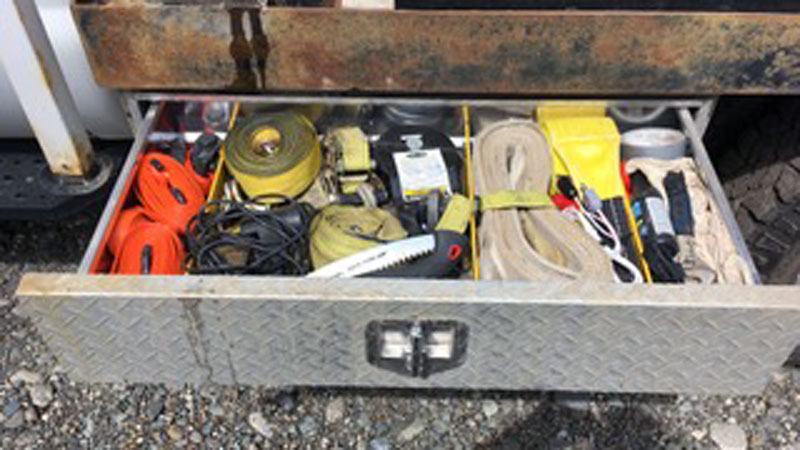 On the other side in a drawer-style box I store all my tow straps, snatch blocks, shackles and other miscellaneous stuff. Below that is the air compressor, saws, axes, hoses, etc. The beauty of this type of storage is that it keeps your weight low as compared to on top of the deck.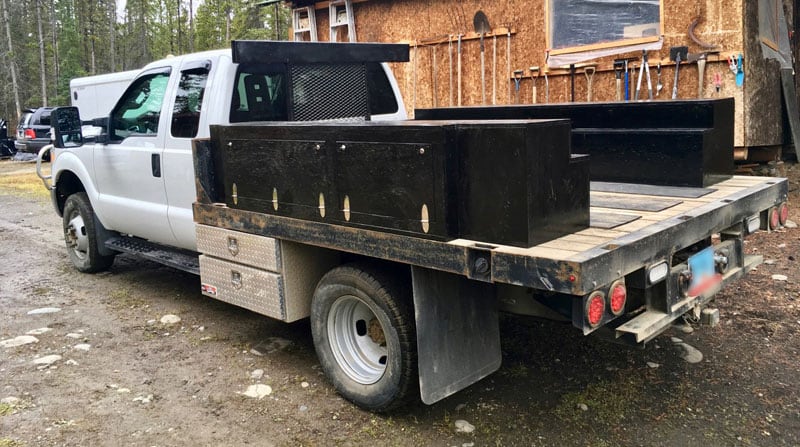 We live, travel and camp in remote areas with no cell service or internet. We have to be pretty self-reliant or we could wind up in a bad spot. These boxes and storage have allowed us to carry all the extra gear we require. When heading into areas with limited fuel or water, I can easily carry an extra 20-gallons of each.
It took me three to four days to complete this modification with no instructions. It cost me $200 not including time or the jig. In my opinion, the skill level of this modification is extremely hard.
Disclaimer: The modifications above are submitted by Truck Camper Magazine readers. It is your responsibility to make sure that any do-it-yourself modification project you undertake is safe, effective, and legal for your situation.
Enter Your Mods Now!
Click here to enter a modification on your truck camper.  You can enter as many mods as you want, at any time.  Good luck mod makers!