From their home in Juneau, Alaska, Kim and Dan Rounsley designed their perfect truck camping beast; a Ford F550 and an Arctic Fox 990S.

If we were to ask, "How many of you would like a custom truck camper storage bed?", we have no doubt that many hands would shoot up, some waving frantically like kids that really need to go to the bathroom.  A few grown men might even start shouting, "Ouuu-Ouuu!" and, "Pick-Me, Pick-Me!"  Yes, some of us get a little excited when the subject of custom camper storage beds comes up.
So why don't we see more customer storage beds on truck camper rigs?  The most common answer is cost, but maybe there's something more to it.  Perhaps it's the inertia such a project entails.  After all, the custom bed company needs your truck if they're to do the best job possible.  That means planning to deliver your truck, and then not having said truck for a period of time.
Which leads us to today's story with Kim and Dan Rounsley.  In a classic case of necessity as the mother of invention, they ordered a new Ford F550 truck from their home in Juneau, Alaska and had it delivered directly to Douglass Truck Body in California for a custom camper bed installation.
Now there's an idea; get the custom camper bed installed on the truck first.  Imagine the commotion we would create if we asked a truck camper rally crowd, "Who wants a new truck with a custom truck camper storage bed already installed?"  Break out the tranquilizer darts, it's going to get a little wild.
To further abandon our journalistic responsibilities for peace and well being among truck camper kind, we got the complete story on exactly how Kim and Dan's amazing rig came together.  Sorry folks, go nuts.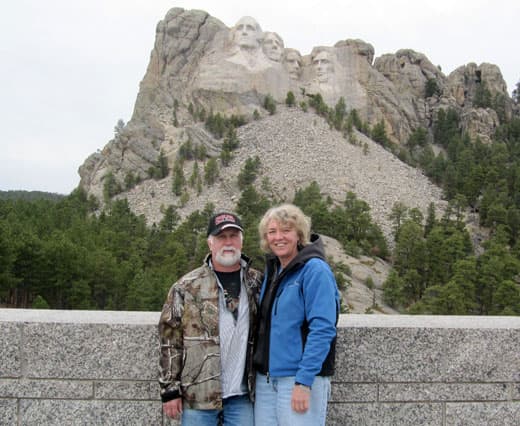 Above: Dan and Kim Rounsley at Mt. Rushmore, South Dakota
TCM: How did you get into truck camping?
Dan: Before we bought our truck camper, we had rented Class C motorhomes.  We live in Juneau, Alaska and use the Alaska Marine Highway system of ferries.  The Alaska Marine Highway charges by the foot on the car deck.  To save money, we needed something shorter in length than the typical Class C.
Another reason I chose a truck camper was to tow a boat.  Naturally, I don't tow a boat onto the ferries, but I do enjoy the many boating opportunities around Juneau.
Finally, the ease of loading and unloading the camper was very appealing.  Taking the camper off or on takes me about fifteen minutes.  After some practice, the Rieco-Titan electric jacks make quick work of loading and unloading.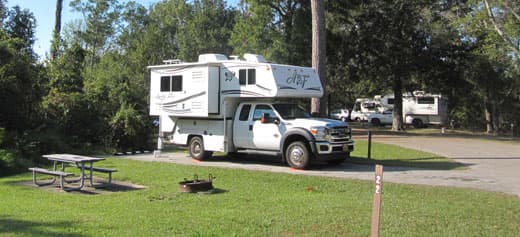 Above: Gulf Shores National Park campground in Mississippi
TCM: Loading and unloading does take practice.  Living in Juneau, how did you go about buying your truck and camper?
Kim: We actually bought the truck from a dealer in Portland and had it shipped to Douglass Truck Bodies in Bakersfield, California to have the custom storage bed installed.  The truck is a 2012 Ford F550 XLT super cab diesel long bed with four wheel drive.
At the time we were reading where-rv-now.com, a blog about a couple who bought a Lance Camper and got a Douglass Truck Body installed on a F550 about eight years ago.  They detailed how to build the perfect beast, and we followed their model.
TCM: Only you chose an Arctic Fox 990.  When did you get your truck camper?
Kim: We went to a January RV show in Seattle and bought the Arctic Fox at the show.  From that point we did everything over the internet until October when the truck, camper, and custom bed was finally completed.