From their home in Juneau, Alaska, Kim and Dan Rounsley designed their perfect truck camping beast; a Ford F550 and an Arctic Fox 990S.

If we were to ask, "How many of you would like a custom truck camper storage bed?", we have no doubt that many hands would shoot up, some waving frantically like kids that really need to go to the bathroom.  A few grown men might even start shouting, "Ouuu-Ouuu!" and, "Pick-Me, Pick-Me!"  Yes, some of us get a little excited when the subject of custom camper storage beds comes up.
So why don't we see more customer storage beds on truck camper rigs?  The most common answer is cost, but maybe there's something more to it.  Perhaps it's the inertia such a project entails.  After all, the custom bed company needs your truck if they're to do the best job possible.  That means planning to deliver your truck, and then not having said truck for a period of time.
Which leads us to today's story with Kim and Dan Rounsley.  In a classic case of necessity as the mother of invention, they ordered a new Ford F550 truck from their home in Juneau, Alaska and had it delivered directly to Douglass Truck Body in California for a custom camper bed installation.
Now there's an idea; get the custom camper bed installed on the truck first.  Imagine the commotion we would create if we asked a truck camper rally crowd, "Who wants a new truck with a custom truck camper storage bed already installed?"  Break out the tranquilizer darts, it's going to get a little wild.
To further abandon our journalistic responsibilities for peace and well being among truck camper kind, we got the complete story on exactly how Kim and Dan's amazing rig came together.  Sorry folks, go nuts.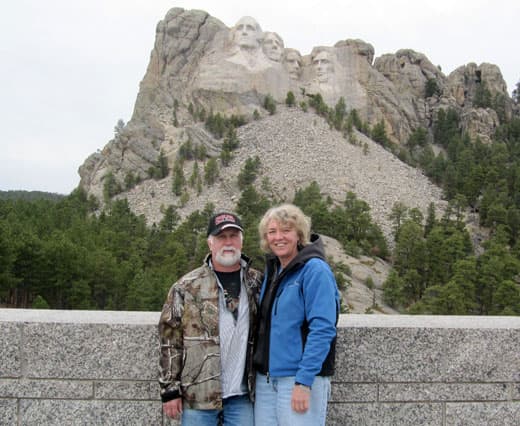 Above: Dan and Kim Rounsley at Mt. Rushmore, South Dakota
TCM: How did you get into truck camping?
Dan: Before we bought our truck camper, we had rented Class C motorhomes.  We live in Juneau, Alaska and use the Alaska Marine Highway system of ferries.  The Alaska Marine Highway charges by the foot on the car deck.  To save money, we needed something shorter in length than the typical Class C.
Another reason I chose a truck camper was to tow a boat.  Naturally, I don't tow a boat onto the ferries, but I do enjoy the many boating opportunities around Juneau.
Finally, the ease of loading and unloading the camper was very appealing.  Taking the camper off or on takes me about fifteen minutes.  After some practice, the Rieco-Titan electric jacks make quick work of loading and unloading.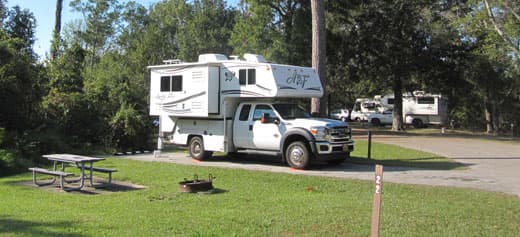 Above: Gulf Shores National Park campground in Mississippi
TCM: Loading and unloading does take practice.  Living in Juneau, how did you go about buying your truck and camper?
Kim: We actually bought the truck from a dealer in Portland and had it shipped to Douglass Truck Bodies in Bakersfield, California to have the custom storage bed installed.  The truck is a 2012 Ford F550 XLT super cab diesel long bed with four wheel drive.
At the time we were reading where-rv-now.com, a blog about a couple who bought a Lance Camper and got a Douglass Truck Body installed on a F550 about eight years ago.  They detailed how to build the perfect beast, and we followed their model.
TCM: Only you chose an Arctic Fox 990.  When did you get your truck camper?
Kim: We went to a January RV show in Seattle and bought the Arctic Fox at the show.  From that point we did everything over the internet until October when the truck, camper, and custom bed was finally completed.
It was good timing because we enjoy being in Juneau in the summertime.  Since summer had passed, we were ready to pickup our rig in the Lower 48.
Dan: We decided to get the Arctic Fox 990 because it featured insulated thermo pane windows and seemed better suited for cold weather camping.
Kim: We also liked the weight and length of the 990.  We wanted our final rig to be as short as possible for the least expensive ferry ticket.  The length of our truck and camper is twenty-four feet.
TCM: Why did you want a custom truck body?
Kim: When we were designing our rig, we decided that we needed a bigger truck to handle the weight of the camper and to tow our boat.  Since we went with the F550, we had plenty of payload for a service body which would give us a lot more exterior storage.

Above: Dan and Kim's truck body being built at Douglass Truck Bodies
TCM: It's amazing that you were able to coordinate the assembly of your rig from Alaska.  Tell us about working with Douglass Truck Bodies.
Kim: Douglass recommended their standard camper body and wanted to have the camper on site before building the bed.  They could have built the bed without the camper on site, but they said that the fit would be better if they had the camper on hand for measurements.  They would also be able to check the fit between the camper and camper body before the rig left their facility.
Once that was settled, they explained the available options, had us choose what we wanted, and gave us drawings of our camper bed.  It was a very easy process.
Dan: They had our truck for about a month and a half based on our schedule.  We got just about every option Douglass offers from the diamond plate exterior to the armor coat in the bed.  If you look on the Douglass Truck Bodies website under camper bodies, there's a photo layout featuring our camper bed.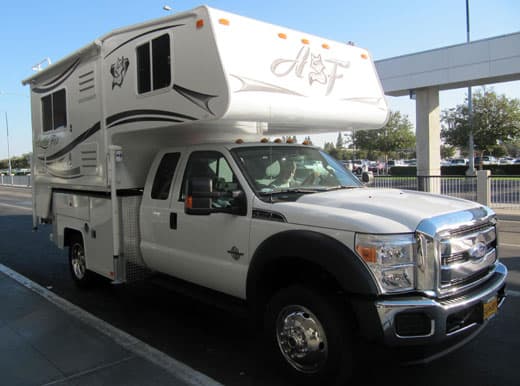 Above: The Arctic Fox and the Ford F-550 at the Fresno, California airport the day the Rounsley's picked up their rig
TCM: How did the Arctic Fox fit onto the standard camper body?  Were there any necessary adjustments to accommodate the camper?
Dan: Only a few minor changes were necessary.   For example, they made some special notches on the rear doors so they wouldn't interfere with the rear camper jacks.  They also had to angle cut the rear compartment doors for the skirt to make the fit perfect.  Douglass did a really nice job.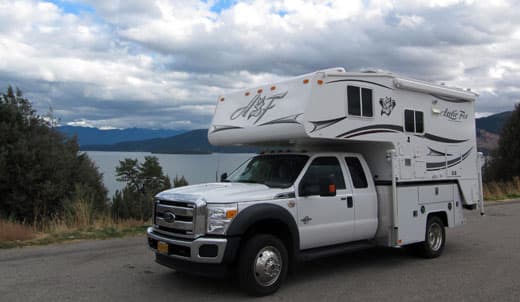 Above: The scenic overlook at Flathead Lake, Montana
TCM: What do you keep in the storage bed compartments?
Kim: Perhaps the most interesting thing we have is a wine cellar.  It's a cardboard twelve bottle case of wine with separators.  When we want a bottle of wine, we just go to that compartment and pull a bottle from our wine cellar.
TCM: That's a first.  We've heard readers joke about wanting a keg built into their camper, but never a wine cellar.
Dan: We call it a wine cellar, but really it's just a place to put a standard case of wine.
Kim: We also keep a pantry with dried goods.  In other compartments we have chairs and a mat for ground cover.  As much storage that there is in truck campers, there's never enough.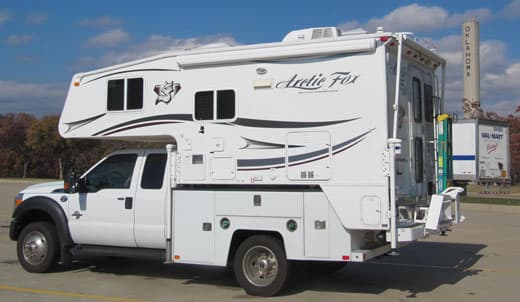 Above: The Oklahoma visitor center entering from Arkansas
TCM: What do you think of the Fox Landing system on your Arctic Fox?
Dan: It's very nice.  Best of all, it folds flat to the rear door and only adds about eight inches to the rig.  We actually had a raccoon climb on it the first night we camped in the new camper.
Kim: The raccoon was a funny surprise.  He looked like a fat cat.  The Fox Landing is a large, sturdy, and stable platform and it's very easy to get it to go up and down.
Dan: The first step is still a little high on our rig so we use a small folding step.
TCM: Maybe it should have been called the Raccoon Landing.  Somehow that doesn't have the same ring to it.  Tell us about your adventures with your truck and camper so far.
Dan: From Douglass Truck Bodies, we traveled up the coast to Oregon and stopped at Apache Camping Center.  They did a short list of adjustments, added a MaxxFan cover, and gave us a thorough walk through of the camper.

Above: The Observatory at the 5,325 foot summit of McKenzie Pass, Oregon, the geysers at Yellowstone National Park, and the Continental Divide in Yelllowstone
Kim: Our first night of real camping was at Cape Disappointment on the coast of Washington.  It's in the Lewis and Clark National Historic Park at the mouth of the Columbia River.  That's where we met the raccoon on our Fox Landing.
Dan: Then we went to Seattle and visited with friends and relatives.
Kim: We continued visiting friends and relatives through Montana until October when we drove into Yellowstone National Park.  It was cold and the seasonal crowds were all but gone.  We were just ahead of the campground closures and had a clear view of the park features and geysers during our visit.

Above: Dead Indian Pass overlooking the Bighorn Basin in Wyoming, and Devils Tower, Wyoming
Dan: After Yellowstone we went to Cody, Wyoming and then Medicine Wheel followed by Devil's Tower.
Kim: Medicine Wheel is a very spiritual place.  It was desolate and amazing. Of course we had seen Devil's Tower in Steven Spielburg's film, Close Encounters.
Dan: After visiting Devil's Tower we went to Sturgis and Deadwood.
Kim: From Deadwood we went to a mining town called Lead.  Lead has the biggest gold mine in the United States.  It's an open pit mine that operated from 1880 to 2002.  Living in Juneau, we are interested in gold mines.
Dan: After Lead we went to Mount Rushmore.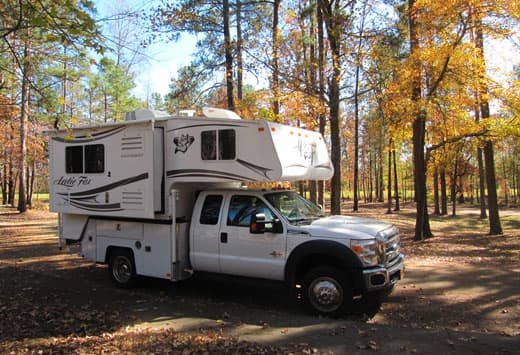 Above: Fall colors in Arnold Recreation Area, Nebraska
Kim: We weren't the only truck camper at Mount Rushmore like we were at the other places.  Wind Cave National Park was our next stop followed by Lincoln and Omaha, Nebraska.  In Omaha we went to the Joslyn Art Museum and drove through the Wildlife Safari Park.  The animals were all around our camper.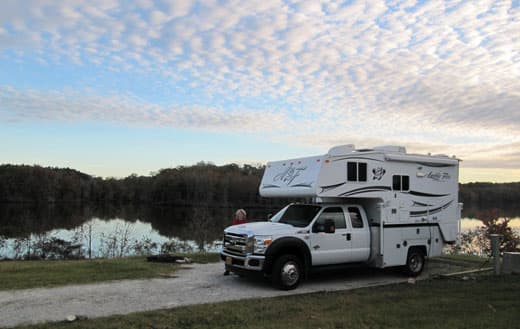 Above: Natchez Trace State Park outside of Lexington, Tennessee
We took our rig across the Missouri River into Iowa and Missouri.  We were doing our best at that point to stay ahead of the weather.  Part of that effort was a stay at Hot Springs, Arkansas.  We spent three days there.
Dan: We also stopped in Branson, Missouri.
Kim: We enjoyed the Fall colors, rolling hills, ridge tops, wild rivers, and hardwoods through the Ozarks.  That whole area is just beautiful.
Dan: Heading south we arrived at the Gulf Coast in Biloxi, Mississippi.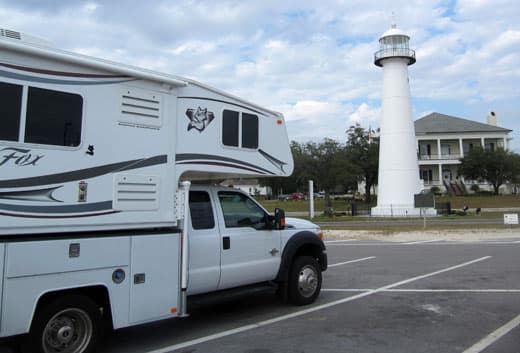 Above: THe lighthouse and visitor center in Biloxi, Mississippi
Kim: We explored Gulf Island National Seashore.  We had never seen the barrier islands in the Gulf of Mexico.  We camped there at Gulf Island National Seashore before heading into Texas and Padre Island National Seashore.  You can camp on the beach there, but we stayed in Corpus Christi, saw the USS Lexington, and visited the Texas State Aquarium.
And that's where we left our camper in a storage unit in Texas.  My brother lives in Houston, Texas and we knew we wanted to fly down to do more exploring in 2013.  Once the camper was in storage, we flew home to Alaska for the winter.
We live next door to Dan's mother and we wanted spend the winter months with her.  We arrived in time for the holidays and we won't return to Texas until the mid-March.  We are hoping to be truck camping for a long time.
Kim and Dan's Rig
Truck: 2012 Ford F550 XLT Super Cab Diesel Long Bed with Four Wheel Drive
Camper: 2012 Arctic Fox 990S
Tie-downs/Turnbuckles: Custom built by Douglass Truck Bodies into the camper body
Jacks: Rieco-Titan electrical jacks
Suspension: N/A
Gear: Douglass Truck Body