East Lake and Odell Lake are two of our favorites.  We can dry camp at these sites for about five days with our holding tanks.  With the 150-watt solar panel system, we never run out of 12-volt power.  We are also spoiled by our water at home coming from a good well, so use it from the tank as long as we can before going to campground water.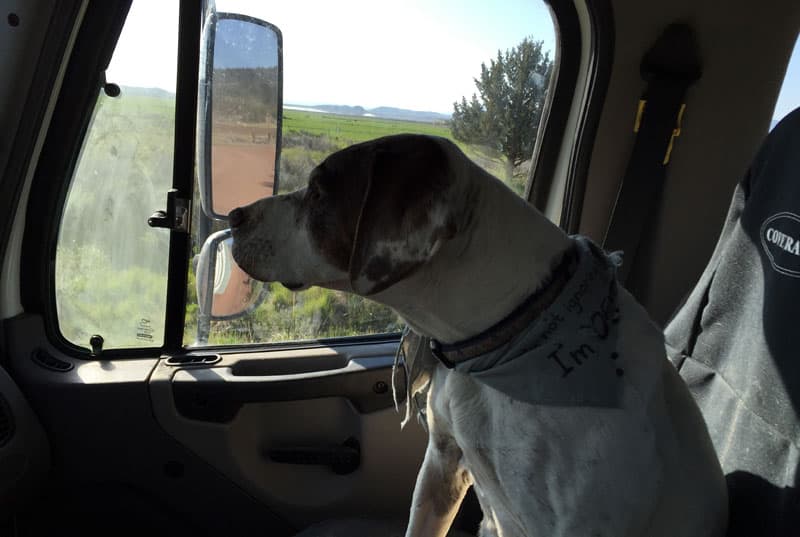 Above: Parker riding in their truck
TCM: Tell us about your dog.  He looks like he enjoys truck camping with you.
Jon: We are down to one dog; an English Pointer named Parker.  We have had as many as three pointers but, due to age, we are down to our 14-year old Parker.  My mother-in-law has a small dog that also travels with us.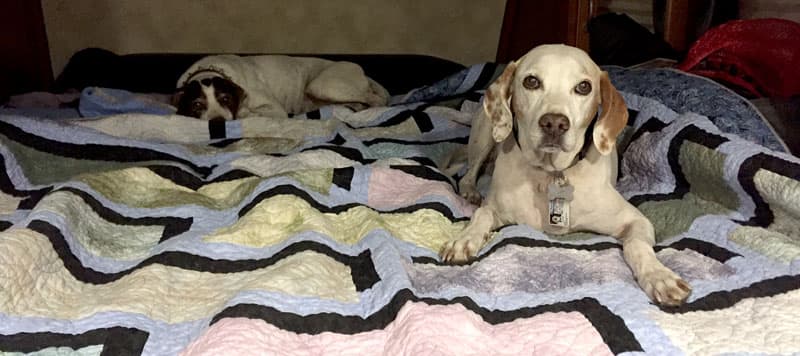 Above: Parker and Sadie in their Arctic Fox camper
TCM: What are your truck camping plans for the future?
Jon: We are looking forward to visiting Alaska and traveling the southern Canadian route to Nova Scotia.  We will explore along the Canadian border in the United States when I retire in a couple of years.
We have also used our camper skills in Australia and New Zealand.  We want to spend more time in Australia and pick up where we left off in Melbourne and go east to Sydney and north up the coast.
Jon and Laurie Schnebly's Rig
Truck: 2004 Freightliner M106, Extended Cab, 4×2, Diesel, Dual Rear Wheel, 16-foot custom flatbed
Camper: 2014 Arctic Fox 1150
Tie-Downs/Turnbuckles: Torklift Fastguns
Suspension: Stock air bags
Gear: Fox Landing step, Torklift GlowSteps, Torklift SuperHitch 4-foot Extension