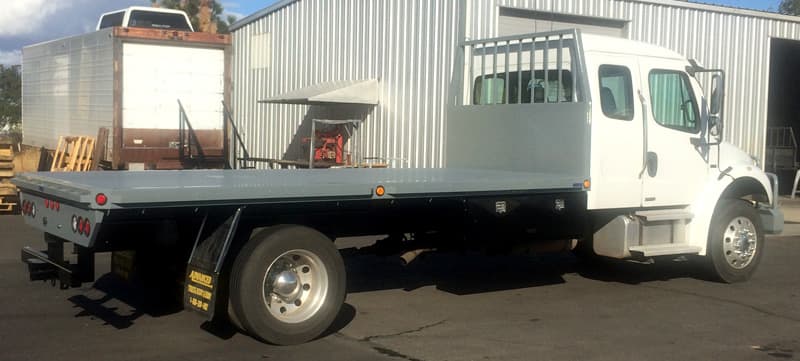 Above: Freightliner with 16-foot flatbed
I decided on 16-foot flatbed, 9-feet of that being the camper, and then 7-feet for the cabover and storage box.  The cab of the Freightliner is really high, so I couldn't do a traditional cabover camper set-up.  The resulting rig would have been 15-feet high, which exceeds the legal height limit.  So, 9-feet of the camper worked out to be on the flatbed.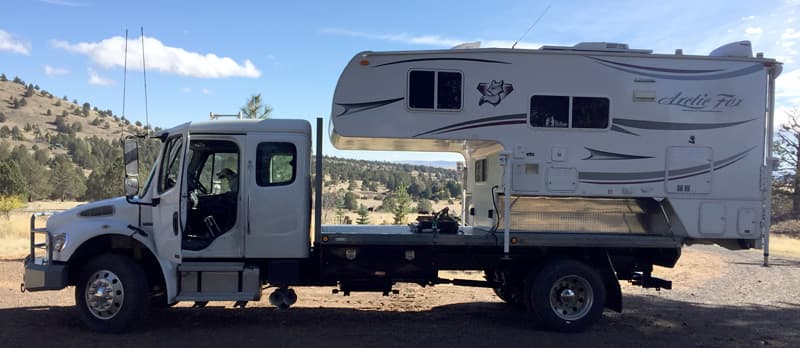 Above: Freightliner truck camper before storage box was added
That moved the camper back and necessitated extending the wheelbase of the Freightliner.  The center of gravity needed to be over the rear wheels, and the extra flatbed length would allow for 7-feet of upfront storage.
The shop we chose was more than confident of the build.  They extend truck wheelbases all the time.  They welded a 4-foot chunk of frame on both sides with a bolted fishplate over the welds as an extension.  It is a certified extension that meets DOT requirements.  It was not just a welder hoping it was going to hold.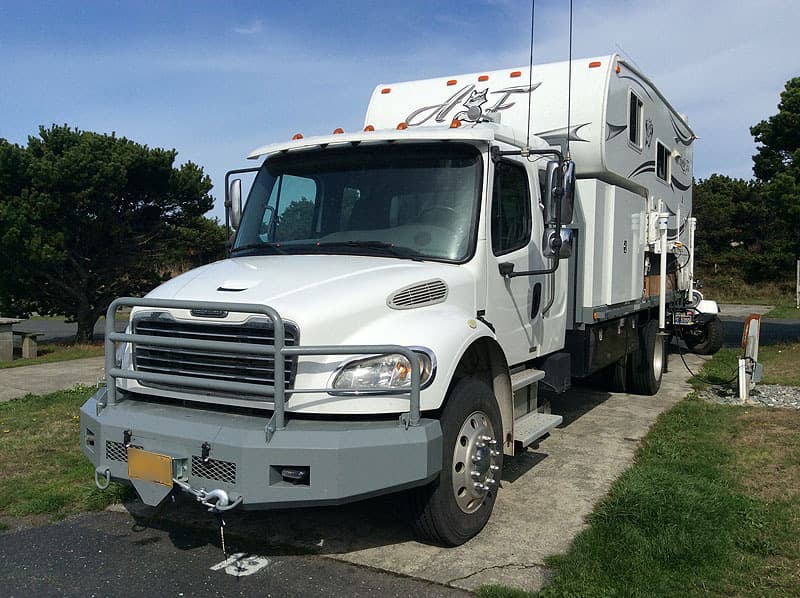 Above: This Freightliner truck camper rig's height is 13'4″
TCM: That's incredible.  How tall is the loaded rig?
Jon: The height is 13'4".  That puts us about a foot taller than our previous F-350.  It's a safe height for most roads, but we need to watch the overpass and bridge heights.
The Freightliner is only 7-feet longer than our previous truck and camper rig.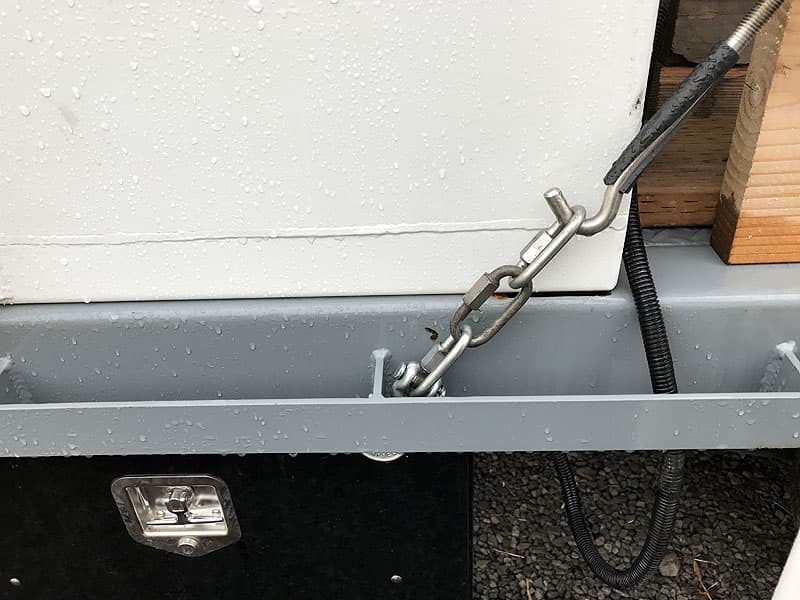 Above: Freightliner truck camper tie-downs and turnbuckles
TCM: Tell us about your tie-down and turnbuckle set-up.
Jon: I have a 3/8-inch welded rub rail all around the flatbed which provides the anchor for the tie-downs.  The rail was added when the bed was built.
Above: Freightliner truck camper tie-downs anchored on rub rail
The rub rail is 3/8-inch steel bar stock welded to the bed.  It's very strong and allows me to slide the camper some if needed.  I have never had the camper slide.