TCM: Let me back you up a bit.  Why did you buy the Freightliner for the fifth wheel?
Jon: I found it used at a good price with only 70,000 miles, which is essentially brand new for a truck like this.  I have 540 acres of land, a bulldozer and tractors, so I use the Freightliner for other things.  It makes sense for us.
TCM: What is the GVWR and payload capacity of your Freightliner?
Jon: With the new 16-foot flatbed, the Freightliner itself weighs 14,000 pounds.  With the camper loaded, full water, full fuel, and full storage boxes, the Freightliner and Arctic Fox 1150 weigh 23,000 pounds.
The Freightliner has a GVWR rated at 26,000 pounds.  Here in Oregon you can have a normal driver's license at 26,000 pounds, but at 26,001 pounds you need a Class A license.
The Freightliner hardly notices the camper and the Jeep or boat we tow behind it.  The Freightliner, even with the extended bed, turns inside the Ford and is more comfortable to drive and ride in.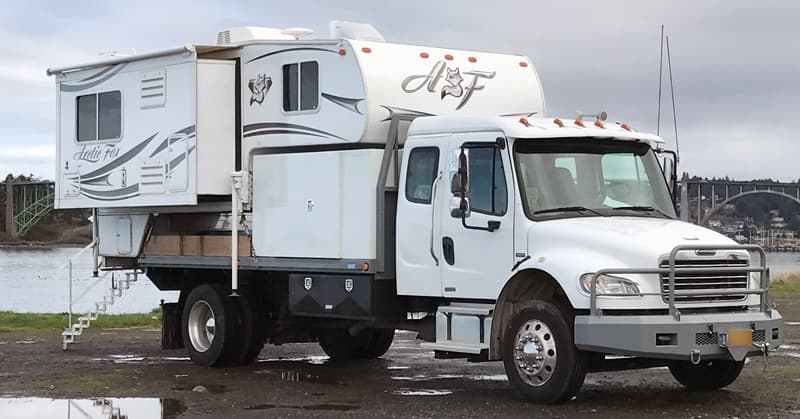 TCM: The Freightliner turns inside the Ford?  That seems impossible.
Jon: The Freightliner can make a U-turn inside the Ford because its front wheels are located almost below the cab and the front tires have the same width as the outside duallies.  As a result, it turns sharper than a normal wheels forward pickup truck.
The Freightliner also has incredibly comfortable air seats.  As we drive down the road, we are looking over everyone and can see everything.  A pickup truck does not have that kind of comfort or visibility.
I worked on a farm for eight years as a kid so I've driven this kind of truck while doing farm work.  Driving this truck is no big deal.  My wife even enjoys driving it.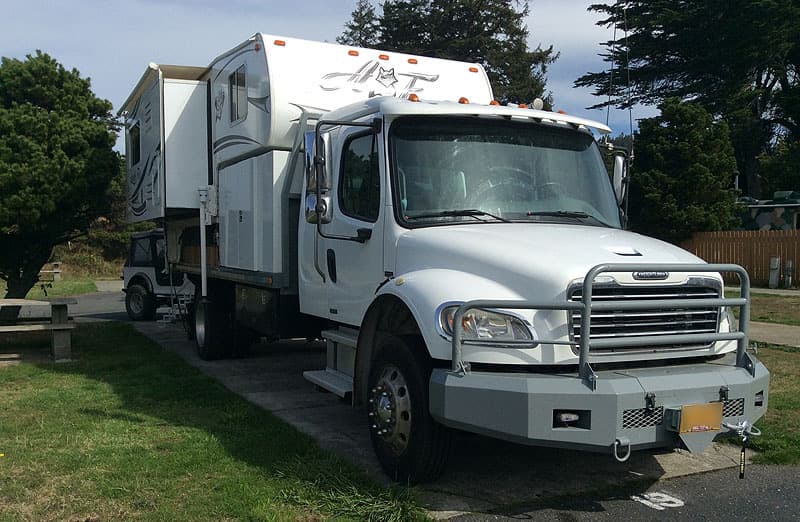 TCM: Tell us the story about how you designed and assembled your Freightliner rig.
Jon: After selling the fifth wheel, I actually tried to sell the Freightliner, but I couldn't get the price I wanted.  That's when I looked at a Ford F-550, but the price didn't make sense.
About that time, you published a story about a Peterbuilt truck camper and I thought, "Oh, that could work!"  Then I took careful measurements of the Freightliner and Arctic Fox and thought about what it would take to put such a rig together.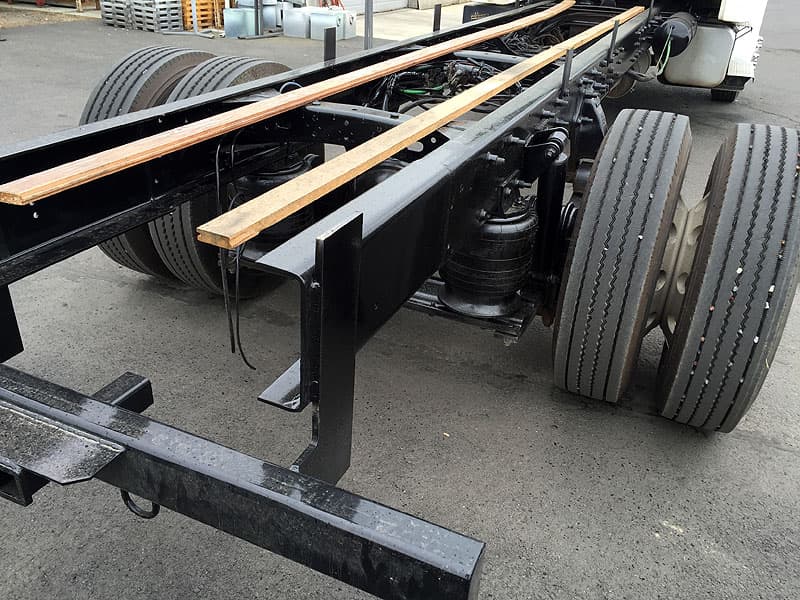 Above: Extending the wheelbase on the Freightliner was done at a specialty shop
Once I had an idea of what needed to be done, I talked to local truck shops about extending the wheelbase, and explained my plan.  I brought my Ford truck and Arctic Fox rig to the companies to show them the camper.  That process of interviewing shops and designing what needed to be done took about six months.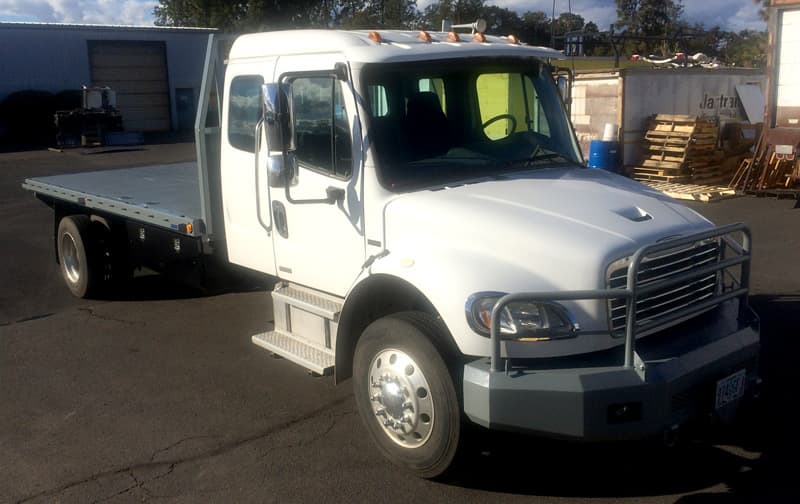 Above: Freightliner with 16-foot flatbed