What happens when a 1988 Mercedes Unimog truck takes on a 1971 Alaskan Camper?  Bob Ragain takes us off-road, onto the Jeep trails, and beyond our wildest truck and camper matching dreams.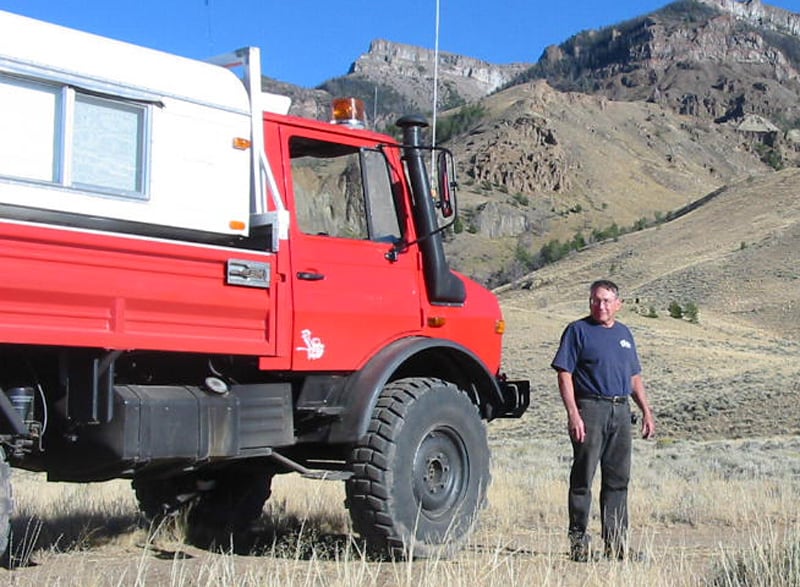 "I saw my first Unimog in the eastern jungle of Ecuador in 1978 and was determined to have one because they held up to such abuse."
We met Bob Ragain when he answered a Question of the Week, "Have you ever needed four wheel drive with your truck camper?".  Bob responded with, "Yes, just about every time we go out camping.  Four wheel drive is a necessity for us, and so is a winch."  Along with that response, Bob sent us seventeen photos of his Unimog and Alaskan Camper.  We emailed him back right away to learn more about his stunning rig.  Oh my 'mog!
Getting Into Unimogs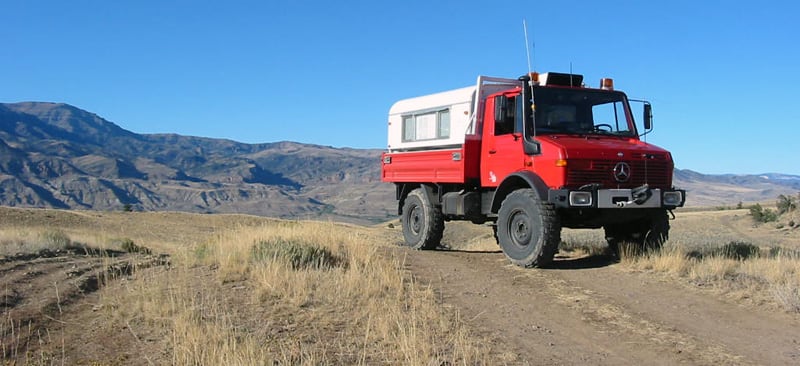 My wife, Kitty, and I have been camping together for forty years.  Kitty and I met in a cave where I pulled her out of an underground river in 1968, and kept her.  That is literally the truth.  She and I were spelunking with different groups when the soil along an underground river collapsed, taking her neck deep into cold water.  I was the closest to her and pulled her out.  Curiously, twenty years later, one of my daughters also met her husband on a camping and caving trip.
Kitty and our kids followed me around for many years working oil field locations in the United States and South America.  I was an engineer and site manager in an oil field service company.  We would buy Ford three-quarter or one ton trucks and run them up and down the primitive roads.  The trucks would literally fall apart from the vibrations of the oilfield roads.
I saw my first Unimog in the eastern jungle of Ecuador in 1978 and was determined to have one because they held up to such abuse.  After I transferred back to the United States, it was another twenty years before Unimogs became available for a reasonable price.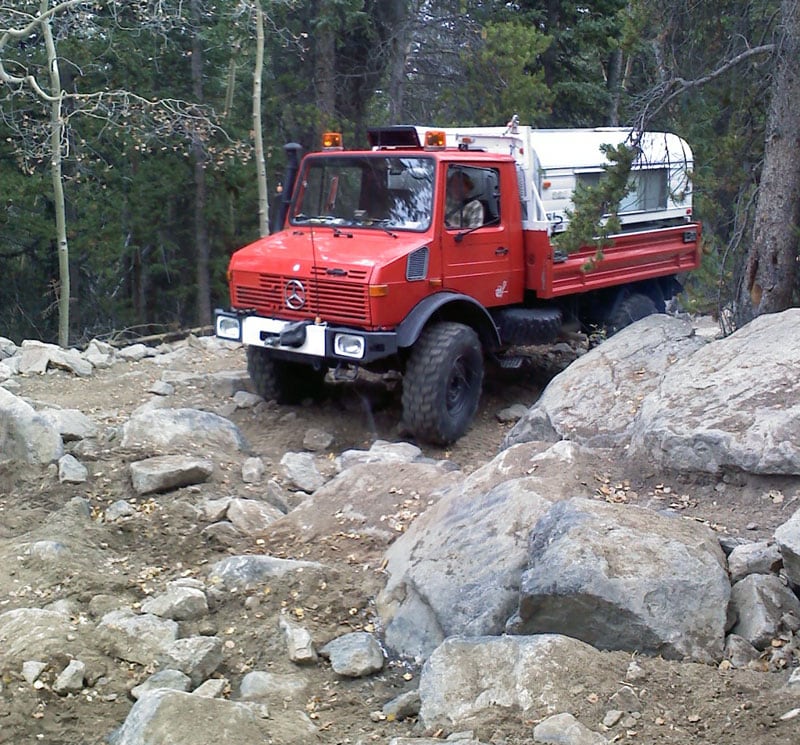 The straw that broke the camel's back, so to speak, and set up our hunt for a real camper, was a yearly European Military vehicle group camp-out in the Colorado high country.  We call the camp-out the "Cold Butt Camp-out".  That camp-out was in the dead of winter at the highest elevation that we broke our way through the snow to get to.  Outside facilities were in two feet of snow that year.  That's when Kitty laid down the ultimatum; no more camping in the winter without an indoor toilet!
The Six 'Mogs
We eventually bought our first 'mog in 1997, an ex-military three-color-camo Unimog model 404 radio communications truck.  It had quite a bit of radio equipment when we first got it and cots which we used for camping.  We camped in that first Unimog for many years.
We have now upgraded to a twenty year old Unimog U-1300L truck and a thirty-eight year old Alaskan Camper!  The Alaskan Camper offers us a lot more comfort.
I actually have a total of six Unimogs.  The other three Unimogs are basically tractors.  We have a farm here in east Tennessee and we use the 406 model Unimogs as tractors to mow and till the land, harvest logs, and do basically anything I need to use them for.
"We usually cruise at about fifty-five miles per hour.  At that speed, we get about fourteen miles per gallon."
Buying A Unimog
Unimogs can be shipped from Germany, Belguim, Switzerland, African countries, and even Brazil.  Unimogs are common almost everywhere except the USA.  They are in surplus in Europe and have recently started hitting the United States in quantity.
It would cost you about  $7,500 dollars for a good Unimog truck.  It would be an early model like from the late 50s or early 60s, gas powered, and configured as a radio truck or a troop carrier.  These Unimogs are all model 404 and feature a flat bed with seats or communications box in the back.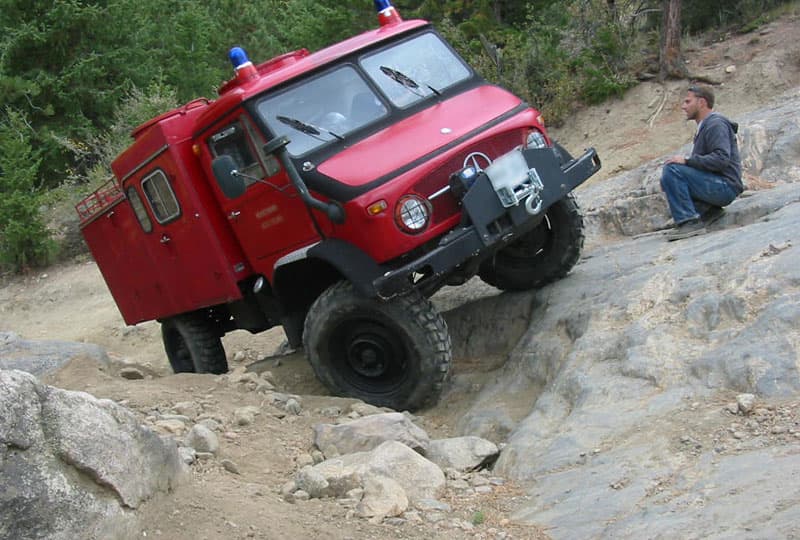 We found this red U-1300 model Unimog in early 2008.  It was built to military specifications, but was prepped as a fire truck.  It spent its life in a fire department in Gagganau, Germany.  It had the torsion-isolated bed and other options we wanted to build a camper on including a faster differential and portal gearbox ratios and a high gear count (sixteen forward, sixteen reverse, and overdrive).  Many Unimogs are really slow without these options.
This Unimog U-1300 hits seventy miles per hour 'in the green' at 2400 rpm with red-line at 2800.  This setup weighs just over 14,000 pounds, with almost equal weight distribution front and rear.  We also have an M105A2 military trailer we pull with the Unimog when we really want to take a lot of stuff with us.