Step aside Dodge.  Back up Ford.  Forget about it Chevy.  Don't even think about it Toyota.  This is a job for a Unimog.  Alaskan Camper included.
The definition of a truck camper rig usually comes down to one word, demountable.  If there's a camper on a pickup truck, and it's quickly demountable in the field, it's a truck camper.
This definition gets challenged when someone takes a traditional truck camper from a recognized manufacturer and uses it with an unusual vehicle or mounts it in an unusual way.  The camper part of the rig is clearly a truck camper, but it's no longer quickly demountable.  Is the rig a truck camper?  Yes, and no.
We have featured two of these "yes and no" rigs in Truck Camper Magazine including a two-part series with Doug and Steph Hackney and the article that led to this one, "Unimog Meets Alaskan".  While these articles sparked controversy, they also challenged us to re-examine what a truck camper is and what they're capable of.
Bill Caid's rig is perhaps the most unusual we've ever featured in Truck Camper Magazine.  Not only is he using a rare Unimog 1300 truck, but he also has a very rare fiberglass Alaskan Camper.  But before you throw things at your monitor and shout, "That's not quickly demountable", we dare you to read Bill's amazing story and look at his stunning photography.  We believe, like we have, you'll find a kindred spirit.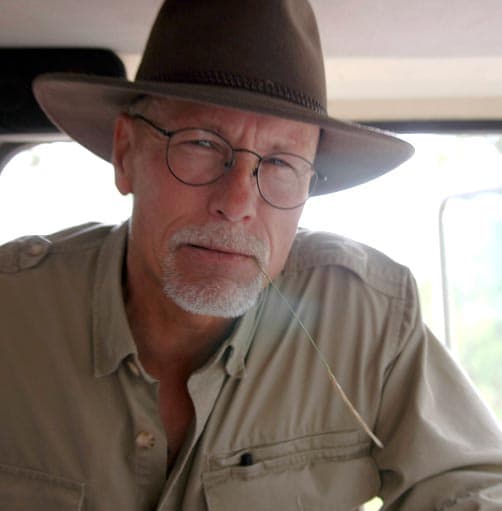 Before we talk about your Alaskan Unimog adventures, tell us how you got into off-road and off-the-grid camping?
I was born and raised in southern Arizona where people frequently went camping.  Back then it was a badge of honor to see who could go to most remote place.  After I graduated from the University of Arizona, I got my first four wheel drive truck and my off-road camping evolved.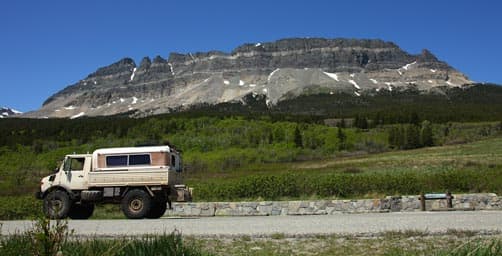 Above: Roadside stop near Glacier National Park, Montana
In 1976, I remember four wheeling in the mountains outside Tucson and got a lesson in things not to do.  I got my truck stuck and it took a week to get out.  Along the way we destroyed a 4×4 wrecker and needed a small bulldozer to address the issues.
You were referred to us by another Alaskan Unimog owner, Bob Ragain.  How do you know Bob?
We Unimoggers have a tight group.  There are not that many people who own Unimogs in North America.  The total count is only several hundred.  We have two meetings every year, one in the Northwest and one in southern California.  For a while, the southern California get together was in Moab, Utah.  That's where Bob and I met in the 1990's.  The organization doesn't have a name, because it's not an official organization.  If you're on the Mog list you get an email reflector.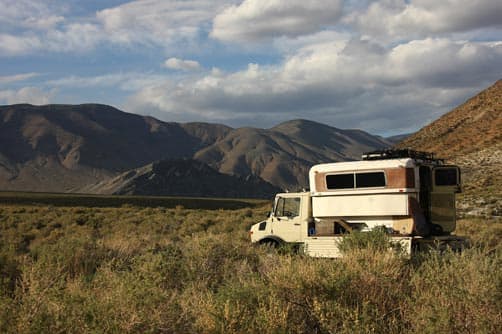 Above: Camped near Striped Butte, Death Valley National Park, California
What's the appeal of owning a Unimog?
For off-roading, they're great.  Originally, Unimogs were farm vehicles.  Later they were adapted for off-road cargo hauling and then for military applications.  The European military bought thousands of Unimog 404 models.
Jim Ince of Eurotech Services brought attention to the Unimog for overland travel by driving all over southern Asia including Iraq, Iran, and Pakistan.  After the Unimogs were phased out by the European military, they were used as expedition vehicles in Europe and the United States.  Today there's a subculture that imports Unimogs into the United States.  A lot of the imported Unimogs have been turned into campers.  In fact, Bob Ragain has a number of Unimogs.
What model Unimog do you have?
I have a Unimog 1300 model, which is a later model truck.  I bought my truck from an independent party in Washington.  My Unimog is a twelve-volt civilian truck.  People who like four-wheeling gravitate to the later model diesel Unimogs because they are more than sufficient for overland travel and can travel on the highway at reasonable speeds.
Why not just get a diesel pickup truck?
Before I researched Unimogs, I asked myself, "Do I want a Ford, Chevy, Chrysler?".  Unfortunately, none of them were appropriate for what I wanted to do.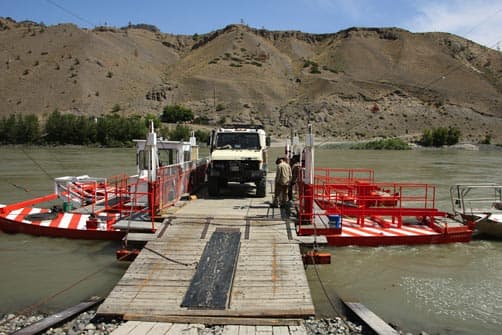 Above: Unimog 1300L and Alaskan Camper combo on reaction ferry crossing on the mighty Frasier River
How did you find your Unimog?
I originally located someone selling a Unimog model 406 and went to see it.  It was a true working truck, and had a short wheel base and bed size.  Then I flew to San Francisco and looked at Unimog model 404.  It was an adequate size, but creature comforts were not good, and it was not really highway capable.
Jim Ince hooked me up with fellow in Washington state to see a model 1300.  I bought it and had it shipped to San Diego.  That's when the fun started.  The truck had been mistreated and under maintained which resulted in the need for extensive repairs.  Over the next three years, I touched almost everything on the Unimog.  The only major system I didn't touch was the transmission.  I replaced the motor, alternator, and starter – and put it all back together.
That sounds like an incredible amount of work.  And a serious investment.  Has it been worth it?
Yes.  I've now had the Unimog model 1300 for fifteen years.  We've been to the Arctic Ocean, which was a 20,000 mile trip.  We just got back from Maine, which was almost a six-month long trip.  We have had so many good times with the Unimog.  After all the work, the truck has been stable.
How did you find your 1978 Alaskan?
Before I bought the Alaskan, we camped all over in the Unimog and camped in the bed.  That was extremely uncomfortable.  Later we went to a MogFest celebration in southern California and met a fireman.  He had a Unimog model 1300 with an Alaskan Camper.  His name was Blair.  I  looked at his rig and said, "Dude, this rocks!  If you ever see another one of these, please send me an email".  About a year later, he sent me an email that he found a late 70's Alaskan Camper for sale and the guy wanted $1,000.
It took me a few days to contact the seller, but when I did, I said, "I understand you have an Alaskan for $1,000".  He replied, "Today it is $600 cash and I'll deliver it to your house".  Then he showed up at my house in a beater pick-up truck with the Alaskan.  I put it on saw horses at my house where it stayed for three years.
Three years?  What made you finally get back to the Alaskan?
I had accepted several work assignments that took us away from Southern California and when I returned to San Diego I said, "I should do something with this".  I went in the camper and everything was wrong from the electrical to the propane, but I was determined to make it work.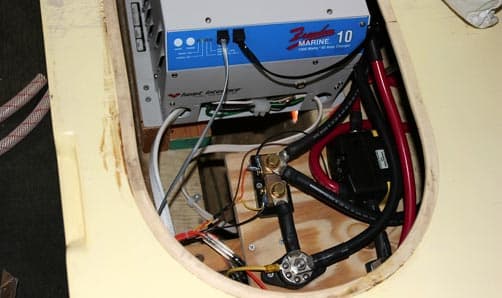 Above: Installing marine grade electrical components
How did you go about refurbishing the Alaskan?
The camper had been outside and not maintained for at least twenty years.  Essentially, I gutted the camper and started over.  We live in coastal town, so I got all marine grade stuff.  Marine grade products are twice as expensive and three times as good.  Once the camper was completed, I mounted it on the Unimog and it's had almost no issues whatsoever since.  What seemed to take the longest time was adding the necessary creature comforts.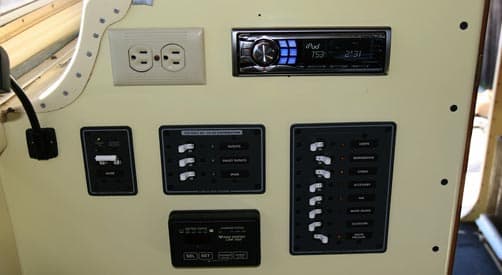 Above: Completed electrical installation
Your Alaskan is an exceedingly rare fiberglass model.  In fact, we've never seen one.  Tell us about the camper.
It's a very good and robust camper.  I still think I got a smoking deal, even though it's got a puke yellow interior.  I don't think they make fiberglass quite that color anymore.
I certainly hope not.  What about the size of the camper?  It looks small for the long distance travel you do.
It's snug, but adequate.  I've got three-quarters height cabinets on the right side, which is also the location of the marine grade refrigerator.  There's also more storage on that side and a porta-potti.  On the left there are half-high cabinets with the stove, sink, and counter.
The living compartment in the Alaskan Camper is seven feet by ten feet, which is a workable space if you don't take too much junk.  You have to stow and lash everything down or you'll have a tossed salad of stuff when you arrive somewhere.  To help, we have positive restrains on all of the doors, hatches, and cargo.
To lower and raise the top, we have to stop and undo the nice packing.  And we have to move everything from point A and point B to go to bed.  We did all of this and more twice a day, everyday, for six months.  This caused some domestic disputes, but we worked around it.
Your Unimog Alaskan travels have taken you from the Arctic Ocean, into Alaska, through Canada, to the US deserts, and northern Mexico.  Is there an annual course you follow or are these trips separate events?
They were all separate trips.  Trips for me come in two flavors; alone and together.  The together trips were happening in earlier years with other San Diego Unimoggers.  The San Diego group would go to Baja and the northern Sonora.  Since Mexico is a foreign country and we were visiting rough territory, it's good to go with other folks.
When we go alone, the advantage is that we set our own schedule and do not have to coordinate with others on dates or destinations.  The disadvantage is that you must be self sufficient in case of problems.
The Unimogger trips into Mexico sound very interesting.  How did those come together?
It's hard to find collective open time for six to eight working adults.  We had to plan six to nine months ahead and draw a line in the sand.  The message was, "Don't call at eleventh hour and change it".  We've had pretty good luck with the northern Mexico trips.  We used to go once every two years, then once a year, and one year we went twice.
After I got the Alaskan Camper, we realized we could be comfortable traveling around, even in adverse weather.  Kathleen and I went places ourselves.  In 2009, we went to the Arctic and to Alaska.
In Alaska, we had a number of surprises.  The camper had no issues, but the bugs up there are awful.  Even with the camper closed up and the windows closed, those bastards got in between the cracks in the doors.  We felt captive in some science experiment and couldn't get away from them.  We even put up a mosquito tent inside the camper, but we could still hear them.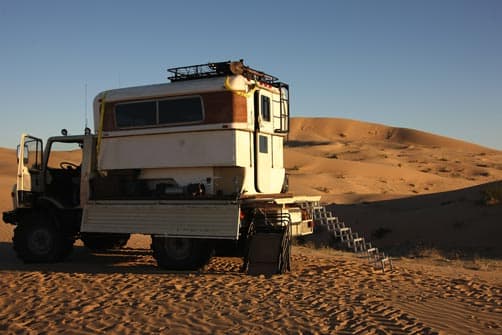 We had a similar experience in Everglades National Park last year.  That was an awful experience!  You've been stuck in the Altar Desert in Sonora, Mexico a few times.  Tell us about those experiences and how you got out.
Back in the 1970s I had heard about a very large stretch of open desert east of the Colorado River delta.  The reports said there were sand dunes for 200 miles.  Back then we didn't have Google maps and satellite photos and Mexican maps were not available.  Eventually I attended a monthly meeting for a local four wheel group.  They were extremely nice and they gave me directions on how to get to .
In November of 2000, we headed out there and the desert kicked our asses.  We had so many tire problems it was almost funny.  We had ten flat tires in four days.
What was the problem?
The tires on our Unimogs were not sufficient to do the job.  The sand was too soft and the soft sand required running with very low tire pressure.  When the pressure was lowered enough to allow the tires to float on the sand, they would literally fall off the rim.  My friend knew how to service and mount tires, and that's what kept us running.
I went back the next year with new tires, and those were worse than originals.  So, we went for a third time with Michelin XM47 tires and had a week without a single tire issue.  The Michelin XM47 tires allow you to travel in the desert with general confidence and operate nicely at very low tire pressures.  The desert there is extremely challenging.  Don't go under prepared.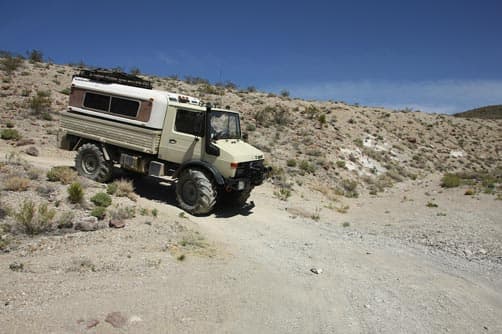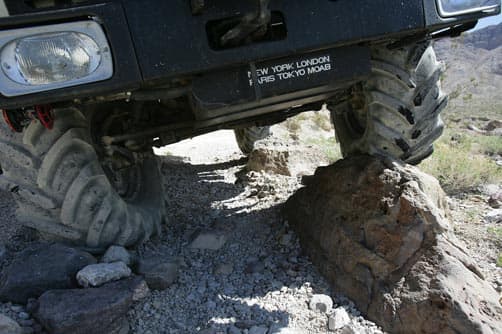 Above: Narrow spot on Steele Pass trail requires careful tire placement to prevent body damage.
Tell us about traversing the Steel Pass Trail in Death Valley National Park.
It is an interesting trail, but not Unimog hard.  The only challenges were that the trail was a bit narrow for my truck.  For a regular pickup truck, Steel Pass should be a no-brainer.  The general state of that trail is good and any four wheel truck can make it through, weather dependent of course.
After all of your adventures, what are the places you want to return to again?
I love southern Utah.  And northern Arizona is just beautiful.  That area is the best!  A lot of that land is owned by the government.  Generally forest service roads and BLM roads are excellent for overland travel.  There are lots and lots of backcountry roads and you could travel all day and not see another vehicle or even need to put your vehicle into four wheel drive.  If you go by yourself, you don't want to go on hard roads right away.
Above: Oil pan failure required road-side repair and several days near Lake Eklutna, Alaska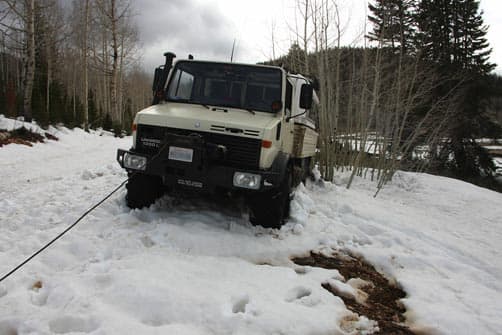 Above: An unfortunate encounter that required winching
In addition to the unfortunate encounters above, you got into a real jam while exploring the Lake Powell area.  What can you tell us about that experience?
That is a story.  Kathleen and I were on north end of Lake Powell and we found an area we wanted to visit.  We researched it and went up an extremely steep section of trail.  Well, something brewing on our truck for years came to a head.
There are six bolts that hold the transmission in the frame and three of them sheared off in place.  That left us stranded and broken down fifty miles out.  Our Ham radio didn't work, the CB radio was out of range, there was no cell phone coverage, and no one knew where we were.  It was too hot and far to just walk out.  We had full water which was three to four days worth, but there was no obvious way to solve our problem.
That's insane.  What did you do?
After I cleaned out my shorts, I basically sat there and looked at the problem really hard for awhile.  I concluded that I might be able to hoist the components back into place and hold them in place with large, truck cargo ratchet straps.  At the time, the truck was not shiftable because the transmission had physically displaced in the frame.
After a considerable amount of work, we got the thing back together and limped it back to Page, Arizona.  The fix held and we drove the truck 800 miles home.  We got it repaired in San Diego where we made a splint for it.
Tell us about the rig your building now on a Mercedes 1017A.  Why are you making the change?
To be honest, the Unimog is overkill.  You pay a big penalty for the extreme capabilities of the Unimog, such as basic creature comforts.  The Mercedes 1017A isn't as capable, but it has significantly more comfort.  Where the Unimog is off-road vehicle that can travel on pavement, the Mercedes 1017A is a pavement vehicle that can go off-road.  For example, the basic Mercedes 1017A is only two-wheel drive.  Mine is the "A" version which is a 4×4.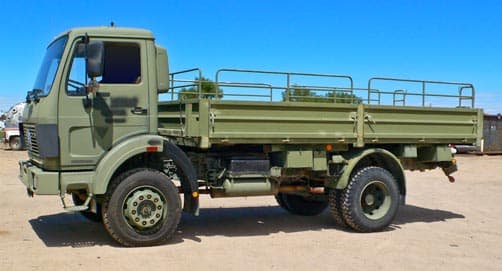 Above: Bill Caid's Mercedes 1017A
Don't you need four wheel drive for what you do?
If you're driving long distance, and the majority of your travel is on pavement and dirt roads, why do you need four wheel drive?  I learned the lesson in Alaska where I only went into four wheel drive several times.
In Alberta and British Columbia, the forest is so thick you can't go off-road unless there's a trail.  And just because there's a trail doesn't mean you will fit.  So the only time we were off the black top was when we were camping.  Most of those places were Provincial parks.
When I get stuck, I may say, "I wish I had the Mog".  With this change, I am losing a foot of ground clearance, lockers in the front axle, a sealed drive line, and portal axles.  The portal axles are not designed to be driven at highway speeds for extended distances and have a tendency to burn up if you run them too fast for too long.  Unimogs are really designed to be off-road at 40-50 mph.  The Mercedes 1017A doesn't have hubs, so it will not have hub failures like the Unimog does.  Also, the 1017 is in extensive use around the globe, so parts should be readily available.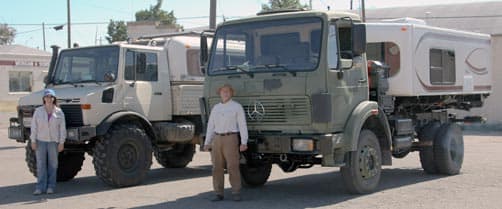 Above: Kathleen and Bill with the Unimog 1300 (left) and Mercedes 1017A (right)
For your Mercedes 1017A, you've decided to use a pop-up hard side travel trailer in a very unusual way.   It's as if you took the trailer and turned it into a cabover-less flat-bed truck camper.  If you added jacks, it might even be demountable – except for the height of the rig.
I'm not sure that it's a better alternative to the Alaskan, but it was available when I needed it.  The trailer has air conditioning, something we didn't have on the Alaskan.  We took a summer trip to the East Coast with heat, humidity, and bugs.  We went through Mississippi, Alabama, Georgia, and the Carolinas, baking like biscuits with the bugs working on us.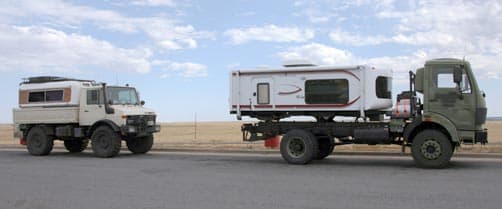 Above: The Unimog 1300 rig (left) and Mercedes 1017A rig (right)
Why not add an RV air conditioner to the Alaskan?
I had thought about that.  It would have required a major structural rework of the top to support the weight.  The camper was built in 1978 and the truck is a 1979 or 1980, so I was sitting there thinking, "Is this the right platform for a major redo?".  I was thinking about that as I was baking like a biscuit in the South.
What advice would you have for someone who's inspired by the type of traveling you do and wants to follow in your footsteps?  Minus the bugs of course.
My advice is to get the right tool for the job.  Don't put a square peg in a round hole.  Go prepared to be fully self sufficient in case of mechanical issues.
Bill Caid's Truck Camper Rig
Truck: 1980 Mercedes Unimog 1300 with 5.5L turbo-diesel engine and standard cargo flat bed
Camper: 1978 Alaskan fiberglass cabin, 10 foot, non-cabover
Tie-downs and Turnbuckles: Custom substrate frame attached to bed frame via 12 bolts.  Camper/Frame is fully removable and has lift points built into each corner.  Corner lift attachments are 5,000 pound equipment jacks allowing base unit to be driven out from underneath the camper/frame assembly.
Suspension Enhancements: Mercedes implement lift (2.5″ metal puck on top of coil springs) on each corner to allow running oversize ex-military tires if required.  Stock coil springs and shocks used on all corners provide 45 degrees of axle articulation between front and back axles.

Gear: Michelin XM47 425/75R20 tires or Michelin XML 395/85R20 ex-military tires on 20″ one piece steel rims.  Portal axles provide 18″ of ground clearance at lowest point.  5,000 pound cargo capacity.  Mercedes Working Gear set providing 16 forward and 16 reverse gears in 2 ranges.  "Taller" ring and pinion installed to provide increased highway speed. Cab has CB, 2M ham radio, GPS, stereo.  130 Watt solar panel with Sunsei controller.  Xantrex 1KW inverter with 200 AH lead-acid batteries configured to charge Unimog batteries when connected to "shore power".  Blue Sea Systems circuit breakers and switches.  Interior lights are LED, refrigerator is marine-grade Norcold 2.2 cuft model.  Seagull bacteria/virus water filter provides filtered tank water to cabin.  Olympus catalytic propane space heater.  3 burner propane cooktop.  iPod-compatible stereo/sound system. Custom roof rack.  Custom rear cargo basket for external for large size cooler.  30,000 pound hydraulic winch on front with 100m of full load rated cable.  Winch is powered by stock Mercedes hydraulic system with 5 gallon reservoir.  15,000 pound electric rear winch mounted between frame rails. Stock Mercedes tool boxes (4) with one-man tire change spare holder.