Step aside Dodge.  Back up Ford.  Forget about it Chevy.  Don't even think about it Toyota.  This is a job for a Unimog.  Alaskan Camper included.
The definition of a truck camper rig usually comes down to one word, demountable.  If there's a camper on a pickup truck, and it's quickly demountable in the field, it's a truck camper.
This definition gets challenged when someone takes a traditional truck camper from a recognized manufacturer and uses it with an unusual vehicle or mounts it in an unusual way.  The camper part of the rig is clearly a truck camper, but it's no longer quickly demountable.  Is the rig a truck camper?  Yes, and no.
We have featured two of these "yes and no" rigs in Truck Camper Magazine including a two-part series with Doug and Steph Hackney and the article that led to this one, "Unimog Meets Alaskan".  While these articles sparked controversy, they also challenged us to re-examine what a truck camper is and what they're capable of.
Bill Caid's rig is perhaps the most unusual we've ever featured in Truck Camper Magazine.  Not only is he using a rare Unimog 1300 truck, but he also has a very rare fiberglass Alaskan Camper.  But before you throw things at your monitor and shout, "That's not quickly demountable", we dare you to read Bill's amazing story and look at his stunning photography.  We believe, like we have, you'll find a kindred spirit.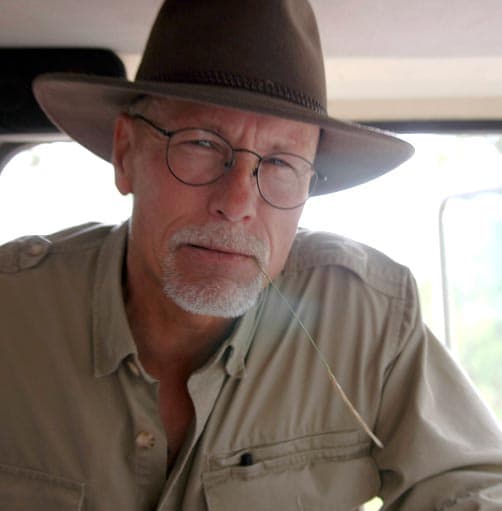 Before we talk about your Alaskan Unimog adventures, tell us how you got into off-road and off-the-grid camping?
I was born and raised in southern Arizona where people frequently went camping.  Back then it was a badge of honor to see who could go to most remote place.  After I graduated from the University of Arizona, I got my first four wheel drive truck and my off-road camping evolved.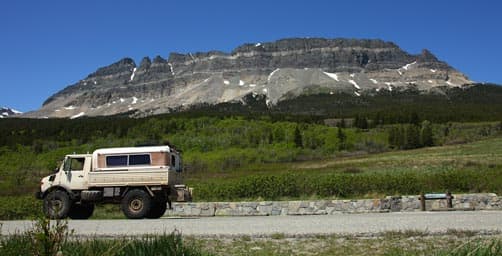 Above: Roadside stop near Glacier National Park, Montana
In 1976, I remember four wheeling in the mountains outside Tucson and got a lesson in things not to do.  I got my truck stuck and it took a week to get out.  Along the way we destroyed a 4×4 wrecker and needed a small bulldozer to address the issues.
You were referred to us by another Alaskan Unimog owner, Bob Ragain.  How do you know Bob?
We Unimoggers have a tight group.  There are not that many people who own Unimogs in North America.  The total count is only several hundred.  We have two meetings every year, one in the Northwest and one in southern California.  For a while, the southern California get together was in Moab, Utah.  That's where Bob and I met in the 1990's.  The organization doesn't have a name, because it's not an official organization.  If you're on the Mog list you get an email reflector.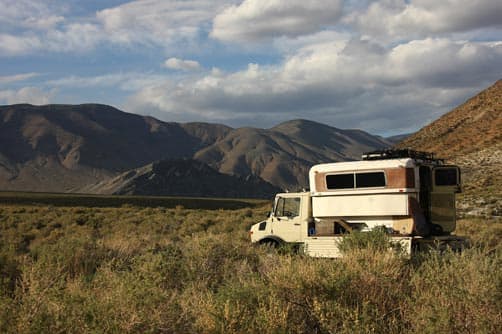 Above: Camped near Striped Butte, Death Valley National Park, California
What's the appeal of owning a Unimog?
For off-roading, they're great.  Originally, Unimogs were farm vehicles.  Later they were adapted for off-road cargo hauling and then for military applications.  The European military bought thousands of Unimog 404 models.
Jim Ince of Eurotech Services brought attention to the Unimog for overland travel by driving all over southern Asia including Iraq, Iran, and Pakistan.  After the Unimogs were phased out by the European military, they were used as expedition vehicles in Europe and the United States.  Today there's a subculture that imports Unimogs into the United States.  A lot of the imported Unimogs have been turned into campers.  In fact, Bob Ragain has a number of Unimogs.
What model Unimog do you have?
I have a Unimog 1300 model, which is a later model truck.  I bought my truck from an independent party in Washington.  My Unimog is a twelve-volt civilian truck.  People who like four-wheeling gravitate to the later model diesel Unimogs because they are more than sufficient for overland travel and can travel on the highway at reasonable speeds.
Why not just get a diesel pickup truck?