Neil Calder was on a dream off-road trip when the unthinkable happened; far from the reaches of civilization, his truck camper literally fell off.  If only a dozen off-road experts would just show up and help, right?  What the…

I am here in the United States for four-months.  I live in Japan.  I planned on getting a truck and camper and gently going across America watching birds, sleeping in the camper and going where I want for a couple of years.  It was a nice daydream and suddenly all of that fell to pieces like a broken window.
Returning To Cerro Gordo Road
I was on a trip down to Lone Pine in southern California where there are some great backcountry trails.  I used to live in Palo Alto and would explore the area in a Range Rover, so I had already done part of the Cerro Gordo Road.
I had never succeeded in completing the road because the Range Rover consistently broke down.  I was determined to complete this particular trail with my Toyota Tacoma and Four Wheel Camper.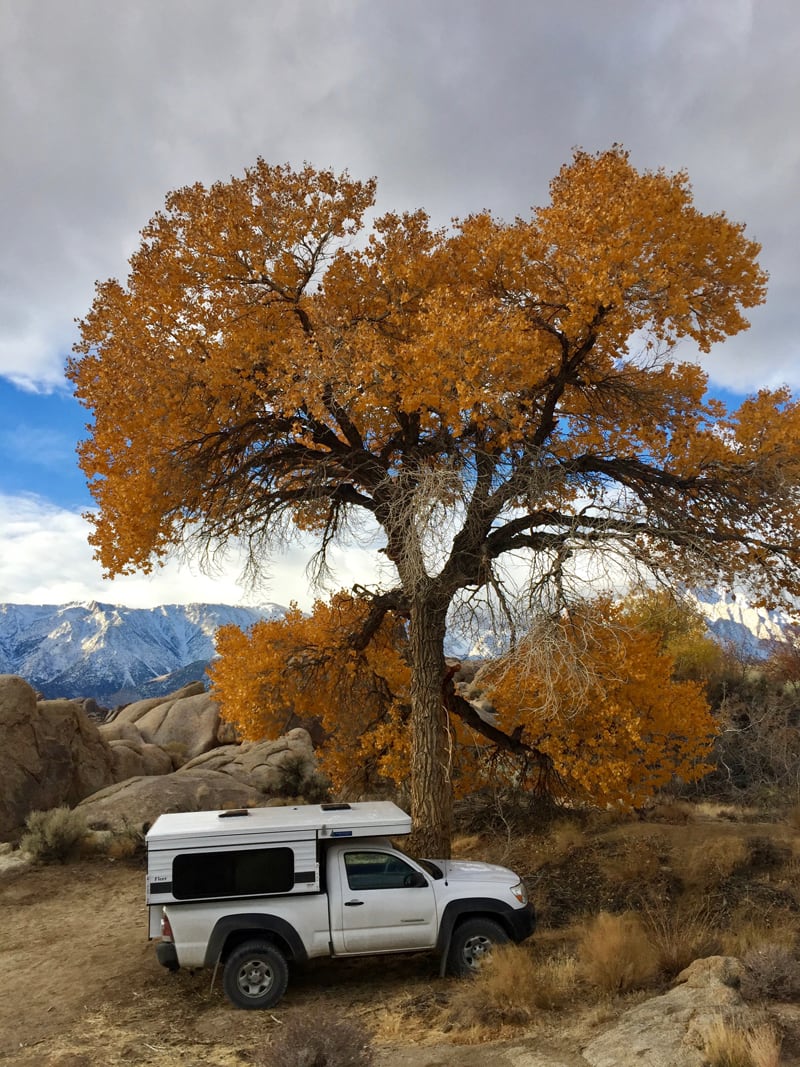 Above: The campsite at Alabama Hills before setting off
The day before I had completed the Saline Valley Road, which is another beautiful trail near Alabama Hills.  In the United States there are so many backcountry places to explore in a truck and camper.  I love it!
My truck is a single cab, manual, four-cylinder Toyota Tacoma; about the most basic model I could get.  My camper is a Four Wheel Camper Shell model; no shower, refrigerator or sink. I wanted the rig to be as light and maneuverable as possible.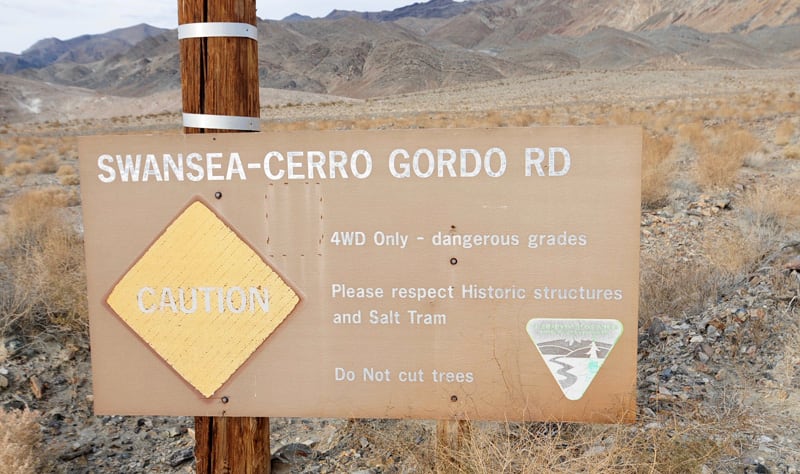 Above: The off-road condition warning at Swansee-Cerro Gordo Road
At the time of the incident, the camper was only three-weeks old.  I am not sure if the camper and tie-downs were fully settled.  For example, I had already noticed that the top of the left front turnbuckle was consistently loose.  The morning of the incident, I tightened it and then off I went to the start of Cerro Gordo Road.
A Punch In the Mouth
I was doing well, gently making my way up the track.  It was a very steep and broken road.  There were major boulders.  I was in low range four-wheel drive the entire time.
I got up to the half way point, which was about eight to nine-miles from the start of the trail.  At that point I should have stopped and checked the turnbuckles again because my rig was shaking a lot, but I didn't.  I continued on.
The road got steeper and worse.  I had never been that far on that trail because my Range Rover had never made it that far.
I continued slowly up trail.  Another five to seven miles up I stopped to get out to get a good look at what was in front of me to see what route to take.  I walked up and turned around and looked at my truck.  That's when I realized something wasn't the same.
It was a punch in the mouth.
The camper wasn't anywhere in sight.  You can imagine the emotion of it all.  Where is it?  What am I going to do?
I turned the truck around and started easing my way down the trail.  Half a mile down the trail there she was in the middle of the trail.