Torklift International reveals the research and development story for the new Palomino Dura-Trak, the first bumper and step system designed to work on both pop-up and hard side truck campers.

What's the first thing most folks see when they approach a truck camper?  The entry step and bumper set-up.  This makes sense as most of us also don't want to fall over.  We like to see where we're about to plant our feet, and judge whether that approach is safe and steady.  It's not unusual for folks to dismiss a truck camper because they visually judge the entry step system to be unsafe.
Torklift International recognized this opportunity back in 2007 when they debuted the Torklift GlowStep, a double-hinged and bolted T6061 aluminum scissor step system designed from the ground up to be safer and sturdier than competing scissor step systems.  It didn't take long for Torklift's GlowStep to become the industry standard.
Following the success of the GlowStep, Torklift International developed a series of aluminum storage bumper and step systems for hard side truck campers.  In 2013, Torklift International and Palomino RV debuted the aluminum Palomino Landing Pad bumper.  With its deep platform, dual lockable storage compartments, LED taillights, and single pull-down GlowStep, it became a huge hit for Palomino hard side truck campers.
After conquering the scissor step marketplace, and redefining the very concept of an OEM bumper step system, Torklift International is back with another innovative first; an aluminum bumper step system designed to fit both pop-up and hard side truck campers.
Until now, pop-up truck campers have been stuck with scissor steps, a hitch mount step, or a step stool for getting into their units. These solutions are lightweight and work well, but don't offer the safe and steady approach of an aluminum bumper step system. With Torklift International's new Palomino Dura-Trak, that's about to change. Even better, the Dura-Trak also works with with Palomino hard side models creating multiple manufacturing, inventory, and production efficiencies.
To get the full story on the Palomino Dura-Trak, we contacted Jay Taylor, General Manager, and Jack Kay, President at Torklift International.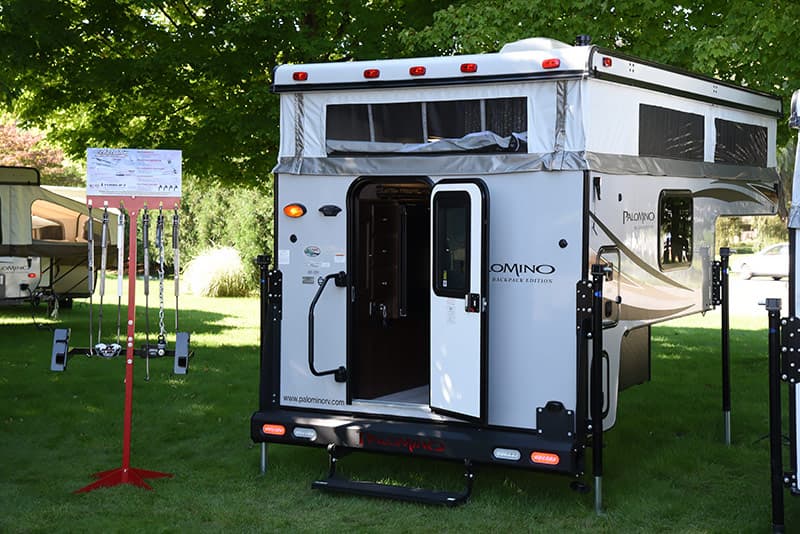 Above: The SS-1251 pop-up truck camper with the new Dura-Trak bumper
TCM: How did the Palomino Dura-Trak project get started?
Jack: On December 7th, 2015 at 7:50am, we were at the annual RVIA (RV Industry Association) show in Louisville, Kentucky when Pat Hines of Palomino RV pulled me over.
TCM: Wait a minute!  December 7th, 2015 at 7:50am?  You're kidding, right?
Jack: No, I have the date and time-stamped notes on my iPhone from that conversation right here.  Pat asked us to design a bumper and step system for their smaller pop-up and hard side truck campers.  He also had a short list of requirements for the new bumper.
Beyond that list, he left it up to the creative team at Torklift International to come up with a great bumper.  The resulting Dura-Trak was a big hit when they saw the first prototype.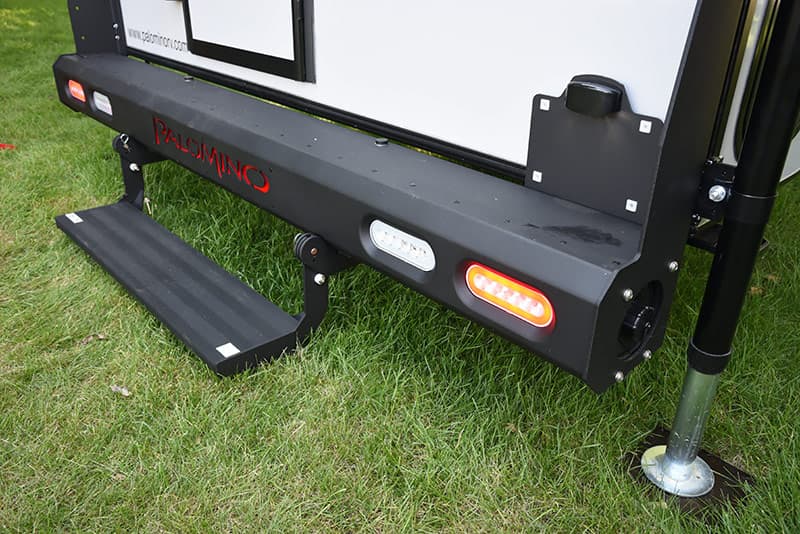 TCM: What were the design objectives that Pat needed?
Jack: He wanted a lightweight non-storage bumper design with aggressive lighting.  He wanted something visually unique that would mount accessories.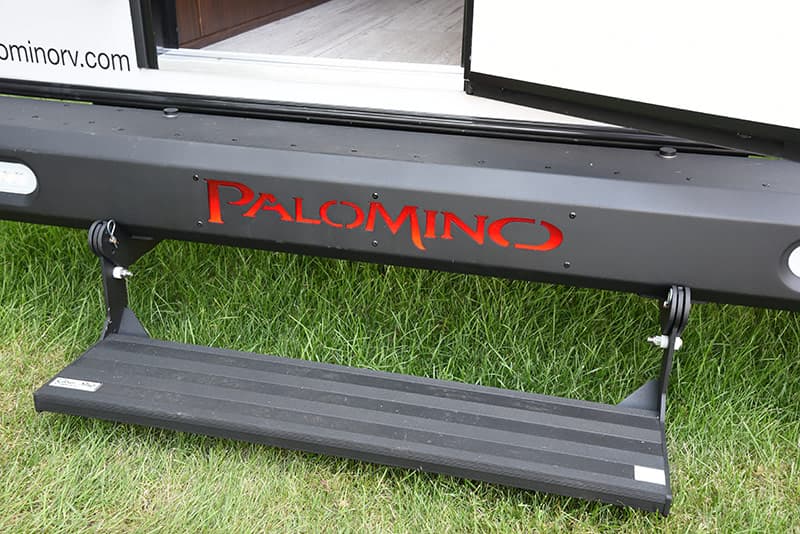 Above: The backlit Palomino logo is built into the bumper