Torklift International reveals the research and development story for the new Palomino Dura-Trak, the first bumper and step system designed to work on both pop-up and hard side truck campers.

What's the first thing most folks see when they approach a truck camper?  The entry step and bumper set-up.  This makes sense as most of us also don't want to fall over.  We like to see where we're about to plant our feet, and judge whether that approach is safe and steady.  It's not unusual for folks to dismiss a truck camper because they visually judge the entry step system to be unsafe.
Torklift International recognized this opportunity back in 2007 when they debuted the Torklift GlowStep, a double-hinged and bolted T6061 aluminum scissor step system designed from the ground up to be safer and sturdier than competing scissor step systems.  It didn't take long for Torklift's GlowStep to become the industry standard.
Following the success of the GlowStep, Torklift International developed a series of aluminum storage bumper and step systems for hard side truck campers.  In 2013, Torklift International and Palomino RV debuted the aluminum Palomino Landing Pad bumper.  With its deep platform, dual lockable storage compartments, LED taillights, and single pull-down GlowStep, it became a huge hit for Palomino hard side truck campers.
After conquering the scissor step marketplace, and redefining the very concept of an OEM bumper step system, Torklift International is back with another innovative first; an aluminum bumper step system designed to fit both pop-up and hard side truck campers.
Until now, pop-up truck campers have been stuck with scissor steps, a hitch mount step, or a step stool for getting into their units. These solutions are lightweight and work well, but don't offer the safe and steady approach of an aluminum bumper step system. With Torklift International's new Palomino Dura-Trak, that's about to change. Even better, the Dura-Trak also works with with Palomino hard side models creating multiple manufacturing, inventory, and production efficiencies.
To get the full story on the Palomino Dura-Trak, we contacted Jay Taylor, General Manager, and Jack Kay, President at Torklift International.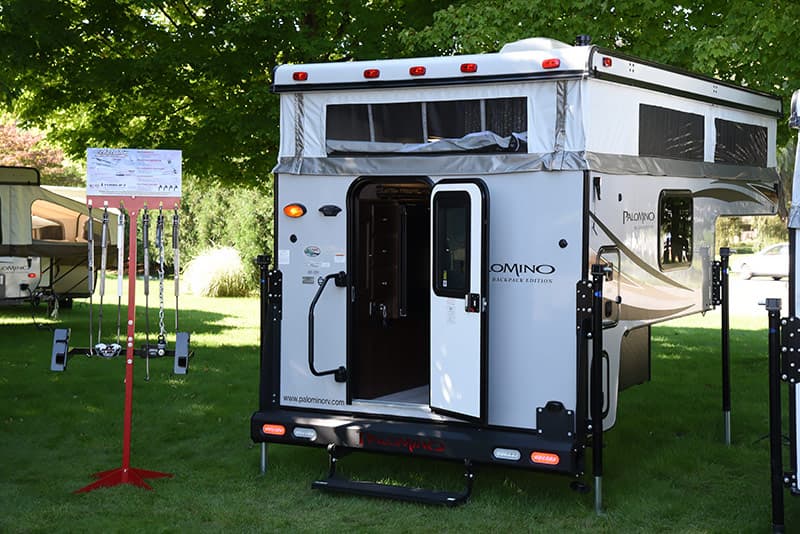 Above: The SS-1251 pop-up truck camper with the new Dura-Trak bumper
TCM: How did the Palomino Dura-Trak project get started?
Jack: On December 7th, 2015 at 7:50am, we were at the annual RVIA (RV Industry Association) show in Louisville, Kentucky when Pat Hines of Palomino RV pulled me over.
TCM: Wait a minute!  December 7th, 2015 at 7:50am?  You're kidding, right?
Jack: No, I have the date and time-stamped notes on my iPhone from that conversation right here.  Pat asked us to design a bumper and step system for their smaller pop-up and hard side truck campers.  He also had a short list of requirements for the new bumper.
Beyond that list, he left it up to the creative team at Torklift International to come up with a great bumper.  The resulting Dura-Trak was a big hit when they saw the first prototype.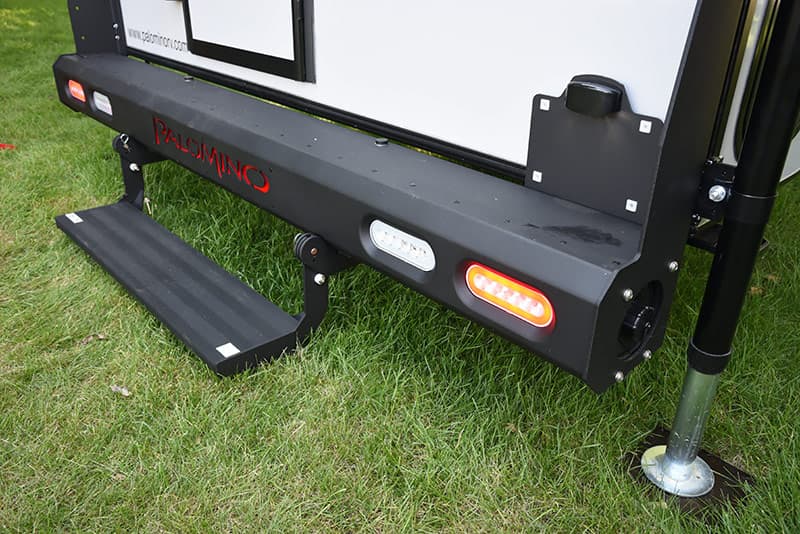 TCM: What were the design objectives that Pat needed?
Jack: He wanted a lightweight non-storage bumper design with aggressive lighting.  He wanted something visually unique that would mount accessories.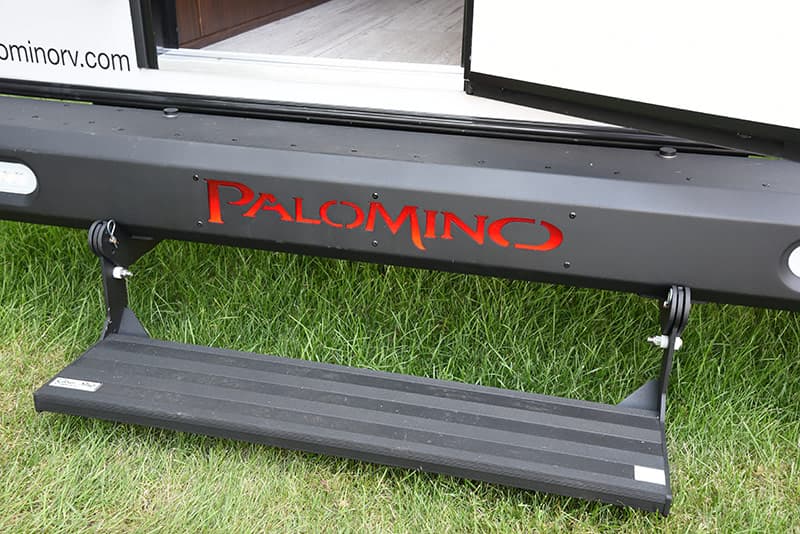 Above: The backlit Palomino logo is built into the bumper
We wanted to design a bumper that would be both innovative and efficient to manufacture.  We also wanted it to be visually aggressive, which is why it features the backlit Palomino logo.  This bumper is on fire.
TCM: For the past few years, Torklift International's aluminum storage bumpers have been very popular.  Why did Palomino not want a bumper system with storage?
Jack: The new bumper needed to be universal for both pop-up and hard side campers.  For pop-up truck campers, weight is critical.  Pop-up truck camper owners are very weight conscious, and would not want a larger and heavier storage bumper.  We worked hard on designing a universal aluminum bumper that weighs about 75 pounds.
Cost was another consideration.  A more complex storage bumper system would add cost to the pop-up and hard side models.  The Torklift Landing Pad storage bumper is still optional on hard side models for those who want a storage bumper.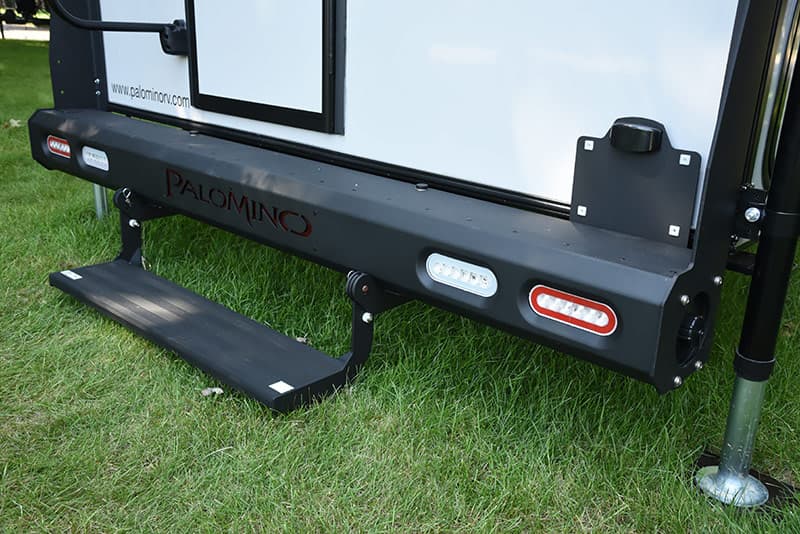 TCM: Is the Dura-Trak made exclusively out of aluminum?
Jack: The Dura-Trak uses 6000 and 5000-series aluminum for the structure of the bumper.
TCM: How about the mounting brackets?
Jack: The mounting brackets are made from the same quality of aluminum.
TCM: How is the Dura-Trak compatible with both hard side and pop-up models when some Palomino models are wider than others?
Jay: We have designed and built two versions of the Dura-Trak.  Any Palomino model that features a full-width rear wall now has a compatible Dura-Trak bumper.  Some bed-length Palomino pop-up models are notched out to expose the truck tail lights and are not applicable to the Dura-Trak bumper system.
TCM: Can someone with an older Palomino pop-up install the Dura-Trak?
Jay: It should be compatible with many Palomino models from the past two to three years.  This camper was designed for Palomino's 2017 production models, so compatibility with older units will need to be carefully verified before a consumer proceeds.
TCM: Is Torklift International manufacturing the Dura-Trak for Palomino?  Made in USA?
Jack: Absolutely!  The Dura-Trak is 100-percent made in the USA at Torklift International in Sumner, Washington.
Above: The Dura-Trak sewer hose compartment is located on the passenger side
TCM: What features does the Dura-Trak have?
Jay: The Dura-Trak does feature a sewer hose tube on the passenger's side.  There are also mounting holes to incorporate an accessory mount to accommodate an optional swing-out barbecue, tool boxes, spare tires, and generator trays.  The sky is the limit to what you can mount on a Dura-Trak bumper.
By incorporating tail lights into the bumper, Palomino can eliminate the tail lights on their units.  That saves time and cost for the manufacturer.  On the production line, the Dura-Trak is plug and play.  Torklift International bumpers open up a whole new world for both the truck camper manufacturer and consumer.
TCM: They certainly offer new possibilities.  Why not add some tread to the top of the Dura-Trak for better traction?
Jay: The Dura-Trak bumper is powder coated with a matte black anti-skid material.  The coating grips like sand paper tape, but the material is actually in the powder coat and will last significantly longer.  It's also applied to the entire bumper, not just a single area.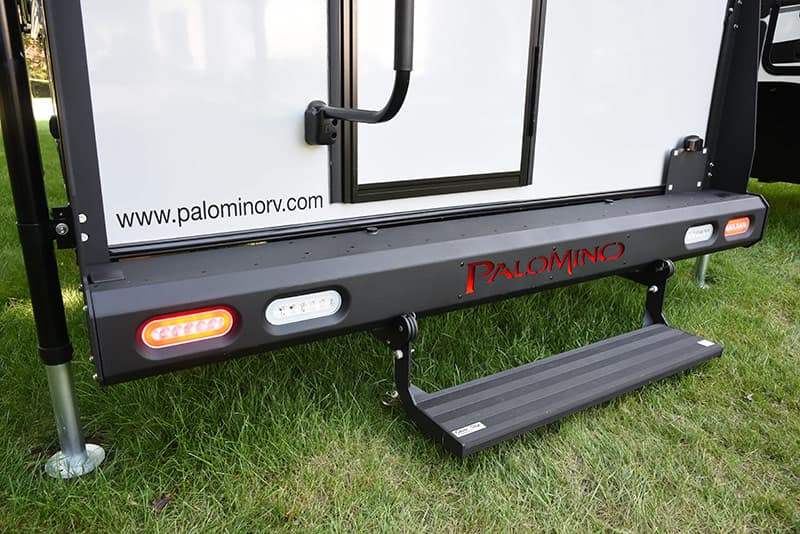 Above: The 36-inch by 8-inch step can double as a bench-style seat
Having a 36-inch wide step also provides stability, safety, and comfort as you go in and out of your camper.  The step is also 8-inches deep.  At 36-inches wide, you get a comfortable step that doesn't need to be moved to the left or right to accommodate entry doors that are off-center.
At 8-inches deep, you can also sit on the step, depending on how high off the ground the rig is.  The Dura-Trak step becomes a short bench seat.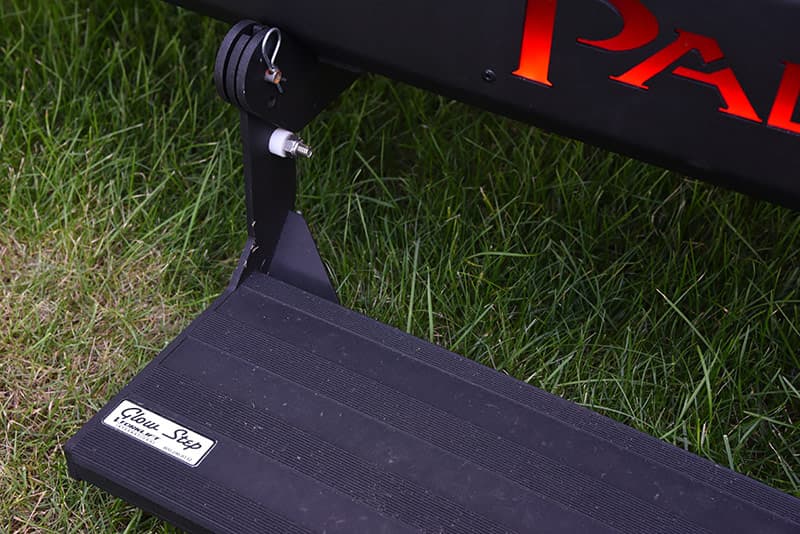 Above: A 36-inch step is included with the Dura-Trak, and GlowStep products can be used in conjunction with this bumper system
TCM: Are Torklift International GlowSteps and GlowStep accessories compatible with the Dura-Trak?
Jack: You can attach GlowSteps to the Dura-Trak if you need additional steps.  No drilling is required for the installation.
The Torklift International All-Terrain Landing Gear, GlowGuide Handrail, DirtDestroyer, and SafeStep can also be used in conjunction with a Dura-Trak and GlowStep set-up.
TCM: Are there any considerations with using the Dura-Trak and Torklift International's SuperHitch and SuperTruss towing extension?
Jack: The Dura-Trak was specifically designed to work with our SuperHitch and SuperTruss extension.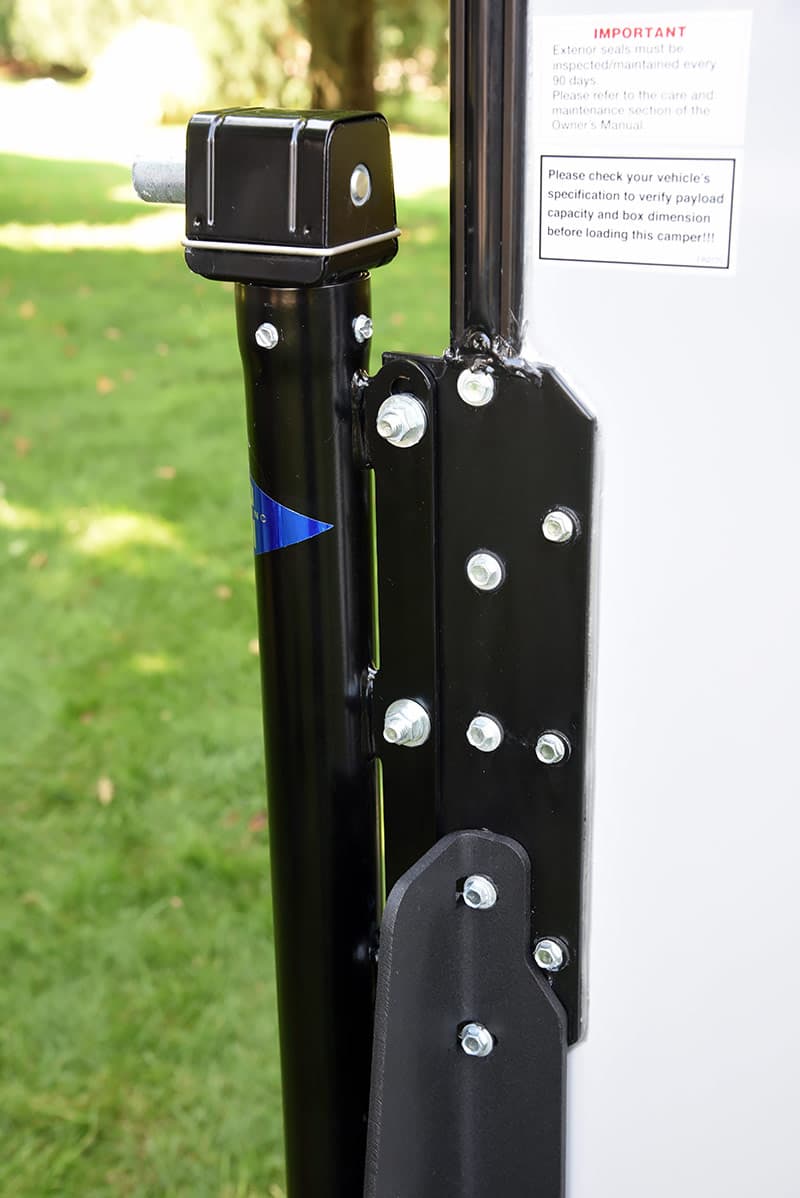 Above: Dura-Track mounting brackets are installed over Rieco-Titan jack brackets
TCM: Talk to us about what's involved in installing the Dura-Trak.
Jack: The Dura-Trak is installed over the Rieco-Titan jack brackets.  To install the bumper, you remove the jack bracket fasteners, attach the mounts, and then put the bumper on with another series of bolts.  Once it's aligned correctly, the bumper is tightened up, the tail lights are connected, and you're done.  It's straight forward for a trained installer.
TCM: Is the Dura-Trak something a consumer with an older Palomino could consider installing?
Jay: Technically, a consumer could install a Dura-Trak, but we strongly advise that the system be installed by a Torklift International certified dealer.  There are critical variables, especially if you're installing the bumper on an older truck camper.  Without taking these variables into account, you could get yourself into trouble.
TCM: Does the Dura-Trak carry Torklift International's lifetime warranty?
Jay: Of course.  We strive for a legendary lifetime warranty for every product we manufacture.
TCM: That's all the questions we have on the Dura-Trak.  What's going on with the Summit bumper project that was announced last December?
Jack: We got an extensive amount of feedback from TCM readers when the Summit bumper prototype was introduced.  Over the past year we have incorporated a lot of what Truck Camper Magazine readers asked for, and subsequently redesigned the Summit.
The Summit is also going to incorporate a lot of the same design elements of the Dura-Trak including recessed halo LED lighting and 100-percent aluminum construction.
TCM: What kinds of things did Truck Camper Magazine readers suggest for the Summit?
Jack: One reader jokingly suggested a mechanism to drop tire tacks from the bumper while driving to thwart tailgaters, but we're not going to do that.
TCM: Beyond learning that at least one of our readers is a knucklehead, did any usable suggestions come in?
Jack: Other TCM readers suggested mounts for barbecues and generators, backup lights, a spot for a bicycle rack, a better non-skid surface, a place to attach tie-downs, a spare tire attachment, a step that folds down into a bench, and lockable storage.
TCM: We wrote about the challenges of mounting the Summit to our bumper with the announcement article.  Those challenges were overcome, but how did you make the new Summit a better universal fit for older campers?
Jay: We have been taking a lot of camper measurements.  Most of our concerns now are centered around the structure of a given camper, and the condition of that structure whether it be aluminum framed, or wood framed.  Consumers are going to need to be very careful when considering if they should install a Summit bumper.
Mounting the Summit to the camper jack brackets ties the bumper system into the structural frame of the unit.  We will strongly recommend talking to a Torklift International certified dealer and showing them your truck camper before proceeding with a Summit bumper install.
TCM: Is there any other news from Torklift International?
Jack: 2016 is Torklift International's 40th anniversary.  In 1976, my father, Jon Kay, started Torklift Central in Kent, Washington as a one-man, single-bay retail shop specializing in trailer repair, custom hitches, and automotive work.
Today, Torklift International has over 100 employees manufacturing and shipping aftermarket RV and automotive products worldwide from a football-sized factory in Sumner, Washington.  In 2013, we were named the Best Mid-Sized Company to work for in Washington State.  We have come a long way since 1976.
My father always looks at business and product decisions like he is the customer.  "There's nothing more important than the customer" – that's his motto.  As he'll tell you, "Give the customer a good product at a fair price.  That's what they want."  From his leadership, the customer first business fundamentals of Torklift International have been the same from the beginning.
TCM: Congratulations on 40 years.  As TCM comes up on 10 years, we truly appreciate what it takes to stay in business that long.  It's no small feat.
To see more Torklift International bumpers, visit their website at www.torklift.com.  Click here to request information on Torklift Products.