Torklift International is on a mission to make truck camper bumpers more capable, functional, and just plain old gotta-have-it desirable.  Introducing the Palomino RV Landing Pad bumper, by Torklift International.
Think fast; Torklift International.  Fastguns and SuperHitches, right?  Think again.
Over the past five years, Torklift International has been on a tear looking to solve any problem and meet any opportunity the truck camper marketplace can offer.
Need a better scissor step?  Torklift International introduces the GlowStep series and follows with the GlowGuide hand rail.
Need to solve camper sway? Torklift International introduces the StableLoad upper overload series and follows with the StableLoad Quick Disconnect.
And the solutions keep coming; the WobbL-Stopper, SuperHitch Everest, Basement Camper Step, PowerArmor DH, Hidden Power, Fortress GasLock, SuperHitch Hero, SafeStep, and Dirt Destroyer.
What's next?  Rear bumpers.  What started with the co-development of the Fox Landing with Northwood Manufacturing soon lead to new Torklift International bumpers for Northstar.  When Northstar's Torklift International bumpers debuted at Louisville, Palomino took notice.  What happened next is something you have to see; the Palomino RV Landing Pad.
If history is any indication, the Palomino RV Landing Pad bumper won't be the last Torklift International bumper debut.  Based on the bumpers so far, that's a very good thing.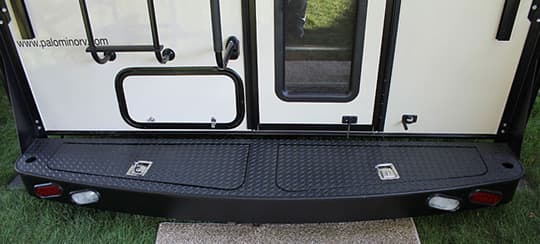 Above: The Palomino RV Landing Pad Bumper on a Palomino HS-2911 camper
TCM: How did the Landing Pad bumper system come to be?
Jay: In 2010, we started getting talking with Palomino at the annual RVIA show in Louisville, Kentucky.  They were already recommending Torklift International products and had an interest in what we do.  At first, Palomino was a little hesitant about a new bumper as they couldn't see how a bumper would make much of a difference in their truck camper line.
The following year at the RVIA show, Northstar debuted their Torklift International bumpers, so we took Palomino representatives over to the Northstar booth.  At that time we went over the conceptual idea for the a new Palomino bumper.  We explained how it could be full of innovation, and they became interested.
That same year Northwood Manufacturing launched the Fox Landing for their Arctic Fox truck campers.  That product really got Palomino's attention.  That's when we started working directly with Palomino's design team on what would become the Landing Pad.
TCM: What was it like working with Palomino's design team?
Jay: That's a great story.  Palomino's design team gave us parameters of what they wanted.  We then sat down with their engineers and design team to cover details and specifics.  Under Jack Kay's direction, our fabricators put together a prototype.
During the fabrication process, we didn't say much to Palomino.  We shipped the prototype to them and didn't hear anything back for four or five days.  Eventually, they called to get a tracking number on the bumper, and found that it had already arrived.
About two hours later, Keith Fisher, Lead Engineer at Palomino RV, called to thank, "…the Michaelangelo who created this masterpiece."  We were thrilled that they were happy, and things grew from there.
The Landing Pad was featured on two campers at the September open house in Elkhart and was very well received.  So far, the response for Palomino has been huge.