Torklift International is on a mission to make truck camper bumpers more capable, functional, and just plain old gotta-have-it desirable.  Introducing the Palomino RV Landing Pad bumper, by Torklift International.
Think fast; Torklift International.  Fastguns and SuperHitches, right?  Think again.
Over the past five years, Torklift International has been on a tear looking to solve any problem and meet any opportunity the truck camper marketplace can offer.
Need a better scissor step?  Torklift International introduces the GlowStep series and follows with the GlowGuide hand rail.
Need to solve camper sway? Torklift International introduces the StableLoad upper overload series and follows with the StableLoad Quick Disconnect.
And the solutions keep coming; the WobbL-Stopper, SuperHitch Everest, Basement Camper Step, PowerArmor DH, Hidden Power, Fortress GasLock, SuperHitch Hero, SafeStep, and Dirt Destroyer.
What's next?  Rear bumpers.  What started with the co-development of the Fox Landing with Northwood Manufacturing soon lead to new Torklift International bumpers for Northstar.  When Northstar's Torklift International bumpers debuted at Louisville, Palomino took notice.  What happened next is something you have to see; the Palomino RV Landing Pad.
If history is any indication, the Palomino RV Landing Pad bumper won't be the last Torklift International bumper debut.  Based on the bumpers so far, that's a very good thing.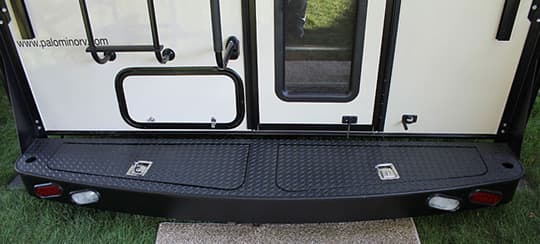 Above: The Palomino RV Landing Pad Bumper on a Palomino HS-2911 camper
TCM: How did the Landing Pad bumper system come to be?
Jay: In 2010, we started getting talking with Palomino at the annual RVIA show in Louisville, Kentucky.  They were already recommending Torklift International products and had an interest in what we do.  At first, Palomino was a little hesitant about a new bumper as they couldn't see how a bumper would make much of a difference in their truck camper line.
The following year at the RVIA show, Northstar debuted their Torklift International bumpers, so we took Palomino representatives over to the Northstar booth.  At that time we went over the conceptual idea for the a new Palomino bumper.  We explained how it could be full of innovation, and they became interested.
That same year Northwood Manufacturing launched the Fox Landing for their Arctic Fox truck campers.  That product really got Palomino's attention.  That's when we started working directly with Palomino's design team on what would become the Landing Pad.
TCM: What was it like working with Palomino's design team?
Jay: That's a great story.  Palomino's design team gave us parameters of what they wanted.  We then sat down with their engineers and design team to cover details and specifics.  Under Jack Kay's direction, our fabricators put together a prototype.
During the fabrication process, we didn't say much to Palomino.  We shipped the prototype to them and didn't hear anything back for four or five days.  Eventually, they called to get a tracking number on the bumper, and found that it had already arrived.
About two hours later, Keith Fisher, Lead Engineer at Palomino RV, called to thank, "…the Michaelangelo who created this masterpiece."  We were thrilled that they were happy, and things grew from there.
The Landing Pad was featured on two campers at the September open house in Elkhart and was very well received.  So far, the response for Palomino has been huge.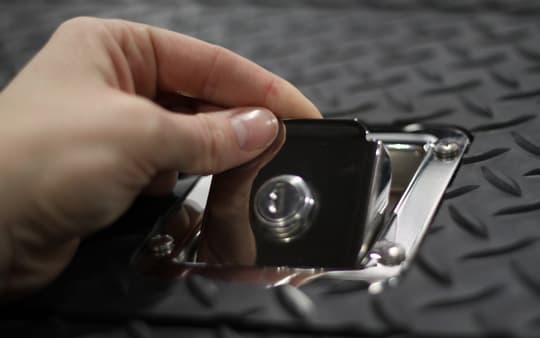 Above: The stainless steel lockable latch utilized on the Palomino RV Landing Pad bumper
TCM: Tell us about the materials used in the fabrication of the Landing Pad.
Jay: We use aircraft grade aluminum.  It's the same high quality aluminum that we use on our GlowStep series.  Everything we sell, including the Landing Pad, is 100% manufactured here in Sumner, Washington at Torklift International.
We made sure that the doors are extra heavy duty because of the weight of people standing on them.  We won't have any damage happening to the door latches or locks.
We powder coat the bumper with a hammertone finish.  It's a very popular finish and is durable.  In fact, we have just added 6,000 square feet to our facility so that we can powder coat the Landing Pad bumpers in-house.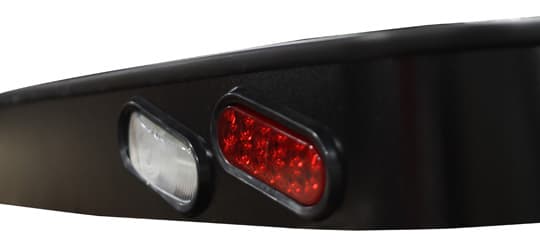 Above: The LED tail lights on the Palomino RV Landing Pad bumper
TCM: Is the entire Landing Pad made from aluminum?
Jay: Yes, the Landing Pad is all-aluminum except for the polished stainless steel latches and fasteners.
There will be a slight change to the design.  In between the taillight there will be a three-eighths inch LED light band that's 36" across the bumper.  That is happening on the next series of bumpers that we're producing right now.  They are attached to the brake lights and provide excellent visibility on the back of the unit.
TCM: How did you make sure the Palomino RV Landing Pad bumper was compatible with the Palomino production line?
Jay: We went to a local Palomino dealer and looked at their campers.  The only change Palomino requested was to add more bolt holes for installation.  That was the only revision after we submitted the prototype.
TCM: Is Torklift International manufacturing the bumpers for Palomino?
Jay: Yes, we are the manufacturer.  We have been building Landing Pad bumpers for three months.  The numbers they are selling are phenomenal.
Jack: One of the things the readers should know is that due to the mounting design, this bumper will fit on the 2902, 2910 and 2911 models.  That includes all years they have built them.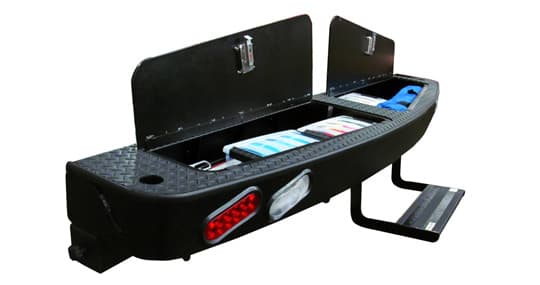 Above: The Palomino RV Landing Pad bumper features two storage compartments
TCM: What features does this bumper have?
Jay: We wanted to incorporate additional storage with the capability of inner cabinetry and a storage compartment that can be rinsed with a hose.  We wanted it to lockable so that people can put in fishing poles, camping chairs, Torklift FastGuns, and other items that need to be stored and locked outside.
There are also accessory ports for ski racks, bike racks, a swing around BBQ.  There a lot of future possibilities for attachments.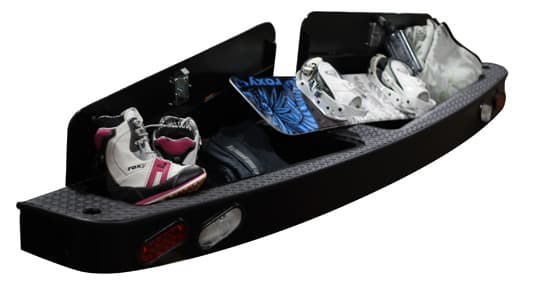 Above: The storage possibilities for the Landing Pad are plentiful
Jack: You will notice that there are double doors for storage, yet you have the full space for long items.  It's a thru storage.
For the doors, we came up with a unique design.  We are using a mechanical method of holding doors open instead of a gas strut shock.  The doors have an auto latch.  You raise the door up, and it comes to an open position and drops 1/8 of an inch.  At that point you can let go of the door and it will stay.  Pick up the door and it will drop back into the closed position.
Jay: On the back of the Landing Pad, GlowSteps can be mounted on the left, right, or center position depending on what you're towing.  It's also our first bumper assembly attached to the camper jack assembly.  It's solid.
TCM: What is the weight and the dimensions of the Landing Pad?
Jay: The estimated weight is 84 pounds.  It's 93" wide, eight-inches deep, and the platform at the crest is 19 inches.  It's a really nice stable porch and the capacity is pretty much anything you want to put on it.
There is 3.5 cubic square feet of storage in this bumper.  Storage is the key.  With the Landing Pad, you can take something that was taking up room on the inside, and put it on the outside in a lockable compartment.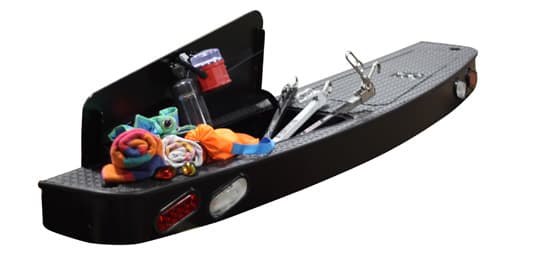 TCM: Tell us about how the Palomino bumper works in conjunction with your GlowStep series and towing systems.
Jay: The steps can be mounted to either side.  You could install a GlowStep and GlowGuide handrail easily.  The porch assembly is only 19 inches from the back door, so you can use any of our hitch extensions without any interference whatsoever.
TCM: Does the Landing Pad require maintenance?
Jay: No.  And, as mentioned on our website, this bumper comes with our legendary lifetime warranty.
TCM: For those who are interested in upgrading, is this an install a consumer can do themselves, or do they need a Palomino dealer?
Jack: We would recommend a dealer install this bumper if you are getting it on an existing Palomino 2902, 2910 or 2911 because of the reverse and stop, tail and turn light assembly.  Forest River would also prefer a dealer install the Landing Pad to keep track of serial numbers for warranty purposes.
TCM: Is there anything else about the Landing Pad you would like to add?
Jay: The actual configuration, design, and fabrication of the Landing Pad is not easy to do.  It's a very versatile piece that enhances the back end of the camper.  People looked at bumpers as a necessary part of the camper.  Now there are a multitude of new capabilities.
Click here to read about the Palomino HS-2910, Palomino HS-2911, and other Palomino truck campers.
For more information on the Landing Pad, please visit Torklift's website at torklift.com.  Request a Torklift brochure.