Palomino RV debuts a new flagship full-wall slide-out truck camper featuring a barrel roof and an Elite Package upgrade including solid surface counter tops, mocha fiberglass, and much more.

Palomino is about to take one more big step into the luxury slide-out truck camper market.  While the all-new 2013 Palomino Maverick Max 2910 isn't exactly a unique truck camper floor plan, there is little doubt that it's Palomino's new flagship hard side and a real statement about where Palomino is going.
We actually saw two prototypes of the 2013 Palomino Maverick Max 2910.  The first version was on display at the Hershey RV show back in September.  When we asked Gene Cronin of Palomino RV for the story, he told us the camper was still in the final stages of development and wasn't yet ready for prime time.
The second version of the 2910 was a bronze, Elite Package version at Forest River's open house in Elkhart a few weeks later.  Visually, the bronze model was very impressive giving more than a hint of sophistication with its rich exterior color and acrylic thermal pane Dometic widows.  Once again we asked Gene Cronin for the story, and once again we were told the camper was still in development.
The third and final production version of the 2013 Palomino Maverick Max 2910 made its world wide debut at the 2012 National RV Trade Show in Louisville, Kentucky.  The finished 2910 featured the same Elite Package bronze exterior as the second version, but also had a barrel roof, something we had never seen before in a truck camper.
Before committing to yet another photography session, we turned to Gene with our best, "Is this darn thing done, or what?" look.  It was!  In the following weeks we hounded Gene relentlessly, sometimes calling his cell phone at 2:00am to ask for the story.  Okay, we didn't really call Gene at 2:00am, but we kept calling and calling until he gave us the details on the new camper.  Here's the skinny on the 2013 Palomino Maverick Max 2910.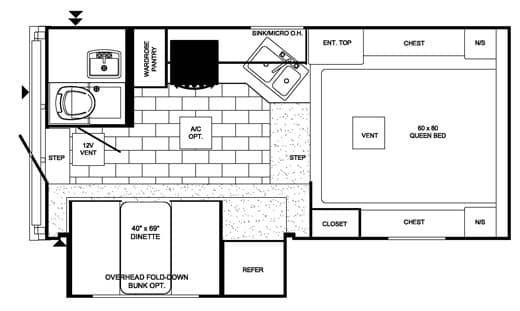 2013 Palomino Maverick Max 2910 Specifications:
The 2013 Palomino Maverick Max 2910 is a hard side, single-slide, wet bath truck camper made for long bed trucks.  The interior floor length of the 2013 Palomino Maverick Max 2910 is 10'0", the interior height is 83″ and the center of gravity is 46".  The 2013 Palomino Maverick Max 2910 has a 45 gallon fresh tank, a 20 gallon grey tank, a 20 gallon black tank, and a 6 gallon hot water heater.  It can accommodate two batteries and has two twenty-pound propane tanks.  Palomino is reporting the base weight of the Palomino Maverick Max 2910 to be 3,140 pounds.  The base MSRP for the 2013 Palomino Maverick Max 2910 is $22,379.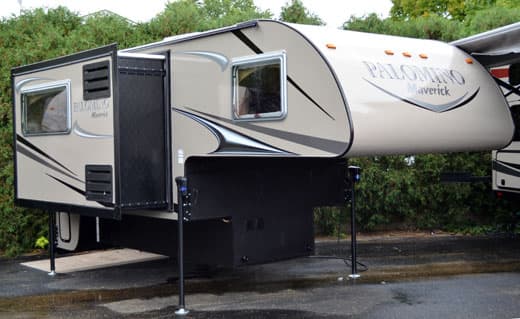 Above: Version two of the 2013 Palomino Maverick Max 2910 on display in Elkhart, Indiana
The following is an interview with Gene Cronin of Palomino RV about the 2013 Palomino Maverick Max 2910.
TCM: The 2013 Palomino Maverick Max 2910 appears to be the new flagship truck camper for Palomino.  Tell us how this camper came to be.
Gene: This camper was a natural progression for us.  We introduced our Maverick Max 2902 a little over a year ago, which was our first camper on our Max platform.  The success of the 2902 had our dealers and our customers asking for a slightly larger camper with a full wall slide.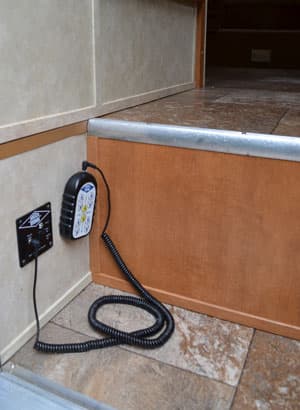 The 2902 was designed to be used on either a short bed or long bed truck. The new Maverick Max 2910 is designed specifically for a long bed truck.  This allows for a larger slide out which has allowed us to design a larger, wider dinette and has increased the interior floor space of the camper.
TCM: What distinguishes the Palomino 2910 in the Palomino line?
Gene: The distinguishing features of the M-2910 is that it is built on our Max platform.  Our Max platform includes a basement design with large, heated holding tanks, Dometic thermo pane windows, Heki thermo pane sky light, 12v LED televisions with Jenson DVD player, and Rieco-Titan electric jacks, all as standard equipment.
TCM: Does the 2910 replace any existing models in the Palomino line?
Gene: The 2910 is a new model for us and does not replace any of the campers in our 2013 line up.
TCM: The 2910 has a common floor plan in the truck camper marketplace.  What distinguishes the 2910 from its competitors?
Gene: Again, it is all the little things that we are able to build into this Max platform at a fraction of the price of our competitors.  Palomino RV is a division of Forest River Inc., a Berkshire Hathaway owned company.  Forest River Inc. is the largest RV and cargo trailer manufacturer in North America.
Being part of Forest River Inc. allows for great buying power which is passed right along to our dealers and customers.  I don't think many people realize just how important that buying power is.  Forest River builds thousands of RVs every week, which means we are buying thousands of parts like refrigerators, air conditioners, furnaces, fiberglass, lights, etc. every week from our suppliers and vendors.  This allows us to build exceptional value into our campers.  Just take a look at our 2902 on our Max platform.  I am sure you will be amazed at all of the high-end finishes and accessories for the price.
TCM: Tell us about the design and development of the 2910.
Gene: We have great production and engineering teams at Palomino RV.  All of the members have many years of experience designing and building campers.  New models basically start with our sales reps in the field.  They are the ones who talk with our dealers and customers on a daily basis.  They bring the suggestions and ideas back and we then start drawing out floor plan layouts.
Once the sales team agrees on a layout, the engineering and production teams start on the design.  This process typically takes some time as Sales, Engineering and Production all work together in the design stages to make sure we are designing and building in the features our customers are asking for.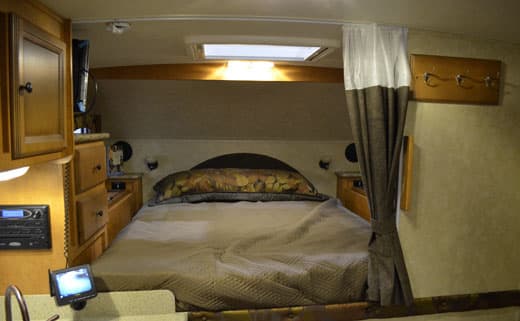 Above: The Palomino Maverick Max 2910 has a barrel roof
TCM: Tell us about the 2910 framing material, lamination, and other construction details.
Gene: The 2910 is built just like our other Maverick models.  It is a completely welded aluminum framed camper.  The aluminum frames are then matched with precision cut structural density R-value foam.  This is then laminated to our interior substrate décor panel and our exterior substrates of luan and Hi-Gloss fiberglass.  This is all done using our signature vacuum bonding lamination process.  At Palomino we laminate every part of our campers including our floors and roofs, not just our sidewalls.  This allows for increased weight savings on all of our campers.
TCM: Has Palomino used any new materials, components, appliances, or processes in the development of the 2910?
Gene: We like to keep our production process close to our chests.  We have some very experienced production employees in our weld shops, lamination departments, mill rooms and even our needle division that sews all of our soft goods.  With that said, we use top grade materials throughout.
TCM: Are you using CNC technology to build truck campers at Palomino RV?
Gene: We installed a large CNC router a few years ago and that machine runs constantly.  All of the radius parts in the nose, roof rafters, and rout frames are CNC routed.
TCM: Why has Palomino decided to use thermal pane acrylic Dometic windows for the 2910?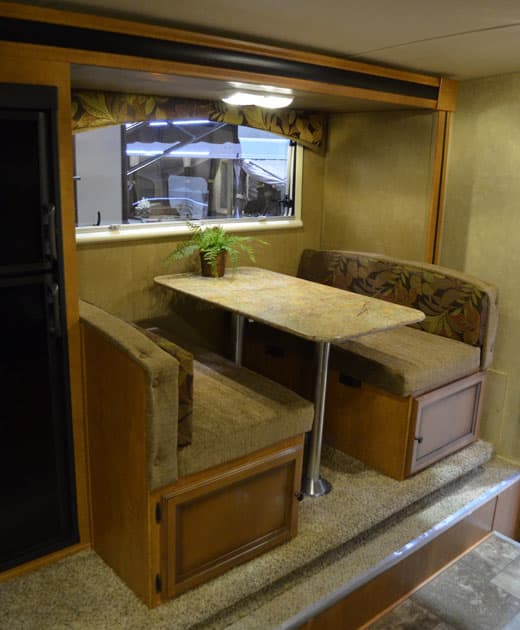 Above: The 2910 has a full-booth dinette and a large Dometic window
Gene: The Dometic thermo pane windows are standard on our Max platform.  These windows are brought over from Europe by Dometic USA.  This window design is the most popular used window with European RV manufacturers.
We chose the Dometic window because it is loaded with features.  It has a built-in roll away screen and a built-in roll away shade.  It opens in multiple positions and opens larger than any other window on the market allowing for increased air flow.  It is double pane acrylic so you do not have to worry about it shattering like a glass window.  Not to mention it is thermal pane constructed.  We feel it adds great value, especially when paired with the Heki sky light from Dometic which has all of the same features as the windows.
TCM: Why did Palomino go with a wet bath for the 2910?
Gene: We wanted to keep the 2910 on a ten foot floor and make it as light as possible.  Our market research shows that customers are purchasing truck campers to either tow a trailer behind them or to use them to get into remote locations.  We felt that keeping the 2910 on a ten foot floor would allow both of these applications to work well.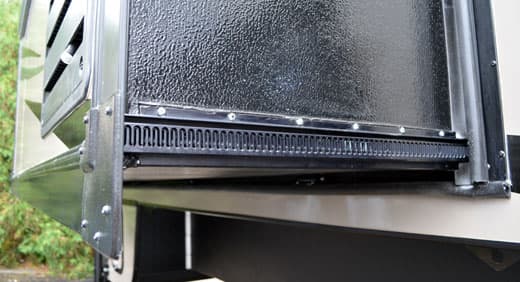 TCM: Palomino is using the new Schwintek slide system on the 2910.  Why are you using this system?
Gene: We use the Schwintek slide system on our truck camper slide-outs.  This slide system is very durable and easy to operate.  The best feature about the system, from our designers stand point, is that it has a very small footprint with the motor built into the sidewall and the extruded aluminum worm gears attached to the slide out walls.  It is a very solid system and extremely light weight.  The Schwintek system also allows our engineers to design our slide-outs to be deeper allowing for increased interior room.
TCM: Tell us about the size of the holding tanks and why you made the tanks that size.
Gene: When we designed the basement for the Max platform, we designed it knowing that we would use that platform for different Max models.  We designed the tanks to use all the available space in order to make them as large as we could.  We also knew height was going to be an issue and we did not want a huge step at the entry of our campers.
TCM: What changes did Palomino make with the interior aesthetics for 2013?
Gene: For 2013, we added new glazing to our Maple cabinet doors.  It is an updated look and a very modern design.  We have added new back splashes in our kitchens and tweaked our interior soft goods.  The interior lighting is now all LED including 12 volt LED televisions.
We are also adding an Elite Package option for 2013 that includes solid surface counter tops, wireless back up camera, motion detector exterior light, black Rieco-Titan jacks, Mocha infused fiberglass, and a Line-X sprayed underbelly.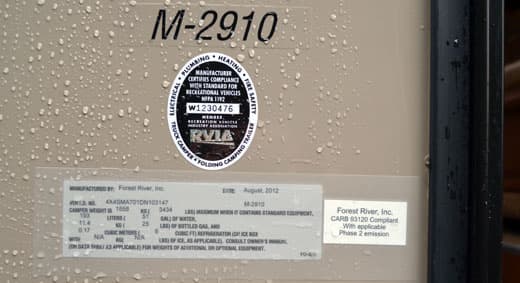 Above: The sticker from the Palomino Maverick Max 2910 Elite (optioned out) that we saw in Elkhart weighed 3,434 pounds
TCM: What does the Palomino Maverick Max 2910 weigh?
Gene: The base dry weight is 3,140 pounds.
TCM: What is the MSRP for the Palomino 2910, base, and with typical options.
Gene: The MSRP of the base model is $22,379, plus freight.  Nicely equipped, the 2910 MSRP is $25,172 plus freight.  The MSRP of the Elite Package option is $2,795.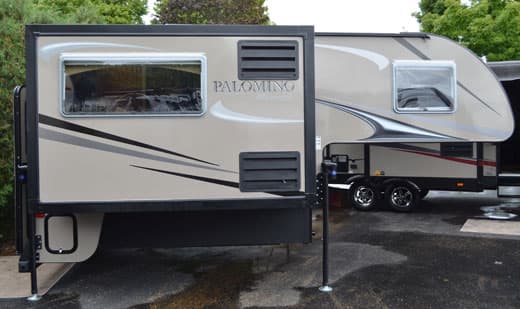 TCM: When will the 2910 be available at Palomino dealerships?
Gene: The 2910 started shipping to dealers in October.
TCM: Will Palomino be debuting any additional campers for 2013?
Gene: We are constantly listening to customer and dealer feedback and always working to improve our products.  As far as new models, you will just have to wait and see.
For more information on the 2910 and other Palomino products, visit their website at www.palominorv.com/TruckCampers/.