The survey responses this week were very strong and show clear directions for Torklift International and their Summit bumper project.  For starters, they need to focus carefully on price, weight, and mobility.
Perhaps the most eye opening trend in the following responses is the number of folks who targeted the step system as their core concern.  Specifically, they are interested in the entry step system being lower to the ground, each step being residential height, and the option for a hand rail.  This mirrors what we have heard from truck camper owners coast-to-coast in their concerns about comfortable truck camper entry and exit.
Here are the survey results.  Click the charts to expand: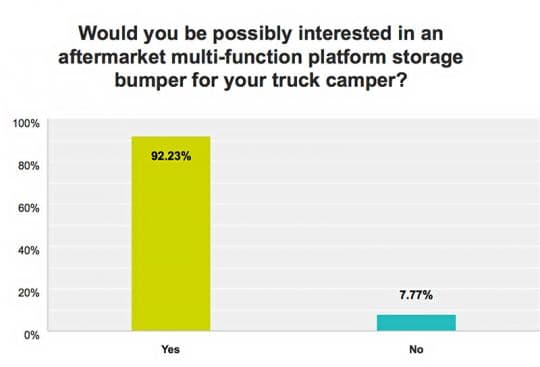 This chart indicates a sizable interest in the concept of an aftermarket multi-function bumper.  Of course folks who are interested in an aftermarket bumper may have been more likely to participate in the survey than those who are not interested, possibly skewing the data.  Even with that caveot, this is an impressive result.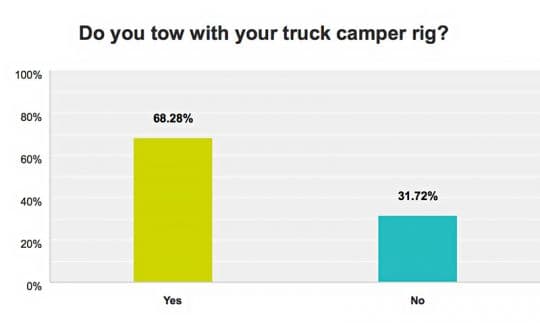 Our annual readership surveys mirror this result.  Approximately 70% of our readership tows with their truck camper rig.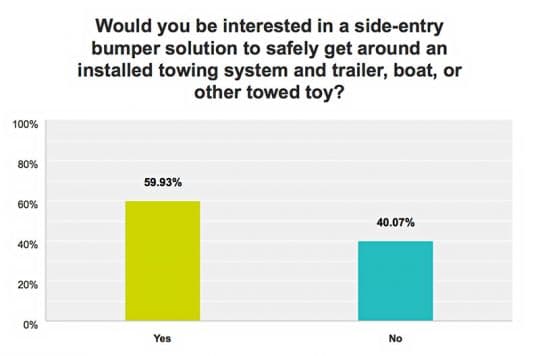 What this result indicates is that roughly 60% of the survey respondants have a tow system and/or towable that interferes with their current bumper and step system.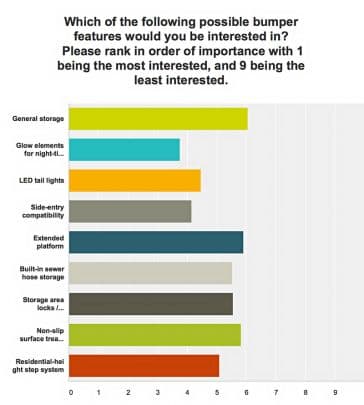 On balance, side entry compatibility did not score well in the feature chart.  In the feature chart, (1) General Storage, (2) Extended Platform, and (3) Non-Slip Surface Treatment were the top requested features.  The next most popular features were (4) Storage Area Locks, (5) Built-In Sewer Hose Storage, and (6) Residential-Height Step System.  Finally, (7) LED Tail Lights, (8) Side-Entry Compatibility, and (9) Glow Elements For Night Time Visibility complete the list.
Here are the text responses from those who left their names for publication:
"It must be lightweight.  The position of the bumper means weight on the rear axle and wheels is compounded.  Perhaps one model with storage and a smaller, lighter one without storage.  Also, sewer hose storage must be a large enough in diameter to accommodate fittings of the hose." – Jeff Sherman
"The shown prototype bumper system should work well for people who don't carry bicycles or need to tow.  Looking at the photos of the prototype bumper, I'm guessing it's about 18-inches deep at the center.  My current extended receiver hitch is 33-inches long and weighs about 30 pounds.  With the prototype bumper, I would have to increase the receiver tube to at least 51-inches.  The added weight factor of a new hitch, plus the bike rack and bike is far too much weight to be hanging off the back end.  It also would seem unsafe to tow with such a long receiver hitch.
I do like the design and the storage capability of the bumper.  Will the factory list a weight limit as to how much stuff can be stored?  When the lids are closed and locked, will there be minimal water seepage around the edges?  Are there dedicated drain holes if there is water seepage?  In order to reach the door with the extended bumper, should a hand rail that Torklift International makes be included for easy entry and exit?" – Roger Odahl
"A 12-volt / USB combo outlet." – Dale Wilmot
"Tie-down ring or hook supports for a canopy, or for the extension of a canopy built-in.  Also, back-up alarms/sensors." – Paul Jeffery
"Torklift can use my camper to install another prototype!  I would love a bumper like that on my camper." – Elquin Daza
"I want a possible spot for a bike rack, and maybe a wireless back up camera." – Paul
"I already have an Aluminess rear bumper, with swing arms and storage boxes. Aluminess already has locking storage space.  It could use non-slip surface, though." – Chuck Webb