The survey responses this week were very strong and show clear directions for Torklift International and their Summit bumper project.  For starters, they need to focus carefully on price, weight, and mobility.
Perhaps the most eye opening trend in the following responses is the number of folks who targeted the step system as their core concern.  Specifically, they are interested in the entry step system being lower to the ground, each step being residential height, and the option for a hand rail.  This mirrors what we have heard from truck camper owners coast-to-coast in their concerns about comfortable truck camper entry and exit.
Here are the survey results.  Click the charts to expand: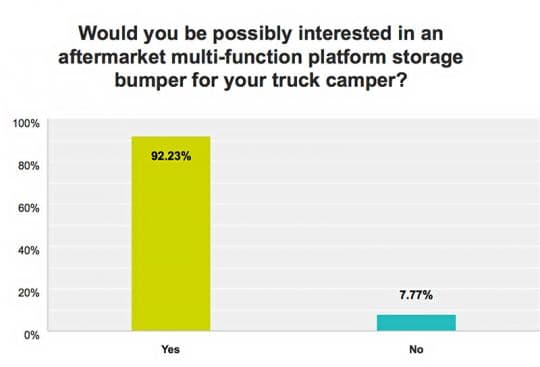 This chart indicates a sizable interest in the concept of an aftermarket multi-function bumper.  Of course folks who are interested in an aftermarket bumper may have been more likely to participate in the survey than those who are not interested, possibly skewing the data.  Even with that caveot, this is an impressive result.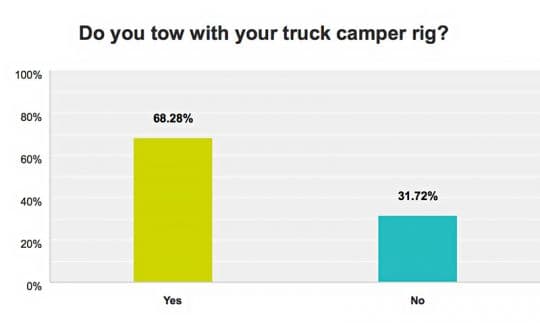 Our annual readership surveys mirror this result.  Approximately 70% of our readership tows with their truck camper rig.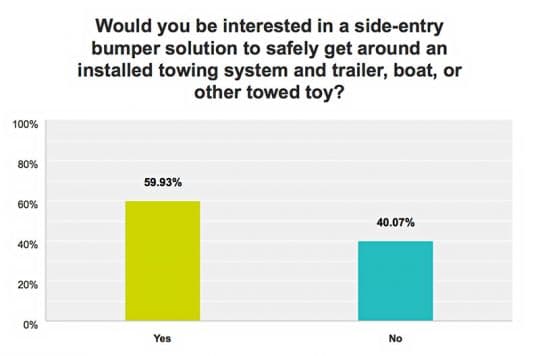 What this result indicates is that roughly 60% of the survey respondants have a tow system and/or towable that interferes with their current bumper and step system.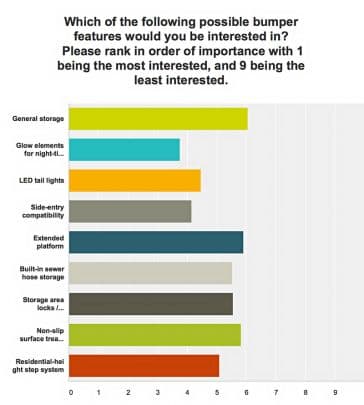 On balance, side entry compatibility did not score well in the feature chart.  In the feature chart, (1) General Storage, (2) Extended Platform, and (3) Non-Slip Surface Treatment were the top requested features.  The next most popular features were (4) Storage Area Locks, (5) Built-In Sewer Hose Storage, and (6) Residential-Height Step System.  Finally, (7) LED Tail Lights, (8) Side-Entry Compatibility, and (9) Glow Elements For Night Time Visibility complete the list.
Here are the text responses from those who left their names for publication:
"It must be lightweight.  The position of the bumper means weight on the rear axle and wheels is compounded.  Perhaps one model with storage and a smaller, lighter one without storage.  Also, sewer hose storage must be a large enough in diameter to accommodate fittings of the hose." – Jeff Sherman
"The shown prototype bumper system should work well for people who don't carry bicycles or need to tow.  Looking at the photos of the prototype bumper, I'm guessing it's about 18-inches deep at the center.  My current extended receiver hitch is 33-inches long and weighs about 30 pounds.  With the prototype bumper, I would have to increase the receiver tube to at least 51-inches.  The added weight factor of a new hitch, plus the bike rack and bike is far too much weight to be hanging off the back end.  It also would seem unsafe to tow with such a long receiver hitch.
I do like the design and the storage capability of the bumper.  Will the factory list a weight limit as to how much stuff can be stored?  When the lids are closed and locked, will there be minimal water seepage around the edges?  Are there dedicated drain holes if there is water seepage?  In order to reach the door with the extended bumper, should a hand rail that Torklift International makes be included for easy entry and exit?" – Roger Odahl
"A 12-volt / USB combo outlet." – Dale Wilmot
"Tie-down ring or hook supports for a canopy, or for the extension of a canopy built-in.  Also, back-up alarms/sensors." – Paul Jeffery
"Torklift can use my camper to install another prototype!  I would love a bumper like that on my camper." – Elquin Daza
"I want a possible spot for a bike rack, and maybe a wireless back up camera." – Paul
"I already have an Aluminess rear bumper, with swing arms and storage boxes. Aluminess already has locking storage space.  It could use non-slip surface, though." – Chuck Webb
"I would want a slight up-angle so that it wouldn't drag when driving over deep dips in the road.  Also, I'd want attachments in three places (left, center, right) for the step.  I would want attachment hooks so items can be secured to the deck like a BBQ, tent, firewood box, blue waste carrier, and a support ring bracket which could be attached to lift posts.  Maybe it could include brackets that are installed on a small fence/porch so that stuff will stay put when I'm parked.  Finally, an access point for a rear tire winch." – Harry Palmer
"I'd want a mount for a Honda 2000 generator and a quick disconnect to attach LED lights since the generator would block the truck camper's lights." – Tim Holman
"Adjustability or accommodation for narrower width campers; both hard side and pop-ups." – Larry Bluhm
"Our back bumper acts as a container with air compressed to 10 bars." – Frederic Amorós, Spain
"Possibly a fold up capability." – Gus
"In Australia, it's called and Esky.  It's a lockable ice chest with a drain plug that can be easily hosed out.  Also, I'd like an extendable platform, and a fixed or lockable BBQ facility (or mount)." – Hilly, Australia
"A built-in 13-inch, 60-watt Osram LED bar flood lights for reverse driving would be nice.  I can show you pictures of mine on my Torklift SuperHitch." – Ryan Perrault
"There are quite a few campers that don't come with a bumper at all, like the Lance 825, 865, etc.  It would be great if a bumper was available for these units." – Scott Park
"I would like to have a towing receiver, offset, as not to interfere with towing a trailer.  The receiver could be used for a bicycle rack, grill mount, etc.
I would like to see modular mounting systems for a towel rack, table top, flatscreen TV, and other tailgating functions.  I also think power port receptacles should be an option." – Chuck Botwin
"It would be nice to have some type of bumper that attaches to a receiver for the shorter truck campers that do not have bumpers and fully rest in the bed of the truck." – Chip Hurley
"I want it as light weight as possible, and reasonably priced." – Maaja
"Integral is the support to the corner jacks.  I am currently looking into developing one for my camper with these features, and outer corner connection points to brace the back down to the truck's hitch.
I will also be incorporating 12-volt and 110-volt outlets into the bumper.  Keep in mind that your deck doors need to accommodate for sand, water, or even ice and snow getting in.  Yes, I winter camp.  My favorite place to camp is on the beach on Cape Cod." – Tom
"We have a 2003 Arctic Fox 1160 with a 2003 Chevrolet 3500 DRW truck.  Steps today are 8-inches in height and 10-inches in width.
There is no truck camper with steps that are easy to get into or out of without thoughts of falling and hitting the ground.  I may break my leg, arm, etc.
I have a boat or a small car that I pull behind the truck camper.  I would have to be able to use my SuperHitch with the extension to pull the trailer.  Then, I have to get in or out of the camper when I have the trailer on the camper.  To enter from the side would be better than the back with a trailer attached to the SuperHitch." – Bob and Brenda Vea
"I would like a rubber bumper trim like on the side of my boats." – Vic
"I would like a system that accommodates the use of a BBQ and support from either side of the bumper.  I would like it to be stowed within the bumper for travel while access to our generator is not limited.
Presently we have an OEM aluminum bumper with sewer hose holding ability.  What weight are we talking about?  More rear weight is not needed." – Eric Devolin
"Perhaps a telescopic flag pole?" – DuWayne Hermann
"It needs to be strong and durable, hopefully without being super heavy." – Tom
"I would like a compressor air storage tank built in with quick disconnects hose fittings. I would also like Hi-Lift jack receiver slots, and clevis or tow strap anchor points and 12-volt battery quick disconnects for jumping, a winch, trailer, and fire extinguisher storage.
Also, back-up and side shining flood lamps, full-width storage for carpet pad storage, sewer hose, integrated back up camera for trailer hook up, spare tire swiveling tire mount, 2×2 stake pockets for bike rack, fishing pole storage, 12-volt outlets, bottle opener on curb side for evening refreshments, etc.  And it needs to be weather tight." – Jim Howell.
"The step height is a big deal for us.  Even your Prototype B looks to have a big step from the bumper to the truck camper door.  It should have an intermediate step and a wider bumper storage would allow that.  The single fold down step from the bumper could be a two step, like RV trailers (oops sorry) have.  Perhaps the lower step could be removable if not needed." – Bill Billyard
"A carrier for a bike." – Sylvain Robin
"I like the white top surface.  The non skid 3M stair treads are more appealing to me than the industrial diamond plate mat that is shown.
The side support plates (canoe paddle) looks to be an overkill, and also looks to be a PITA to install.  I installed my stinky slinky on a tray that slides into my bumper.  I do not see this option on the new design and certainly would not want the stinky slinky just flopping around in the storage area shown.
My truck already has tail lights.  Can I get one without lights?  If I get one without lights, can I get access door on the face side rather than the top?  Can Torklift just make me a step to replace my existing one?
I am okay with my current bumper, but would like to get the residential tread width and riser height from a flip-down step.  I would also be more willing to drop some cash on a replacement step than the whole bumper system." – Ben Hansen
"Provisions for or an optional wired/wireless backup camera." – Dave Erickson
"An insulated, removable box." – Roy Garland
"With a basement door between our entry door and bumper, we need a moveable step a few inches higher than the bumper and at least two steps down from that.  Three would be better.  Importantly, it needs to be as simple and quick to put up and down as the current fold-down step." – Mike Dvorak
"I'm looking for a Honda 2000 generator, and fuel storage." – Neal Haymore
"Swing out options for storage cabinets, Rotopax mounts, portable generators, BBQs, tools (shovel, ax, etc.), recovery gear (Hi-Lift, Pull-Pal), a mount for a set of Maxtrax, and a mounting system for a Trasharoo bag." – Rex Carroll
"With my camper, a 2010 Eagle Cap 995, the step from the bumper to the door is too high for my wife (short legs and bad knees), so I need a step between the bumper and the entry door.  But, I don't want to lose that storage access door below the entry door.
I need a step to slide or fold-up out of the way.  Ease of entry is my top priority and I would definitely be interested in buying an engineered aftermarket solution." – Brian Schlepp
"I would like a flip-down step so you can get in the camper when towing." – Steve Parker
"A license plate mount location." – Norm C.
"It should be detachable, water tight, and include a paddle, of course!  Seriously, a fold-over or extendable rail/trough to carry a sub-300 pound motorcycle, or a deck opening that would accept and secure a 2000 watt class portable generator." – Mark Obert
"A hitch attachment for bike carrier, etc." – Teri Hartshorn
"Low cost and weight, and aluminum or plastic like a car bumper." – Steve Cordis
"We really like the extra step and wider platform on our current after market number and the fact that the steps easily lift up out of our way make hooking up our trailer a breeze." – Ken and Jenn Burton
"Attached and removable steps.  I would like a place to attach a ramp for a dog to use, and then storage of such ramp." – Charlie Spear
"I would like large below deck level storage that extends to the bottom of the truck bumper for maximum storage, maybe with rollers for safety." – Robert Garbe
"The ability to move the step off to the side of the hitch regardless of how robust the side-entry compatibility ends up being." – Kevin Eliseo
"Some sort of a grab rail or handle to hold onto when entering the camper built into the bumper, possibly removable." – John Rand
"I know quality costs, but try to keep to a reasonable price amount.  Is it at all feasible for the entire deck to be hinged up so it can be larger (out form the camper) and easily lowered?  Maybe have it without all the storage, and just a place for the sewer hose?" – D. Weinstein
"A couple of solid bolt points so I could later add options that I built." – Bill Strickland
"Strong, light, attractive, useful storage area for tools, vehicle fluids, etc." – Mike Burbank
"A modular bumper.  As your needs change, you can easily rig your bumper to suit." – Randy Davis
"Possibly a slide-out storage tray.  However, it would need to be on one side or the other so as not to interfere with towing." – Bob Watts
"Night time courtesy lights that shine down on the ground and can be turned on by a switch on the bumper would be nice." – Steve and Jen House
"The steps must be usable while towing a trailer, or flat towing a vehicle.  Also, the lowest step needs to be low enough not to require a stool to reach the first step.  My wife can't manage a high first step." – Bill Mayer
"I have a side entry camper.  I would only be looking at this for storage.  I would like to see added racks for kayaks and bikes." – Dean Geisenhaver
"A solid two-step fold-down function." – Douglas Packer
"Some kind of hand rail.  An attachment point for a small barbecue, not to interfere with the top of the platform.  I would like recessed holes for things like a clothesline, flagpole, fishing poles, etc." – Kevin McCarron
"Steps that are moveable to the side for towing.  We tow most of time with our camper." – Elliot Groeneveld
"A plug-in extension for a four/seven wire trailer plug.  This would be a convenient option for those who pull a trailer." – Warne Todd
"In addition to a sewer hose compartment, maybe the other side of the system could incorporate storage for FastGun tie-downs.  They either end up on the floor of the truck (not good for camper-less traveling) or on the floor of the camper.
Additionally, we love our GlowSteps, but they're a hassle to store and connect.  Well, they're really not that much of a hassle since we love them, but still, they could be easier to store and connect.
If you're building a bumper system from the ground up, it would be great to incorporate a stair system into the bumper.  The system would need to be modular, like the GlowSteps, so that steps could be added or removed as needed by different camper/truck deck height requirements.
I've seen multiple step arrangements on fifth wheels where three or four steps fold into the body under the door.  This system could incorporate a very similar design where a two, three, or four step system could be folded into a compartment under the door.  Now, the challenge is to make this compatible with towing systems.
I'd happily give up storage in the bumper system for a system that could slide from centered to off center.  It could be a positive locking system which engages in either centered or right positions.  Yes, we're adding weight, but dreaming is free.
Another thought would be to incorporate the Fox Landing design into your new bumper system.  I believe the Fox Landing only comes with two steps.  It would be great to have the option to add additional steps to that system.
The bottom line is that I'd really love to see a multi-step system incorporated into a bumper that is usable.  My Lance step is so narrow that it is nearly a hazard.  The GlowSteps are fantastic but don't always end up horizontal with the ground, depending on terrain.
I'd love a camper mounted step solution which is non-intimidating and stable. The narrow Lance step is further aggravated by the GlowStep mounting bracket bolts which antagonize folks not familiar with the entry dance.  Once camped, the GlowSteps are on and all is good but, on the road, the Lance swing down step is what we use.  I'm looking forward to what you guys come up with!" – Mark Joslin
"Side entry is a nice thought but, upon further reflection, not really the answer.  My 2013 Northstar Arrow 8.5 rear door swings to the right due to the ladder being mounted on the left.  Since the Jeep is dropped at camp, and we only travel with the Jeep about fifty percent of the time, the side entry is of little value to us.
I was ready to fabricate my own bumper using the Happijac 4160 mounts.  Another fabrication addition was a pull-out deck, stored under the camper's overhang, and a bumper that could be set up and supported by cables similar to my toy hauler's rear ramp.  I will volunteer for a Northstar prototype test at my business shop if needed.  You guys have something there!" – Barth Zurbuchen
"Our main concern is weight." – Alain Larose
"We tow a boat at times, so minimal protrusion aft is important.  A fold-down deck with side entry would be nice.  We like our six step aluminum steps, but they don't work well while towing." – Dave Miller
"The built-in storage area is great.  However, there will be some applications where a slide-out drawer system might be a better choice over a lift top system.  Some folks like to hang things on the back of the camper and the slide-out drawer would allow access without removing the hung items.  You might want to offer that as an option." – Bob Hicks
"A hand rail for side step entry." – Winston Gotte
"As a dream, a foldable or drop-down platform that could be like a small patio for the dogs to stay on, or maybe sit a chair on one side.  It could be like a trifold that could be used in the the length needed at the time of parking, unfold once, twice, or all the way.  It would probably need a couple built in support legs, and be covered with outdoor fabric.  You said one can dream right?" – Pam Conner
"I would like it to be fabricated in aluminum.  That would be durable and save weight." – Lucien F Langlois
"Most important is a safe way to enter or exit your camper, so non-slip and an actual landing to get your self organized is most important.  The average age of people using RVs has to be taken into consideration more." – Wes Hargreaves
"Unless I missed something, they need to make that storage bumper water tight.  I see no gasket material on the access doors or where they rest." – Mike