Torklift International launches the world's first 3-inch hitch extension for 2017-2019 Ford F-350 trucks.  It's time to ditch the reducer sleeves and load the Torklift Cannon.

One of the biggest challenges at Torklift International is keeping up with the new trucks and their ever-changing designs.  When a new truck is unveiled, Torklift International's team measures, prototypes, designs, develops and tests new versions of its popular tie-down and towing systems.
Fortunately, Torklift International is a fabrication company at its heart.  We have personally witnessed the Torklift team rise to many design and fitment challenges and knock them out of the park.  In fact, they seem to like it.  New truck?  Bring it on.  Fitment problem?  They can fix it.
The latest design challenge was a bit different.  In an unusual move, Ford developed a 3-inch OEM hitch for their 2017-2019 trucks.  This is a non-standard hitch receiver size leaving a gaping hole in the marketplace.
Until now, nobody offered a proper 3-inch extension for these trucks.  Consumers literally had to use reducer sleeves to fit 2-inch and 2.5-inch extensions in the 3-inch hitch.  For ultimate safety and towing comfort, this is less than an ideal.
Enter the Torklift International Cannon Extension; the world's first 3-inch hitch extension for 2017-2019 Ford trucks.  For the back story on this new product, we talked to Jack Kay, President of Torklift International.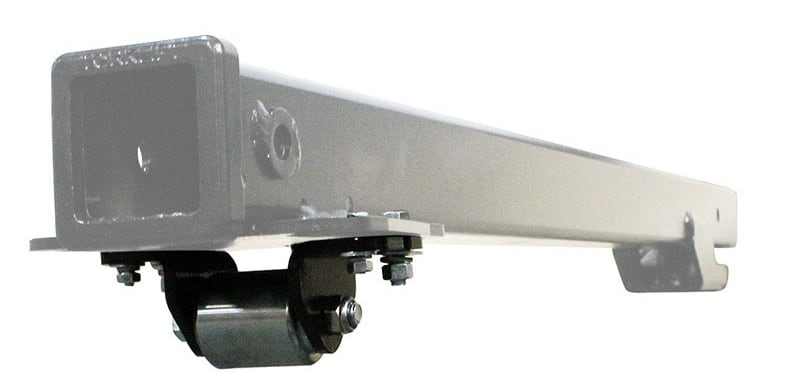 Above: Torklift International Cannon Extension
Why would someone opt to use the Ford OEM 3-inch hitch instead of installing a Torklift SuperHitch or SuperHitch Magnum?
There is no reason why someone with a 2017-2019 Ford F-350 could not go with the Torklift SuperHitch, Torklift Magnum and Torklift Super Truss Extension on a Ford Super Duty truck. Our SuperHitch products are unbeatable and will maximize the towing capabilities of those vehicles.
That stated, not everyone needs the towing capabilities of a Torklift SuperHitch. For example, someone towing an aluminum boat or off-road quads may not need the extreme abilities of the SuperHitch. We developed the Cannon for the person who owns a 2017-2019 Ford F-350, and doesn't need a lot of towing capacity.
Until the debut of the Cannon, there were no 3-inch extensions for the Ford F-350. To adapt existing 2-inch and 2.5-inch receivers, Ford owners have been using reducer sleeves.
Reducer sleeves do not fit tightly and can double or even triple the horizontal and vertical movement, sway and bucking of a towing set-up. This can be hazardous going down the road. For safety, you need an extension that fits tight.
The Cannon is the only extension to safely tow with a 2017-2019 Ford F-350 3-inch OEM hitch. It's based on the patented designs of our SuperTruss extensions and utilizes lateral support chains and a set-bolt system.
As a result of the design, the only way to make the Cannon more locked would be to weld it in. By the time you tighten it, it's essentially part of the factory receiver hitch. That's critical for a comfortable and safe tow. With the Cannon installed, the trailer will not be forcing the truck to counter.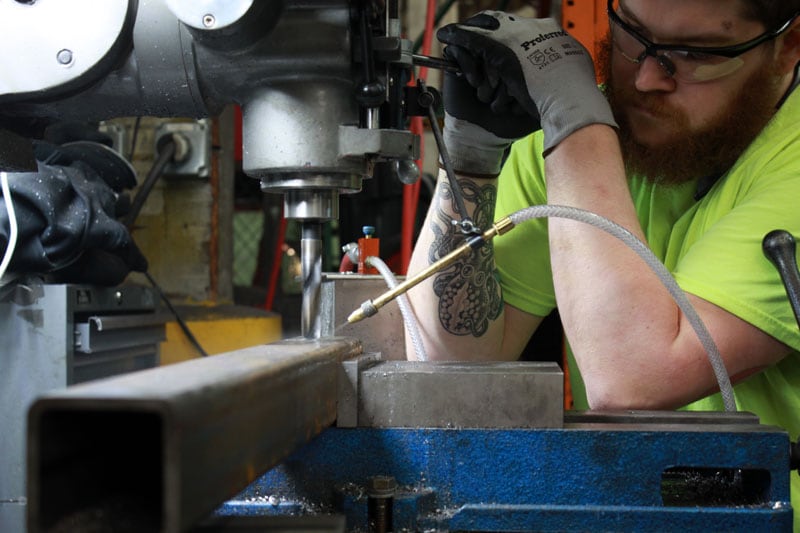 Above: Torklift Combine Manager, Kelson Rees, drills through the tubing of a Cannon extension
What is the Torklift International Cannon made from?
It's made from steel with reinforced internal steel tubing. There is a steel tube inside the outside tube to attain its impressive capacities. As a side note, the actual capacity of the Cannon extension exceeds what we rated it for.