Truck Camper Magazine continues its 2015 "Never Seen That" tour at Torklift International's factory in Sumner, Washington and discovers TLI's real hidden power.

The American garage is the literal birthplace of many world changing businesses.  Bill Hewlett and Dave Packard started Hewlett-Packard in a garage in Palo Alto, California.  Steve Jobs and Steve Wozniak started Apple Computers in a garage in Cupertino, California.  Jeff Bezos launched Amazon in his Bellevue, Washington garage.  Google, Walt Disney, and Harley Davidson?  You guessed it, American garages launched them all.
I find this history deeply inspirational.  You can start a business that changes the world in nothing more than a garage.  Yes, you need to have a big idea, entrepreneurial tenacity, and a healthy dose of good luck, but it's possible.  Truck Camper Magazine started with nothing more than an idea and a laptop in my living room.  We're not Apple, but you get the point.
Of course there's only so much growth most companies can experience in a garage.  Eventually they need more employees with more desks and computers, and/or more equipment and production stations.  Staying in that first garage is impossible if a company is to take flight.
When we first visited Torklift International in 2007, they had already emerged from their birth garage and were making nearly miraculous use out of a somewhat larger garage.  Everyone who saw Torklift International's second building walked away impressed with the sheer output produced from a relatively small space.  I remember being there thinking, "Where's the rest of the factory?"
Eventually, Torklift International's second garage building began to hamper their growth and it was time to move to a larger facility.  Five years ago, Torklift International moved into a new-to-them facility in Sumner, Washington.  Torklift International's new space is many times the square footage of their second garage, and has the room Torklift International needs to run.
Ironically, the front of their new facility features a very large garage door.  Perhaps it's in Torklift International's DNA to stay in an American garage.  All I know is that if this company keeps growing, they're going to need the NASA Assembly Building to stay in an American garage.  Elon Musk might beat them to that, but I wouldn't count Torklift International out.
As part of our "Never Seen That" tour this summer, we visited Torklift International to finally see their new factory.  What follows is a photographic walk through of their facility, and a close-up look at how Torklift International's "Magnum Super Factory" has allowed the company to expand their manufacturing capabilities, production capacity, and product offerings.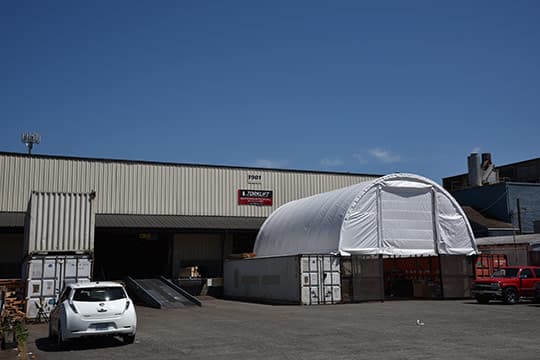 Torklift International's new factory is located in an industrial complex and nestled between a vinegar plant, a recycling facility, and a beer distributor.  Most of what can been seen from the exterior consists of repurposed shipping containers, a white canopy, loading dock, ramp, and the end of a shared factory building.
Walking up the ramp, you're greeted by an enormous garage door.  It's then that the sheer scale of the new Torklift International factory hits.  The facility stretches back several hundred feet with a high ceiling.  The above photos are just a sample of the first of two deep aisles flanked with CNC plasma tables, welding booths, presses, punches, and other metal manipulating machines and shipping stations.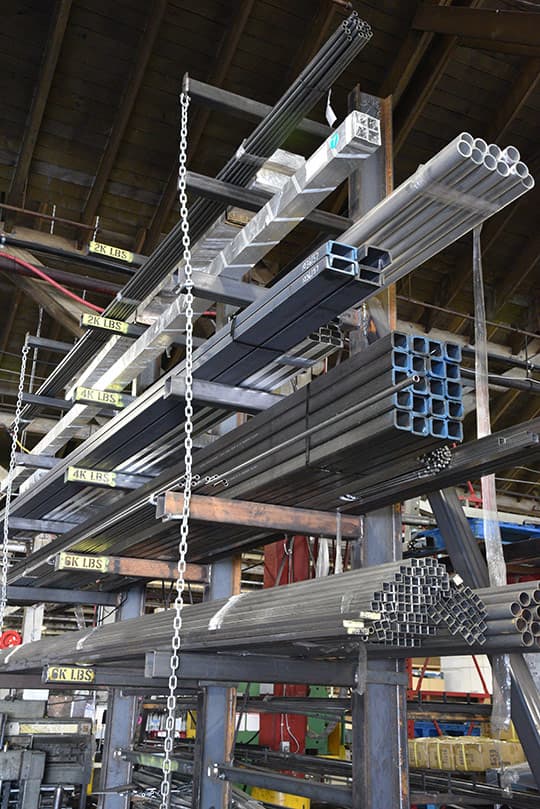 Just inside the garage door is where the steel and aluminum materials enter the plant to be processed and stacked for production.  In this photograph you can see the US-sourced steel and aluminum tubing used for everything from Torklift International SuperHitches to their frame-mount tie-downs.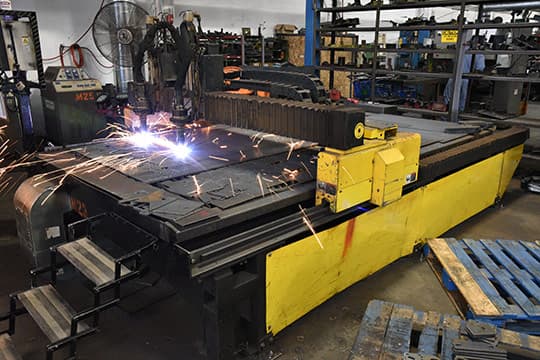 A few feet deeper into the plant, two CNC plasma tables are cutting metal plates.  This is both fascinating and dangerous to watch as the intense light from the plasma table is bright enough to damage your unprotected vision within seconds.
Because of this, all of the plasma table and welding photographs you see in this article were taken with my eyes closed.  This is one part of my job that I've had to learn to do without looking.  That and loading the camper.  Just kidding.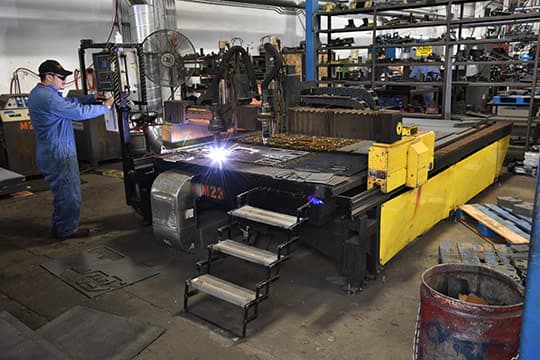 Here you can see Jose Santacruz operating the second CNC plasma table to cut an aluminum plate.  He's operating the computer that controls the table, and wearing the appropriate protective eye wear.
You might also note the GlowSteps attached to the table.  Jay Taylor, General Manager for Torklift international, explained that this table had some glitches before the GlowSteps were installed, after which it performed flawlessly.  Do we believe him?  Of course we do.
CNC plasma tables are essentially computer controlled robotic plasma torches that can precision cut steel and aluminum plates.  The speed and quality of these remarkable tools make CNC plasma tables a critical part of Torklift International's operation.
Torklift International utilizes CNC plasma tables to turn SolidWorks computer designs into intricate metal pieces.  These pieces are then deburred, punched, bent, welded, and powder coated into finished Torklift International products.
In the photos above you see a dog bone shaped piece being pulled from a CNC plasma cut steel plate (left), the freshly pulled part before it's deburred (center), and the same part held next to the product template (right).  The dog bone shaped piece is part of a tie-down system.
The metal plates that emerge from the plasma tables leave as little waste metal as possible.  In fact, the resulting sheets and their removed repeating patterns are really neat.  The above photograph shows an aluminum plate with CNC plasma cut parts for Talon tie-downs.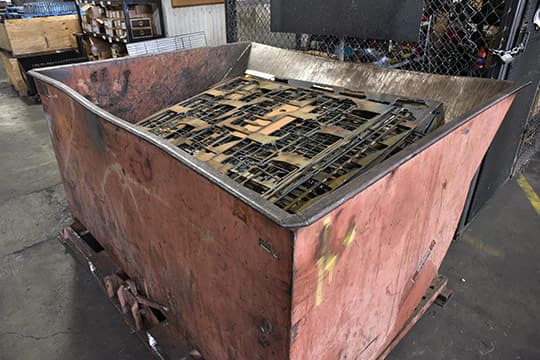 I can see galleries in SoHo, Manhattan hanging these plasma cut plates on their walls.  For now, Torklift International casts these works of art into a large metal bin for recycling.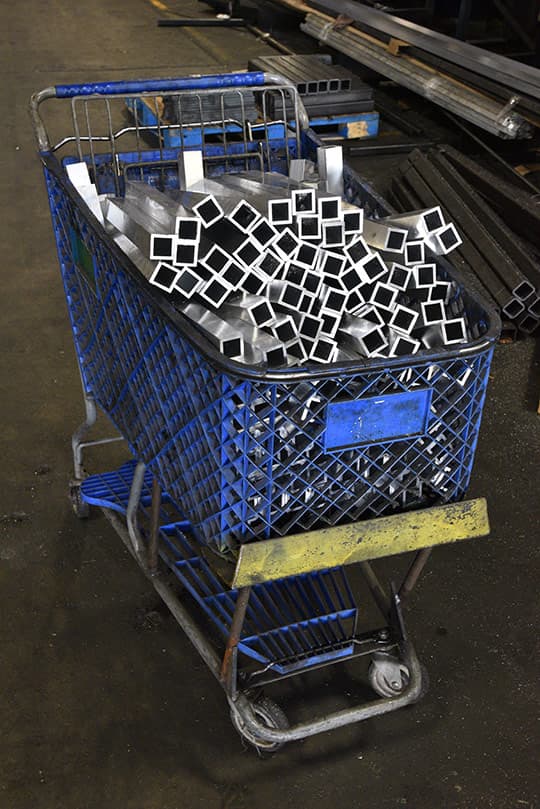 Across from the plasma tables, we saw this grocery cart of freshly cut square aluminum tubes ready for the welding team to turn into Talon tie-downs.  At first a grocery cart struck us as a funny way to move material around a factory, but it's certainly practical, simple, and effective.  Right tool for the job?  You bet.  And we love the Mad Max-style yellow steel bumper someone added on the front.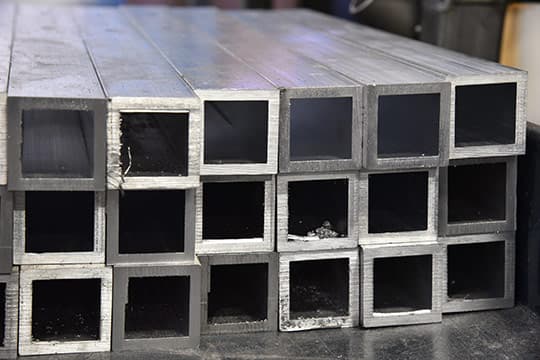 Here's a closer look at the thickness of the aluminum tubes used for the Torklift Talons.  We have been using the Talons on our rig for a few months and have been very impressed.  Even better, the whole system for our 2014 Ram 3500, tie-downs and Fastgun turnbuckles, weighs only 45.5 pounds.  Put a Talon tie-down in your hand and you'll notice right away; impressively light and solid.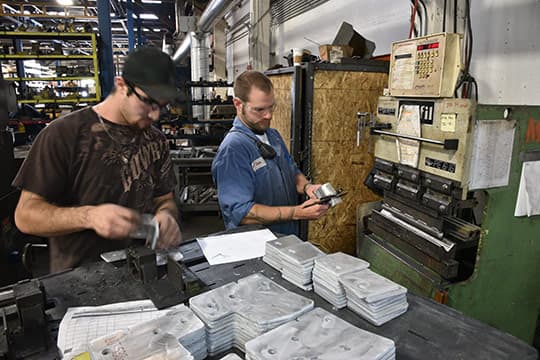 Speaking of Talons, here Cody Pecor and Cameron Ternes are bending CNC plasma cut aluminum plates and assembling the parts onto a jig.  Note the aluminum parts on the table in the foreground and the metal bending machine on the right.  Cameron is also carefully measuring each part as it comes out of the bending machine.  To fit a specific truck correctly, precision is critical.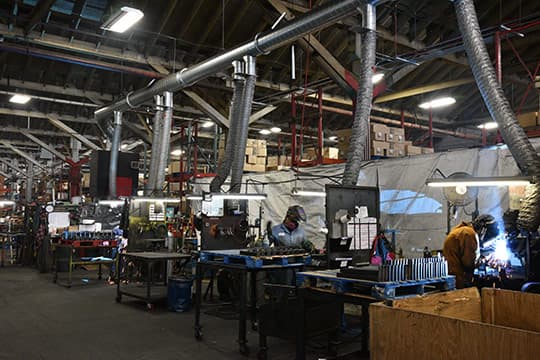 Across from the CNC plasma tables are a half-dozen welding stations welding different parts of Torklift International's frame-mounted tie-downs, turnbuckles, and SuperHitch towing system.
In 2007, the folks at Torklift International had Angela and I weld our own tie-downs.  I was terrified of welding off a finger, and Angela jumped in with her typical fearless, do anything positive spirit that I adore.  We both came away from that experience with a deep appreciation for how challenging quality welding can be.
The Torklift International welding team makes welding look easy.  These guys pick up metal pieces, place them into a jig, and weld part, after part, after part.  It's incredible to watch, although you really can't because you'll go blind.
Don't touch!  These freshly welded tie-downs are literally smoking hot.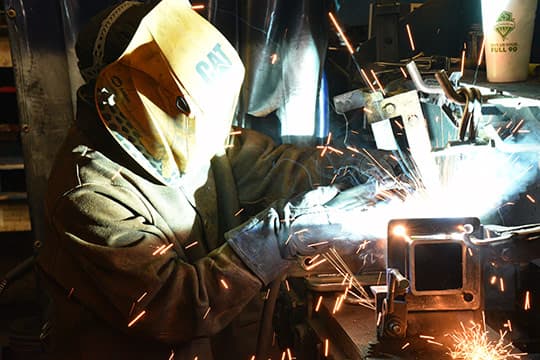 Torklift SuperHitches are also welded on their own jigs.  Here you can see the protective clothing, helmet, and gloves these guys wear and somehow manage to pull off gorgeous looking welds.  I couldn't even tie my shoes with those gloves on.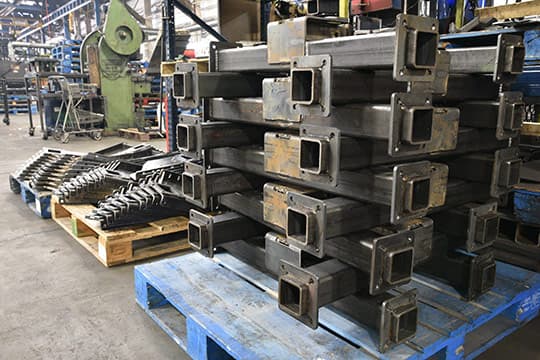 A few feet away from the above image, a stack of SuperHitches grew taller by the hour.  Each time I walked past, there was another newly welded SuperHitch.  This team is focused.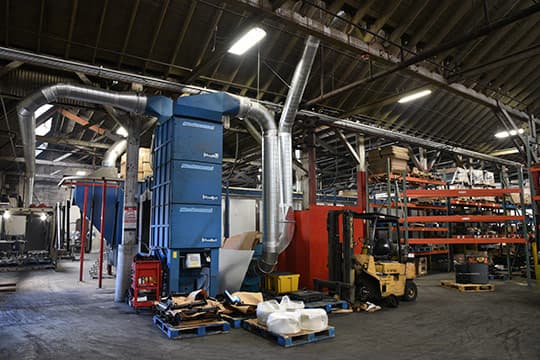 The back fifth of the Torklift International plant is consumed by a multi-stage powder coating system.  The cost and complexity of an in-house powder coating system often makes it one of the last investments a metal fabricator will tackle.
That said, having an in-house power coating system allows Torklift International to better control the quality, cost, and turn-around of their powder coated products.  In the above six photos you can see the size and scope of this massive multi-stage, multi-machine system.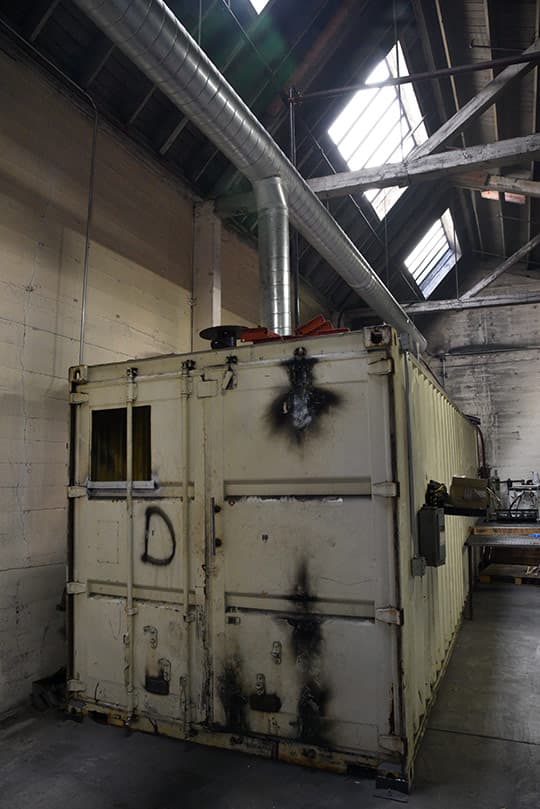 Products enter the power coating system after they have been finished by the welding and finishing teams.  The first step is to sandblast the products to provide the optimum surface for the powder coating process.  Above you can see the fully-enclosed booth used for sandblasting.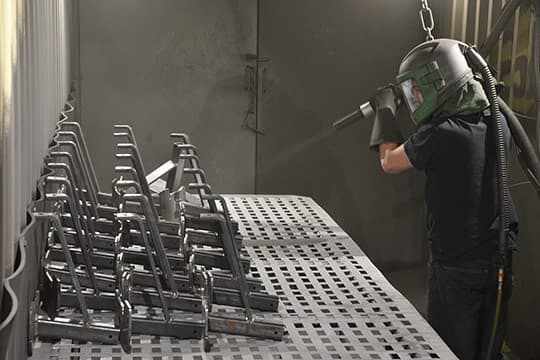 No, this isn't a scene from Alien.  That's Thomas Caleb inside the blast helmet sandblasting tie-downs inside Torklift International's sand blasting booth.
The raw sound and ferocity of the sandblaster immediately earned my respect, as did Thomas for his ability to stay on task.  Unfazed, he calmly turned the parts to ensure coverage.  I lasted about thirty seconds looking in through a small open window on one end, and then got the heck out of there.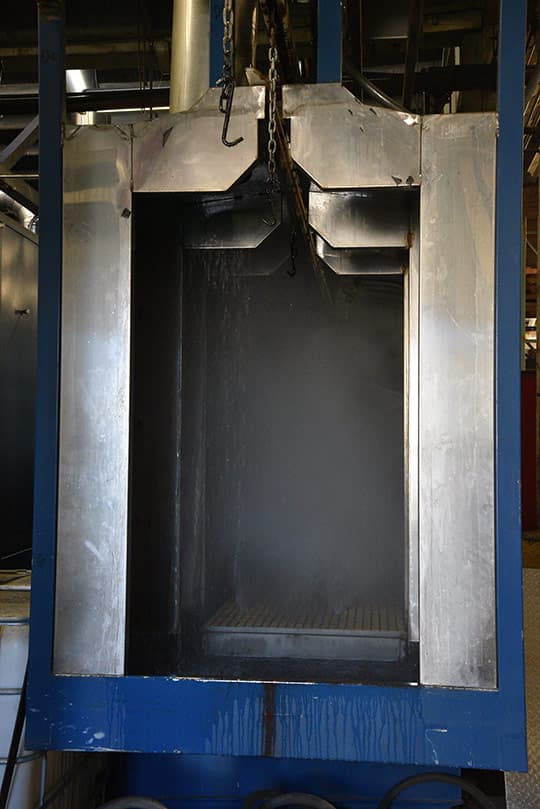 After sandblasting, the parts are hung on the powder coat systems conveyor belt and given a shower to clear off any residue or sand.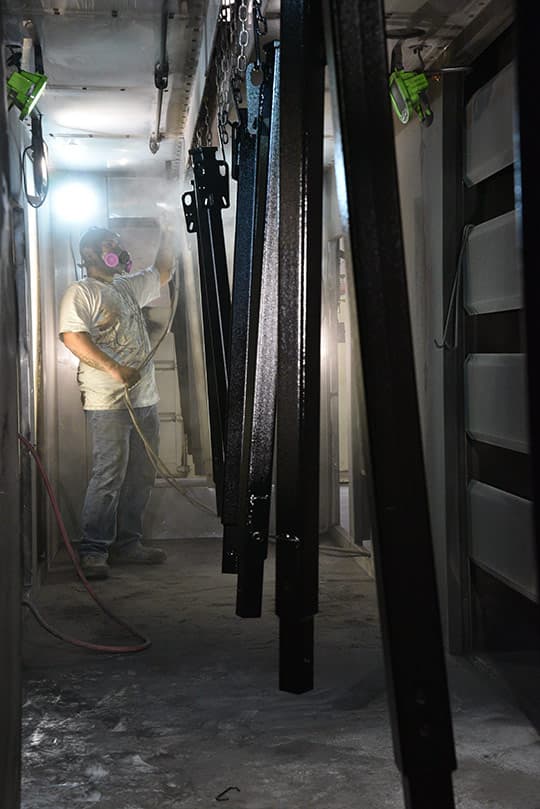 In the middle of the system is where the parts are finally powder coated.  In this photograph, you see Ricky Erickson applying the dry powder which then electrostatically adheres to the metal and cured to create a hard thermoplastic protective coating.  Powder coat finishes are much thicker and tougher than paint and go a long way to prevent corrosion.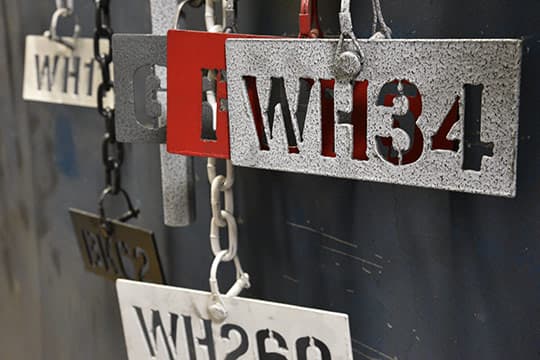 While we were observing the powder coating process, we noticed these tags hanging near the final powder coat machine.  As it turns out, these tags identify the powder coat color number represented on the tag.  For example, WH34 is Hammertone White.
Torklift International powder coats its products in four colors; Bright White, Hammertone Grey, Hammertone White, and Hammertone Black.  They also offer products in polished stainless steel.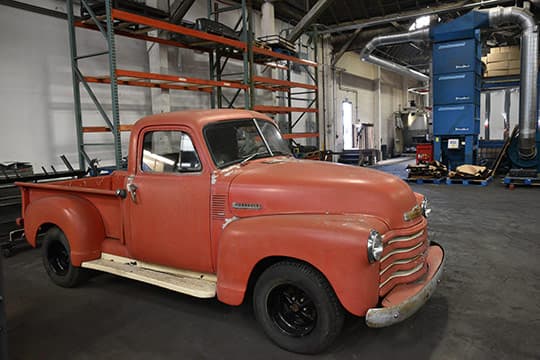 Just to the side of the powder coating system we found this Chevrolet truck.  The Torklift International team intends to remove the steel body of this truck and powder coat it to demonstrate the quality of their powder coating process.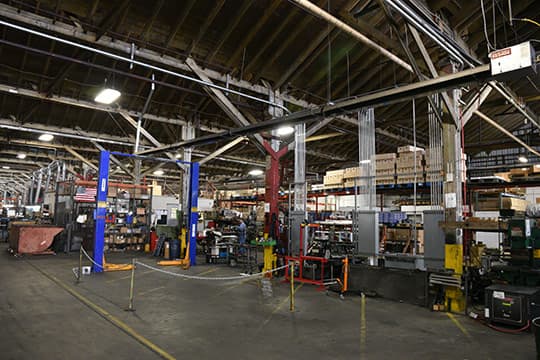 In the center of the factory is Torklift International's research and development area.  This is where Torklift International's design team develops new products, and templates existing products to fit new trucks.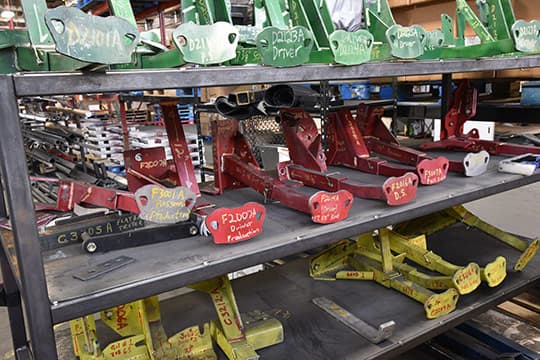 Torklift International develops products to fit Ford, GM, Ram, Toyota, and Nissan trucks, all of which feature different frames and design challenges.  This means Torklift International needs to regularly bring in new trucks to take measurements and engineer tie-downs and hitches that fit the new truck frame.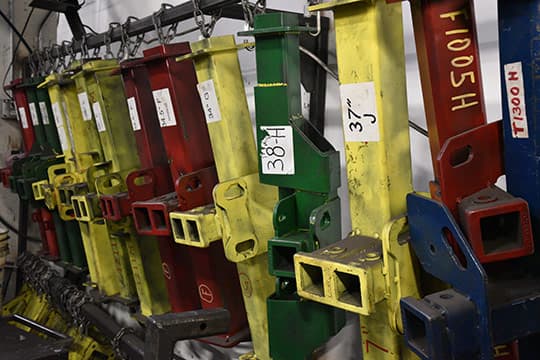 These SuperHitch templates are mere feet from where SuperHitches are being welded.  Adapting to new trucks for optimum performance is part of the day-to-day process at Torklift International.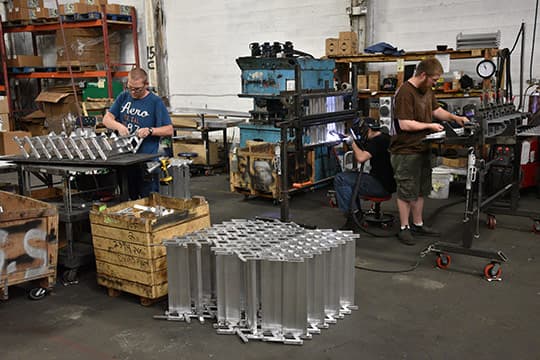 The GlowStep team is its own self-contained cell.  Here Kyle Ackles, Jordan Harvell, and Braden Bobbitt operate two dedicated jigs to assemble, weld, and finish every GlowStep system.  Next time you see or walk-up a set of GlowSteps, think of these three guys, and their factory within a factory.
We found Ben Wolbert completing the final step on Talon tie-downs; putting on the double-eagle Talon stickers.  We noticed that the Talons he was working on featured the Hammertone Grey powder coat finish, something we hadn't seen on Talons before.  He explained that the Talons were available in the same powder coat finishes of Torklift International's steel tie-downs.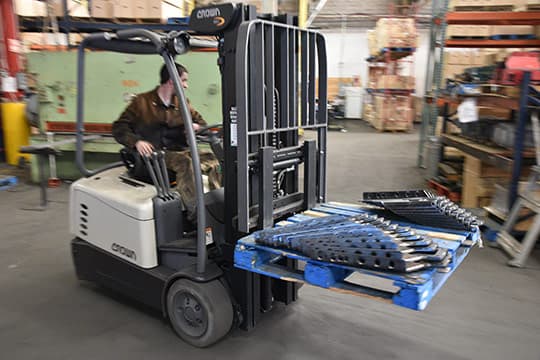 No sooner does the packing team finish a pallet of product than they jump into a forklift and move that product to the shipping area.  Once again, the pace is fast and focused.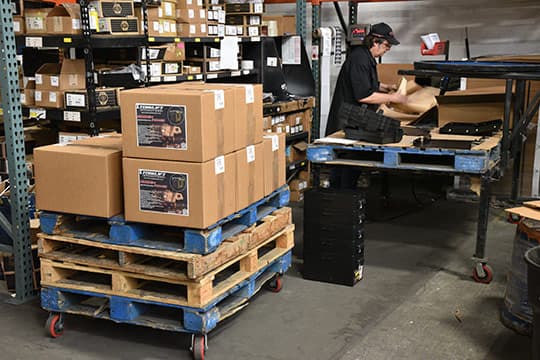 Here Steve Brechtfeldt is packing Torklift International Hidden Power products in boxes for shipping.  The pallets are stacked to make moving the boxed more ergonomically efficient and comfortable.  The focus on ergonomics can be found throughout the factory is a carry over from Torklift International's previous facility where every square inch was precious.
The capacity and output of the new Torklift International factory is unmistakable.  One look at the shelving full of inventory tells the story.  Based on what we saw, these shelves fill and empty many times per week.
It's incredible to think that all this arrived in the Torklift International factory as steel and aluminum tubes and plates, sometimes on the same day.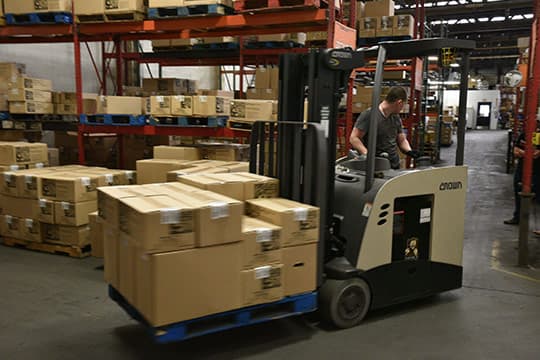 More importantly, this inventory is moving.  During the day of our visit, we watched forklifts repeatedly move pallets of product into the inventory storage area, and then move them out for shipping.
At the end of the day, a factory needs to ship product.  At the upper end of the second aisle in the factory, we found prepared pallets ready for shipping.  Throughout the day, trucks were pulling up to the factory to pickup these pallets, and rolling out.  The next stop is a distributor, then a dealer, and then the customer.
Torklift International's Real Hidden Power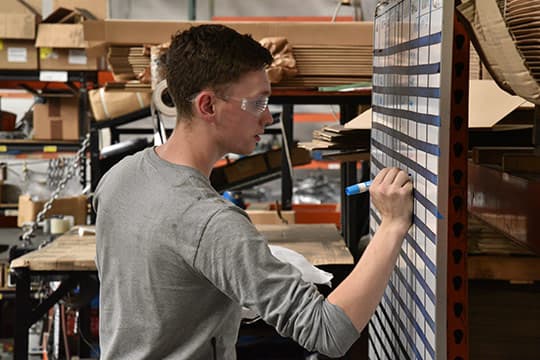 In the teaser for this article I alluded to Torklift International's real hidden power.  Yes, Torklift International makes a product called Hidden Power that mounts a battery box under your vehicle, but that's not what I was talking about.
In the above photograph Curt Anderson is documenting his output on a board that tracks production.  Production and shipping team members write their finished piece count or shipping count on these boards, which are found throughout the plant.
Here's the amazing part; Torklift International's management has openly shared cost and profitability information for each shipped product with the production team.  These boards not only track the quantity of shipped parts, but also their dollar value to the company.  This is an extremely progressive approach to team motivation.
With Torklift International's Lifetime Warranty, the cost of warranty is also shared.  This information, together with the production boards, motivates the Torklift International team to produce the highest quality (minimizing warranty claims) while keeping the team laser-focused on production and profitability.
Of everything we saw in the new Torklift International factory, this management approach, and its successful implementation, impressed us the most.  This approach, and the incredible team it has fostered, is truly Torklift International's hidden power.
Wrap It Up
As big as the new Torklift International factory is, we got the feeling that they might need even more space already.  Maybe a Boeing 747 hanger will become available.  After all, an airplane hanger is nothing more than a really big garage, right?  Don't mess with the American garage mojo, Torklift International.  There's some magic there.
On a different note, we are very proud that Torklift International has dedicated itself to remain 100% made in the USA.  Even the steel and aluminum are sourced from the United States.  Together with their lifetime warranty, open management style, and dedication to promote from within, it's clear that Torklift International is not just another manufacturer.
"Hello NASA?  Yeah, we're going to need that Assembly Building."
For more information on Torklift International, visit their website at www.torklift.com.