Truck Camper Magazine continues its 2015 "Never Seen That" tour at Torklift International's factory in Sumner, Washington and discovers TLI's real hidden power.

The American garage is the literal birthplace of many world changing businesses.  Bill Hewlett and Dave Packard started Hewlett-Packard in a garage in Palo Alto, California.  Steve Jobs and Steve Wozniak started Apple Computers in a garage in Cupertino, California.  Jeff Bezos launched Amazon in his Bellevue, Washington garage.  Google, Walt Disney, and Harley Davidson?  You guessed it, American garages launched them all.
I find this history deeply inspirational.  You can start a business that changes the world in nothing more than a garage.  Yes, you need to have a big idea, entrepreneurial tenacity, and a healthy dose of good luck, but it's possible.  Truck Camper Magazine started with nothing more than an idea and a laptop in my living room.  We're not Apple, but you get the point.
Of course there's only so much growth most companies can experience in a garage.  Eventually they need more employees with more desks and computers, and/or more equipment and production stations.  Staying in that first garage is impossible if a company is to take flight.
When we first visited Torklift International in 2007, they had already emerged from their birth garage and were making nearly miraculous use out of a somewhat larger garage.  Everyone who saw Torklift International's second building walked away impressed with the sheer output produced from a relatively small space.  I remember being there thinking, "Where's the rest of the factory?"
Eventually, Torklift International's second garage building began to hamper their growth and it was time to move to a larger facility.  Five years ago, Torklift International moved into a new-to-them facility in Sumner, Washington.  Torklift International's new space is many times the square footage of their second garage, and has the room Torklift International needs to run.
Ironically, the front of their new facility features a very large garage door.  Perhaps it's in Torklift International's DNA to stay in an American garage.  All I know is that if this company keeps growing, they're going to need the NASA Assembly Building to stay in an American garage.  Elon Musk might beat them to that, but I wouldn't count Torklift International out.
As part of our "Never Seen That" tour this summer, we visited Torklift International to finally see their new factory.  What follows is a photographic walk through of their facility, and a close-up look at how Torklift International's "Magnum Super Factory" has allowed the company to expand their manufacturing capabilities, production capacity, and product offerings.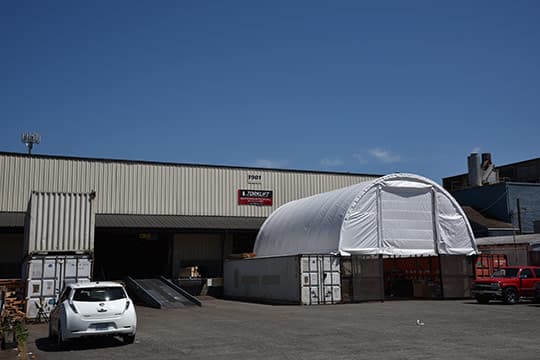 Torklift International's new factory is located in an industrial complex and nestled between a vinegar plant, a recycling facility, and a beer distributor.  Most of what can been seen from the exterior consists of repurposed shipping containers, a white canopy, loading dock, ramp, and the end of a shared factory building.
Walking up the ramp, you're greeted by an enormous garage door.  It's then that the sheer scale of the new Torklift International factory hits.  The facility stretches back several hundred feet with a high ceiling.  The above photos are just a sample of the first of two deep aisles flanked with CNC plasma tables, welding booths, presses, punches, and other metal manipulating machines and shipping stations.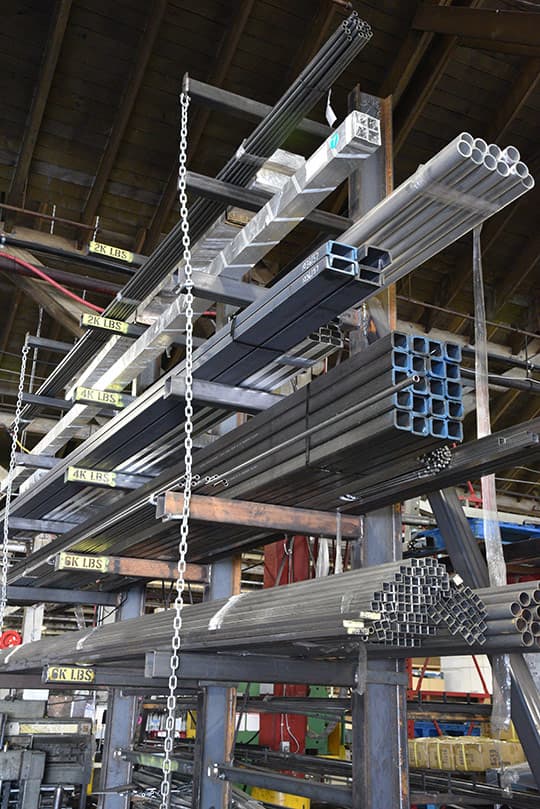 Just inside the garage door is where the steel and aluminum materials enter the plant to be processed and stacked for production.  In this photograph you can see the US-sourced steel and aluminum tubing used for everything from Torklift International SuperHitches to their frame-mount tie-downs.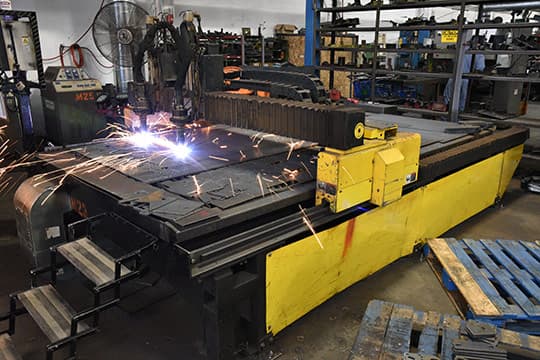 A few feet deeper into the plant, two CNC plasma tables are cutting metal plates.  This is both fascinating and dangerous to watch as the intense light from the plasma table is bright enough to damage your unprotected vision within seconds.
Because of this, all of the plasma table and welding photographs you see in this article were taken with my eyes closed.  This is one part of my job that I've had to learn to do without looking.  That and loading the camper.  Just kidding.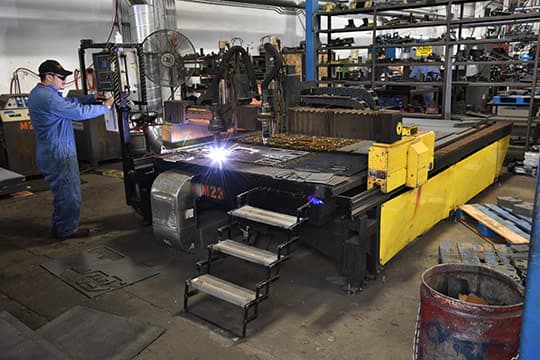 Here you can see Jose Santacruz operating the second CNC plasma table to cut an aluminum plate.  He's operating the computer that controls the table, and wearing the appropriate protective eye wear.
You might also note the GlowSteps attached to the table.  Jay Taylor, General Manager for Torklift international, explained that this table had some glitches before the GlowSteps were installed, after which it performed flawlessly.  Do we believe him?  Of course we do.