Today we debut the Torklift SuperHitch Everest, a weight distribution system with a 20,000 pound capacity rating.  Once again Torklift redefines what it means to tow anything.

When we made our tagline, "Go Anywhere, Camp Anywhere, Tow Anything," we had three years of reader surveys clearly showing these three reasons were the most important reasons why people buy truck campers.  Our reader surveys from the past two years have only further cemented this tagline's importance to the truck camper community.
As the third listed item in our tagline, one might believe, "Tow Anything" isn't nearly as important as the first two declarations.  But one look at the 2011 readership survey results puts towing's importance into perspective; 37% tow a boat, 32% tow a utility trailer, 23% tow off-road vehicles or ATVs, 16% tow a car, Jeep, or SUV, 5% tow a watercraft or jet skis, 4% tow horses, and 4% tow snowmobiles.
In fact, 70% of our readership tows something.  The only reason why towing is in third place is because nearly 100% of our readers want to, "Go Anywhere" and "Camp Anywhere".
One company, over all others, has dedicated itself to helping truck campers scratch their "Tow Anything" itch; Torklift International.  With their original SuperHitch, Torklift International set the standard and became the go to source for truck camper towing solutions.  Since then, Torklift has upped their own ante with the SuperTruss Extension and SuperHitch Magnum.
With the announcement of the SuperHitch Everest weight distribution system, Torklift adds yet another facet to their growing range of truck camper towing solutions.  To pull the maximum amount of information on the new SuperHitch Everest, we talked to Jack Kay, Principal of Torklift International and Jay Taylor, Torklift's General Manager.
We also recommend Jack's awesome article about towing safety called, "How To Tow With A Truck Camper Rig".
TCM: What is a weight distribution system and why would anyone need one?
Jack: Weight distribution systems have been around forever, from covered wagons to the RVs of today.  The general concept has not changed.  Think of a wheelbarrow with one wheel in the front, and the two arms in the back so you can wheel it around.  The arms of the wheelbarrow are like the arms of a weight distribution system.  Lift the bars up on a weight distribution system and it picks up the back of the truck and forces the front down, just like a wheelbarrow.
When you hang two bars on the tongue of a trailer, one-third of the vertical weight that pushes on the ball mount is called tongue weight.  If everything is set up correctly, then one-third of that vertical tongue weight is lifted.  The tongue weight is also distributed evenly with a weight distribution system.  If you have 1,000 pounds of tongue weight, you should have 333 pounds on the front of truck, 333 pounds on the back axle, and 333 pounds on your trailer axle.  You have distributed the weight, hence the name weight distribution system.
The reason why people who tow need a weight distribution system is that they dramatically enhance the stability of the two vehicles (truck and trailer), but also tie the trailer suspension and truck suspension together.  If properly installed and loaded, a tow rig with a weight distribution system operates as one giant long wheel base from front to back.  It comes down to making towing safer and improving the stability and handling of a tow rig.
TCM: Tell us about tongue weight and how it's calculated.
Jack: Tongue weight is very important when towing.  For example, it's very important that you have the appropriate amount of tongue weight for your truck and trailer.  In most circumstances, the more tongue weight, the more stable the towable will be.  If you have too little tongue weight, you can fish tail.
However, when dealing with a truck camper rig, you don't want too much tongue weight because you will overload and possibly damage your rear axle.  And what breaks ball mounts on trailers and causes other catastrophic failures is too much tongue weight.  This bears repeating.  It's extremely important to have enough tongue weight, but not too much tongue weight, or too little tongue weight.  This is just one reason why it's so important to have a weight distribution system like the Torklift SuperHitch Everest.
Some consumers see that their trailer hitch is rated to 12,000 pounds or 1,200 pounds of tongue weight.  What they don't realize is that they need a weight distribution system to use that hitch at anything close to that tongue weight capacity.  Even at lower tongue weights, that hitch will be much safer to use with a weight distribution system.  It's also critical to load the weight distribution bars correctly and have the system's geometry right, or the weight distribution system will not be working or won't be working correctly.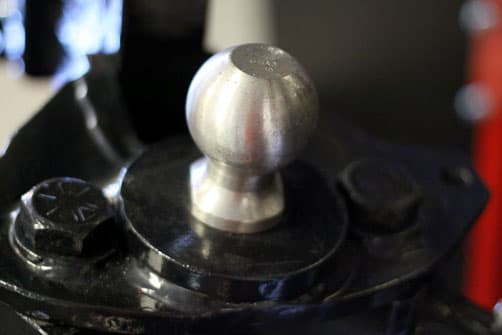 Above: The 30K ball mount on a Torklift SuperHitch Everest
TCM: It sounds like it can be confusing for the consumer to know how much tongue weight they have, or need.  And proper set up sounds like another point of possible confusion.
Jack: It certainly can be, but Torklift International is here to help.  To address this possible confusion, we went to the extreme and contacted another respected weight distribution manufacturer and asked if we could use their safety towing guide.  Their safety towing guide was very well written and we honestly could not have done it any better.  With the understanding that this is an important consumer safety issue, the other manufacturer agreed and now we include the safety towing guide with our SuperHitch, SuperHitch Magnum, SuperTruss, and SuperHitch Everest.  We made a few changes so the instructions are more specific for truck camper applications.
The safety towing guide talks about appropriate and inappropriate amounts of towing weight and shows how to correctly calculate your tongue weight.  The guide also tells you how to calculate your tongue weight at home with nothing more than a regular bathroom scale.
TCM: Is this safety towing guide available online for our readers to download?
Jack: Yes it is.
TCM: In the product description for the Everest, one of the named features are speed lube yokes.  What are speed lube yokes?
Jack: Speed lube yokes are a feature that help Everest owners to properly lubricate the Everest weight distribution system.  With a weight distribution system, the trailer ball and two weight distribution spring bars need to hinge when you drive around a corner.  If you were to tow a trailer without lubricating hitch lube grease at the trailer ball, the friction from the metal to metal connection would damage the trailer ball.
Our Everest weight distribution system is cross drilled creating a passageway via the yokes for hitch lube grease.  With these speed lube yokes, the hitch lube grease properly lubricates the trailer ball and weight distribution spring bars quickly and easily without making a mess.  I think our customers are going to love this feature.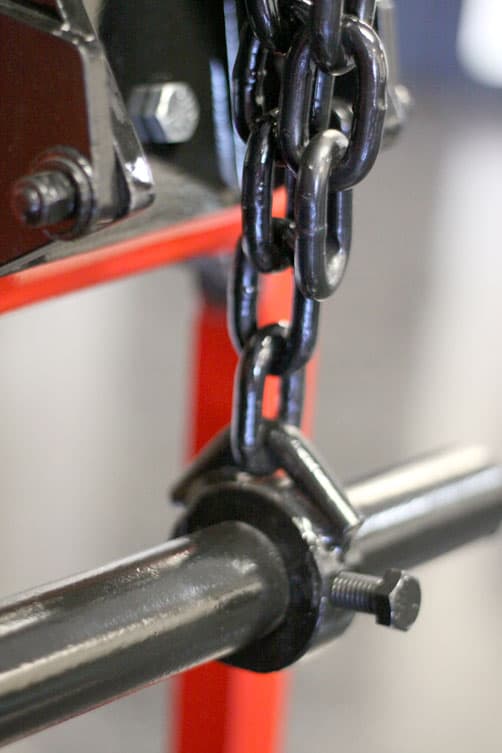 Above: The adjustable chain collars on a Torklift SuperHitch Everest
TCM: The Everest features adjustable chain collars.  How do adjustable chain collars  improve the use and function of the product?
Jack: With other weight distribution systems, there's a chain that's fixed on the end of the bar with no ability for adjustment.  Having chains in a fixed position can be extremely inconvenient for the end user.  Some weight distribution systems require hundreds of dollars in modifications to work with a trailer because the chains interfere with a propane bottle or battery box.
The Everest features adjustable chain collars so the chain can be moved to allow the user to accommodate their towing needs.  It's a simple feature with profound importance for the end user.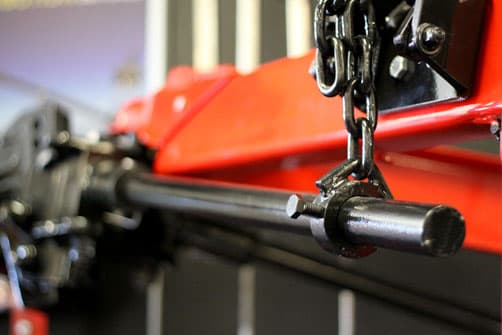 Above: Another photograph of the adjustable chain collars on a Torklift SuperHitch Everest.  This also shows the spring tension bar.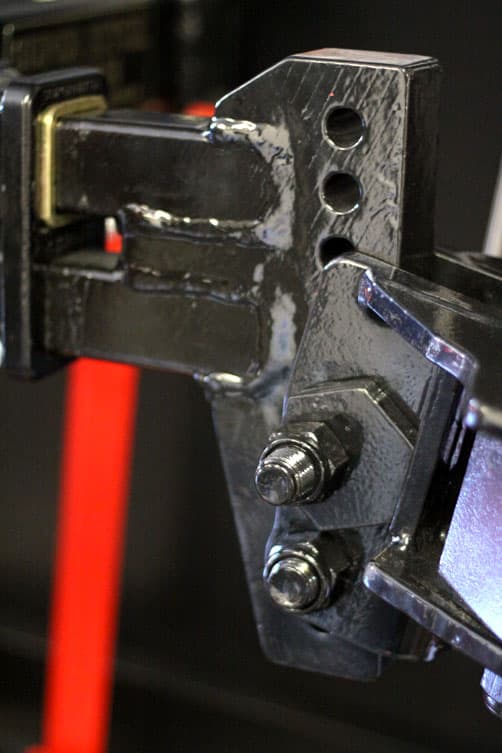 Above: The dual drop shank on a Torklift SuperHitch Everest
TCM: The Everest features a dual shank.  What is a dual shank?
Jack: The part that the ball mount attaches to is referred to as a drop shank.  It drops into the trailer hitch on the truck.  The hitch pin goes horizontally and holds the ball mount in place.  It's a piece two inches by two inches.  The dual shank has extremely high capacities on the Everest.  It's not a single shank, it's a dual shank.  It actually has two of those shanks instead of one.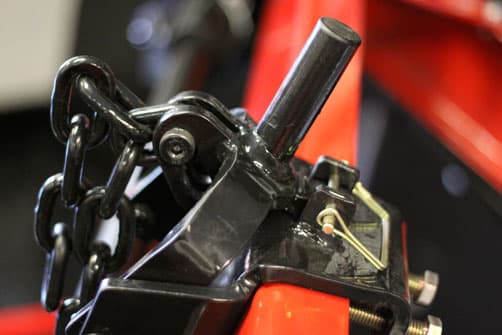 Above: The hook-up clips and dual shield receiver clip on a Torklift SuperHitch Everest
TCM: And the double reinforced pin?
Jack: The double reinforced pin is exclusive to the Everest and is often referred to as the hook-up clip.  It's the part of the system that sits in the trailer tongue on both the driver and passenger sides and receives the chain on the ends of the bars.  For the Everest, we went with a hard pin that has double reinforcement at critical stress points.
TCM: Tell us about the marine grade chains?
Jack: During our testing, we went through several different types of chains to discover a chain that would handle the 2,000 pound capacity of the Everest.  We finally found a marine grade chain that's up to the task.  The marine grade chain can handle the weight of the trailer when turning and going around corners and results in little to no wear.  The fact that the chain is marine grade also allows it to weather the corrosive environments of the road.
TCM: The Everest was designed to compliment the Torklift Magnum SuperHitch.  Does it also work with the Torklift SuperHitch, or is that not an appropriate combination?
Jack: The Everest will work on either the SuperHitch or SuperHitch Magnum, but it's matched in capacity with the Magnum.  With the original SuperHitch, you would be limited by the capacity of the SuperHitch.  The maximum is 17,000 pounds of capacity on the original SuperHitch.
TCM: Tell us about the hydraulic assist on the Everest.
Jack: Whenever you hook up a trailer, you back up your truck to your trailer.  Then you lower the jack and lock the coupler.  That's fairly straight forward and simple.
When hooking up a weight distribution system, you have to take the tongue jack and lift the whole system up eight to ten inches above level.  The reason why you have to jack the trailer up is to get the tongue weight onto the spring bar.
When we started working with the Everest, we knew some customers would have 2,000 pound tongue weight trailers.  That's a lot of tongue weight.  On a conventional system you are dealing with 800 pounds of tongue weight.  That's eighty to a hundred pounds to lift, which a normal person can do.  But, if you're carrying the kind of weight the Everest is capable of carrying, you would need Popeye arms to lift the two hundred pounds eight to ten inches above level.
To solve this problem, we developed a special hydraulic assist utilizing a specially engineered mechanism that makes it so you don't have to jack up the trailer.  It lifts the load and the bars at the same time.  Without this feature, the Everest would not be possible.  It was a real breakthrough for us.
TCM: In your press release for the Everest, you mention that the Everest has the greatest capacity of any weight distribution system made today.  Why does someone need 20,000 pounds of capacity and 2,000 pounds of tongue weight in a weight distribution system?
Jack: Believe it or not, I've had customers send in pictures and stop by the factory with trailers dragging on the ground.  I have seen horse trailers with 2,000 pounds or more of tongue weight.  When we ask the owners if they weighed their trailer, they answer that they guess estimated.  Most of the time, these guess estimations are wrong, and well under the real weight.  For these customers, the Everest will be a real help.
Every year, the truck manufacturers increase the capacities of their trucks.  In 2011, all one ton dually trucks have towing capacities at or greater than 20,000 pounds.  No trailer hitch or weight distribution system available, other than the Everest, will enable the customer to use the full capacity of these trucks.
TCM: Tell us about the design and testing of the Everest.
Jack: All of our products start with a three dimensional design in SolidWorks with our engineers.  Through SolidWorks, our engineers can stress that design and see where its weak points will be.  They then make any necessary adjustments before we actually build a mule.  A mule is what we call a prototype.
Once a mule is built, it will go through physical stress tests with hydraulic machinery to make sure that what SolidWorks told us lines up with reality.  As the tests are completed, adjustments are made and new mules are developed.  When the hydraulic machine testing is completed, it's time for field testing with actual trucks, actual trailers, and actual tongue weight.  We always test at or past the capacity rating of the product.  Our trucks have been running with the Everest system for many months now.
TCM: Have you needed to make further adjustments during this process?
Jack: Yes, we've made some minor tweaks.  Keep in mind that we've been working on the Everest for about four years now.  You really have to be patient when developing something like this.  You can't rush the design, development, or testing.  There's a lot of weight riding on this product.  And it has to carry our name and lifetime warranty.  We don't take these things lightly.
TCM: What is the MSRP for the Torklift Everest?
Jack: $1,375.
TCM: When will the Torklift Everest be available?
Jack: We are aiming to have it available by the end of July.
TCM: Tell us about the tie in with the Torklift International sponsored climbing team.
Jack: We asked Greg Vernovage of International Mountain Guides to take a Torklift flag to the top of Mount Everest.  He also had a blog running during his climb so people could watch the Torklift flag climbing the mountain.  We now have that flag signed by Greg and some of his team at our Torklift International headquarters.  That was the draw to the name Everest for this product.  It was also named Everest because it's the highest capacity weight distribution system available.
Jay: What you might not know about Greg is that he's a passionate truck camper who often uses his camper as a base camp when he climbs.  You may actually be familiar with him because he's been on the Discovery Channel.  He's one of the first climbers each year to make the summit on Everest.  This is his ninth year to go up to Everest.  He makes several summits on the highest peaks each season.  He's a mountain guy.
This year, Greg retrofitted his truck with a Torklift SuperHitch and SuperTruss for his gear trailer.  He also installed a set of StableLoads and GlowSteps.  If you go on the International Mountain Guides website, you'll see it.  The truck camper and Torklift gear suits his needs and he's proud of it.
TCM: Is there anything we didn't ask you about the Everest that you want to add?
Jack: I would like to reinforce how bullet proof the Everest is.  When the SuperHitch Magnum and Everest were being tested, they literally broke the testing equipment.  When they rebuilt the testing equipment to test the system again, they stopped the test at 6,000 pounds of tongue weight.  The Everest is built to handle tongue weights way beyond it's rating, but we certainly don't want to see anyone doing that.
Jay: The typical Torklift International marketing plan is to go boldly where no other company has gone before.  We like to build products where there is little to no competition.  There are probably fifty different weight distribution systems on the market, but nothing can touch the Everest for its capacity.  It's on the outer limits.
TCM: I'll say.  Thanks for the story.
Jack and Jay: You're welcome.