Today we debut the Torklift SuperHitch Everest, a weight distribution system with a 20,000 pound capacity rating.  Once again Torklift redefines what it means to tow anything.

When we made our tagline, "Go Anywhere, Camp Anywhere, Tow Anything," we had three years of reader surveys clearly showing these three reasons were the most important reasons why people buy truck campers.  Our reader surveys from the past two years have only further cemented this tagline's importance to the truck camper community.
As the third listed item in our tagline, one might believe, "Tow Anything" isn't nearly as important as the first two declarations.  But one look at the 2011 readership survey results puts towing's importance into perspective; 37% tow a boat, 32% tow a utility trailer, 23% tow off-road vehicles or ATVs, 16% tow a car, Jeep, or SUV, 5% tow a watercraft or jet skis, 4% tow horses, and 4% tow snowmobiles.
In fact, 70% of our readership tows something.  The only reason why towing is in third place is because nearly 100% of our readers want to, "Go Anywhere" and "Camp Anywhere".
One company, over all others, has dedicated itself to helping truck campers scratch their "Tow Anything" itch; Torklift International.  With their original SuperHitch, Torklift International set the standard and became the go to source for truck camper towing solutions.  Since then, Torklift has upped their own ante with the SuperTruss Extension and SuperHitch Magnum.
With the announcement of the SuperHitch Everest weight distribution system, Torklift adds yet another facet to their growing range of truck camper towing solutions.  To pull the maximum amount of information on the new SuperHitch Everest, we talked to Jack Kay, Principal of Torklift International and Jay Taylor, Torklift's General Manager.
We also recommend Jack's awesome article about towing safety called, "How To Tow With A Truck Camper Rig".
TCM: What is a weight distribution system and why would anyone need one?
Jack: Weight distribution systems have been around forever, from covered wagons to the RVs of today.  The general concept has not changed.  Think of a wheelbarrow with one wheel in the front, and the two arms in the back so you can wheel it around.  The arms of the wheelbarrow are like the arms of a weight distribution system.  Lift the bars up on a weight distribution system and it picks up the back of the truck and forces the front down, just like a wheelbarrow.
When you hang two bars on the tongue of a trailer, one-third of the vertical weight that pushes on the ball mount is called tongue weight.  If everything is set up correctly, then one-third of that vertical tongue weight is lifted.  The tongue weight is also distributed evenly with a weight distribution system.  If you have 1,000 pounds of tongue weight, you should have 333 pounds on the front of truck, 333 pounds on the back axle, and 333 pounds on your trailer axle.  You have distributed the weight, hence the name weight distribution system.
The reason why people who tow need a weight distribution system is that they dramatically enhance the stability of the two vehicles (truck and trailer), but also tie the trailer suspension and truck suspension together.  If properly installed and loaded, a tow rig with a weight distribution system operates as one giant long wheel base from front to back.  It comes down to making towing safer and improving the stability and handling of a tow rig.
TCM: Tell us about tongue weight and how it's calculated.
Jack: Tongue weight is very important when towing.  For example, it's very important that you have the appropriate amount of tongue weight for your truck and trailer.  In most circumstances, the more tongue weight, the more stable the towable will be.  If you have too little tongue weight, you can fish tail.
However, when dealing with a truck camper rig, you don't want too much tongue weight because you will overload and possibly damage your rear axle.  And what breaks ball mounts on trailers and causes other catastrophic failures is too much tongue weight.  This bears repeating.  It's extremely important to have enough tongue weight, but not too much tongue weight, or too little tongue weight.  This is just one reason why it's so important to have a weight distribution system like the Torklift SuperHitch Everest.
Some consumers see that their trailer hitch is rated to 12,000 pounds or 1,200 pounds of tongue weight.  What they don't realize is that they need a weight distribution system to use that hitch at anything close to that tongue weight capacity.  Even at lower tongue weights, that hitch will be much safer to use with a weight distribution system.  It's also critical to load the weight distribution bars correctly and have the system's geometry right, or the weight distribution system will not be working or won't be working correctly.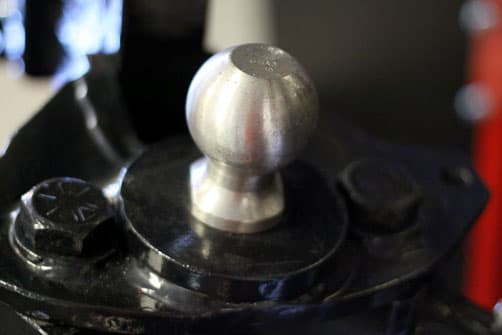 Above: The 30K ball mount on a Torklift SuperHitch Everest
TCM: It sounds like it can be confusing for the consumer to know how much tongue weight they have, or need.  And proper set up sounds like another point of possible confusion.
Jack: It certainly can be, but Torklift International is here to help.  To address this possible confusion, we went to the extreme and contacted another respected weight distribution manufacturer and asked if we could use their safety towing guide.  Their safety towing guide was very well written and we honestly could not have done it any better.  With the understanding that this is an important consumer safety issue, the other manufacturer agreed and now we include the safety towing guide with our SuperHitch, SuperHitch Magnum, SuperTruss, and SuperHitch Everest.  We made a few changes so the instructions are more specific for truck camper applications.