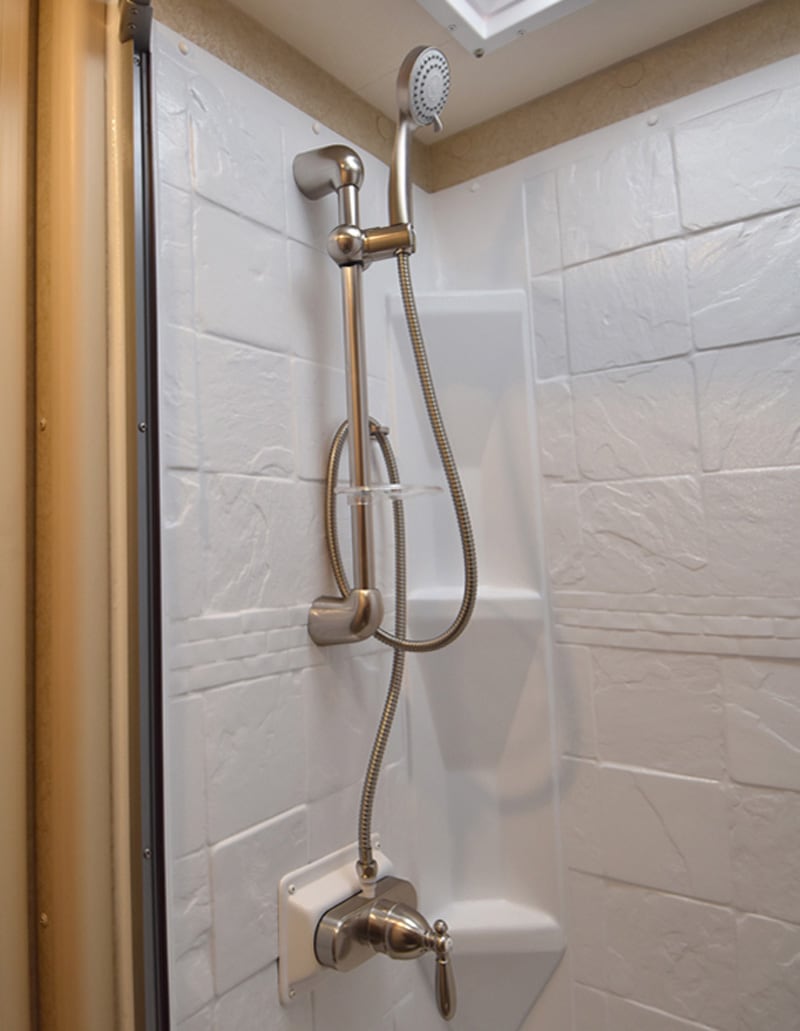 New residential styled shower head (975 / 1172)
It's a shower head that works and it doesn't pulsate hot and cold. It's aerated and more of a residential handle and bar that slides up and down. It fits in the dry baths. We are now looking at applications for this shower head and bar for our wet baths.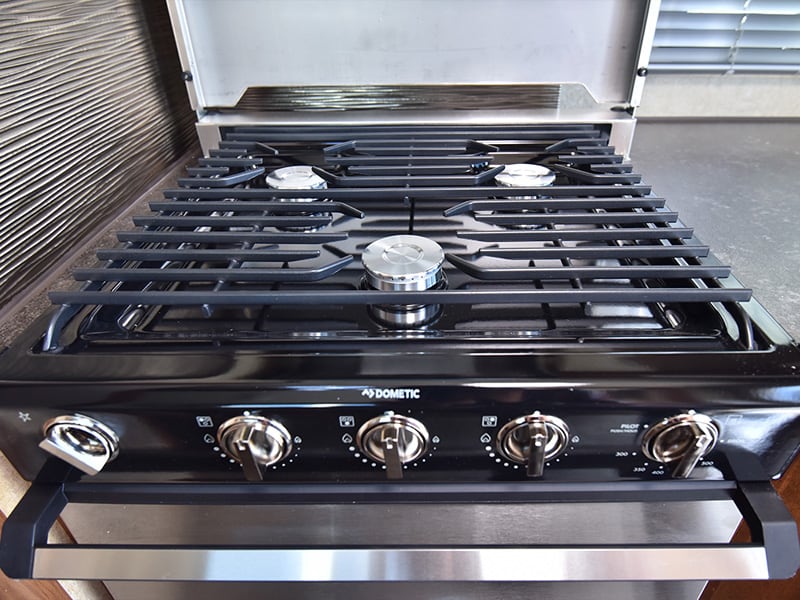 Dometic residential range design
The new Dometic range has lower cast iron grates which gives you a better cooking surface. It's more residential in appearance and an upgraded design. Dometic bought Atwood and retooled everything. It's a nice update to a 20-year old design.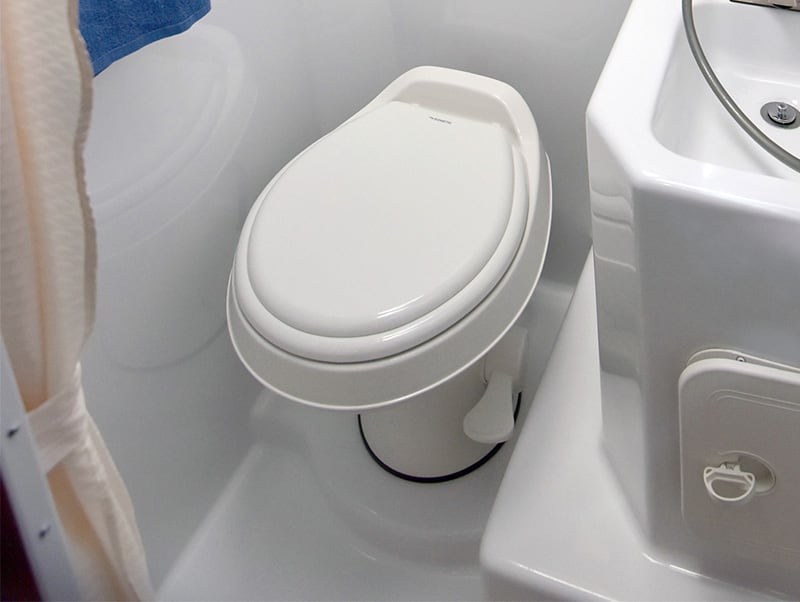 New Dometic toilet
Dometic has bought a lot of companies. It's a big player in the industry. The new toilet is a foot flush. We don't use porcelain toilets in truck campers because of weight. Porcelain is only in our trailers.
New amber/white combination patio light
When you are outside camping, sometimes you want to see something in white light and sometimes you may want amber light to avoid attracting bugs. With our new amber-white combination light, you can change colors with a switch.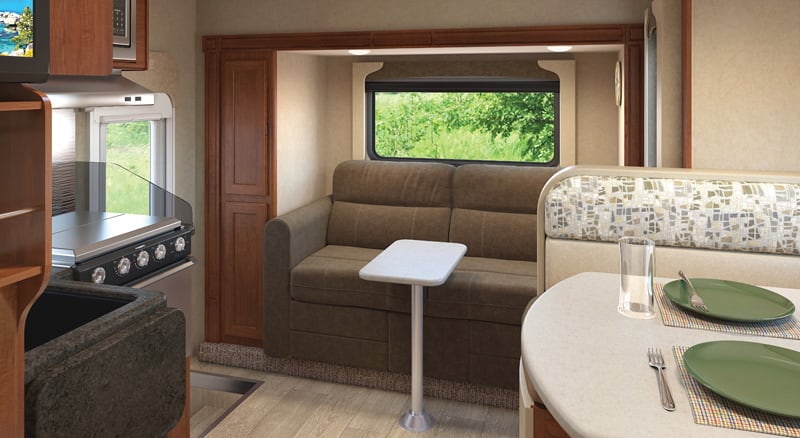 Revised hard wired galley/sofa slide-out switch
The hard wired system for the slide-outs is changed so that it doesn't get snagged. It's a quality upgrade.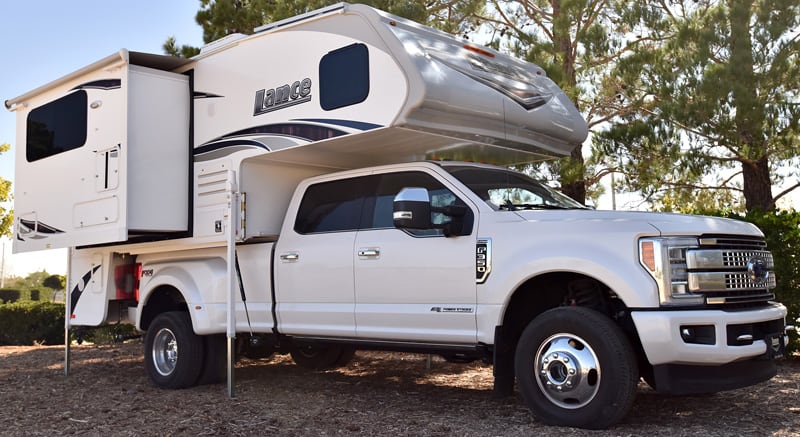 For 2019, the slide-out covers are wider for maximum coverage. Are you using the same cover that's just wider, or are you using a different cover all together?
We're using the same slide-out covers, but they now cover the entire width to better protect from water and debris. It's the same thing, just wider.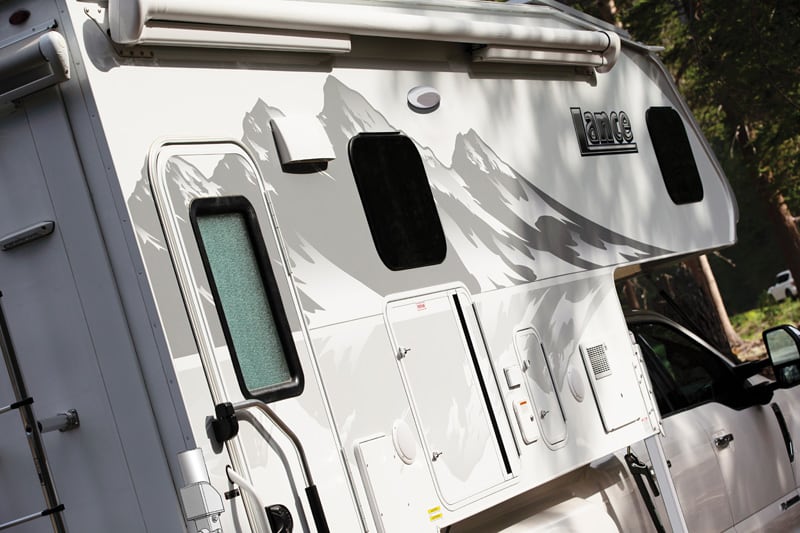 New enhanced Mountain Scene graphics design is listed as an update for 2019. Does that mean the Mountain Scene graphics have been a success?
Yes, they have been successful. For 2019, we enhanced the Mountain Scene graphics with more definition and shading. A lot of people don't want to look like everyone else. The Mountain Scene graphics give you a choice. We are actually playing with other graphic scenes now and might debut additional scenes next year.