Truck Camper Magazine interviews Jack Cole, Vice President of Lance Campers, on the details of the company's acquisition by the REV Group and what it means to the future of the company, products, dealer network, and more.

REV Group announced the acquisition of Lance Campers on January 12, 2018. The news broke via press release leaving many open questions.
Specifically, we wanted to know why Lance Campers was sold, how Lance Campers and REV Group got together, why it was a good match, and what was in it for Lance Campers, Lance dealers, and Lance customers.
The response from fellow truck campers included questions about REV Group's commitment to truck campers, the possibilities of expanded product lines, and the possible implications on warranty and product quality.
To address these questions and many more, we interviewed Jack Cole, Vice-President of Lance Campers.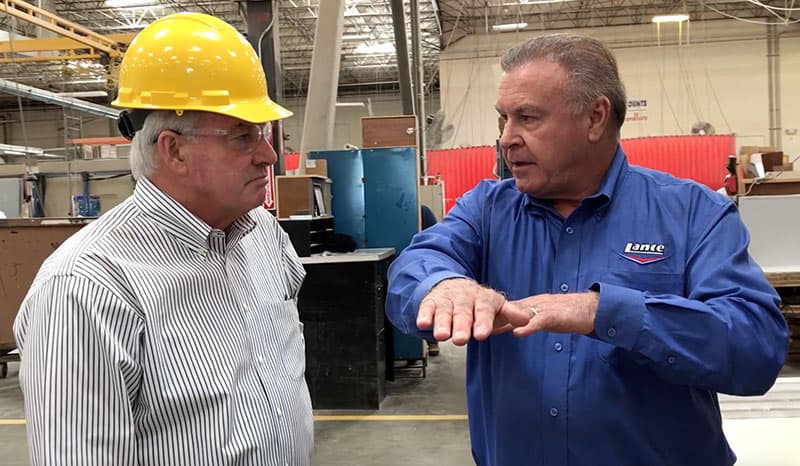 Above: Tim Sullivan, President of REV Group/Lance Campers, with Jack Cole, Vice President of Lance Campers on the Lance Camper production line
TCM: Why did you decide to sell Lance Campers?
Jack: Jeff Souleles and I both knew we couldn't run the company forever. I'm 68 and he's 64.
Three years ago we started preparing the company for sale. The preparation boiled down to having audited financial statements for Lance Campers. Prior to this process, I didn't feel we needed audited statements because Jeff and I were here every day and signed all the checks.
Our goal was to find a potential acquirer who was excited about our product line and brand. We wanted them to be as excited about Lance as much as we are. Jeff and I have managed Lance Campers for 53 years and want to see it go for at least another 53 years. We found a good partner in REV Group to accomplish that.
TCM: Tell us the story of how the REV Group acquisition came to be.
Jack: I got a phone call from REV Group's President of Manufacturing. He asked me if we were interested in talking about selling the company and I told him that we would be glad to talk to them. It went from there. There were other interested companies who called about acquiring Lance, but we didn't feel they were the right match.
TCM: How did you know that REV Group was the right match for Lance Campers, and vice versa?
Jack: One of the first things that happened after the initial inquiry is that I got a call from Tim Sullivan, the CEO of REV Group. During our twenty minute conversation, he asked if he could come out. Three days later he was here in California.
Jeff and I sat down with him for two to three hours. We showed him around our facility. He told us that he loved the Lance brand and product. He said that he only wanted to be involved with quality products and he wanted to help Lance Campers grow.
A week later Tim came out again. We went over operations and we got a good feeling from him. He is down to earth, level headed, and knows what he wants. It all clicked. He talked to us about the growth of REV Group and their recent acquisitions. He thought Lance Campers could be part of that.
TCM: The due diligence process a company goes through prior to being acquired is always challenging. How did things move forward after your initial meetings with REV Group?
Jack: The due diligence process is like putting a company through a CAT scan machine. Everything is sliced and diced. Having the audited financial statements helped to get the transaction done quickly and cleanly.