Phoenix Campers launches the 2018 Phoenix Mini Max, an all-new, fully-self contained pop-up truck camper designed for short bed mid-size and full-size trucks.  Want everything on your short bed?  Here's how it's done.

We've all experienced it.  You walk up to a small truck camper, step in the door, and have your mind completely blown at how roomy the interior of the camper feels.  How can the little camper you just saw be so spacious inside?  You step back out and there's that small truck camper again.  Maybe that little camper isn't right for you, but you're still impressed with how comfortable the living space was.  That's truck camper design magic.
Nobody is better at this design trick than Robby Rowe of Phoenix Campers.  Having built hundreds of 100-percent custom truck campers over the decades, he knows exactly how to make the impossible possible.  He's well known for accepting projects other manufacturers wouldn't dare attempt, and turning them into fully-functional works of truck camper art.  If there's someone as talented at Robby in pulling this magic off, we haven't met them.
Robby's latest rabbit-out-of-the-hat is the 2018 Phoenix Mini Max, a fully self-contained short bed pop-up truck camper that combines the best design and feature ideas from dozens of custom projects into one camper.  As Robby explained it to us, he took the finest elements from all of these custom builds, refined them to perfection, and created the Phoenix Mini Max.
There are many facets to the Phoenix Mini Max that make it a unique truck camper.  First, it's a production camper for Phoenix, one of only two they offer.  Where the majority of Phoenix's production is 100-percent custom, the Mini Max starts with the Mini-Max floor plan and features – not a blank page.  From there Mini Max customers simply add or delete features and options, choose an interior fabric and counter top color, and put their order in the Phoenix build schedule.  It's that simple.
Another aspect that makes the Mini Max unique is its design flexibility.  Robby devised the Mini Max floor plan to be adjustable to any pickup truck; mid-size to half-tons to one-tons.  Robby envisions the Mini Max primarily on short bed mid-size and full-size trucks, but he'll build it to whatever you have.  That's Robby.
The rest of what makes the Phoenix Mini Max unique – and there are many unique features – is best explained by Robby and Cari Rowe, Co-Owners of Phoenix Custom Campers.  To dig deep into the details, we contacted Robby and Cari about the new Phoenix Mini Max truck camper.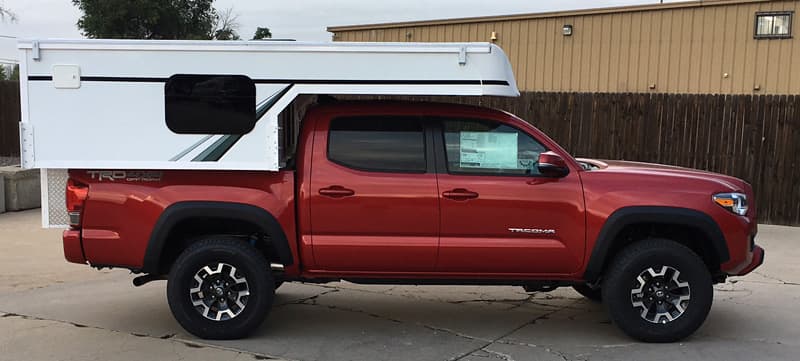 Phoenix Mini Max Specifications:
The 2018 Phoenix Mini Max is a pop-up camper made for short bed mid-size and full-size trucks.  The interior floor length of the 2018 Phoenix Mini Max is 72.5″ and the interior height is 6'3″.  The Phoenix Mini Max has a 15 gallon fresh tank, 6 gallon water heater, 7 gallon grey, and 5 gallon black tank with a four gallon reservoir.  It can accommodate one AGM 90AH battery and has one twenty pound propane tank.  Phoenix is reporting the base weight of the Mini Max with full water and LP to be 1,420 pounds.  The base MSRP for the 2018 Phoenix Mini Max is $37,000.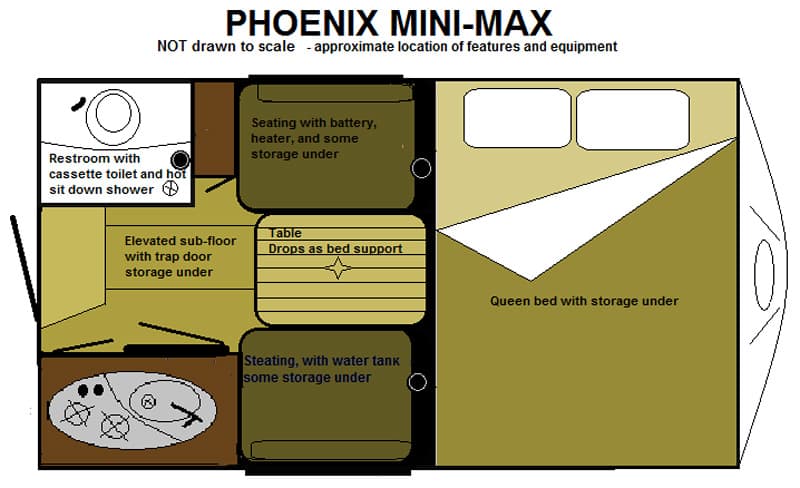 TCM: It's been some time since Phoenix Custom Campers has announced a new production model.  What's the story behind the Phoenix Mini Max, and why are you announcing it as a new production model?
Robby: We've been doing custom-only campers for a long time.  The Mini Max is a floor plan and has an option list that customers have custom ordered again and again.  Since so many customers custom ordered this floor plan and option list, we decided to make it a production model.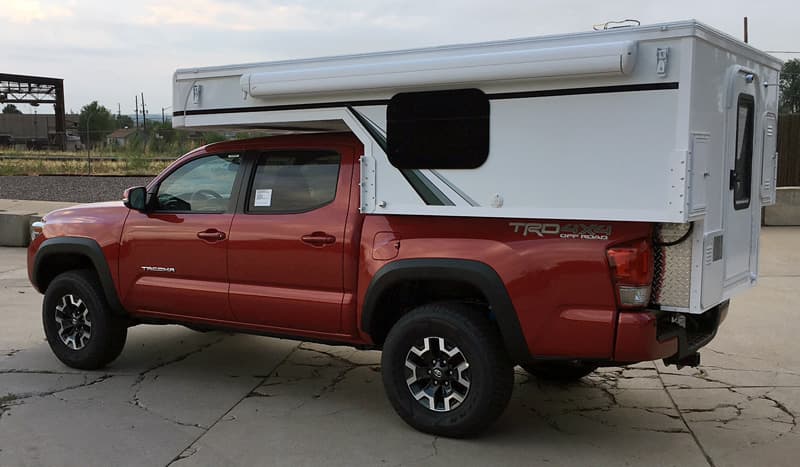 TCM: That makes sense.  What makes the Mini Max floor plan and option list so popular?
Robby: The Mini Max fits a Toyota Tacoma long bed with the tailgate closed, but it fits nicely on the short 5.5-foot beds too, with just a little overhang in the back.  The Mini Max can also be built for full-size trucks.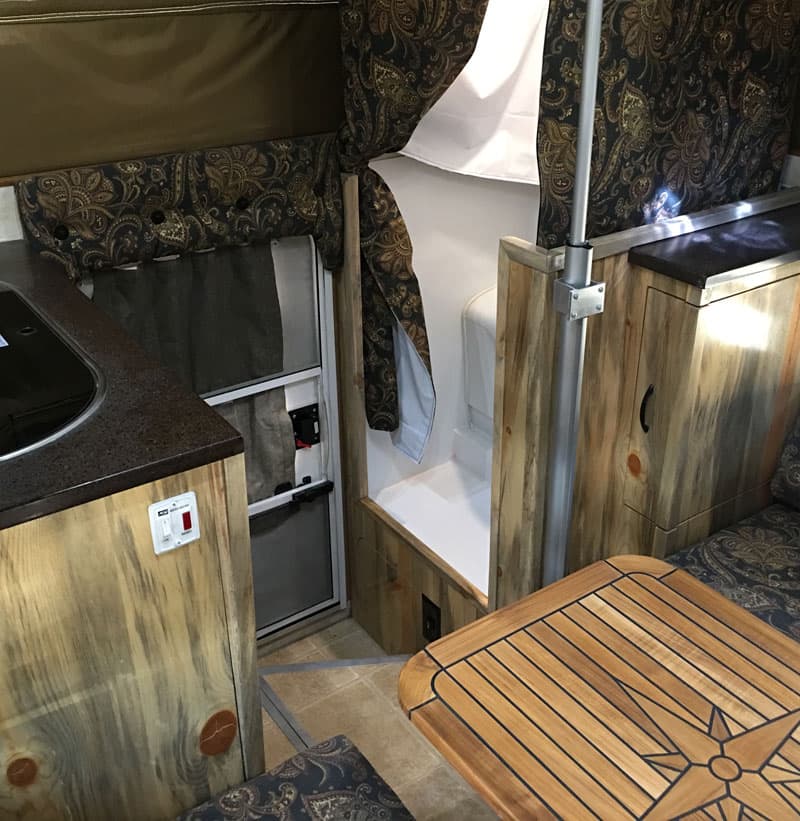 The Mini Max is fully self-contained including a fresh water tank, grey tank, and cassette toilet.  There's even a shower, toilet, and water heater in the small Mini Max footprint.  We took a mini-sized camper, and designed it to the max.