Want to see the state-of-the-art in Phoenix camper design and build quality?  Here it is, ready to audition in Denver.  News flash: Phoenix now offers custom aluminum flatbeds!

As a 100-percent custom and built-to-order truck camper manufacturer, Phoenix Custom Campers delivers every truck camper they build shortly after it's completed.  The result of this endless build-and-deliver cycle is that Phoenix Custom Campers rarely has any completed customer campers to show folks when they visit their Denver area factory.
To address this challenge, Phoenix Custom Campers periodically builds statement units to show potential customers their latest design, construction, material, and appliance capabilities.  These statement campers are then presented at overland events and RV shows throughout the year and remain at Phoenix Custom Campers headquarters for customers to see.
The last Phoenix statement camper to grace the electron pages of Truck Camper Magazine was also the first slide-out, pop-up flatbed, sofa camper in history.  While that camper is now in the hands of a customer, Phoenix Custom Campers retains two other statement campers at their facility; the Bronco Bronco Camper, and the Zebra Camper.  Both statement campers are as outrageous as they are innovative and reveal not only Phoenix Custom Campers design and build capabilities, but also their sheer creative prowess.
For 2016, Phoenix Custom Campers has a new statement camper, one that they designed and built from the ground up to be their personal overland truck and camper.  Speaking of ground up, perhaps the most exciting element of this new camper is the forward drop-door side entry.
To get the back story on how they accomplished this and dozens of other Phoenix innovations, we talked to Robby and Cari Rowe, Co-Owners of Phoenix Custom Campers.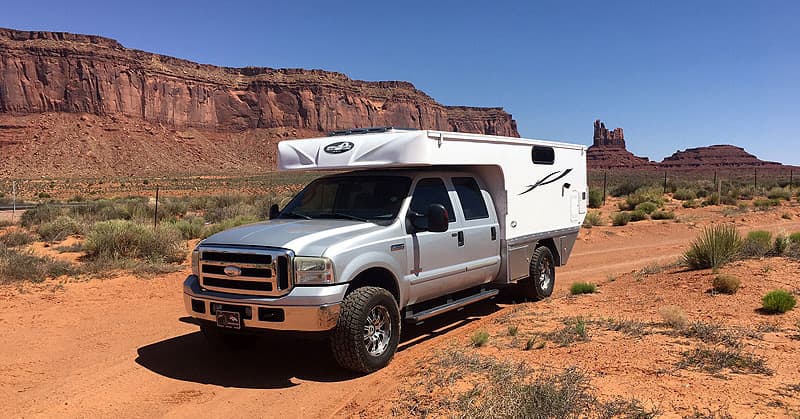 Above: The Phoenix statement camper
What was the inspiration for this project?
Robby: We built a chassis-mounted camper last year and really enjoyed the floor plan of that unit.  Upon completion of that rig, we thought about how we could get the comfort, living space, and features of that chassis mount into a demountable truck camper.
Above: The chassis-mounted camper that was the inspiration for the build
At about that time, flatbed campers were increasing in popularity.  Our customer phone calls and requests for flatbed designs have been steadily ramping up.
Those were the inspirations for this build.  This camper has essentially the same floor plan as the chassis mount but is demountable.  You can even dismount the flatbed and return the truck to its original pickup design.
Above: Construction of the Phoenix flatbed camper
That's a neat trick.  Tell us about the structure of this camper.
Robby: We have a completely non-wood based structure.  There is no wood in the structure of the camper anymore.  We are using mostly fiberglass and aluminum.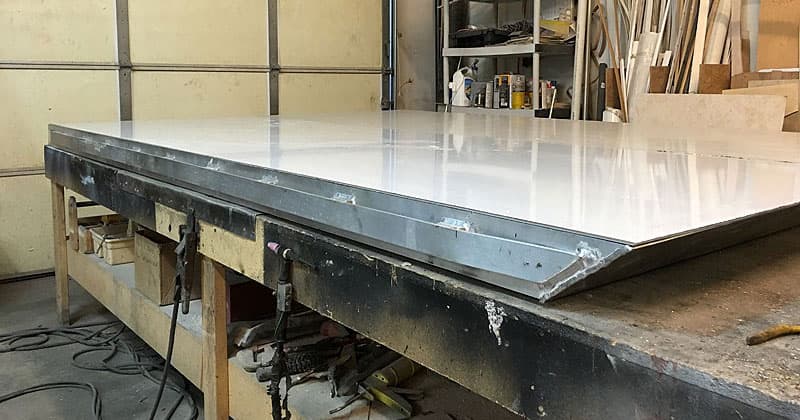 We use a fiber-based fiberglass board from Crane industries.  It is not a rolled on fiberglass.  It's fiberglass that is glued and adhered to on the top and bottom of the insulation.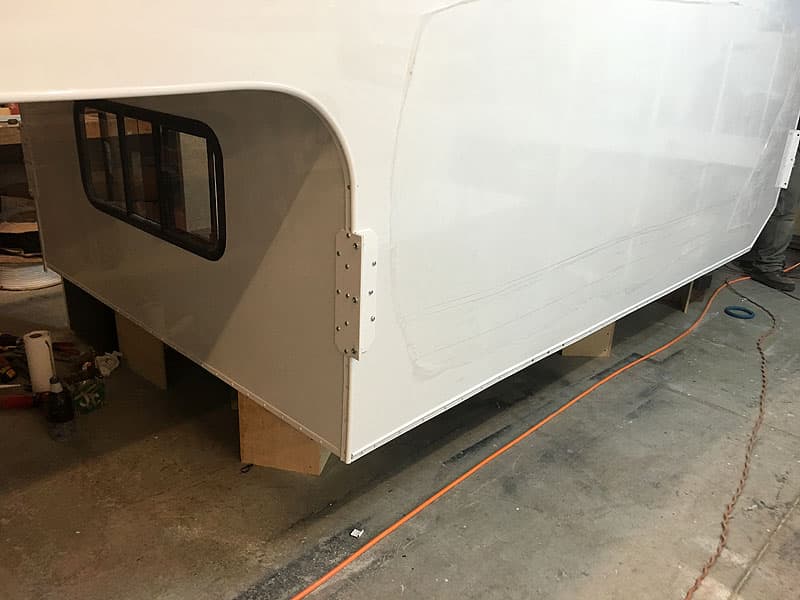 Others may use luan or paneling on the inside.  We use Azdel on the inside of the walls, so there is zero wood in the walls.
Above: The foam gun fills the aluminum with foam insulation
People worry about condensation with aluminum framing, so we will now insulate the inside of the frame upon request.  We have a special foam gun that literally fills the aluminum with foam insulation.
Are all Phoenix Custom Campers built this way?
Robby: Yes.  This is our standard construction.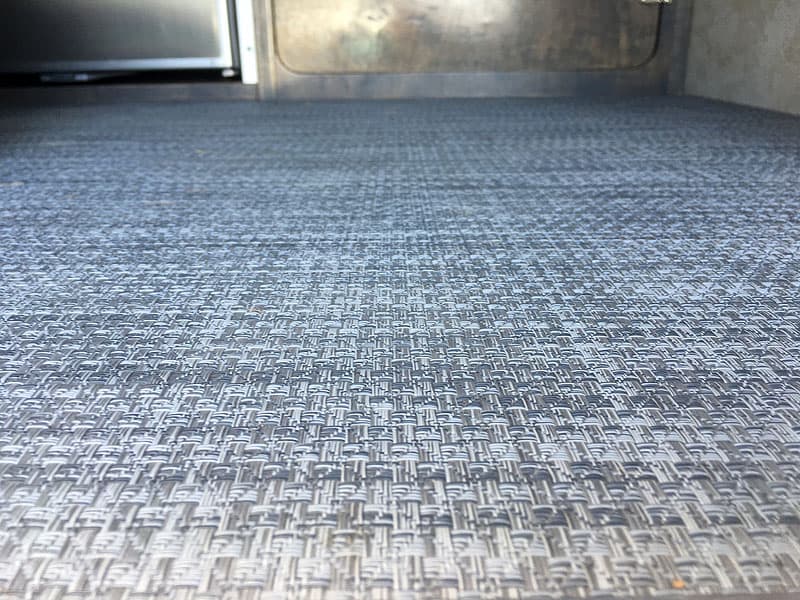 Above: The flooring is a grey woven marine-grade vinyl
Cari: For the flooring, we have a grey woven marine-grade vinyl.  The actual floor of the camper is a Coosa synthetic material.  The entire structure is 100-percent aluminum and composites.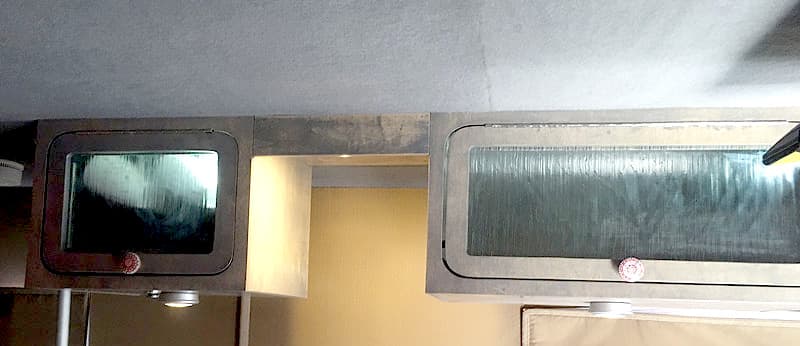 Above: An automotive ceiling headliner
We have also added an automotive ceiling headliner.  We got that idea from our customers, the Browns.  Now we have that feature in all of our campers.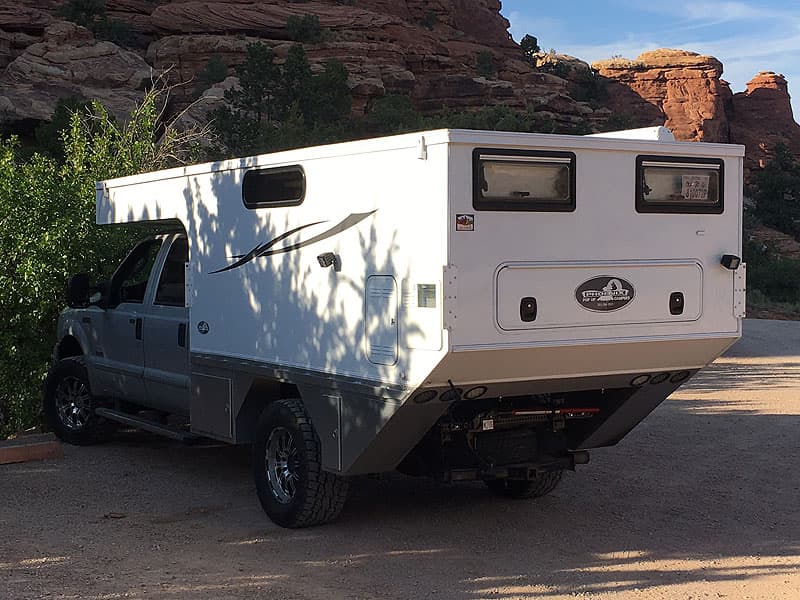 Above: Camper jacks can be removed or used like a traditional truck camper
In the photographs, the camper jacks are removed.  Is it possible to store the jacks on board and re-install them in the field?
Robby: There are three different places to store the jacks on this camper.  First, you can install them on their corner brackets like a standard truck camper.  We remove them so we can go off-road and into tighter spaces without risking catching a jack on something.  We also prefer the streamlined look of the camper without the jacks.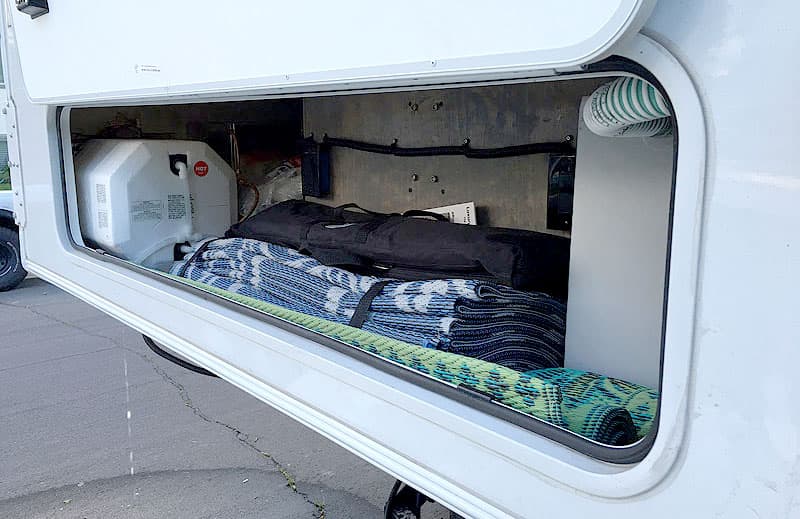 Above: The back trunk storage area can be used to store jacks
Second, the back trunk storage area of the camper is long enough for the jacks.  That would be a quick and easy place to store them.  And third, you could put the jacks in the underbed storage in the cabover.  The length is long enough on either side.
There are three bolts and nuts on each jack bracket.  With the proper tools, it would take fifteen minutes to re-install the jacks in the field.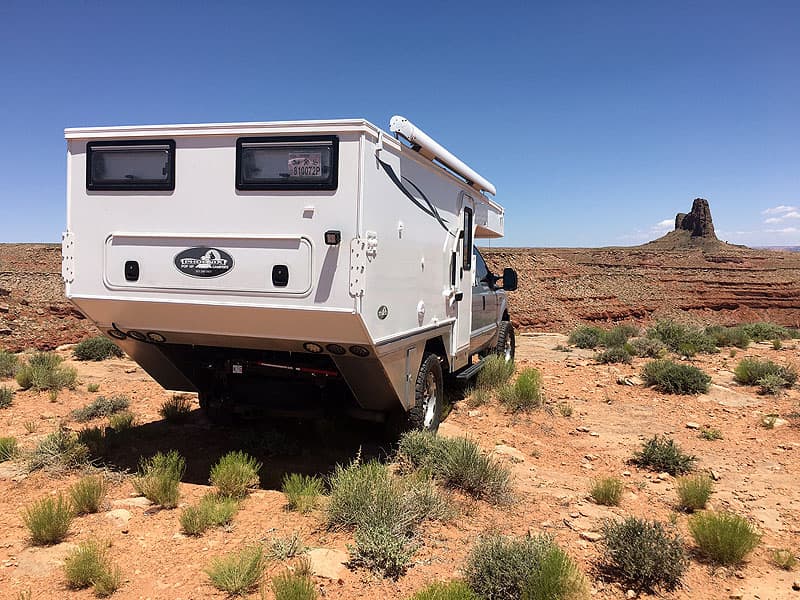 Above: The departure angle gives it a higher rear end
Did you always envision this camper as a flatbed model?
Robby: Yes, a few aspects of this camper lend itself to flatbed.  There's the departure angle, which means the rig does not have a low rear end like a traditional camper.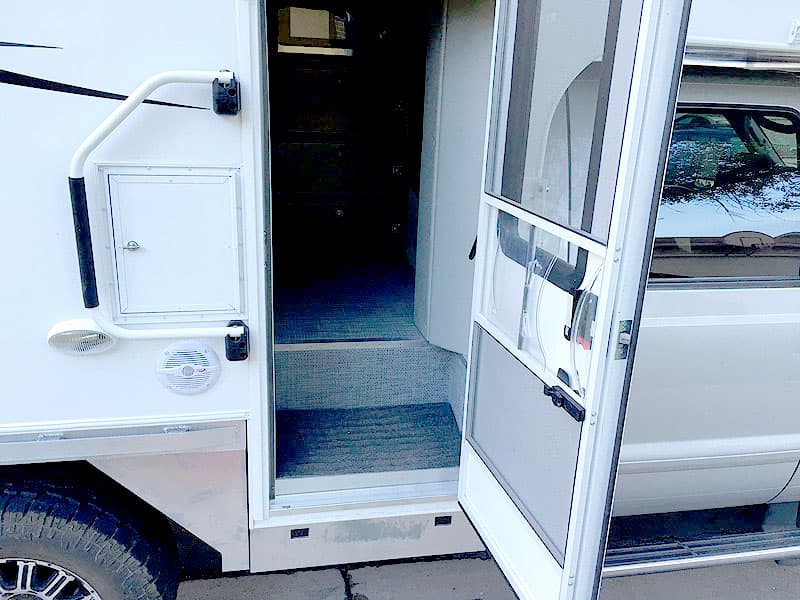 Additionally, the forward drop-door side entry is conducive to the floor plan we had in mind.  If people come in the side door, we can have the dinette in the rear.  This arrangement has a lot to do with how roomy the camper's interior feels.  Our custom cut-away flatbed design also allows us to have a lower entryway, and a taller door.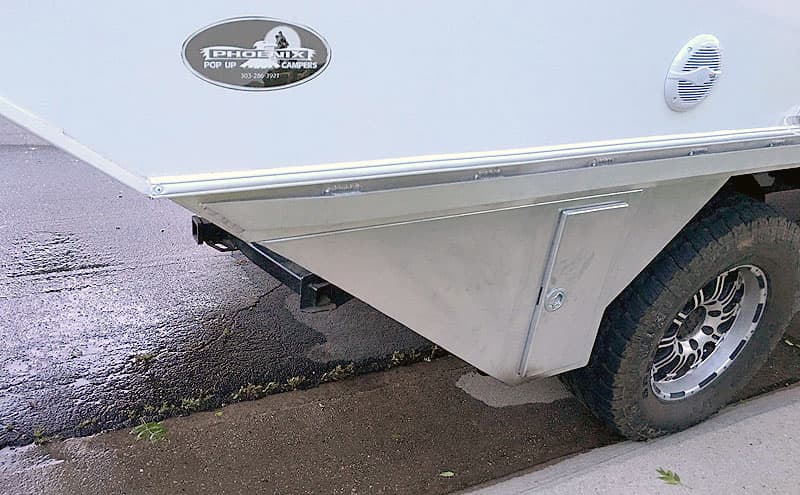 Cari: Plus the look of the flatbed and angled departure is very appealing.  The overall length of the camper is 11.5-feet.  Most 11.5-foot slide-in campers look enormous on an 8-foot pickup truck, but this design gives you lots of space without looking like a large truck camper.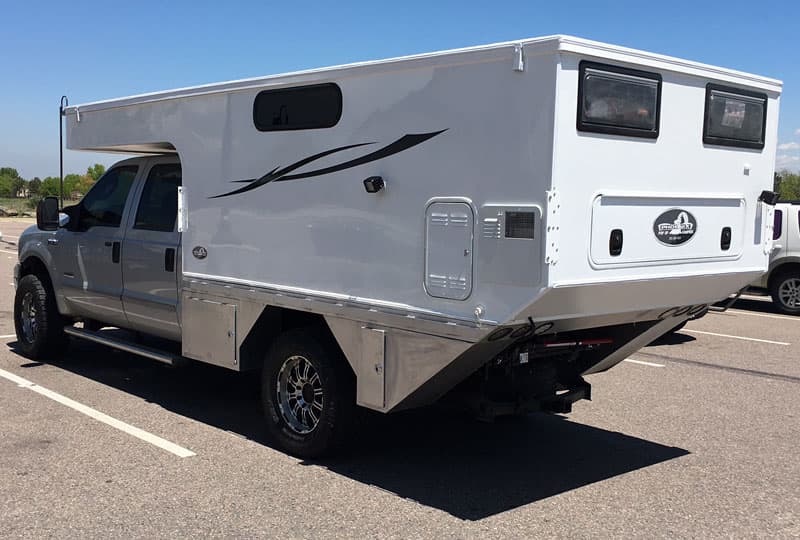 Above: 10-feet of floor space is in the camper, with the entire floor length being 11.5-feet
Is the floor length 11.5-feet?
Cari: It's actually a 10-foot floor from the front wall to the floor of the back interior wall.  The extra foot and a half is in the departure angle and part of the back of the dinette area.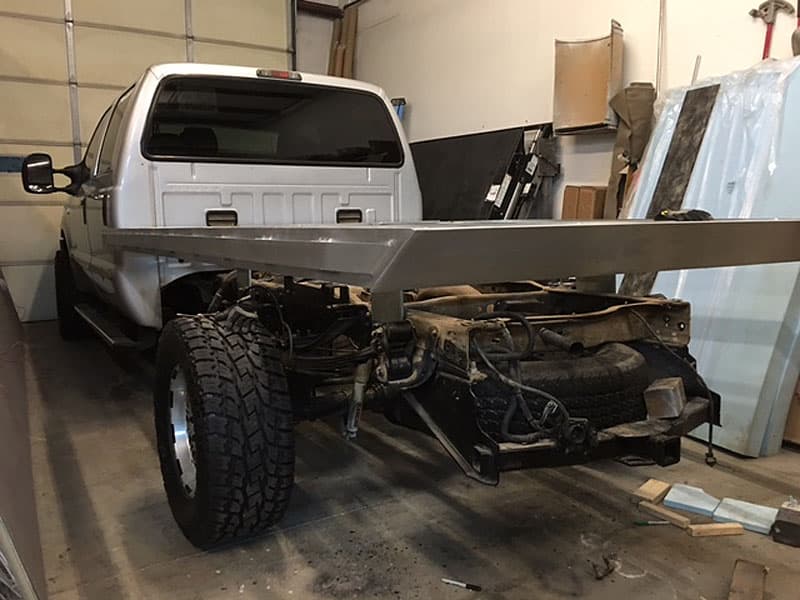 The size, storage features, and matching departure angle of the flatbed look custom.  How was that manufactured?
Robby: I actually built the flatbed.  We hadn't done that before.  We have customized flatbeds for customers, but never actually built one before.
We couldn't buy a standard flatbed and use it because we wanted the departure angle.  If we had contracted it out, it would have taken a long time.  We also wanted it done right.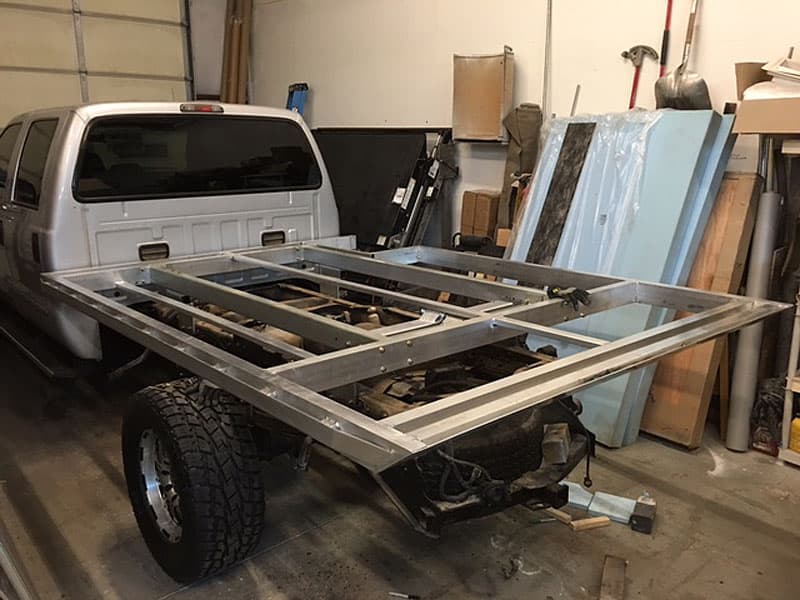 Above: Robby Rowe built the custom aluminum flatbed and the camper
Quite a few readers just thought, "I wonder if they'll build me a custom aluminum flatbed."
Cari: Yes, we can custom fabricate aluminum welded flatbeds for customers.
Robby: Even if a customer just wanted a special flatbed and not a Phoenix Custom Camper, we can do that.  Or, if they want both a camper and flatbed, we can do that too.  Any way you want to go, we're up for it.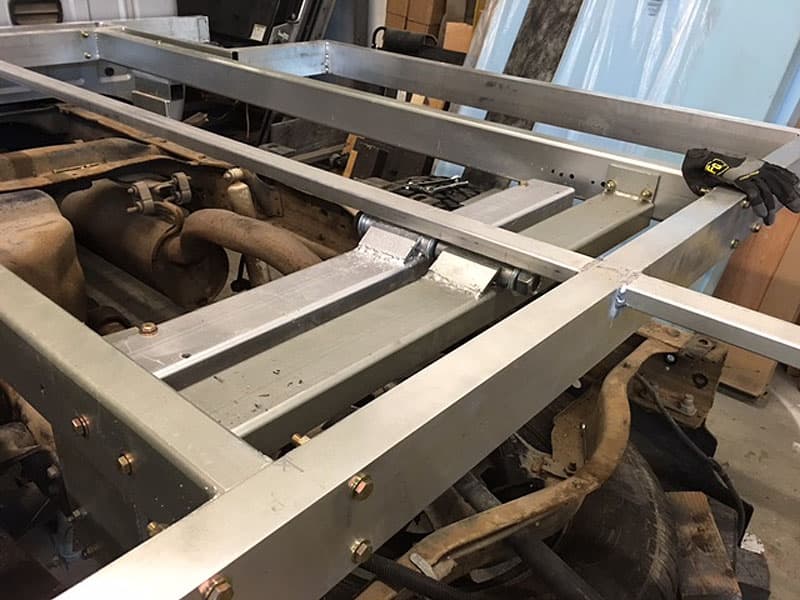 What would it cost for a custom aluminum flatbed?
Robby: We can build custom aluminum flatbeds for just under $10,000.  Of course, we need to talk to the customers about exactly what they want before committing to a price.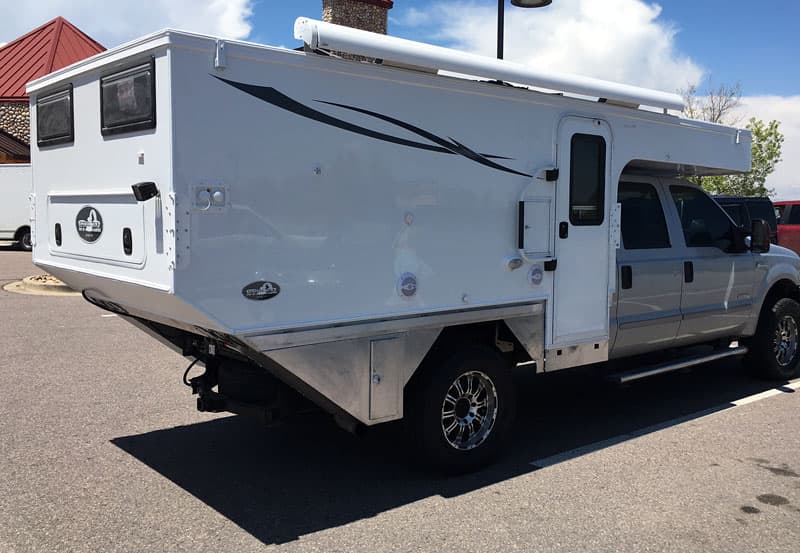 Above: The forward drop entry door
The forward drop-door side entry is incredible.  I don't think we've seen anything like that on a demountable truck camper.  Is that something customers can now order from Phoenix Custom Campers?
Robby: Yes, there's plenty of space on long bed trucks for a forward drop-door.  If you order one from us for a short bed truck, the entry would have to be behind the rear wheel.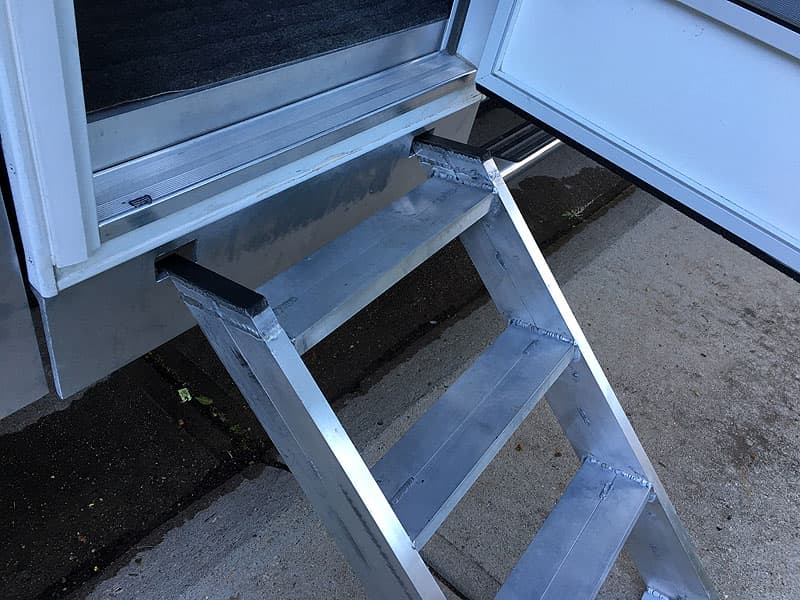 Above: A welded aluminum entry step system was designed for this rig
The welded aluminum entry step system looks interesting, but it's hard to tell from your photographs how it works and how it stores.
Robby: The entry step design is almost identical to one we put on a crazy military camper we built a couple of years ago.  That camper was built for a two and a half ton truck from the army.  His steps were heavy-duty steel, like a household stairway.
We decided to incorporate that design into this camper, but used aluminum to save weight.  It's attachable and re-attachable and has a storage space in the flatbed.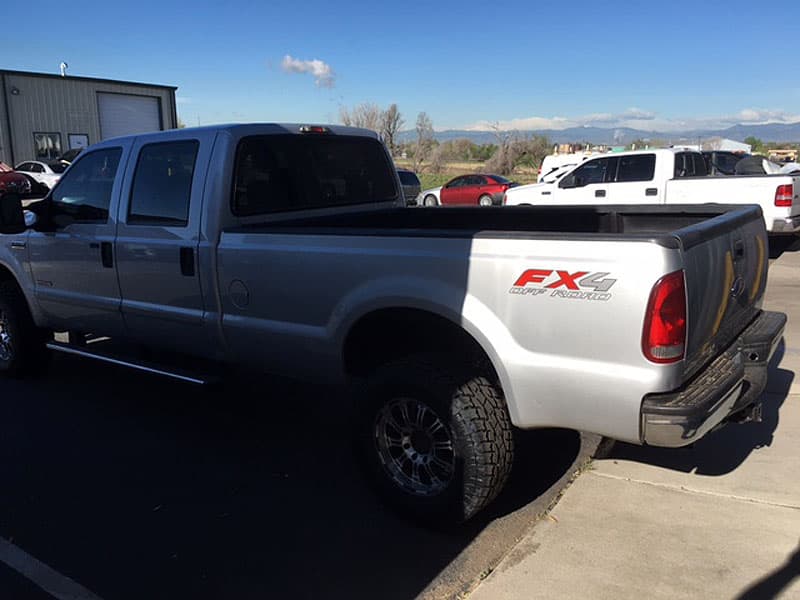 Above: The original 2007 Ford F350 Super Duty long bed truck
Tell us about the truck.
Robby: The truck is our personal 2007 Ford F350 Super Duty, long bed, crew cab, diesel.  There's a good story behind how we got this particular truck.  During the middle of last year, a gentleman contacted us to collaborate on a show vehicle.  He was getting a heavy-duty Ford F550 that was tricked out.  It would be a long bed, crew cab truck.
We started building the camper with that vehicle in mind.  About three weeks before Overland Expo West, he said he wasn't going to have the truck ready in time.
So we went and bought a long bed F350.  We're happy we went with the F350 and didn't use the F550 because it represents a more normal truck.  The rig handled nicely on and off-road on the way to the show and back.  We're thrilled how well it came together.
Earlier you mentioned the rear storage area where the camper jacks could be stored.  Are there any other exterior storage locations?
Robby: There is only one exterior door on this camper, but if a customer wanted additional storage or storage in different places, we can design that in.
Above: The truck bed has locking storage compartments
The truck bed itself has three big locking storage compartments on it, so we didn't feel we needed more exterior storage on our camper.  All of those compartments add up to a pretty good amount of exterior storage.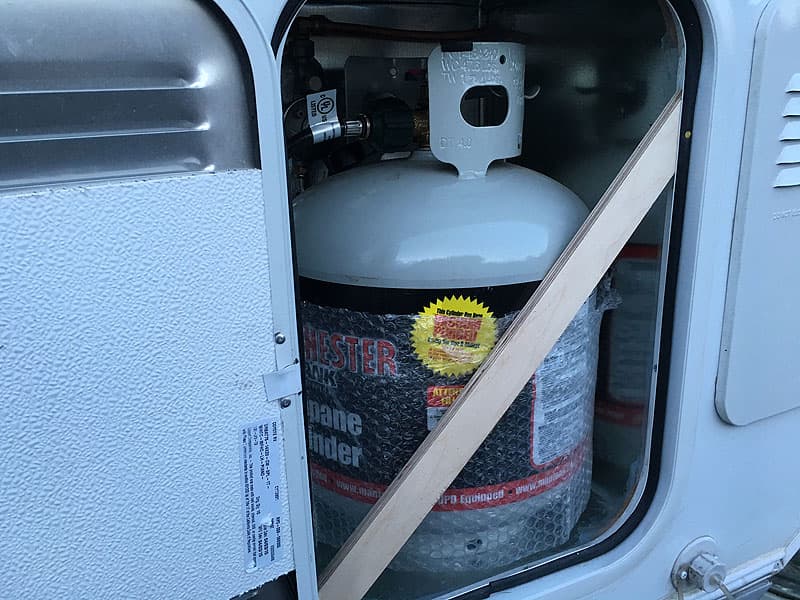 Above: 20-pound propane tank
What are the propane and battery features on this camper?
Robby: This camper has a single 20-pound propane tank.  You could request two if you'd like.  Next to the propane is water heater access.  On the other side is the cassette toilet access, the fresh water fill, exterior speakers, and shore power hookup.  There are also porch and flood lights on the exterior of the camper.
We have four AGM deep-cycle 6-volt golf cart batteries.  Those are located in the center over the rear axle, under the table.  They are easily accessible in a vented box and centrally located.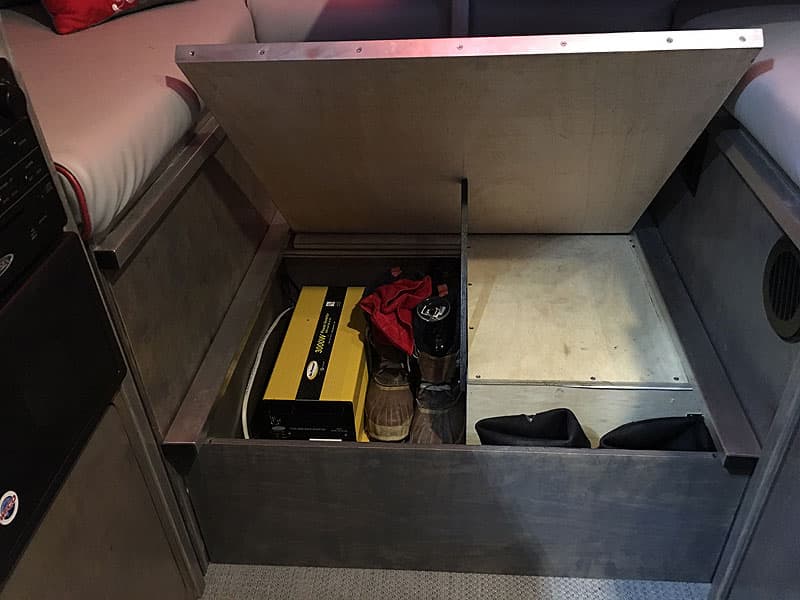 Above: The 3000-watt pure sine wave inverter and battery storage is under the dinette table floor
Four 6-volt golf batteries?  Are you planning to arc weld in the desert?
Cari: With the 3000-watt pure sine wave inverter under the dinette floor, the battery bank allows us to use the convection microwave to make cookies, pizza, and pretty much anything we desire.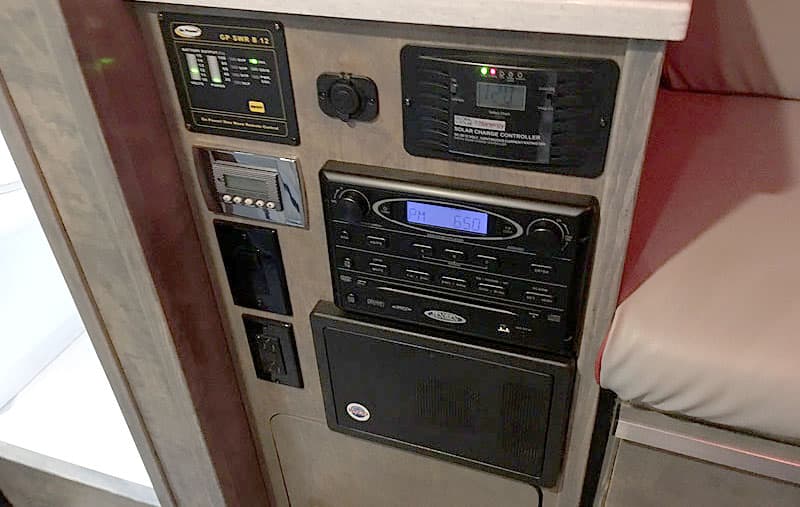 Above: Solar controller, fuse box, stereo, and outlets
Cookies and pizza!  That's the best battery answer ever.  Is there a solar power system installed on this camper?
Robby: Yes, there are also two 100-watt solar panels on the roof.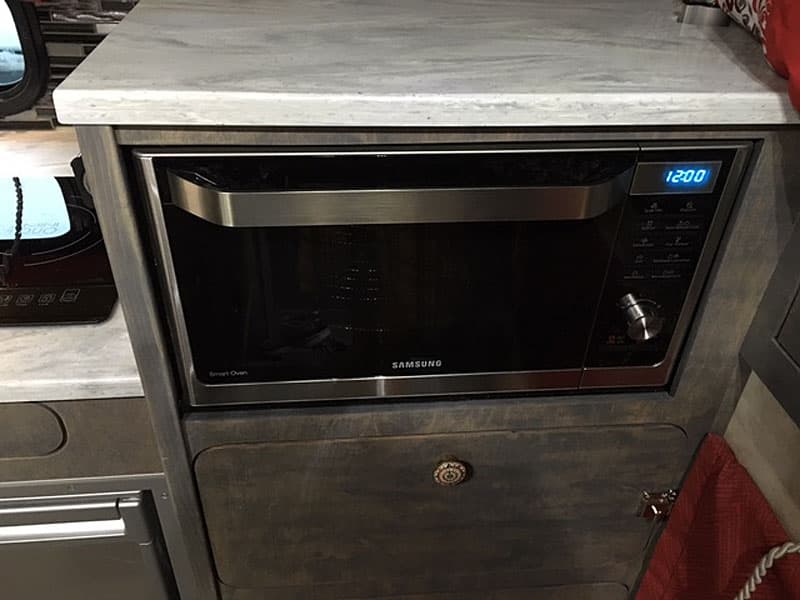 Above: Cabinetry and convection microwave in the Phoenix statement camper
Let's move to the kitchen.  The cabinetry looks fantastic.  Is that CNC cut?
Robby: We work with a local cabinet-making company that uses a CNC for flush mount cabinetry and the European-style doors.  We deliver the raw wood to them; apple ply, with a maple face that's multi-layered.
With the CNC, we get a perfect cut.  We can carry the grains through to the cabinet.  They also used the CNC for our logo that's etched in the cabinet.  Then we stained and lacquered cabinetry for the final build-out and finish.
Are CNC cut cabinets now a Phoenix Custom Camper standard?
Robby: Yes, for anyone who wants cabinetry and doors in their camper, CNC cutting is our standard now.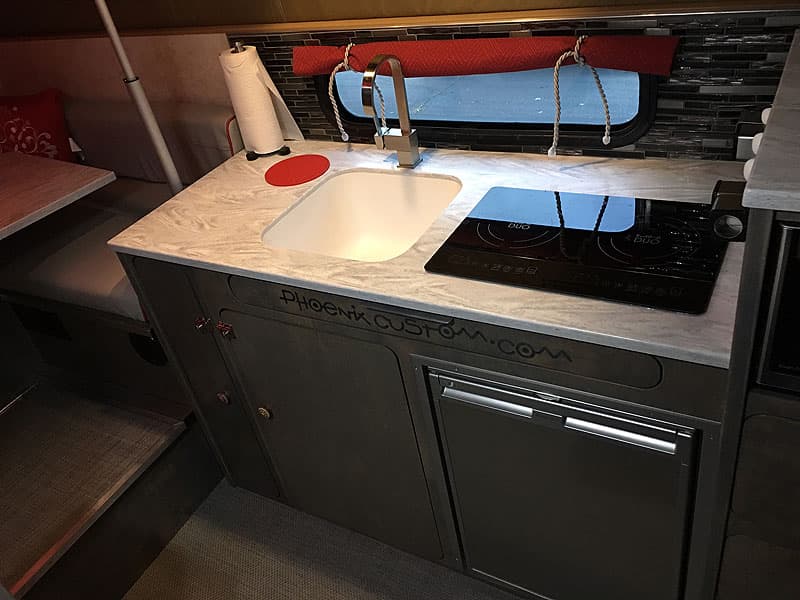 Above: Solid surface marble looking countertops
The countertop, inset sink, stainless fixtures, and backsplash also look incredible.  What materials did you use?
Robby: For the countertops and in-set sink we have a solid surface marble-looking product by Hanex.  The stainless faucet is a Yodel faucet.  A customer from Taiwan custom requested that faucet on a previous build and we loved it.
We also installed an induction stovetop.  For power conservation, we could have gone with propane or diesel, but we wanted to see what the batteries and inverter could handle, so we tried it.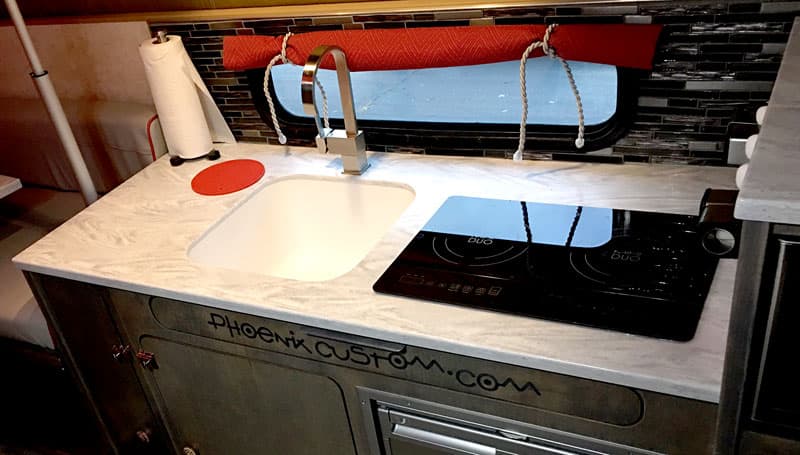 Above: Roll up curtains and backsplash in Phoenix statement camper.  You can also see their logo etched into the cabinet.
The backsplash is a domestic glass tile.  We used silicone-based grout to handle the bouncing and twisting the camper takes off-road.  I would not use household grout in a truck camper.
We developed the roll-up window curtains.  You hand roll them and tie them with the decorative rope.  They look modern and classic at the same time.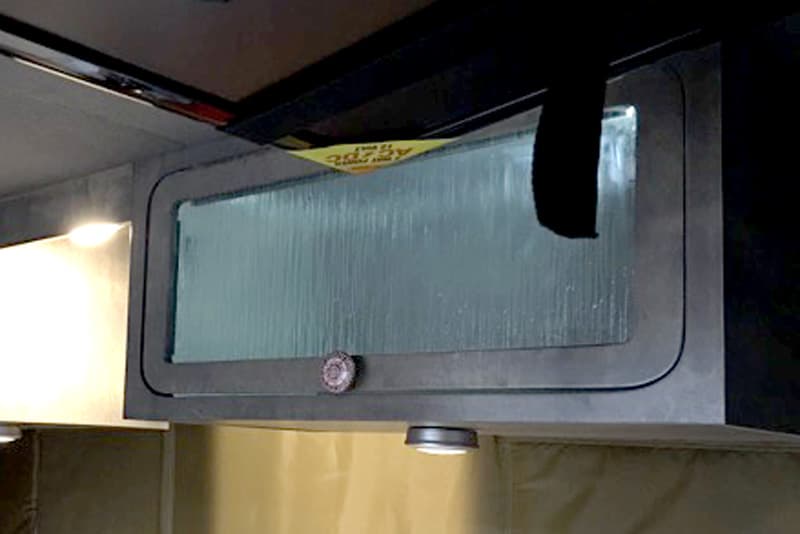 Above the kitchen are glass-front cabinets that are lit on the inside and outside.
Above: The dropdown silverware case is integrated into a cabinet
Cari: Robby was also very innovative and designed a dropdown silverware case.  When we looked at the cabinet faces of the kitchen, there was no drawer for silverware.  I thought of the idea for the silverware drawer to drop down from the top cabinet, but Robby made it come to life.  It's fun to innovate when we make campers.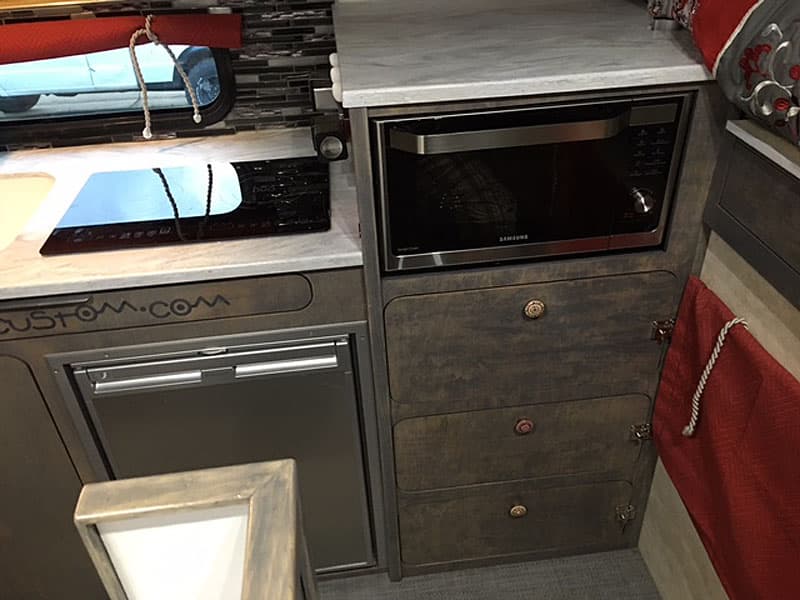 Above: True Induction Mini brand stovetop, also the Dometic 3.8 cubic-foot refrigerator, and Samsung convection microwave
There are a lot of fun ideas in this camper.  Tell us about the kitchen appliances in the unit.
Robby: The stovetop is a True Induction Mini brand.  It's a little scaled-down size-wise, but only uses 1300 watts per hour, so it's really effective.  It boils water in a minute.  When you pull off the pan it's warm, but it won't burn you.  You need ferrous material pots and pans with induction stovetops.  If a magnet sticks to it, it will work.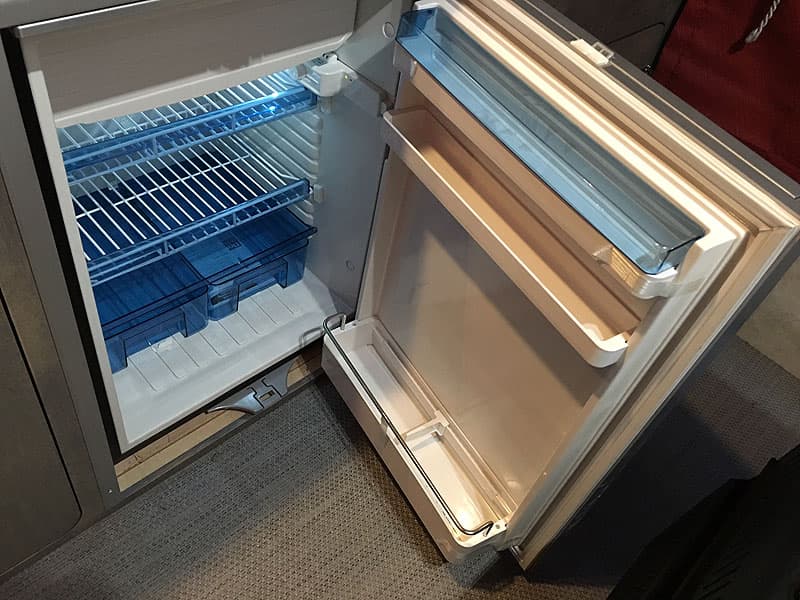 Above: Dometic 3.8-cubic foot compressor refrigerator
The refrigerator is a 3.8-cubic foot compressor refrigerator made by Dometic.  It's a 12-volt / 120-volt refrigerator that uses very little power that will automatically switch to 120-volts when shore power or the inverter is on, and you don't have to be level.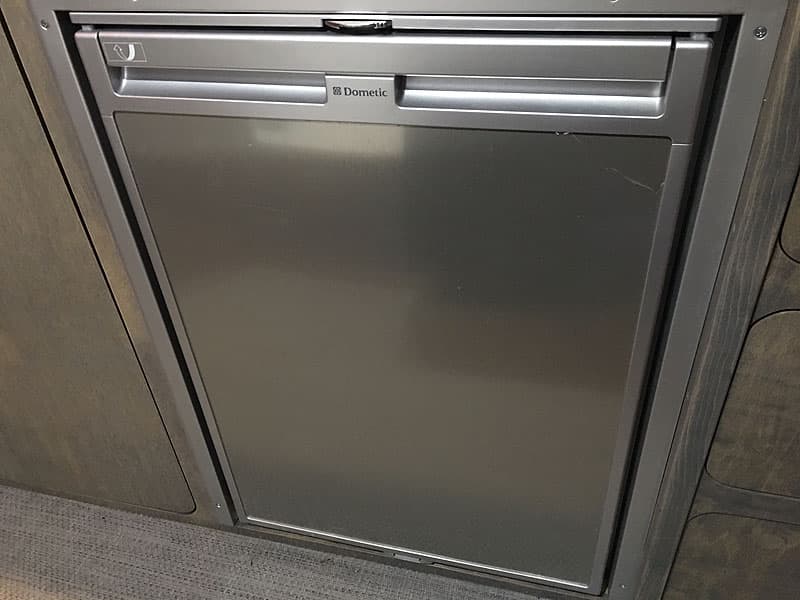 It also has a good lock on it so it won't fly open, and a big freezer.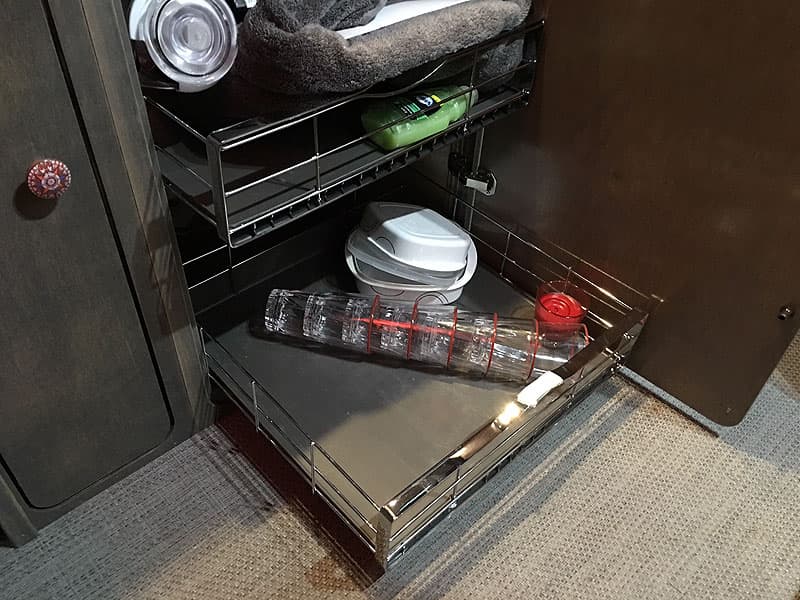 Above: Simple Human wire shelves that roll out for pots and pans
Next to the refrigerator, there are big doors that open and Simple Human wire shelves that roll out for pots and pans.  Left of that door is a slide-out pantry, with a small shelving unit that slides out.  It's all very user-friendly.  I built the slide-out pantry from scratch.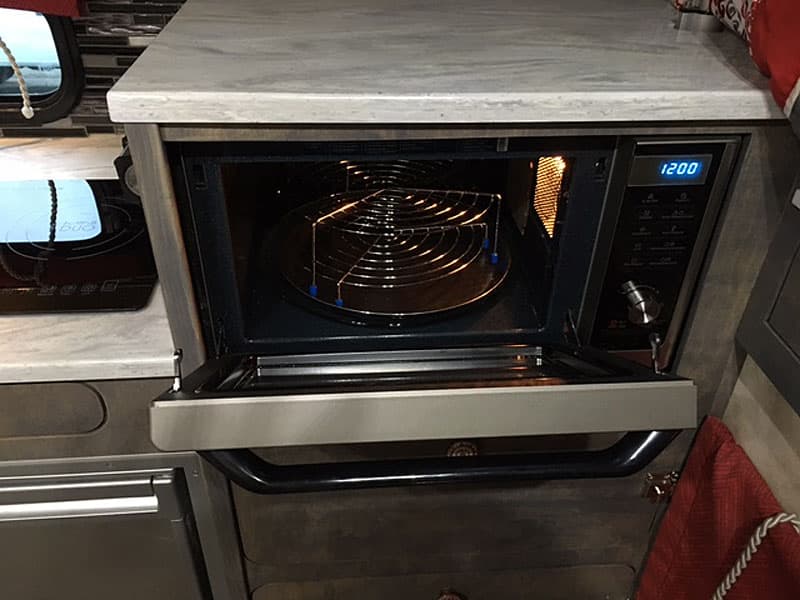 Above: The Samsung convection microwave
Finally, there's a Samsung convection microwave, which is amazing.  It doesn't use as much power as the last convection microwave we had.  This one is more power-efficient and user-friendly.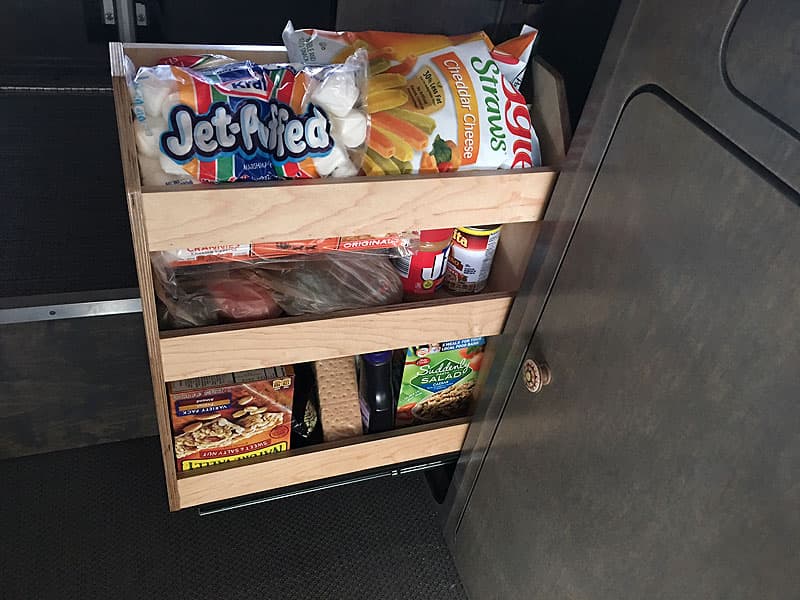 Above: Pull-out pantry and storage pull-out trays
The pull-out pantry and storage pull-out trays are fantastic features.  Is that a new Phoenix offering?
Robby: We've done quite a few of them.  They are readily available.  With this camper, we're trying to show what we're capable of.  We always say we can do something, but what does it look like?  Since each unit is custom and built for a specific customer in mind, I don't have a lot of campers to show people.  This camper allows us to show these unique and custom features off.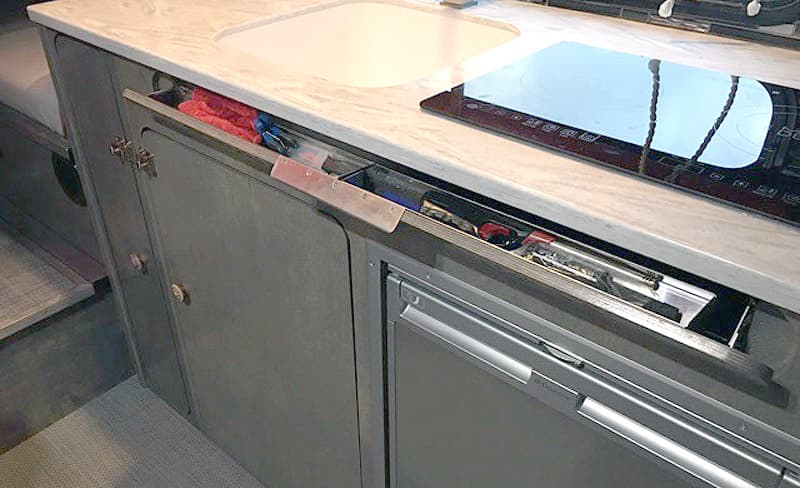 Above: On the left side of the picture you can see the latches on the cabinets.  There is also a little storage area for small items under the sink and stove.
The cabinets appear to have exterior latches.
Robby: We use heavy-duty spring-loaded hinges and self-closing doors.  They will not open on bumpy roads.  We wanted extra security, so we also added external chrome positive catch latches.  You usually see them on yachts.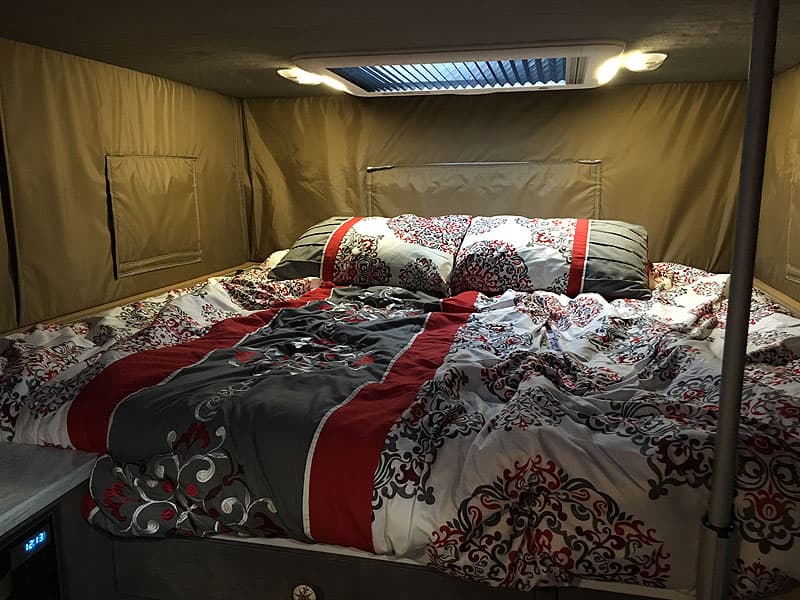 Above: The bedding matches the grey and red decor
Tell us about the cabinet knobs.
Cari: We decided to go with the colors grey and red because we originally thought the truck would be red.  I went and found the comforter and pillows to match the decor.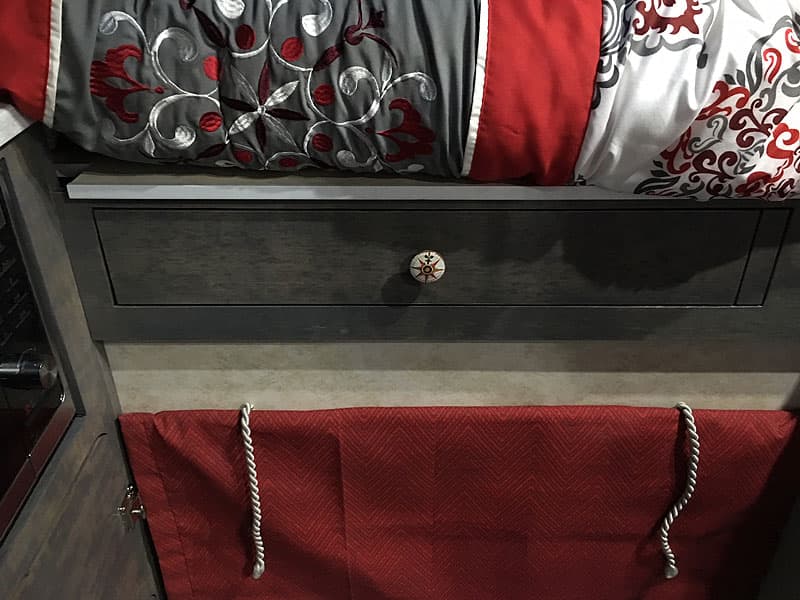 Above: Drawer pulls that look like old fashioned compasses
The wood handle pulls are designed to look like old-fashioned compasses.  Each one is unique.  There are five in the camper and they are uniquely hand-painted.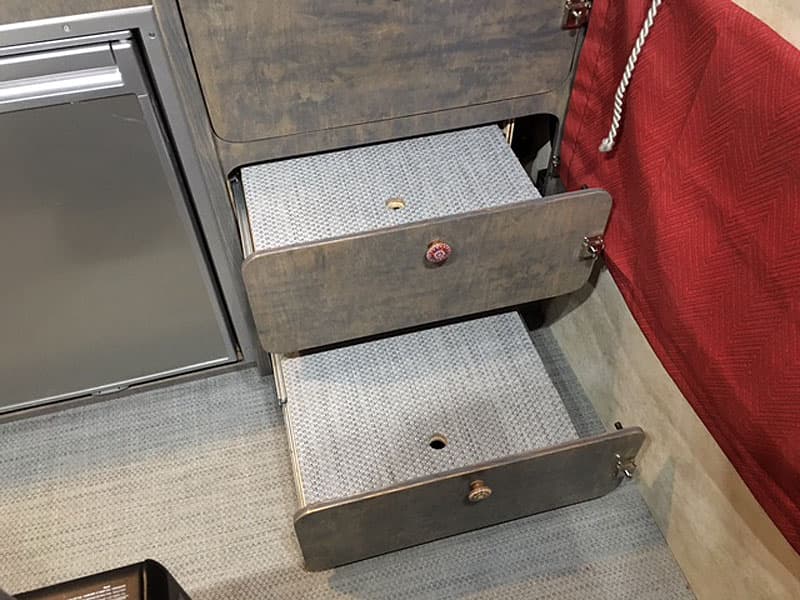 Above: Drawers that are also steps to the cabover
Why do the drawers have surfaces when you pull them out?
Cari: When I stand up, the bed is at shoulder level.  I asked Robby if we could make a staircase.  We talked and came up with the idea of using heavy-duty drawer slides to use the drawers as stairs.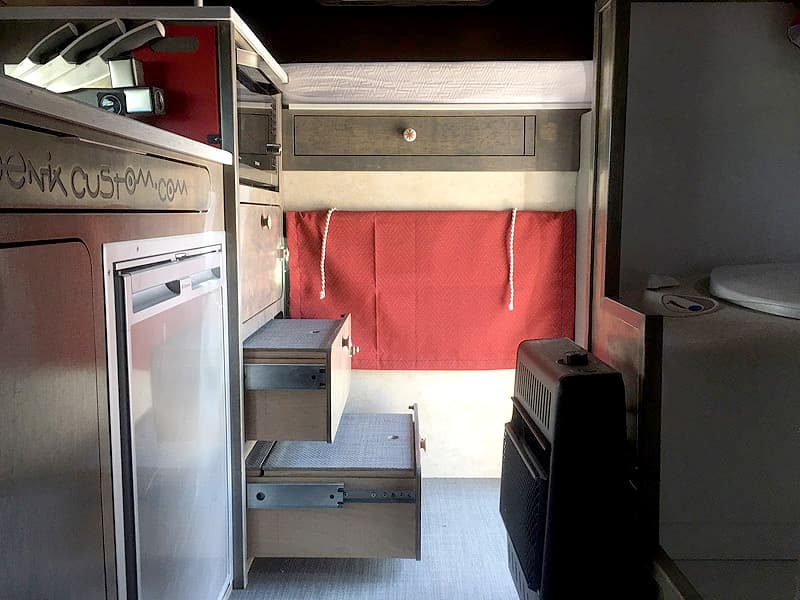 There is a pin that goes through the drawers and stops them from rolling back and forth.  The second drawer step comes out about half the distance with another pin stop.  They are drawer slides rated at 500 pounds.  When extended, the drawers give you a staircase up to the bed.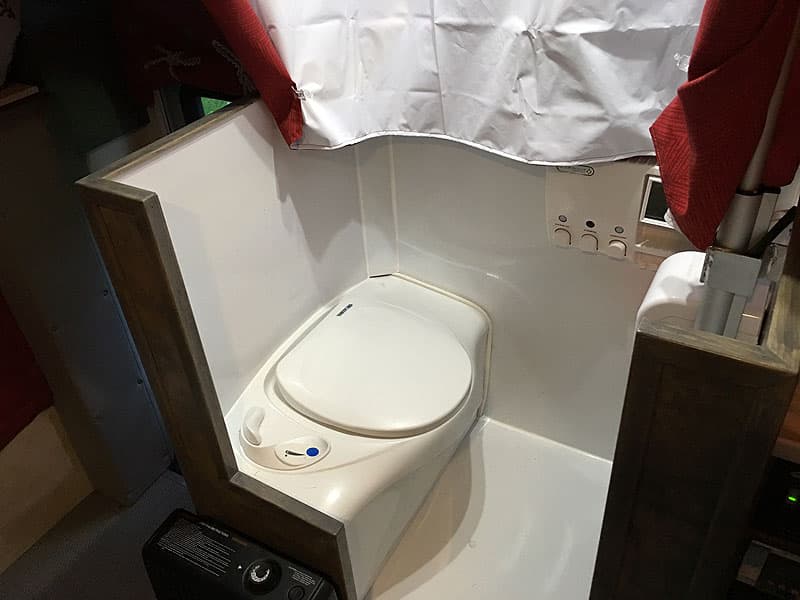 Above: The bathroom in the Phoenix flatbed camper
That's a really neat solution to getting in and out of the bed.  Why did you go with a cassette toilet in the wet bath?
Robby: We have used quite a number of campers with porta-potties, built-in black tanks, and cassette toilets.  In using all three, we found the cassette toilet to be the most convenient.
Cassette toilets feature their own water source, their own black tank storage, and the capability to dump in any residential toilet.  We typically dump ours in the shop's toilet when we get back from a trip.  There is no looking for a dump station.  We've also used dump stations at campgrounds.  Cassettes give you so many more options, so we like them the best.
We also like the soft shower curtain on the upper half of the bathroom.  When you pull it out of the way it feels a lot bigger in the camper.  The shampoo and soap dispensers were added for comfort.
Cari: For washing your hands, the kitchen sink is right there, or you can turn on the shower nozzle and wash your hands in the shower.  It's a wet bath, so the water goes into the grey tank.  Without a sink, it saves space.
What's the height of the shower stall?
Robby: The overall ceiling height is 6'9".  I put the shower as low as possible, which gives you 6'0" in the shower.  There are two grey tanks in this camper; one under the shower and one under the sink.  Both are 15 gallons.  There's also a 75-gallon fresh tank.
Two 15 gallon grey tanks?  How do you dump two separate grey tanks?
Robby: There are two separate dump areas on the exterior of the camper.  They do not dump from the same place.
On the outside wall of the wet bath is a Pro Com Blue flame heater.  Is it okay for that unit to be so close to a water source?
Cari: There are no electrical connections to the heater because it is a propane-only unit.  We have used the shower and have had no problems.
Robby: The curtain keeps the water in the shower area, so the heater is not exposed to any water.  The reason we chose that spot for the catalytic heater is that the heat source is centered in the camper.  It radiates heat in all directions perfectly.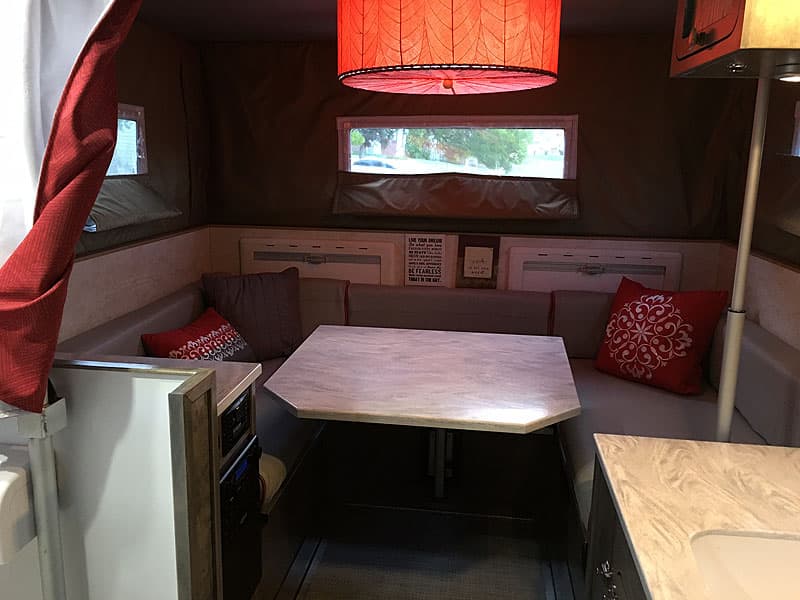 The rear wrap-around U-shape dinette is a major element of the camper.  What was the thinking behind this design?
Robby: In the chassis mount camper, we had a U-shaped couch from a couch manufacturer.  We liked it, but it was not as comfortable as it looked.
I built this U-shape couch from scratch.  Now we have plenty of knee room.  We wanted seating for four or more adults and storage underneath.  This design hits that mark.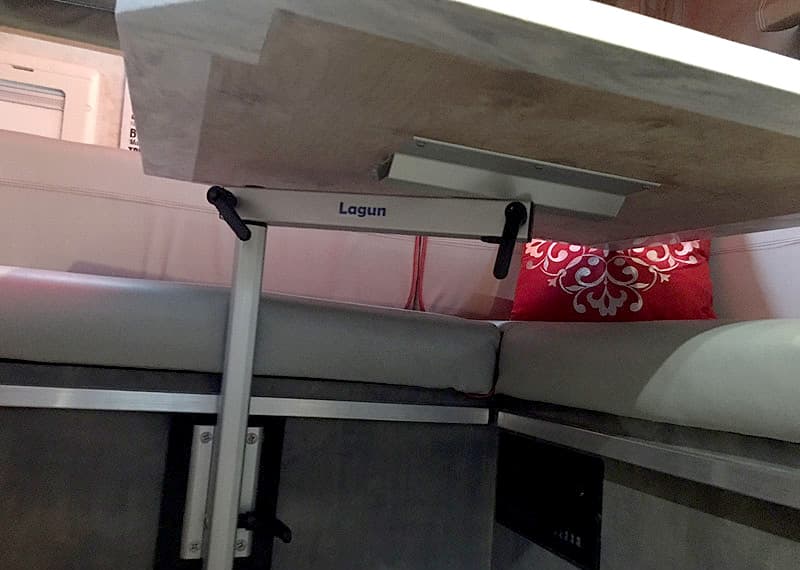 The table is on a Lagun pivoting base.  It's a big and usable table that you can quickly move and lock down anywhere you want it.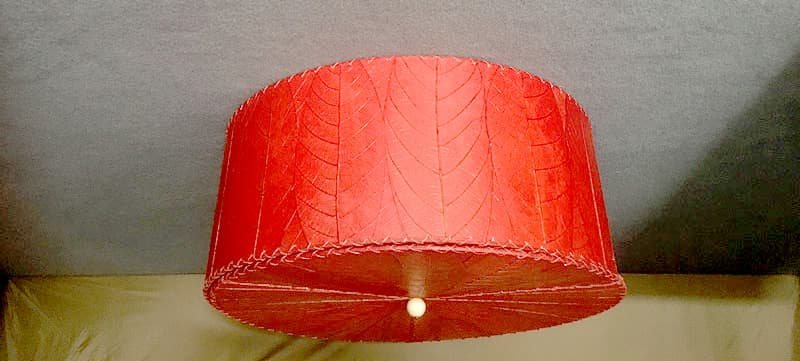 That's an unusual light above the dinette.
Robby: That's Cari again.  It's a cocoa leaf lamp from a design center in Boulder.  It was not cheap, but it's cool.  I modified it with 12-volt and LED lights and made it tighter to the ceiling.
Does it have enough space when the roof is brought down?
Robby: There's just enough clearance.  Just don't leave a bowl of fruit out.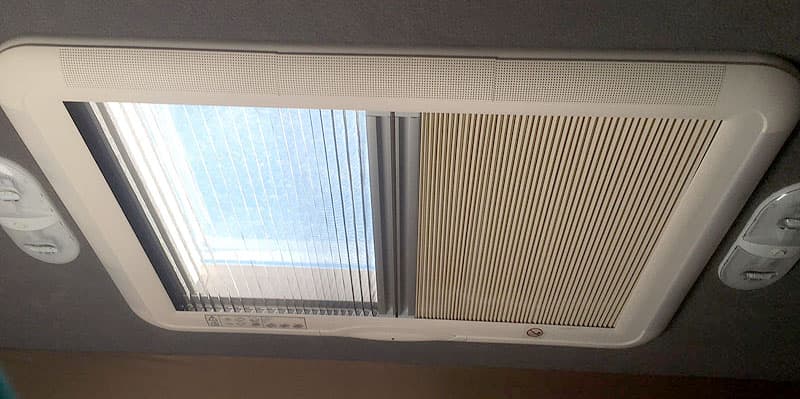 Above: The Heki 4Plus skylight in the cabover
The Heki skylight in the cabover is a nice touch.  Can the bedding be left on the mattress when the top is down?
Cari: Yes, the bedding can be left on the bed.  We've installed about five or six Heki skylights in previous builds including this Heki 4Plus.  The Heki 4Plus is powered, remote-controlled, includes built-in lights, and a rain sensor to automatically close.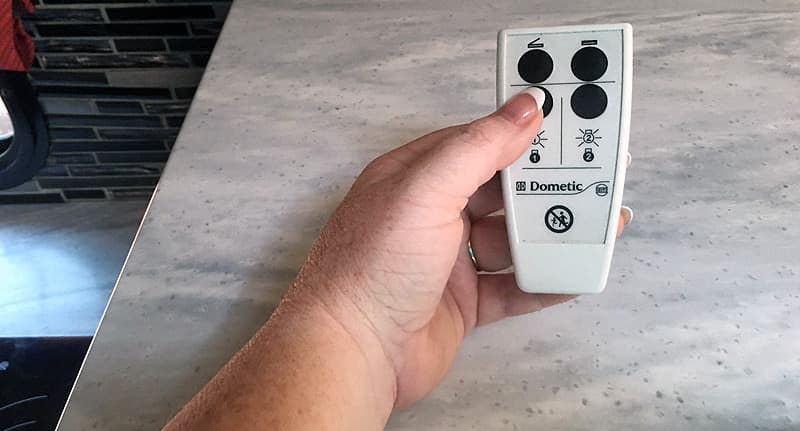 Above: The Heki skylight even has a remote control
A remote control powered Heki?
Robby: With the push of a button on the remote, the Heki brings itself down or up.  You can also turn on the lights on the Heki with the remote.  You can use the remote control at the foot of the bed and never climb up to open or close it.  It's great because it increases ventilation.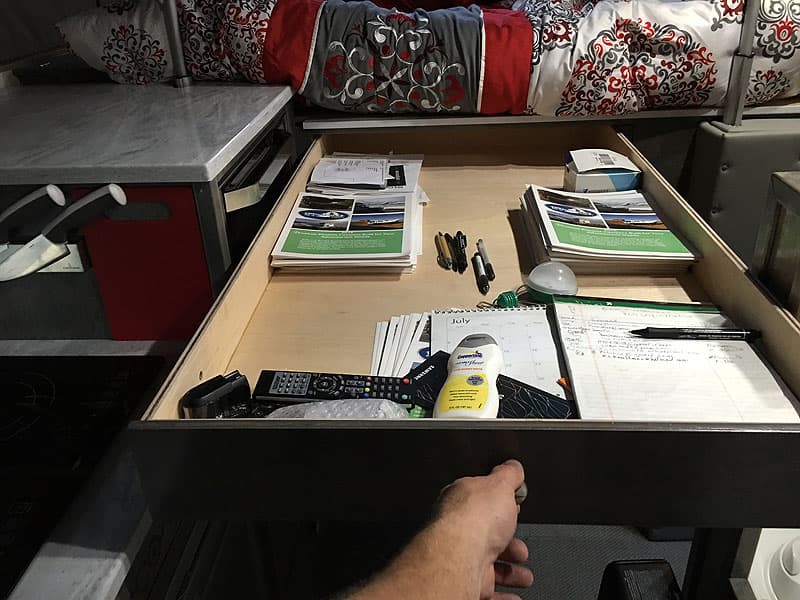 That's crazy.  Speaking of crazy, that's a crazy long drawer under the cabover bed.  Why make the drawer that long?
Robby: The four-foot cabover drawer is overkill, but having a drawer there makes a lot of sense.  If your spouse is sleeping and you need things from under the bed, you can just open the drawer and not pop up the bed.  You can put critical things in there that you need to access regularly.
Cari: If you need something fast, one person doesn't need to get down off the bed to get it.  Stuff like sunscreen, papers, makeup, accessories, or extra things you need in the kitchen all work well in the drawer.
When you pull the bed up, I have folding boxes stored on either side of the cabover.  I hate to pack and unpack the camper.  With this feature, you take these boxes in the house, and just unpack and repack the things you want.  Carry the boxes in and place them in the camper, and packing is done.
Above: Storage on both sides of the bed
Robby: We also have side flip-up boxes on the side of the bed.  They are 10-inches wide, 10-inches tall, and 6-feet long.  At the head of the bed, there are nightstands that are solid platforms for your watch, glasses, phone, books, etc.
Above: 12-volt and USB plugs in the cabover
Cari: There is also a 12-volt and USB plug for your alarm clock/smartphone, CPAP, and anything else you need to charge or power in the cabover.
Is the camper finished, or are there still a few details you are working on?
Robby: We're 90% done.  During the Overland Expo West, we found a few more things we want to tweak.
How long did it take to build the camper?
Robby: About six weeks, but that was in between other camper builds.  If I had dropped everything and just done this camper, it would have taken less than a month.
What does the camper weigh?
Robby: It's 3,800 pounds dry including the aluminum flatbed.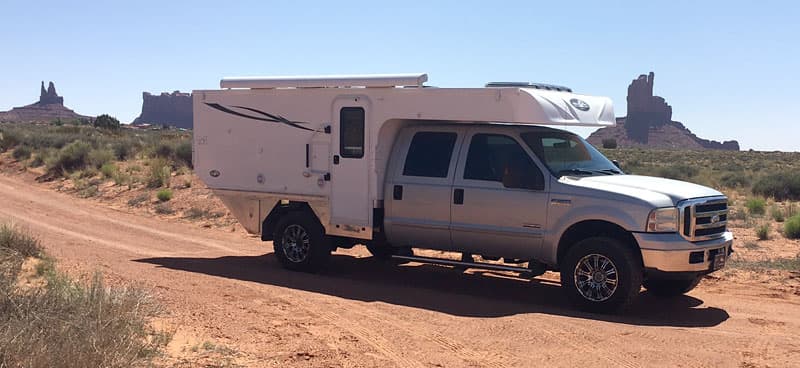 Is the unit for sale, or is this your camper?
Robby: This is our own personal camper.  We're kind of in love with it.  I could build another one if a customer really liked our camper.
If someone wanted a similar unit with these features, what would that cost?
Robby: It would be $85,000 for the custom flatbed and the custom camper.  That's everything but the truck.  You bring your truck with or without the flatbed, and we'll take it from there.
It's amazing that we're talking about an $85,000 pop-up truck camper.  Then again, you have taken the pop-up truck camper concept into an extremely high-end and totally custom direction.  Plus you integrated a custom aluminum flatbed.  What was the response to the camper at the 2016 Overland Expo West?
Robby: The reception was fantastic!  People were saying that it was perfect, and exactly what they want.  It was a very busy show for us.
Cari: We heard that our product was nicer and less expensive than most of the overland vehicles at the Expo.  We determine the price of our campers by the materials, appliances, options, and labor costs, not what the overland competitors charge.
Beyond the Overland Expo East, will you be showing this camper at any other events?
Robby: It will be at Overland Expo East in Asheville, North Carolina from October 7-9, 2016.  I've also been considering taking it to some regular RV shows in Denver.  This camper feels like something we're going to hang on to and something we want to make more of.
Cari: People can also come to the factory to look at it.  Just today we had people come up from Texas come to see it.  Customers are always welcome at the factory.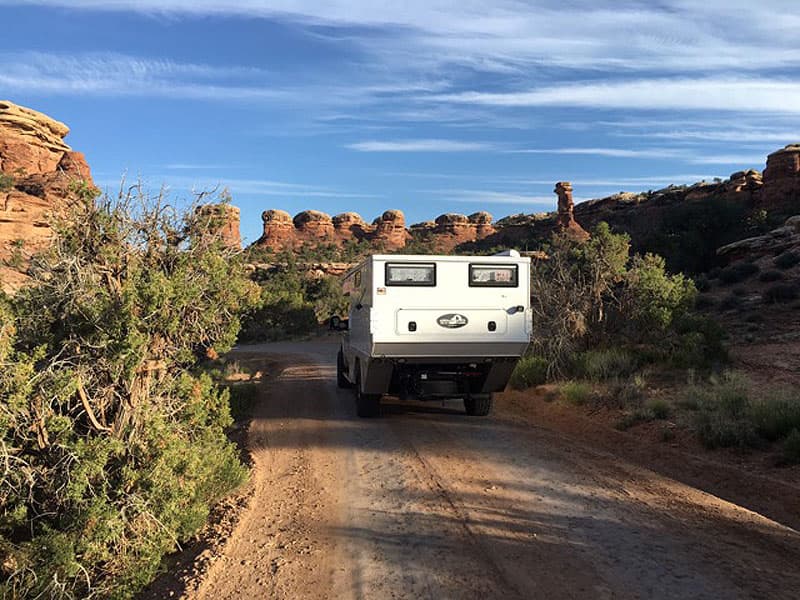 Above: The Phoenix flatbed in Canyonlands, Utah
Have you taken this rig off-road?
Cari: We took it to Canyonlands, Natural Bridges, and through Moab.  We took the road to Elephant Rock in Canyonlands.  We didn't have time to drive all the way up there since it was getting dark, but took it off-road and did horseshoe turns and bumpy roads.  It handled great!
Robby: On the way to Overland Expo West, we saw a little road and said, "What's that over there?"  The road got narrower, bumpier, and bouncier, and the rig did extremely well.
The last camper you built for yourself was the Bronco Bronco.  Do you still have that camper?
Robby: We have it out here in front of the shop and we're ready for the next football season.
Cari: We need to add three Lombardi trophies and the Super Bowl 50 decal and then we'll be ready for next season.
Robby: The Zebra camper is still here, too.
Above: Some other exterior features of the Phoenix statement camper include the aerodynamic cabover nose, Lenda Hand assist handle, push-button awning, Steitz windows, Rigid floodlights
Oh yeah!  The famous Zebra.  Is there anything else you would like to add?
Robby: Our 2016 is booking out, but we still have production slots for the late fall.
We didn't mention our aerodynamic cabover nose, extra tall push-button electric roof lift, and the ceiling-mounted flat-screen HD television and stereo that can pivot for viewing from anywhere in the camper.
Above: Some other interior features of the Phoenix statement camper include the extra tall push-button electric roof lift, the ceiling-mounted flat-screen HD-television and stereo, knife blocks, and trash drop and trash can area
Cari: We are going to be moving on August 1st to a building with less crowded parking.  We will still be in Denver.  We'll make the announcement in TCM when we've moved.
For more information about Phoenix Campers, visit their website at phoenixpopup.com.
Click here to request a Phoenix brochure.