Want to see the 2016 state-of-the-art in Phoenix Camper design and build quality?  Here it is, ready to audition in Denver.  News flash: Phoenix now offers custom aluminum flatbeds!

As a 100-percent custom and built-to-order truck camper manufacturer, Phoenix Custom Campers delivers every truck camper they build shortly after it's completed.  The result of this endless build-and-deliver cycle is that Phoenix Custom Campers rarely has any completed customer campers to show folks when they visit their Denver area factory.
To address this challenge, Phoenix Custom Campers periodically builds statement units to show potential customers their latest design, construction, material, and appliance capabilities.  These statement campers are then presented at overland events and RV shows throughout the year and remain at Phoenix Custom Campers headquarters for customers to see.
The last Phoenix statement camper to grace the electron pages of Truck Camper Magazine was also the first slide-out, pop-up flatbed, sofa camper in history.  While that camper is now in the hands of a customer, Phoenix Custom Campers retains two other statement campers at their facility; the Bronco Bronco Camper, and the Zebra Camper.  Both statement campers are as outrageous as they are innovative and reveal not only Phoenix Custom Campers design and build capabilities, but also their sheer creative prowess.
For 2016, Phoenix Custom Campers has a new statement camper, one that they designed and built from the ground up to be their personal overland truck and camper.  Speaking of ground up, perhaps the most exciting element of this new camper is the forward drop-door side entry.
To get the back story on how they accomplished this and dozens of other Phoenix innovations, we talked to Robby and Cari Rowe, Co-Owners of Phoenix Custom Campers.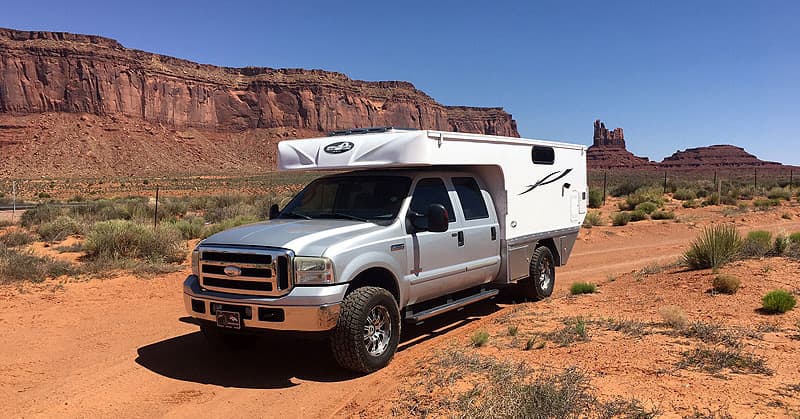 Above: The 2017 Phoenix statement camper
TCM: What was the inspiration for this project?
Robby: We built a chassis mounted camper last year and really enjoyed the floor plan of that unit.  Upon completion of that rig, we thought about how we could get the comfort, living space, and features of that chassis mount into a demountable truck camper.
Above: The chassis mounted camper that was the inspiration for the build
About that time, flatbed campers were increasing in popularity.  Our customer phone calls and requests for flatbed designs have been steadily ramping up.
Those were the inspirations for this build.  This camper has essentially the same floor plan as the chassis mount, but is demountable.  You can even dismount the flatbed and return the truck to its original pickup design.
Above: Construction of the Phoenix flatbed camper
TCM: That's a neat trick.  Tell us about the structure of this camper.
Robby: We have a completely non-wood based structure.  There is no wood in the structure of the camper any more.  We are using mostly fiberglass and aluminum.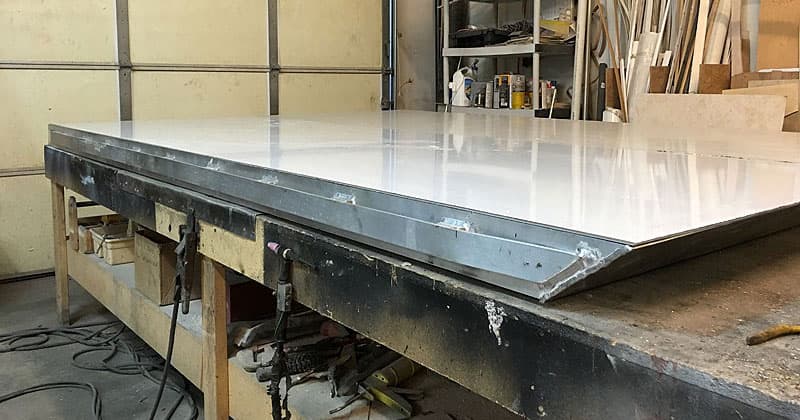 We use a fiber based fiberglass board from Crane industries.  It is not a rolled on fiberglass.  It's fiberglass that is glued and adhered on the top and bottom of the insulation.