In her Phoenix Custom Camper, Layne Brown challenges herself to summit the Lower 48 states before she turns 60.  After running the Baja 500, anything is possible.

Husband and wife team, Norris and Layne Brown, have lived a very full and successful life.  Having met in their early twenties, their first date included getting Norris' jacked-up Ford F100 stuck in a lake bed.  Layne had a thought that day, "Life with this guy would be fun."
Over the past 37 years, Norris and Layne have raced snowmobiles, raised three kids, and had a successful roofing business.  Even with their busy schedule, the Browns were always searching for another life experience.  Layne explains, "Always look to try or do something you have never done before, change your life up, and look for the next adventure.  Write it down, and make it happen."
For Christmas one year, Norris gave Layne the gift of running a Baja Challenge buggy with Wide Open Baja on the Baja 500 course.  She had so much fun that, for Layne's 50th birthday, Norris gave her a card that read, "Let's go buy you an off-road race car".  With that car the Browns raced in almost every circuit over the last nine years, even winning a championship with the Bonneville Off-Road Racing (BOR) series.
Now in her late 50s, Layne has a growing bucket list.  Where some might be content to fish, play golf, or just rest and relax, Layne has something very different in mind.
To anyone who feels like they need a little more focus and adventure in their life, Layne's story is sure to be an inspiration.  Here's what happens when two people take charge of their future, work hard, make things happen, and then continue to challenge themselves.  Get your life climbing gear on now.  Layne is taking us higher.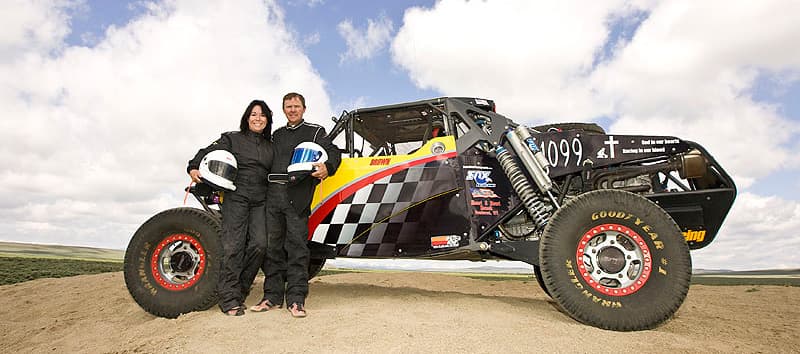 Above: Layne and Norris Brown with their Class 1000 off-road race car
TCM: Tell us about your camping experiences and lifestyle over the years.
Layne: We have done all kinds of camping from a tent, to a motorhome, to a converted Volvo semi-truck, and now a pop-up truck camper.  These camping and camper choices, all pertained to what our adventure was at the time.
At this point in our life, the new adventure is to stand on top of the tallest point in each of the lower 48 states.  We started in April of 2015 and have done 35 state high points in 11 months.  Our goal is to get them all done, weather permitting, before I turn 60.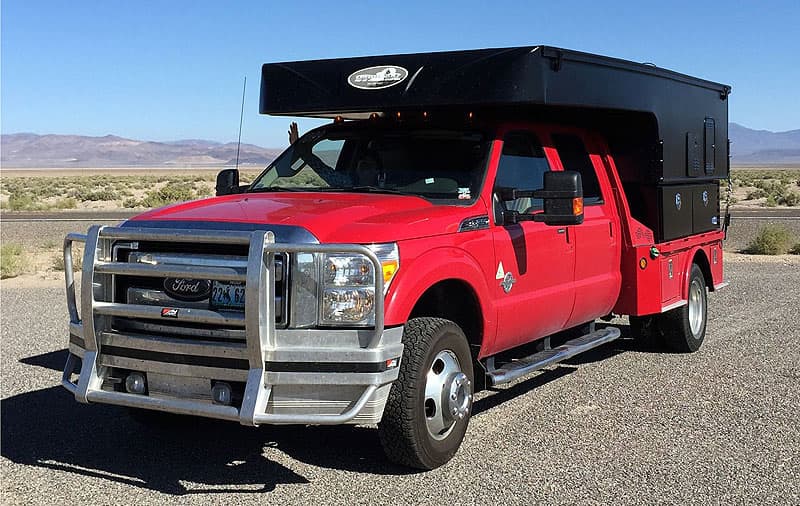 Above: Their 2012 Ford F350 and 2015 Phoenix Custom Camper
TCM: Not too many folks can say they've gone camping in a Volvo semi.  Why did you select a Phoenix Custom Camper for this adventure?
Layne: We needed something that could get us to the trailheads and down rough dirt roads.  We chose Phoenix because they could design and build a camper specifically for our truck.  With our custom Phoenix, we can get an early start to our hiking.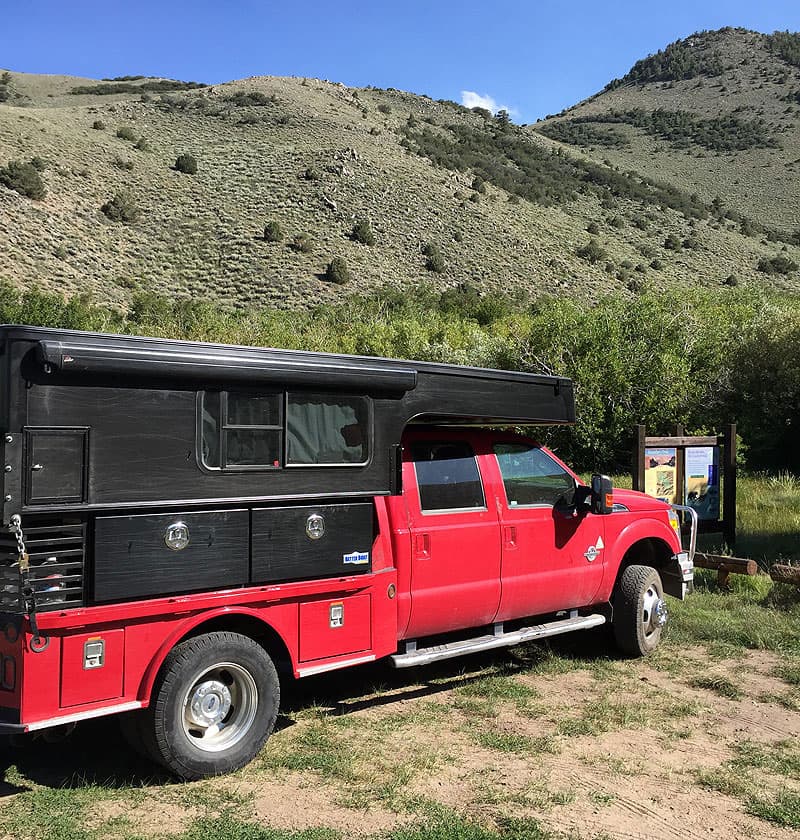 Above: With a truck camper, it's easy to camp at the trailheads; parked at Boundary Peak, Nevada
Our truck is a 2012 Ford F350 with a custom flatbed.  We have been across the desert, down muddy roads, and through brush-covered paths with our truck.  We don't get to drive the truck to all of the trailheads, but it has been to most of them out west.
TCM: That's an ambitious goal.  What led you to challenge yourself to stand on the highest point in every state?
Layne: I have a saying for myself, "Change up your ordinary life every day, every week, every month."  I have a bucket list a mile long and I'm 59 years old.  I want to try so many things.
We climbed Mt.Kilimanjaro, Africa in 2014 with our kids and it was such a great experience.
When I turned 58, I came up with the idea to stand on the highest point in each of the lower 48 states.  I told my husband my new idea and he thought it sounded more like a nightmare than a dream.  He told me that he would help to make sure I accomplished it and he would do it with me.  Then, I told him I wanted to do it before I turned 60.  He looked at me and said, "Well, we better get busy".  This gave us less than two years to get it done.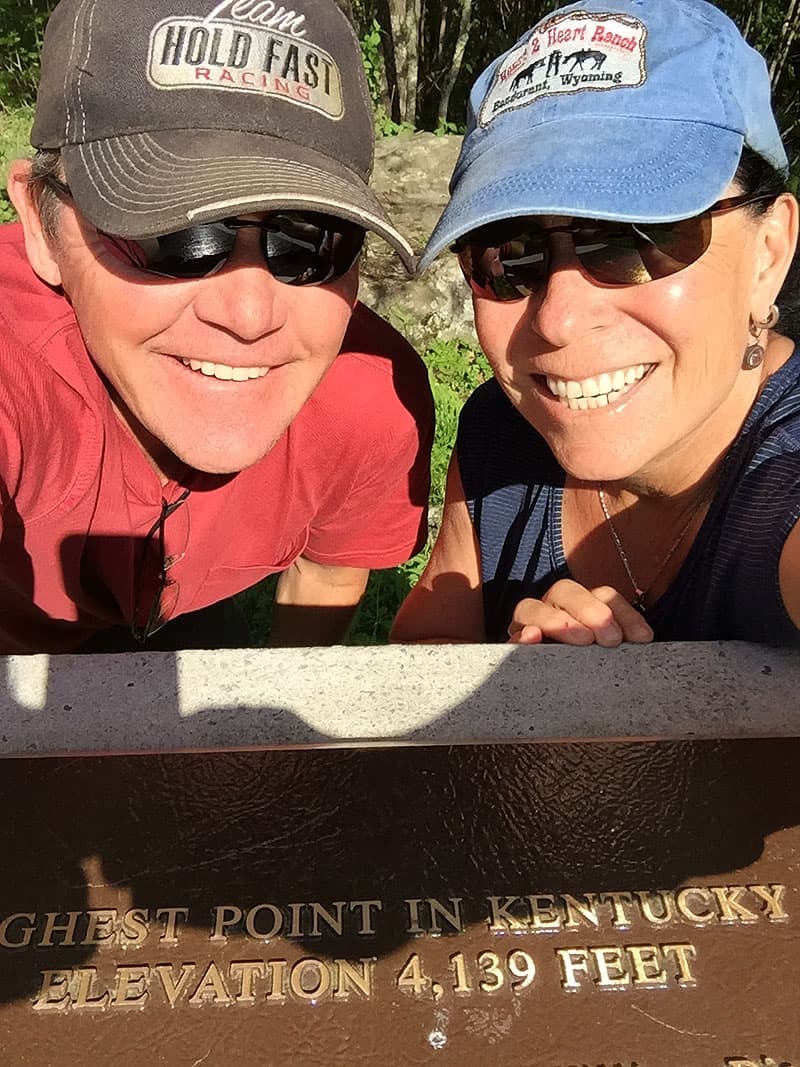 TCM: Is this a fun challenge?  Some of the high points in the Midwest, South, and East are more of a technicality than an impressive climb or summit.
Layne: We have so much fun trying to find these high points.  Some you walk to or drive to, while others are all day treks.  Some are in places you'd never drive to.  They are not all off a main interstate.  Along the way, we always try the local food, and have a so much fun.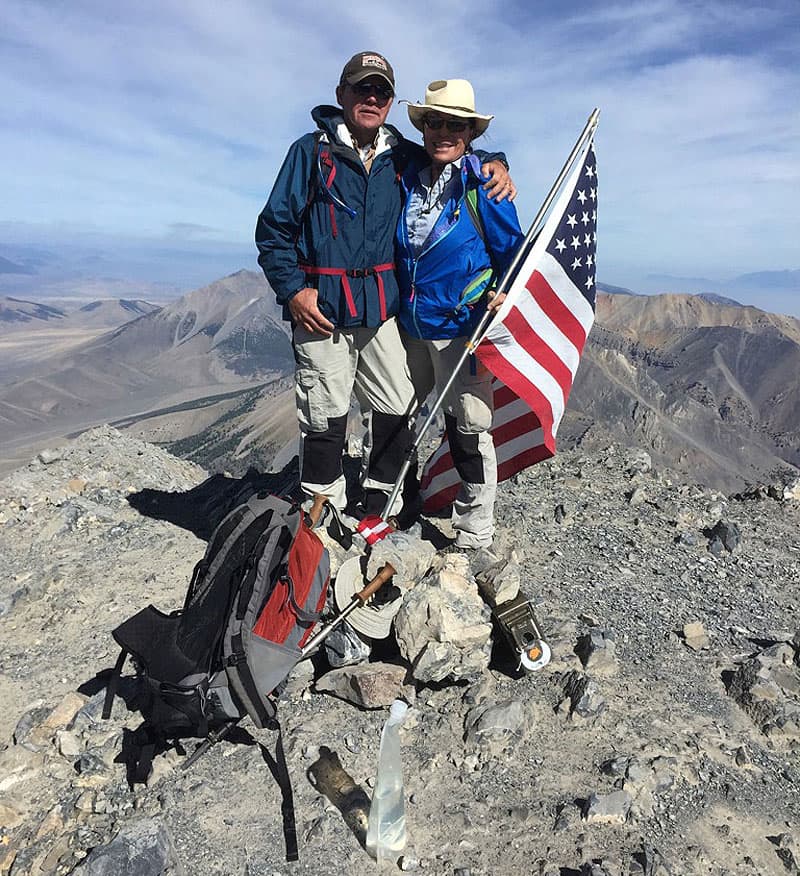 Above: The summit of Idaho – Borah Peak
TCM: What states do you still have to summit?
Layne: We still have a few in the east left to do.  We also have five major peaks in the west.  Mt. Hood, Oregon in June, Kings Peak, Utah and Gannett Peak, Wyoming in July, and Mt. Rainier and Granite Peak, Montana in August.  Weather permitting, we will have them all done by September 2016.
That will be within a year and six months of starting this challenge.  It's awesome to have a goal and to know that it's going to change your life by fulfilling it.  I never look at something and say, "I can't".  I say, "I'd like to try that".
No matter what age you are, changing your life can be simple or challenging, like trying a new food or reading a book that you had no interest in reading, but trying it anyway.  It can be any little thing that changes up your life.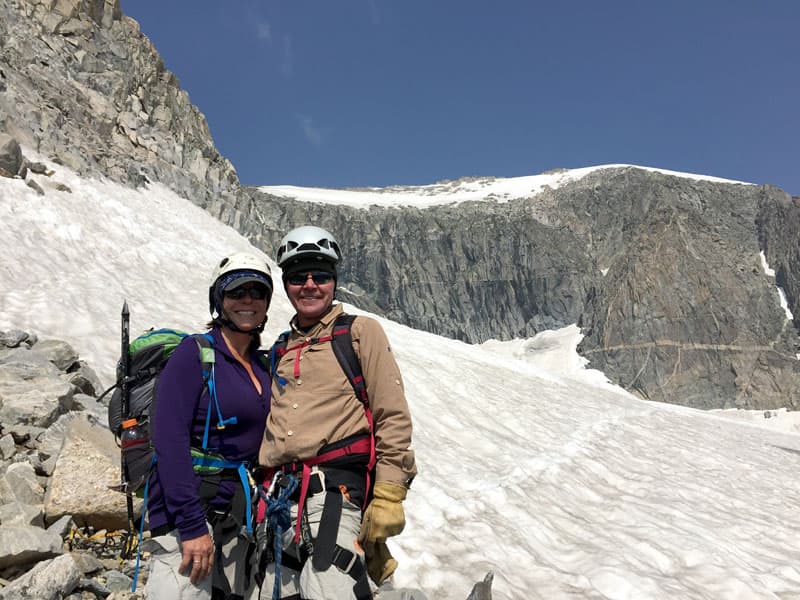 Above: Gannet Peak , Wyoming, over to the right of Norris, they ran out of time after they got across the glacier and found the snow bridge was out, so they had to turn around
TCM: Some of the mountains you are looking to climb are not for the faint of heart.  What's your plan for these more challenging peaks?
Layne: Making sure we have good fitting shoes, light weight backpacks and proper gear.  We hike a lot and eat right.  We have hired guides and or horses, for these five major ones left.
We attempted Gannet Peak, Wyoming and failed last year.  It was our only failure last summer.  It's pretty technical.  It was an eight hour horseback ride in to set up camp.
We got a late start the next day, so it took us longer than we expected and we ran out of daylight and rope.  I had a freak out moment when both my feet slipped and I was hanging.  Our friend made the decision that we could not make it to summit and back before dark, so we needed to turn back.  It was really hard on me to turn around, but my husband looked at me on the mountain, and said, "This is one of the most beautiful places we've been to, and we get to come back next summer and try again, so don't be sad."
TCM: That's a very encouraging response to what must have been a frustrating experience.
Layne: Norris and I have always been a team.  We are very blessed.  We have always done everything together.  We teach each other, learn together, and sometimes fail together.  We always support each other in achieving our goals and dreams.  I like doing different activities than most women do and I am lucky to have a husband who encourages me. My girlfriends are great to train with, but I always enjoy my husband alongside me in whatever I am doing.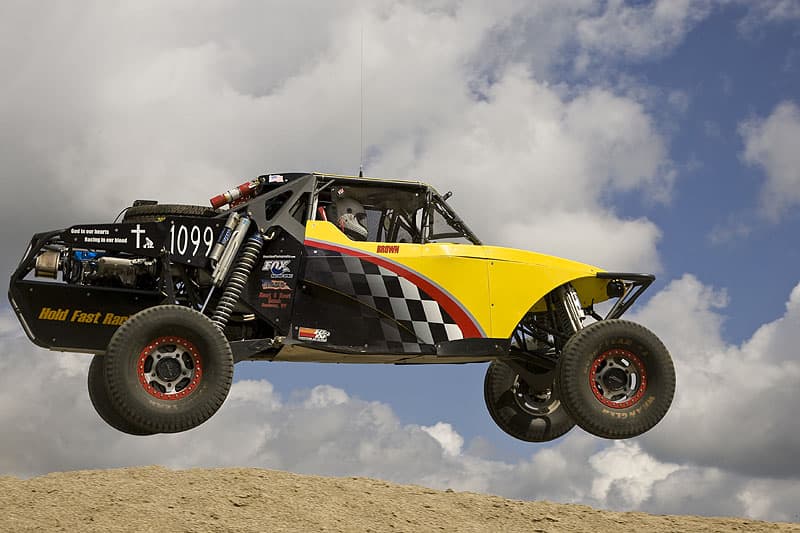 For my 50th birthday, he gave me a Class 1000 off-road race car, because I asked him if we could try off road racing.  I like pushing myself beyond what I am comfortable doing.  I tell myself, "If someone else can do it, I can do it!"  So we take turns driving and co-driving.   I am a very lucky girl.
TCM: That's extraordinary.  How is it, that you have the time and resources to do something like that?
Layne: Our kids are all grown and out of the house.  My husband and I had a roofing business for twenty-one years.  We sold the business and now do property management.    We work, play, and travel together.  We are together all the time.  It works for us and it's great!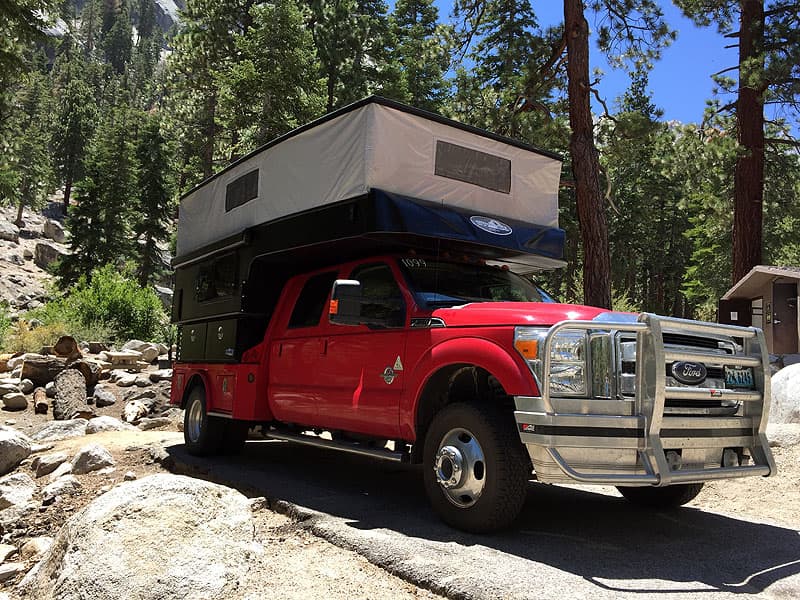 Above: The trailhead at Mt. Whitney, California
TCM: Let's get back to your rig.  How did you know what you wanted in your Phoenix Custom Camper?
Layne: I did a lot of research on pop-up campers.  During that research, I learned that the weight of a pop-up was a lot less than a hard side cabover camper.  Additionally, the height was lower when driving, an important feature for the narrow and overgrown dirt roads we wanted to travel.  A pop-up would also handle better in rough weather.
When I called Phoenix the first time, I liked that I was able to talk to someone about what we had in mind.  During that phone call, they asked for my drawing.  We had already decided on the things we wanted and didn't want in a pop-up camper.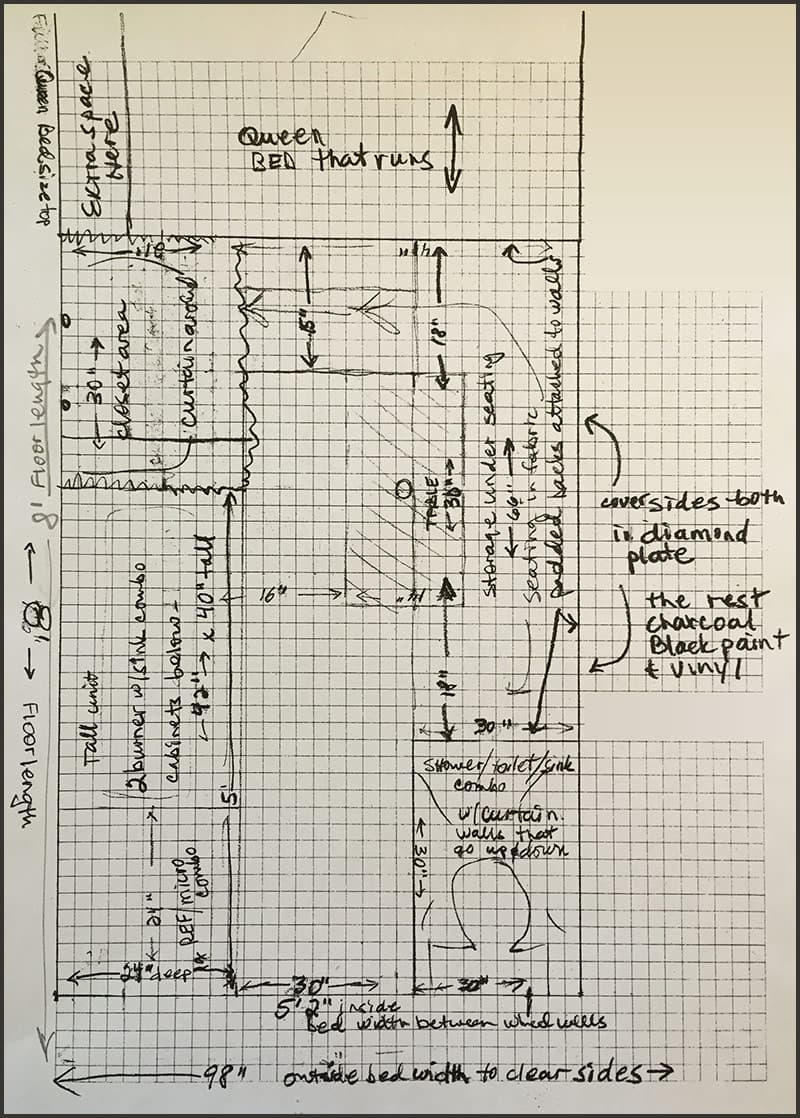 TCM: You had a drawing?
Layne: My husband and I were in the construction business for twenty-one years.  I knew what I wanted and how to measure things out, so I drew up plans and faxed them to Phoenix.  We custom designed the camper with what we needed and had it fit between our tool boxes on the flatbed.
Robby Rowe, Co-Owner of Phoenix Custom Campers, loved the layout.  We talked on the phone about the details and I had a price and a build out date within a few days.  We set a date to pick it up and they had it ready for us.
After using it for a week or so, we returned to Phoenix and had some things tweaked to fit our needs a little better.  It was great getting the camper built to our design and needs and we have not had any problems with it.
TCM: How did you go about ensuring the fit with your truck?
Layne: It's 7.5 hours down to Denver and, in Wyoming, we drive for everything.  We dropped the truck off in June and confirmed things.  While we were there, we discussed details, like the sinks, microwave convection oven, the bathroom, the heights, and the layout of everything.  We made sure that we were on the same page.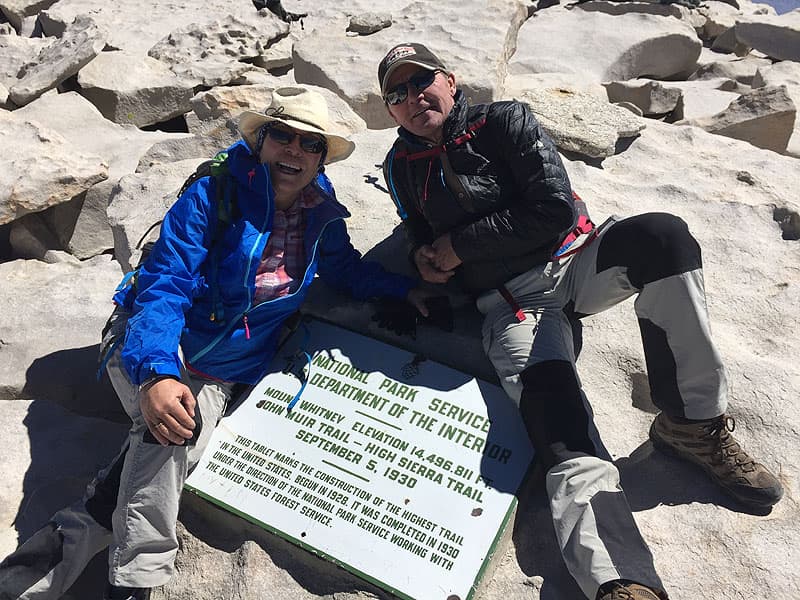 Above: The top of Mt. Whitney in California
After our son's wedding on August 1st, we were headed to climb Mt. Whitney in California.  That climb was scheduled for August 8th.  We wanted to use the camper to camp at the trailhead.  It's a lottery for the day to climb, so we needed to pick up the camper by August 6th.  Construction started at the end of June and we picked it up on August 6th.
TCM: That was a tight delivery schedule.  What modifications have you made to your camper since it was completed?
Layne: We haven't made that many changes.  We carpeted the ceiling to help with warmth, sound, and condensation.  We changed the closet area to fit our needs more. Our bathroom is very small, but it works for us.  Mostly things are trial and error after you stay in it for a few nights.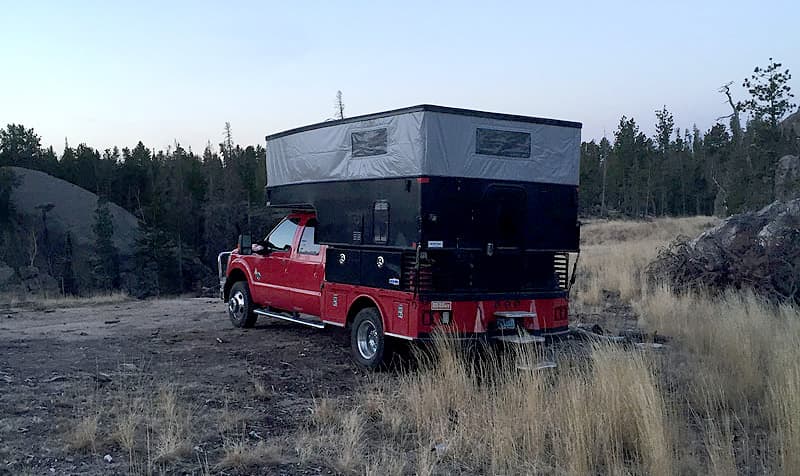 Above: The entry steps were made out of old snowmobile parts
The solar panels and inverter work great.  Having the camper custom made to fit between our tool boxes on our flatbed gave us plenty of storage to carry everything we need; air compressor, chairs, hiking poles, and more.
TCM: Tell us about the entry steps into your camper.  Where did they come from?
Layne: My husband built the steps out of old snowmobile parts.  They slip into the slip hitch, so they can be taken on and off.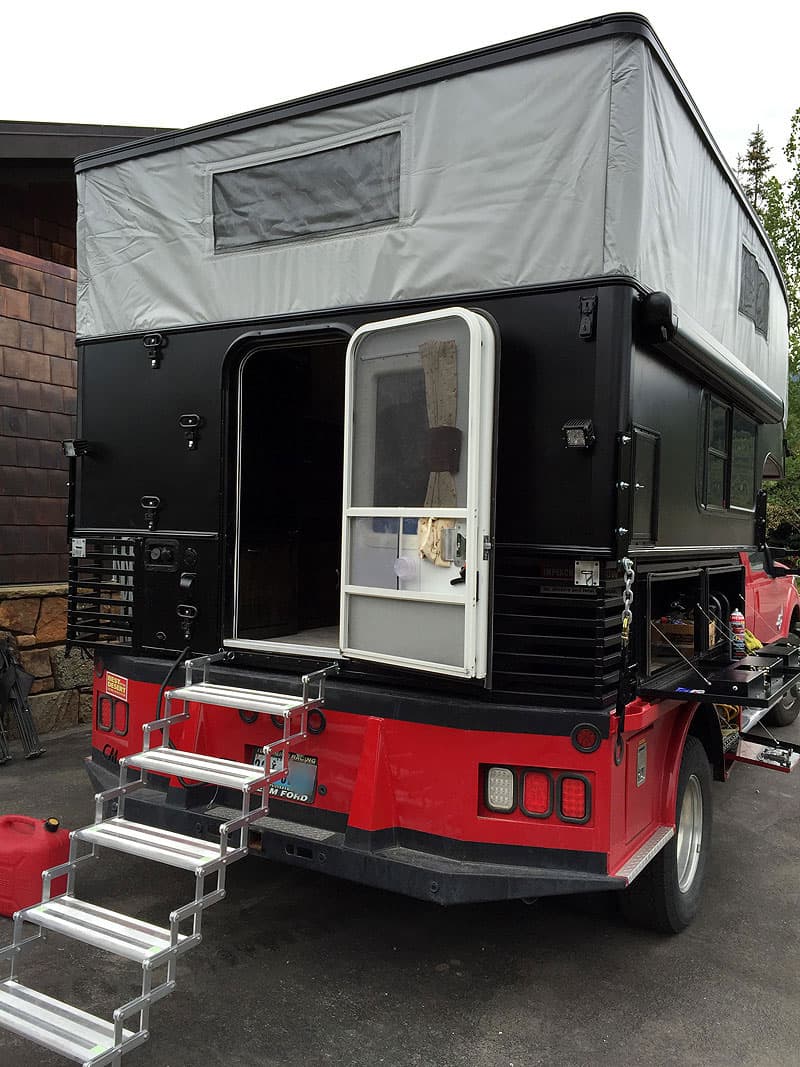 Above: Using scissor steps before the snowmobile steps were made
The door is quite small, and we're not big people.  If you are tall, going in and out, you have to pay attention to your head.  Once you're inside, the inside height is 6'5".  My youngest son is 6'3" and doesn't hit his head when he's inside the camper.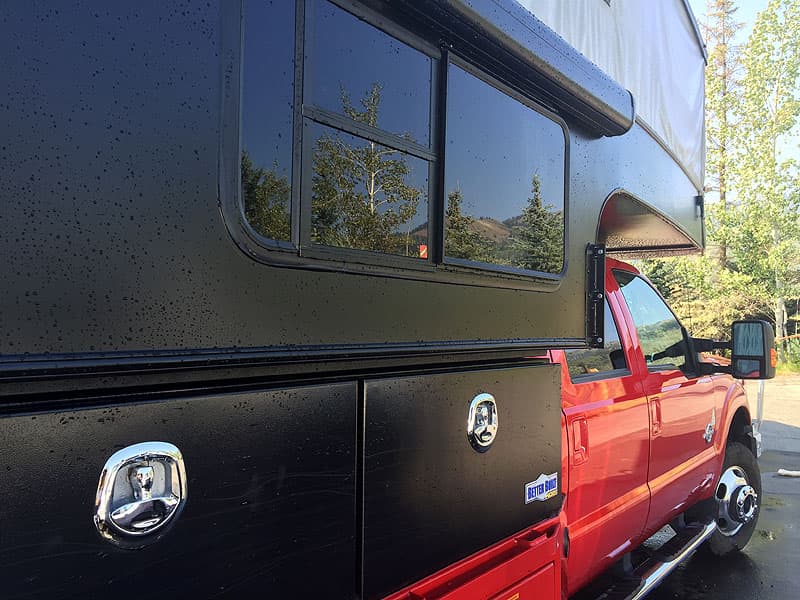 TCM: Why did you decide to paint your camper black?
Layne: It's flat black because it looks better.  We like things to look nice.  We were going to have black vinyl and realized that would be really hot, so we have light grey pop-up material.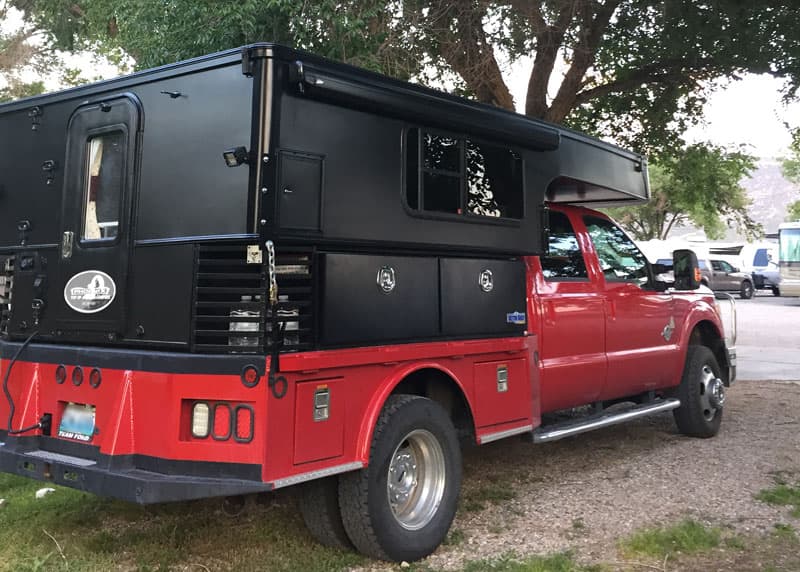 TCM: Does the flat black color make the camper hot?
Layne: We have camped when it was 100 degrees, and it was hot, but we were okay.  The two fans in the ceiling help a lot.  To put the pop-up top down, I have to shut myself inside, and turn on the fans.  It sucks the vinyl in as it's going down, so the vent is powerful and creates a lot of air movement.
TCM: Tell us what you tow with your truck camper rig, and why.
Layne: We tow many different types of trailers.  Our truck is a one ton, so we never have any trouble towing our trailers.  We have a trailer that can hold five to six snowmobiles, and we have a car trailer for our race car.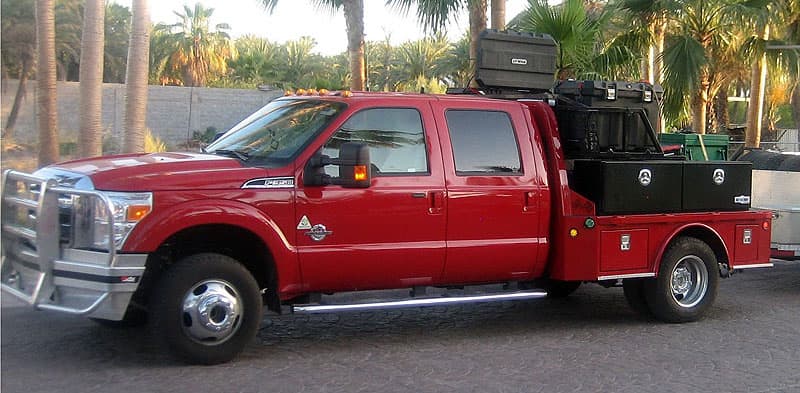 TCM: Many readers may wonder why you have a one ton truck with a relatively light pop-up truck camper.
Layne: We have always driven one ton trucks.  The weight of the pop-up camper was a big reason we decided on it.  When we have the side boxes full of equipment, it can get heavy.  The F350 is perfect for hauling a camper and towing trailers.  With the camper on, the storage boxes fully loaded, we can tow the race car, fuel, and tires with no problems.  It has been great.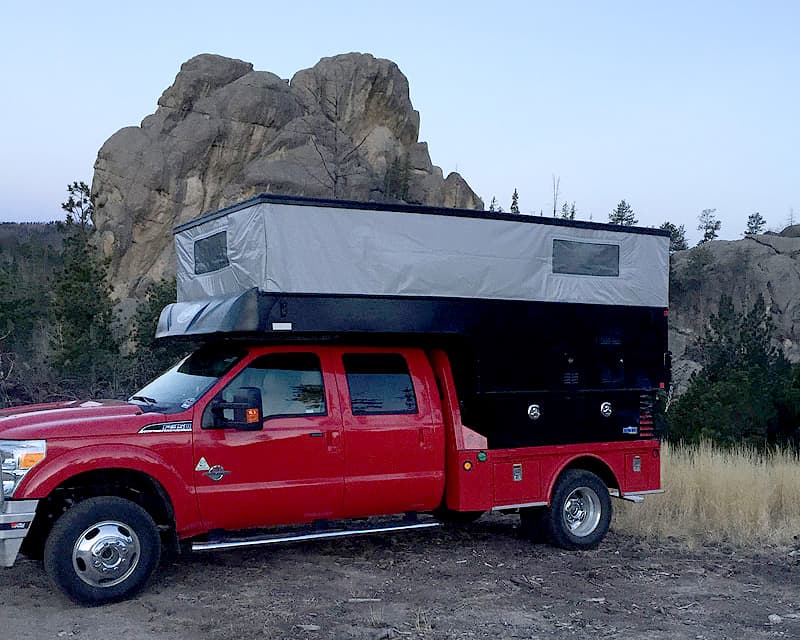 Above: Trailhead of Harney Peak, South Dakota
The next trailhead we went to was Boundary Peak, Nevada.  The road was so narrow and overgrown that we had to get our saw out and cut down branches.  We just had to suck it up and get scratches on the truck and camper because we wouldn't get down the road if we didn't.  It took us two hours to go fifteen miles to the trailhead.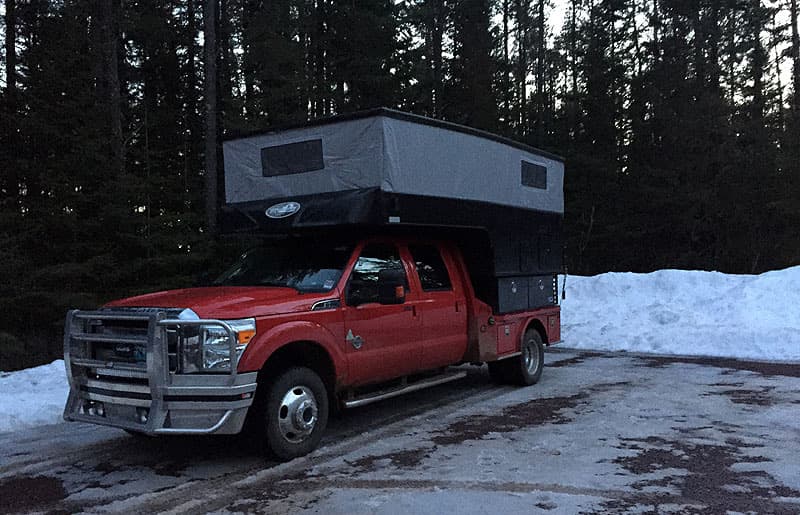 Above: Sleeping at the trailhead allows Layne and Norris to start early on their hikes. Eagle Mountain, Minnesota
We are often up at 4:00am and like to be on trail at 5:00am.  So camping at the trailhead is a lot nicer for us in the mornings.  We put on our headlights and off we go.  After a long day of hiking it is nice to crawl into the camper, have a beer, change our clothes, and not have to drive anywhere.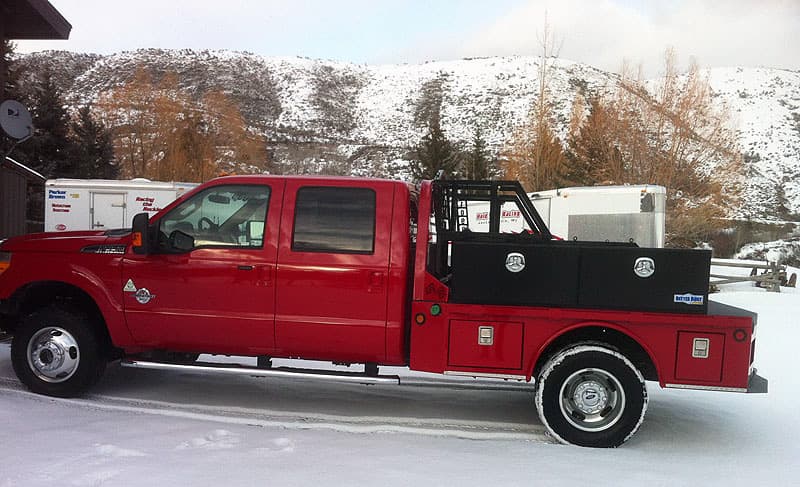 TCM: Tell us about your truck build.
Layne: When it was time to upgrade to a new truck, we decided to get one that was our race colors; red with black trim.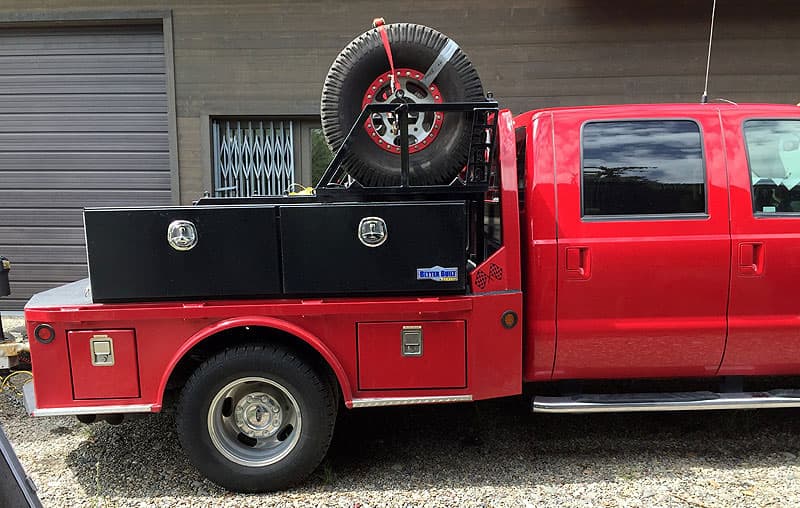 We've raced snowmobiles, motorcycles, and now a race car.  When we built the truck, we knew the sizes of the items we needed for racing.  We knew how big the tire rack needed to be.  We knew how much fuel space we needed.  We have tool boxes with drawers that can come down quickly, and tools can sit on them like a shelf.  We need to have our tools laid out for changing tires in the pit.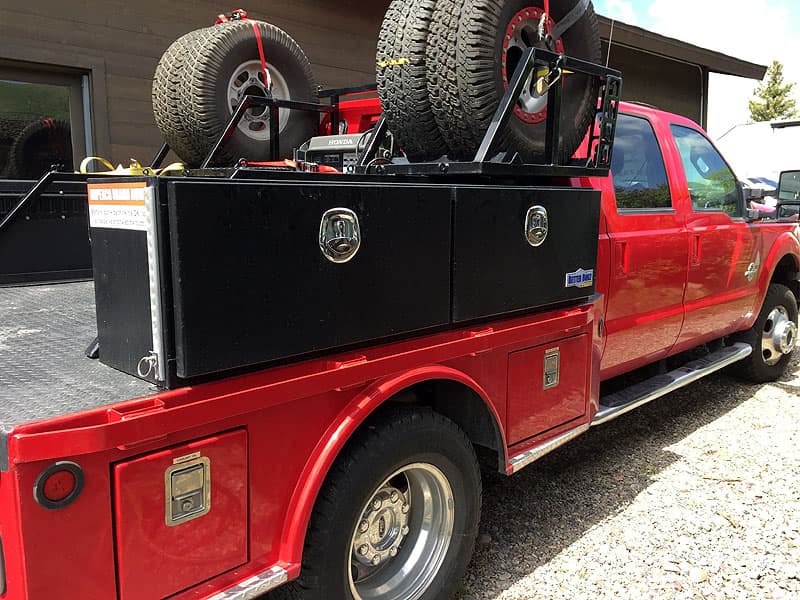 We needed an area to carry a large fuel drum with easy access.  We also need to get the tires on and off the tire rack in a hurry.
The storage compartments are also great for when we are camping.  We never go anywhere without a small compressor, pneumatic tools, and a generator.  We like to be prepared for any situation.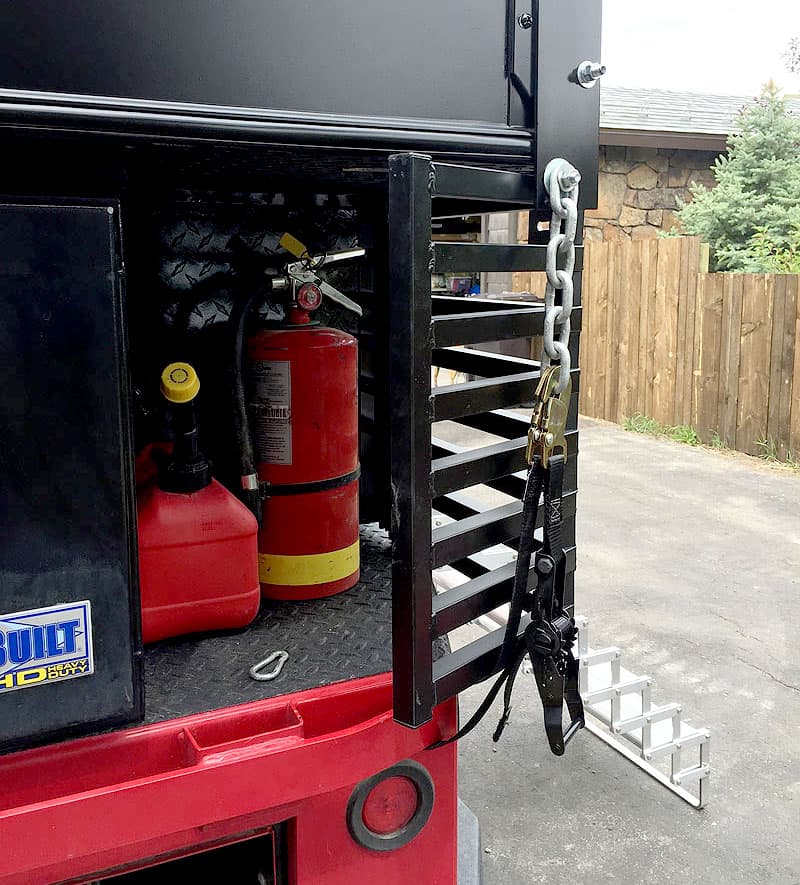 TCM: What about those back grills on the rear of your truck?
Layne: We went to climb Mount Elbert in July, about a month before the camper was to be completed.  While in Denver, we were measuring and realized that there was going to be an empty space on the corners of the truck.  Robby and Norris discussed what that area could be used for and Robby built it.
The aluminum corners are on a hinge, so they can go back and forth, and they lock.  It's perfect for extra fuel and water.  It's great for things that shouldn't be enclosed and need ventilation or things we don't want inside the camper.
TCM: Is there anything else that you'd like to add?
Layne: Having the truck camper frees us to go where we want to go and be where we want to be that day.  We like that we can get right to the trailheads and that the rig is compact enough to get us down narrow dirt roads.
We don't have to be in a town staying in a motel room.  We can change up our direction at any time when we have the truck camper with us.  We just pull off on a dirt road and spend the night.  That's awesome!
Truck Camper Rig
Truck: 2012 Ford F350, custom flat bed, crew cab, 4×4, diesel, dual rear wheel, long bed
Camper: 2015 Phoenix pop up camper
Suspension: Rear airbags
Gear: Better Built side tool boxes, Ali Arc Aluminum front bumper, Baja Design driving lights