In her Phoenix Custom Camper, Layne Brown challenges herself to summit the Lower 48 states before she turns 60.  After running the Baja 500, anything is possible.

Husband and wife team, Norris and Layne Brown, have lived a very full and successful life.  Having met in their early twenties, their first date included getting Norris' jacked-up Ford F100 stuck in a lake bed.  Layne had a thought that day, "Life with this guy would be fun."
Over the past 37 years, Norris and Layne have raced snowmobiles, raised three kids, and had a successful roofing business.  Even with their busy schedule, the Browns were always searching for another life experience.  Layne explains, "Always look to try or do something you have never done before, change your life up, and look for the next adventure.  Write it down, and make it happen."
For Christmas one year, Norris gave Layne the gift of running a Baja Challenge buggy with Wide Open Baja on the Baja 500 course.  She had so much fun that, for Layne's 50th birthday, Norris gave her a card that read, "Let's go buy you an off-road race car".  With that car the Browns raced in almost every circuit over the last nine years, even winning a championship with the Bonneville Off-Road Racing (BOR) series.
Now in her late 50s, Layne has a growing bucket list.  Where some might be content to fish, play golf, or just rest and relax, Layne has something very different in mind.
To anyone who feels like they need a little more focus and adventure in their life, Layne's story is sure to be an inspiration.  Here's what happens when two people take charge of their future, work hard, make things happen, and then continue to challenge themselves.  Get your life climbing gear on now.  Layne is taking us higher.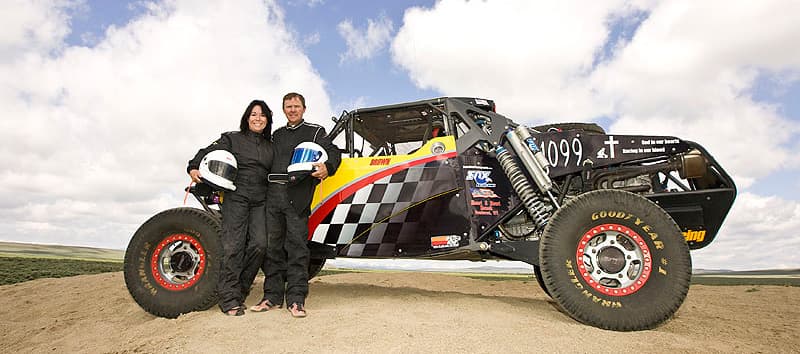 Above: Layne and Norris Brown with their Class 1000 off-road race car
TCM: Tell us about your camping experiences and lifestyle over the years.
Layne: We have done all kinds of camping from a tent, to a motorhome, to a converted Volvo semi-truck, and now a pop-up truck camper.  These camping and camper choices, all pertained to what our adventure was at the time.
At this point in our life, the new adventure is to stand on top of the tallest point in each of the lower 48 states.  We started in April of 2015 and have done 35 state high points in 11 months.  Our goal is to get them all done, weather permitting, before I turn 60.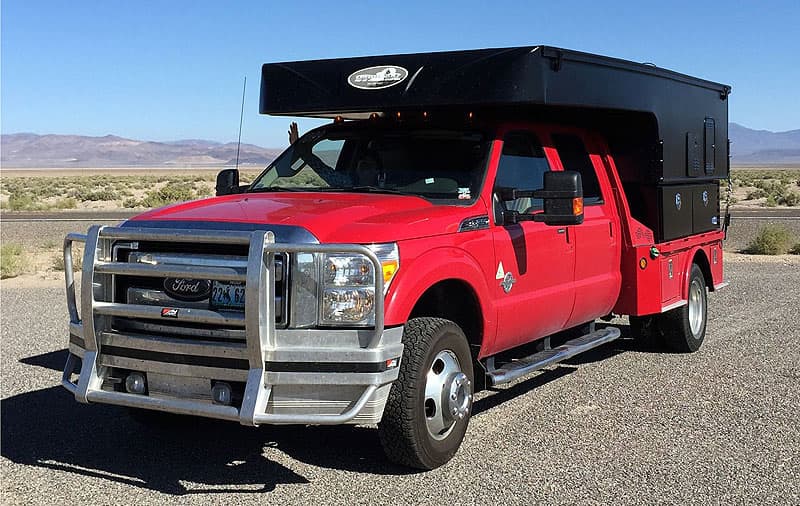 Above: Their 2012 Ford F350 and 2015 Phoenix Custom Camper
TCM: Not too many folks can say they've gone camping in a Volvo semi.  Why did you select a Phoenix Custom Camper for this adventure?
Layne: We needed something that could get us to the trailheads and down rough dirt roads.  We chose Phoenix because they could design and build a camper specifically for our truck.  With our custom Phoenix, we can get an early start to our hiking.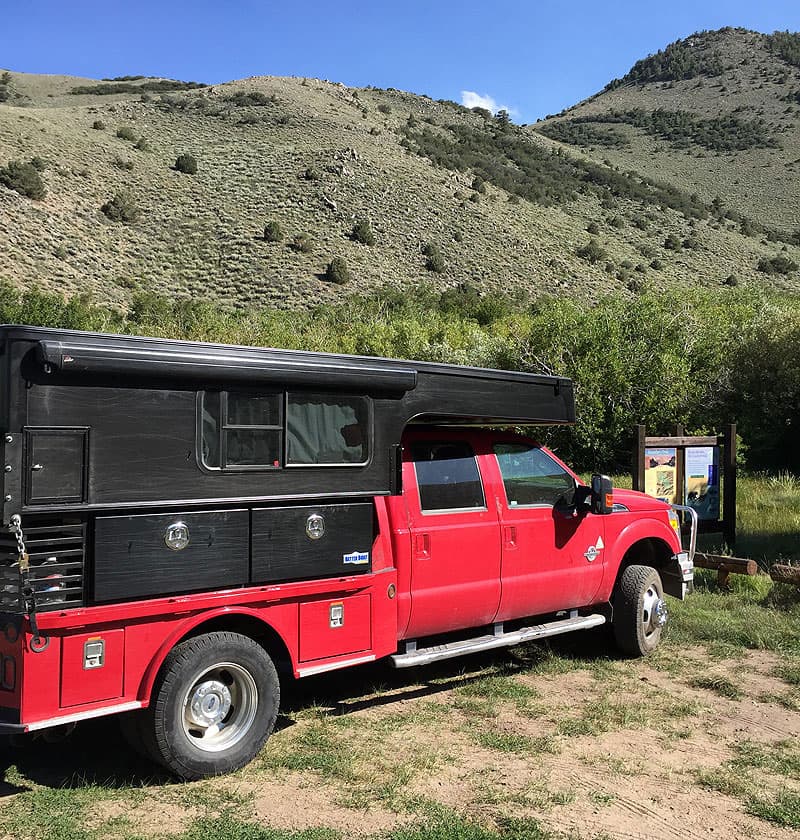 Above: With a truck camper, it's easy to camp at the trailheads; parked at Boundary Peak, Nevada
Our truck is a 2012 Ford F350 with a custom flatbed.  We have been across the desert, down muddy roads, and through brush-covered paths with our truck.  We don't get to drive the truck to all of the trailheads, but it has been to most of them out west.
TCM: That's an ambitious goal.  What led you to challenge yourself to stand on the highest point in every state?