TCM: Raising the basement height and increasing the width of the floor should have had the affect of increasing the weight of the unit.  Were you able to off-set the weight increase, or does the new 1062 weigh more than the outgoing 1052?
Gary: There is a 128 pound weight gain for the 1062.  We believe the wider floor space and taller basement is well worth the small increase in weight.  Relatively speaking, truck campers are not big.  The more floor space we can give the customer, the better.
TCM: What does the 2016 Lance 1062 weigh with standard build features, and what is the center of gravity?
Randy: The dry weight of a base model 1062 is 3,596 pounds.  The center of gravity is 48-inches from the front wall.
TCM: What is the MSRP for the 2016 Lance 1062 with standard build features?
Gary: The base MSRP for the 2016 Lance 1062 is $37,627.
TCM: What is the warranty for the 2016 Lance 1062?
Gary: All Lance Campers have a 2-year structural warranty, and a 12-year roof warranty.  There are extended warranties for the individual appliances.
We also have road side emergency services available for all of products.  If your slide room gets stuck and you are unable to move it, you can call for a mobile dispatch.  For anything that would prevent you from going down road, just call the 800 number and someone will come to help you.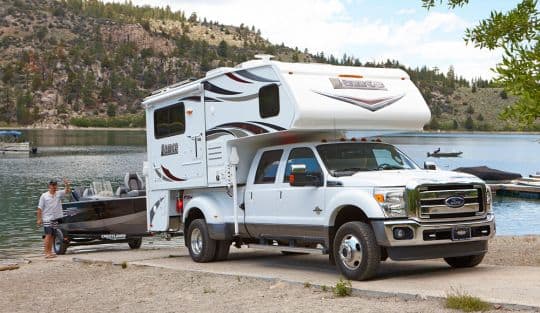 Above: The 1062 towing a boat – click to enlarge
TCM: When will the 2016 Lance 1062 be available?
Gary: The 2016 Lance 1062 campers are being sent to dealers as we speak.
TCM: Are there any other new model announcements coming from Lance Campers in 2015?
Gary: We are coming out with a half ton friendly, short bed truck camper.  This is something that will go on the 2016 Ford F150 aluminum truck.  You should be able to match the wet weight of this camper to that truck and not exceed it.  We'll debut it here in Truck Camper Magazine, so stay tuned.
For more information on Lance Campers, visit the Lance website at lancecamper.com.  Click here to request a free Lance brochure.