For 2015, Palomino RV didn't stop at the windshield nose cap.  Check out their finessed floor plans, re-worked cabinetry, enhanced Next-Gen in-wall slide mechanisms, new table tops, and much more.

Once again, Palomino RV has been silent – for months.  We would get a reply if we poked them with an email, but there was no telling what they were up to.
Over the past few years we have learned that this probably means they're knee deep in research and development and will eventually surface with an over-the-top announcement that no one could have, or would have, predicted.
Well, cue the breaking news machine.  Right on schedule, the Palomono-ians released the windshield nose cap at Elkhart this past September.  The windshield was so completely off-the-charts that we darn near forgot to walk inside the campers to see what else they had done.  Not surprising, there's more – a lot more.
To get to the bottom of what's up at Palomino, we contacted Pat Hines, Director of Truck Camper Marketing at Palomino RV.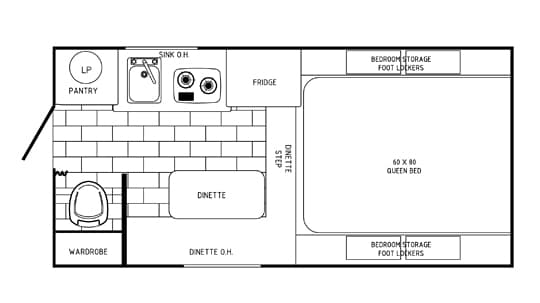 Above: The new 2015 Palomino SS-1240 is the previous SS-1225 with a north-south bed configuration; made for long or short bed full-size trucks
TCM: Are there any Palomino RV truck camper models being discontinued for 2015?
Pat: The SS-1225 is being discontinued because we are introducing the SS-1240, the same camper floor and design as the outgoing SS-1225, but with a north-south cabover.
About this time last year we introduced the Palomino SS-550, a full-size short-bed compatible pop-up truck camper with a north-south bed.  In 2014, the SS-550 quickly moved to one of our better selling pop-up truck camper models.  Much of that success can be directly attributed to the north-south bed.
For 2015, we're debuting the SS-1240 with a north-south bed for long or short bed full-size trucks.  The north-south bed configuration offers more storage and is more comfortable to enter and exit.  The SS-1240 also offers a toilet.  I think the SS-1240 will be a strong seller, much like the SS-550.
TCM: Do you think more Palomino pop-up camper models will be transitioned to north-south bed configurations?
Pat: That is something we're considering and continue to monitor as the market progresses.
TCM: Are there any standard feature updates for 2015?
Pat: We did a good job of cleaning up the standard and options list for 2014.  Almost every popular option from the past few years is already standard.  For 2015, nothing has really changed with our standard list.

Above: The interior wood is hand glazed Persian walnut – click to enlarge
TCM: For 2014, Palomino completely re-vamped its pop-up truck camper line including a new roof, new Rieco-Titan lift system with key fob remote, new one-piece 55" radius entry door, one-piece sidewalls, and new interior and exterior aesthetics.  Are there any further changes to the pop-up line for 2015?
Pat: The interior wood in our pop-up campers is now a hand glazed Persian walnut.  We also changed the floors to a wood grain linoleum.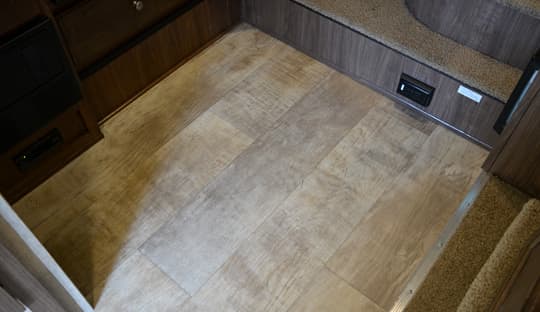 Above: The floors are now a wood grain linoleum
The table top and countertops are our new pressed wood table top.  All of these material and aesthetic upgrades have been made across the board on all 2015 Palomino pop-up and hard side truck campers.
Keith: We use the same interior materials across our complex, from tent campers, to truck campers, to travel trailers.  This approach allows us to dramatically drive down costs and improve material and production quality.
Pat: The Rieco-Titan lift system has been in production for a year and a half and it's been going very well.  This past June we made some minor engineering changes to further improve its performance.  Both the hardware and the software were improved.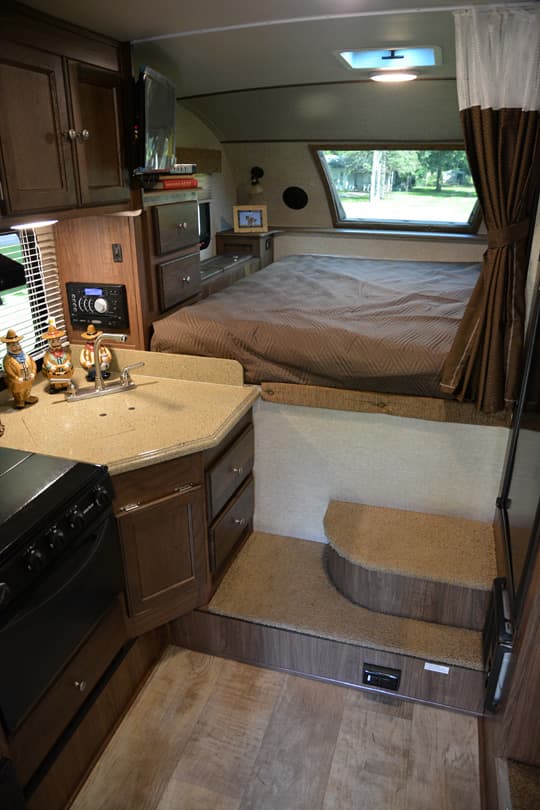 Above: The interior of the 2015 Palomino 2902
TCM: With only one available interior aesthetic, how do you choose the interior?
Keith: We have a room here at Palomino RV we call the War Room.  We meet weekly in the War Room for many different reasons, including color and fabric selection days.
Pat: When choosing the interior fabrics and materials, we narrow our choices down to a select a few and get opinions from as many folks as possible – men and women – from within the office and greater Palomino RV team.  Everybody gets to voice their opinion on the new look including exterior decals, floors, valances, fabrics, and cabinetry.  Then we come to a consensus, and put it all together.

Above: The pressed wood table top – click to enlarge
TCM: Tell us about the new pressed wood table top.  Is it actually wood?
Keith: It's a wood grained vinyl product.  Our vendor first makes a mold of the countertop or table we need.  That mold is then used to vacuum form the table and countertop.  The result is a void-less table or countertop with zero potential for water intrusion.  It looks like wood, but weighs less than wood, and will not deteriorate.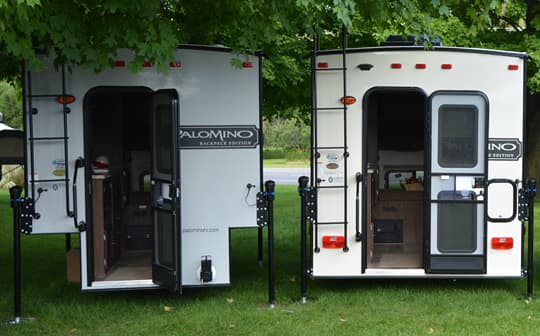 Above: The cool grey (left) and oyster pearl (right) exterior fiberglass colors
TCM: What changes have been made to Palomino's hard side campers for 2015?
Pat: We eliminated high-gloss white exterior fiberglass.  For 2015, Palomino hard and soft side truck campers will be available in cool grey or oyster pearl exterior fiberglass colors.
Keith: The fiberglass we use is a GelCoated Color Infused sourced from Germany and Italy, both materials maintained to the highest level of quality available on the market.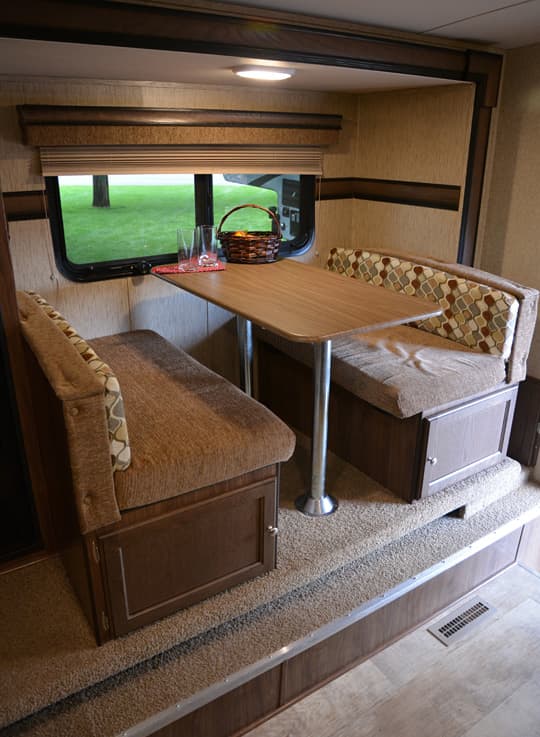 Above: The frameless window in the dinette of the 2902
We have also changed to frameless windows across the board for our hard side Palomino campers including the HS-600, HS-6601, HS-8801, HS-2901, HS-2910, and HS-2911.
Frameless windows offer a more attractive look and don't scratch and discolor like the acrylic windows we were using in the hard side Max units.  Together with the new front windshield, the frameless windows give the 2015 hard side campers a modern look.
Keith: We have eliminated the Heki skylight in the overcab and changed to a mechanical crank up vent.  The skylight was redundant with the new windshield.  The emergency escape is now through a side window.

Above: Frameless windows are now available on Palomino truck campers – click to enlarge
TCM: Some members of the truck camping community have voiced concerns about frameless windows not opening up as much as traditional windows.
Keith: Our partner supplier is producing frameless windows with the deepest available opening for frameless windows.  We think people will really like these new frameless windows when they experience them; they look amazing and are functional.

Above: The new cabover design in the 2911, 2910, and 2902 – click to enlarge
TCM: When we recently introduced the new Palomino front nose cap and windshield we touched on the new cabover design.  Is there anything else to add?
Keith: I based the new design on the 2911 cabover we introduced in late 2013.  The new design was well received, so we adapted it for the new windshield nose cap and brought it to the 2902 and 2910 models for 2015.
Pat: It's a complete remodel with a very new aesthetic, more storage, and more headroom.  For example, the new windshield and nose cap made the wrap-around nightstand shelf possible, along with a much larger closet and drawers.
TCM: Where did that design originate from?
Keith: Somewhere deep within my mind, to be honest.  From there it flows into my PC where we use an extremely powerful modeling software to design 3D models and renderings of the truck camper.
Pat: We also collect feedback from customers, dealers, and members of our production team.  It's like putting a puzzle together.
TCM: So it all starts in Keith's melon.  That explains a lot.  Why did you decide to make the barrel roof standard on the 2902, 2910, and 2911?
Keith: We did that to further distinguish ourselves from our competition.  We have had great success with our barrel roofs in our travel trailers and we are confident our truck camper customers will love it too.  We are the only company doing barrel roofs for truck campers.
TCM: Are barrel roofs as strong as traditional flat truck camper roofs?
Keith: Actually, barrel roofs are stronger than traditional flat roofs.  As the Romans proved centuries ago, the arch is one of the strongest forms of architecture.  Once tied into the box of the camper, the barrel roof arch dissipates snow, rain, and other roof loads away from the roof faster and more effectively than a flat roof.
The barrel roof is also framed in aluminum and 100% laminated with a high density structured polystyrene foam.  We use Alpha Systems Superflex roof membrane for the top of the roof.  It's a high-grade olefin-based material that's significantly lighter than EPDM and is chalk and fade free.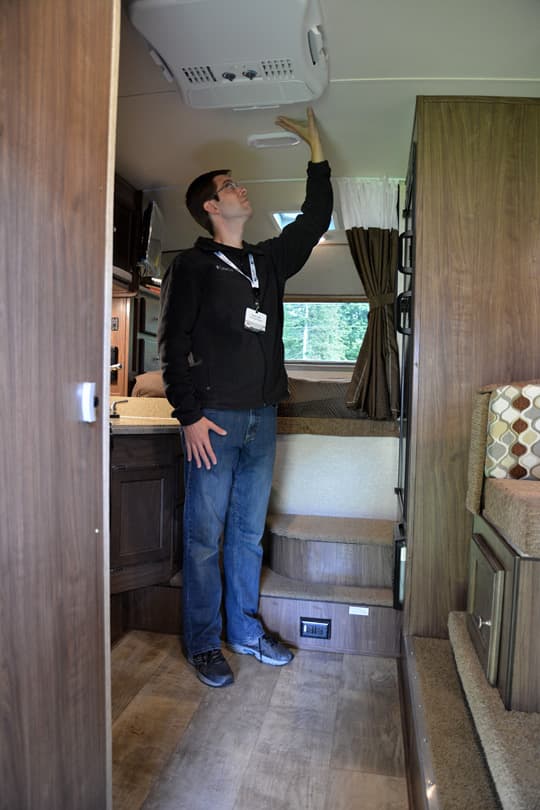 Above: The barrel roof is standard on the 2902, 2910, and 2911
Pat: Not only does the barrel roof improve the structure of the camper, but it also offers about three inches of additional headroom.  You'll really notice the additional headroom in the overcab.
TCM: I certainly did, which is saying something since I'm 6'3".  Can you walk on the barrel roof?
Pat: Yes, you can.  Again, with the arch design, it's stronger and more structurally sound than a traditional flat roof.
Keith: It's quite comfortable to walk on the roof, even with the slight slope to the sides.  You'll barely notice any difference.
TCM: For 2015, Palomino changed to a new slide-out mechanism.  Why are you making this change?
Keith: We changed because we believe this next generation slide mechanism is a "smart slide" and a better fit for truck campers.  The new slide mechanism is made from light weight aluminum extrusions.  The driveshaft is steel which gives it exceptional strength and torque.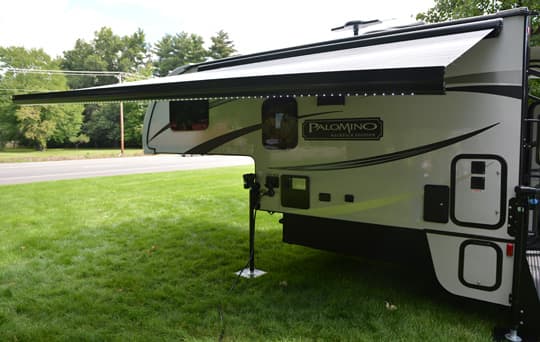 Above: The 10′ Carefree of Colorado awning with built-in wind sensor
TCM: Tell us about the new 10' awning with wind sensor.
Pat: The new awning is made by Carefree of Colorado.  It's a legless design, which means there's nothing that extends down from the awning to the camper, or to the ground.  There's literally nothing to fold down and attach to the camper.
Additionally, it has a built-in LED light strip on the awning rail.  The neatest feature is that the awning senses wind speeds over 10 miles per hour, and automatically retracts into its box.  This means you can leave your campsite with the awning out without fearing a wind storm would damage your awning and camper.  It's a smart awning.
Keith: It leaves no footprint on side wall of the unit which gives us more room for storage and amenities on the outside of the camper.  As a legless design, we can now offer much larger awnings.
TCM: Are there any exterior graphics changes for 2015?
Pat: The graphics are identical from 2014.  They work well with the cool grey and oyster pearl colors, and they're fairly neutral.  The new colors and existing graphics work well with the truck designs and colors.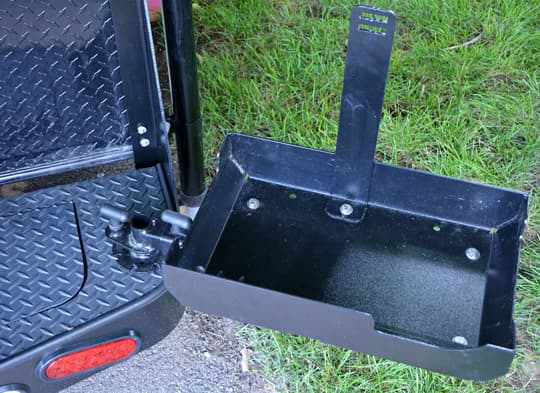 Above: A generator attachment for Palomino's Landing Pad Bumper
TCM: Late in 2013, Palomino RV and Torklift International debuted the Landing Pad bumper system.  When we were at the Elkhart open house, we noticed a new attachment for the bumper.  Can you tell us about that?
Keith: We have a few things in the works with Torklift International including a secure generator box attachment for a portable generator.  Torklift International is also developing another attachment for a larger generator and a few accessories that are not yet ready to be announced.  We'll certainly let Truck Camper Magazine know when they're ready to go.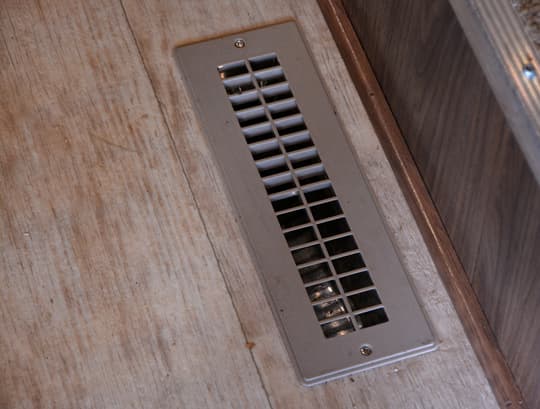 Above: Floor vents bring heat up from the basement
TCM: We noticed the floor vents in the 2910 and 2911.  Where those an update that we missed last year?
Keith: We added the floor vents in last year, but we never made an announcement.  We were able to find some real estate in the basement that allowed us to create the floor vents.  With the floor vents, we no longer have the air dumps within the cabinetry and can use more of the cabinetry for storage.
TCM: What should an owner do when the floor vents get dirt or sand in them?
Pat: If dirt or debris gets into the vents, pop the face of the vent off and use a vacuum cleaner to clean out the vents.  This is exactly how residential floor vents are cleaned as well.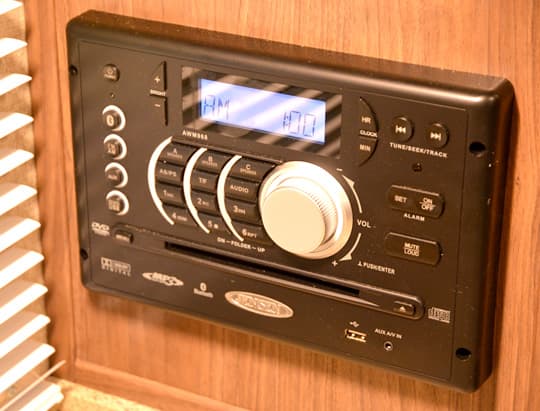 Above: The Jensen stereo system is equipped with USB and Bluetooth
TCM: Has the weight changed for the 2015 Palomino truck campers?  You've certainly changed a lot of items, especially in the hard side models.
Keith: The weight is essentially the same.  We're using approximately the same amount of aluminum framing, cabinetry, wiring, plumbing, and foam.  The overall amenities are the same as well.  We have a weight process that we utilize to keep out truck camper weights in check.
TCM: As Truck Camper Magazine, we strongly encourage Palomino RV to weigh the 2015 truck camper line, camper by camper, and adjust the posted dry weights accordingly.  Even if the changes are minimal, it's important to our readers.  We would also like to see center of gravity stickers clearly posted on the campers as that information is equally important.
Pat: We have rolled a lot of options into the base build of our truck campers so there are not a lot of additional items customers are going to install.  Our base dry weights are accurate.
TCM: What is the warranty for 2015 Palomino campers?
Pat: The warranty is unchanged for 2015 from 2014.  There's a one year warranty on the campers and all of the appliances.  The refrigerator, range ovens, and air conditioners, have their own warranties.  Forest River also offers a second year warranty on all of its products as an option at the dealer level.
TCM: When will 2015 Palomino truck campers be available?
Pat: They're starting to hit the lots as we speak.  The soft sides are hitting now and the hard sides are in production now.  The new cap and windshield will start hitting production in the next few weeks and will be on dealer lots in mid to late November.
For more information on Palomino truck campers, visit their website at palominorv.com.  Click here to request a free Palomino brochure.