For 2015, Palomino RV didn't stop at the windshield nose cap.  Check out their finessed floor plans, re-worked cabinetry, enhanced Next-Gen in-wall slide mechanisms, new table tops, and much more.

Once again, Palomino RV has been silent – for months.  We would get a reply if we poked them with an email, but there was no telling what they were up to.
Over the past few years we have learned that this probably means they're knee deep in research and development and will eventually surface with an over-the-top announcement that no one could have, or would have, predicted.
Well, cue the breaking news machine.  Right on schedule, the Palomono-ians released the windshield nose cap at Elkhart this past September.  The windshield was so completely off-the-charts that we darn near forgot to walk inside the campers to see what else they had done.  Not surprising, there's more – a lot more.
To get to the bottom of what's up at Palomino, we contacted Pat Hines, Director of Truck Camper Marketing at Palomino RV.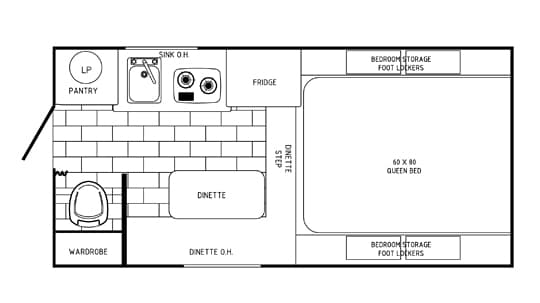 Above: The new 2015 Palomino SS-1240 is the previous SS-1225 with a north-south bed configuration; made for long or short bed full-size trucks
TCM: Are there any Palomino RV truck camper models being discontinued for 2015?
Pat: The SS-1225 is being discontinued because we are introducing the SS-1240, the same camper floor and design as the outgoing SS-1225, but with a north-south cabover.
About this time last year we introduced the Palomino SS-550, a full-size short-bed compatible pop-up truck camper with a north-south bed.  In 2014, the SS-550 quickly moved to one of our better selling pop-up truck camper models.  Much of that success can be directly attributed to the north-south bed.
For 2015, we're debuting the SS-1240 with a north-south bed for long or short bed full-size trucks.  The north-south bed configuration offers more storage and is more comfortable to enter and exit.  The SS-1240 also offers a toilet.  I think the SS-1240 will be a strong seller, much like the SS-550.
TCM: Do you think more Palomino pop-up camper models will be transitioned to north-south bed configurations?
Pat: That is something we're considering and continue to monitor as the market progresses.
TCM: Are there any standard feature updates for 2015?
Pat: We did a good job of cleaning up the standard and options list for 2014.  Almost every popular option from the past few years is already standard.  For 2015, nothing has really changed with our standard list.

Above: The interior wood is hand glazed Persian walnut – click to enlarge
TCM: For 2014, Palomino completely re-vamped its pop-up truck camper line including a new roof, new Rieco-Titan lift system with key fob remote, new one-piece 55" radius entry door, one-piece sidewalls, and new interior and exterior aesthetics.  Are there any further changes to the pop-up line for 2015?
Pat: The interior wood in our pop-up campers is now a hand glazed Persian walnut.  We also changed the floors to a wood grain linoleum.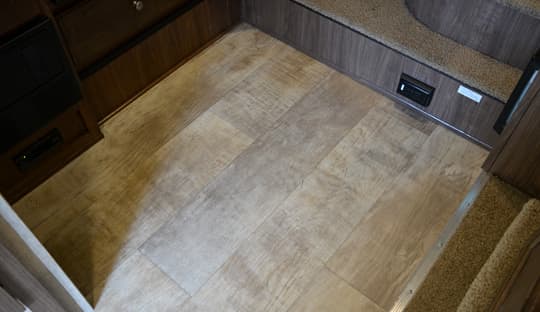 Above: The floors are now a wood grain linoleum
The table top and countertops are our new pressed wood table top.  All of these material and aesthetic upgrades have been made across the board on all 2015 Palomino pop-up and hard side truck campers.