Palomino RV debuts an all-new gelcoat fiberglass wrap-around front nose cap incorporating an industry-first automotive windshield and adhesive system.  Look out!  Here comes the future.

Keith Fisher, Lead Engineer at Palomino RV, was very excited to see us at the annual Elkhart Open House mid-September.  Having just driven past his new creation, we knew exactly what he wanted us to see.  In fact, I don't think anyone who drove C.R. 6 that morning missed his latest creation.  Honestly, it's a miracle no one drove off the road trying to get a better look.
On four corner jacks before us was a Palomino HS-2910.  We had seen this camper before, but never like this.  An all-new gelcoat fiberglass wrap-around front nose cap incorporating a huge automotive windshield made the 2910 look like no truck camper we had ever seen before.  With its new cap, the 2910 was almost something out a science fiction movie; a giant robotic praying mantis, ready to devour the habitants of Northern Indiana.  Run for your lives!
Truck campers in 2015 shouldn't necessarily look like they did in 1975.  The advancements in material science, technology, and style have changed in ways most folks could not have imagined forty years ago.  We're not all wearing aluminum foil ties and carbon fibre leisure suits, but we're carrying around pocket computers that make phone calls and sharing what we ate for breakfast on the inter-webs.  It's the future man!  So what's here?
Keith Fisher and the Palomino RV team have served up a vision for what the future of truck campers should look like.  More importantly, their vision has form and function that advance the state of Palomino's truck campers, and will challenge the rest of the industry to re-evaluate the concept of front windows.  The era of truck campers with automotive windshields has begun.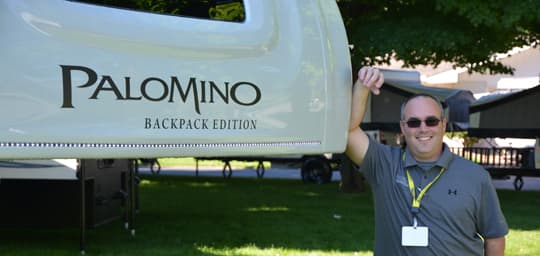 Above: Keith Fisher, Lead Engineer for Palomino RV
TCM: Tell us how the project for a new front nose cap began at Palomino RV.
Keith: The idea started in our war room where we develop our new product plans.  After the meeting, I contacted our industrial designer who specializes in gelcoat fiberglass caps.  We gave him some direction and sent him the 3D computer models of our truck campers.
The moment of truth came when we approved a final design.  After another meeting, we decided to bite the bullet, order the window, and get the cap and mold moving forward.

Above: The AutoCAD renderings of the 2015 Palomino Max campers with the new nose cap – click to enlarge
TCM: That must have been an exciting moment.  Tell us about developing the windshield.
Keith: The development of the windshield was one of the most challenging parts of this project because we only had one opportunity to get it right.  I had a lot of faith that it was going to come out right, but there were definitely some sleepless nights.
Once the windshield had been designed by our supplier, Guardian Custom Glass Solutions Group, they made one windshield and sent it to us for testing.  That was a very expensive windshield.  We were extremely careful while handling it.
Before we installed the windshield into the cap, we consulted with our sister Forest River company, Georgetown.  Georgetown manufactures Class A motorhomes.  They told us exactly what adhesives to use, and gave us some tips on how to properly install the windshield.  With their recommendations, we ordered a case of DOW automotive adhesives.
When it was time to actually install the new windshield into the new gelcoat fiberglass cap, Guardian sent a representative to help make sure everything worked as planned.  I was literally under the cap on a skid as they applied the sealant and dropped the window in.  It fit perfectly.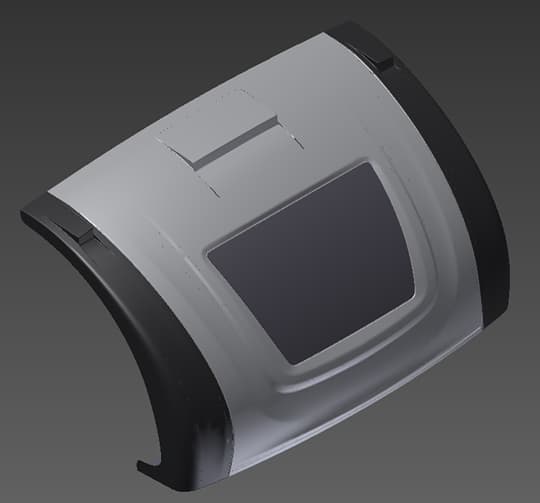 Above: The AutoCAD model of the new nose cap with windshield
TCM: The very first thing most folks are going to think is, "Wow, that's interesting, but isn't it going to leak like all the old-style front windows used to do?"