Rieco-Titan partnered with Palomino RV to develop a new pop-up truck camper lift system with wireless key fob remote.  This is the story of how they made it happen.

It's easy for a business or industry to get stuck in a rut, churning out the same old products year-after-year.  As the saying goes, "If it's not broke, why fix it?"
This is all fine and good, until an innovative forward thinking competitor runs you over.  This is what happened to the music industry when Apple showed up with the iPod and iTunes.  This is what happened to the book industry when Amazon showed up with Amazon.com and the Kindle.
There are hundreds, if not thousands of examples of innovation transforming an industry, or eliminating it.  What happened to the buggy whip industry with the proliferation of automobiles was so devastating that buggy whips have become a symbol of innovation making old technology obsolete.  Today, every industry and business must continuously move forward, or risk becoming the next buggy whip.
When Palomino RV contacted Rieco-Titan about developing a new lift-system, they probably had no idea how much innovation Rieco-Titan would unleash.  The result of this collaboration is a system that starts out lighter, smaller, and faster, and then gives us a wireless automotive-style key fob remote.
We are very excited about Rieco-Titan's new lift system and applaud their collaboration with Palomino RV.  We need more examples of innovation in the RV industry.  Let this story be the inspiration, for more innovation.
TCM: How did this project get started?
Bob: Palomino RV came to us because they've had no problems with our Rieco-Titan camper jacks.  They wanted us to design, develop, and produce an equally successful all-new electric pop-up roof lift system.
During our initial consultations, we worked with Keith Fisher, Lead Engineer, and Rob Foster, Production Supervisor, at Palomino RV.  Keith explained the design parameters for the new lift.  With Keith's parameters, and Rob's production experience, we designed and built the first prototype.  When we presented it to Palomino, they said it was too heavy, too big, and too expensive.
With that feedback, we did some modifications and presented them with a revised prototype.  Once again, it was too heavy, too big, and too expensive.  That told us we needed an entirely new approach.
Doug Bakker, our Product and Tooling Designer, came up with an entirely different drive system; a linear actuator similar to what's used to move electric seats in a car.  This idea was a real breakthrough.
Using linear actuators, Doug was able to make the lift system significantly lighter, smaller, and less expensive.  When we presented the third prototype to Palomino RV, they loved it.
TCM: Is that when the product testing began?
Bob: Yes.  We installed the roof lift into a pop-up camper for Palomino to test.  From there we tuned the product, and did extensive life-cycle testing in house.  For starters, we tested the lift actuator with over 200 pounds for more than 2,500 cycles.  It came through with flying colors.
The testing also proved that we were well within Palomino's design parameters.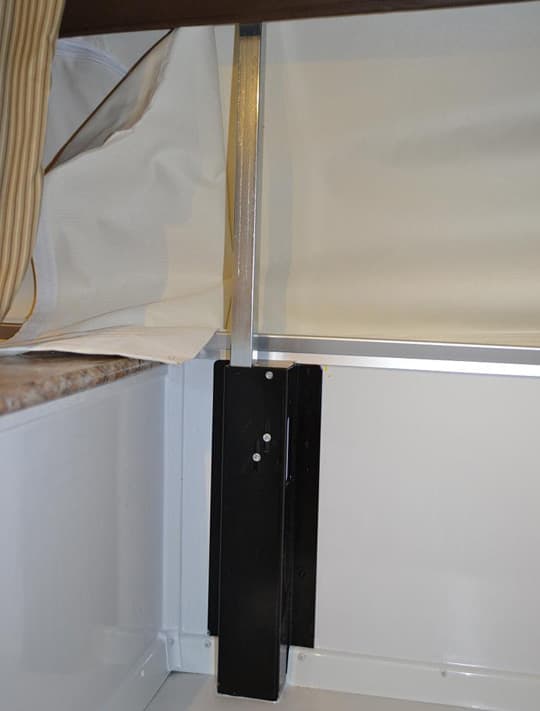 Above: The new lift system in the Palomino pop-up campers
TCM: Did Palomino RV conduct their own tests?
Bob: They sure did.  Palomino had the lift system installed in a camper, lifting and lowering the roof twenty-four hours a day, seven days a week, for several weeks.  To make their test even more rigorous, they installed two air conditioners on the roof.