Rugged Mountain debuts the Polar and Granite custom editions.  Select a model, choose your interior, pick appliances and options and build your dream camper – all at factory-direct pricing.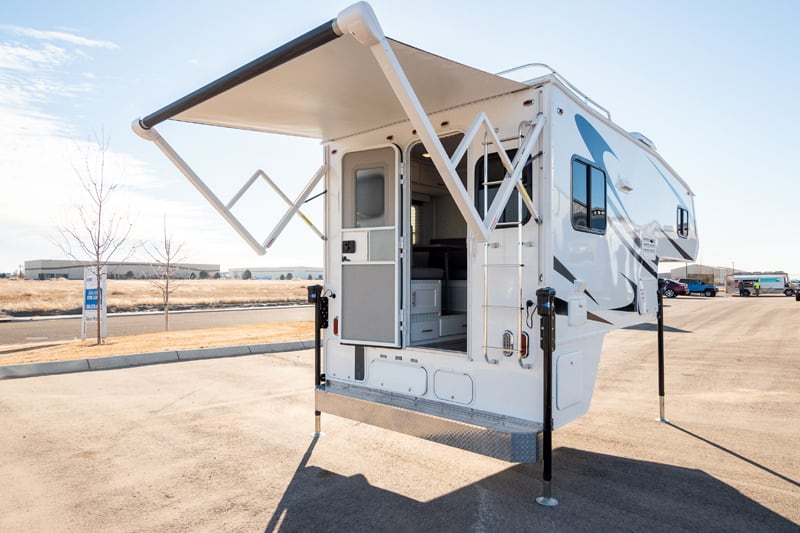 Above: All Rugged Mountain truck campers feature Crane Composite side walls and a fiberglass front nose cap.  Power rear awning shown on a 2019 Granite 9RL.
Jesse Collinsworth, President of Rugged Mountain RV, contacted us last week to share the news that Rugged Mountain truck campers would be going factory direct.  This means Rugged Mountain's Polar slide-out and Granite luxury truck camper lines will exclusively be sold through their Emmett, Idaho factory – but that's not the whole story.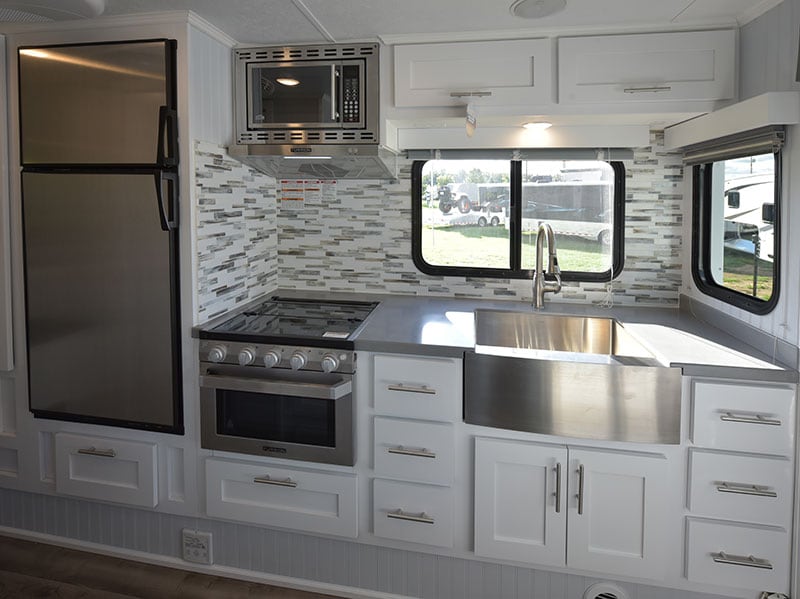 Above: The award-winning interior in a Rugged Mountain Granite 11RL truck camper
In addition to offering reduced factory-direct pricing, Rugged Mountain RV will also offer customers a wider range of feature, appliance and interior options.  As Jesse explained it to us, the idea is to offer high-quality custom truck campers, at unbeatable factory-direct prices.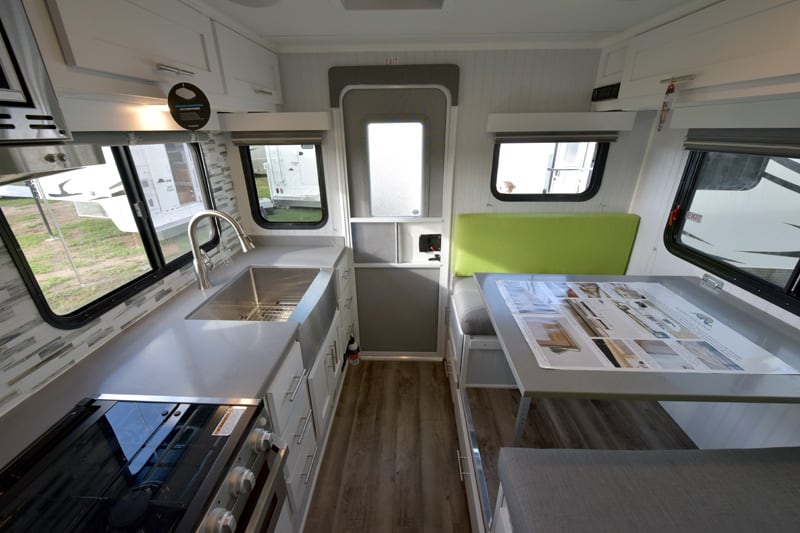 Above: The Granite 11RL and 9RL both feature a rear panoramic view
Jesse also has a few aces up his sleeve.  First, the Rugged Mountain RV's parent company, Tiny Idahomes, has built and sold hundreds of custom tiny homes factory direct over the past six years.  Building custom and selling factory-direct is their specialty.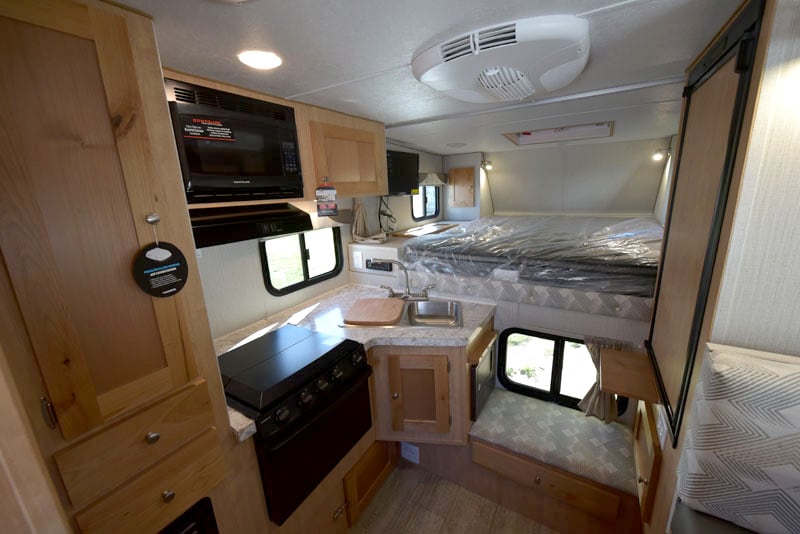 Above: Rugged Mountain RV debuted an all-new Polar slide-out interior for 2019.  The new Polar interior is shown in a Polar 990 single-slide.
Second, Jesse is also preparing to announce a new truck camper model designed to offer the best slide-out truck camper value in the industry.  That camper is set to debut in Truck Camper Magazine in early 2020.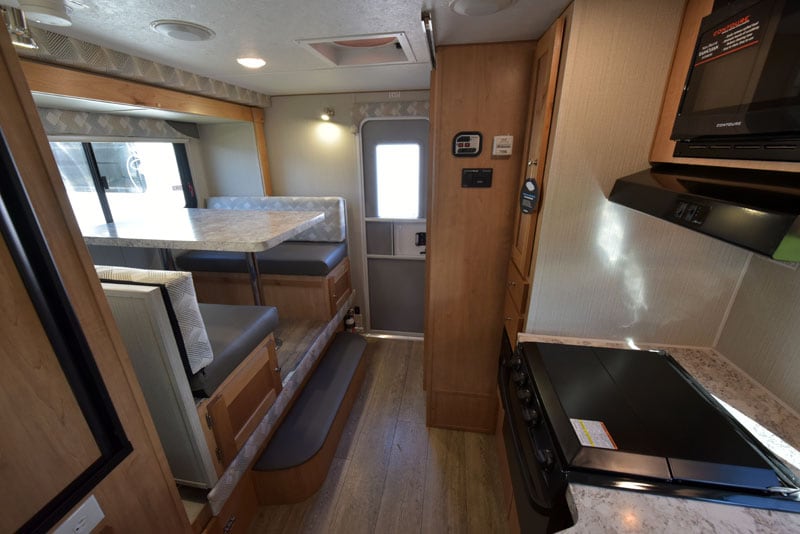 Above: The Polar 990 and Polar 860 also feature dinette slide-outs
And finally, Tiny Idahomes and Rugged Mountain RV just moved to a bigger facility – with a campground and racetrack under constructed on the premises.  He's already talking about having a truck camper rally when the campground is completed.
To get the full story behind all of the Rugged Mountain RV news, we talked to Jesse Collinsworth, President of Rugged Mountain RV.
You are announcing your decision to take Rugged Mountain RV factory direct. What led you to this important decision?
The big reason is the customer feedback we continue to receive from Truck Camper Magazine readers, truck camper rally attendees and social media posts telling us customers want to custom order their camper with exactly what they want. As a family-owned business, we also want the relationship with our customers that's only possible selling factory direct.
Originally we had hoped to sell through RV dealers but, after dealer markup, we found our quality and material standards pushed our truck campers into a tough price category. The dealers were wonderful to work with, but our product and pricing wasn't a good fit.
Another challenge is how different our campers are compared to the competition. For example, the Granite interior is based on our tiny home designs. It's more like a tiny house than an RV.
Last September, the 2019 Granite 11RL was awarded an Elkhart Open House "Best In Show" from RV Pro Magazine. Two months later, the Granite-series was awarded "Best Truck Camper Innovation of 2018" by the readers of Truck Camper Magazine. Everyone here at Rugged Mountain RV is extremely proud of these accolades.
Above: The Rugged Mountain RV Granite truck camper line.  Click here to request more information about the Granite campers.
As the owner, and a passionate truck camper owner, I am 100-percent focused on quality control and service. I personally inspect every single truck camper, tiny home and trailer that leaves this building. That's why our quality beats our corporate-owned competition.
Our other strength is value. Our fully-loaded Polar 860 and 990 truck campers cost what the competition costs as base models with no options. For the money, nothing beats a Rugged Mountain RV Polar campers.
Above: The Rugged Mountain RV Polar slide-out truck camper line. Click here to request more information about the Polar campers.
What will happen to the Rugged Mountain truck campers currently on dealer lots?
We are offering manufacturer rebates for all Rugged Mountain RV truck campers still on dealer lots. The Polar 860 and 990 will get a manufacturer's rebate of $1,500. The Granite 11RL and 9RL will get a manufacturer's rebate of $2,000. These rebates are from Rugged Mountain RV and beyond the sales price from the dealer.
There are currently thirteen Rugged Mountain RV truck campers on dealer lots. These units come with a full factory warranty and won't last long. Call us if you are interested in getting one of these rebated campers. We also have a current list of dealers and the campers on the rebate page of our website.
Are you changing the pricing of Rugged Mountain RV Polar and Granite truck campers?
The pricing structure will be changing. We will release our factory direct pricing starting January 1, 2020. Look for that announcement in Truck Camper Magazine. In the meantime, we are focused on selling the units on the dealer lots with the rebates.
How does someone purchase a camper direct from Rugged Mountain RV?
They will contact our office by calling 208-602-9004 or by going to our website and filling out our Contact Us form. You can also see our truck camper models there. Our response rate is fast and we always get back to people.
Do you offer financing?
Yes, we offer financing through banks and credit unions. We have a dealer license. In essence, we are a factory direct dealer.
In the near future we hope to open a factory direct lot here in Emmett, Idaho. Next year we will have each Rugged Mountain truck camper model on display at most times. We will have stock units on hand that are for immediate sale. If you want a Polar or Granite truck camper, you will be able to drive here, buy one, load it on your truck and go camping.
Is there a deposit required when you order a camper?
For a stock unit, we require a 15-percent deposit to hold the camper. If it's custom order, we require a 50-percent deposit.
We require a 50-percent deposit on custom units because I can sell a stock unit faster than a custom unit. For example, right now I have a custom-ordered Granite 11RL on the line with three awnings. People don't typically want three awnings, so this custom camper could be hard to sell if the customer backed out.
If you back out of a custom order, we will refund the deposit when we sell the unit. It doesn't happen often, but we want to be upfront with our customers.
How long does a custom order typically take to build?
Custom units typically have a five-week wait time. That can get pushed out with demand.
Usually the wait is because of us having to wait for custom materials. For example, the awnings I just ordered took four weeks for us to get. The special bumpers we order from Torklift International can take longer.
Could you explain what is custom versus what is standard?
Standard is what we build with appliances on hand like the Dometic appliances we put in our campers. I have those appliances here and ready to go.
If you want anything different than what I carry in stock, then it becomes custom. I need lead times to source the features and appliances you want on your unit.
If you want a different oven that fits in the current oven's footprint, that would be fine.  If you want a compressor refrigerator, you can get it as long as it is the same size as the current refrigerator we use. All I have to do is change venting. Things like porcelain toilets, adding 12-volt and USB outlets, awnings, or solar can easily be added on a custom unit.
We are not going to do huge things like make cabinetry changes, change window sizes or build flatbed campers because that would require new framing. As long as we don't need to change framing or cabinetry, it's possible.
Are you going to offer delivery of campers or do people need to pick up their campers at the Rugged Mountain RV factory in Emmett, Idaho?
Either way. If you don't have the time or a way to pick up your camper, we can use RV shippers to get it to you. On average, our delivery drivers get $2 a mile. I don't make anything on top of that.
Most of our tiny house customers pick up their tiny homes at the factory. We encourage factory pickup because we can do a thorough walkthrough with you. We can also do the walkthrough via Facetime or video if coming to the factory isn't possible.
If you order a custom truck camper, we will also send you photos as the camper is being built and give you a file of pictures when it's complete.
Do you offer factory tours to potential customers?
Yes, about 75-percent of our customers will visit us before they order. If you visit our factory we welcome you to walk around our shop to see how a unit is constructed. Here at the factory we have units in various stages of construction. You will see the phases of construction and meet the crew. It's a hands on experience.
Everybody wants things a bit different. Touring the factory allows you to get a feel for our products and to make choices about what you want. This a major reason why we are going factory direct.
Will your truck campers still be RVIA compliant?
Yes. We are a member of RVIA and we do not intend to change that status. RVIA is top of class for certification and we strive to be the best for safety and quality.
How does going factory direct impact the Rugged Mountain warranty and handling warranty claims?
We have a one year bumper-to-bumper warranty in addition to the warranties on the individual materials and appliances.
If there's a warranty repair, we work with certified RV technicians that are local to you. Using a certified RV tech speeds up the service and repairs and doesn't require you to drive all the way to the factory.
We welcome you to the factory for repairs as well, but it's not a requirement. This is the same way we handle warranty claims on our tiny homes, and it works well.
Will you be developing any new Rugged Mountain RV truck camper models?
Yes, we will be coming out with a new high-value slide-out camper in early 2020. It will be for short or long bed campers and priced under $20,000.
Just like our current campers, it will be a true four-season camper with high end fiberglass with nose cap. It will be a high-quality camper at an entry level price.
We're building a product that, with proper maintenance, will last for decades. Rugged Mountain RV truck campers are based on the reliability of Northland. They're built to last.
Tiny Idahomes and Rugged Mountain RV recently moved. Tell us about your new facility.
We just moved into a new 36,000 square foot building on the site of the old Boise Cascade wood mill. The facility is 80-some acres with pavement throughout.
Since our facility is part of the old wood mill, I have a certified scale onsite. Every camper can be put on the scales when it's complete. During farm season, the farmers can pay to use it. That way we can keep it up and certified.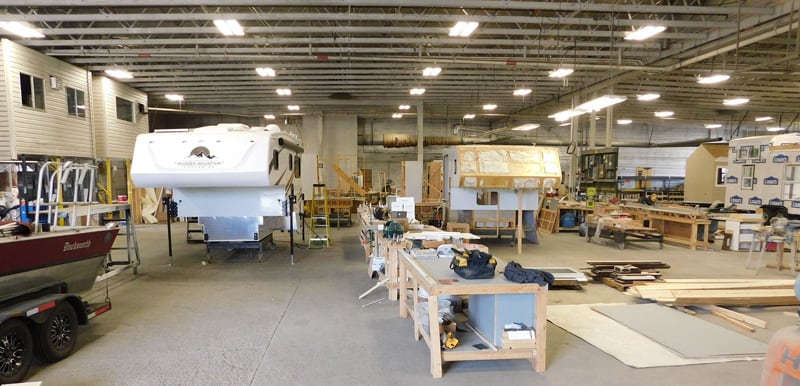 Above and below: Inside the Tiny Idahomes and Rugged Mountain RV factory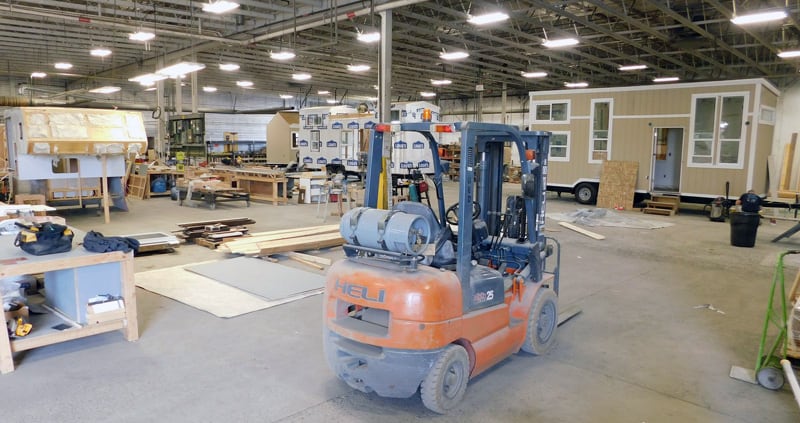 In addition, there is an RV park with 132 sites being built here right now. By spring it will be up and running and we are already looking at hosting truck camper rallies and other events here.
They are also building road course race track here. NASCAR is showing up in the next month to give it the yay or nay. It is the biggest outdoor covered venue in the state of Idaho. When the site is completed, they will have farmers markets, tractor pulls and music events here. A big reason we've moved here is because of all of the possibilities of what's coming here.
That sounds incredible. Is there anything else you want folks to know about Rugged Mountain RV, your truck camper lines, or going direct?
I'm pretty stubborn on how I build things and have high standards. My wife, Anca, and I use our product and have high expectations for it.
That's why we insist on Crane Composite sidewalls, Lasalle Bristol PVC roofs, Zamp solar panels, Wilsonart countertops, Congoleum flooring and many other best-in-class materials and construction methods. We demand the best.
I'm excited to go direct because we will be able to listen to our customers even more. What we have heard is that consumers would much rather deal directly with the factory and custom order exactly what they want.
Many people have seen the Granite in Truck Camper Magazine, but few have seen one in person. That is going to change. Along with factory tours, we will be attending more RV shows and sports shows in 2020.
Custom and factory-direct is what we do, and we're excited to offer our Polar and Granite truck campers custom and direct starting in 2020. Our team truly cares about what we build and what we ship. If you're in the market for a truck camper, you're going to be surprised by the quality, design, and value of Rugged Mountain RV.
For more information on Rugged Mountain, visit their website at ruggedmountaincustomrv.com.  Click here to get a free Rugged Mountain brochure.