Rugged Mountain RV introduces the 2019 Rugged Mountain Granite 11RL, an all-new 11-foot hard side, non-slide, dry bath truck camper.  What happens when you cross a modern tiny house with a go anywhere truck camper?  A fresh vision that hits home, and the road.

We were very excited when Tiny Idahomes, a very successful and well established tiny house manufacturer in Idaho, launched a truck camper line in 2017.  Their Rugged Mountain Polar truck campers offered slide-out floor plans with traditional RV styling, but something told us it wouldn't be long before the tiny home influence took hold.
So what happens when a tiny home manufacturer designs an all-new truck camper?  From the outside, the 2019 Rugged Mountain Granite 11RL appears to be an 11-foot version of their Polar series.  This is excellent news as Rugged Mountain has some of the best looking truck camper exteriors in the business.  One-piece fiberglass nose cap? Check!  High-gloss fiberglass side walls?  Check!  Sharp logo and graphics?  Check!
And then you step inside.  Put simply, there has never been a commercially available truck camper interior quite like this.  Designed from the ground up with a bright and modern residential aesthetic, the 2019 Rugged Mountain Granite 11RL leaves most interior RV design in the past tense.
If you think the majority of RV interior design looks terribly dated, you're going to love the Granite 11RL.  Ten bucks says you'll be showing the pictures that follow to your significant other.  "Look at this honey!"
Jesse Collinsworth, President of Tiny Idahomes and Rugged Mountain RV has successfully crossed the tiny home and truck camper streams and created something all together new and exciting.  What happens when you cross a tiny home and a truck camper?  A tiny home that can go anywhere, camp anywhere, and tow anything.  Introducing the 2019 Rugged Mountain Granite 11RL.
To get the full story behind the 2019 Rugged Mountain 11RL, we talked to Jesse Collinsworth, President of Tiny Idahomes and Rugged Mountain RV.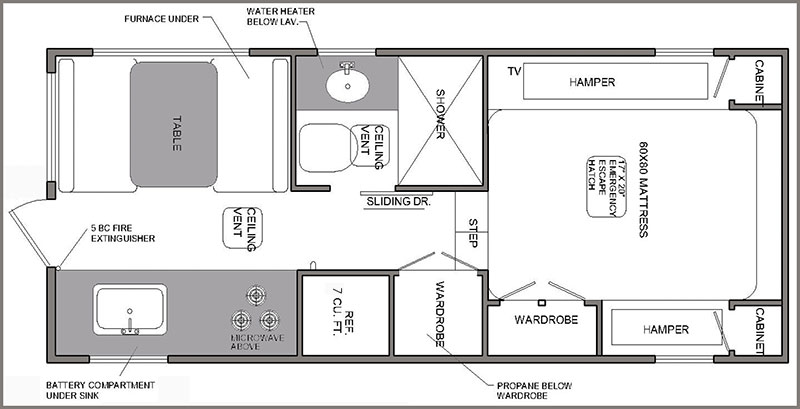 Above: The floor plan of the 2019 Rugged Mountain Granite 11RL
2019 Rugged Mountain Granite 11RL Specifications:
The 2019 Rugged Mountain Granite 11RL is a hard side, non-slide, dry bath truck camper made for long bed trucks.  The interior floor length of the 2019 Rugged Mountain Granite 11RL is 11'0", the interior height is 6'6", and the center of gravity is 44".
The 2019 Granite 11RL has a 30-gallon fresh tank, a 38-gallon grey tank, a 24-gallon black tank, and a 6-gallon hot water heater.  It can accommodate two Group 27 batteries and has two 20-pound propane tanks.
Rugged Mountain is reporting the base weight of the 2019 Granite 11RL at 3,720 pounds.  The introductory MSRP for the 2019 Rugged Mountain Granite 11RL is $39,270.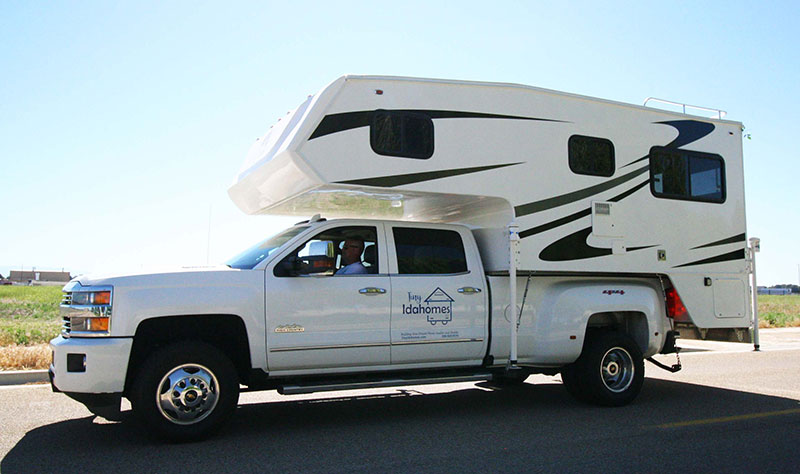 Above: Test driving the Granite 11RL
TCM: Before we talk about the Granite 11RL, tell us where this new camper fits into the Rugged Mountain truck camper line. Does it replace the Polar 990, or is the Granite 11RL a new addition?
Jesse: The Polar 990 and 860 remain in production. The Granite 11RL is a new addition to our truck camper offerings. We now have the Polar 990, Polar 860 and Granite 11RL.
TCM: What's behind the name Granite 11RL?
Jesse: Rugged Mountain is our company name, and granite is a rock commonly attributed to mountains. Granite is also an extremely solid material used in luxury homes. That association also happens to work quite well for this camper. As for the model number, the Granite 11RL is an 11-foot floor plan. RL stands for rear lounge.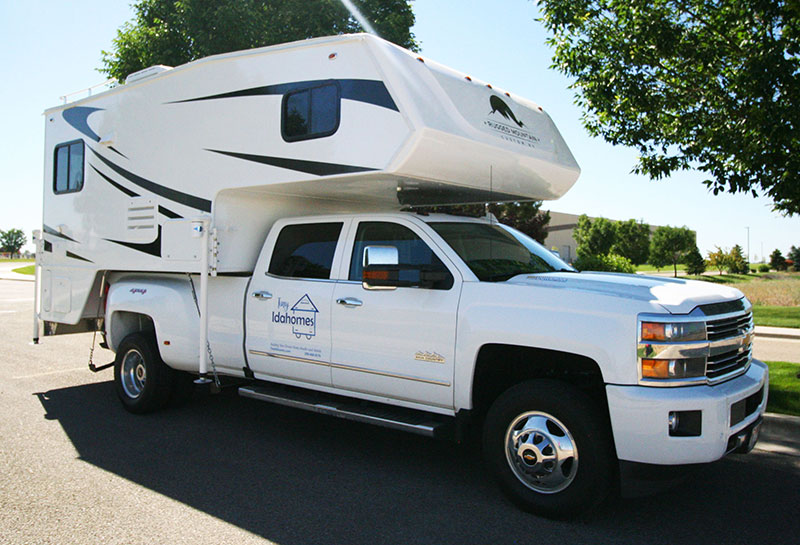 TCM: At first blush, the Rugged Mountain 11RL looks like a contemporary truck camper on the outside, and a modern tiny home on the inside. Is that the concept you envisioned?
Jesse: Yes, it is. With our unique front nose cap and styling, the exterior of our truck campers was already attractive and competitive.
With the Granite 11RL, we are distinguishing our campers from the rest of the industry with a modern tiny house interior. There are truck camper manufacturers offering a European aesthetic, but no one is doing a truly modern residential look and feel.
The Granite 11RL brings the bright and fresh look of a residential tiny house to the truck camper marketplace.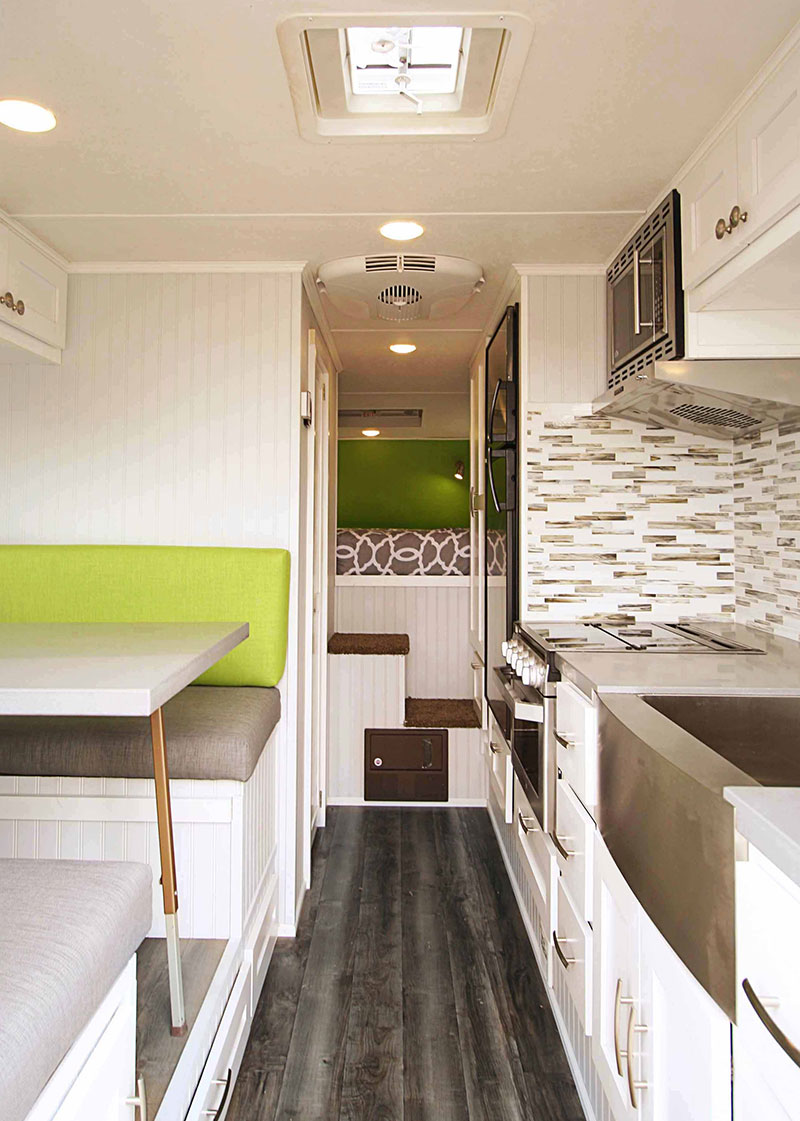 TCM: The floor plan of the 11RL looks very familiar to us. For the record, where did you get this floor plan from?
Jesse: When Truck Camper Magazine visited our factory last October, we were inspired by the floor plan of your project camper. Before we saw your camper, we had decided not to make a non-slide camper. But once we walked through your unit, my mindset about non-slide campers completely changed.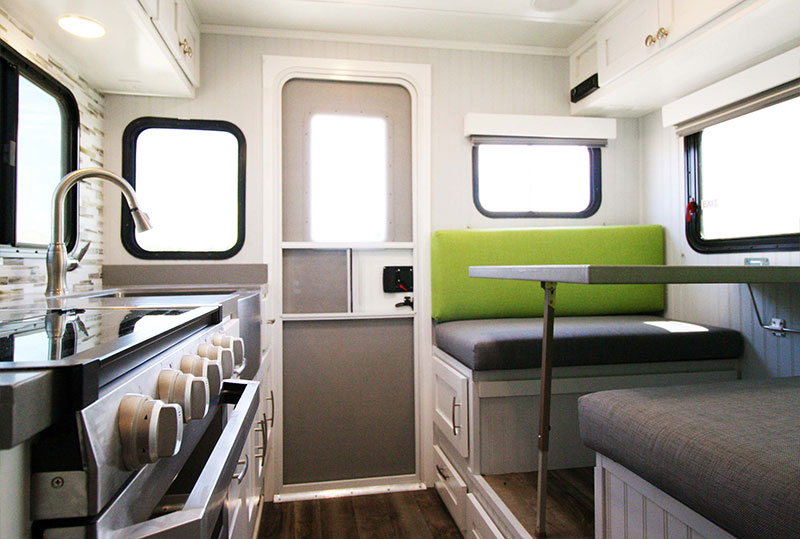 Your non-slide camper had a wide open, user friendly layout with lots of light. The straight kitchen and full-booth dinette are in the rear and surrounded by windows on all three walls.
The windows bring in lots of light and give occupants a stunning 180-degree panoramic outside view. Although the living area feels nearly as spacious as a slide-out model, it has more storage and usable space than a slide-out design.
Rather than copy the design, we adapted the layout into our own floor plan. The driver and passenger side is reversed for improved plumbing. We also added basement storage to fit larger tanks.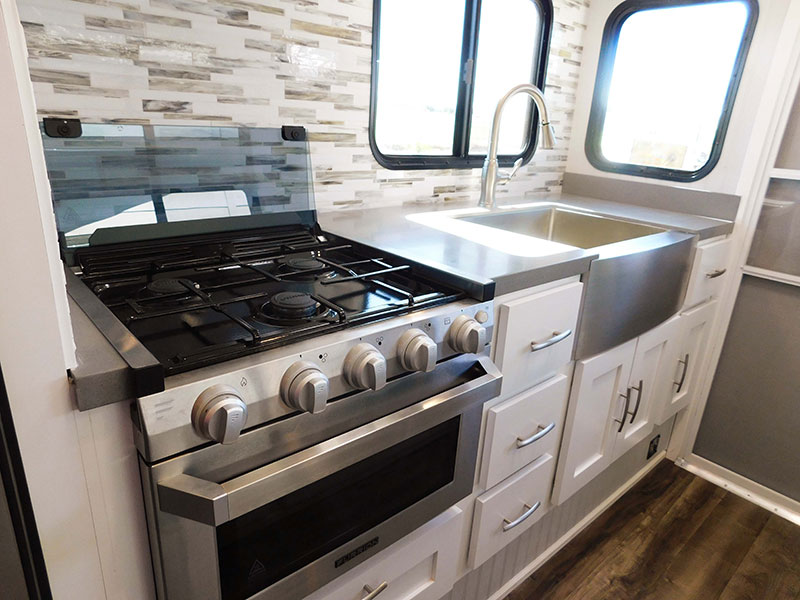 We created our own molded fiberglass shower pan for the large dry bath. The kitchen counter is now completely straight creating even more hallway space. Cabinetry storage was optimized in the style of our tiny houses. We wanted to keep a big fishing drawer in the basement that we are known for here. That is on the passenger's side.
A big change I made was the window design. We changed window sizes and placement a number of times. I wanted the windows as big as possible. I also didn't want propane discharge too close to the windows. To comply with RVIA code, the back of unit can't have opening windows.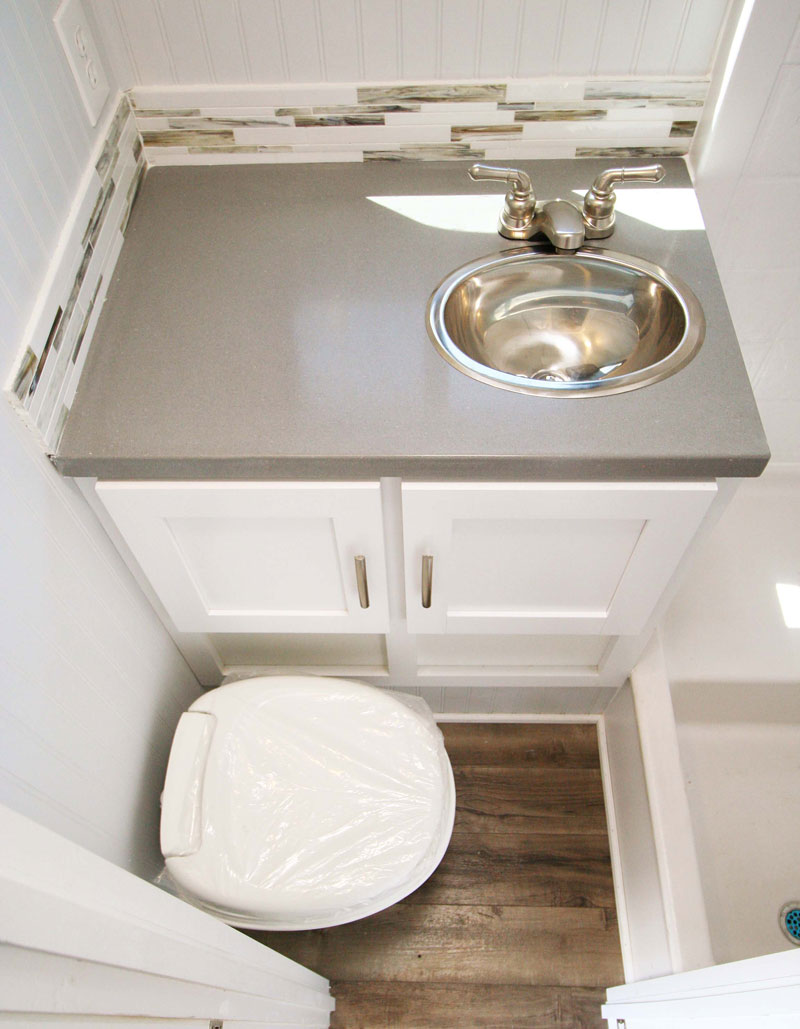 The kitchen and bathroom countertops are Staron, which is a solid surface material similar to Corian. We installed regular cabinet doors and long drawer slides. The drawers pull out all the way to the other side of the kitchen. I want owners to be able to access everything in the drawer when it's pulled out.
We put tile up, but I didn't like the color, so we changed it until I did. It's very important in such a small space to get the coloring right.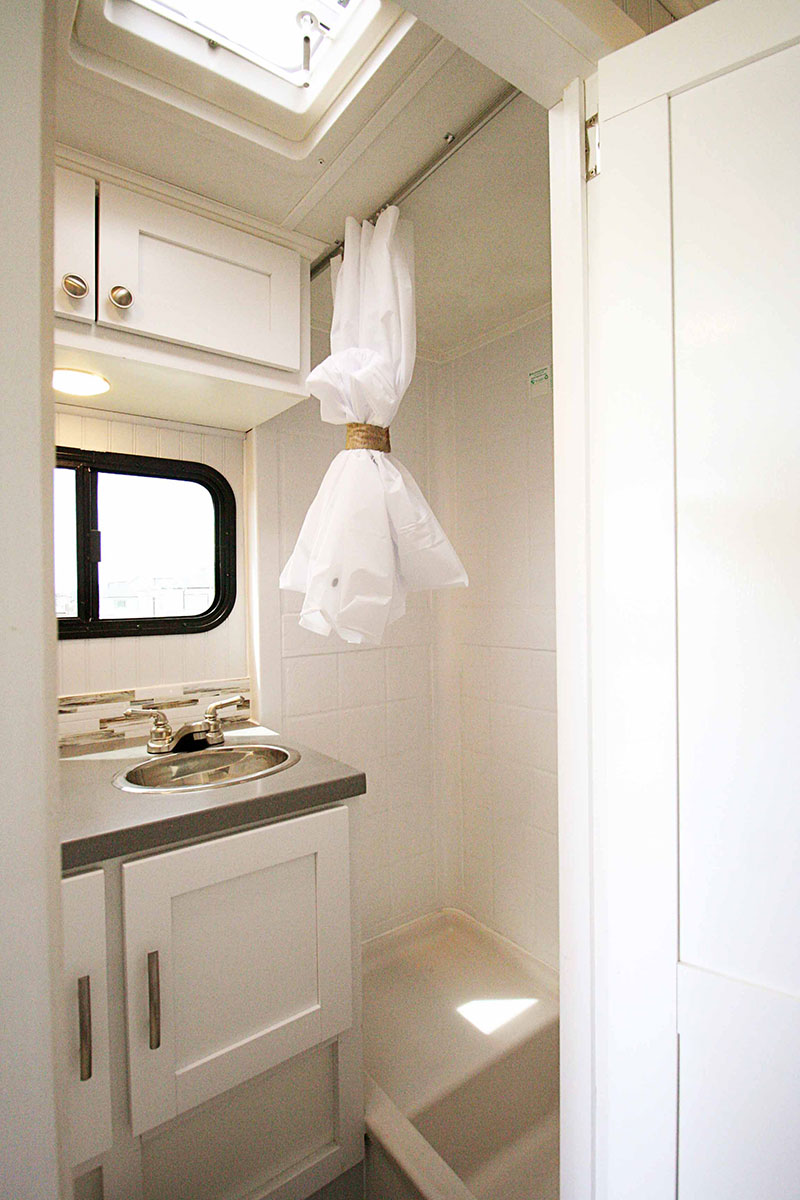 In the dry bath, quality storage is a must. I wanted overhead cabinetry and under sink cabinetry.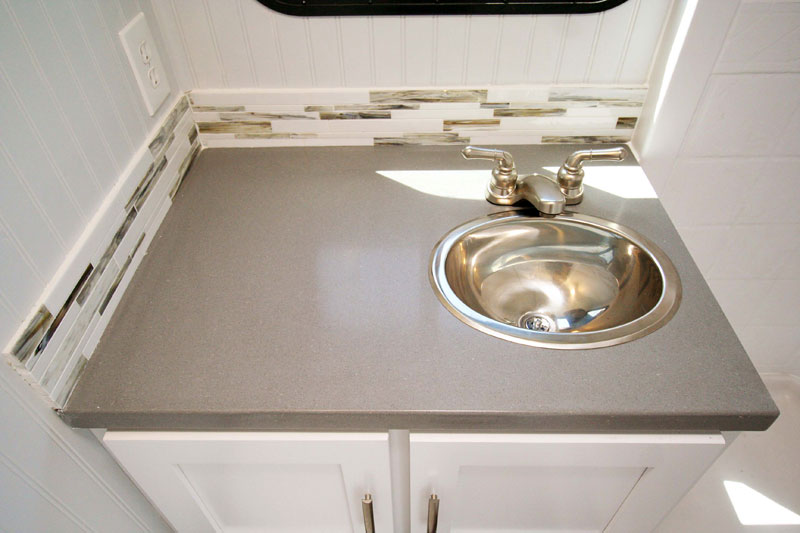 Before building tiny homes and truck campers, I was an electrician. I decided on 12-volt puck lights for a residential look. I wanted the whole camper to be bright and open. We went back and forth on television placement and lighting placements.
TCM: After the first prototype was completed, did you make any changes before starting production?
Jesse: I made a lot of changes throughout entire prototyping process. Making changes to the prototype sometimes frustrates our build team, but I want the Granite to be perfect.  Once our extensive prototyping process is done, the only changes necessary are interior colors and fabrics. So, yes, it changed quite a bit though the process.
TCM: Tell us about the framing material, lamination, and other construction details.
Jesse: At Rugged Mountain RV, we have built wood-framed and hung wall truck campers since day one. Our Crane Composite high-gloss fiberglass sidewalls are vacuum bonded to a quarter-inch luan backer. Crane Composite's vacuum seal lamination process is superior to everything we have evaluated or seen from competitors. It's also more expensive, but it's worth the extra cost.
We have very cold winters and very hot summers here in Idaho. For that reason, we selected the insulation factor of wood framing. With wood framing, we avoid the cold/heat conductivity and sweat issues of aluminum. Nails and other fasteners also have a superior bite with wood framing compared to aluminum.
From our own in-house testing, adhesives hold significantly better to wood than aluminum. With aluminum framing, lamination adhesives can de-laminate between the luan backer and exterior fiberglass. Wood framing does not conduct temperature or sweat, and prevents this type de-lamination. We do not want de-lamination issues at Rugged Mountain.
For the ultimate front nose seal, all Rugged Mountain truck campers have a one-piece fiberglass nose cap. The nose cap overlaps the TPO roof. The TPO roof wraps around the overhangs of the camper by three-eights of an inch around the entire perimeter of the units. Finally, we use the same high-end exterior sealants that we employ with our tiny homes.
Overall, the side walls of the Granite 11RL have a R9 insulation value. The basement and holding tanks are completely heated. The 11RL is a four-season truck camper.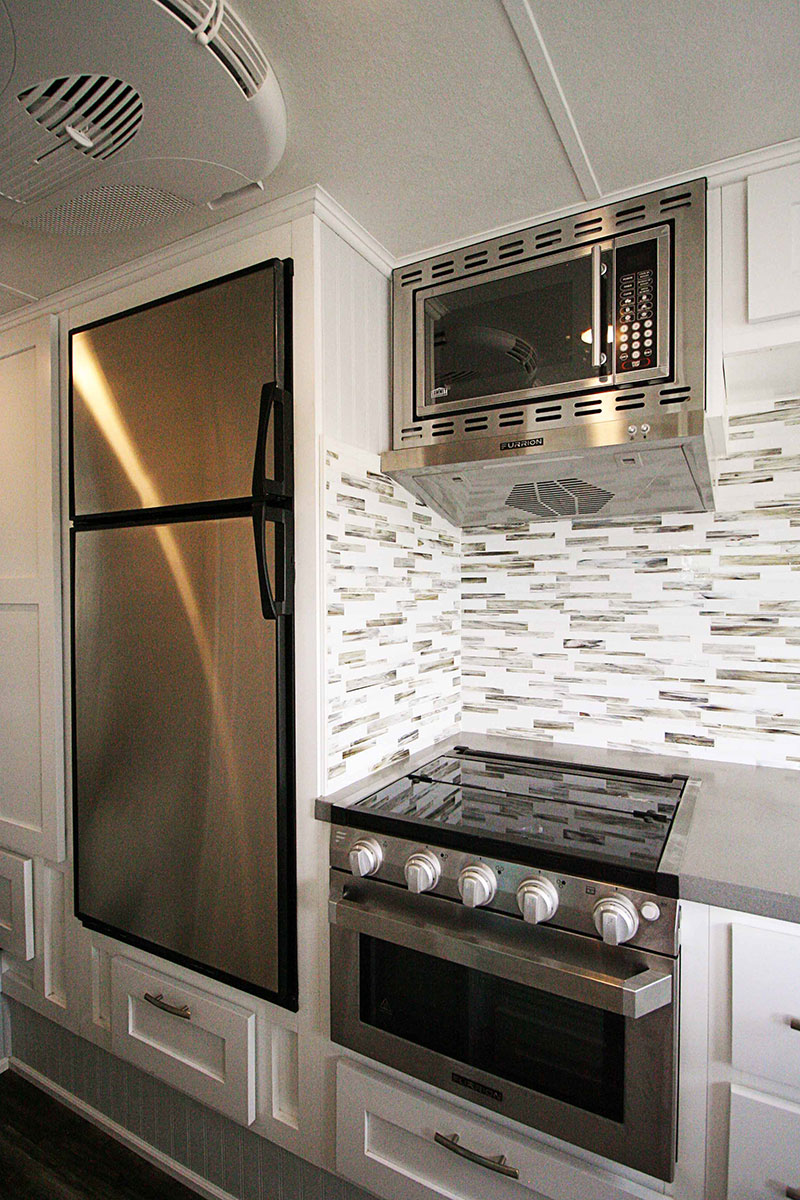 TCM: Were there any new materials, components, appliances, or processes used in the development of the Rugged Mountain Granite 11RL?
Jesse: We did crown and base molding in the Granite. We have used crown and base molding in our tiny houses for many years and it works beautifully. The material itself is a wood-plastic, also known as a natural fiber plastic composite. It will not absorb moisture. The 1-inch crown molding really gives the camper a residential look.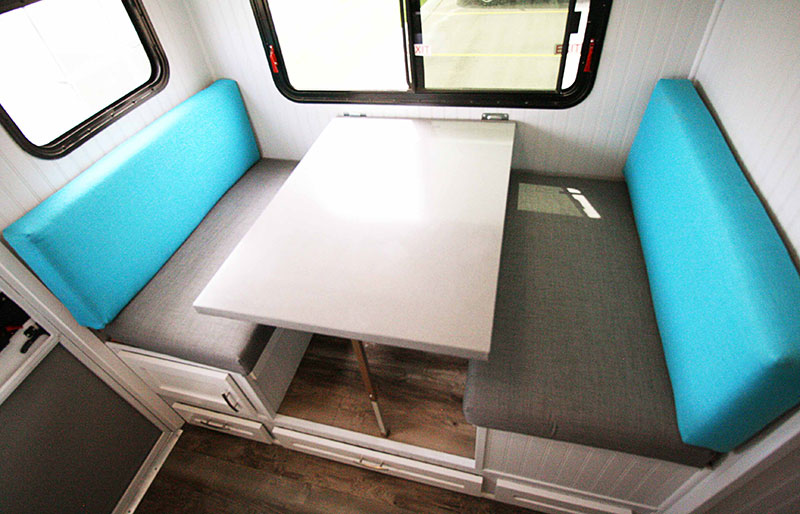 The dinette table is solid surface to match the solid surface kitchen counters. It is heavier than a traditional dinette table, but it looks incredible.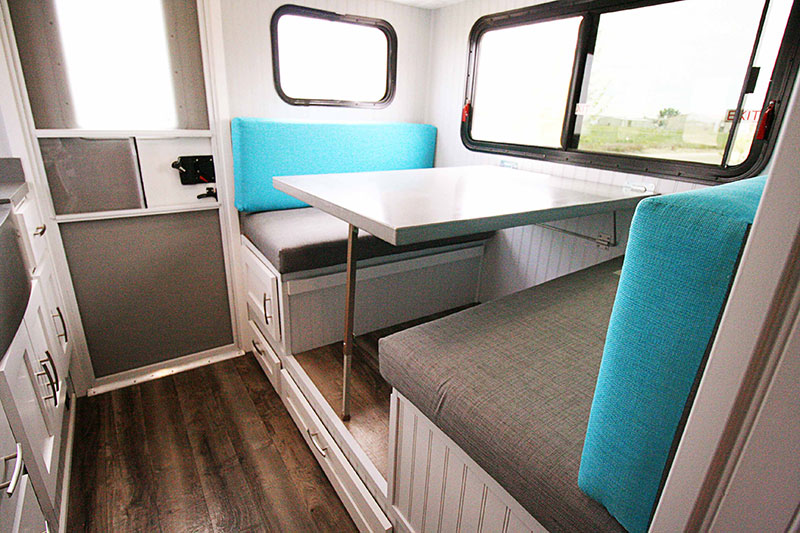 The dinette has a swing down bracket to keep it anchored in place.  When you sit at the dinette, the table is level and does not move when you lean on it.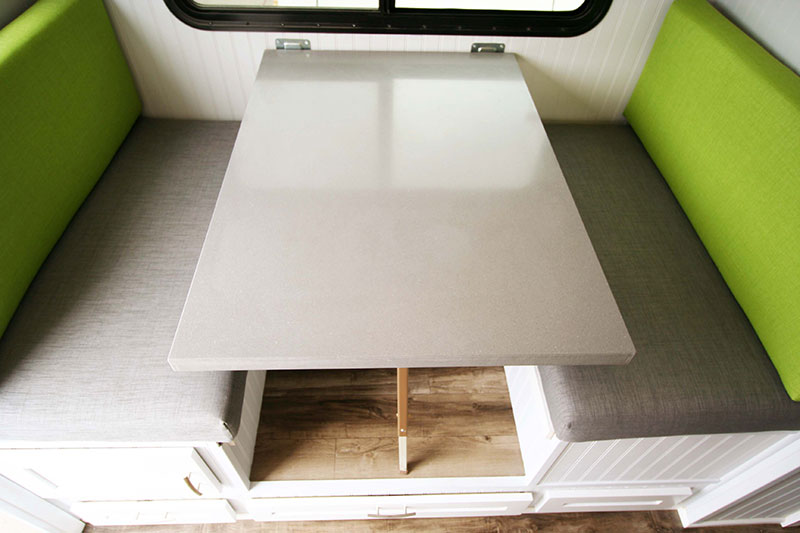 TCM: The fabric colors alternate between modern grey and bright colors. Tell us about this design choice.
Jesse: When we were selecting fabrics for the Granite, I wanted something bright and modern. No RV fabric supplier had anything I liked, so I had to go out and get residential-quality fabrics. Then we took the fabrics to our cushion maker.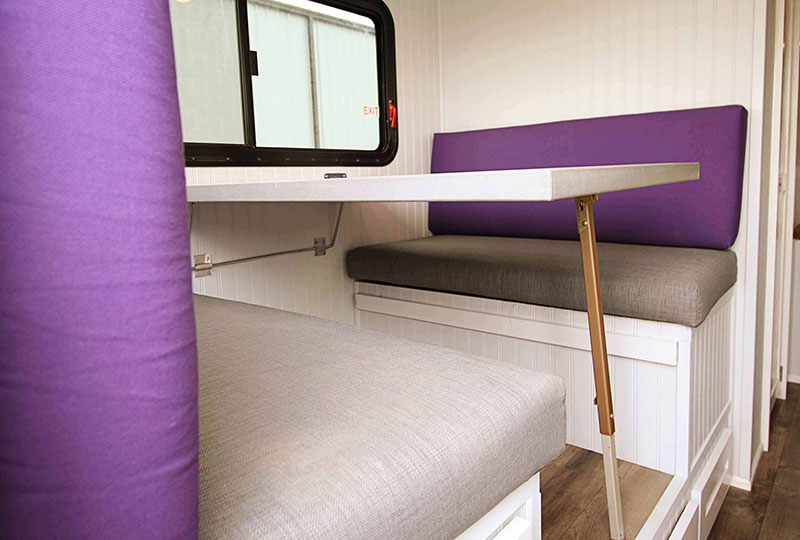 Above: The Granite 11RL interior fabrics are available in purple (shown above), green, turquoise, and grey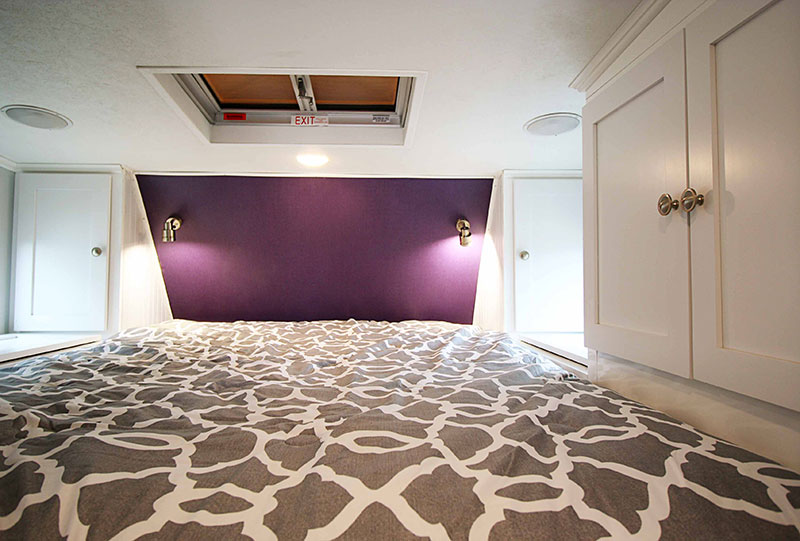 For anyone who wants a more subdued color, we also have a standard grey option. We will not do custom fabrics, but all of our cushions have zippers and the foam is the same. If a dealer or consumer wants a different color, they can easily swap out the covers.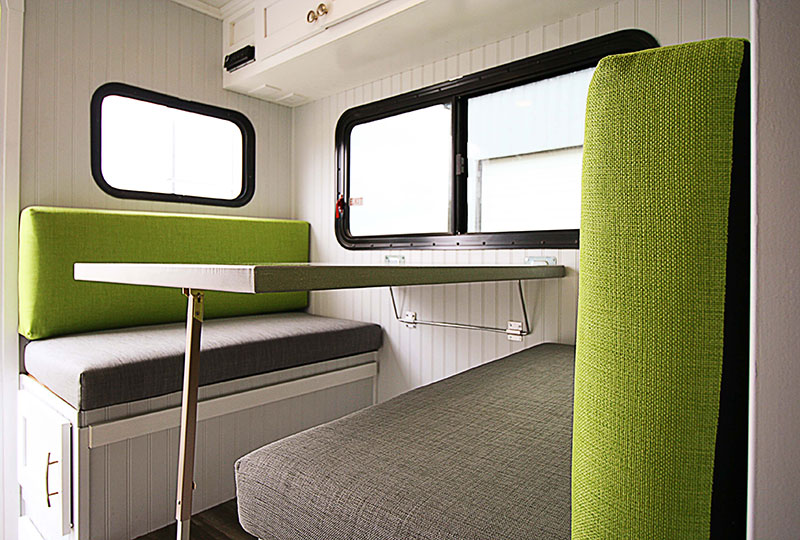 The color scheme in the 11RL is an important part of the modern residential look.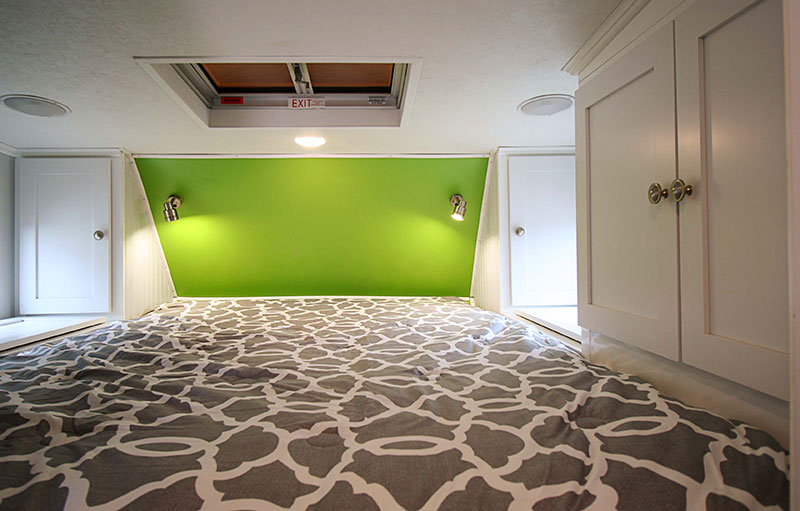 TCM: What's the story behind using bead board in the Granite?
Jesse: Bead board is another visual cue for the modern residential look. We used bead board instead of traditional RV paneling.
I think the Granite 11RL is one of the first RVs produced where you can actually paint your walls. Regular RV walls have thin wallpaper that can bubble, peel and fade over time. With bead board, you can literally paint the camper's interior walls with the residential paint and paint color(s) of your choice.
One disadvantage of bead board is weight. Bead board is 3/8-inch thick versus 1/4-inch thick RV paneling. Since this camper eliminates a slide, the weight savings is still significant. The bead board also offers a small R value improvement and will hold up a lot better than RV wall paper and paneling.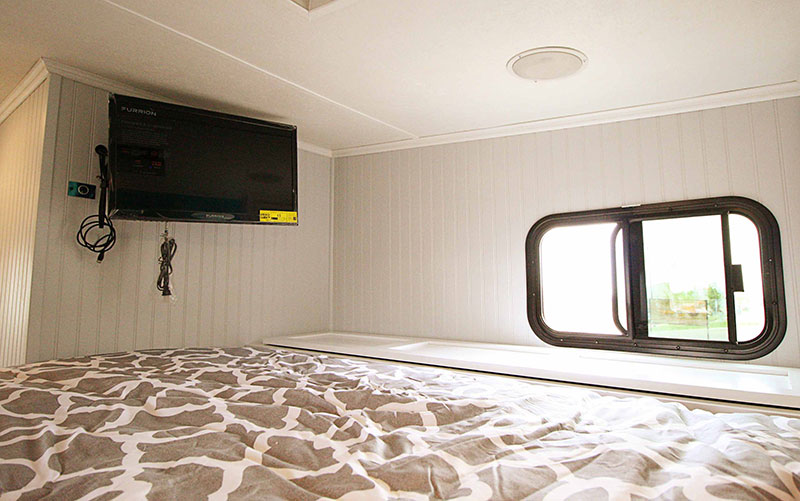 Above: Bead board is used throughout the Granite 11RL, including the cabover
TCM: Is the bead board in the Granite 11RL made from PVC, plywood, or multi-density fiberboard (MDF)?
Jesse: We are using a multi-density MDF bead board. I don't use PVC because paint does not adhere well to it. Paint performs better with a wood product.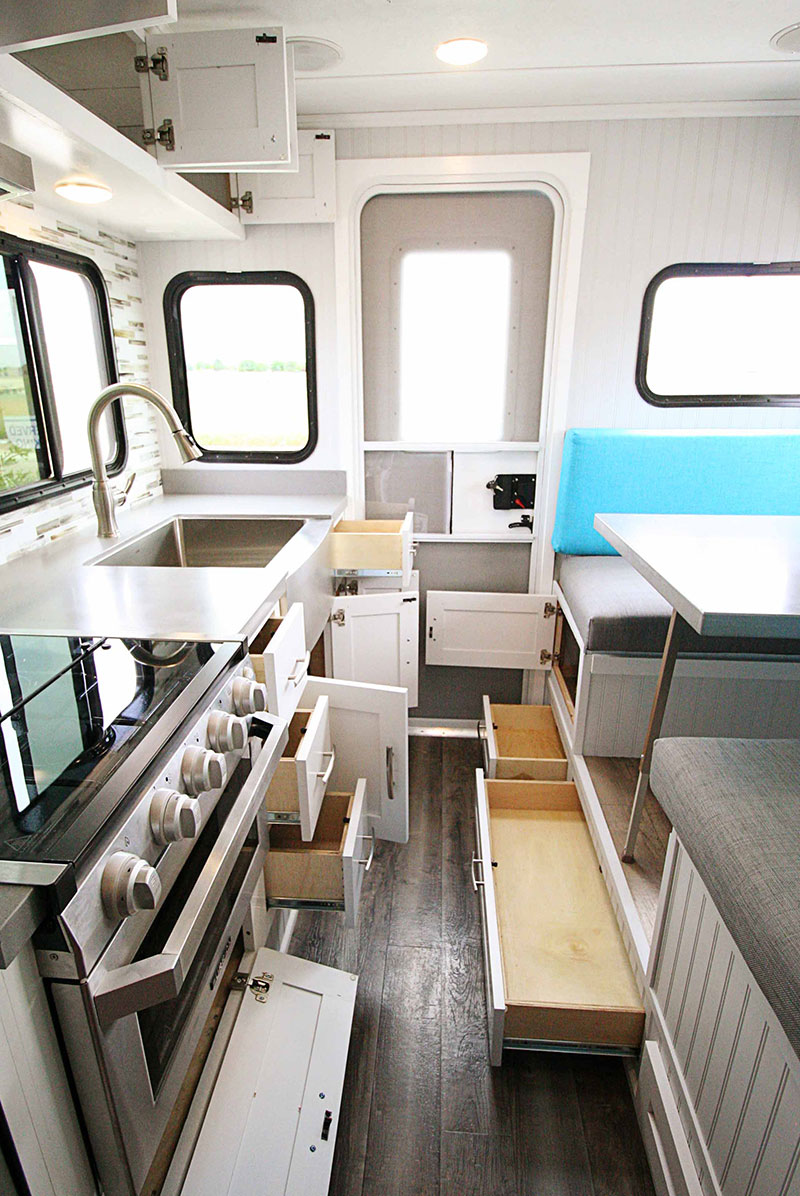 Above: Residential-style cabinets, drawers, and other storage opportunities throughout the kitchen and dinette
TCM: How is the bead board installed?
Jesse: We staple it in the same way RV paneling is installed. With RV paneling, you can sometimes see where the staples are located because the filler color doesn't perfectly match the wall panel color. With the bead board, we fill the staples the same way, but the paint completely eliminates the color variations. It's a subtle difference, but it further adds to the residential look. Details matter.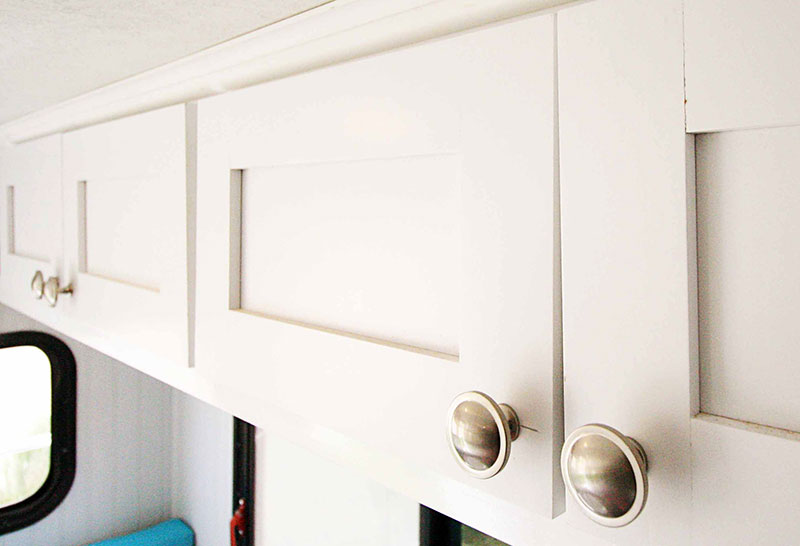 TCM: The white cabinetry is also a real stand out. How are the cabinets constructed?
Jesse: It's very important that the cabinetry is residential. The cabinets in the Granite have side walls and housing. The hard wood space frame is glued and stapled to the front of the cabinets. The front panel doors are a shaker-style. The result is a truly residential cabinet inside a truck camper.
Most truck campers cabinetry is built with just a space frame. The drawers slide to the back wall for support. The drawers and cabinets are not separated so you can reach over from one cabinet to the next. Residential cabinets are built in a box, set into place, and tied into the wall and into each other. That's how we built the majority of cabinets in the Granite.
TCM: Can customers get cabinetry colors other than white?
Jesse: We will offer three interior colors. The first models off the line showcase the white interior. The other interior color schemes will be announced at a later date.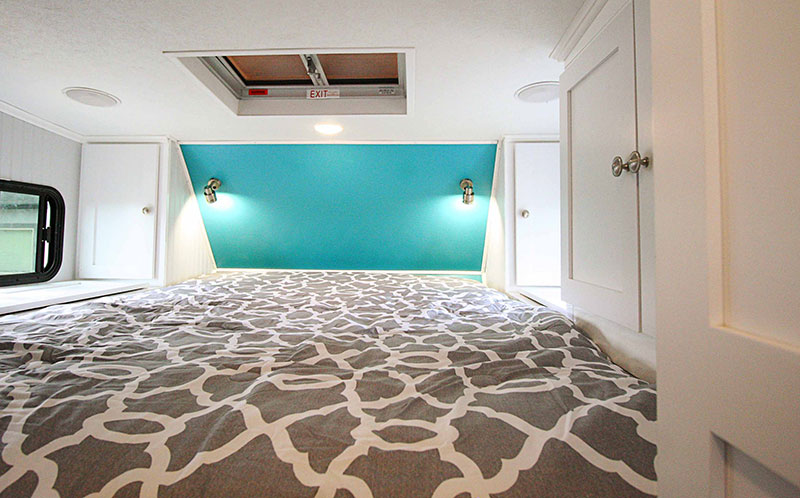 We want to stay away from anything dark. I also want to keep the interiors clean, simple, and modern. Look for the new interiors to be announced in Truck Camper Magazine over the coming weeks.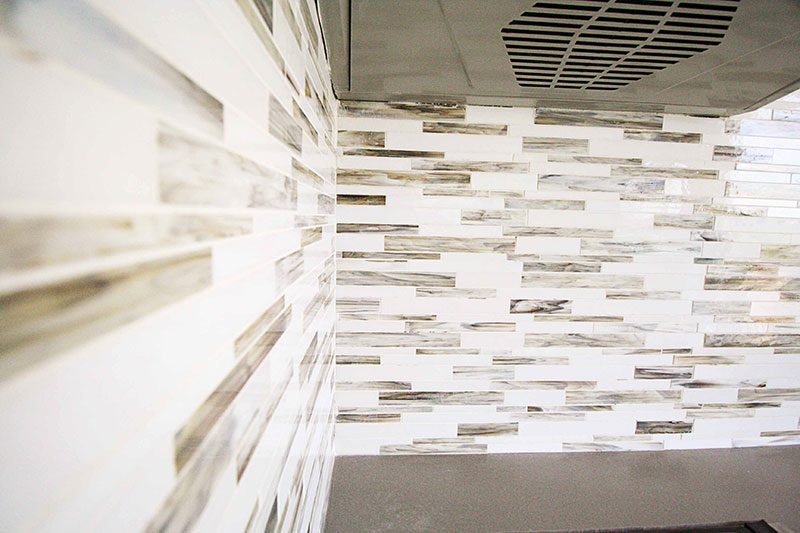 TCM: The tile backsplash is quite attractive. How was that done?
Jesse: The full tile backsplash in the kitchen is a traditional residential backsplash that goes from the counter to under the cabinets. It's the entire wall. It sets off the colors throughout the camper and adds again to the residential look.
We have installed backsplash tiles in our tiny homes for many years. We use a very strong and flexible silicone-based grout.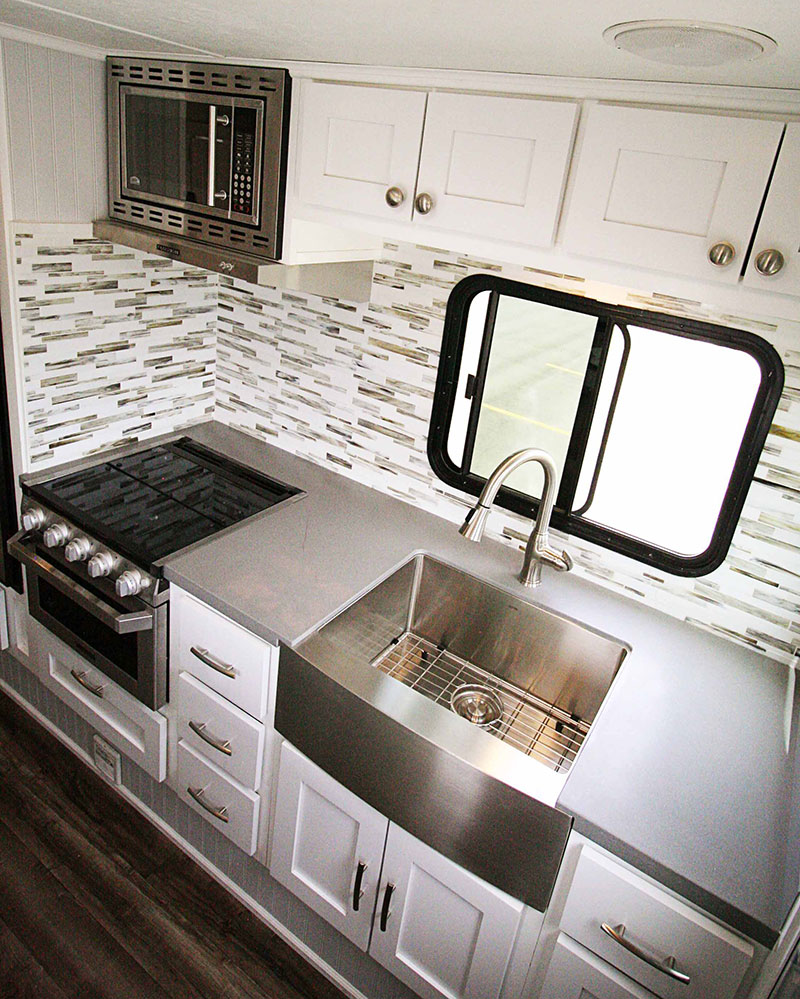 Above: The solid surface countertop and brushed nickel apron sink in the 11RL kitchen
TCM: The kitchen sink appears to be wider and deeper than any sink we've ever seen in a truck camper. Why did you select this particular sink style?
Jesse: We used brushed nickel apron sinks in our tiny houses at least 50-percent of the time. They really give the Granite a modern residential look. In a tiny house you might also see a white porcelain sink, but that would add too much weight in a truck camper. Also, porcelain is too fragile for off-road travel.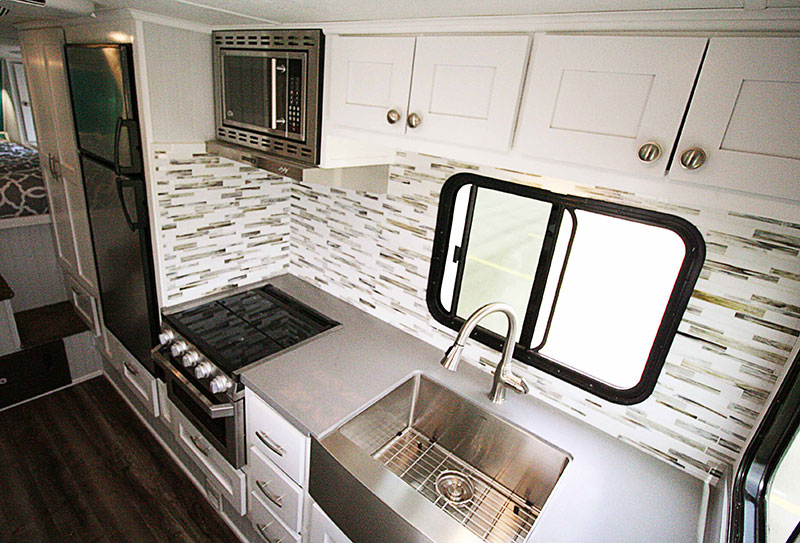 TCM: The sink and faucet certainly don't look like they came from an RV supply company. Where did these elements come from?
Jesse: They are both 100-percent residential. The faucet is a pull-down gooseneck design that you can find at any Home Depot or Lowes. It's a standard kitchen faucet.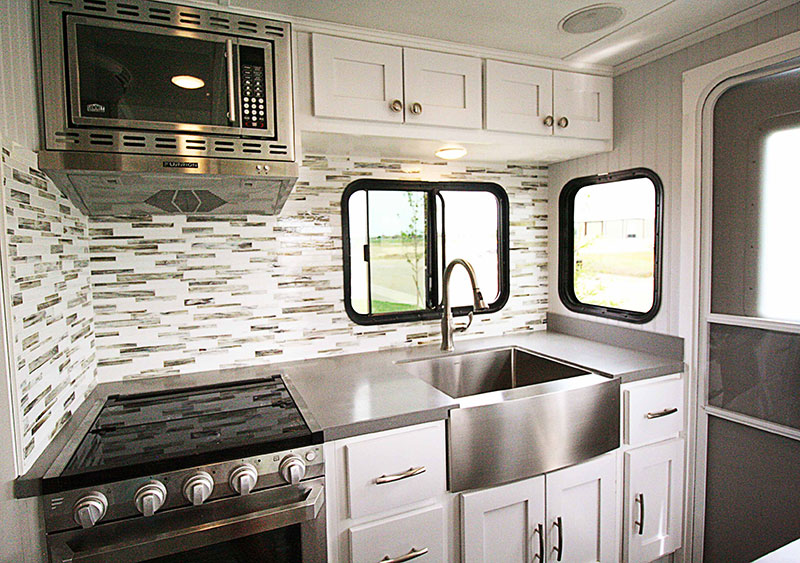 TCM: The windows in the back of the 11RL present a fantastic panoramic view. What type of windows are standard; single or thermal pane?
Jesse: We use Kinro composite metal-framed single-pane windows. We like Kinro framed windows because they do not leak. We've tried other window types and manufacturers and they have not been as successful. Framed windows are tried and true. The Kinro windows are tinted a little darker for privacy and sunlight protection.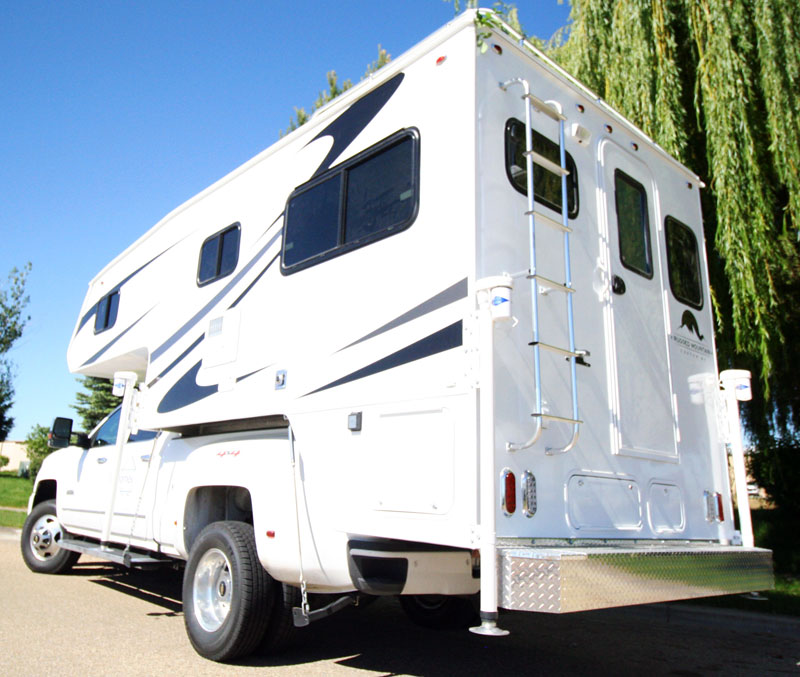 We do not have dual-pane window option yet. My concern with dual-pane windows has always been the collection of moisture inside the panes. It's much more likely to be an issue with an RV window than a home window. For that reason, I have stayed away from dual pane RV windows.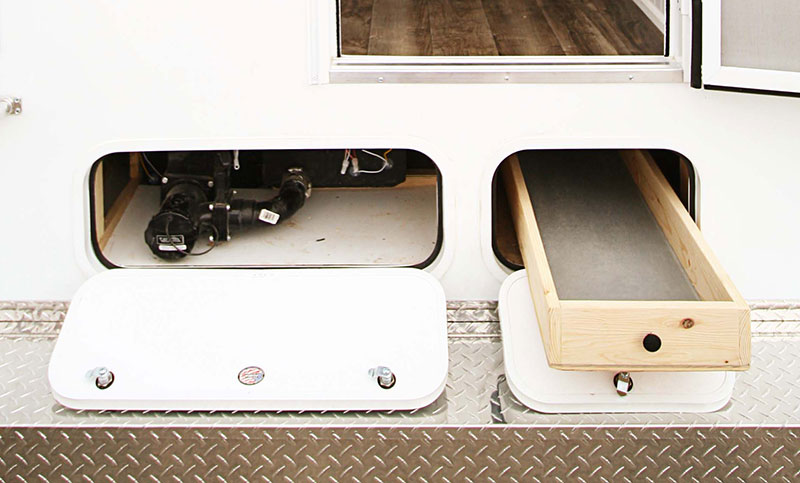 TCM: Is the Granite 11RL a basement model?
Jesse: Yes, the Granite 11RL has a 10-inch, wheel well height basement. With the basement, we were able to create some excellent exterior storage options. First, we have our signature pull-out tray. We also have room for two parallel portable Honda generators on another pull-out tray.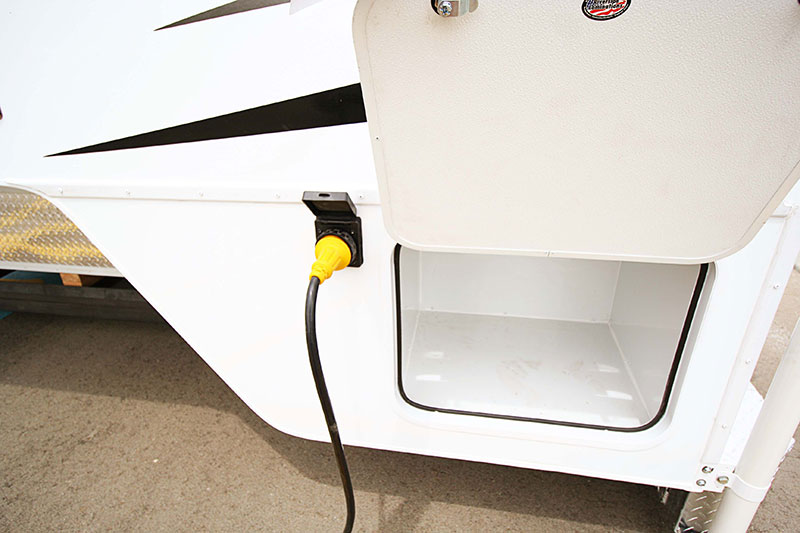 TCM: Two parallel portable Honda generators is an industry first. Tell us about the size of the holding tanks.
Jesse: The 11RL has 30-gallons of fresh, 38-gallons of grey, and 24-gallons of black. In addition there's 6-gallons of fresh in the water heater.
TCM: How many batteries does the Rugged Mountain Granite 11RL have?
Jesse: The Granite has room for two Group 27 batteries on a pull-out tray. If you remove the pull-out tray, you can fit two Group 31 or 6-volt batteries.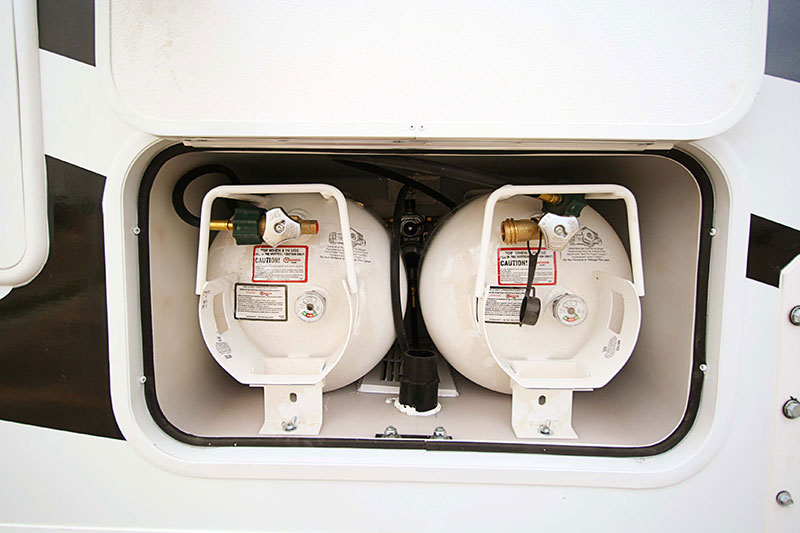 TCM: What are the propane tank sizes?
Jesse: There are two 20-pound horizontal propane tanks. Horizontal propane tanks are an important part of making this floor plan work.
TCM: What considerations are given for winterization; battery access, ease of removal, battery disconnect, hot water heater access, hot water heater bypass, low water drain.
Jesse: All of that is standard on the Granite. We have a battery disconnect, bypass on the water heater, low water drains, and quick connector on the water pump so you can use antifreeze easily. That is all standard in the Granite.
TCM: Can the optional air conditioner run on a portable 2,000-watt generator?
Jesse: This camper comes standard with a Dometic Model Penquin II air conditioner. It is compatible with a portable 2,000 watt generator. Portable generators make having a generator even more versatile.
We went to a bluetooth thermostat so you can control the temperature of the camper from your phone. You can also take out a generator and use it at a ballgame.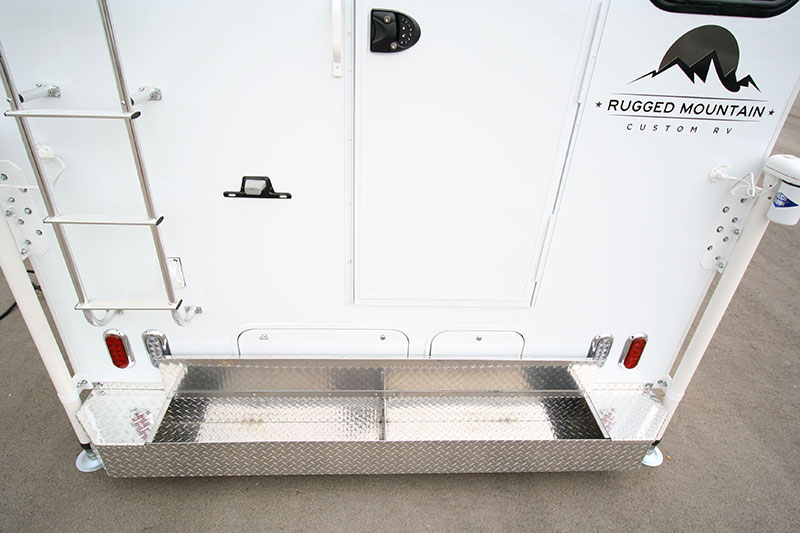 Above: The Granite 11RL features an all-new aluminum storage bumper standard
TCM: Tell us about the standard bumper and entry step system for the Granite 11RL.
Jesse: The Granite 11RL features a full aluminum storage bumper. It has a lift up lid with storage inside and will have a fold down step to help you get into the camper. It also has two pipe fittings to add accessories for a barbecue or flag pole.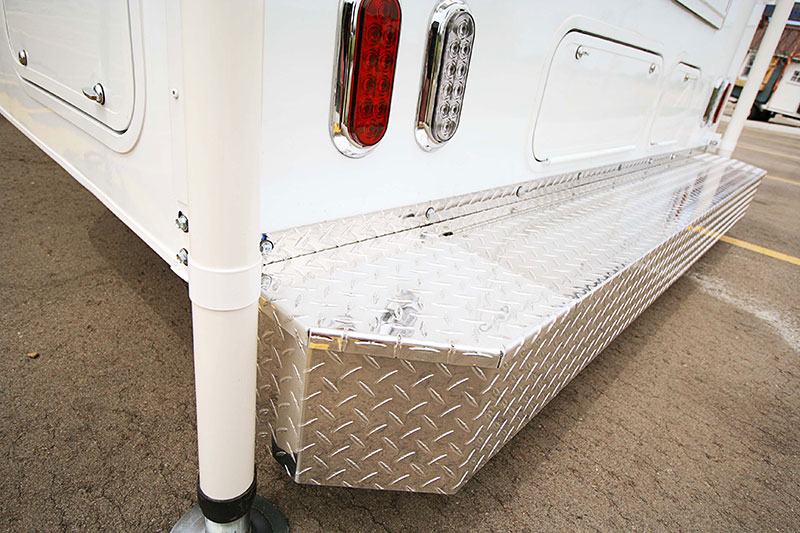 We partnered with a local fabrication company for our aluminum bumper step.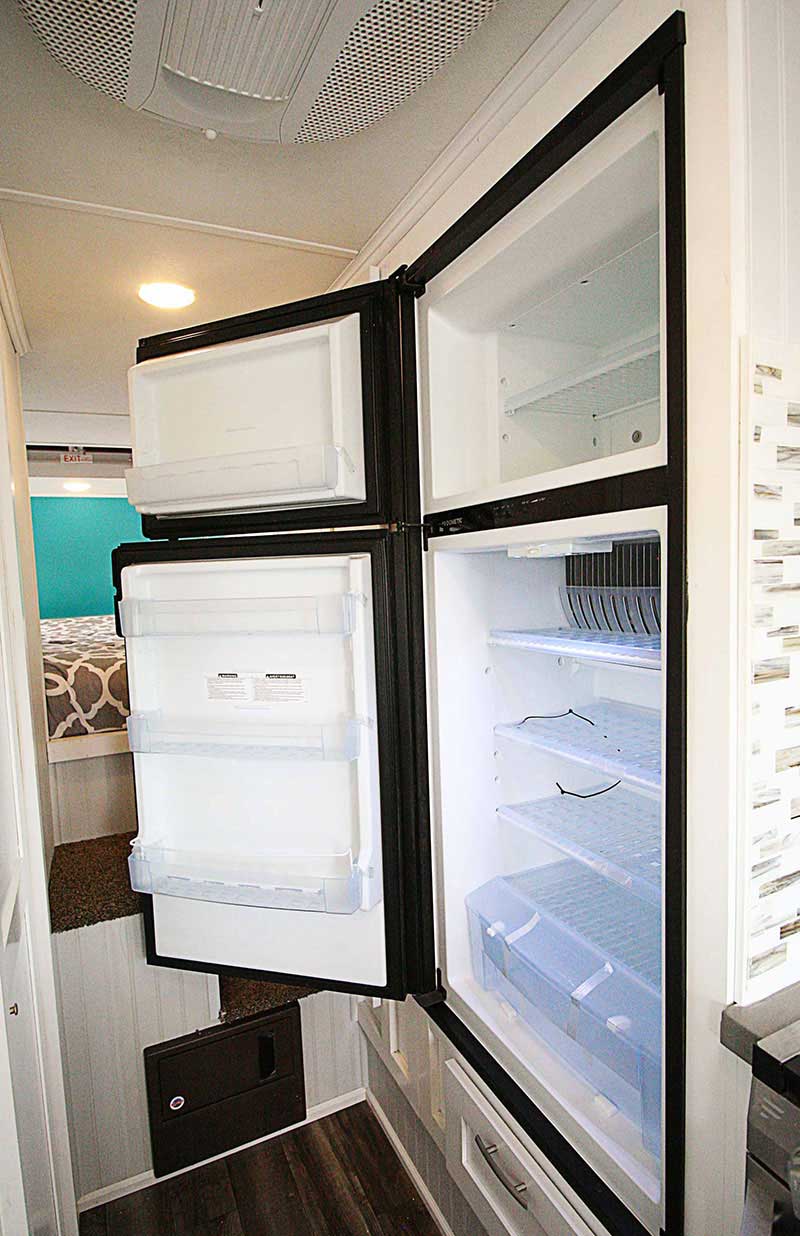 TCM: Are there any new options that are available for the 2019 Rugged Mountain Granite 11RL?
Jesse: The only non-standard option is a Honda generator, which a Rugged Mountain dealer can get for you easily. The Granite camper comes completely loaded.
The Granite 11RL has a 7-cubic foot Dometic model. After careful evaluation, the Dometic gave the camper a more residential look, and had improved specifications.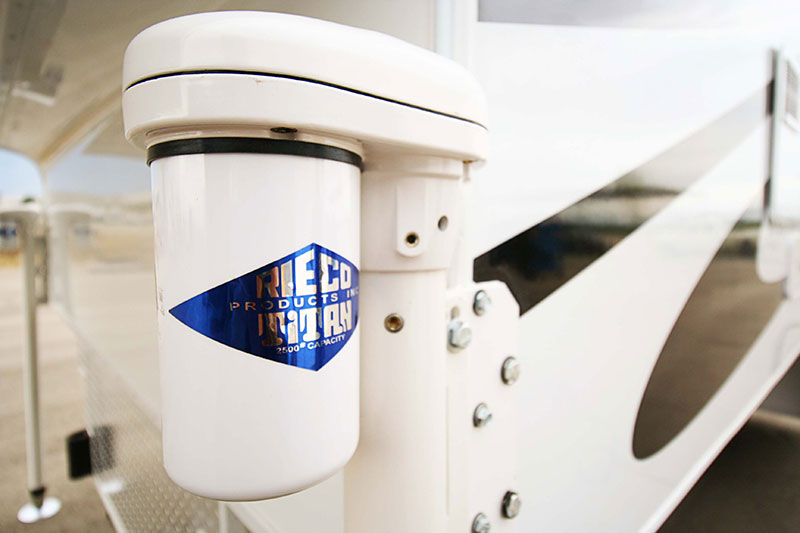 We also have upgraded our camper jacks to Rieco-Titan. We are very happy with the quality and performance of Rieco-Titan camper jacks. It's a nice upgrade for all Rugged Mountain truck campers.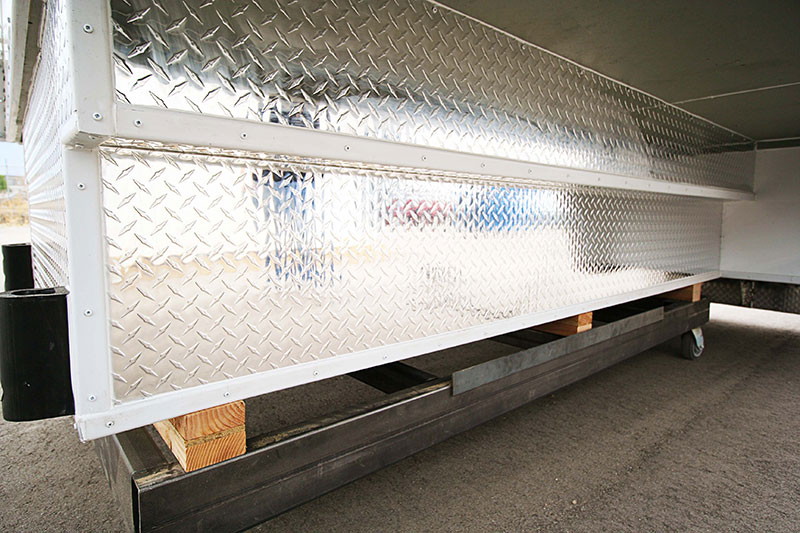 TCM: What does the 2019 Rugged Mountain Granite 11RL weigh with standard build features?
Jesse: The Rugged Mountain Granite 11RL weighs 3,720 pounds. This dry weight includes propane tanks, an air conditioner, television, microwave, the bumper, and batteries.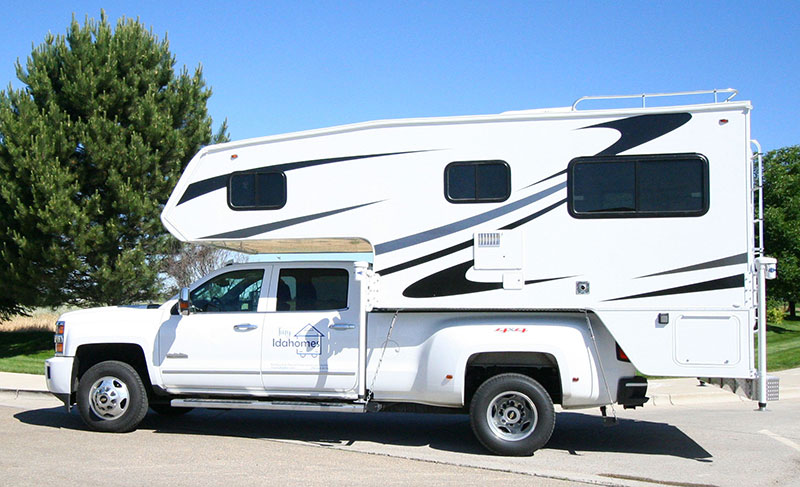 TCM: Where is the center of gravity on the 2019 Rugged Mountain Granite 11RL?
Jesse: The center of gravity is 44-inches from the front wall.
We mark the center of gravity on the outside and also have the center of gravity load chart in the closet with all the camper information.
TCM: What is the MSRP for the 2019 Rugged Mountain Granite 11RL with standard build features?
Jesse: The MSRP is $39,270. Remember, the 11RL camper is an 11-foot, fully-loaded, luxury truck camper. The only option not included is a generator, or two.
TCM: What is the warranty for the 2019 Rugged Mountain Granite 11RL?
Jesse: The warranty is one year bumper-to-bumper warranty. The roof has a ten year warranty. The appliances have their own warranties.
TCM: When will the 2019 Rugged Mountain Granite 11RL be available?
Jesse: The dealers and consumers can place orders right now. I have Granite 11RL models on our production line right now. You can contact us and order one today.
TCM: Is there anything about the 2019 Rugged Mountain Granite 11RL that you would like to add?
Jesse: The Granite 11RL really is a beautiful camper. It will set us apart from any other manufacturer out there. There's nothing else like it on the market.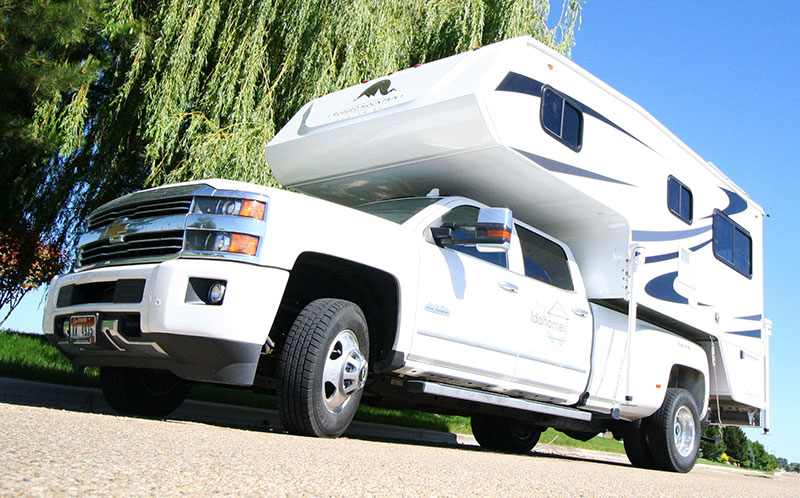 TCM: Any other news to share from Rugged Mountain RV?
Jesse: We hired a new Rugged Mountain sales rep and product trainer for our dealers. He will be talking about things that set us apart from the rest like how we wrap our roofs and how we bolt our jacks on.
We will also be producing a short bed version of the Granite 11RL. All in all, it will be just as beautiful as the 11RL, in a short bed floor length. We will announce it here in Truck Camper Magazine. Stay tuned!
For more information on Rugged Mountain, visit their website at ruggedmountaincustomrv.com. Click here to get a free Rugged Mountain brochure.