In their November issue, RV Pro has recognized Rugged Mountain's 2019 Granite 11RL truck camper with a Best In Show award from the Elkhart Open House.  This is the same unit we covered in October with the article, "2019 Granite 11RL Update and Gallery".
RV Pro is a business-to-business magazine for RV industry professionals including manufacturers, gear companies, and dealers.  RV Pro covers the entire RV marketplace including motorhomes, towables, and industry events like the annual Elkhart Open House.
For their November issue, RV Pro selected what they believe were the best of the RVs on display at Elkhart this past September.  Rugged Mountain's 2019 Granite 11RL truck camper was selected as a winner (see page 46).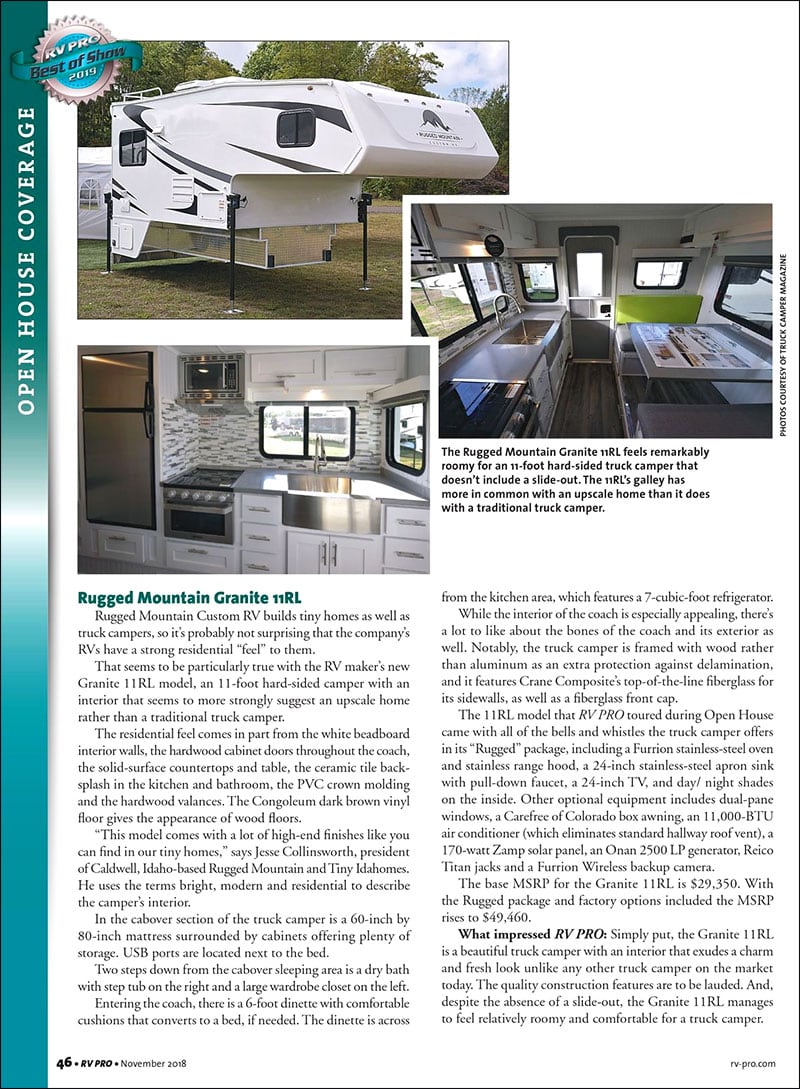 The final paragraph describes what caught the RV Pro team's attention:
"Simply put, the Granite 11RL is a beautiful truck camper with an interior that exudes a charm and fresh look unlike any other truck camper on the market today. The quality construction features are to be lauded, And, despite the absence of a slide-out, the Granite 11RL manages to feel relatively roomy and comfortable for a truck camper."
Congratulations Rugged Mountain on this significant recognition by the RV industry media. Well done!
For more information on Rugged Mountain, visit their website at ruggedmountaincustomrv.com.  Click here to get a free Rugged Mountain brochure.