Rugged Mountain debuted their updated and refined 2019 Granite 11RL at the Elkhart Open House in Indiana.  The 11RL was a huge hit with media and dealers at the annual event, and not just with the truck camper devoted.  Could this be 2018's 'RV of the Year'?

We were approached by not one, not two, but three major RV journalists during the 2018 Elkhart Open House who confided to us that the Rugged Mountain Granite 11RL was one of the most exciting RVs they saw at the show.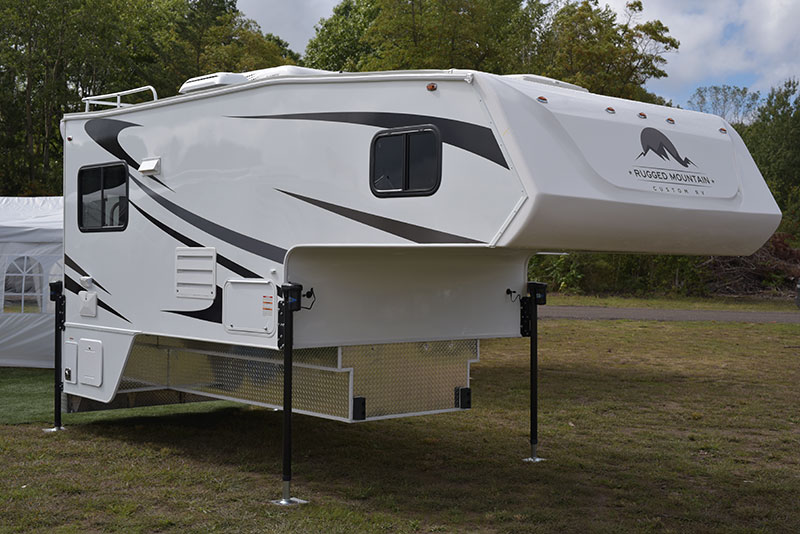 That's really something considering these folks were also looking at Class A motorhomes, luxury fifth-wheels, and everything else on display from hundreds of manufactures and brands.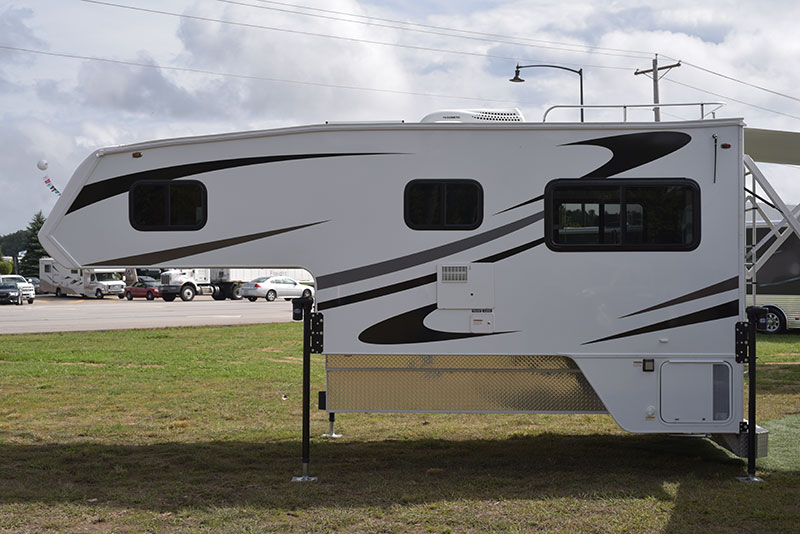 When I went to take photographs of the 11RL for Truck Camper Magazine, two other RV media photographers stopped by to capture the unit.  It was thrilling to see a truck camper generate that type of interest and excitement.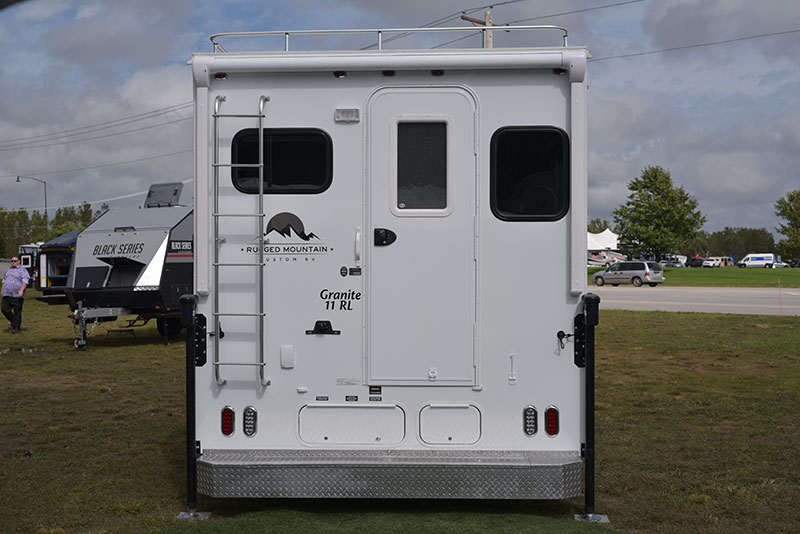 So what caught the media's attention?  The Granite 11RL's ground-breaking tiny house look.  Keep in mind that these journalists had never seen or heard of the 11RL before.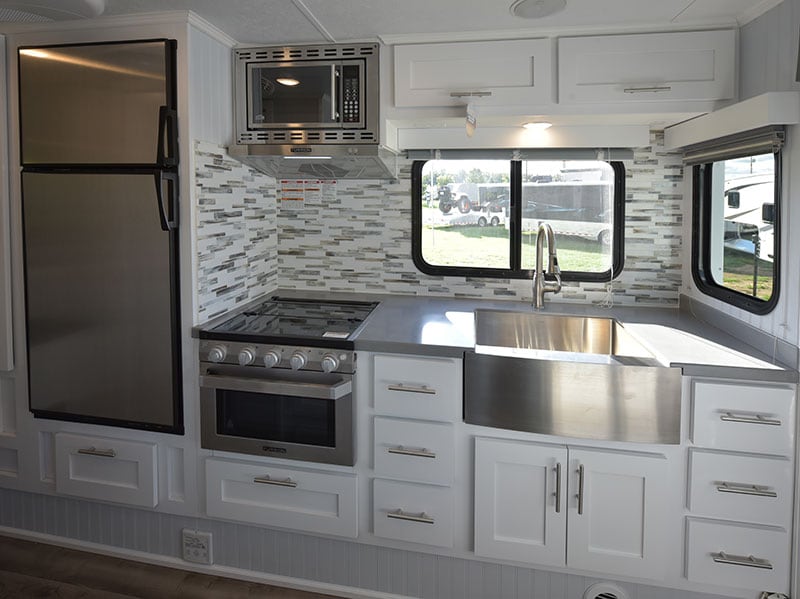 Most RV journalists don't read Truck Camper Magazine (what?) so they were genuinely surprised when they walked into the Granite 11RL and saw modern white cabinets, a real tile backsplash, crown molding, and more.  I literally heard one reporter walk in and say, "Oh wow!"
Jesse Collinsworth, Owner and Truck Camper
We dry camped in our truck camper rig about a hundred feet from the Rugged Mountain RV booth in a display row that included nuCamp/Cirrus and Travel Lite.  Jesse Collinsworth, Owner of Rugged Mountain RV, was also dry camping in his personal Granite 11RL.
You read that right.  The Owner of Rugged Mountain RV actually goes truck camping, actually owns one of his company's campers, and actually uses it – even when he works events.  He could have stayed in a hotel in Elkhart like the majority of industry representatives, but he told us, "I'd prefer to stay in my camper".  Yeah, we get that.
2019 Granite Updates Stem to Stern
Most of the updates in the 2019 Granite 11RL are based on Jesse's personal experiences camping in his Granite 11RL with his wife and daughter.
He had story after story of, "This (design element) made me nuts in my personal Granite 11RL so I changed it on the production model."  We love stories like that and wish more industry decision makers would really camp in their products.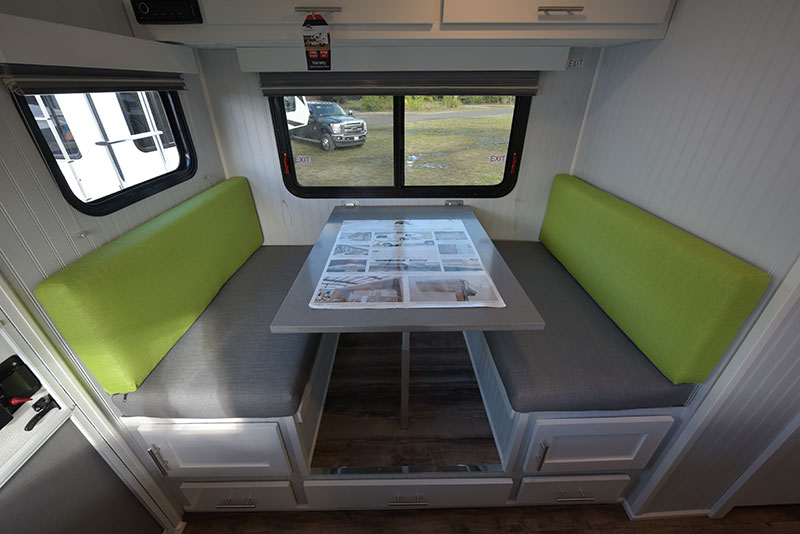 To create additional dinette storage, the furnace has been moved from the driver's side to the passenger's side.  Jesse also alluded to some additional dinette possibilities this move allowed for, but was mum on details.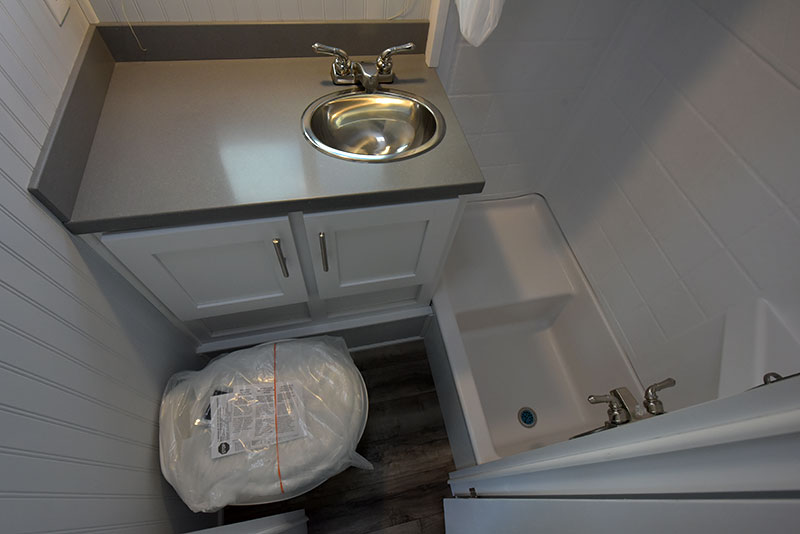 When we saw the prototype, I sat on the dry bath throne to check the leg and side-to-side arm room.  This is something I recommend to everyone who is considering a truck camper purchase.  While you're at it, stand in the shower, too.
The 11RL prototype bath had excellent leg room, but was tight in the arm department.  Jesse agreed and redesigned the bathroom counter and sink to create an additional two-inches of arm space.  Two-inches may not sound like much, but it made all the difference on the production unit.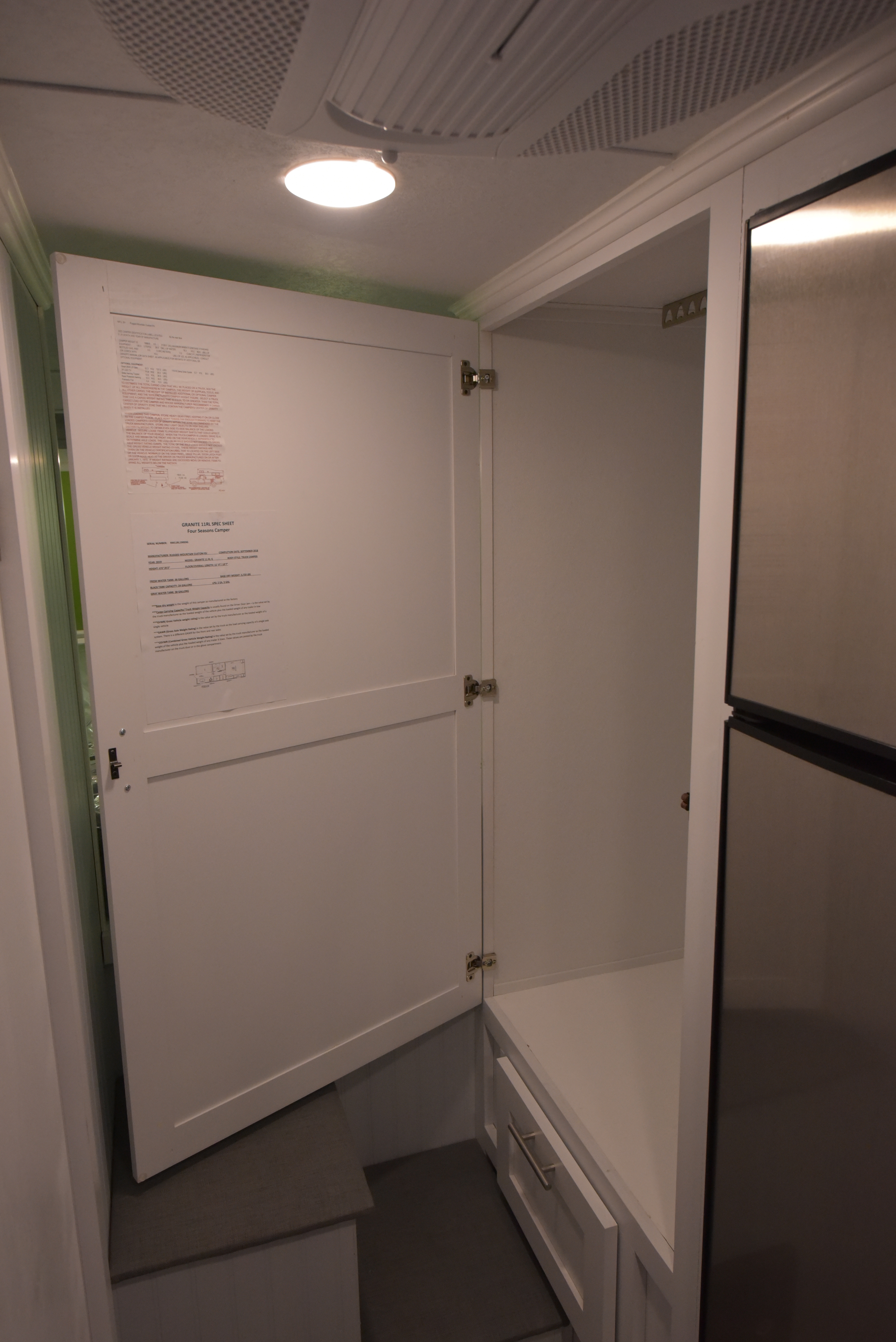 Jesse had us laughing when he told us why he changed the central closet from double doors to a single door.  "I kept getting my pants caught on the handles when getting into the cabover," he said.
He also showed us how the double doors would pin him against the wall if they were open.  Changing to one large closet door fixes both problems in the 2019 models.
Three additional drawers have been added to the kitchen for a total of six.  To the best of our knowledge, this camper has the most kitchen drawers of any production unit on the planet.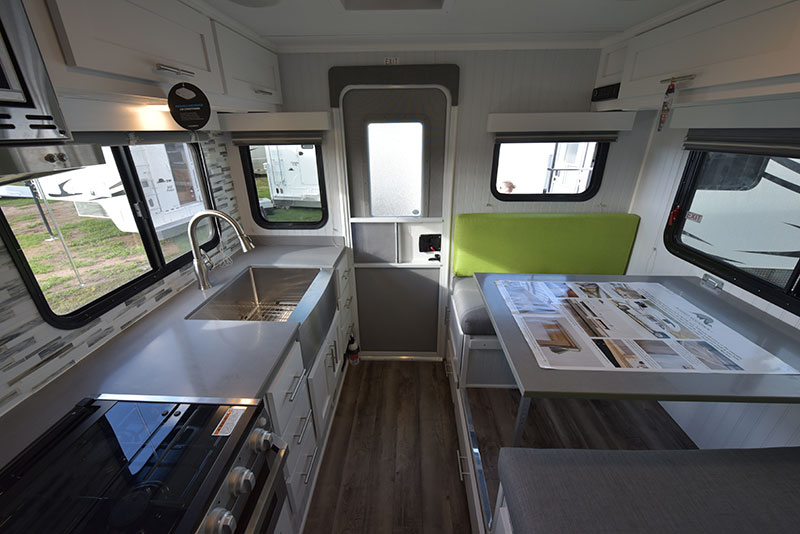 Rugged Mountain RV is offering thermal pane windows as an option for 2019.  A number of readers commented for the debut that they really wanted thermal pane windows in a high-end luxury camper like the 11RL.  Now you can get them.
In 2018, you can't have enough 12-volt and USB outlets.  To help meet this demand, Jesse added a 12-volt and two USB outlets to the driver's side of the cabover.  This is in addition to the 110-volt, 12-volt, and two USB outlets already on the passenger's side.
More 2019 Updates
The Granite 11RL prototype had the sewer hose connection inside a rear compartment.  We were very happy to see the sewer hose connection moved to the bottom of the camper for 2019.  This was a strong recommendation from TCM readers after the 11RL debut and shows Rugged Mountain RV's determination to listen to community feedback.
There are a number of other important 2019 upgrades throughout the 11RL including an upgraded 170-watt Zamp solar controller, the addition of a black tank flush, an upgrade to Fan-Tastic Vent fans, a Carefree power awning with LED lighting, and remote control keyless entry.
From Prototype To Production Quality
After the updates, the first thing we noticed on the 2019 Granite 11RL may be hard to see in the photographs but was immediately apparent to us in person; Rugged Mountain RV has taken their quality and quality control to a remarkable level.  We had to look very closely – with our nit pick hat on tight – to find anything that wasn't beautifully finished.
The first Granite 11RL prototype debuted in Truck Camper Magazine last June.  It looked amazing in photos but, when we saw the prototype in person a few months later, we saw several areas where the tolerances and material finishes could have been better.  That's typical for a prototype, but we wanted to see the Granite production units taken to a higher level.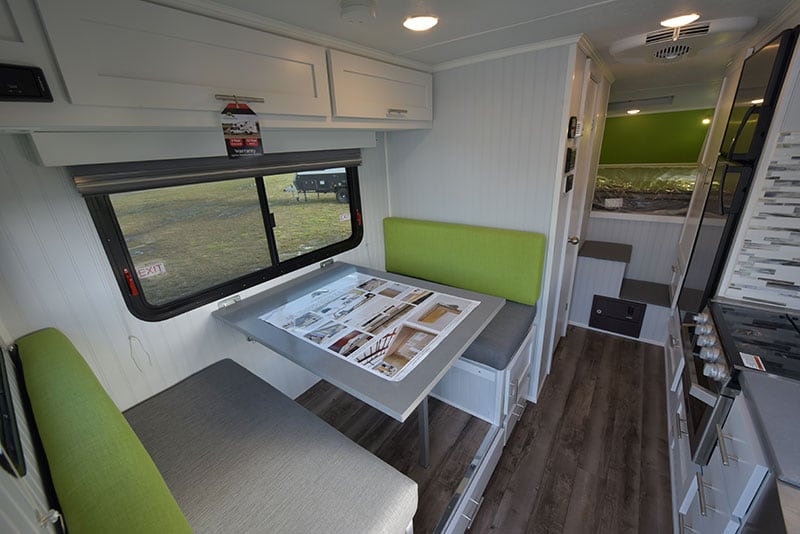 Leading up to the Elkhart Open House, Jesse was very excited for us to see the quality of the 2019 Granite 11RL.  He didn't disappoint.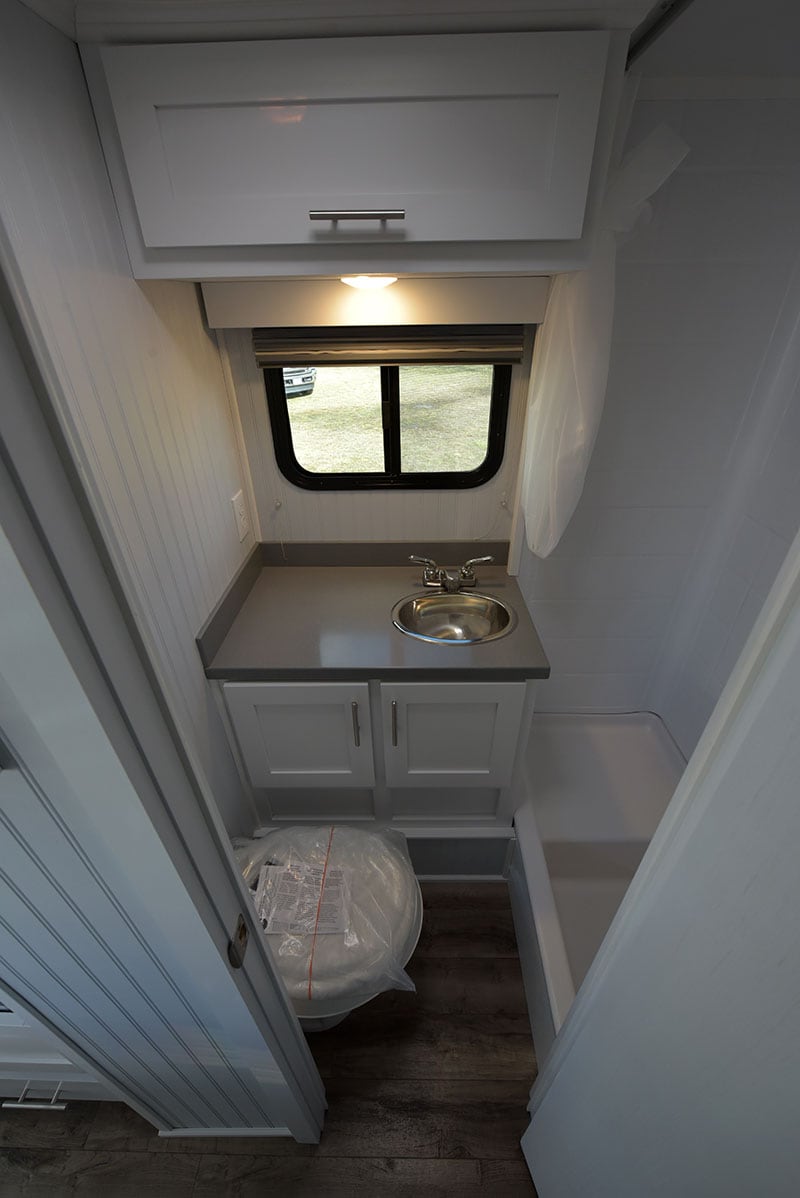 The 2019 Granite 11RL had tight tolerances and excellent attention to detail.  This was no prototype, but rather a quality production unit ready to go truck camping.  The 2019 Granite 11RL isn't perfect (no camper is) but this camper was a stunning leap forward for Rugged Mountain RV.  Seriously.  Impressed.
A Truck Camper Magazine First
On the first night of the Elkhart Open House, we returned to our camper after dark and couldn't help but notice how the modern Granite 11RL interior was glowing from across the way.  "You should take a picture of that!" Angela said.  Since she's the boss, I complied, and then kept on shooting.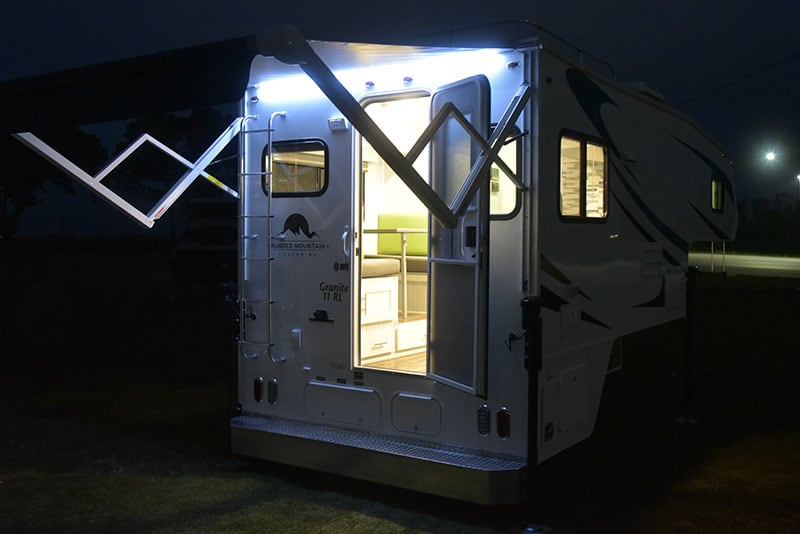 In nearly 12 years of publishing Truck Camper Magazine, I had never photographed a truck camper interior at night.  Honestly, it just never occurred to me to do so.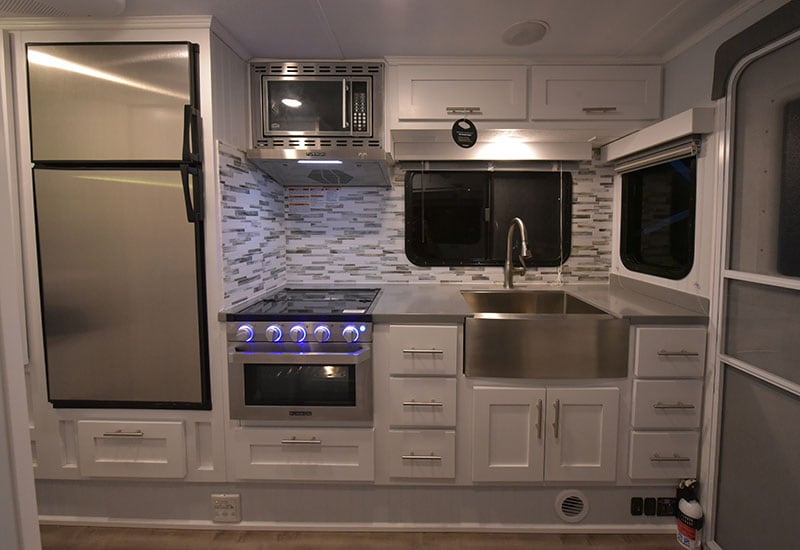 What's most interesting about taking the photos at night is that the images 100-percent rely on the camper's own lighting.  As you can see, the lighting in the Granite was bright, even and warm in color.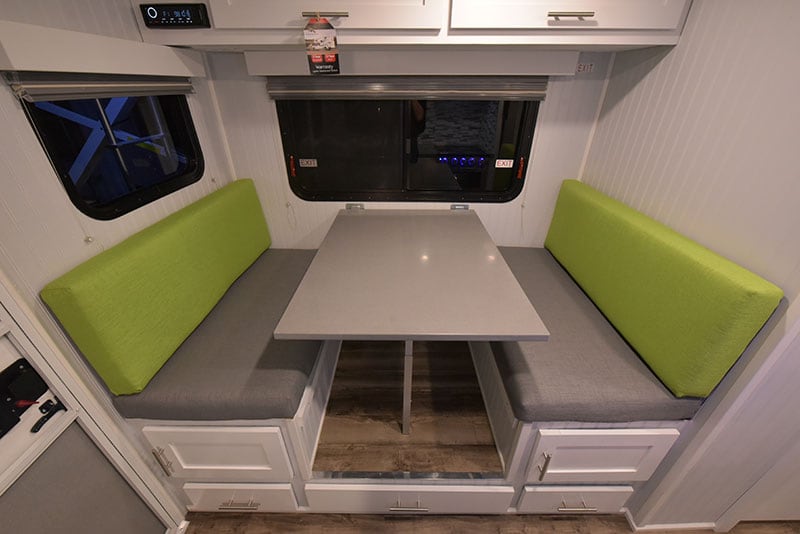 All too often lighting is too bright in some areas, too dark in others, and too cold in color.  Not here.  These photos were taken without a flash and showcase exactly how this camper looks after the sun goes down.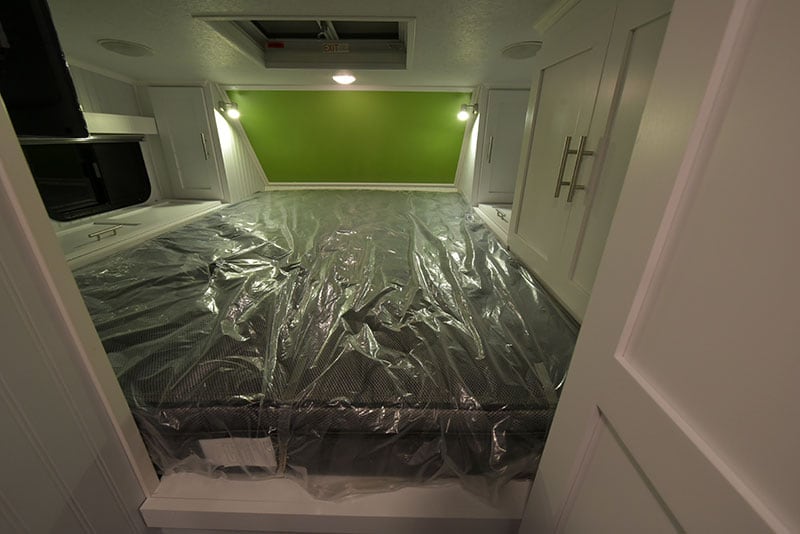 The next morning I looked at the night photos and decided to take a few more interior pictures in the daylight.  In the daylight, the 11RL takes on an even more bright and residential look.
I don't think there's another camper on the planet that looks as residential and "homey" as this.  I know not everyone likes the modern design aesthetic for a truck camper, but we find it very inviting.
Nit Picks
As an Update and Gallery, this is not a formal review, but we did have a few nit-picks as we went through the unit.  First, there were still a few areas where the tolerances and finishes could be better.
For example, when we attempted to make the dinette cushions into a bed, the seat bottoms, table, and cushions didn't quite fit together and lay flat.  The dimensions, design and comfort of the dinette was exceptional, but there's another round of refinement needed here before the seat bottoms and cushions are perfect.
The wiring under the cabover steps was not neatly presented and secured.  When we looked at the electrical, gas, and plumbing elsewhere in the unit we were very impressed, but the wiring under the steps needed better attention.
Rugged, Refined and Ready To Roll
Will the bright, white and modern design of the Granite 11RL appeal to truck campers when almost every other RV features traditional dark wood interiors?  That's for the marketplace to determine.
The feedback we have received from our readership has been overwhelmingly positive.  Personally, I am excited to see what happens when the 2019 Granite 11RL hits the dealer lots and RV shows this coming winter and spring.  I think socks are going to roll up and down.
If you're looking for a hard-side, long-bed, dry bath luxury truck camper, you owe it to yourself to see a Granite 11RL in person.  Unless you absolutely require a slide-out in your next truck camper, the 11RL is truly statement product to behold.
For more information on Rugged Mountain, visit their website at ruggedmountaincustomrv.com.  Click here to get a free Rugged Mountain brochure.