Rugged Mountain is launching a line of slide-out truck campers from Nampa, Idaho.  Here's how this new company already has decades of truck camper manufacturing experience, and where the tiny house phenomenon fits in.

Four years ago Jesse Collinsworth had a bold idea.  He would quit his job as a traveling electrician and start a tiny home manufacturing business.  He had no outside funding, no pre-sold customers, and no way of knowing if such a business could actually work.
What Jesse did have was the essential ingredient for any successful business start-up – grit.  Defined by Dictionary.com as, "firmness of character; indomitable spirit", grit powered Jesse through the inevitable, "Are you nuts?" and "That will never work" comments from friends and family.  He was also motivated by a rapidly depleting bank account and a new baby on the way.
Fortunately, Jesse's calculated risk quickly paid dividends.  His new business, Tiny Idahomes, grew rapidly requiring more and more employees and larger and larger production facilities.  Then, with Tiny Idahomes hitting its stride, another entrepreneurial opportunity presented itself.
Just down the street, an established truck camper brand was abandoned by a succession of new owners who were disinterested in the truck camper market.  Jesse, a passionate truck camper himself, couldn't help his boundless business spirit and decided to take action.
We are very excited to be announcing the beginning of a brand new truck camper manufacturer, Rugged Mountain RV.  With two slide-out models already in production and a highly experienced manufacturing team on staff, Rugged Mountain campers have hit the ground running.
To learn more of the incredible story behind this new start-up, and details about how Rugged Mountain truck campers are manufactured, we talked to Jesse Collinsworth, President of Rugged Mountain RV.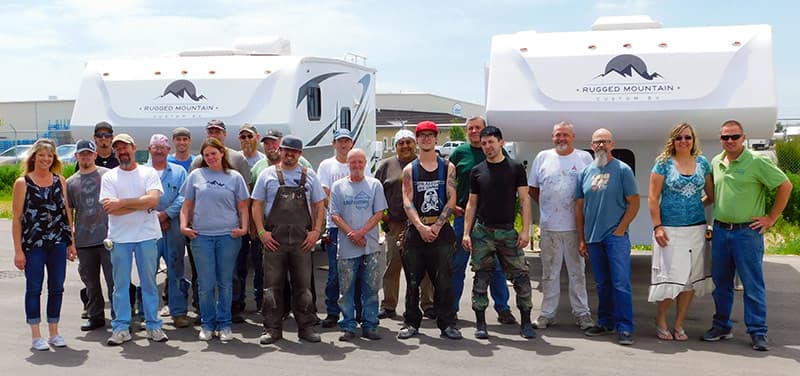 Above: The Rugged Mountain RV team at the factory in Nampa, Idaho (Anca and Jesse Collinsworth on the far right)
TCM: Before we get to Rugged Mountain RV, tell us about how you first got involved with tiny homes.
Jesse: I am an electrician by trade.  Before starting Tiny Idahomes, I was a traveling electrician who worked on Marriott Hotels.  Then I met my wife and we started talking about having children.  I wanted more stable work, so traveling and raising children wasn't going to cut it.
Four years ago, tiny homes were still an emerging trend.  After a brutal winter working on a Marriott in Casper, Wyoming, I decided I wouldn't do winter traveling anymore.  I called Anca, my then fiancé, and told her that I was going to quit my job as an electrician and build tiny homes.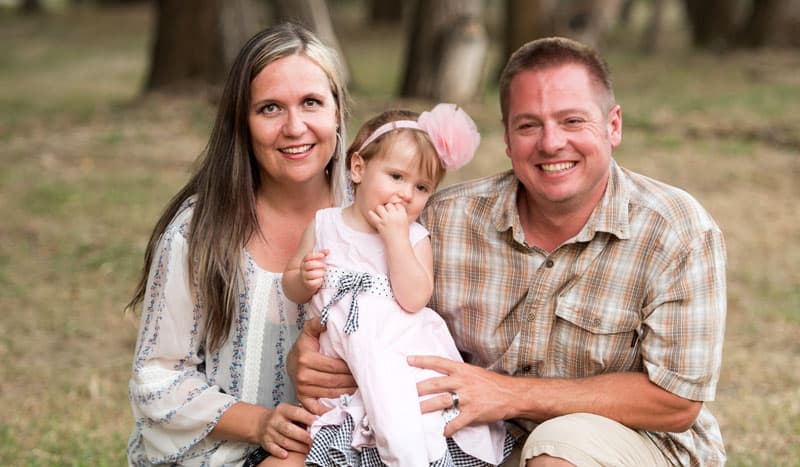 Above: Anca and Jesse Collinsworth with their daughter
TCM: That was a bold decision.  What was her reaction?
Jesse: At first she didn't believe me.  Then she was very upset.  As an electrician, I was making good money.  We went from good money, to no money at all.  Our friends and family also didn't see the opportunity in tiny homes.  Nobody thought I could sell them.
I built the first tiny house myself in a facility owned by a friend.  It took me three months to build it.  By the time it was completed, Anca and I had less than $100 in our bank account.  To make matters more stressful, Anca was pregnant.  That was an emotional roller coaster.
Fortunately, that first tiny home sold quickly.  We rolled that money back into the company and built more tiny homes.  By the end of the first year, there were four guys including myself building tiny homes in our own 1,500 square foot facility.
Our pre-sold orders continued to grow.  In our second year we expanded our facility to a 3,000 square feet, and then 6,000 square feet.  By the end of year two, we had built 16 tiny homes and still had more sales in the pipeline.