Four Wheel Campers takes the Jeep world by storm with a Gladiator compatible model ready for Moab, Mojave, Ouray and the Rubicon. Jeepers meet campers, FWC style.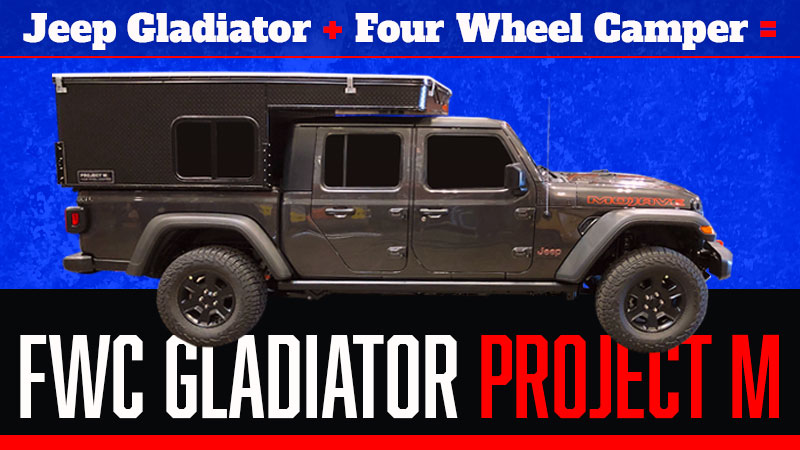 The Jeep Gladiator has become a huge run away hit for Stellantis with over 285,000 units sold since the truck bed sporting model debuted in 2019. To put that in perspective, the Ford sold over 3-million F-150 trucks in the same time period, but 285K is nothing to sneeze at. More to the point, Jeep owners notoriously lean (and sometimes tip right over) toward off-road and overland pursuits. In certain circles, the idea of a Jeep truck and truck camper has been the ultimate dream. If only you could get one as a diesel. Oh, wait.
Like yours truly, Four Wheel Campers was founded in 1972 and has since become an established leader in the truck camper and overland marketplaces. Step foot at any given Overland Expo and you might think it's a Four Wheel Camper-a-thon. Blink and you might think everyone owns a Jeep (or a Toyota Tacoma). And somewhere in that reality, the collision course between these two stalwart brands was put into motion. When Jeep dropped its Gladiator pickup in 2019, it was only a matter of time.
Today the wait is finally over. Four Wheel Campers has adapted an existing Project M model and fit a Jeep Gladiator. The resulting rig is at once fresh and somehow iconic. Perhaps that's what happens when you've envisioned a truck can camper combination for so long.
To dive deeper into the new FWC Project M Gladiator model, we talked to Stan Kennedy, Four Wheel Camper's brand champion and chief keeper of company history, about what this camper really means for Jeepers, Four Wheel Campers, and the truck camping and overland communities of record. If this article goes upside down, flip it over.
Four Wheel Camper Gladiator Specifications:
The Four Wheel Camper Gladiator is a pop-up made for the Jeep Gladiator. The interior floor length of the Gladiator model is 5'0″ and the interior height is 6'3″.
Four Wheel Campers is reporting the dry weight of the Gladiator model at 380 pounds with standard features. The Gladiator has a no fresh tank, optional porta-potty, and no grey tank. The MSRP for the Four Wheel Camper Gladiator is $10,995.  Click here to request more information about the FWC Gladiator.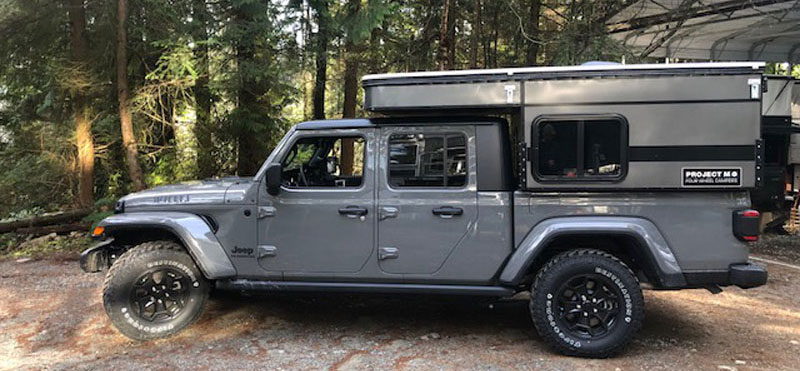 Above: The Jeep and FWC Gladiator, except where noted, all photos courtesy of Four Wheel Campers
Four Wheel Campers has experienced record demand sparked by the pandemic and the growing trend for the outdoor lifestyle. With all that demand, what was so compelling about the Jeep Gladiator to make it your first new model since Project M in late 2019?
We have been talking about a Jeep Gladiator model since the truck came out and have received at least two requests a week through our website, trade shows and social media. With that kind of demand, it made sense to offer a Gladiator model. A lot of light campers don't fit it right, but the Four Wheel Camper Project M fits the Gladiator well. Jeep owners are going to love it.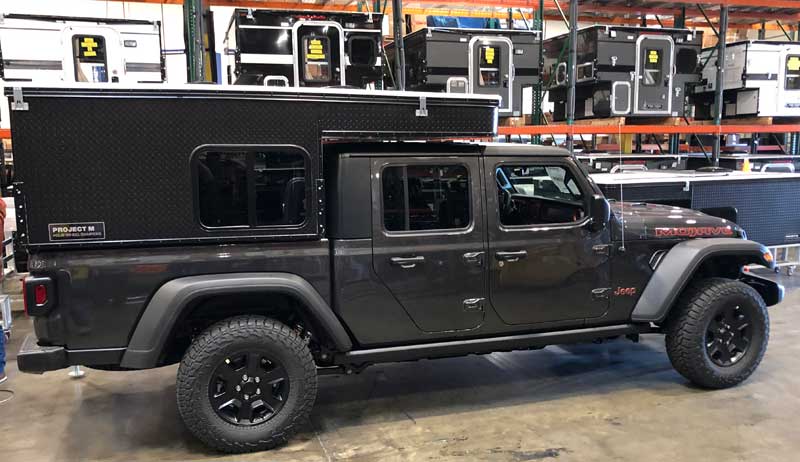 Is the Gladiator model based on a current or past Four Wheel Camper, or is it a ground-up new floor plan and design?
This project started as a ground-up new design with a new and smaller frame size to fit the width of the Gladiator. That worked, but the prototype was narrow and didn't look like a Four Wheel Camper.
Then we took a different approach and fit a Project M designed for the Tacoma with a crew cab 5-foot bed and actually liked the overall look and increased interior space better. It also looked like a proper Four Wheel Camper on a truck.
We then conducted a poll to see if people liked the narrower look of the first prototype, or the more traditional Tacoma-size Project M look? The response was overwhelmingly in favor of the wider traditional look.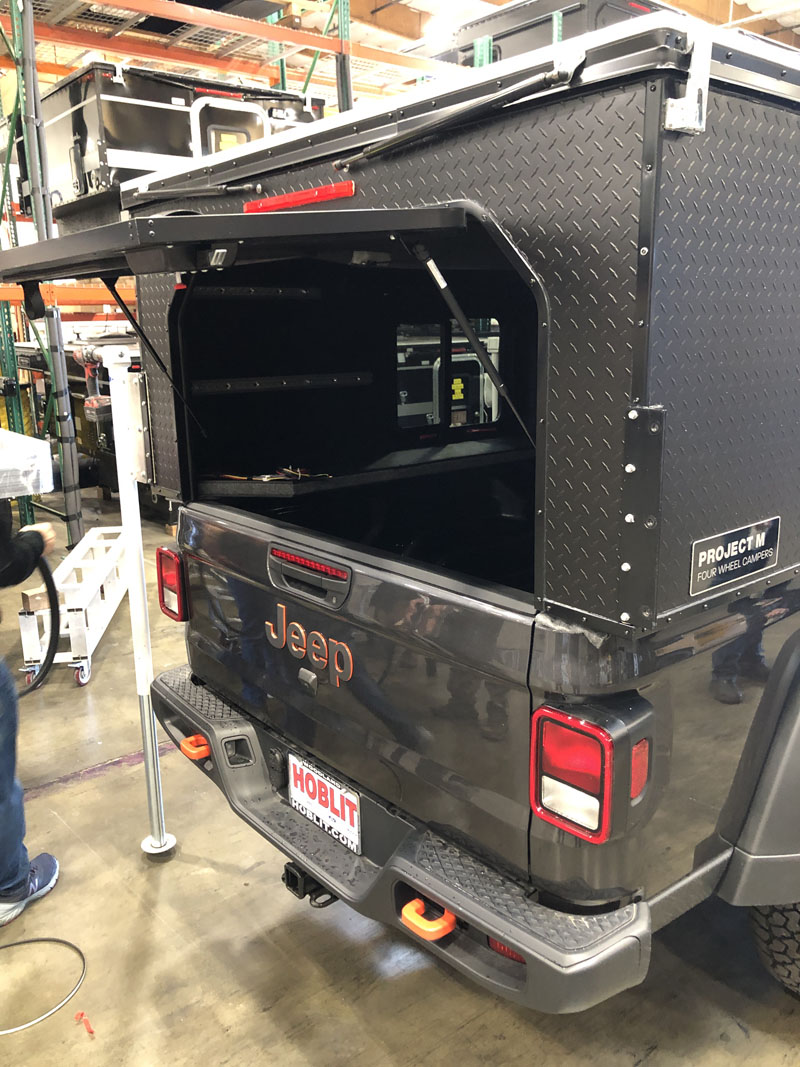 It looks more like a Four Wheel Camper than the narrow tapered look some other companies have pursued. Most importantly, it gives you more room inside while still staying within the width of the Gladiator wheel wells. As a result, we had minimal tweaking to do to make our existing Project M work with the Gladiator.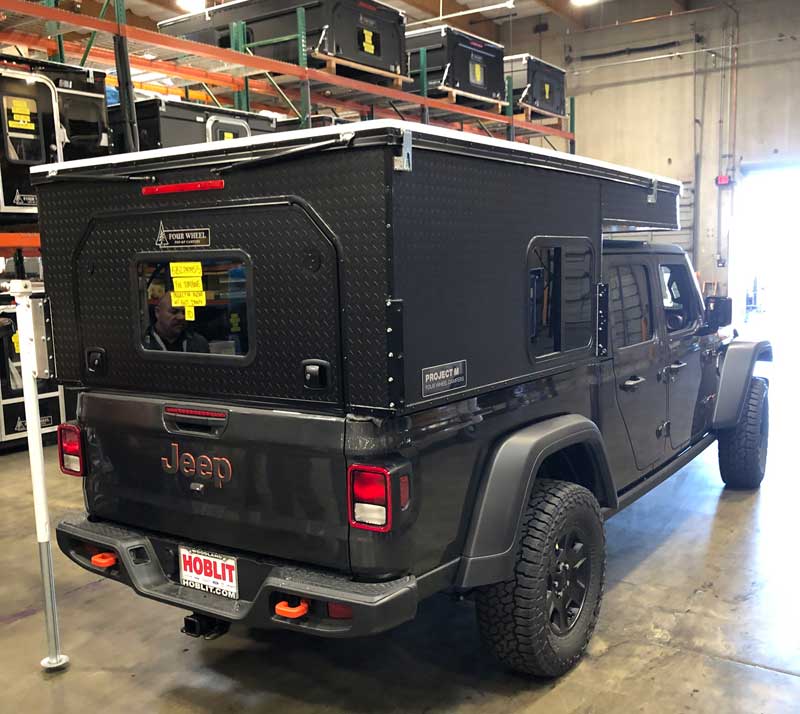 Why did you design this as a Project M and not a standard slide-in?
The truck bed on the Gladiator is small and the tailgate opening is narrower than any truck on the market. Even our smallest slide-in would not fit this model. Even if we went in that direction, the available payload would be a challenge once the camper was wet and loaded with gear. The Project M approach is the best solution.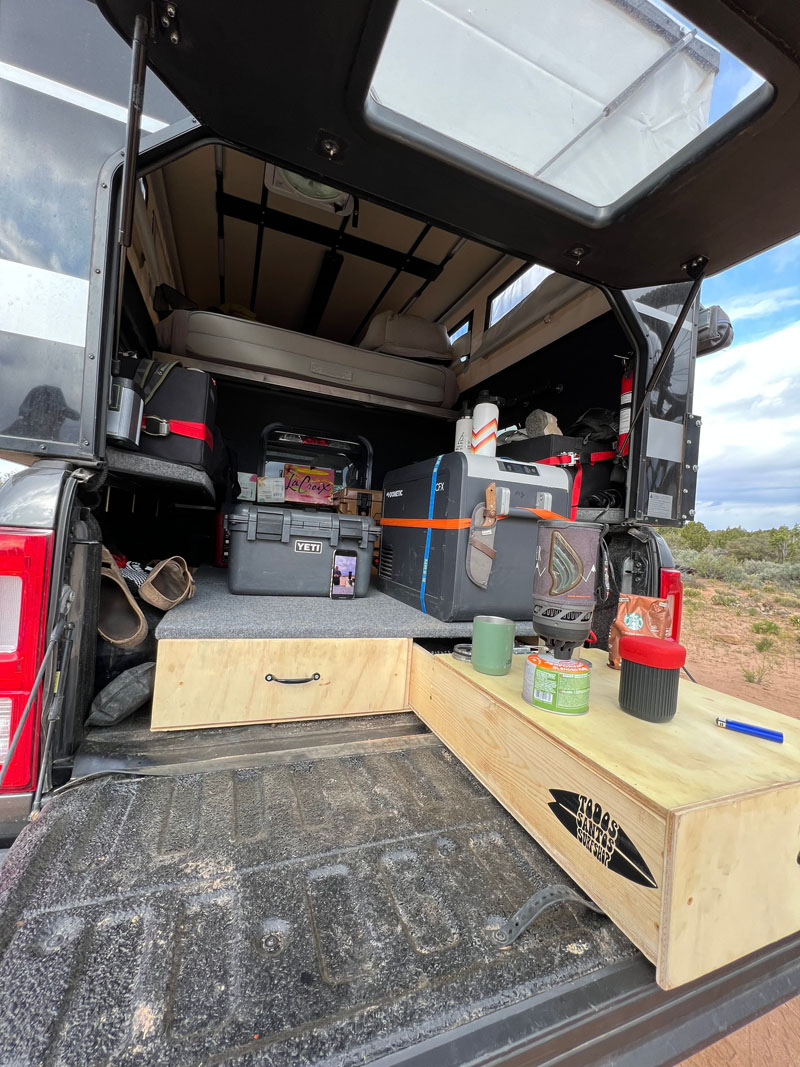 Above: Kait VanHoff's Project M camper build-out
How do you see owners building this model out to use as a camper?
We've had Project M owners leave their campers wide open and empty to simply get off the ground and be dry. They might throw in a battery, and go. Others completely build out their Project M into a well-featured camper with sofas, tables, electrical systems, and cabinets. It really depends on the customer and what they have in mind. That's what's great about the Project M. You can make it what you want.
Above: Some Project M build outs, photos provided by Four Wheel Campers
There's a Project M Facebook group where owners are showcasing their builds and ideas. If you want to see what Project M owners have done, that's where you should look.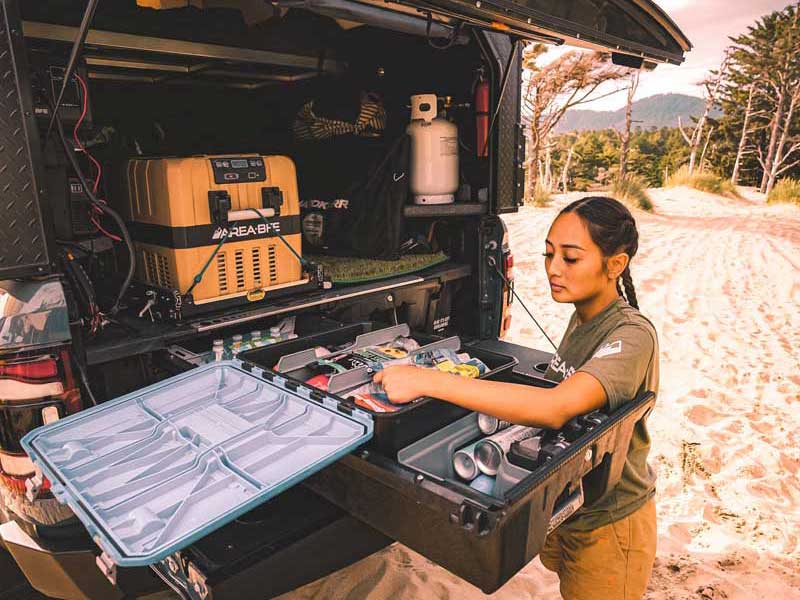 Above: Chivas Gets Lost, Project M camper showing storage
How does someone mount and remove the FWC Gladiator?
On the FWC Gladiator we use a special aluminum bracket that attaches to the Jeep Gladiator's built-in gear track under the bed rail. There's also a weatherproof seal.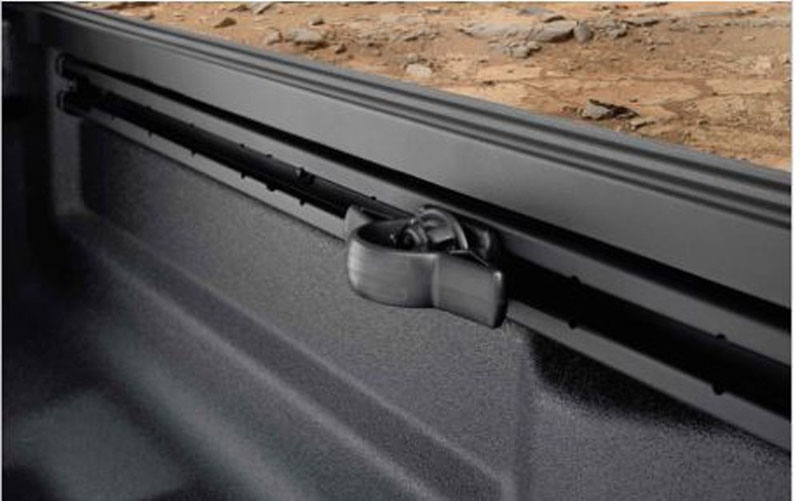 Other Project M truck and camper combinations are bolted on with either four or six bolts depending on the truck. With either the Jeep gear track or the bolts, Project M campers are easily removed with a socket wrench and then the camper is removed and loaded with camper jacks.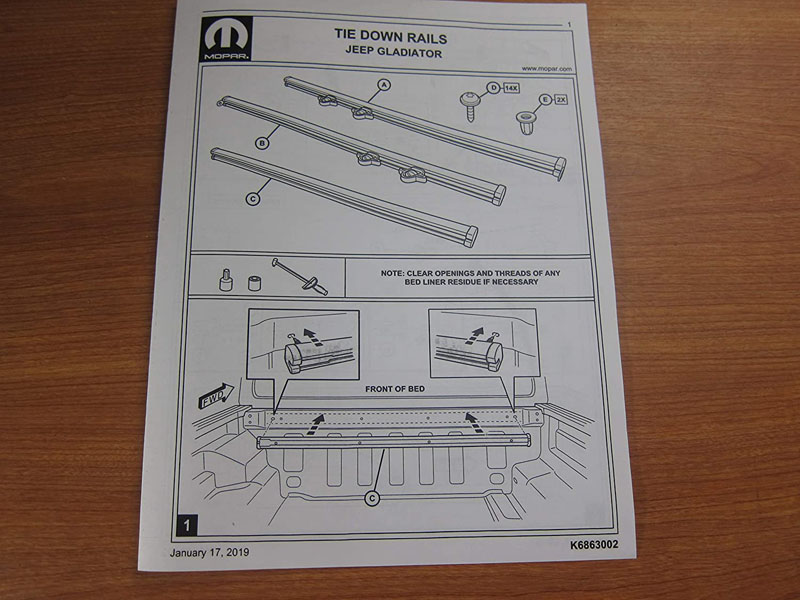 Does the FWC Gladiator come with jacks?
Camper jacks are an option. All of our Project M toppers, including the Gladiator model, have jack brackets on the corners. You can order jacks if you want them.
With our slide-in campers, almost everyone orders jacks. About half of our Project M toppers are sold with jacks. Most people bolt their Project M on and leave it on. You can buy jacks, but almost no one with a Project M camper is driving around with them on.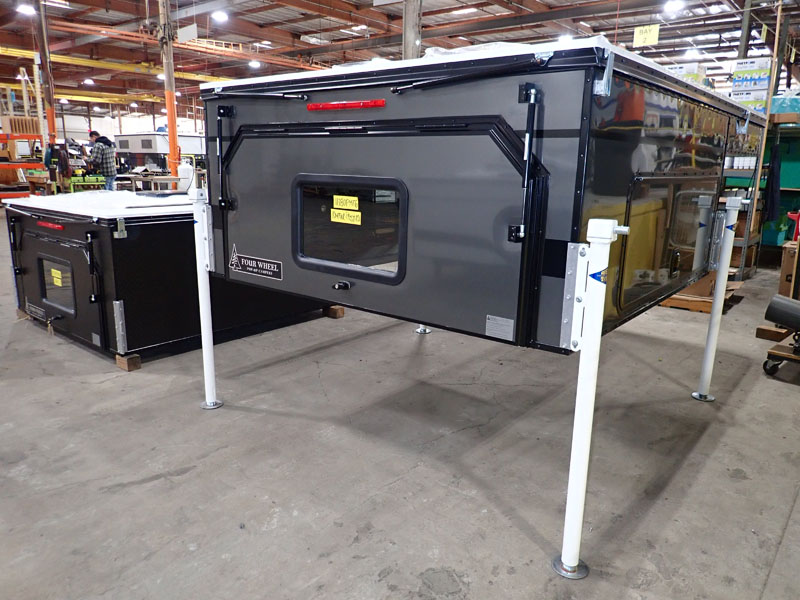 Above: Four Wheel Camper Gladiator jacks are optional
What options are available for the FWC Gladiator?
Gladiator options are the same as all Project M campers. You could add a mattress, portable refrigerator, solar panels, batteries, roof rack, porta-potty, gear track inside or outside, a passenger's window, passenger's utility hatch, Rotopax, MaxTrax, shovels and more.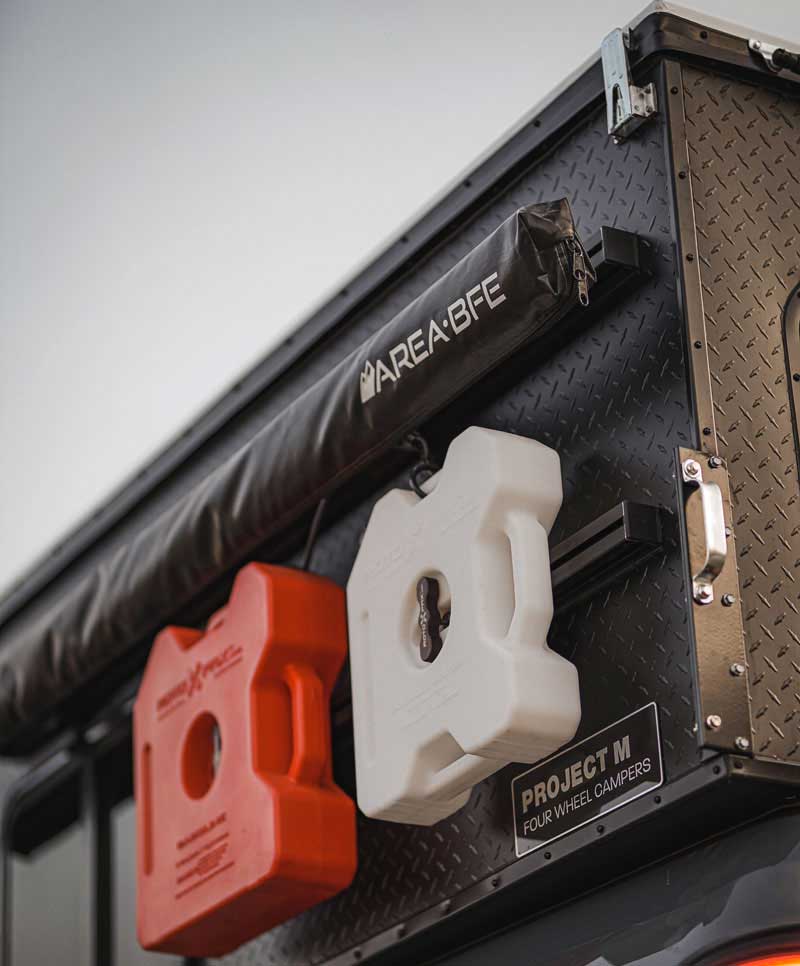 Above: Chivas Gets Lost, Project M camper showing Rotopax option
The most common options are batteries, jacks (if the customer wants to remove their Project M), roof vent fans, and our thermal pack. This camper does not have a factory heater option, so our thermal pack is a popular option. It's essentially an added layer of material on the interior of the pop-up soft wall. This layer acts as an air barrier.
On the FWC Gladiator, the roof is insulated like our regular slide-in campers. The front, rear, and side walls are also insulated. On the inside instead of wood paneling, we use weatherproof ABS walls. Except for the cabover bedboard, there is no wood inside the Project M.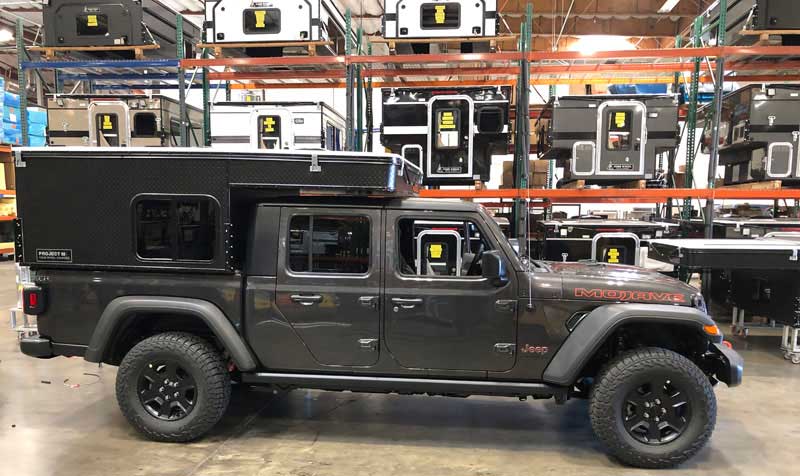 What does the FWC Gladiator weigh with standard build features?
Without options, the FWC Gladiator is 380 pounds. If you add batteries, awnings, and other options, that adds weight. To get a ballpark weight of a Project M with options, use the builder tool on our website. The builder tool will give you the approximate price and weight of a Four Wheel Camper with options.
What is the MSRP for the FWC Gladiator?
A base FWC Gladiator is $10,995.
What is the warranty for the FWC Gladiator?
All Four Wheel Camper Project M models have a five year warranty on the roof, pop-up fabric, and frame. Additional components have their own manufacturer warranties.
When will the FWC Gladiator be available to order?
It's available to order now. If you go to our website you can see where your closest Four Wheel Camper dealer is located. I always recommend going to your local dealer. Our dealers live and breathe Four Wheel Campers and provide amazing service to our customers. If you don't have a local dealer, feel free to call us at the factory for support. The first Four Wheel Camper Gladiators are coming off the production line next month.
Has anyone from Four Wheel Camper had the opportunity to take the Gladiator model out for a spin and camping experience?
I have taken out Project M campers, but haven't yet had an opportunity to go camping with the Jeep Gladiator. When I am in a camper – whether for fun, at a trade show camping on-site, or at a customer rally – I'm just happy to be off the ground and not in a tent. In a Four Wheel Camper, you're secure. Whether it's raining or snowing or windy, you have a comfy place to sleep.
Now that the Project M has been out for a while, how has that model performed?
When we introduced Project M we thought it tap into a younger crowd, especially considering the lower price point and lighter weight. We thought, as they get older, they will have good memories and transition into slide-in Four Wheel Campers. It was our entry point camper.
In reality, it opened up a whole new market. Surprisingly, we're getting a lot of people 40-plus buying our Project M. The best part about that is how Project M did not cannibalize sales, but rather added to our numbers. We've nearly doubled our sales in the past three years and a good percentage of that is Project M.
Four Wheel Campers has been talking about models for some of the new electric trucks including the Ford Lightning and Rivian. Where are those developments now?
Robert Vogl, our CEO, is on board with all of that. He is excited about electric trucks. We have already built a Project M for the Ford Lightning.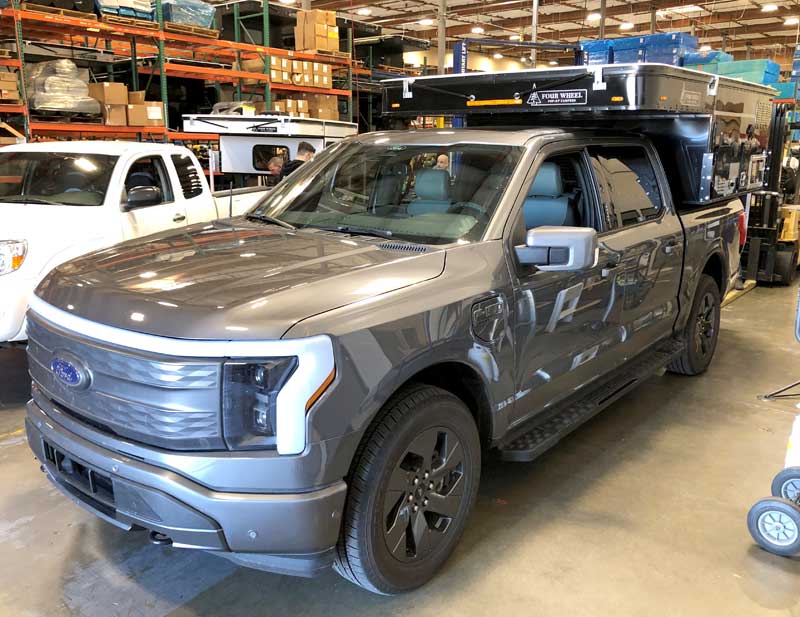 There is a local guy who wants a Four Wheel Camper Raven on his Ford Lightning. We have tested fit the tie-down points, suspension, etc.  We set a Raven model in his truck last week with good success (pictured above).
The truck only dropped about 1" in the rear and the truck was still sitting proud with a good look.  We weighed the camper before loading it on his truck and it was about 1200 pounds dry.  He also looked at the on-board scale that his truck came with on the dashboard computer.  Overall it was a success. We'll have more real data to report back with if the customer moves forward with an order.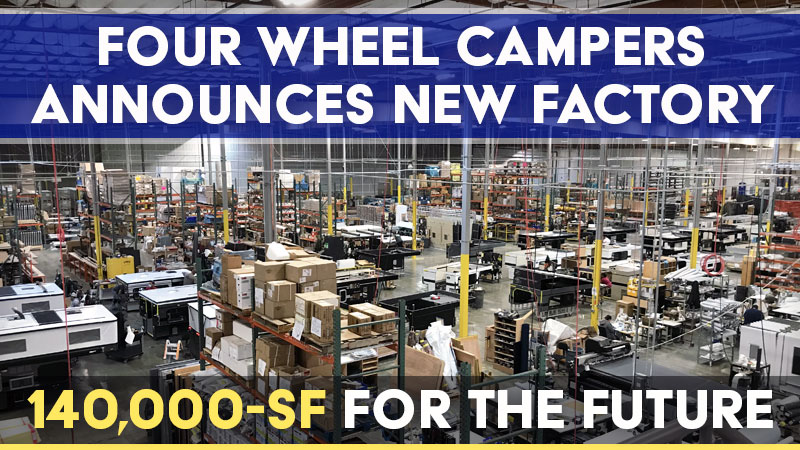 At the end of 2021, Four Wheel Campers moved to a 140,000 square foot location. This was 40,000 square feet larger than your previous facility. How has the new building impacted production and capacity?
We are consuming about 110,000 square feet and subleasing 30,000 of that. The transition to the new facility not only provided us with more space but space to be used more efficiently. The previous building had three compartmentalized spaces connected to one another. The new space is a large rectangle which facilitated space planning prior to the move-in. The result is that our net functionable space is greater than the simple floor dimension.
Have both Phase 1 and Phase 2 (new offices, showroom and mezzanine area) been fully completed at this point?
Yes, our new factory is 100-percent done. It was finished about six months ago. The mezzanine is being used for storage and a break room. We actually now have a break room downstairs and upstairs. Our new factory has been fantastic.
Are there any new features being added to Four Wheel Campers in 2023?
Yes, we're implementing some new features. We have been installing single 160-watt Overland Solar Panel. To step up our game, Overland Solar is building custom panels for us. Instead of a single 160-watt panel, we are moving to two 110-watt panels. It takes up a little more roof space, but not much. We have also improved how the solar panels are wired and installed. It's a big jump from 160-watts to 220.
We have also been working on lithium battery options for all of our campers. We started with flatbeds only, and then went to front dinette models. Now we are offering lithium for all camper models. We tested a bunch of lithium batteries starting with Battleborn 100-amp hour batteries. They were excellent, but hard to get during the pandemic. Since then, we've partnered with Dakota lithium. They also make an excellent battery, but with 135-amp hours in the same size. With two Dakota lithium batteries, we have 270-amp hours versus the previous 200. Again, that's a substantial increase.
Finally we're working on a new material for our thermal pack. That development has not been completed, but it's on the way.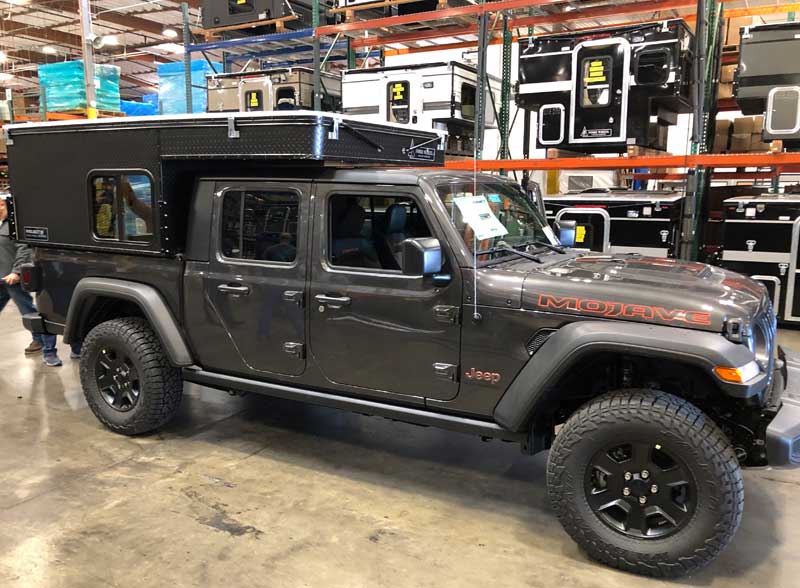 Is there anything else about the new FWC Gladiator that you would like to add?
If I had to make an educated guess on why people buy a Project M, I would say that it's because the Project M is a couple of inches wider than other campers like it. The walls are square and not tapered, and our roof pops straight up. That gives you a lot more room than a wedge-style topper. We have a bed that's in between a queen and king with full interior headroom front to back. It is much bigger and more comfortable than any other topper-type truck camper.
Click here for more information about Four Wheel Campers.  To visit the Four Wheel website, go to fourwheelcampers.com.