Robert Vogl, CEO of Four Wheel Camper, gives TCM an exclusive behind-the-scenes interview on how his team moved their enormous factory department by department, managed relentless waves of parts shortages, handled pandemic-related restrictions, and never stopped camper production.  Snap your seat belts folks.  This is one heck of a story!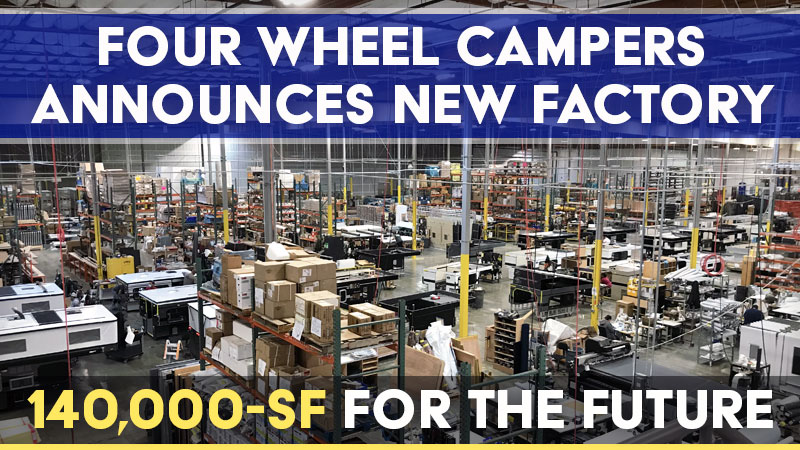 The layers and details of moving a truck camper factory operating at peak capacity are considerable.  A myriad of materials and components need to be inventoried, moved, and organized in the new facility.  Custom frame, wiring, and plumbing jigs need to be protected, packed, and put in their new locations.
Then there's all the equipment.  Hand and portable power tools can be picked up and moved, but the heavier machines are not that easy.  Some of the equipment may be highly specialized, fragile, and massive – like moving a grand piano.  And like a grand piano, the equipment needs to be re-set, calibrated, and carefully tuned by experts in the new setting.
Fortunately, many members of the Four Wheel Camper team have first-hand experience with planning and executing such a complex move.  Eleven years ago, the company moved into their previous 100,000 square foot building.  Four Wheel Camper's Foreman, Chicale Segoviano, National Sales Director, Stan Kennedy, and many members of their production and office teams were at their posts during that transition.  They know the drill.
Challenges aside, the photography reveals a manufacturing facility that could go toe-to-toe with major RV manufacturers from coast-to-coast.  Even by RV manufacturing standards, it's huge.  And with the new space comes new opportunities for organization, automation, production capacity, and (once the parts and labor shortages pass) the possibility of new models.
To gain additional perspective on the move and what it means to Four Wheel Campers, we spoke with Robert Vogl, CEO of Four Wheel Campers.  For anyone who thinks sitting in the CEO seat is a cake walk, Robert's interview will have you eating your words.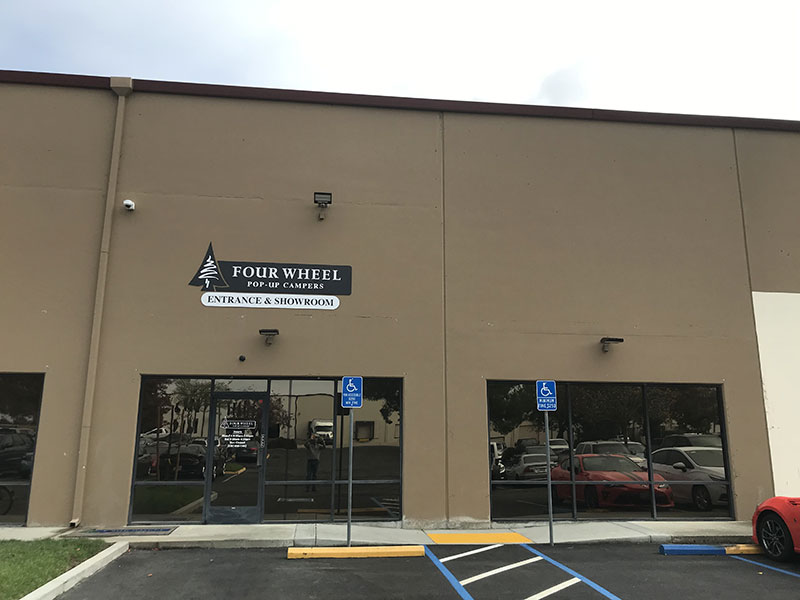 Above: The entrance to the new Four Wheel Camper factory.  All photos courtesy of Four Wheel Campers.
Four Wheel Campers moved into its previous location about 11-years ago (2010).  That building was 100,000-feet, a huge step up from the prior location. Why has Four Wheel Campers moved again?
Long story short, we wanted to stay in our previous building, but we couldn't come to terms with our landlord.  We were also running up against the limits of the facility, especially office space, material storage, and yard area.
Finding a new building in the Woodland, California area was challenging.  The warehouse industry is dominant in this area with Amazon, Walmart, and Target all having large warehouses here.  In the end, there was only one building that was available and offered what we needed.
Our new location is 140,000 square feet.  The old facility was promoted as 100,000 square feet, but that included outbuildings and areas with unlevel ground unsuitable for equipment or production.  Our new building is 100-percent usable space.  It's a big step up.
Above: A fun drone fly-through and time-lapse video showing how the new Four Wheel Campers factory came together
That's a lot bigger.  Was the new building move-in ready?
The new facility started as an empty slate.  We rebuilt the existing offices and added more.  We built a climate-controlled showroom.  We brought more power in and distributed it throughout the building.  A new compressor room was constructed and air lines and power lines were dropped for production.
We had five months to design and complete the new facility before the move date.  It was a massive project that had to be done in a very tight time schedule during Covid with relentless material and component shortages.  It has been a very challenging year.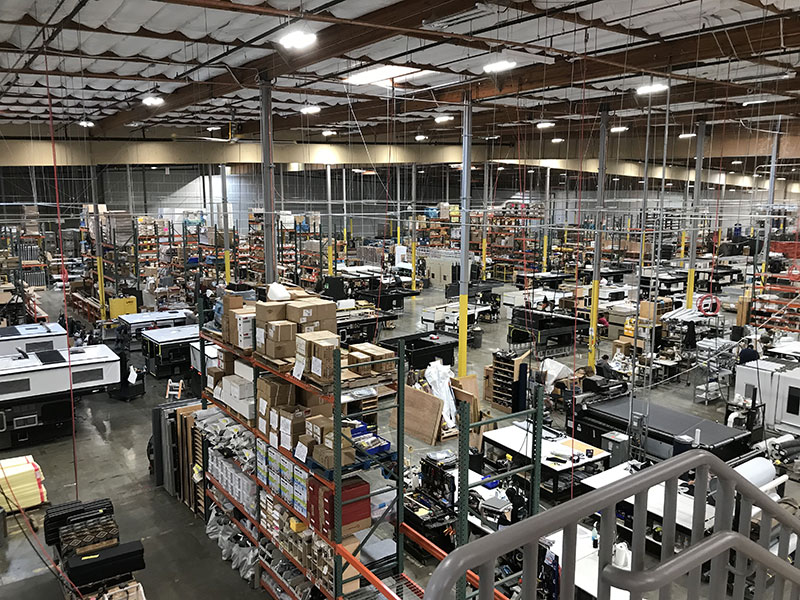 Is Four Wheel Campers fully moved into the new building at this point?
Yes.  Due to Covid related shortages, we had to break the build out into two phases.  Phase 1 is completed; redo the existing office and all plant-related work.   That allowed us to operate in the building.  Phase 2 is scheduled for completion in mid-November; new office area, showroom, and mezzanine area.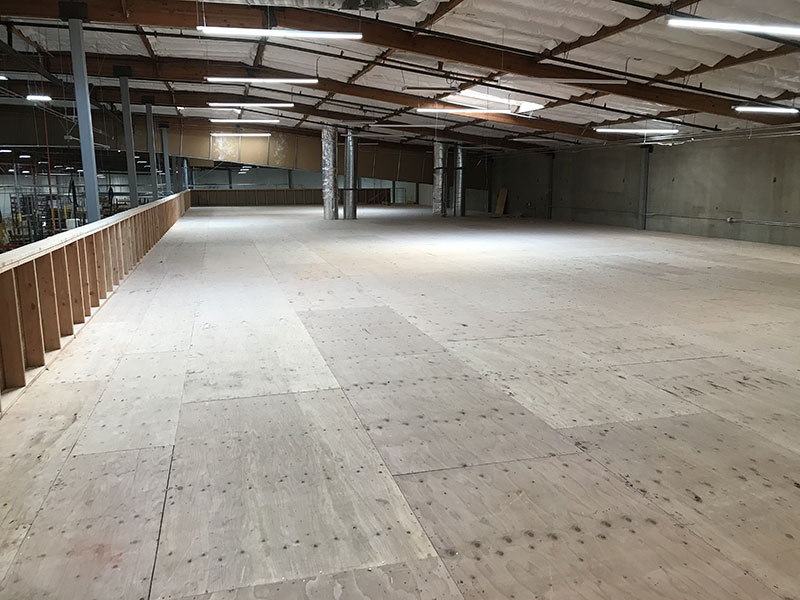 Above: The mezzanine area will be developed in Phase 2
In total, the new facility is about a $3M investment.  It's a huge step up in quality and offers our team and vendors a more professional working environment.
Our customers also get a more professional presentation and showroom.  The plant is in great shape and we have almost 50-percent more space for future expansion.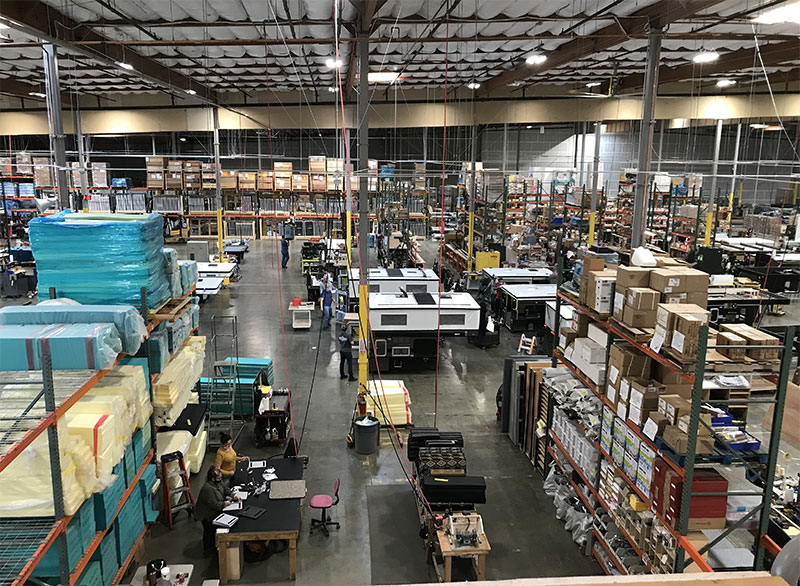 You mentioned Covid and the shortages.  How did those factors impact the move?
When I became CEO of Four Wheel Campers five years ago, we had a five-alarm material or component shortage once a week.  Over time, those shortages were addressed with improved organization, inventory, and purchasing systems.
Covid has caused shortages across the entire supply chain.  During the past year, we've had five-alarm shortages two to three times a week.  We address the shortages with new vendors or by carefully changing components, but that requires extensive time from management, purchasing, and engineering.
That meant we were unable to focus on the move and the new building like we wanted to.  Dan and I have moved companies in the past and know how to do it as efficiently as possible.  For example, we were planning to hire six to twelve workers to help us move.  Due to the current labor market, we were only able to find one.  That meant pulling our team off their normal jobs to help with the move.
All that being said, we were able to produce campers through the entire moving process.  Our Production Manager, Chicali, and Production Supervisor, Ivonne, were invaluable and moved production department by department.  Each department would produce what was needed during the move so they wouldn't hold up production.  That way production never stopped.  They did an incredible job.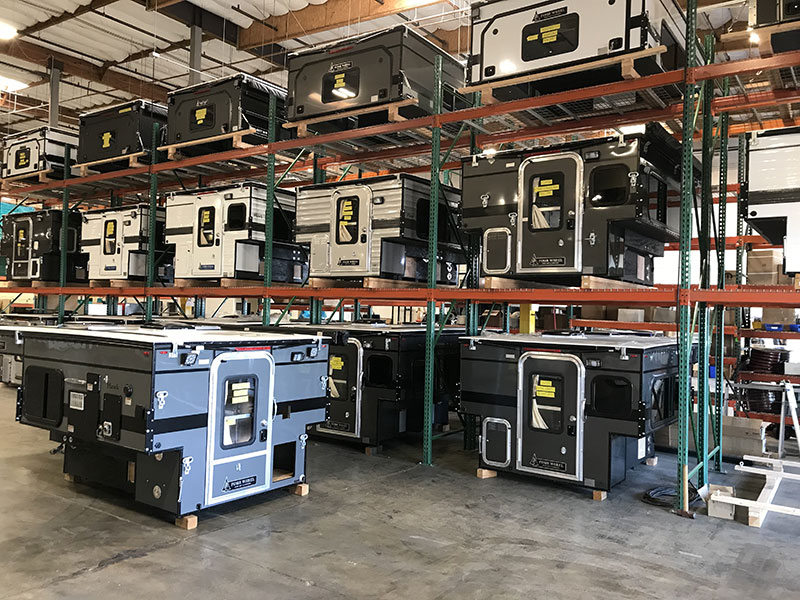 We are hearing more and more about camper manufacturers operating under allocation from their suppliers.  Have your suppliers put you on allocation?
Yes.  We are on allocation with appliances, aluminum, and foam insulation.  We are allocated a percentage of our order for those items.  Three-months ago our aluminum vendor changed from a four-week lead time to a five-month lead time.  We were able to find another quality aluminum vendor to fill the gap.
We have approximately 3,000 SKUs (Stock Keeping Units).  We are stocking up where we can, but the shortages are a constant surprise.  Even if we could hire 20 new people, we couldn't produce more products because of allocation and the shortages.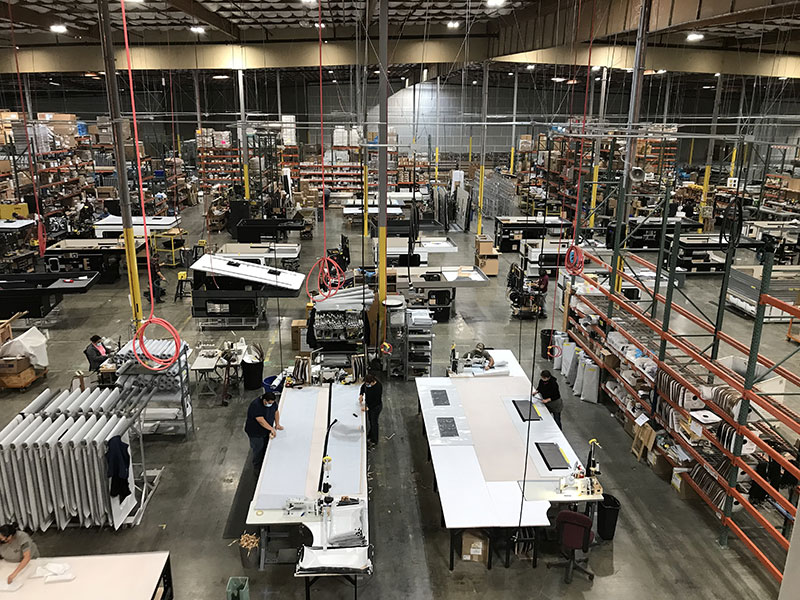 One way to battle labor and parts shortages is automation.  How many CNC machines are currently set up at the new facility and what are they doing?
CNC machines are routing our cabinetry, aluminum siding, and soft wall fabrics.  We also have new equipment for automated wire cutting and crimping that is changing how we build our wire harnesses.  In the near future, we are bringing in a new edge bander with better capabilities than our current machine.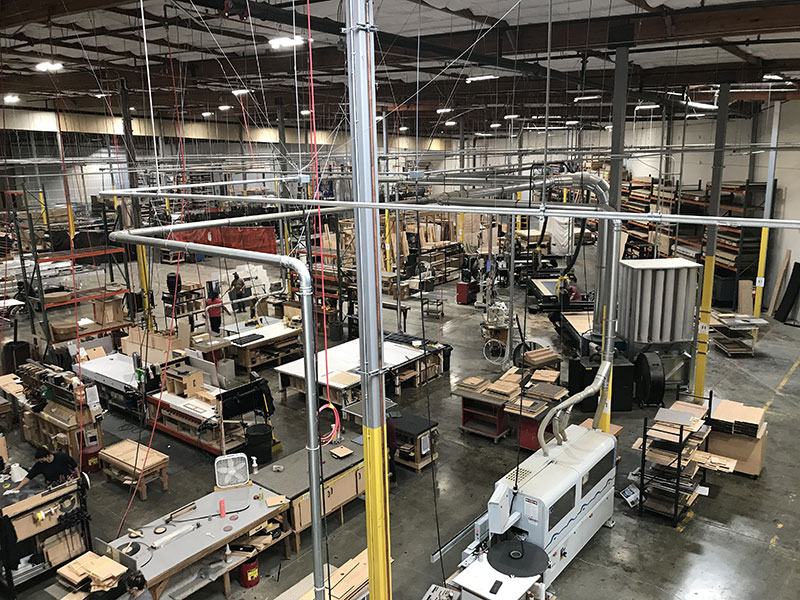 Automation is all about better quality, more efficiency, and less strain on our production team.  With the equipment, we can produce a more consistent and better quality product with fewer man-hours.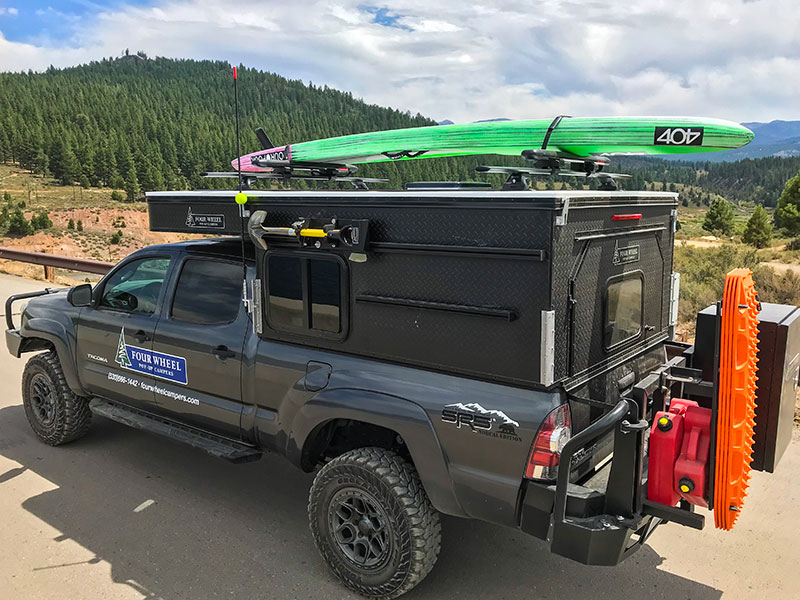 Above: Four Wheel's Project M Camper
The biggest Four Wheel Camper product announcement since you became CEO is Project M.  How has that product performed since its introduction?
Project M has far exceeded our expectations by multiples.  If we could cut our delivery time back to normal, I think we could have a dedicated line building Project M.  It's a much bigger market than we anticipated.
The concept behind Project M is not unlike Detroit in the 50s, 60s, and 70s. Like Chevy, Project M introduces young people to the Four Wheel Camper brand and product.  As the customer gets older, they might move up to a Cadillac; a Four Wheel Camper Swift, Fleet, Raven, Hawk, or Grandby.
Is Four Wheel Campers planning anything new for 2022?
New models are not on our radar screen right now.  All of our time and resources are devoted to producing to meet the enormous demand.  It's frustrating, but it's the reality of the moment we're in.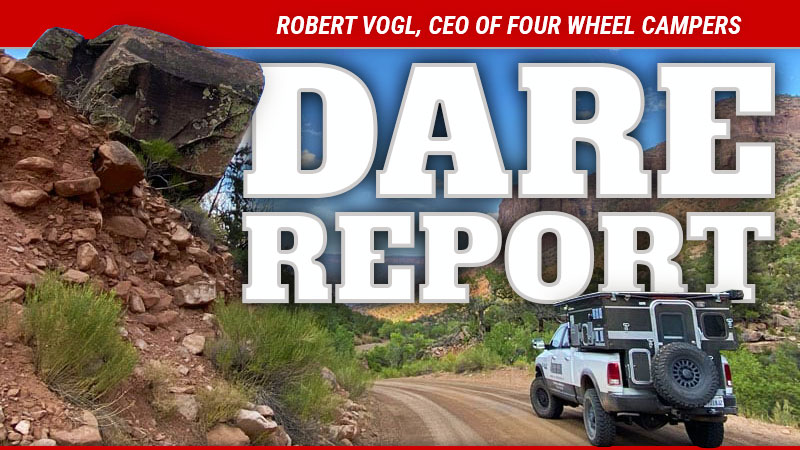 You participated in our Industry Dare back in October of 2020.  Have you been able to take a Four Wheel Camper since then?
I took a Four Wheel Camper out in July for four days.  I was limited in where I could go because of the fires here in California.  I went to a place I had been before, but a fire had been through and it wasn't a nice area anymore.  While I was there, another fire was burning a few miles from us.  I'll be the first one to take a Four Wheel Camper out once the fires and business climate settles down.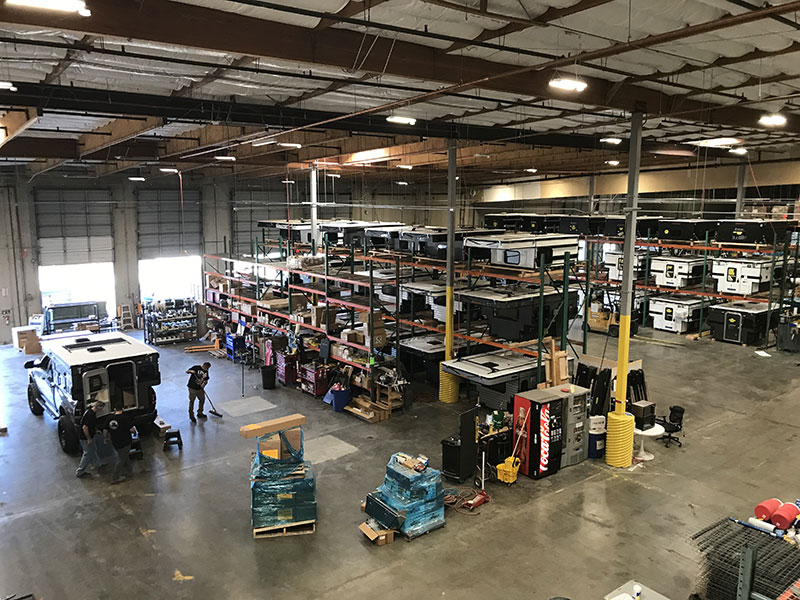 Is there anything else you want folks to know about Four Wheel Campers right now?
Looking back over the past five years, I am proud of what we've been able to achieve with our team.  We have over 100 people working here.  I don't have the time to connect with every person, but we foster a healthy culture.  People are treated with respect.  We have increased wages by 25-percent.  We have made life easier for our employees with the support, tools, and resources they need.
It's very hard to find employees in this environment, but we have been able to build our headcount by 20-percent.  Most of the new hires are from employee referrals.  I think that speaks volumes about our culture.
The pandemic introduced a lot of people to camping and the outdoors.  Anything that gets kids off their cell phones and into nature is fabulous.  As a result, demand for Four Wheel Campers is off the charts.  It's been exhilarating for sales, but brutal from a business operation front.  Between the pandemic and the shortages, the past year has been the biggest challenge of my business career.  I believe most CEOs would say the same thing.
If there was one thing I'd like people to know, I would ask everyone to please have some patience with us.  We are doing the best we can with the resources we can get.  The worldwide supply chain is broken.  It's a frustrating situation for all of us.
On a brighter topic, we are definitely keeping an eye on developments with the electric trucks.  We have reached out to several manufacturers for specifications and vehicles and hope that opportunity comes through.  Electric trucks are one area that we are going to pursue as I am personally excited about it.
To visit the Four Wheel website, go to fourwheelcampers.com.  Click here for a free Four Wheel brochure.