Robert Vogl, CEO of Four Wheel Campers, has submitted a very late dare report, with a very good excuse.  Here is his amazing trip into Utah's wilderness and his evaluation of a Four Wheel Camper in action.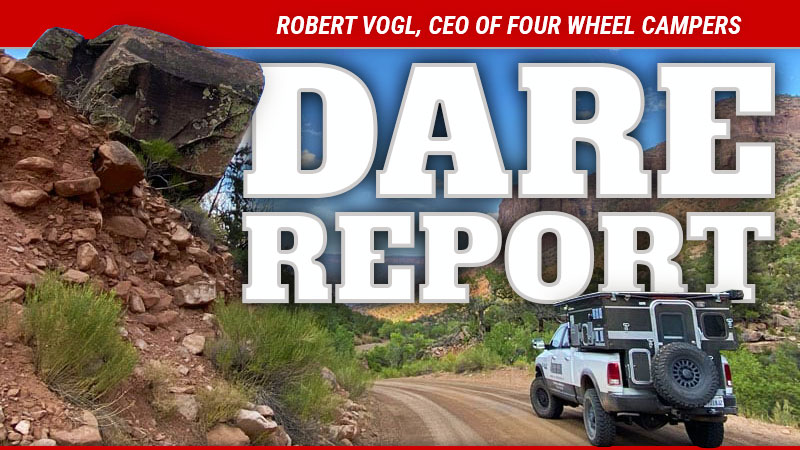 In July of 2019, we publicly triple-dog dared the truck camper manufacturers to go truck camping in their own products.  The idea was to encourage, in a fun-spirited way, the truck camper design and leadership teams to experience their own products in real-life camping situations.
While many camper designers and leaders do routinely take their campers out, far too many don't, and their product designs and marketability suffer for it.  That was the entire point of the dare.  The question was, would they do it?
Seven truck camper manufacturers accepted our dare and issued written reports and photography to Truck Camper Magazine about their camping trips, and what they learned.  On the record and behind the scenes, most of them said they learned important insights about their products and had a good time camping.  While not every manufacturer participated, it was a huge success.
Four Wheel Campers: A Dare Delayed
During the dare, we received an email from Robert Vogl, CEO of Four Wheel Campers, explaining how he wanted to accept the dare but was recovering from shoulder reconstruction surgery.  Clearly, he knew we would be suspicious.
He wrote, "Unfortunately, I just had major shoulder reconstruction on Monday and will be in no condition to be able to participate in the dare during the stated time frame.  My right arm will be confined to a sling with a bolster pillow to insure immobility for the next six weeks and then I'll be in rehab for the next three to four months to try and reverse the atrophy from the long period of inactivity and then build the strength back up."
When we suggested we would be contacting his surgeon for evidence, Robert preempted our inquiry with a 10-page surgery report complete with procedure notes and laparoscopic incision and abscission photos we are diligently working to forget.  We pride ourselves on in-depth reporting that cuts straight to the issues, but this was too far.  What some people will do to get out of a dare.
He added, "I can assure you that I, and many other members of our staff, use our campers on a regular basis.  I last took one out in June for our Northern California Customer Rally.  Prior to that, I tagged along on a five-day off-road trip that we put on for ten of our customers right after the Overland Expo West Show."
Okay, okay.  He's really laying it on thick here.  Concerned he might send more surgical images, we let it go.  If he wanted to send in a dare report next time he went camping, we might accept it.  Might.
You can't go soft on these people or they'll be claiming surgeries or back pain every time you need something.  We once had an industry leader claim they broke a finger while eating a sandwich just to get out of an interview.  It might have been plausible if they hadn't texted us the message.
Four Wheel Camper Dare Report
Here we are over a year later and another very different series of emails arrives in the esteemed aluminum laptops at TCM.  It seems Robert Vogl is not only out truck camping in a Four Wheel Camper, but he's issuing multiple dispatches and photographs along the way.  Apparently, he's feeling much better now.
Here is Robert's Dare Report: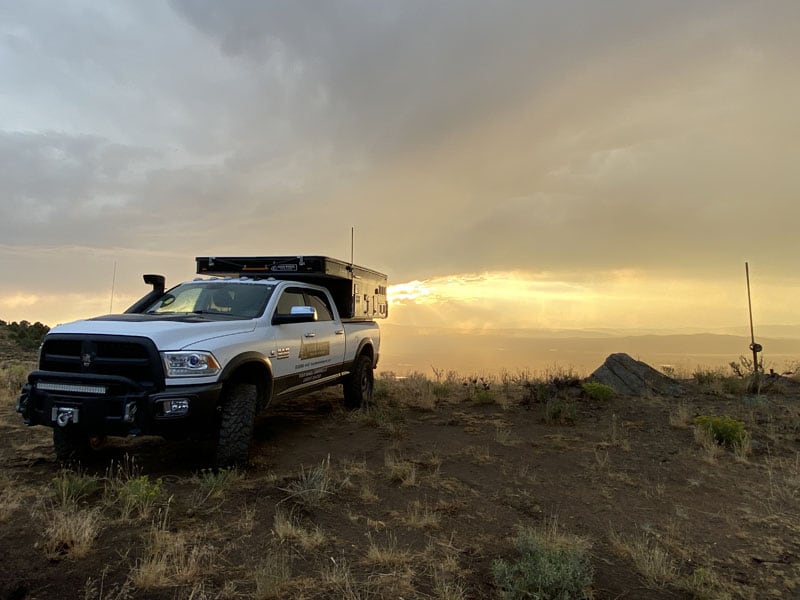 I thought I'd share a few photos from my trip. I hold up for the night on top of the hill in the back of the town of Austin, Nevada.
I made it to Great Basin National Park just before the Utah-Nevada border off of Highway 50.  It's a huge mountain range in the middle of the desert. One could definitely spend days here checking it out.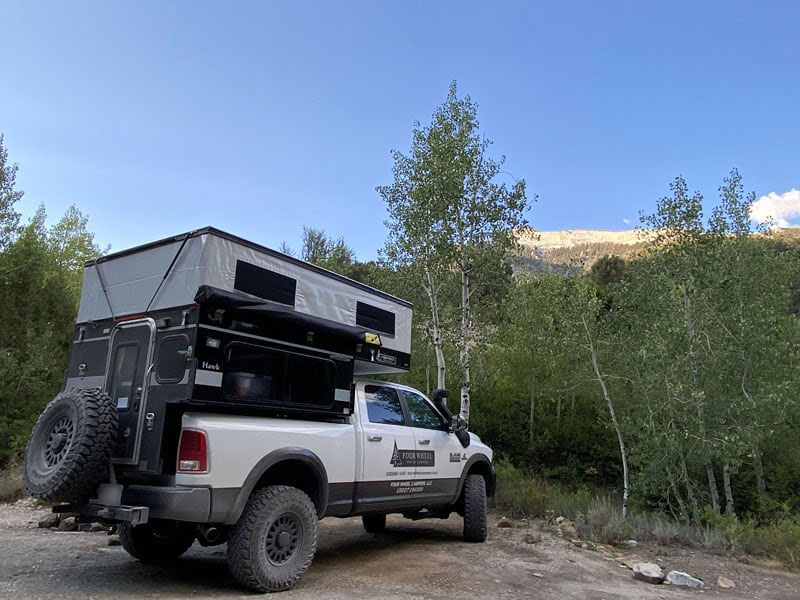 It was 96-degrees when I rolled into the ranger station but, by the time I got to my campsite about 1,700-feet higher, it had cooled off nicely.  This was actually an official campsite in the park.  It was right by Snake Creek which babbled peacefully all night.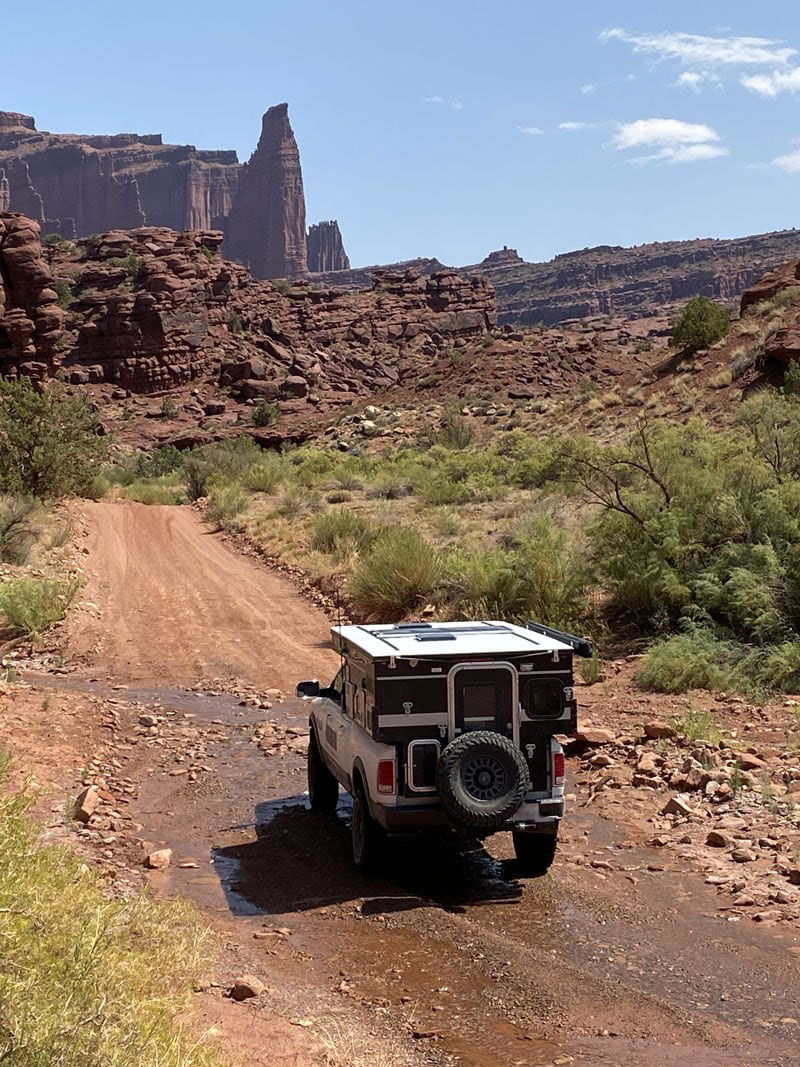 This was an absolutely spectacular 55-mile drive on Jeep roads up and over the La Salle Mountains.  I had done this route 20-years ago when I first moved out to Colorado, but I did it in a RAV4.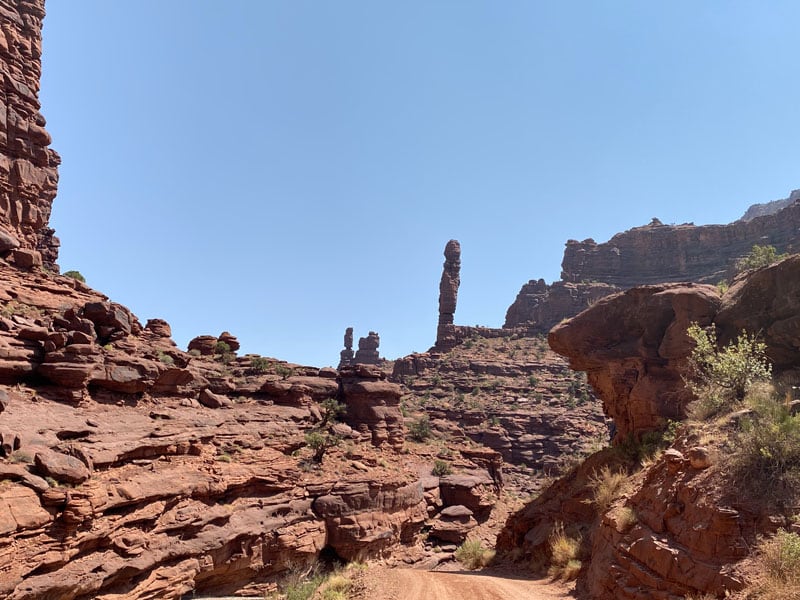 On this trip, I really learned why smaller trucks and Jeeps are better off-road vehicles.  When I did it in the RAV4, it wasn't that big a deal.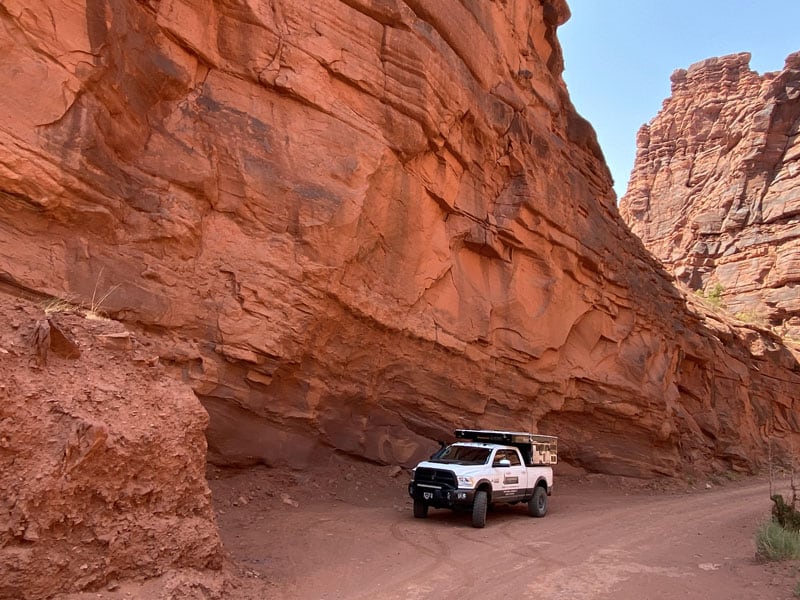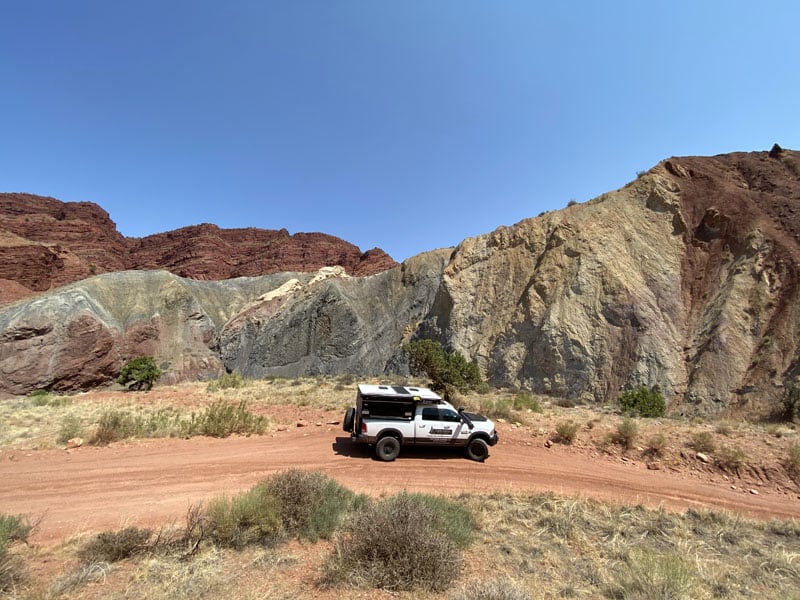 In the AEV, there were some kind-of hairy spots due to the longer length, wider aspect of the truck and the top-heavy nature of having a camper on it.  At one point, I had to get out, take a few breaths and refocus before continuing on.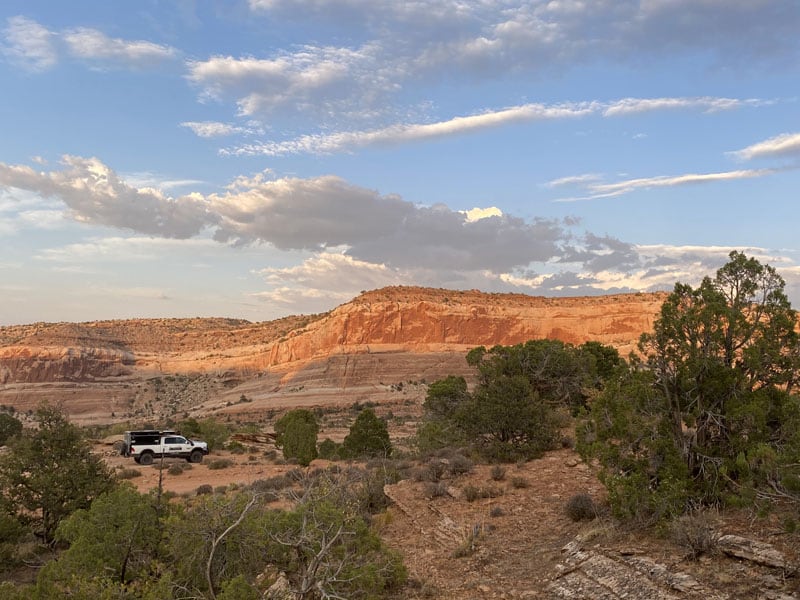 I made it to Moab and, thanks to a friend, found this campsite.  It is about four-miles back from the Colorado River on a Jeep road.  It was 98-degrees when I rolled in and it didn't cool down much until the wee hours of the morning.

After the Onion Creek portion of the trail, the road takes you up the side of a mountain – Beaver Mesa.  I've now done it twice and I still don't know how you can climb a sheer mountain like this in a vehicle!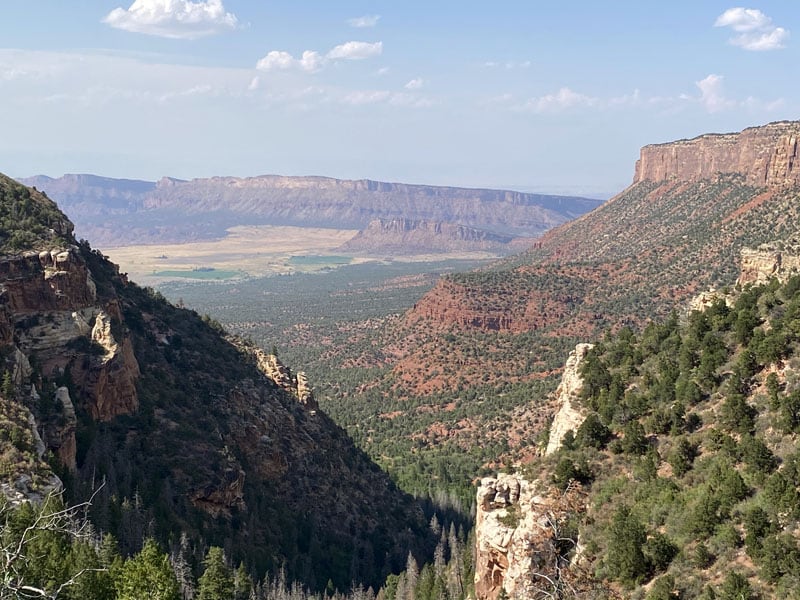 You can see the farm at the Valley floor where Onion Creek Road stops and Beaver Mesa road starts.  The mountain on the right is the one the road takes you up and over.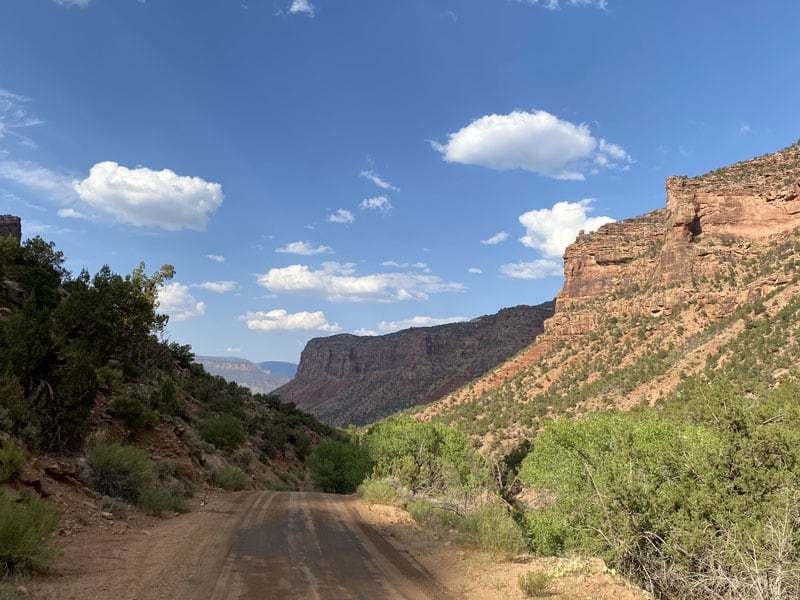 So once you reach the top, you are pretty much on the Utah-Colorado border and you descend into Gateway, Colorado.  It also offers truly spectacular views.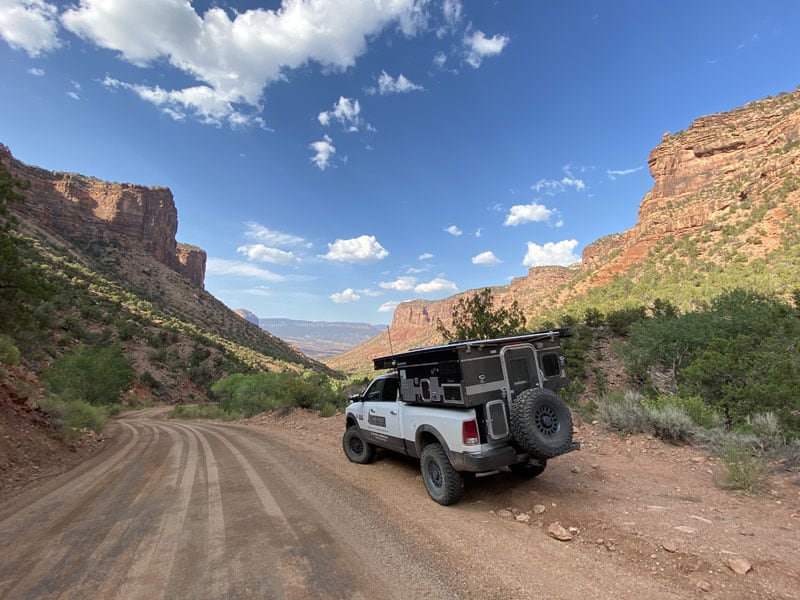 Even though I've been through this country a dozen times, I had forgotten how truly majestic and spectacular the country is.
Robert's Evaluation of the Camper
The Four Wheel Camper that I used on this trip was our Hawk model with the side dinette floor plan.  I really enjoyed the spaciousness and large window that lets lots of light in.
However, the downside is that there is not a lot of storage space.  This is mostly the result of the limitations of a pop-up camper that needs to fit into a 6-foot or 6.5-foot truck bed.  Everything is a trade-off.  In this case, the trade-off is open space for cabinetry.
Since I was on a relatively short trip, the lack of storage space wasn't that big a deal, but there were times when I wished I had an extra cabinet.  If I took a longer trip, I would have much preferred to use our front dinette floor plan, which offers a lot more storage.
When I rolled into my "campsite" near Moab, it was just past 7:00pm, and the temperature was 98-degrees.  It didn't get cooler until nearly 4:00am and, even then, the temperature only dropped 10 to 12-degrees.
I was very thankful that I had two powered roof vents – one set to bring air in and the other to exhaust air – but I really would have liked to have an air conditioner.  Unfortunately, while this floor plan does offer an air conditioner as an option, this particular camper wasn't equipped with one.  And even if it was, I wasn't anywhere near a shore power hookup or a generator.  Such are the hardships of remote camping!
One of the luxuries that I really appreciate while camping is the ability to shower off the sweat, grime, and dirt of the trail.  While our outdoor shower hookup served its purpose and left me feeling clean and ready for an adult cocktail, I wish that we had a more accurate way of determining how much water is left in the 20-gallon fresh tank.
Right now, we have a display that, when you push a button, some number of the four LED lights light up, and that gives a general idea (+/- 25%) of how much H2O is left.  It's better than nothing, but it would be nice to have a more accurate system.  We have the same mechanism for determining how much propane is left in a tank, and I'd also like to see a more accurate system there as well.
I would have also liked a bigger sink when I was washing my dishes, but it would come at the expense of already limited storage space.  There is that trade-off thing again.
Overall, it was a tremendous pleasure to get out of the office, away from the California rush and crowds, and reconnect with nature and the incredible off-road and off-grid capabilities of a Four Wheel Camper.
Every time I take a Four Wheel Camper out I am in awe of the nearly five decades of refinement these incredible campers represent.  This most recent camping experience only reinforced my respect for this multi-generational product and gave me some exciting new ideas on how to make it even better.
Expect More Dares
Truck Camper Magazine was scheduled to issue another Triple-Dog Dare to the truck camper industry in March, but Covid-19 interrupted that plan.  When we issue another dare, it will be open to the manufacturers, gear companies, and dealerships.  It will also have a few more requirements, and surprises.  Yes, we will dare to take our dare where most wouldn't dare.
We also want the industry to know that we welcome their truck camping reports and evaluations at any time.  The idea is to encourage more industry leaders – across the board – to take their products out truck camping and look for areas to improve.  This can only lead to better products and fun.  If you're the CEO or Chief Design Dude or Dudette at a truck camper company and want to accept the dare, do it.  We will publish your report!
To visit the Four Wheel website, go to fourwheelcampers.com. Click here for a free Four Wheel brochure.