We are hereby double-dog, no triple-dog dare the management of truck camper manufacturers to go truck camping in their truck campers.  Please join us in our dare.  Hey industry, there's a prize!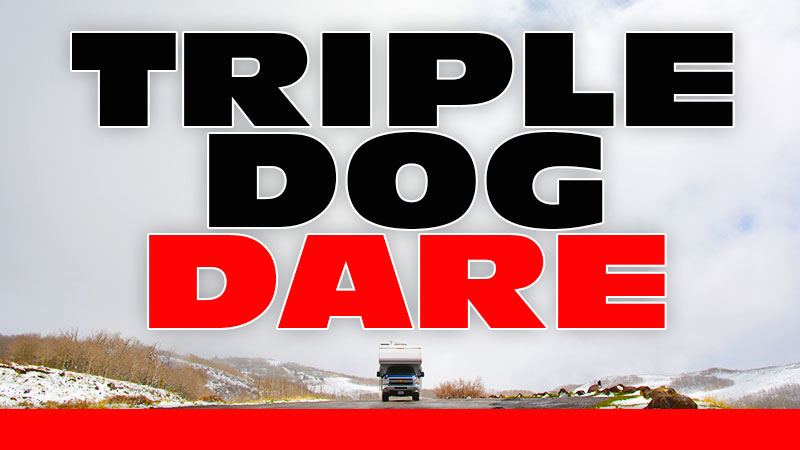 We hear it all the time from fellow truck campers, "The truck camper manufacturers can't possibly go truck camping in their own products.  That's why (this or that) isn't right in my camper.  The industry really needs to go truck camping in their own campers!"
In response, we tell folks that some truck camper manufacturers actually do go truck camping.  Over the years we have published at least a dozen articles about industry leaders going truck camping in their own units.
It is true that far too many do not go truck camping.  Many who have gone truck camping haven't been truck camping in years or have not camped in their current models.  This last point is critical.  Most industry leaders have not camped in their current truck campers.
Why This Matters
In the late 1990s, I worked at a major advertising agency in Washington D.C.  Part of working on the advertising for any company or product was actually experiencing that company and their products.
For example, the DeWalt Tools team went to the DeWalt Headquarters in Baltimore for tool training.  The Volkswagen team went to Germany.  Even the McDonalds team was required to work at a McDonalds for a couple of weeks.
No matter who you were in the agency, you were required to roll up your sleeves and learn that company and its products.  Needless to say, the advertising and client service was much better as a direct result of this experience and understanding.
From the beginning, Angela and I employed this strategy for Truck Camper Magazine.  We have spent extensive time learning at all of the truck camper factories, worked dozens of RV shows, attended dozens of rallies, and spent thousands of hours truck camping in countless rigs, locations and conditions.
We live and breathe truck camping because we love it, and because it makes this magazine and everything we do better.
This is why we are triple-dog daring the management teams at every truck camper manufacturer to go on at least one two-day, two-night truck camping adventure in one of their own truck campers.
Not only will this challenge help the manufacturers to address some of the, "What were they thinking?" design issues many of us have experienced, but it will also help improve just about everything they're doing.  I firmly believe it will help them to sell more truck campers.  They might not get that now, but they will.
Exactly What We're Daring The Industry To Do
To satisfy this dare, industry leaders are to take out one of their own truck campers for a two day, two night truck camping adventure between July 9th (today) and November 9th, 2019.  That's four full months of prime truck camping weather.
For example, industry leaders can go out on a Friday night and camp, camp Saturday day, camp Saturday night, camp Sunday morning and drive home that afternoon.  As long as it's at least two days and two nights, it counts.
During their truck camping experience, industry leaders should eat, sleep, poo, pee, shower and generally 100-percent fully use their truck camper!  Pack clothes away.  Charge electronics.  Make breakfast, lunch and dinner.  Fill and dump the tanks.  Use the camper for everything needed for two-days and two-nights.
As for where they go truck camping, almost anywhere is game – but it can't be at the factory or a residential driveway/neighborhood.  They must go somewhere appropriate for truck camping.
For maximum impact, we recommend BLM lands, National and State/Provincial Parks, or anywhere you can boondock off-grid.  That's what truck camping is all about, and where industry leaders will learn the most about their product and the lifestyle it supports.
Required Proof and a Prize!
To prove industry leaders went on a truck camping adventure in their own products, we ask for at least 12-photos and a short write-up of their experience.
We also want to know where they went and what they did.  Most importantly, tell us what you learned about your product and the truck camping lifestyle.  We're all ears!
Here's the big prize: We will publish the story of any industry leader who goes truck camping in their own product in Truck Camper Magazine!
This is an open net opportunity to get your products in front of millions, no tens of thousands of truck camper owners and potential customers.  All you have to do is go truck camping!
The Deadline
Industry leaders have from today, July 9th through November 9th, 2019.  That's four full months to go truck camping for 2 days and 2 nights.  All truck camping trips must be taken during this four month window to count.
Join Us In Daring the Industry
If you believe the truck camper manufacturers need to use their own products, please join us in our triple dog daring by sharing your name and home town below.
This effectively becomes a petition dare, a new invention that is sure to have the management teams packing for fun weekends of truck camping.
Come on truck camper industry!  Go truck camping!  It's so much fun!
Scroll down under the signatures to sign our petition.
Petition Dare Signatures
Angela White, Port Charlotte, Florida
Gordon White, Port Charlotte, Florida
Justin Swanson, Battle Ground, Washington
Rich Bain, Colbert, Washington
Nancy Rivers, Searsport, Maine
Rick Rasmor, Rhododendron, Oregon
Frank Rush, Birmingham, Alabama
Gerry Boucher, Shefford, Quebec
Lester Holloway, Oakville, Ontario
Marie Breen, Wyckoff, New Jersey
Lindsay Pooley, Rockford, Illinois
William Russell, Williams, Arizona
John and Marylou Wells, Hollidaysburg, Pennsylvania
Sam Tardo, Slidell, Louisiana
Jeff Stahlman, Ripley, New York
Simon Tallboy, Duncan, British Columbia
Joel Vanscoy, Chesapeake, Virginia
Doug Lamb, Fairland, Indiana
Roger Holt, Burlington, North Carolina
Rod Roberts, Eureka, California
Pat Trunda, Cary, Illinois
Alan van Steenberghe, Payson, Arizona
Beverly Hanson, Salt Lake City, Utah
Roger and Sarah Wareing, Zavalla, Texas
Steve Cordis, Santa Rosa, California
PK Harrison, Charlottesville, Virginia
Kelly Roberts, Eureka, California
Riley Burgess, Davidson, North Carolina
Roy Garland II, Mount Wolf, Pennsylvania
Mark Traylor, Helena, Alabama
Rod Roberts, Eureka, California
Fred Patterson, Fairfax Station, Virginia
Frank Mehaffey, St. Albans, Vermont
Tom Becher, Neenah Wisconsin
Robert Mackison, Culpeper, Virginia
Chris Murray, Louisburg, North Carolina
Joy Chancellor, Jay, Oklahoma
Bob Folk, Bloomsburg, Pennsylvania
Henry Huizenga, Palmer, Alaska
Ramon Milam, Kennewick, Washington
Connie Westbrook, Sulphur Springs, Texas
Kira Jones, Houston, Texas
Bill Jones, Houston, Texas
Clint Sandberg, Round Rock, Texas
Randy Biggs, Roodhouse, Illinois
Bob Watts, Casper, Wyoming
Gary and Laurii Gadwa, Stanley, Idaho
Bryan Wheat, Chehalis, Washington
Robert Harris, Decatur Tennessee
Carl Goode, West Haven, Connecticut
Dave Miller, Duluth, Minnesota
Kim Boykin, Wilson , North Carolina
Real Charbonneau, Montreal, Quebec
Ryan and Christine Amundson, Clinton, Washington
Paul Brenner, Freeville, New York
Roger and Elaine Odahl, Vancouver, Washington
Joe and Debbie Siler, Grants Pass, Oregon
Sally Stomberg, Twisp, Washington
Bill Sprague, Hagerstown, Maryland
Cory Brown, Cincinnati, Ohio
Rick Rock, Cincinnati, Ohio
Stan Carman, Wilkesboro, North Carolina
Jim Hunter, Vero Beach, Florida
Howard Bisco, Washington
Dave Snapp, Fruita, Colorado
Larry Routt, Stone Mountain, Georgia
Douglas J Huston, Ruidoso, New Mexico
Ted Werner, Emery, South Dakota
Dave D, Gladwin, Michigan
Dave Anderson, Warren, Oregon
David Kaiser, Grand Junction, Colorado
Ray and Brenda Fair, Hopkinton, Massachusetts
Tom Scholtens, Indian Land, South Carolina
Dwain Letourneau, Spruce Grove, Alberta
Matthew Ranger, Kodiak, Alaska
Pat Bickel Jones, Salida, Colorado
Sam Lust, Forked River, New Jersey
Tim Holman, Dayton, Ohio
Richard Gauthier, Westlake, Oregon
Brad Slatford, Kronau, Saskatchewan
Mike Robinson, Lander, Wyoming
Eric Beatty, Colorado Springs, Colorado
Phil Edwards, Abbotsford, British Columbia
Pete Haidinyak, Irvine, California
Kevin Mooney, Nimpo Lake, British Columbia
Clifford Kellogg, Palomar Mountain, California
Frank Niehus, Elbert, Colorado
Robert Johnson, Canyon, Texas
Susan Surateaux, Lansing, Michigan
LeRoy Jungbluth, Reedsville, Wisconsin
George Gentis, Troy, Ohio
Laurie Brokaw, Bushnell, Florida
Sue Kelly, Davis, California
Louanne Burgess, Wilmore, Kentucky
Craig Brueckman, Niceville, Florida
Bruce Colby, Vista, California
Mikeee Tassinari, Peabody, Massachusetts
Doris Van Hoven, Colville, Washington
Richard Alves, Minden, Nevada
Rick and Connie Wilkey, Castle Rock, Colorado
Daniel Stiglitz, Escanaba, Michigan
Jennifer Richardson, Delta, British Columbia
Harmony Zellers, Buckley, Washington
Kyle Hatch, Benicia, California
Sheldon Bell, N. Vancouver, British Columbia
Elliot Groeneveld, Keizer, Oregon
Jack and Obadinah Heavner, Seattle, Washington
Dave Sigurdson, Magnolia, Texas
Don Smucker and Jade Chandler, San Angelo, Texas
Jay Knight, Tylertown, Mississippi
Janet and Jim Manis, Valparaiso, Indiana
Mac Scott, Umpqua, Oregon
Stuart Chapman, Lynden, Washington
Denise Barber, Olean, New York
Ron Richardson, Costa Mesa, California
Dean Brundige, San Jose, California
Paul LeVeille, Pepperell, Massachusetts
Judi Sutherland, Almonte, Ontario
Robert Puhr, Dawsonville, Georgia
Deb Hurlbut, Evergreen, Colorado
Roch Nadon, Whitehorse, Yukon
Scott Gettman, Lynnwood, Washington
Rose McLees, Lewistown, Montana
Ray Stallings, Georgia
Wes Brubacher and Bobbi Chamberlain, Geyserville, California
Thom Price, Colorado Springs, Colorado
Robert Reed, Elk Point, South Dakota
Doris Pursell, Riegelsville, Pennsylvania
Tom Cousins, Vicksburg, Michigan
Billie Swengel, Lynnwood, Washington
Dave Huston, Salt Lake City, Utah
Jerry Burnham, Cullman, Alabama
Phil Dean, Rio, Wisconsin
John and Linda Walicek, Elgin, Texas
Phil Hanby, Wynantskill, New York
Chris Cooney, Coos Bay, Oregon
Ronald Miller, Kellerton, Iowa
Doug and Linda Baker, The Sea Ranch, California
Gary Richardson, Happy Valley, Oregon
Greg Chambers, Gridley, California
Keith Lord, Anchorage, Alaska
Denver Woods, Byhalia, Mississippi
Steve Evans, Everett, Pennsylvania
Wayne Petrie, Lake Geneva, Wisconsin
Sandy Schmidt, Louisville, Colorado
Paul Banner, Bluffton, Ohio
Mark Allen, Calgary, Alberta
Bob Eckert, Paul Smiths, New York
Terry Richardson, Cape Fair, Missouri
Beth and Steve Edwards, Fremont, Wisconsin
Joseph Marciano, San Diego, California
Cindi Delo, Zeeland, Michigan
Sonny Fann, Tall Timbers, Maryland
Jeff Weaver, Ephrata, Pennsylvania
Dennis Delo, Zeeland, Michigan
Bob Robinson, Davenport, Florida
Karen Huntzinger, Salem, Oregon
Joseph Tamulevicius, Waymart, Pennsylvania
Jeff Johnston, Eugene, Oregon
Steve Hannan, Arvada, Colorado
Chris Barry, Grand Bend, Ontario
Bruce and Sherri Weiler, Anchorage, Alaska
Tom Burns, Chassel, Michigan
Eckhart Franz, Maple Ridge, British Columbia
Daisy Shepard, Bonne Terre, Missouri
Bill and Mary Ellen Litchfield, Pembroke, Massachusetts
Catherine Tassinari, Peabody, Massachusetts
Brett Burguard, Boston, Massachusetts
David Farmer, Rocky Face, Georgia
Kevin McGeehan, Warsaw, Indiana
Dirk Keeler, Deming, New Mexico
Alan and Susan Schroepfer, Belmont, North Carolina
Arn Chamberlain, Eagle, Wisconsin
Gary and Cinda Whistler, Carlisle, Pennsylvania
Darin Blanchard, Shoreline, Washington
David Casterson, Aptos, California
William and Julie Smith, Winsted, Connecticut
Paul Pistella, Pittsburgh, Pennsylvania
Mary Gibson, Arcade, New York
Brian Kivett, Boone, North Carolina
John Matthiesen, Nordland, Washington
Steven Didier, Clearwater, Idaho
Bill and Audrey Ruccio, Clarkesville, Georgia
John Galt, Quincy, California
James Wilson, Ponce de Leon, Florida
Andrea Caruolo, Ape, North Carolina
Robert Shrode, Montgomery, Alabama
Lonnie Cross, Muskogee, Oklahoma
Mary Strasser, Westcliffe, Colorado
Dan Morgan, Quemado, New Mexico
Sam Rose, Belleville, Illinois
Pem Richardson, Barnwell, South Carolina
Doug Johnston, Victoria Harbour, Ontario
Bob Brown, Deer Park, Washington
David McKee, Loveland, Colorado
Tom, Coon Rapids, Minnesota
Roger Couturier, Greene, Maine
Bob Billington, Creve Coeur, Missouri
Shawnee Hanson, White Salmon, Washington
Andrew Robinson, Ponte Vedra, Florida
Jason Wesleey, Valencia, California
Bob and Janet Bromley, Alstead, New Hampshire
Donna and Scott Bailey, Colchester, Connecticut
Joseph Marciano, San Diego, California
Julie and Darrel Peeples, Olympia, Washington
Chuck Mickelson, Hansville, Washington
Todd Johnson, Charleston, South Carolina
Steven Miller, Appleton, Wisconsin
Robert Trader, Cape Coral, Florida
David Romero, Shreveport, Louisiana
James and Kathy Schumacher, Eagan, Minnesota
Janell Fehlen, Stayton, Oregon
Cheryl Lane, Salem, New Hampshire
Shawn Christian, Oliver, British Columbia
Sherilyn Fuentes, Dunnellon, Florida
Gary Swope, San Diego, California
Tom Flanary, Miami, Florida
Sue Graf, Southwest Harbor, Maine
Jerry Langford, Lapine, Oregon
Ira and Lisa Allen, Blue Ridge, Texas
Dave Schwandt, Earlville, Iowa
Mitch Johnson, Mesa, Arizona
Ron Rowell, Florida
Jim Nores, Agua Dulce, California
Jim Kauffman, Dowling Park, Florida
Tom Elliott, Sulphur, Oklahoma
Mark Combs, Batesville, Indiana
Lou Buesseler, Bethel, Minnesota
Jim Thies, Springwater, New York
Beth Badalamenti, Amherst, Ohio
Beth Stenger, Woodbine, Maryland
Darren and Nancy Schofield, Enfield, Nova Scotia
Ed Hunnicutt III, Saint Louis, Missouri
Eric Devolin, Oshawa, Ontario
Bryan Henry, Wasaga Beach, Ontario
George McIntyre, Bedford, New Hampshire
Gary and Stephanie Anderson, Grand Junction, Colorado
Greg Brouillard, Coeur d' Alene, Idaho
Peter Welch, Seaford Melbourne, Australia
Sandy and Barry Lancaster, Middleburg, Florida
Jon and Maura Walsch, Port Townsend, Washington
Karen Osborne, Wetumpka, Alabama
Robert Pangelina, California
Chris Roark, Normal, Illinois
Aaron Hollingsworth, Nacogdoches, Texas
David Percy, Mingus, Texas
Roger Woods, Houghton, Michigan
Josh Papp, Brecksville, Ohio
Chris Kelly, Phoenix, Arizona
Matt and Kellie Wiegand, Omaha, Nebraska
Richard Fry, Andrews, Indiana
David Bosshard, Boulder Junction, Wisconsin
Ken and Elaine Mackln, Geneva, Indiana
Holly Perry, Livingston, Montana
Glenn Blount, Austin, Texas
Louis Gardner, Wylie, Texas
Mark Grindley, Cambria, California
Kevin Jenckes, New Durham, New Hampshire
Scott and Daryl Kern, Cogan Station, Pennsylvania
Terry Mechler, East Greenville, Pennsylvania
David Kiel, Washington DC
Brian Busch, Pensacola, Florida
Calvin and Pat Bullock, Gardendale, Alabama
Larry and Linda Pearson, San Antonio, Texas
George and Liz Collett, Scottsdale, Arizona
Grant Davidson, Milton, Ontario
Anne Witherell, Olean, New York
Dave Witherell, Olean, New York
Jeff and Lori Simonis, Apache Junction, Arizona
Paul and Jackie Huba, Hartland, Wisconsin
John Daddabbo, New Britain, Connecticut
Scott Heidorn and Rita Heidkamp, Fairbanks, Alaska
David Hostetler, League City, Texas
Lanny Vrooman, Davisville, Pennsylvania
Bruce and Charlene Hunt, Syracuse, Utah
Ed Heinlein, Helena, Montana
Micah Wilcock, Truckee, California
Laurie and JP Pedrick, Box Elder, South Dakota
John Augustine, Fort Myers, Florida
John and Jo Mladjenovich, Sykesville, Maryland
Randy Friend, Noblesville, Indiana
Bob and Cheryl Dampier, Slidell, Louisiana
Rick and Alice Johnson, Silver City, New Mexico
Denny and Deb Berry, Greenville, Pennsylvania
Esther David, Tucson, Arizona
Denise Gilmer, Santa Rosa, California
Mark Bench, Evaro, Montana
Paul Hall, West Frankfort, Illinois
Sally Zegers, Ventura, California
Phil and Pat McEachen, Holden, Massachusetts
Nick Velho, Hollister, California
Steve and Mary Jo Staley, Anaconda, Montana
Bill Haynes, Denver, Colorado
Neil Steirer, Merton, Wisconsin
Tom Ralls, Newcastle, Wyoming
Karl Chakford, Butler, Tennessee
Edwin Congdon, Castleton, Vermont
Angela Klinger, Box Elder, South Dakota
Jon Schnebly, Klamath Falls, Oregon
Doug Caruolo, Apex, North Carolina
Norm and Cindy Cawthra, Ladysmith, British Columbia
James and Donna Thomas, Belen, New Mexico
Helen Scurzi, Sebastopol, California
Ron and Sheila Day, Heuvelton, New York
Don and Cathy Fillman, Sandwich, Massachusetts
Monie Mouton, Metairie, Louisiana
Don Silva, Spirit Lake, Idaho
Pat Phillips, Kennesaw, Georgia
Bill Lawlor, Mineral, Virginia
Lucien F Langlois, Berlin, New Hampshire
Stephen Beal, Goldston, North Carolina
Julien Durban, L'Assomption, Quebec
Bob Lange, Rosamond, California
Alain Larose, Pointe Aux Outardes, Quebec
Nate and Jill Nelson, Brooklyn Park, Minnesota
Richard Albright, Machesney Park, Illinois
Brian Mackison, Brandy Station, Virginia
Kim Pesko, Chatt Hills, Georgia
Mark Harrison, Naples, Florida
Dee and Gene Smith, Pensacola, Florida
Judy and Rick Valenzuela, Autaugaville, Alabama
John Markwell, Seneca Rocks, West Virginia
Bruce VanAken, Eaton Rapids, Michigan
Neil and Yoly Mullen, Dawsonville, Georgia
Lena Swanson, Walterboro, South Carolina
Phil Risley, Deltona, Florida
Grant Smith, Vancouver, British Columbia
Kelly McKee, Las Cruces, New Mexico
Barb and Nick Malden, Tacoma, Washington
Chris Jeffery, Sedan, Kansas
Jeff and Drena Hauser, Layton, Utah
Bruce Gardner, Gladwin Michigan
Donald Swanstrom, Eatonville, Washington
Jamie Rea, Covehead, Prince Edward Island
Jerry and Janice Bonneau, Dawson, Alabama
Steve and Susan Merrill, Springfield Township, Ohio
Mike Stanbro, Hillsboro, Oregon
Glenna and Bill Mayer, Port Charlotte, Florida
Steve Dew, Logan, Ohio
Andy Lee, San Mateo, California
Ken Hufnagel, Sahuarita, Arizona
Angie and Tim Scott, Sonora, California
Ralph Giles, Tucson, Arizona
Jeff Post, Cary, North Carolina
Teri Hartshorn, Dayton, Ohio
Bill Schapfel, Hixton, Wisconsin
Vic Smith, Coquitlam, British Columbia
Randy Roam, Normangee, Texas
Garry Hewson, Aratula, Queensland, Australia
Mark Miller, Cambridge, Ontario
Ted A. Holvey, Wooster, Ohio
Frank King, Preston, Connecticut
Jerry Oakley, Lander, Wyoming
Larry Brennan, Winchester, California
Jenny and Eric Van Horn, Carr, Colorado
Harold and Joan Storey, Cumberland, Rhode Island
Ross and Vickie Hamann, Waitsburg, Washington
Doug Sloan, Port Charlotte, Florida
Dale and Wendy Gould, Bathurst, New Brunswick
Terry Skinner, Gloucester, Virginia
Randall Gilbertson, Shell Lake, Wisconsin
Will Hartnett, Vero Beach, Florida
Eldon Rhodes, San Antonio, Texas
Larry Chiuppi, Livingston, Texas
Nathan Hopkins, Buffalo, New York
Jeffrey Skinner, Covington, Washington
Judith Jackson, Portland, Oregon
Fran and David Carlin, Independence, Kentucky
Stan O'Connor, Winston, Oregon
Tim Sheldon, Candler, North Carolina
Sara Jane Pieper, Salt Lake City, Utah
Rita Eshman, Monroeville, Pennsylvania
Wanda Myers, Flagstaff, Arizona
Mardes York, Tesuque, New Mexico
Brett and Rhonda Nicholas, Polk City, Florida
Paul Fraser, Jamaica, Vermont
Richard Jones, Penticton, British Columbia
Marc Burrik, Greensburg, Pennsylvania
Robert Bolin, Montgomery, Texas
Kent Phyfe, Statesville, North Carolina
Mark Zinnen, Morrison, Illinois
Richard C.Raymond, Luskville, Quebec
Dave Thalman, Winchester, Virginia
John Stahley, Wantagh, New York
Douglas Packer, Perth, Western Australia
Joe and Tiana Colasanto, Florissant, Colorado
Teresa Ragan, Gerald, Missouri
Paul Sessions, Milton, Florida
Elaine Sessions, Milton, Florida
Scott Silva, Warren, Rhode Island
Mark and Sheryl Anderson, Augusta, Kansas
Allen and Sharon Brummel, Edgerton, Minnesota
Dan Stillwell, Streator, Illinois
Tom Julkowski, Nevis, Minnesota
Cathie, Berthoud, Colorado
Mark Robinson, Parkdale, Oregon
Eddie Moran, Mississippi
Dean Brundige, Alviso, California
Brian Soldano, Haskell, New Jersey
John and Vickie Helmandollar, Powell Butte, Oregon
Dietrich Kanzler, Santa Ana, California
Orian Hartviksen, Okanagan Falls, British Columbia
Gretchen Berquam, Clever, Missouri
Russell Berquam, Clever, Missouri
Paul Henderson, Vacaville, California
Jim McIrvin, Washingtonvile, New York
Alyn Wolf, Colorado Springs, Colorado
Gail Coleman, Mountain Home, Arkansas
Dave Christenberry, San Jose, California
Steven Pederson, Citrus Heights, California
Robert Bower, Auburn, New York
Dave and Anne Bulford, Algonquin Highlands, Ontario
Lloyd Anderson, Big Sandy, Texas
Tim Chapell, Indianapolis, Indiana
Jeff and Chris Enserink, Roseburg, Oregon
Tracy Small, Gilbert, Arizona
Adam Gentry, Bardstown, Kentucky
MJ Mohn, Lolo, Montana
Paul Henderson, Vacaville, California
Craig Hodges, Palmer, Alaska
Patricia Cimaglia, Seagoville, Texas
Johanna Roy, Irving, Texas
Mike Shippy, Parker, Colorado
Neil Kleckner, British Columbia
Catharine Wolfe, Moatsville, West Virginia
Melanie Middlemiss, Creston Valley, British Columbia
Dan Woollard, Lagrande, Oregon
Louis Rapoli, Box Elder, South Dakota
Joe Sesto, Nipomo, California
Roger Couturier, Greene, Maine
Lee E Vormelker, Gales Ferry, Connecticut
Mike and Anita Ashworth, Monticello, Florida
Glen Senterfeit, Charleston, South Carolina
Cynthia Green, Fishers, Indiana
Talon Sparhawk, Bear Creek, Wisconsin
Bob Miserez, Jefferson City, Missouri
Dennis Chemnitz, Ronkonkoma, New York
Ken Fuhrer, Frankliñton, North Carolina
Bud Brown, Deer Park, Washington
Micheal and Nancy Pohl, Plymouth, Minnesota
Dixon Boggs, Myrtle Beach, South Carolina
William Palleschi, Brentwood, New Hampshire
Daniel Osterhout, Irvona, Pennsylvania
Steve Bakos, Marshfield, Wisconsin
Ed Amato, Middletown, Connecticut
Deborah Johnson, Water Valley, Mississippi
Greg and Jody Smith, Springfield, Illinois
Julian D Ocheltree, West Hickory, Pennsylvania
Ronald Hawley, Shingle Springs, California
Randy Murray, San Antonio, Texas
Cathy Curtis, Calgary, Alberta
Bill and Jackie Harrington, Bennington, Vermont
Sam Boykin, Nevada City, California
Lonny Whitsell, McKinney, Texas
Kay and Russell Caldwell, Hoover, Alabama
Melissa Malejko, Calgary, Alberta
Ernie Leet, Mayslick, Kentucky
Dorothy Finaldi and Jim Traub, Boise, Idaho
Adam Eugene, Ely, Nevada
Steve and Gloria Lymer, Toronto, Ontario
Frank Poole, Seattle, Washington
Eddy McD, Warminster, Pennsylvania
Kevin McCauley, Brampton, Ontario
Thomas Kees, Neenah, Wisconsin
William Heath, Cranbrook, British Columbia
Tom and Kristin Lowe, Mont Vernon, New Hampshire
Louise and Michel Beauregard, Boisbriand, Québec
Heather Johnson, New Auburn, Wisconsin
Brian Stewart, Dunn, North Carolina
Mike Swiszcz, Box Elder, South Dakota
Cushman Phillips, Summerdale, Alabama
Leigh and John Bennett, Virginia Beach, Virginia
John Tully, Palmdale, California
David Smith, Eagle River, Alaska
Cori Grant, Oro Valley, Arizona
Ed and Nancy Barrett, New Paltz, New York
Robert Martin, Artesia, New Mexico
Jim and Randi Goodnight, Mills River, North Carolina
David Buxton, Ronkonkoma, New York
Kris and Frank Thomas, Twentynine Palms, California
Gerald Peddy, Tyler, Texas
Todd Ramsay, Louisville, Kentucky
Norman Wade, Marshalltown, Iowa
Dorsey Emmerich, Lothian, Maryland
Jay and Judy Kamys, St. Augustine, Florida
Stephen W. Dolak, Pleasant Prairie, Wisconsin
Randy Bundschu, Green Cove Springs, Florida
Monica Lewandowski, Westchester, Illinois
Meghan Boresi, St. Louis, Missouri
Kim and Walt Ragoza, Granby, Massachusetts
Karsten Oslie, British Columbia
Linda Becker, Kenosha, Wisconsin
Ron McLaughlin, Cedar Falls, Iowa
Greg Stillson, Sisseton, South Dakota
Rebecca Kunkel, Round Top, Texas
Joe and Wendy Munn, Victoria, British Columbia
Warren Sidney, Mesa, Arizona
Keith Sopp, Ontonagon, Michigan
Dr. Jonathan Miller, Sausalito, California
Lyle and Carrie Anglemyer, Wakarusa, Indiana
Jason Jensen, Elkhart Lake, Wisconsin
Ron Stoj, Hamburg, New York
Ed Ladner, Denver, Colorado
Shimon Waksman, Albuquerque, New Mexico
David Masopust, East Northport, New York
Lewis Turner, Port Williams, Nova Scotia
Henry Stoyer, Lexington, Kentucky
Donald St Jean, Coventry, Rhode Island
Stephen Purvis, Crawfordville, Florida
Carl Dunham, Steamboat Springs, Colorado
Blake powers, Granite City, Illinois
Stephen Nichols, Orange, California
Dennis Opferman, Wichita Falls, Texas
Jeremy and Anne Carroll, Germantown, Maryland
John Ranis, Petaluma, California
Bill Hinkle, Reno, Nevada
Marc Allard, Boisbriand, Quebec
Dave and Karen Oglesby, Sun City Center, Florida
Alan Mueller, Halstead, Kansas
Troy Dial, Highland, Utah
Will Hartnett, Vero Beach, Florida
Randall Dunn, McKinney, Texas
Jeff Baker, Saint Charles, Illinois
G Lovely, East Greenbush, New York
Stephen and Judy Schaeffers, Coquitlam, British Columbia
Richard Hogan, Manalapan, New Jersey
Dan Daddieco, Hot Springs Village, Arkansas
Jake Zboya, Langley, British Columbia
Pierre and Johane Mongeau, Farnham, Quebec
Joe Hanes, Lake Wales, Florida
Jeff Williams, Shreveport, Louisiana
Danny Jones, Weed, California
Kelvin Kohanes, Cornelius, Oregon
Zachary Carte, Granville, Ohio
Denver and Linda Woods, Byhalia, Mississippi
Jack and Lynne Sheesley, Little Rock, Arkansas
Jay Yennock, Camillus, New York
David and Angela Peterson, Sacramento, California
Owen Wellington, Northfield, New Hampshire
Steve and Julia Berry, Castle Rock, Colorado
Nancy Roberts, Marlin, Texas
Cor Black, Port Coquitlam, British Columbia
Nick Eves, Jaser, Missouri
Rick and Debra Lanagan, Broad Brook, Connecticut
Mike and Deb Herzfeldt, Manitowoc, Wisconsin
Terry Skinner, Gloucester, Virginia
Brian and Stephanie Hockensmith, Johnstown, Pennsylvania
Gary Keenan, Bremerton, Washington
Jack Peckham, Anza, California
Rob Schnell, Houston, Texas
Ronald A Schemmer, Pensacola, Florida
Mike Nevins, Grand Junction, Colorado
Eric Magi, Spokane, Washington
Diane and Barbara Stewart, Prather, California
John A Macdonald, Morell, Prince Edward Island
David MacArthur, Annapolis, Maryland
Jim Bayley, Vancouver, Washington
Marty Commins, Panama City, Florida
Bill B Peters, Whitney, Texas
Mike and Martha Glasner, Concord, California
Jerry and Eleanor Stromberg, Mukilteo, Washington
David and Lila Weinstein, Holbrook, New York
Dany David, Rigaud, Québec
Joe Sesto, Nipomo, California
Carl Pelton, Baltimore, Maryland
ME Anderson, Denton, Texas
Ron Berry, Turner, Oregon
Jerry LeBlanc, Danvers, Massachusetts
Frank and Polly Foley, Cape Cod, Massachusetts
Pamela Sawyer, Groveland, Massachusetts
Dottie Dolezal, Minneapolis, Minnesota
Brenda Fair, Hopkinton, Massachusetts
Ray Fair, Hopkinton, Massachusetts
Jordan Pawley, Stanfield, Oregon
Crystal Sanchez, Roopville, Georgia
David E Wirey, Findlay, Illinois
Douglas R Hagood, Spokane, Washington
Michael Regina, Hillsdale, New York
Philip Smith, Buhl, Idaho
Keith Brakke, Apple Valley, Minnesota
Ted Marston, Homedale, Idaho
Alan Clapham, Yuba City, California
M Oliver, Sierra Vista, Arizona
Norman Nelson, Albany, Oregon
Roger Vaillancourt, Montréal, Québec
John Cunningham, Bellingham, Washington
Marian Muir, Prince George, British Columbia
Jeffrey Thieken, Waldo, Ohio
Ken Dawson, Alpine, California
Bruce and Sherri Weiler, New Port Richey, Florida
Bette Colvin, Gifford, Washington
George McCall, Greenville, South Carolina
Vinicius Maranhão, Porto Real, Rio de Janeiro, Brazil
John Byrne, Cochrane, Alberta
Jason and Tammie Dalley, South Jordan, Utah
Ron and Elke Ross, Lake Worth, Florida
Cliff Cizan, Rio Rancho, New Mexico
Ozzie Friesen, Delta, British Columbia
Cliff Richard, Edmonton, Alberta
Barb and Bob Grueschow, Apple Valley, Minnesota
Bruce Reeves, Bella Vista, Arkansas
John A Werderber, Warren, Oregon
Rich Moore, Manteca, California
Brian A Lund, Hermosa, California
Neal Armstrong, Banning, California
Lee Johnson, Gardnerville, Nevada
James Monroe, Snellville, Georgia
Denise Barber, Olean, New York
Tom Wells, Rescue, California
Gordon Dickinson, Allenford, Ontario
Chris and Krista Folta, Kennewick, Washington
Carlos Batista, Toronto, Ontario
Steve Hudson, Bordentown, New Jersey
Frank Dawson, Daytona Beach, Florida