Four Wheel Campers launches a new product concept that challenges the very definition of pop-up truck campers and fuses the advantages of truck toppers and roof-top tents.  Does it demount?  Does it make sense?  Let's find out.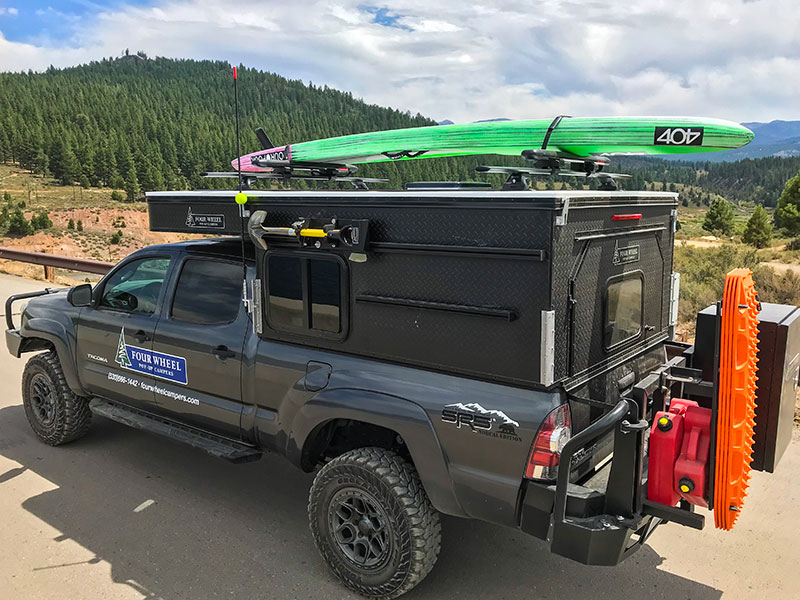 Above: 2020 Four Wheel Camper Project M.  All photos supplied by Four Wheel Campers.
Picture in your mind a traditional pop-up truck camper.  Remove the camper's floor, lower sidewalls, and interior cabinetry.  Keep the upper sidewalls, pop-up roof, windows, and cabover sleeping area.
Inside the unit, with your feet on the metal of your truck's bed, you are standing straight with 6'6" of interior height.  Around you are four large windows in the pop-up's soft wall.  In front of you is a King or Queen-size foam mattress in the cabover.  If you didn't look down you'd swear you were in a standard Four Wheel Camper.
That's Project M; essentially the upper two-thirds of a Four Wheel Camper Shell Model reimagined as a more affordable ($9,795 MSRP) and significantly lighter (425 to 500 pounds depending on truck size) product.
Compared to a Four Wheel Camper Shell Model ($13,895 MSRP), Project M is $4,100 less and 400 to 475-pounds less weight.
To put this in proper perspective, Project M is 19-percent less in cost and 49-percent lighter in weight than Four Wheel Camper's previously most affordable and lightest weight offering.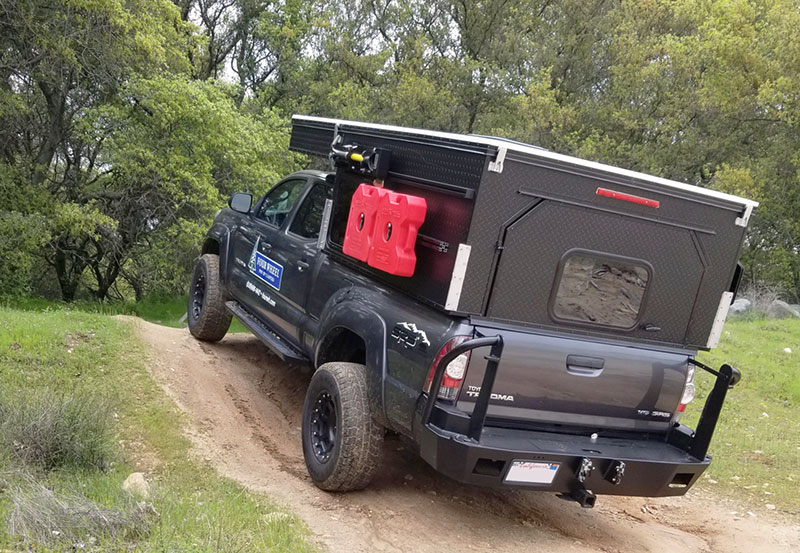 Does Project M Demount?
As a magazine, we have a simple shorthand to instantly distinguish between a true truck camper and products that look like truck campers, but fail to offer the demountable versatility our marketplace and community demands.
If it doesn't demount, it doesn't count.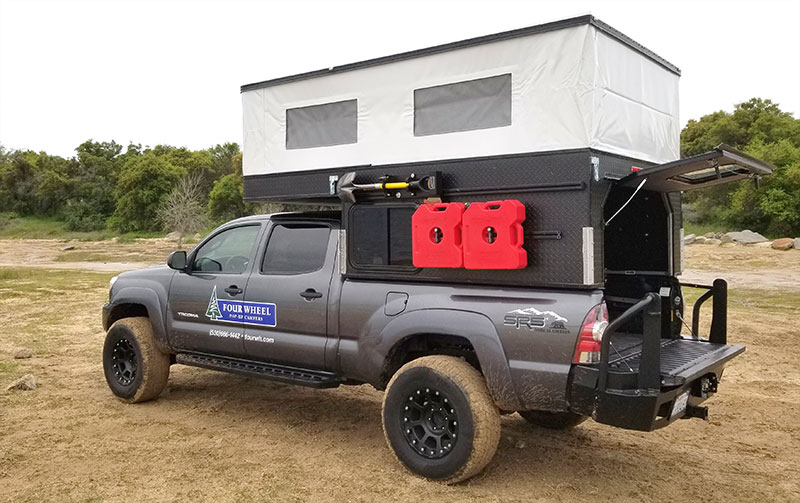 While the photographs provided by Four Wheel Campers do not show camper jacks, they do show jack brackets on all four corners.  Furthermore, their initial release stated that Rieco-Titan camper jacks are an option.
Oh, and there's one more thing…
At 425 to 500 pounds (without options) Four Wheel Campers suggests that a Project M camper can be physically removed and mounted – by hand!  Never before in our nearly 13-year history with the truck camper industry has a manufacturer made such an audacious claim.
Where's my calculator…
With four people, that's 106.25 pounds per person for the 425-pound model and 125-pounds per person for the 500-pound size.  That's certainly possible with four strong individuals, but I suspect six people would be better.
And don't you think for a second that we're not going to put this claim to the test.  Heads up Four Wheel Campers.  Before we're convinced, this camper must be carried; lifted, loaded, unloaded and lowered.  Get your back supports ready.
Built Like A Four Wheel Camper
Project M units are constructed the same way Four Wheel Campers has built pop-up truck campers for the past 47-years; all-aluminum frames, all-aluminum roof structures, and their patented manual lift system.
The available option list has been developed to allow customers to dial-in the function and aesthetic they want from the final truck and camper rig.  Exterior aluminum siding is available in matte-black diamond plate (shown in the photos) as well as smooth aluminum in gloss black, grey, white, khaki and red.
For options, Four Wheel Campers offers the majority of the existing exterior option list from their traditional pop-up line; awnings, lights, racks and more.  Project M units also come pre-wired for solar panels and batteries allowing owners to power portable 12-volt refrigerators and lights while charging computers, phones and other devices.
Naturally, the interior options are more limited, at least for now. Buried at the very bottom of their initial release was perhaps the most compelling news outside of the Project M announcement itself.
Four Wheel Campers is working on retrofittable interior options including drawers, cabinets and racks.  This means Project M could gain some of storage benefits of traditional pop-up campers without the weight of the lower shell.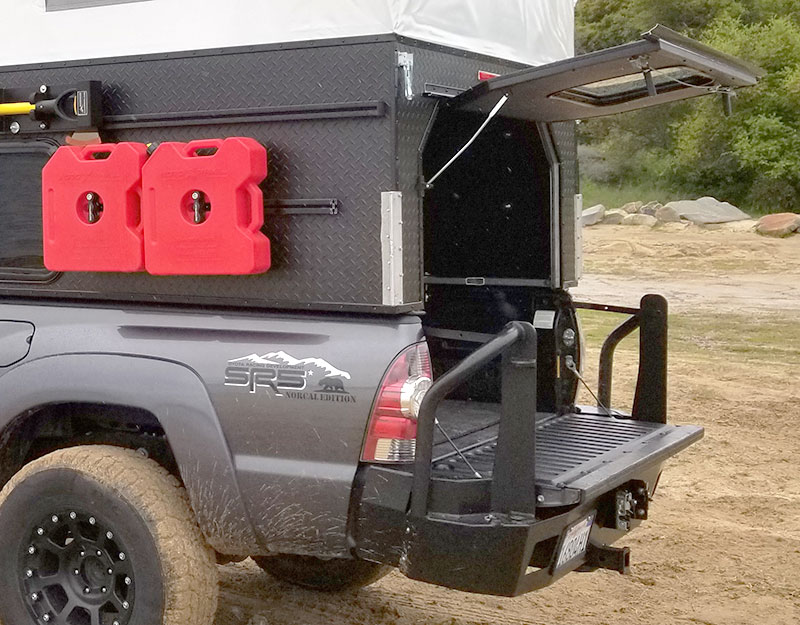 Best of all, a Project M you purchase now (Four Wheel Campers is taking orders) should be compatible with these interior options when they become available.  This is all vaporware until the options materialize, but the concept is promising.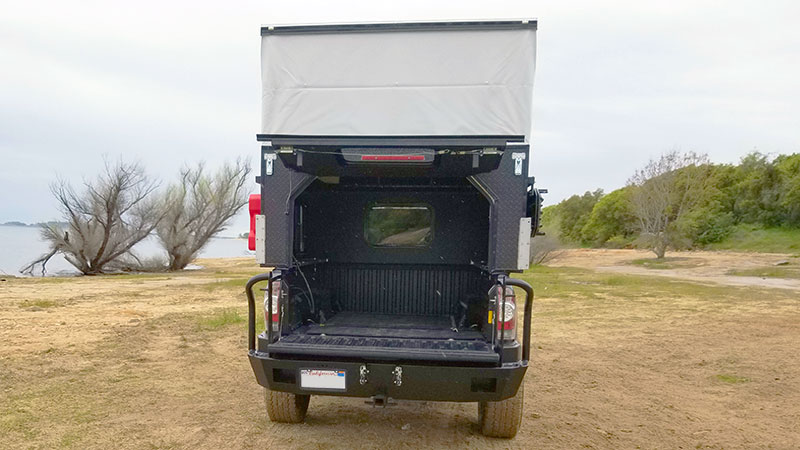 To further illustrate what Project M is all about, Four Wheel Campers offers a number of top, side and hitch racks to carry water cans, gas containers, shovels, Maxtrax, surfboards, kayaks, bikes, skis and more.  That brings up what might be the most important question about Project M.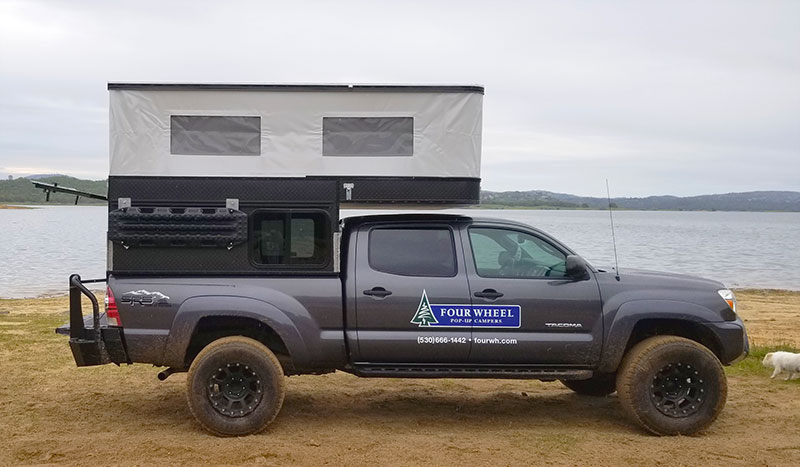 Who is Project M For?
The entire truck camper industry and greater RV marketplace is facing a major demographic challenge.  While sales are currently riding the crest of the enormous baby boomer wave, we are not attracting enough younger buyers to sustain the current industry size.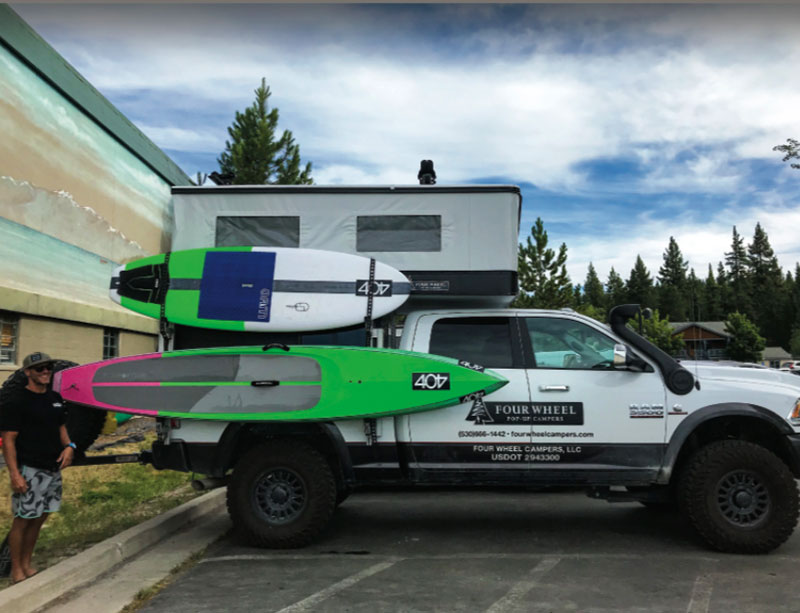 By creating a product that's (a) truly weight-compatible with lighter-duty trucks and (b) offered at lower price point, Four Wheel Camper strengthens their appeal to these younger buyers.
Project M is also very much in line with the wants and needs of this precious audience.  For example, by leaving the truck bed exposed, Project M becomes something of a small toy hauler for full-size bikes, inflatable kayaks, fishing and hunting equipment, coolers, camping gear and more.
You're not going to bring an ATV inside Project M, but lithium-powered all-terrain bikes are on the list of possibilities.  And after a muddy day on the trails, you can hose out a Project M – at least the lower third of the unit and truck bed.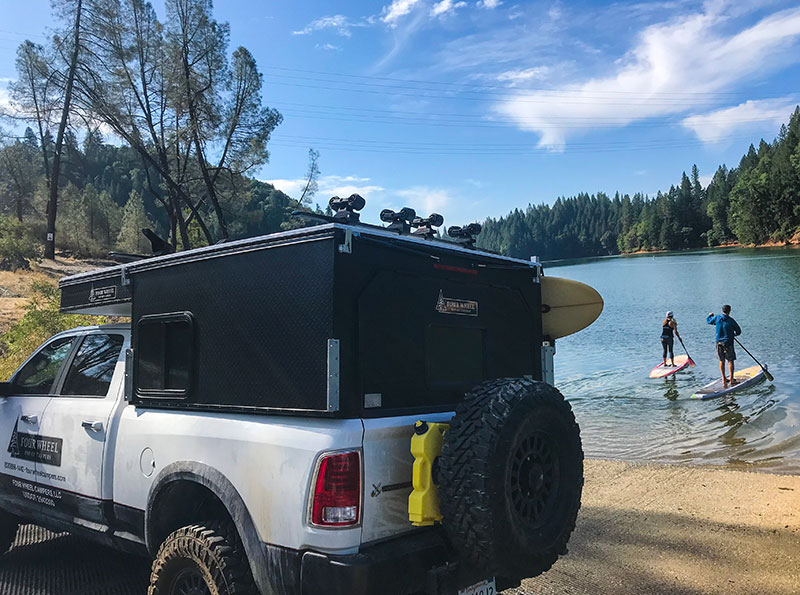 It will be very interesting to see how Project M is perceived by the truck camper and outdoor marketplace.  It's been a long time since a truck camper manufacturer debuted a product that challenged the definition of its own products.  Will they attract younger buyers?  Will folks who were going to purchase a standard Four Wheel Camper opt for this concept instead?  Time will tell.
Project M: Not Really The Name
It was fun to wrap our minds around Project M.  For example, we normally have a floor plan for a new camper announcement, but how do you have a floor plan for a camper with no floor?
To make matters more intriguing, Project M isn't the final name of this product.  Four Wheel Campers has been using "Project M" as their internal project name.  Then they decided to announce the new camper as Project M.  Then their press release stated that Project M is just a placeholder name.  And yet, they're taking orders.
That sets up a risky bet for potential customers.  Upon delivery they might be looking at a camper named, "Bucket of Monkeys" complete with a logo.  Seriously, Four Wheel Campers, name this product!  If you don't, we will.
Humor aside, we are very excited to see Four Wheel Campers take a daring step in an important marketplace direction.  We need more truck camper manufacturers to think big about ways to attract the next generation of truck camper owners.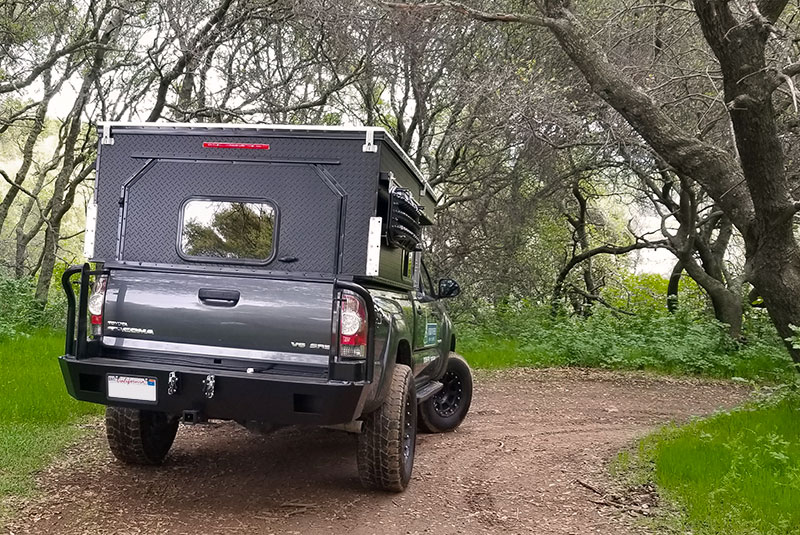 Four Wheel Campers has managed to debut a camper that's significantly lighter and cheaper without sacrificing their renowned quality.  That could make Project M (or whatever it ends up being) a model to follow.
For more information about Four Wheel Campers, visit their website at fourwheelcampers.com.  Click here to request a free Four Wheel Campers brochure.