Tipping the scales at well over $120,000, Four Wheel Camper's AEV Ram 3500 Prospector rig is destined to turn heads at Overland Expo West.  And that's not the only news coming out of Woodland, California.  New model tease alert!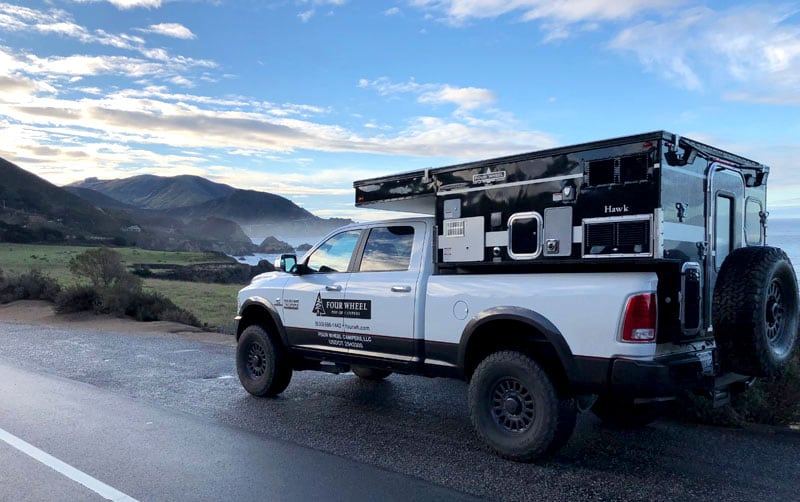 Before a vehicle is offered to the public, we expect that it's been road-tested under the most strenuous conditions for reliability, and crash-tested from every axis for safety.  If a car or truck doesn't pass these tests, it should not be – legally or ethically – made available to the public – right?  Hold that thought.
Throughout the truck camper marketplace, we think nothing of modifying our trucks.  We upgrade wheels and tires, change shocks, add sway bars, affix helper springs and install airbags.  If there's an aftermarket suspension product that could make our rigs handle better, we want it.  In short, we alter the very system that we expected to be rigorously tested for reliability and safety.
Of course, that's not the whole story.  Aftermarket suspension products can greatly enhance the driving performance and handling of a truck camper rig.  For example, the Torklift Upper StableLoads and Roadmaster Sway Bar on our 2018 Ram 3500 make a huge difference in the handling and sway control of our truck camper set-up.  While we will never be able to safety test our modified truck like Ram trucks, I would not want to drive our rig without these additions.
If only there was a way to have the best off-road aftermarket suspension enhancements in a truck tested to OEM-level safety and reliability.
Enter American Expedition Vehicles (AEV) and their Ram Prospector series.  Not only is the Prospector upgraded to an extreme for off-road capabilities, but its safety and reliability tested to the exact same degree as an original OEM truck.  AEV literally puts their Ram Prospector trucks through the same testing that Ram (Fiat Chrysler Automobiles) does.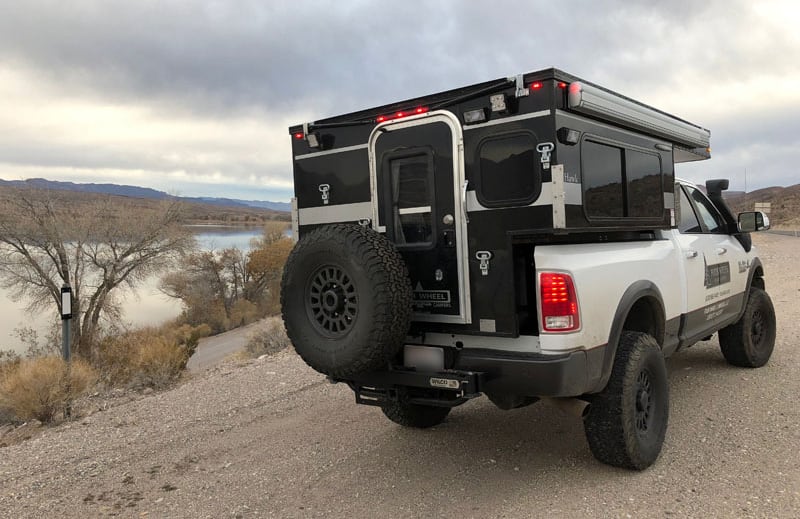 As you would imagine,  these tests are extraordinarily expensive and multiple tests are often required – per feature.  We know of no other truck performance company that goes to this extreme.  As a result, AEV can provide an unprecedented off-road beast with a full Ram warranty.
This brings us to the subject of this announcement.  For Overland Expo West, Four Wheel Campers has teamed up with AEV to produce one of the most intriguing (and admittedly costly) pop-up combinations we've seen in a long time.  Ram 3500 Prospector meet Four Wheel Camper Hawk.
For more information about Four Wheel Camper's feature rig, we talked to Robert Vogl, President, and Stan Kennedy, Sales and Marketing, of Four Wheel Campers.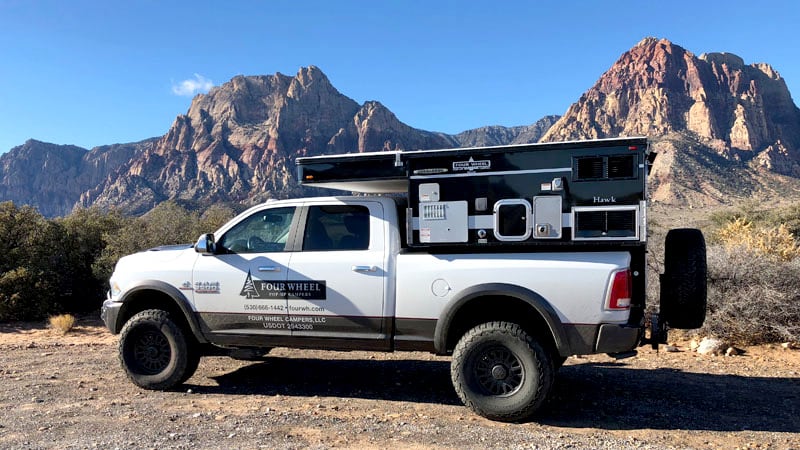 How did Four Wheel Campers get involved with American Expedition Vehicles (AEV)?
Stan: Dave Harriton, the Founder and President of AEV, contacted Four Wheel Campers about four years ago.  Dave wanted us to build custom flatbed campers for AEV trucks.  We were in the middle of a number of initiatives at the time, so it didn't happen.  Dave later purchased a Four Wheel Camper for his own truck.
This year we had a budget for two nice show trucks.  Robert Vogl, CEO of Four Wheel Campers, and our board of investors understand the power of having show rigs available for events and media opportunities.  We loan our new Tacoma and Ram rigs out to media for publicity.  The AEV Ram Prospector is a head turner no matter where we go.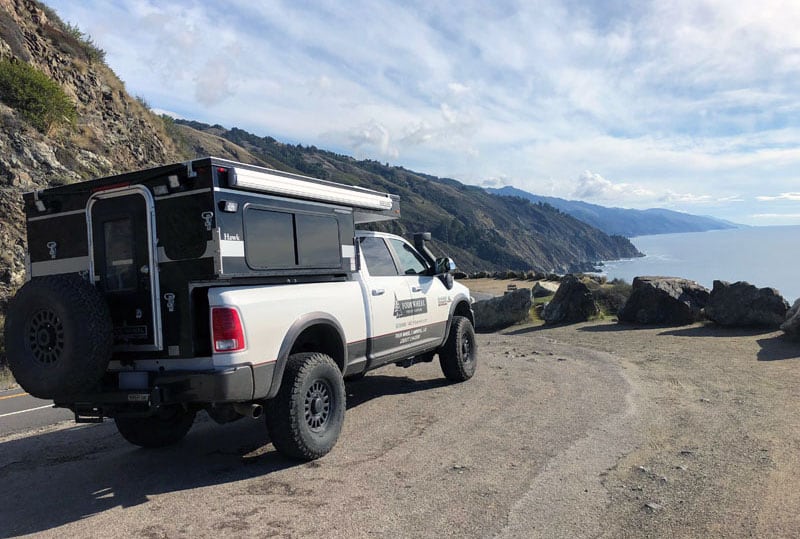 Why did you decide to go with a one-ton Ram 3500?  That seems like a lot of truck for a Four Wheel Camper.
Stan: They don't make the Prospector in a half-ton configuration.  With the Ram 3500, we get both a show truck, and a truck capable of towing our 40-foot trailer that carries four of our campers plus all of our show gear.
The 3500 has a factory air assist suspension so it can handle a light load or a heavy load when towing the trailer.  AEV does make a Recruit version for a half-ton Ram which is similar, but it obviously won't tow that big of trailer.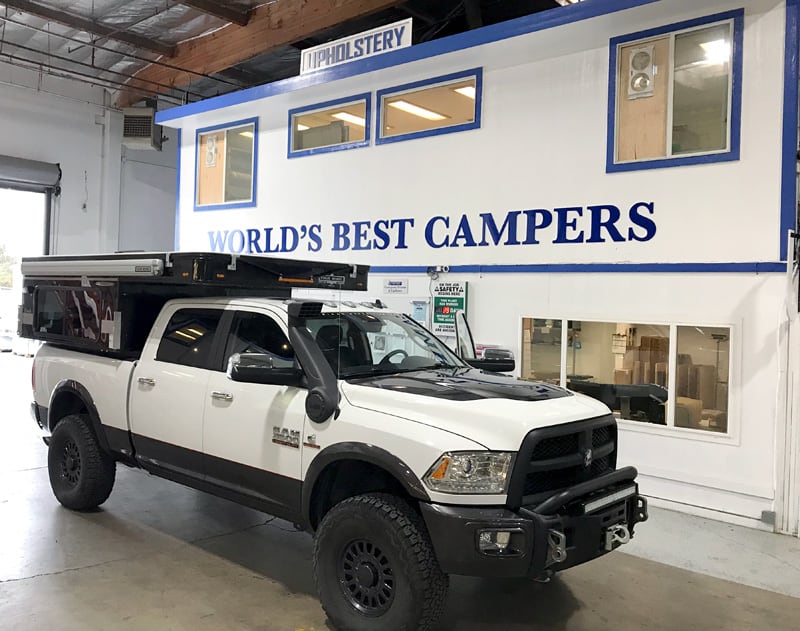 Is the AEV Ram 3500 a Prospector or Prospector XL?
Robert: We considered the Prospector XL, but our truck is just the Prospector.  The Prospector XL has 40-inch tires and would not be a good choice for towing our show trailer.  It was also too big.  The concept with our show vehicles is to present trucks our customers aspire to own.  The Prospector XL is so large that it is not practical for most of our owners.  We thought the Prospector was a better fit.
What differentiates the AEV Prospector from a factory Ram 3500?
Robert: An AEV Prospector is significantly more off-road capable.  What's unique about AEV from any other aftermarket vehicle upgrade company is that they are making products to OEM specifications.  They employ engineers who have worked for OEM truck manufacturers and use OEM techniques and use OEM suppliers to make almost every part they sell.  Because of that, Ram can sell a Ram Prospector as a factory Ram with the full factory warranty and AEV warranties all the modifications.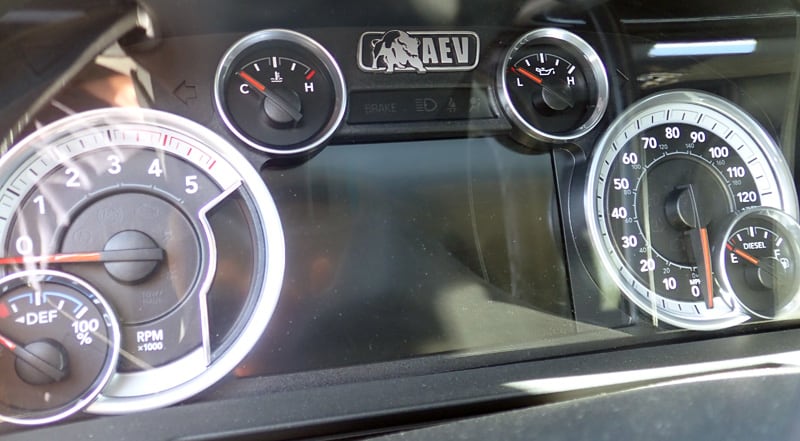 Above: AEV badging on the Ram 3500 instrument panel
When an auto company designs a vehicle, they precisely design and test the load that a vehicle can handle.  They spec their suspension components to be specific materials and sizes based on that information.
When you then start changing to 37-inch wheels and beefier parts, you are changing the material, thickness of the material, and the angles beyond the original design envelope.  AEV, unlike any other, off-roads parts manufacturer that we are aware of, designs, specs and builds these parts just as the OEMs do.
That is true of all of their parts.  Why does AEV cost more than its competitors?  The OEM-level testing.
That's why you can get an AEV vehicle directly from a Ram or Chevy dealer with the original warranty.  The manufacturers are so confident in the testing AEV performs that the AEV modifications don't alter the factory warranty.  Additionally, AEV warranties all of their parts for the same duration as the factory warranty, so the customer is fully covered.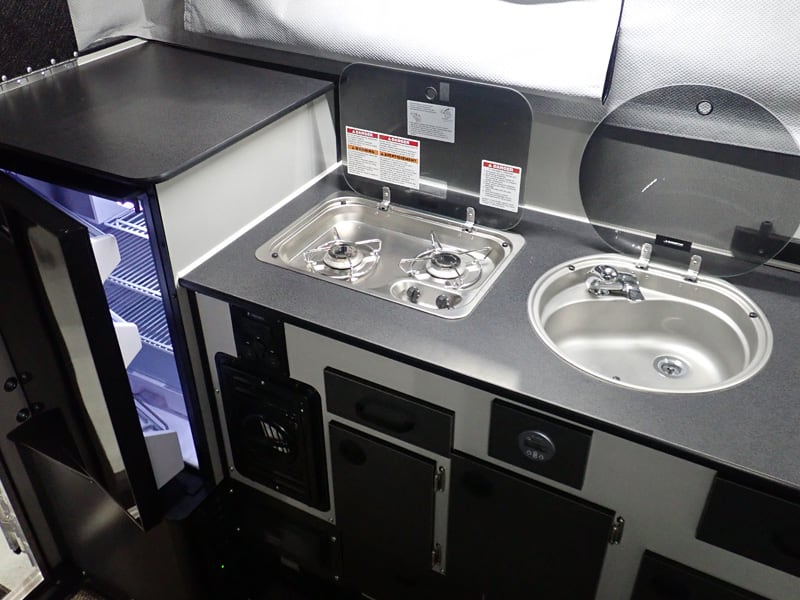 Above: The interior of the Four Wheel Camper Hawk that will be displayed at Overland Expo West
What model Four Wheel Camper are you matching to the AEV Prospector for Overland Expo West?
Stan: We are taking a Hawk model with black smooth aluminum siding.  The Hawk fits full-size short bed trucks like the Tundra, Ford F-150, Ram 1500, and Chevy 1500.  Other than the black siding, the Hawk features standard options.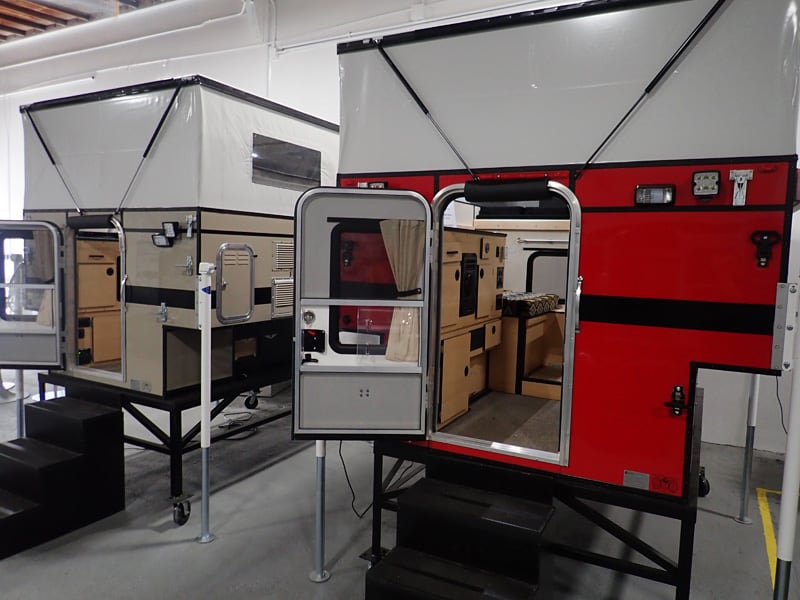 Above: Khaki and red smooth-sided Four Wheel Campers in their new showroom
Four Wheel Camper debuted a number of new exterior colors at Overland Expo West 2018.  How has the color option performed since its announcement?
Stan: The color option is doing quite well.  The colors are all factory-painted by our aluminum distributor.  At this point, we are offering khaki, red, silver, charcoal, and black.  We still offer white and the Silver Spur edition.
The smooth sides and colors make a Four Wheel Camper look more modern.  The smooth aluminum sides will show dents and scratches more than old-school corrugated aluminum, but it looks sharp.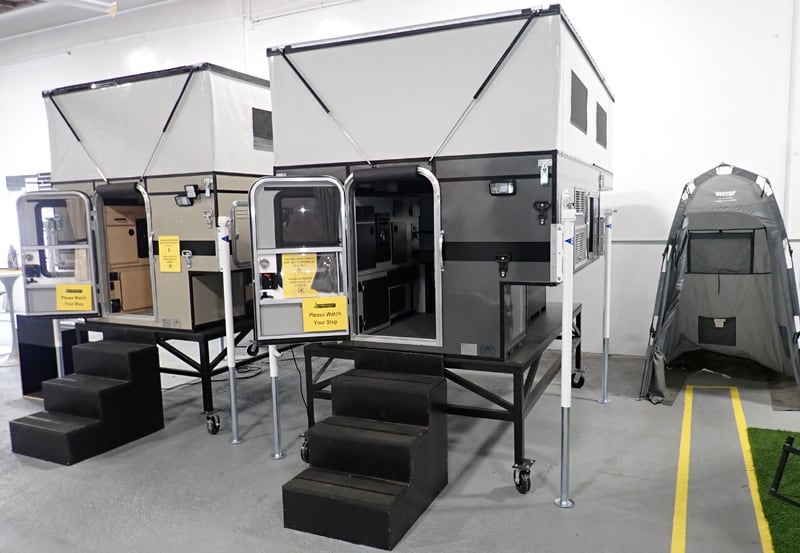 Above: Charcoal and khaki campers with color matched doors, compartments, and trim
At Overland Expo 2018 we didn't have the doors, compartments, and trim color-matched yet.  In the color option article, we showed a red Four Wheel Camper with white trim.  Now that trim is black and looks fantastic.  The water fill doors and refrigerator vents are color matched or have a darker color.  The awnings are silver instead of white.  All together, it makes a big difference.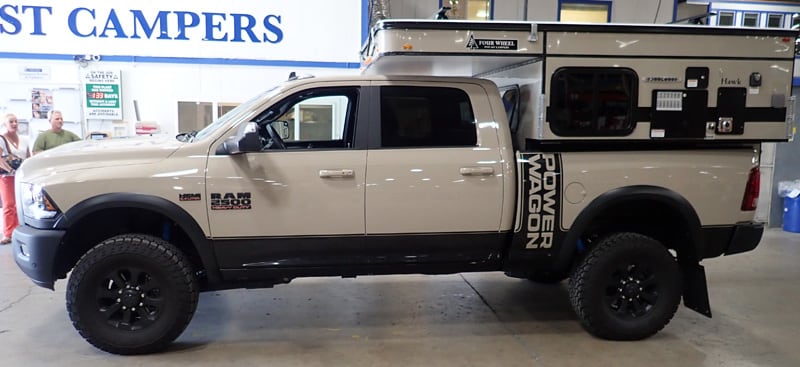 What is the cost for the smooth exterior colors?
Stan: The smooth exterior siding is an additional $895.
Tell us about the experience of driving the AEV and Four Wheel Camper rig.  How does it perform on and off the pavement?
Robert: We purchased the truck from Dave Harriton himself.  It was his personal business truck.  I flew to AEV in Missoula, Montana, picked up the truck, and drove it to Vail, Colorado, and then out here to California.
In a week and a half, I put 2,400-miles on the Prospector.  Unlike nearly every vehicle build that's been modified for off-road use, the AEV Prospector handles pavement like a factory truck.  It's truly impressive.  You don't even know you're in a truck because it's so smooth.  At one point I looked down at the speedometer and saw that I was going 85 miles per hour and couldn't believe it.  I thought I was just cruising along at 55 miles per hour.
We also went on a seven-hour drive down dirt roads in Wyoming.  It was fabulous.  The truck handled really well.  We didn't do extreme off-roading because we didn't have recovery equipment with us.  As far as difficulty level, we did a 2 on a scale of 1 to 10.  I have no doubt this truck could handle a level 10.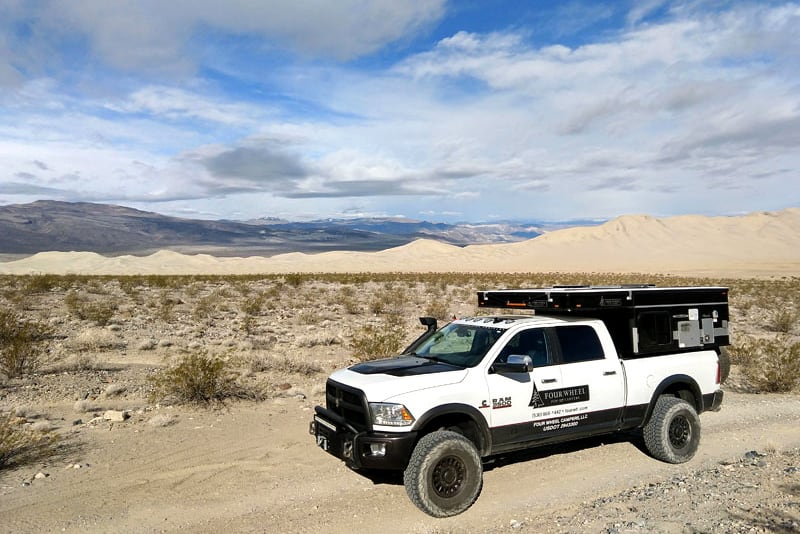 Stan: As Robert said, it drives like a Cadillac on pavement.  I took the Prospector to Anza-Borrego Desert State Park with Brian McVickers of the Overland Journal.  We attempted Blow Sand Hill; a huge sand dune that quads race up and down.
We aired down the tires, put the lockers in, and started crawling up the hill.  We were going slow so it felt we were sliding sideways down the hill as the sand was moving under us.  I chickened out about half way and came down.  I think if I had gunned it we would have been fine.  But, we had just bought the truck and I didn't want to crash it the first week.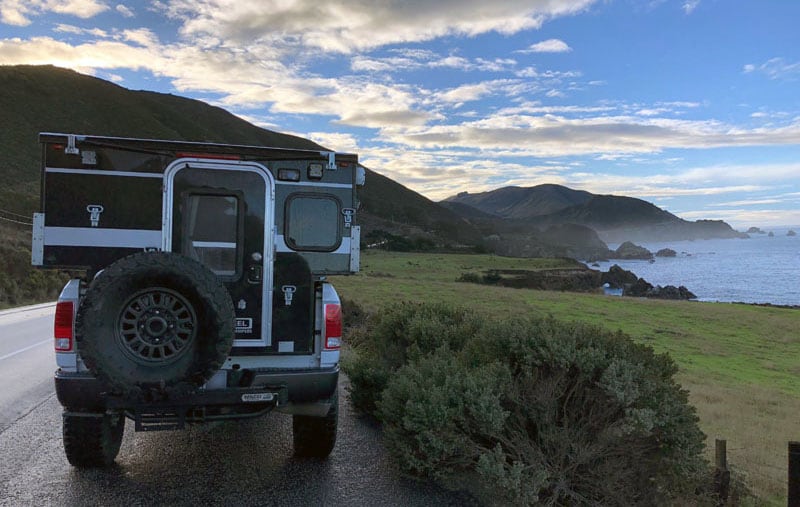 What would the cost of this rig be – truck, camper, and installed accessories?
Robert: Because we bought it used, it was less.  In 2016, the base 2016 Ram 3500, crew cab, four wheel drive with Laramie package, 6.7 turbo diesel engine was $69,000.  At AEV they have a standard package of what comes with the Prospector and then some options.  The total of those two things came to another $26,000.  All totaled, the AEV Ram 3500 Prospector without the camper would be $95,000.
Stan: A typical Four Wheel Camper Hawk with popular options is between $28,000 and $30,000.
That's potentially a $125,000 rig. Is it for sale?
Robert: This particular rig is not for sale since it is our company's show vehicle.  You would have to pry it out of our hands.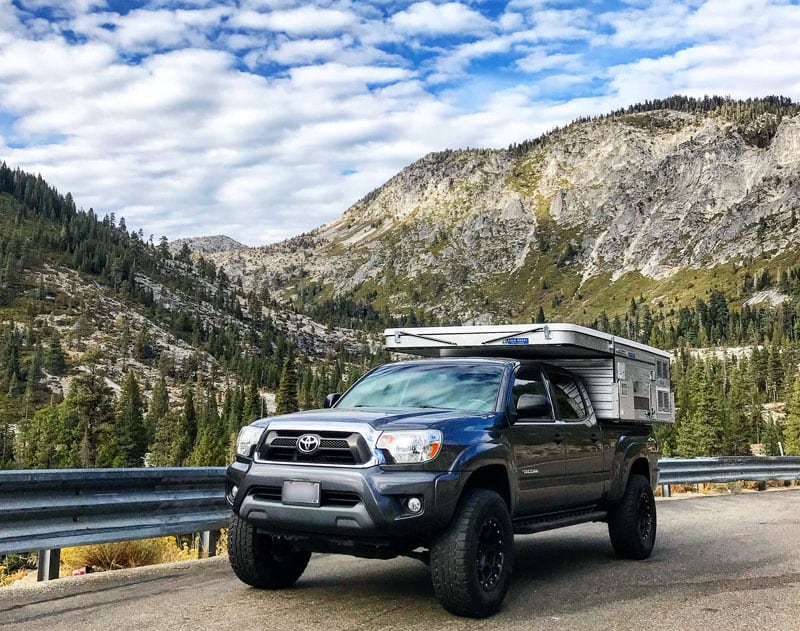 The other rig you're bringing is based on a Toyota Tacoma.  Tell us about that build.
Stan: It's important for us to show a small, city truck.  Having a big and small truck on display demonstrates the range of possibilities.  The Toyota Tacoma is a stock crew cab with a 6-foot bed and four-wheel drive.  We typically load a Four Wheel Camper Fleet on a Tacoma.

Are you bringing anything else to Overland Expo West this year?
Stan: We are bringing an assortment of Four Wheel Camper models.  We will also have about 30-customers bringing campers to display in our Overland Expo booth.  Plus, our dealers have booths near us with even more Four Wheel Camper units.
How is the Woolrich Edition doing?
Stan: Now that there are a number of Woolrich Editions in the field, people are getting excited about it.  We are making more Woolrich Editions now than when it was announced.  Of the 100 Woolrich Editions that we are going to build, more than half are spoken for.
Have things continued to progress with the 5S lean manufacturing initiative?
Stan: Yes, we work on it every week.  During the initial kick-off we had classes.  Now it's about maintaining and refining the skills we've learned.
Last year Four Wheel Campers announced a production change to flexible rubber propane lines, propane manifolds, polymer braided plumbing lines, and plumbing manifolds.  Have there been more production changes?
Robert: This year we have focused on modernizing the aesthetic of Four Wheel Campers.  The smooth side color options, new fabrics, and the overall freshened look appeal to a younger demographic.
We have worked on efficiencies, quality, and automated equipment where we can.  It's still a hand-crafted product.  We don't want to lose that, but we do want to use technology where it should be used without losing the soul of the product.  That's the challenge.
Is Four Wheel Campers working on any new products or announcements for later in 2019?
Robert: Yes.  We are expanding our product line with a new product that will be out this summer.  That's all I can say about that – for now.
Stan: It is completely different than anything we offer now.
That is quite the tease!  Is there any other Four Wheel Camper news to share?
Robert: There are still lots of things we're working on as far as efficiency, product upgrades, and internal systems.  In the 2.5-years we've owned Four Wheel Campers, we've made some great strides and have accomplished a lot.  Sometimes I feel like the proverbial duck on the pond; moving slowly above the water, and paddling like crazy under the water.
We know where we want to take the company, but we've had to eat our peas before our dessert.  I've been eating peas for 2.5-years (no offense to pea lovers!).  We have built on the traditional strengths of Four Wheel Campers.  Quality, communication, and documentation have improved immeasurably.  Now we are continuing to build on that foundation.
To visit the Four Wheel website, go to fourwheelcampers.com. Click here for a free Four Wheel brochure.