Palomino RV is upping the ante for 2024 with standard (and huge) 12-volt compressor refrigerators, 100Ah batteries, 400-watts of solar, exterior Azdel walls, ladder prep, white cabinetry in their Max line, and more. Palomino is getting more primo.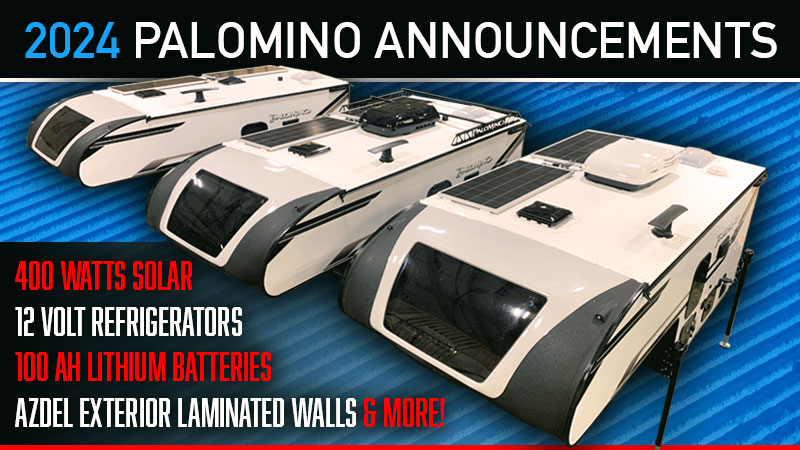 Palomino simultaneously offers some of the most affordable and competitively priced truck campers on the planet, and some of the most premium features found in any camper.
They accomplish this trick with volume and standardization. With Forest River at their side, Palomino is able to purchase materials and components in volumes most camper manufacturers couldn't dream of, much less inventory. This dramatically drives down costs and allows them to produce campers at extremely competitive prices. When it comes to production costs, volume matters.
By standardizing their features and interiors across multiple camper and towable product lines, Palomino further enhances their volume advantages and streamlines production. When every unit uses essentially the same materials and components, you don't have to slow the line down, and you can advance repeatable processes that not only speed up manufacturing, but improve quality and quality control.
Wait, hold on a second! For 2024, Palomino is offering not one, but two interiors. Where their pop-up and entry-level hard sides share one interior, their hard side Max line is getting white cabinetry. What's going on here? I mean how in the name of Palomino can this be possible?
After the Elkhart RV Open House this past September, we visited Palomino HQ in Colon, Michigan. Our primary objective was to photograph the all-new Palomino HS-3210, but we also met with the leadership team, explored their latest product line, and toured the plant.
It was during this experience that we noted a different energy and confidence from the production leads and management. The production leads (five of whom joined us for our meeting) had designed the HS-3210. Not engineering. Not management. And both Engineering and Management not only supported this initiative, but were allowing the process to take Palomino in new directions.
Two Palomino interiors for 2024? Let's do it.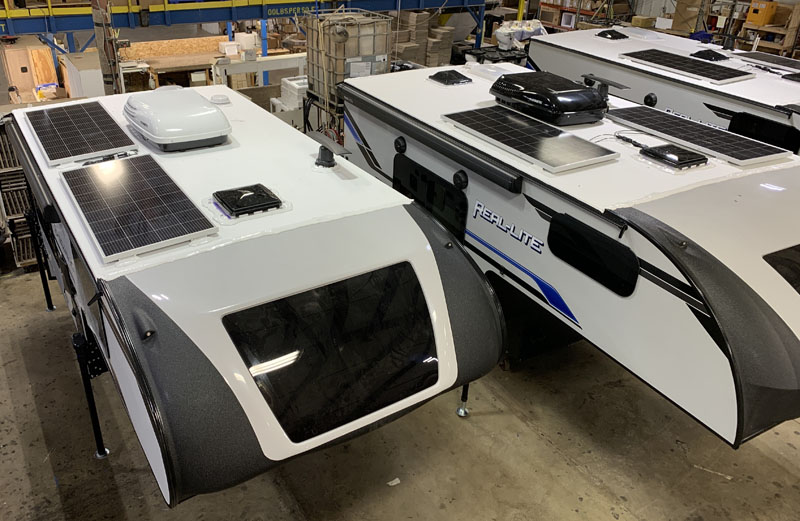 Beyond the two interior revolution, Palomino management revealed five additional model year updates for 2024. Starting on the exteriors, all 2024 Palominos ship with 400-watts of solar panels standard.
Four hundred watts of solar is fast becoming an industry standard. How is this possible? Per watt, solar panel prices have come down considerably in the past two years allowing camper manufacturers to justify two 200-watt panels.
To put this into perspective, our camper had a single 150-watt panel for five years (2015-2020). This was enough to keep our two Group 31 AGM batteries charged as long as we didn't go beyond powering our lights, fans, television, and a small 110-volt inverter. We then upgraded to a whopping (or so we thought) 490-watts when we had our FlexArmor roof installed in early 2020. Now we hardly ever see our batteries below full charge by mid-morning, and routinely maintain not only our house battery bank (still two Group 31 AGMs) but also a Goal Zero 500X lithium power power station.
Unless you're looking to run your air conditioner or charge proton packs, most camper owners should have their power needs more than met with 400-watts of solar. Don't cross the streams.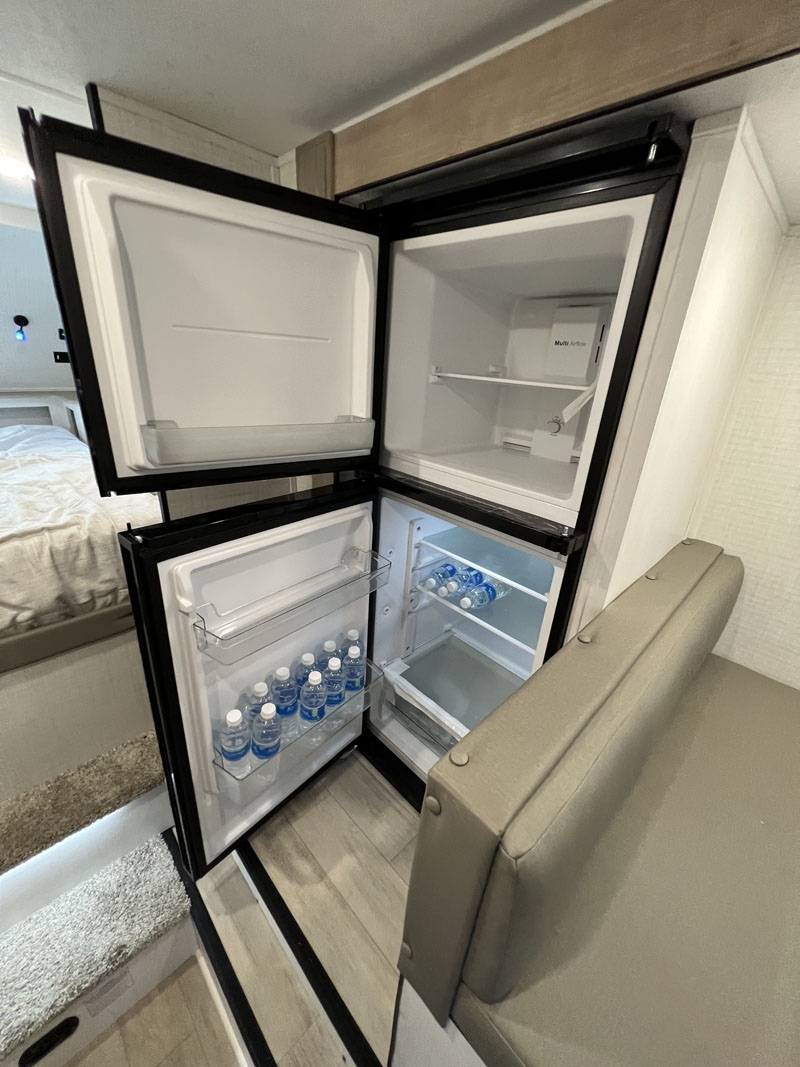 Another huge (and I mean huge) Palomino announcement for 2024 is the standard 12-volt compressor refrigerators. The Palomino Max series (HS-2901, HS-2902, HS-2910, HS-2912, HS-3210) as well as the HS-8801 gets 11 cubic foot 12-volt Ever Chill refrigerators. Not only are these new refrigerators gigantic, but they also have a neat party trick; the refrigerator and freezer doors open from the left and the right.
Not too long ago, 6 cubic foot refrigerators were the camper industry norm for hard side campers of any size. Then a few manufacturers bumped that size to 8 cubic feet and everyone went bananas. Now 12-volt compressor technology allows 11 cubic foot monster refrigerators in truck campers. We can't wait to take a camper out with one of these chilly beasts to see what the additional cold food storage means to our camping experience.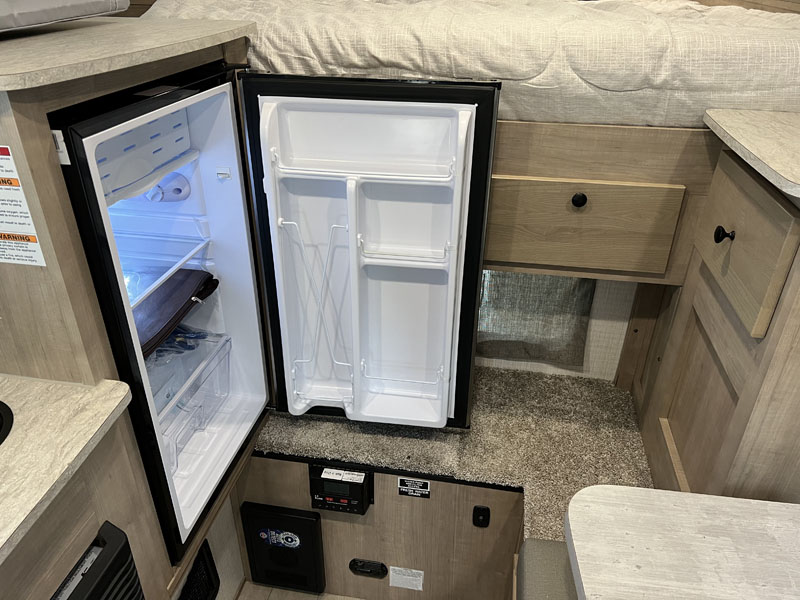 Palominos non-Max hard side line and pop-up campers also get 12-volt compressor refrigerators, but in a 3 cubic foot size. By changing from 2 or 3-way gas absorption refrigerators to 12-volt compressors, every Palomino gets more versatility with off-level camping (compressor models are essentially unaffected by level), and significantly lowers the demand for propane.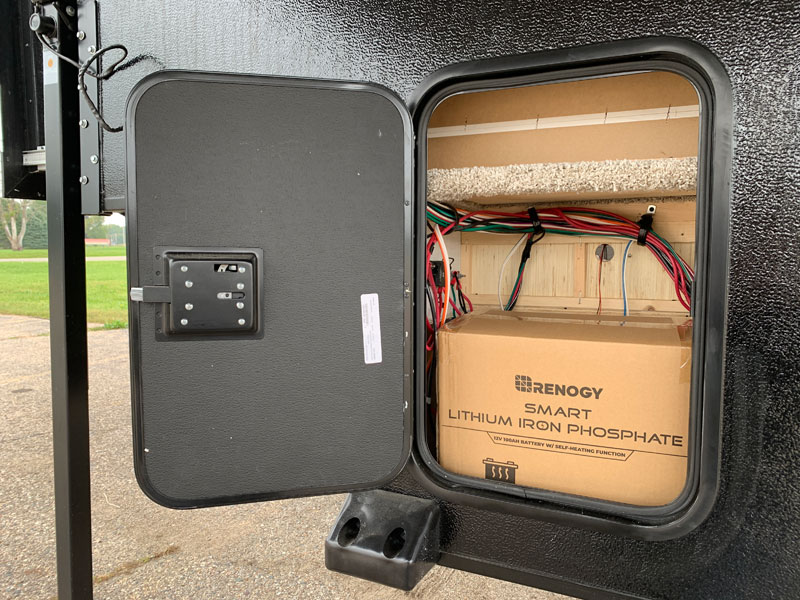 To meet the demands of the new 12-volt compressor refrigerator, Palomino not only made 400 watts of solar standard, but has added a 100 Ah lithium battery standard. This, like the aforementioned 12-volt refrigerators and 400-watts of solar, is becoming an industry standard. Things are really moving forward.
For the Palominos with the 11 cubic foot refrigerator, we expect most owners will opt to add an additional 100 Ah lithium battery. You could probably get by given the wattage of the panel array, but adding 100 Ah will go a long way to ensuring you have more than you need.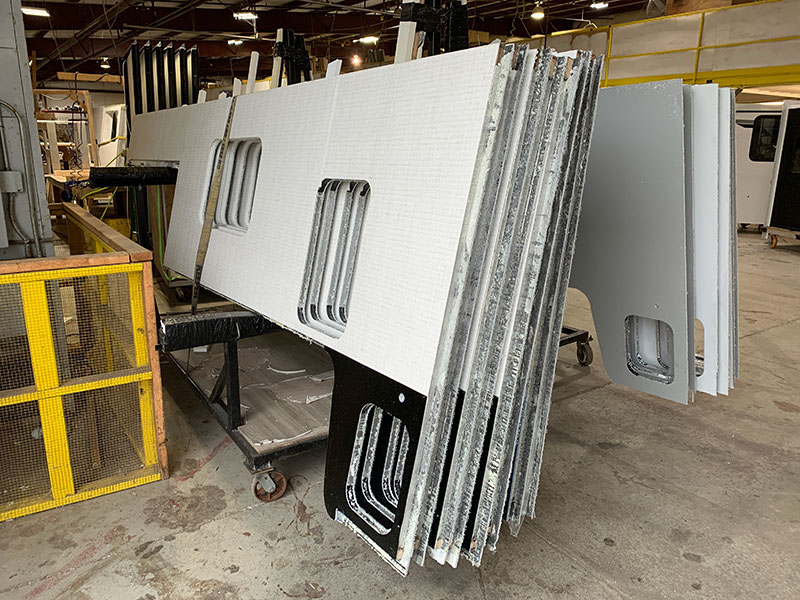 Over a year ago, Palomino changed the exterior walls on their towable units (travel trailers and fifth wheels) to Azdel. Azdel is a composite wall panel that replaces traditional luan plywood. The advantages of Azdel are that it is impervious to water (avoiding rot and mold), is up to 50 percent lighter, and the material improves the overall lamination strength. Of course, it's also more expensive than luan, but that's where Palomino's enormous purchasing power comes in.
So why did Palomino use Azdel on their towable units and not on their campers for at least a year? I would love to tell you it's because truck campers are more precious, so they tested Azdel on trailers and fivers first.
The reality is that the decision was mostly due to the benefit-to-cost ratio. With a 30-foot travel trailer, Azdel's weight savings really add up. On a 20-foot camper with considerably less sidewall (due to the cabover), the weight savings aren't quite so impressive.
Thankfully, Palomino's management has decided that even a small weight savings in a truck camper is worth the Azdel investment for 2024. You're darn right it is.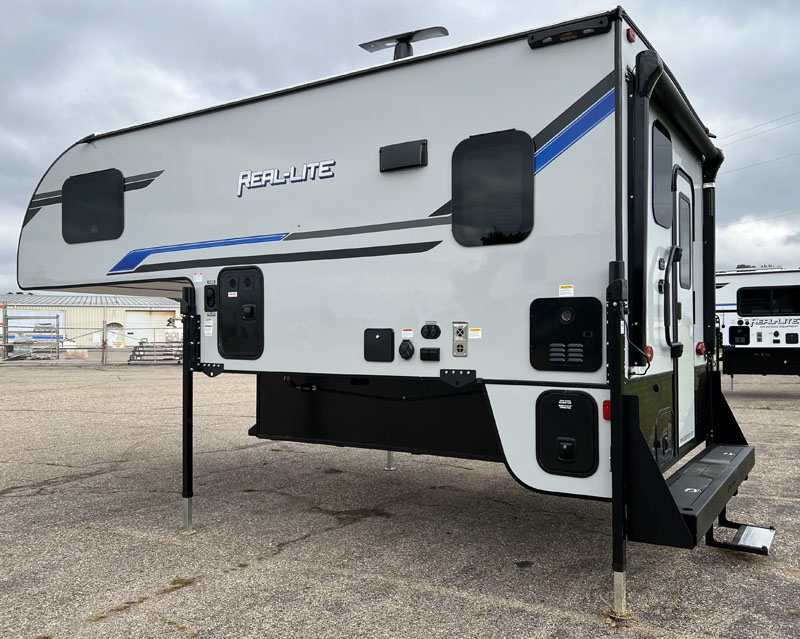 Above: Top right of the driver side wall of the HS-3210 you can see the ladder prep bracket
The final across-the-board Palomino update for 2024 is ladder prep. Now what the heck is ladder prep? For me, ladder prep is usually a short pause before climbing a ladder when I think, "Don't fall off." In this case, ladder prep is a fundamental change in the way our industry tackles the need to get on the roof.
For 2024, every Palomino comes with a 'ladder receiver'. This appears as a black ledge that a portable telescoping ladder hooks into. Palomino management explained that truck and camper combinations are often at different heights, so they leave it to their Palomino dealers (or the end consumer) to select the right telescoping ladder.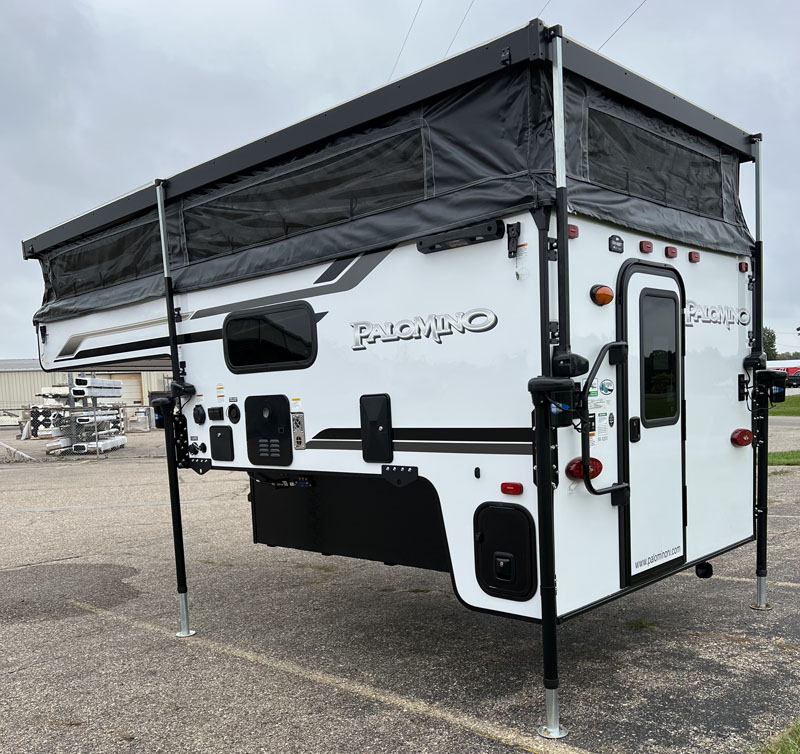 Above: Top right of the driver side wall of the SS-1251 you can see the ladder prep bracket
I have mixed feelings about this particular update, but certainly see the advantages. First, removing the fixed exterior ladder also removes a lot of exterior holes and potential leak points. And the versatility of selecting the right ladder height for your rig makes sense. I also like the modularity aspect allowing the ladder to be removed, replaced, or applied to another camper. However, I use our camper ladder all the time and hate to think that I would hesitate to check our roof due to the inconvenience of set-up, or forgetting the ladder at home. As with everything on truck campers, there are pros and cons.
We showcased Palomino's gorgeous new white cabinetry for the introduction of the 2024 Palomino HS-3210. In person, the white cabinets are even better than the pictures with a bright, open, and modern domestic vibe. Keep in mind we might be completely biased on this decor as we painted our camper's interior cabinetry (and camper walls) white this past winter.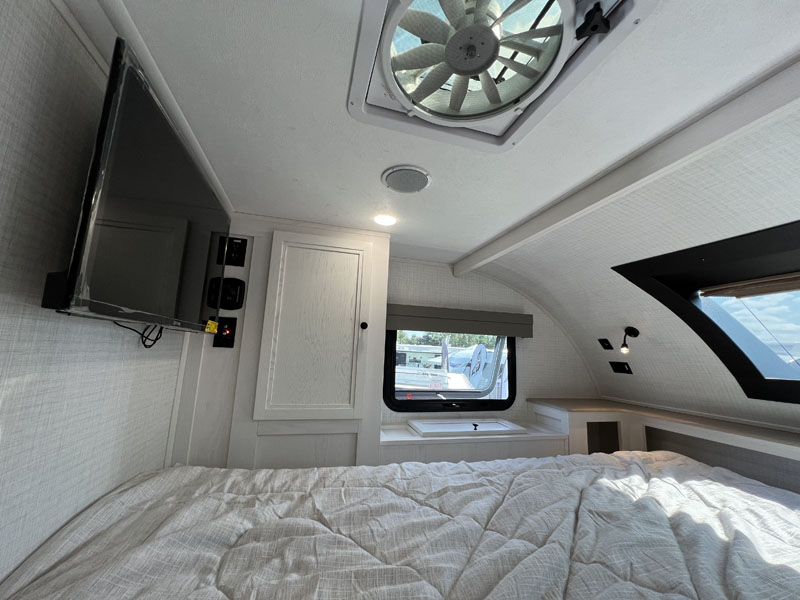 Once more, Palomino started with white cabinetry in their trailers and brought it over to the camper line. Palomino management will be closely monitoring how the white cabinets are received in the Max line. If successful, we may see white cabinets throughout the Palomino camper line in the near future. After experiencing the white cabinets in person with the HS-3210, we think Palomino's future will be all white.
2024 Model-Specific Changes
In addition to all of the above, there are some model-specific changes for 2024.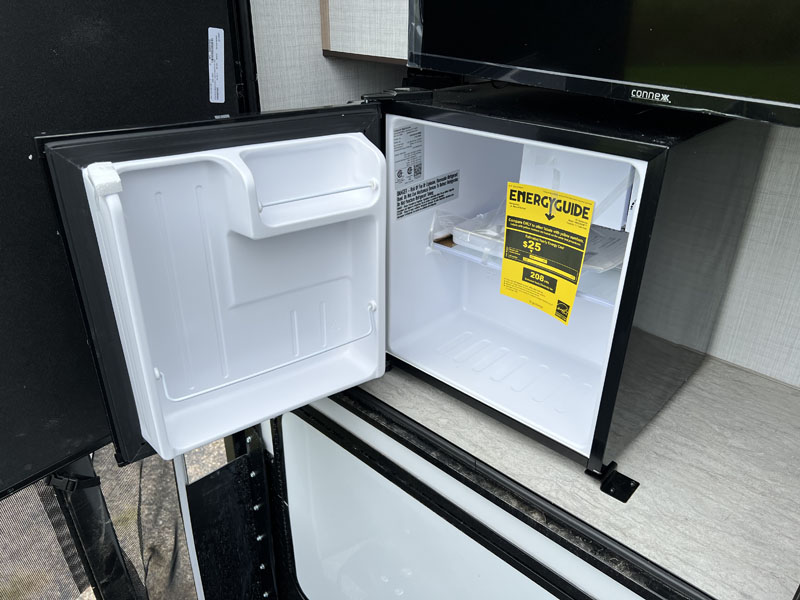 The 2024 Palomino HS-2912 (the side-entry, fold-down rear patio model) is getting a 12-volt refrigerator and 12-volt television for the exterior porch area.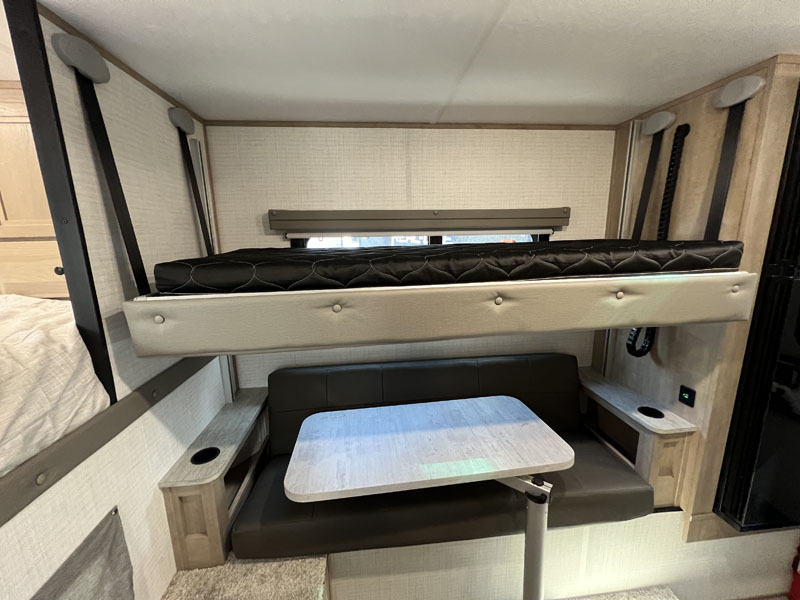 The 2024 Palomino HS-8801 is getting a new electric bunk. We had some fun with this feature at the Elkhart Open House. It doesn't really work on mind control, or does it?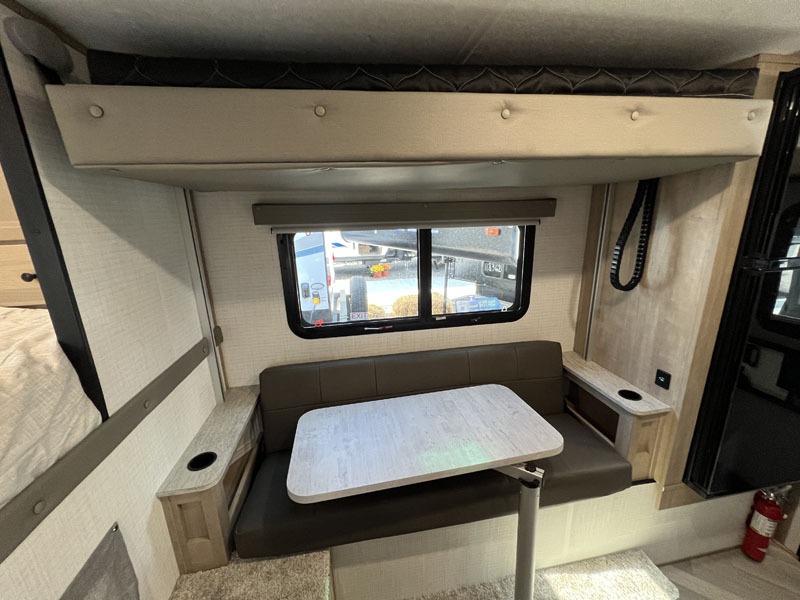 Finally, the Max series HS-2901, HS-2902, HS-2910, HS-2912, HS-3210 as well as the HS-8801) get two important changes. First, a new floor color (see below in the HS-3210).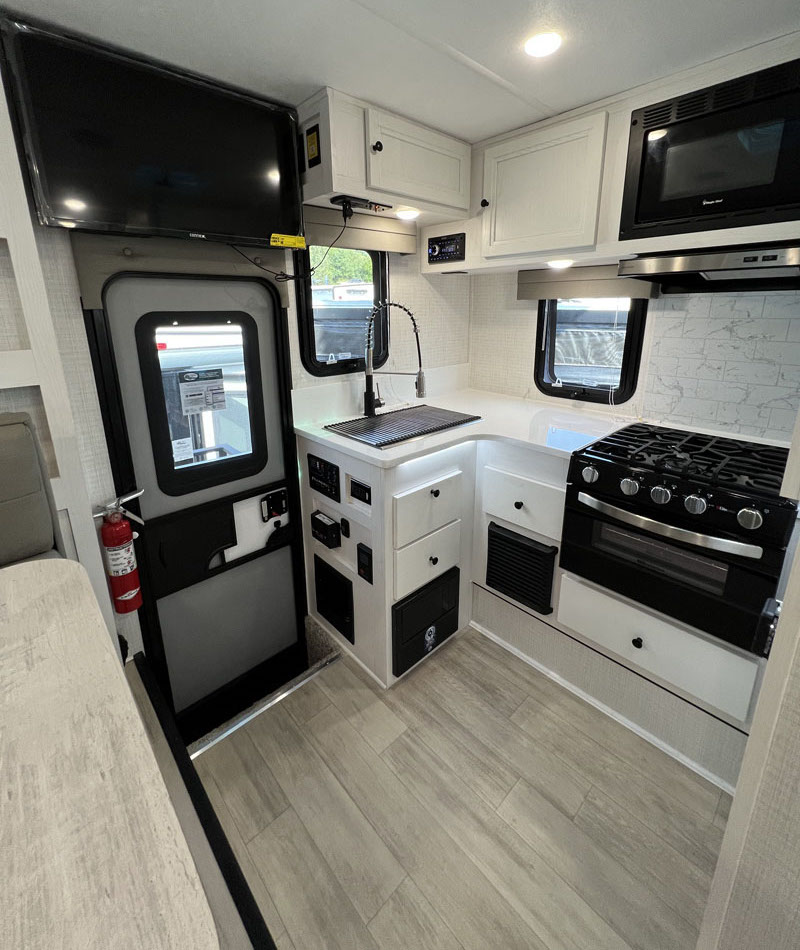 And second, these models are changing from two 20-pound propane tanks to one 30-pound propane tank. This propane change is what made the 11 cubic foot refrigerators possible. And remember, the new refrigerators are 12-volt, so you won't need as much propane.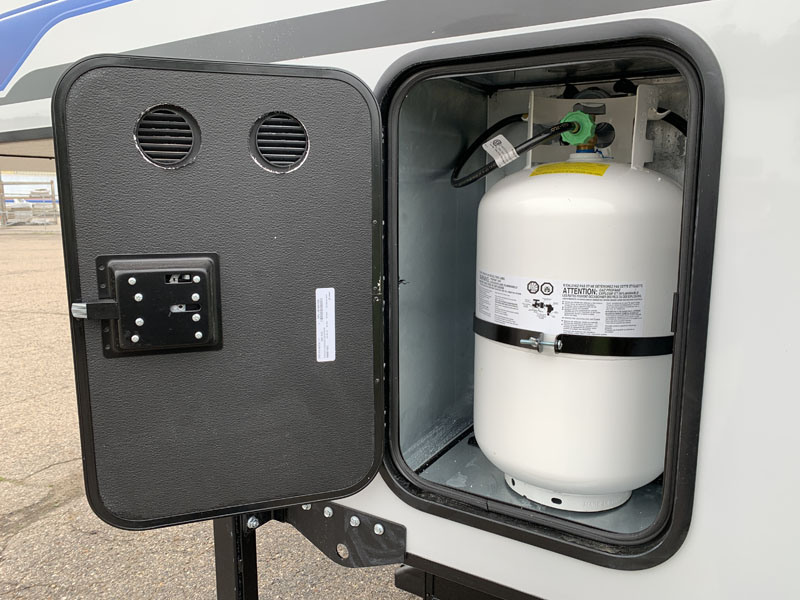 The Palomino Evolution
Beyond the listed updates, the real story at Palomino remains the enthusiasm and initiative of their production team. The fact that the new HS-3210 dry bath slide-out model was created by the production crew itself speaks volumes about where Palomino is going.
Yes, I'm enthused about the 400-watts of solar, 12-volt compressor refrigerators, 100 Ah lithium batteries, Azdel exterior laminated walls, and white cabinetry. All of that makes for better offerings, but nothing beats a production and management team that's truly excited about truck campers.
For more information about Palomino truck campers, visit their website at palominorv.com. Click here to request a free Palomino brochure.